Have many people think that DJI Spark Vs Tello is one. Because they have similar in size and overall have a similar appearance.
But actually, they have different features and characteristics. The DJI Spark comes with a powerful flying machine in a pint-sized package. The Tello is seen as a true beginner drone designed for kids of all ages. At just $99, it blows the low-price competition out of the water.
If you are planning to invest in one of them, this is a great place for you. Keep reading the article; Staaker will show you all details of them and what makes them different?
Spark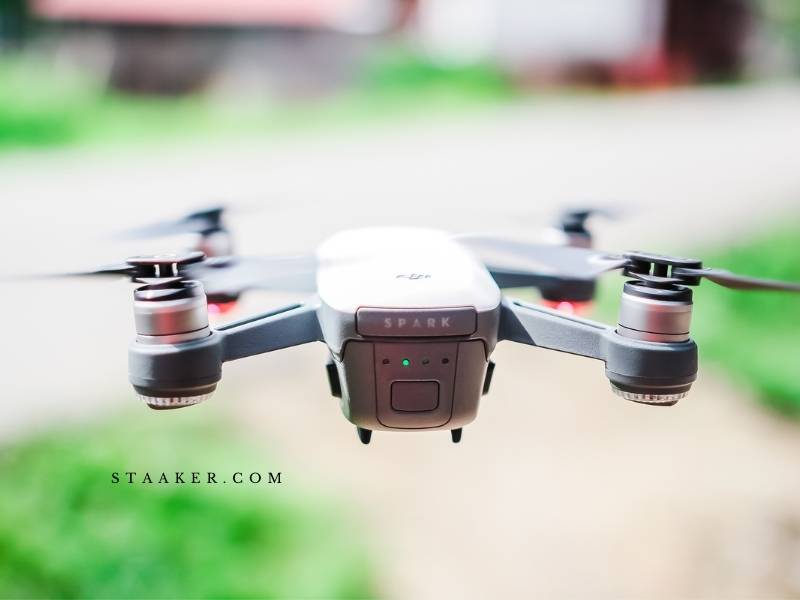 Size: A Spark drone is larger compared to a Tello drone. It measures 5.6*5.6*2.1 inches.
Weight: A spark drone weighs 300 grams.
Gimbal: This drone has a 2-Axis Gimbal
Pros:
Good build and design
Feature-rich
Smooth flight and great pictures
Great for indoor flying
Cons:
Controller sold separately
Cost/Price
Short fly time
Read More: 
Tello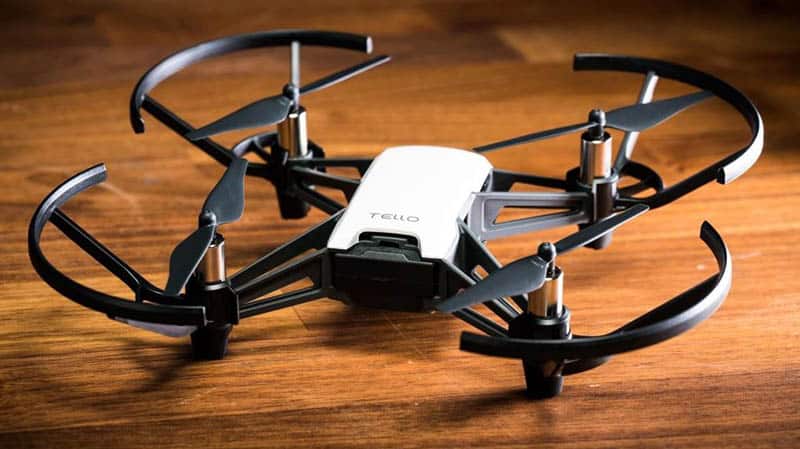 Size: Tello drones are relatively small in size compared to other types of drones. They generally measure around 3.9 inches in width and 1.6 inches in height.
Weight: They are also very lightweight. Most Tello drones measure 2.8 ounces which is a third of the average drone weight
Propeller length: The propellers of a Tello drone are about 3 inches long
Port: They come equipped with a micro-USB charging port
Built-in functions: They come equipped with LED, Range finder, Barometer, and a Vision System
Pros:
Price
Lots of items for a fraction of the cost
Solid flight and build quality
Lots of features
Cons:
Doesn't come with remote (get the Fly More Package)
Short flight time (13 minutes average)
DJI Tello Drone Vs Spark Drone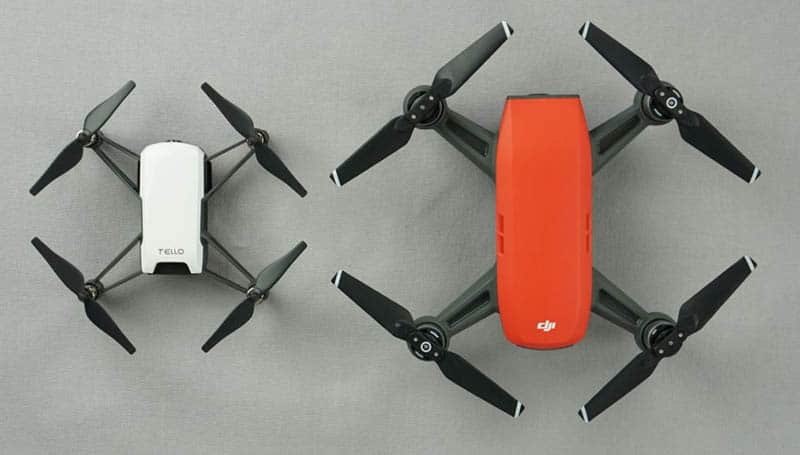 Overview
| | | |
| --- | --- | --- |
| Feature | DJI Tello Drone | Spark Drone |
| Camera | 5MP, 720p videos | 12MP, 1080p videos |
| Transmission Distance | 100 Meters | 100 Meters |
| Flight time | 13 minutes in calm weather | 16 minutes in calm weather |
| Motor | Brushed Motor | Brushless Motor |
| Dimensions | 3.8*3.6*1.6 inches | 5.6*5.6*2.1 inches |
| Weight | 2.8 ounces | 10.5 ounces |
Design
Tello Vs. Spark is focused on portability and bigger batteries, and more powerful cameras, making them so different from the expensive and professional drones.
The Tello is still the smallest and most lightweight of the two models. The DJI drone was a small toy-like drone that measures 9.8×9.2×4.1cm and weighs only 80g.
The Spark, on the other hand, is smaller. The drone measures 14×5 cm in size and weighs 300g – more than twice the Tello.
The focus of each model is a key element in their design. Tello is DJI's input drone. It is designed for beginners or people who don't require professional quality video and photography.
The manufacturer claims the Tello's sturdy construction will make it less likely to be damaged by accident for those still learning how to fly the drone.
On the other hand, Spark has a professional footprint and is used as an accessory or second drone by those with more expensive equipment.
Features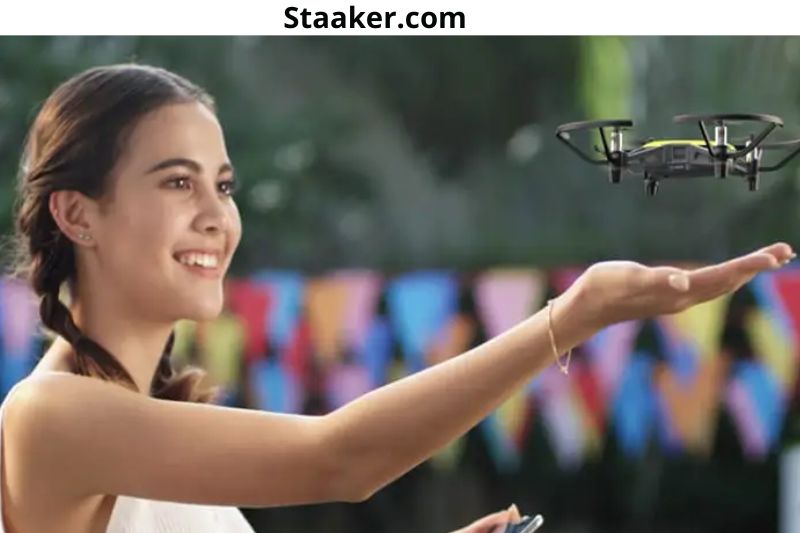 These drones also have gesture control capabilities. However, the DJI Spark offers more commands. The DJI Spark has more commands, but only time will tell if they are well received.
However, Scratch sounds interesting and allows you to do more with your drone. It also gives you easy access to all the SDK capabilities of DJI.
One example of SDK's capabilities would be to set up a series of actions, such as taking a photograph or flying (in the case of DJI Tello).
Camera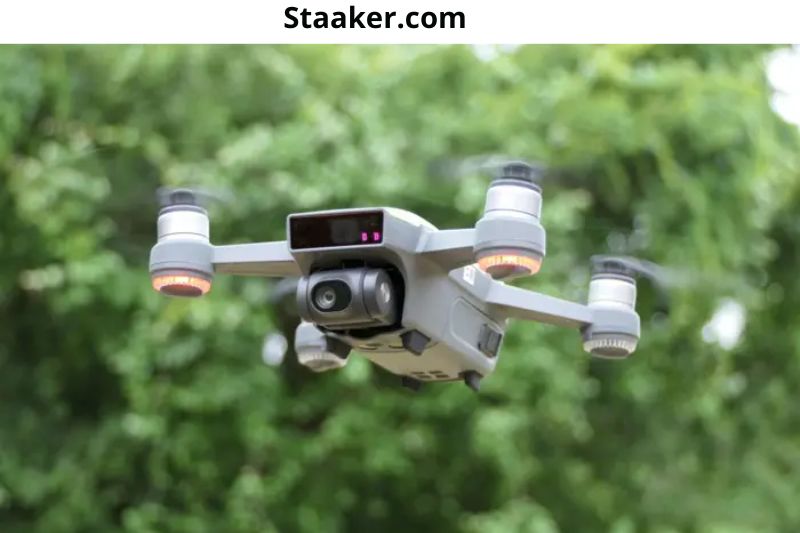 Tello also has a smaller-capacity camera. It can record videos at HD resolution up to 5 megapixels resolution.
Spark is superior in terms of technical specifications. This device has a higher resolution camera (12 megapixels) and full HD video recording. Spark also allows you to use advanced imaging features such as HDR and pre-defined time-lapses.
It is important to remember that neither one of these drones can record photos in RAW or DNG formats.
Ease of use
These drones are intended for beginners. There are fewer features, complex settings, and video modes than the DJI Spark models. While the DJI Spark has more features and modes, the Tello is simpler and easier to fly.
Both Tello vs Spark was designed to be easy for beginners. The DJI Tello's weight and size make it unsuitable for flying in windy conditions. Although the DJI Spark can fly in windy conditions, it's not as stable as a Phantom or DJI Mavic.
Flight time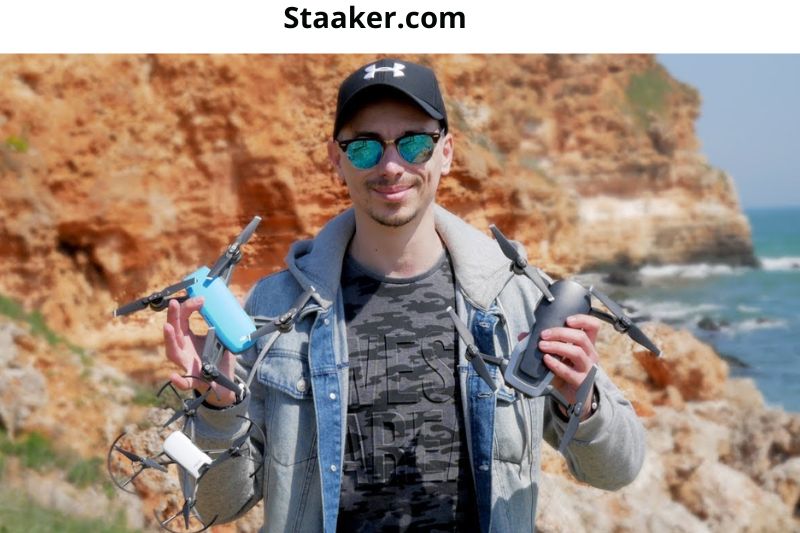 Both DJI Tello vs. Spark drones can fly in a relatively short time, about 13 minutes for the Spark and 16 minutes for the Tello. The Tello has a lot of accessories that are quite affordable. You can get another spare battery for $29, as opposed to $79 for the Spark.
Motors
Motors are the most significant difference between the DJI Spark and Tello. The Spark uses powerful, efficient brushless motors. The Tello uses brushed motors. Brushed motors can be less expensive but may fail due to poor design or low quality.
DJI may not use low-quality motors in their Tellos, but even the most powerful brushed motors can lose performance over time. While brushless motors are more expensive, they are more efficient and generate more thrust.
They also have longer life expectancies. You can carry a 360deg camera with the powerful brushless motors of the Spark. Check out our video.
The Tello can reach 18 mph, while the Spark can go 31 mph when in Sport mode. Although the Tello's top speed is not impressive, it is fast enough for indoor flying.
Obstacle Avoidance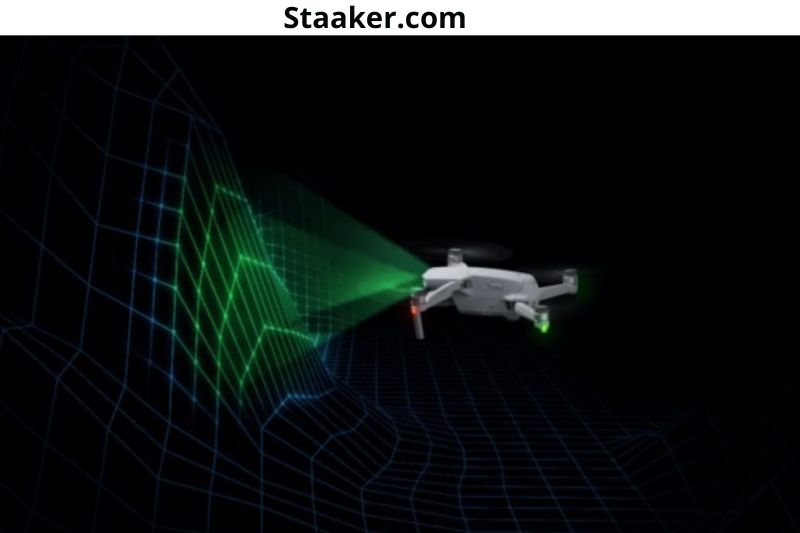 The DJI Spark is equipped with obstacle avoidance sensors. The sensors will alert the pilot if there are objects in its path and then stop to avoid a collision. Spark also has sensors at the bottom to aid it in landing.
Although the Tello cannot avoid obstacles, it does have sensors that can help it land. These include a camera and IR proximity sensor.
Programmable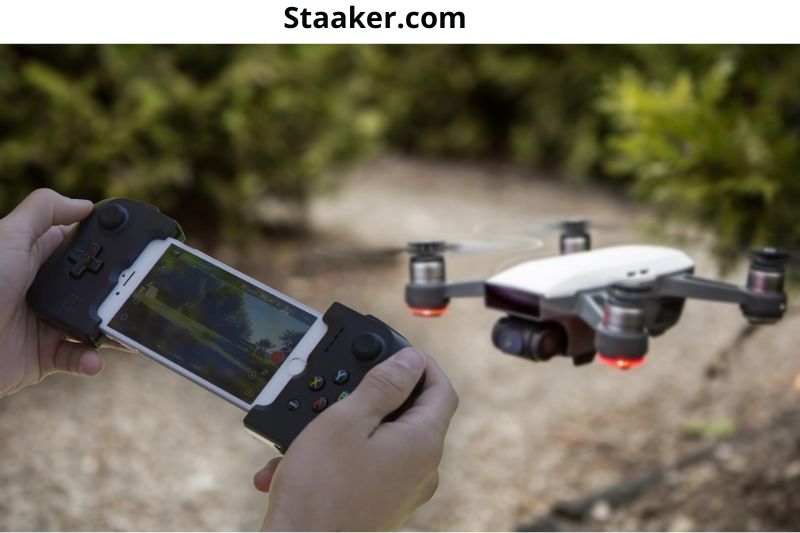 The Tello can be used with Scratch or other computer programming systems. The Tello is programable, so that you can use it in many different ways.
This feature is not available on Spark, and it's a good thing. The Spark is small and safe, but it's not the drone you want to crash into your wall if your computer program isn't working the way it should.
CAD Model
You may be curious how we made a 1:1 scale model the DJI Tello. Based on photos and measurements we found, we reverse-engineered the Tello. We printed it on a 3-D printer and then gave it a nice finish.
We assembled it with motors, props, and a donation drone as the flight controller. Although the model isn't perfect, it is quite good. We know that the Tello's prop is 3 inches in size, so the scale is accurate.
Video:
Cost
The cost of a drone is an important consideration. The Tello is priced at $99 but does not include $19 for an additional battery or the $40 remote you'll need to fly. Add all that together, and the price is $158.
This is a significantly lower price than the Spark, but it is not prohibitive. The DJI Spark is available for $399. We recommend the Fly More package, which includes the remote, second battery, and other important items. Fly More will set you back $599
Read More: 
Conclusion
Although we can't answer you which is the winner? But after our article, we think you know exactly which you should choose. Choosing the right drone for you depends on your personal needs and preferences.
Spark has a better camera quality, a more durable motor, and a helpful obstacle avoidance feature, and sure it will be more expensive.
We hope that our DJI Tello vs the DJI Spark article can help you learn more about them; if you need to know about the others device, don't hesitate to let us know as below.