The Dji Pocket 2 and GoPro Hero 10 are two of the most popular action cameras. Both cameras offer excellent video quality and features, but which one is better for you?
In this article, we'll compare the Dji Pocket 2 vs GoPro Hero 10 and help you decide which camera is the best for your needs.
DJI Pocket 2 Vs GoPro Hero 10 at a Glance
According to the statistics, two capable cameras with the latest vlogging and action cam innovation are available. They only tell part of the tale, so explore each of our numerous categories to learn more about their performance.
Design & Handling
Even though their use cases overlap, comparing the two cameras reveals significant differences. The Pocket 2 features a wand-like form that makes it easy to handle and walk around without uncomfortable. It includes front and side buttons that are easy to reach, and you can set the gimbal to point forward or backward upon beginning.
In the center, there's also a slot for interchangeable parts. Connect the joystick controller or smartphone here for a more excellent overview and more in-depth controls. Because the Pocket 2 isn't an ordinary action camera, it lacks a robust body and isn't waterproof. The design's major flaw is an exposed SD card port, which causes you to be extra cautious with moisture.
There are no similar issues with the Hero 10. It has the same appearance as the Hero 9, except for a blue logo on the bottom. It's made of rigid plastic that can withstand scratches and falls.
Without housing, the camera is waterproof to a depth of 10 meters. The lens now features a hydrophobic coating that wicks away water droplets, allowing you to capture clean footage as soon as the GoPro touches the ground.
The Hero 10's internals is kept safe by a tight clasp. You'll see an SD card slot and a USB-C port when you open it. You may now utilize the latter for wired file transfers and charging.
Display and User Interface
Both cameras let you see what you're recording, but the Hero 10 does better. It has two screens, one in the front measuring 1.4 inches and the other in the back at 2.27 inches. They can both be turned on at the same time. They're bright enough to use in direct sunshine with no problems, and the viewing angles are fantastic.
One of Hero 9's few severe shortcomings was its sluggish menu navigation. The updated CR2 chip, thankfully, corrects this and allows for buttery smooth navigation. The options appear, and scrolling through them feels natural. Voice commands return, much to the joy of those who don't want to deal with touch controls when surfing or kayaking.
Because of its single small screen, the Pocket 2 has an inherent disadvantage in this category. With a diagonal of only 1.08 inches, even mid-sized items will require squinting. On the other hand, the screen is bright enough, and the touch response is excellent for selecting focus areas or navigating menus.
Apart from being another feature of use hampered by screen size, we have no issues regarding the menu system. When you're not using the Mimo app, you'll have to traverse menus one thing at a time and rely on essential information.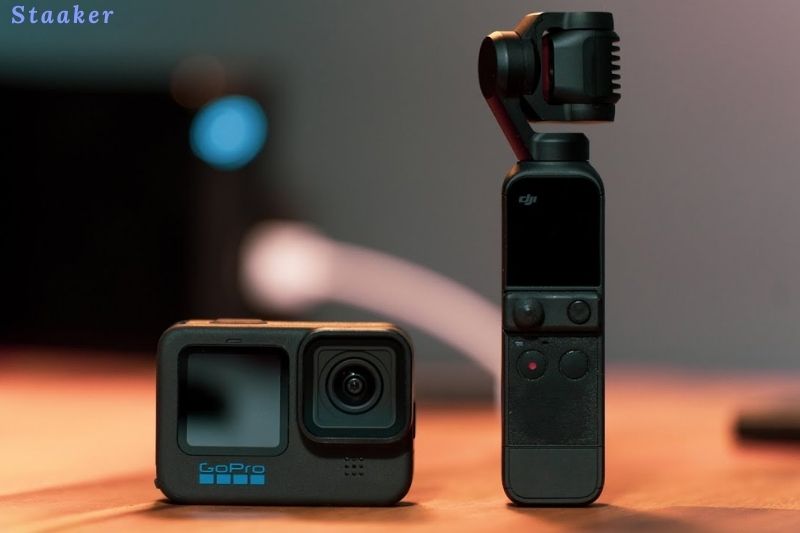 Stabilization
A comparison of the DJI Pocket 2 and GoPro Hero 10 would be incomplete without looking at the image stabilization solutions available. We're pleased to announce that it's a toss-up, as both devices function admirably for their intended purposes.
The Hero 10 is still software-based and runs on HyperSmooth version 4. It's an incremental improvement over HyperSmooth 3.0, but that's fine because there wasn't much left to improve. Its key advantage is that it provides noticeable stabilization without jeopardizing the camera's structural integrity.
Turning on HyperSmooth reduces unpleasant bobbing movements and results in a considerably smoother picture in dynamically changing situations with minimal image quality loss.
The most notable enhancement in stabilizing for the Hero 10 was expanded horizon leveling. The angle increased from 27° to 45°, allowing you to keep the horizon straight while paying less attention to camera stability. Low light remains a limiting element because it reduces HyperSmooth's responsiveness.
However, nothing compares to the Pocket's physical 3-axis gimbal. Unlike most action cameras, the Pocket 2 offers four different tracking modes. You can follow a subject by panning and tilting or panning while keeping the horizon level. The option to lock the camera in its current position was introduced to the firmware, converting the gimbal into a gyroscope.
The gimbal technology is ideal for tracking a subject's face smoothly. Vloggers who hold the Pocket 2 at arm's length will be the center of attention. While commanding the Pocket 2 remotely, the tracking capabilities become less reliable, but that isn't its primary purpose.
Photo Quality
When action cameras shifted to recording video, the ability to shoot stills became an afterthought. Thankfully, this is no longer the case, and we're glad to add photo quality as a valid consideration in a DJI Pocket 2 vs. GoPro Hero 10 comparison.
The 1/1.7-inch sensor on DJI's camera is significantly larger than the 1/2.3-inch sensor on Hero 10's predecessor. If you use the specific photo mode and shoot in RAW DNG, the Pocket 2 can produce images up to 64MP. Regular screen captures are compressed to 16MP but keep the correct colors and detail.
The Pocket 2 features a panoramic mode, but it also has a mode that stitches nine shots together in a 33 grid.
The tiny sensor on the Hero 10 limits both output and quality. It's possible to take 5.3K, and 4K stills with 19.6MP and 15.8MP resolutions, respectively. GoPro launched its photo mode, which increases the maximum resolution to 23MP.
Video quality – Resolution & Framerates
Video quality is the central event in any DJI Pocket 2 vs. GoPro Hero 10 fight. Therefore we've divided it into multiple sections.
The Hero 10 takes first place in the resolution and framerates sub-category, which is no surprise. It's all thanks to CR2, the improved version of the chip that enables the Hero 6 to shoot in 4K at 60 frames per second.
With significant performance improvements, you may now capture films at the same framerate but in 5.3K. Furthermore, the Hero 10 can shoot 4K at 120fps and 2.7k at 240fps, resulting in some of the clearest slow-motion videos available.
The Pocket's 4K 60fps appears archaic, but raw numbers don't hold identical weight for everyone.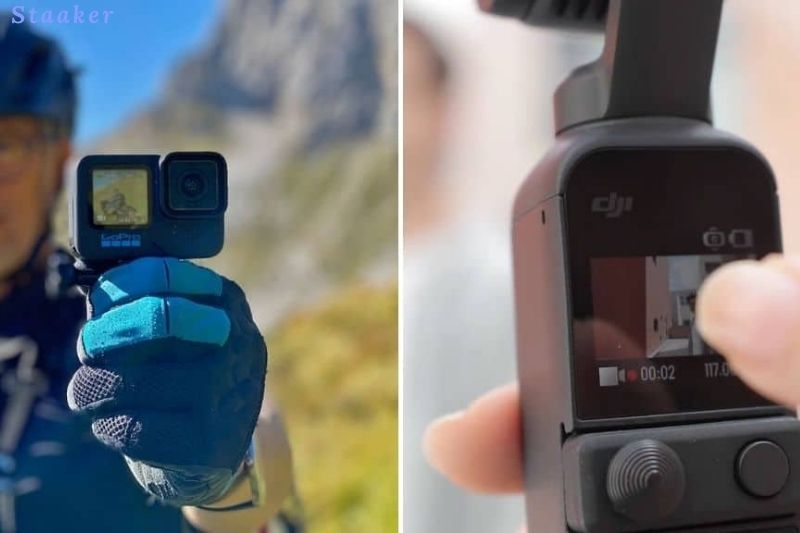 Video Quality – Colors & Overall Look
Another category highlights the cameras' various applications, even though the general quality is excellent.
The Hero 10 is an action camera with a higher resolution than compensates for its tiny sensor size by providing more clarity. GoPro nailed the tone with colorful footage that isn't obnoxious. Maintaining color balance and presenting the entire color spectrum in a tastefully enhanced manner received equal consideration. Expect anything from lush forests to windswept dunes to look more realistic while maintaining credibility.
The default profile on Pocket 2, on the other hand, is all about presenting you in a positive light. On the one hand, the surroundings are more subdued and natural. On the other hand, skin tones are slightly boosted for a more attractive appearance. There is no need to worry about blown-out skies or dull lights ruining our complexion because this persists regardless of lighting conditions.
Both cameras offer cinematic presets that allow you to shoot videos with enhanced color and shadow detail. The raw results are dreary, but you can use them as a starting point for color grading to improve the appearance of the processed movie.
Video Quality – Low-light performance & Dynamic Range
Compact cameras have a more challenging time in low-light situations than conventional cameras. This hasn't been fixed even after numerous generations of upgrades. Although both firms have made significant progress, the Pocket 2 remains the finest in class.
GoPro deserves credit for correcting one of Hero 9's flaws: poor low-light performance. The problem was especially noticeable during sunset situations, where the captured light level and colors were subpar. Under the same conditions, its successor performs far better, producing brighter and more saturated video.
However, this isn't enough to match the Pocket 2's low-light capabilities. In cloudy or sunset situations, it preserves significantly more delicate color detail. The larger sensor and broader f/1.8 aperture help a lot, resulting in a considerably lighter film that's easier and more enjoyable to look at.
Don't expect either camera to do miracles. Vlogging with bright lighting will significantly wipe out the sky, especially on Pocket 2. High-contrast scenes lose detail in blacks and whites, and if you want to brighten the video by increasing the ISO, you'll have to tolerate some noise.
The Hero 10 has a slightly higher dynamic range, resulting in another tie. Shortly after its release, the Pocket 2 received an update that introduced HDRI. However, it did little to improve picture quality.
Video Quality – Autofocus
DJI easily wins this DJI Pocket 2 vs. GoPro Hero 10 battle segment. The Hero 10's tiny sensor and narrow maximum aperture evenly focus the entire scene. Your face or the surroundings will never be out of focus, but your artistic expression will be limited.
On a lens like the Pocket, an aperture of f/1.8 is still wide enough to allow for some depth of field effects. You won't get creamy bokeh, but you can get a pleasing blur that brings the subject even closer to focus. The Pocket's autofocus tracking is superb when it comes to focusing.
Audio Quality
Over the years, GoPro cameras have gotten incremental audio enhancements, and the tradition continues with the Hero 10. It includes three internal microphones that may effectively decrease wind and background noise if the right option is enabled.
The audio on the first Pocket was tinny and subpar. DJI identified the flaw and significantly enhanced the quality. You now have four microphones at your disposal, and the sound clarity you can achieve, even in challenging settings, is excellent.
The Creator Combo kit includes a wireless mic with a deadcat and a stand with a 3.5mm socket for external mics, enhancing the camera's audio capabilities even further.
App
Since both cameras come with sophisticated smartphone apps, there's no need to upload your photographs and videos to a PC or Mac. The DJI Mimo app has more advanced editing features and a community aspect. On the other hand, Quik is more straightforward and makes live streaming to sites like YouTube easier. Both cameras deserve equal credit, even if one is more significant to you than the other.
The Mimo app functions best when you pair your smartphone with the adapter. It will automatically enter an enlarged screen with choices to adjust framerates, screen modes, and other recording options tucked away on each side. The larger screen enhances the experience by allowing you to specify focus spots with the virtual joystick precisely.
The program also has a community component, allowing you to share and criticize videos and get ideas from others' work.
As the name implies, Quik is all about quickly organizing, editing, and sharing your activities. The user interface is straightforward to navigate and makes basic tasks like trimming and changing playback speed on the fly as simple as possible. You may also add intros, music tracks, and various effects to your videos to make them more memorable.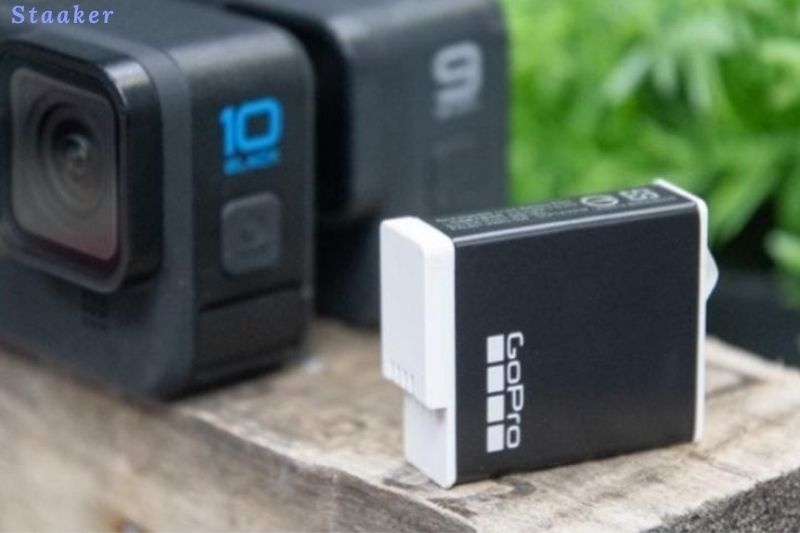 Battery
Battery life has always been an issue with these cameras, and the current version doesn't do anything to improve it. The Hero 10 features the same removable 1,720mAh battery as the Hero 9. However, the advances in the 10's capabilities and resolutions will run out sooner. When shooting at maximum settings, allow 65-75 minutes.
The smaller screen and lower quality of the Pocket 2 put less strain on its smaller 875mAh battery. If you switch the framerate to 30 or 25fps, you can shoot for 90 minutes or more in 4K. Because the battery isn't replaceable, you'll need to bring a power bank with you if you plan to film for a lengthy period.
Heat Generation
Asking such small cameras to provide footage in 4Kor higher will generate heat. Because of its more significant surface area and limited to 4K 60fps, the Pocket 2 performs better. After around 20 minutes of shooting at maximum settings, the Hero 10 becomes hot. While most users will limit themselves too far too shorter bursts, it is still a potential issue to consider.
Pricing
Like many other areas of our DJI Pocket 2 vs. GoPro Hero 10 comparison, the pricing isn't as straightforward as it appears. If you don't want the Creator Combo kit, you can acquire DJI's camera for $349. The Hero 10 costs $100 extra on the street. You'd think that would be enough to tip the scales in DJI's favor, but GoPro's subscription model must also be considered.
Subscribing costs $50 per year and comes with many benefits if you're prepared to put more money into the Hero ecosystem. For starters, you can get the Hero 10 for $100 cheaper. You also get substantial discounts on accessories. Some premium capabilities within the Quik app and live streaming through GoPro's services require a subscription.
Finally, you get limitless cloud storage with a subscription. If you're fascinated with documenting every part of your life with your beloved action camera, this can be pretty handy.
Accessories
You won't need any accessories to use either camera comfortably and successfully. However, if you're prepared to spend more, both firms have attempted to provide significant changes.
DJI has produced a simple yet comprehensive Creator Combo package in keeping with the Pocket's run-and-gun application. It adds a wireless mic and a deadcat to the already good audio, allowing you to capture speech even in windy situations.
A wide-angle lens expands the range of view but sacrifices some sharpness. A lanyard, a handle with a mic jack, a tripod, and the appropriate amount are included. The package will set you back roughly $150, but we believe it is well worth it.
GoPro has a modular approach, with kits and tweaks for various applications. The Media Mod adds an external foam-protected microphone, HDMI output for real-time monitoring, and multiple cold shoe attachments for accessories to boost vlogging quality.
Other mods aren't as extensive, but they're just as helpful. Others add a larger flip-up screen or powerful LED lighting, while others raise the lens's FOV to 155°. The modifications cost between $50 and $100.
Both alternatives are fantastic. On the other hand, GoPro wowed us a little more because their technology allows you to personalize your camera more precisely for less money.
FAQs
Is the DJI Pocket 2 weatherproof?
Waterproof to a depth of 60 meters. The DJI Pocket 2 Waterproof Case is waterproof up to 60 meters, allowing Pocket 2 to record glare-free, high-quality underwater photographs.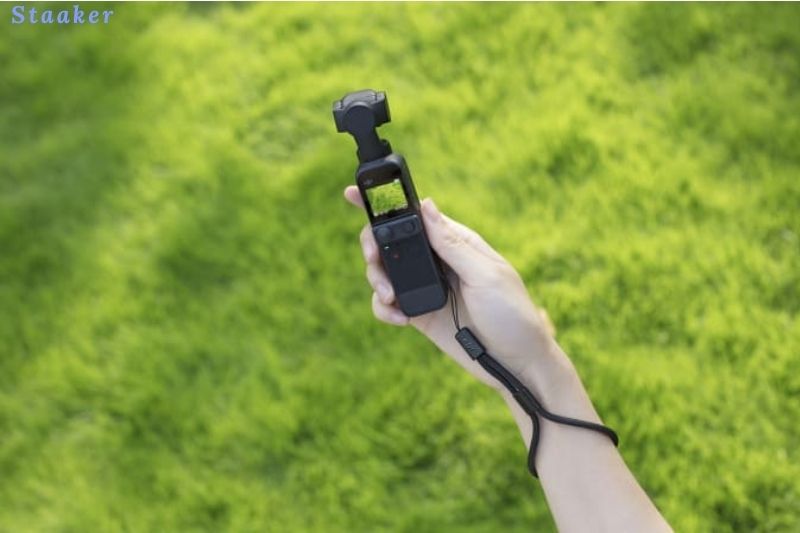 Is the DJI Pocket 2 a proper filming tool?
As a B camera, the DJI Pocket 2 is one of the most significant ways to use it as a filmmaker. It's convenient to carry about because it's so little if you need to capture extra film fast or need an easy way to shoot timelapse, motion timelapse, or hyperlapse.
Does the GoPro 10 become too hot?
Allow it to cool for 5-10 minutes before shooting again. The temperature of the environment. This is most likely one of the leading causes of GoPro Hero 10 overheating problems. If you're taking videos outside on a hot day, anticipate your camera to heat up.
Video
Maybe you need:
Conclusion
This article concludes that the GoPro Hero 10 is the better camera overall. It offers better video quality, features, and overall performance. If you're looking for an excellent action camera that will provide great footage, the GoPro Hero 10 is perfect. Staaker.com hopes you found this article helpful!