GoPro's Hero 3 and Hero 4 are both popular action cameras, but they have some key differences.
The Hero 3 is GoPro's entry-level model, while the Hero 4 is their top-of-the-line camera. The Hero 3 is cheaper and smaller, but it doesn't have some of the features that the Hero 4 has, like 4K video recording and a touchscreen display. 
So, which camera is better for you? Let's look at the GoPro Hero 3 vs Hero 4 and see which one comes out on top.
Design & Build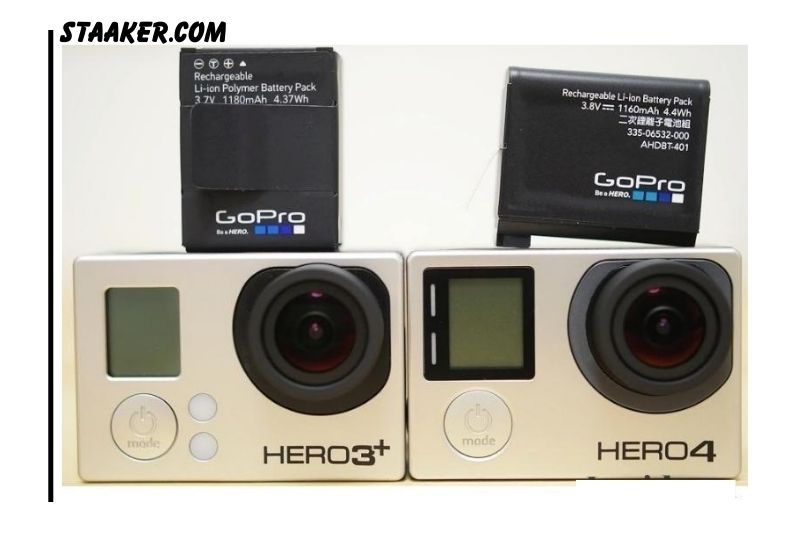 They have the same proportions in terms of construction and design. The HERO4 Silver is slightly heavier, owing to the addition of the LCD screen.
They both fit in the same housings, and you'll need to place them in a separate, clear standard housing to make them waterproof–neither is waterproof on its own like later GoPro models are.
Dimensions
GoPro cameras haven't altered much in size and form in recent years. All these action cams' naked dimensions are 41 x 59 x 21/30 mm (when not in protective housing). Whether or not the projecting lens is considered affects the two depth measurements.
Each camera comes with the entire conventional housing (shown), which is waterproof to 40 meters (131 feet), and a Skeleton Backdoor with open sides to access the camera ports and improve audio recording. The touchscreen-friendly Touch Backdoor comes included with the GoPro Hero4 Silver.
Weight
The weight difference between these cameras isn't significant, and you won't notice the extra couple of grams on the end of your surfboard. If you already own one of the lighter models and use it with a drone, you may want to consider whether the extra weight will make a difference before upgrading.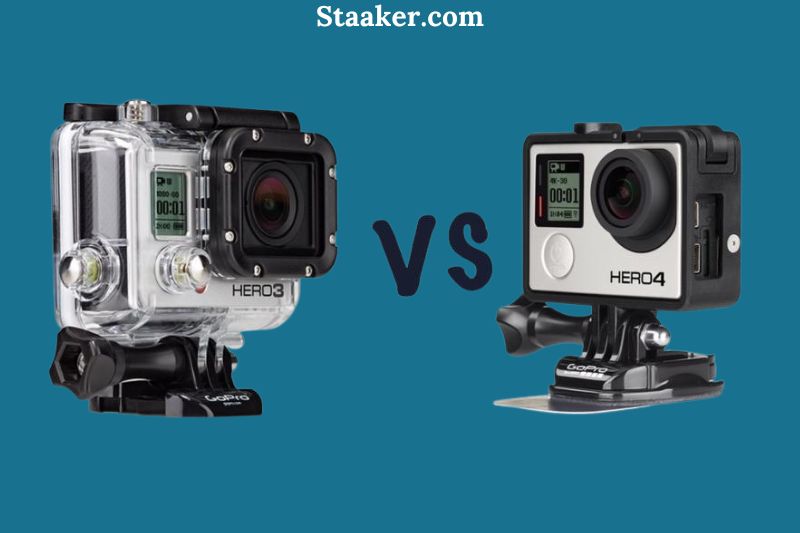 Point of view (FOV)
While GoPro cameras are known for their wide see-everything field of view, depending on video resolution, they also allow filming at medium and narrow angles.
The Ultra Wide option is around 15 mm comparable in 35-mm size, whereas medium is approximately 22 mm equivalent, and narrow is approximately 30-mm equivalent.
Sensor Dimensions
The new Hero4 cameras and Hero 3+ Black are equipped with 1/2.3-inch type 4:3 sensors with a resolution of 4,000 x 3,000 pixels. This is smaller than many other digital cameras, but it's the industry standard for action cams (where you don't need the much larger lenses that larger sensors demand).
GoPro has not published the sensor size used in the Hero 3+ Silver. However, we know that the original Hero 3 Silver featured a 1/2.7-inch type sensor.
Performance
LCD Display (Built-in)
When you turn the cameras around, you'll notice the most noticeable difference between the HERO4 Silver and the HERO3+ Silver. The HERO4 Silver is the first GoPro model to include a touch-screen LCD. It has playback, menu controls, and a live display of what the lens sees while you're shooting.
These features are now commonplace on most cameras, so it may be a surprise that GoPros were so late to the party. However, there are some excellent reasons for this, such as the difficulties of adding a screen to such a small camera and ensuring the battery life is still acceptable.
An LCD panel has the disadvantage of draining the battery more quickly. So, turn it off or use it infrequently if you want to get the most out of your battery.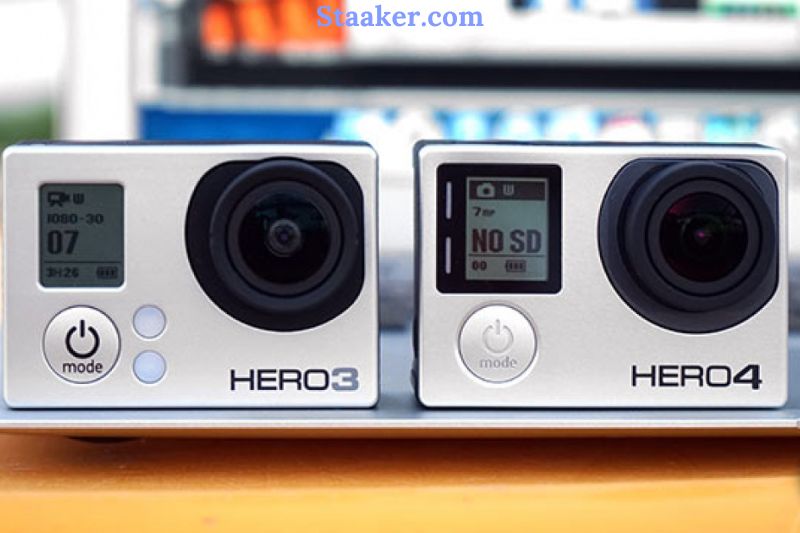 The 3+ Silver, like all previous GoPros (and some subsequent ones), lacks a built-in LCD screen. You position the camera in the desired direction and hope for the best. Because of the wide-angle lens, this usually suffices. You can't even watch films or look at images on the camera.
However, an LCD touch screen can be added as an optional extra. GoPro LCD Touch BacPac is what it's called. Not only does this add an extra cost–and not a small one–but the camera won't fit in the basic waterproof housing with the screen connected since it produces a more extensive package. It will deplete the battery more quickly, which is true of the built-in screen on the HERO4 Silver.
You can also obtain a live view remotely with both cameras by downloading the free GoPro mobile app and viewing it on your phone or tablet.
As a result, the HERO4 Silver edition's built-in screen is easy to film, it's less bulky and less expensive than adding to a 3+ Silver, but it comes at the cost of lower battery life due to the screen's power consumption. The extent to which this influences depends on how you use the screen.
Video Resolution: 4K vs 1080p
Both cameras offer impressive video qualities. However, the HERO4 Silver outperforms the HERO3+ Silver in this area. Most notably, it can shoot in 4K resolution, whereas the 3+ Silver can only shoot in 1080p. Of course, the restricted framerates attainable at 4K come with trade-offs.
Here's a visual representation of the video resolutions produced by GoPros. To see a larger version of the image, click on it.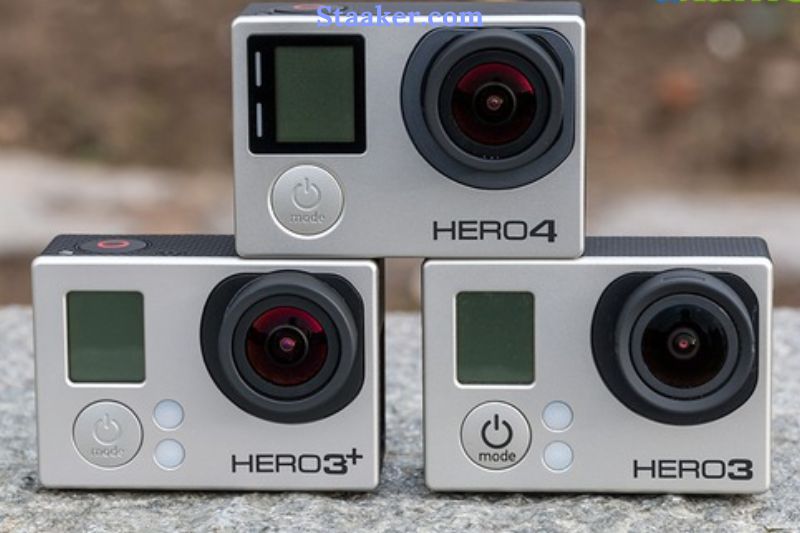 Protune
GoPro users may now shoot in more excellent quality and with less compression, thanks to Protune. It can modify settings such as color, ISO limit, white balance, sharpness, and exposure. It also provides you with greater control. A flat, neutral color profile, for example, can be chosen to make it easier to integrate video into a professional workflow, and exposure value compensation can be modified to control brightness.
With ISO settings ranging from 400 to 6,400 for video and 100 to 800 for stills, consumers have more control over the balance of brightness and image noise. Last year, Protune could only be used for video on the GoPro Hero3+ Black, but on the GoPro4 cameras, it can now be used for both video and stills.
Battery
A rechargeable battery is included with the GoPro Hero4 Black Edition. GoPro hasn't said anything about the size or battery life yet. The GoPro HD Hero3+ Black Edition, on the other hand, contains a 1180mAH rechargeable lithium-ion battery that is said to last 30% longer than the GoPro Hero3: Black Edition. This round can't be called until Pocket-lint learns more.
Connectivity
The GoPro Hero4 Black Edition has Wi-Fi and Bluetooth built-in, whereas the GoPro HD Hero3+ Black Edition has Wi-Fi. If connectivity is vital to you, you should choose the GoPro HD Hero4 Black Edition, as it offers more alternatives.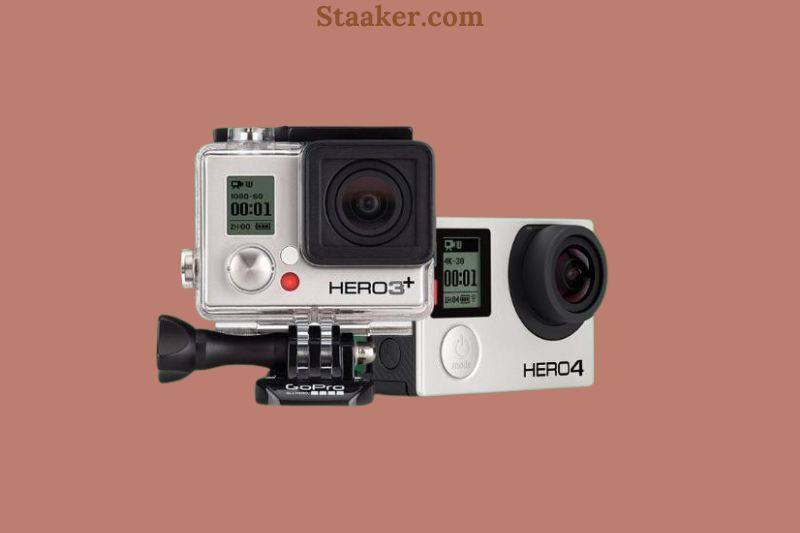 Storage
The GoPro Hero4 Black Edition's storage capacity is unknown, although it does support microSD cards. The GoPro HD Hero3+ Black Edition supports microSD cards up to 64GB. We won't be able to determine a winner for this category until we get additional information.
High-definition recording
Unsurprisingly, the Hero4 Black is the best camera for high-definition video recording. It can shoot at up to 120 frames per second in 1080p. However, all of the other cameras can still shoot Full HD 1080p footage at a decent 60/50 frames per second.
Recording in slow motion
High frame-rate video capture is required to create smooth slow-motion footage. While all of these GoPros can record at 120 frames per second, only the Hero4 Black can do it in 1080p, while the others are limited to 720p.
On all bar the Hero4 Black, this means that if you're filming a 1080p movie and want to add any extreme slow-motion, you'll have to lower the resolution for that piece of footage.
Extremely high video bitrate
High-bitrate video recording (H.264) is available on multiple GoPro cameras, ranging from 25 Mb/s to 60 Mb/s. Professionals that require the highest possible video quality value a larger bitrate, indicating that this is who the Hero4 Black is aimed towards.
Additional Features
Both models can take still photographs and timelapse stills (to compile into video later with the software on your computer). A new night-time shooting mode, a slightly higher still photo size (12 MP vs. 10 MP), a quicker burst rate (30 shots per second vs. 10) and Protune (not available on the HERO3+ Silver) are all included in the upgraded camera.
The HERO4 cameras also use different batteries than the HERO3+ and HERO3 versions. Thus any replacement batteries from prior models won't work in the HERO4.
If you usually take pictures but still  don't know ways to make your camera better, see this guide: Tips to make camera quality better
Verdict
Despite increased competition from the Contour Roam3, Panasonic HX-A500, and Sony's Action Cam Mini HDR-AZ1VR, we do not doubt that the new GoPro cameras will be a massive hit for the company, just like their predecessors. However, the best camera for you will be determined by what you want to do with it and how much money you want to spend.
The Hero4 Black is aimed at professionals. As a result, it has the most excellent video quality of any GoPro camera, as well as features and modes that make it easier to integrate into a professional workflow. Meanwhile, for most consumers, the Hero4 Silver may be the greatest GoPro. The LCD touch-screen if you don't require 4K 30p footage or the pro-oriented capabilities of the Black.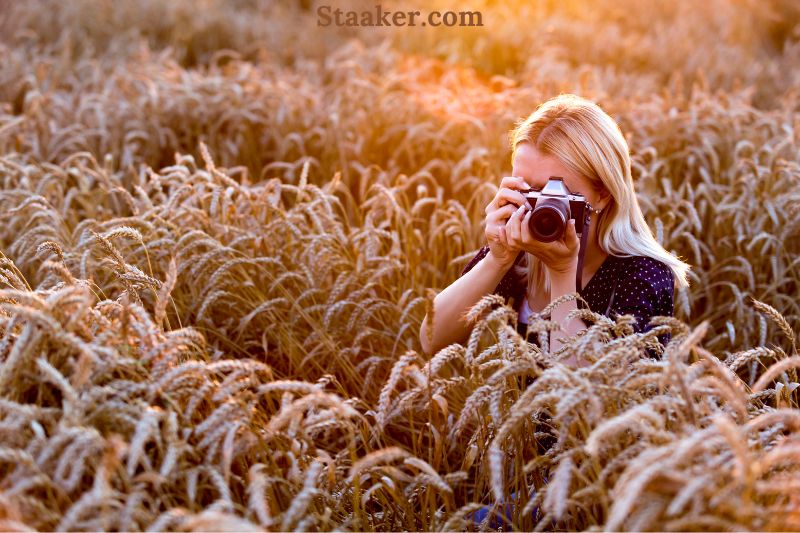 A revamped user interface, the ability to mark crucial moments of a movie with a HiLight Tag button so you can find them faster afterward, and better camera controls with a new dedicated button that allows you to access and alter camera settings rapidly are all features of the new Hero4 cameras.
The prior Hero3+ devices, on the other hand, are still capable of action cams. The Hero3+ Black was at the top of the GoPro range until a week ago, and it still delivers a good package. The Hero3+ Silver offers users the bulk of functionality at a more affordable price. The new essential GoPro Hero might be worth a look if you need a more economical GoPro and don't mind preceding some higher-end features.
Video
If you intend to buy a GoPro camera, take a look at our comparison article to choose the best:
Conclusion
In the end, the GoPro Hero 4 is the better camera. It offers more features and is more popular than the GoPro Hero 3. If you are looking for a great action camera that is both budget-friendly and powerful, the GoPro Hero 4 is perfect.
If you have questions about which camera is better, feel free to contact us. Staaker.com would be happy to help you make the best decision for your needs.