In a world where action cameras are becoming more and more popular, it can be hard to decide which one to buy. There are so many different brands and models on the market, and each one has its unique features.
So, how do you choose the right action camera for you? If you're looking for the best, you need to compare the GoPro Hero 10 vs 9 vs 8.
GoPro HERO 10 vs. HERO 9 vs. HERO 8: Side by Side Comparison
micro HDMI
No (Yes, if using Media Mod)
No (Yes, if using Media Mod)
No (Yes, if using Media Mod)
Photo Burst (Photos/Second)
Live Burst / Auto, 30/10, 30/6, 30/3, 25/1, 10/3, 10/1, 5/1, 3/1 Intervals
Live Burst / Auto, 30/10, 30/6, 30/3, 25/1, 10/3, 10/1, 5/1, 3/1 Intervals
micro HDMI
No (Yes, if using Media Mod)
Photo Burst (Photos/Second)
Live Burst / Auto, 30/10, 30/6, 30/3, 25/1, 10/3, 10/1, 5/1, 3/1 Intervals
micro HDMI
No (Yes, if using Media Mod)
Photo Burst (Photos/Second)
Live Burst / Auto, 30/10, 30/6, 30/3, 25/1, 10/3, 10/1, 5/1, 3/1 Intervals
micro HDMI
No (Yes, if using Media Mod)
Photo Burst (Photos/Second)
Audio (Mic)
3 (Front, side, and bottom)
Accepts External Mic
Yes, with Media Mod. Or Pro 3.5 Mic Adapter
Yes, with Media Mod. Or Pro 3.5 Mic Adapter
Accepts External Mic
Yes, with Media Mod. Or Pro 3.5 Mic Adapter
Accepts External Mic
Yes, with Media Mod. Or Pro 3.5 Mic Adapter
Audio (Mic)
3 (Front, side, and bottom)
GoPro HERO 10
The GoPro HERO 10 Black is the newest addition to the HERO series, and it appears very identical to the Hero 9 Black in almost every regard. However, the internals has been given an astounding power bump. The camera is driven by a brand-new GP2 processor, which has increased video and still capturing capabilities.
It can now shoot up to 5.3K at 60 frames per second, 4K at 120 frames per second, or 2.7K at 240 frames per second, effectively twice the frame rate of its predecessor. You can't overlook the GoPro HERO 10 Black's new HyperSmooth 4.0 video stabilization, which works in all modes and the 23MP pictures and best-ever low-light performance.
With the enhanced image stabilization on the Hero10, you can now tilt the camera up to 45 degrees, and it will still smooth things out. It also comes with a handy connection for super-fast camera-to-app content transmission and automatic cloud upload of films and photographs as it charges.
Finally, an almost imperceptible upgrade to the hardware is a hydrophobic, scratch-resistant lens cover that works flawlessly. The GoPro HERO 10 Black is, in a nutshell, the best GoPro action camera available.
PROS
Improved user interface
The GP2 processor is quite powerful.
Increased resolution and framerate
Horizontal tilting up to 45 degrees
Image stabilization is excellent.
Displays on the front and back
Disposable lens
Water-repellent lens coating
"Mods" for media enhance functionality.
Backward compatibility with Hero9 accessories
CONS
Heavy
A little more costly than the previous year's
Battery life is average.

GoPro HERO 9
The GoPro Hero 9 Black results from years of research and development into stabilizing algorithms. HyperSmooth 3.0 enhances the Hero 8's capabilities by automatically stabilizing and smoothing out vibrations and judders in your film. If you abruptly change direction, it will smoothly pan thanks to a clever algorithm.
Its dual-screen design is also great for vlogging, with a touchscreen on the rear for adjusting settings and another screen on the front for viewing a live view of your recording to keep you in the frame.
5K recording at 30fps, 4K up to 60fps, 1080p live-streaming and slow-motion 240fps, and a variety of timelapse and hyper-lapse capture modes, including a Night Lapse photo option, are among the video capabilities. It's the first GoPro to shoot a 5K video at 30 frames per second.
The GoPro Hero 9 Black also increased the audio quality by adding a better microphone to the front of the camera and incorporating a water-ejection channel to further improve its waterproofing over previous generations. Furthermore, the GoPro Hero 9 Black boasts a bigger battery that lasts significantly longer than its predecessors.
Thanks to its removable lens cover, the Hero9 Black can also use a Max Mod accessory, which adds a few GoPro Max-style capabilities, including a 360o horizon lock and an ultra-wide 155o Max SuperView mode.
Due to its tiny sensor, it has poor noise handling capabilities. Overall, its small size, front-facing screen, and excellent picture stabilization make it one of the best GoPros.
PROS
The outstanding image stabilization technology
5K video and 20-megapixel images are both excellent.
Accessory mounts built-in
Screenshot from the front
Leveling the natural horizon
Disposable lens
"Mods" for media enhance functionality.
Longer battery life
CONS
More significant in size than the Hero8 and Hero7
Not as fluid and quick as H10.
Older batteries are not compatible.
GoPro HERO 8
The GoPro HERO 8 Black was a significant boost over the H7, with a significantly better body and many other features. Mods are one of the most significant improvements to the Hero 8 Black's new appearance and port configuration. Three new GoPro mod add-ons have been released, allowing for a more professional vlogging experience.
You may now connect a shotgun microphone, LED light, and display mode to light yourself in low-light situations, improve the audio recording, and view yourself when shooting to the camera.
The HERO 8 now includes Hypersmooth 2.0 and new High and Boost settings to smooth down even the shakiest footage. It works with more video settings than the HERO 8's Hypersmooth; however not as well as HyperSmooth 3.0 and 4.0 on the Hero9 and Hero10. TimeWarp 2.0, Night-lapse, and many other features have been enhanced.
However, unlike prior generations, the camera lens cannot be removed or replaced. In a nutshell, the HERO 8 Black is still a fantastic camera. It offers the most value for money and is likely the best GoPro for most people's needs.
PROS
New and practical design
Image stabilization is fantastic.
Outstanding 4K video
Newly installed mount
Mods for New Media
"Mods" for media enhance functionality.
HERO 9 is smaller and lighter.
CONS
The built-in HDMI port is removed.
It is no longer possible to remove the lens.
Key Differences: Hero 8 vs Hero 9 vs Hero 10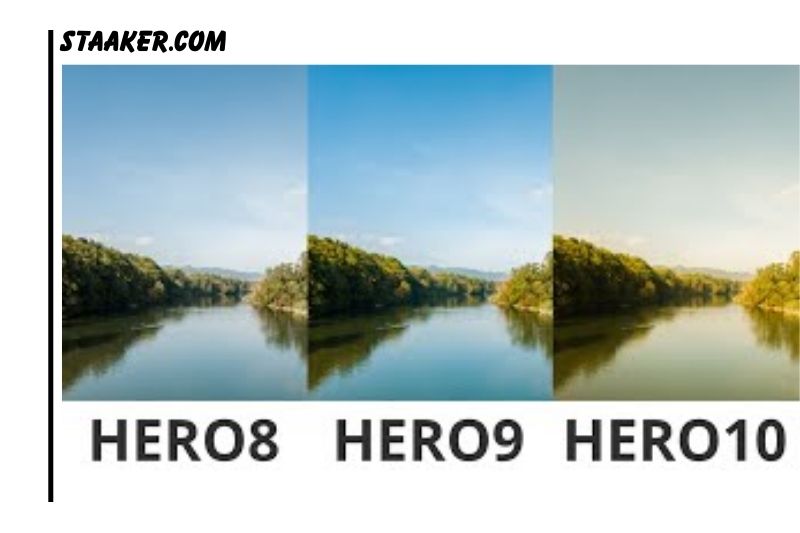 The significant differences between the GoPro Hero 8 Black, GoPro Hero 9 Black, and GoPro Hero 10 Black are listed below:
Design
The GoPro Hero 10 and Hero 9 Black are identical in appearance, with the Hero 9 Black being slightly larger than the Hero 8. As a result, both cameras have a larger touchscreen around the back, measuring 2.27 inches against 1.95 inches on the Hero 8 Black.
The Hero 10 and 9 Black also include a full-color front screen, in contrast to the monochrome front display on the Hero 8 Black. Vloggers will appreciate the color screen because it allows them to frame their shots without using the rear screen.
Resolution
The GoPro Hero 10 Black offers the best resolution of any GoPro camera, with a 23 MP sensor. The sensor resolution of Hero 9 is nearly double that of Hero 8 Black, at 20MP. The Hero 9 and 10 can shoot 5K and 5.3K footage, respectively.
Hero 8, on the other hand, has a maximum resolution of 4K. As a result, both of the most recent GoPro models provide much clearer photos with significantly more detail than their predecessors.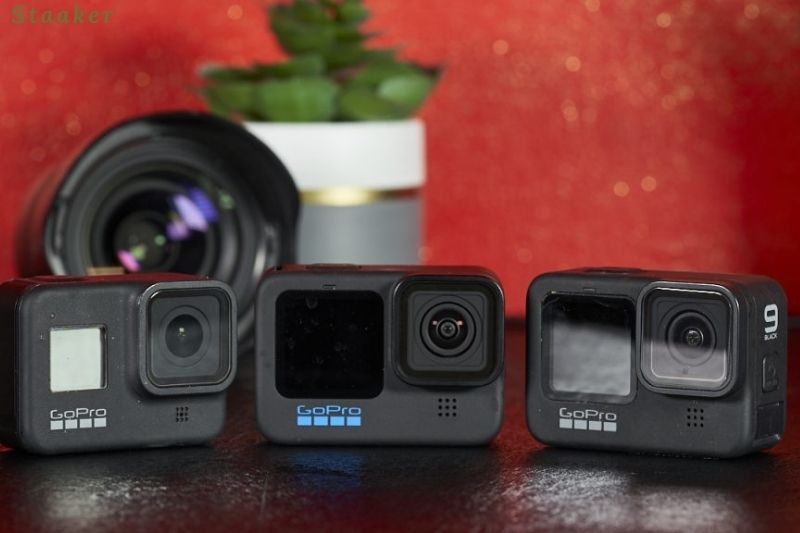 Battery Life
GoPro increased the battery capacity to 1720mAh with the release of the Hero 9 Black. The battery in the new Hero 10 is also the same. Compared to their predecessor, the Hero 8 Black, which had a 1220mAh battery, this battery increases the camera's endurance by around 30%. Because the Hero 9 & 10 Black has a larger battery, they can tolerate icy conditions better.
Connectivity
All three cameras have WiFi and Bluetooth connectivity, allowing them to connect to a smart device via the GoPro App. These cameras also enable 1080p Livestream. These cameras were designed to be used for vlogging.
All come with Media Mods (available separately) that add a directional microphone perfect for vlogging. Other essential vlogging accessories, such as Display Mod and Light Mod, are compatible with these cameras.
HyperSmooth'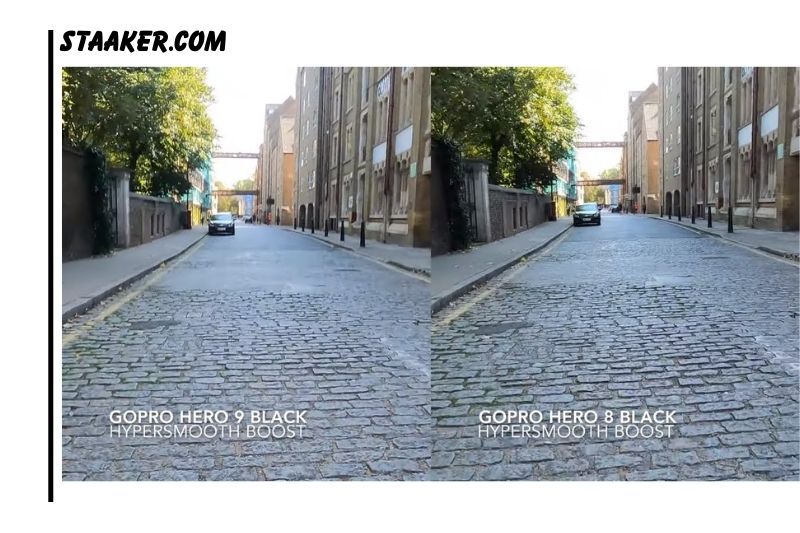 By introducing HyperSmooth 2.0, GoPro Hero 8 delivered HyperSmooth a considerable improvement. Since then, GoPro has been steadily improving its EIS, including HyperSmooth 3.0 in the Hero 9 Black and HyperSmooth 4.0 in the Hero 10 Black. You may even apply stabilization to higher video resolutions on the newest Hero 10 Black (5.3K30, 4K60, and 2.7K120).
TimeWarp
TimeWarp – a fun Hyperlapse mode for generating super-smooth motion time-lapses – has been improved with TimeWarp 2.0 on Hero 8 and TimeWarp 3.0 on Hero 9 and 10 Black. You get incredible hyperlapse images without the annoyance of a 10% crop. It's also accessible on the latest GoPros in all frame rates and resolutions.
Swappable Lens Cover
All GoPro Hero Black models included swappable lens covers until the GoPro Hero 7 Black. GoPro corrected this with the Hero 8 Black, and the lens port was welded to the body, making it non-removable.
GoPro has returned to the swappable lens with the Hero 9 and 10 Black. Not only that, but the business has also developed the Max Lens Mod, an interchangeable lens mod.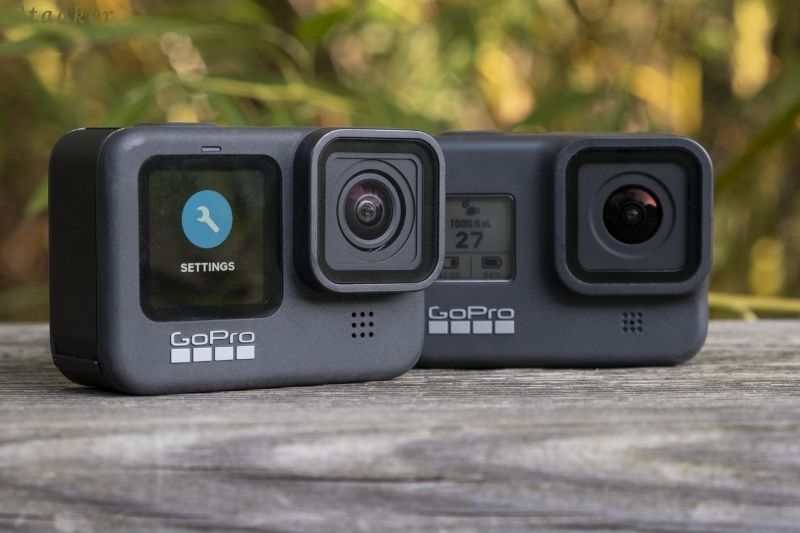 Remote Control
The GoPro smartphone app can wirelessly control all three GoPro cameras through WiFi and Bluetooth. The Hero 9 and 10 Black, on the other hand, do not operate with the Smart Remote or Remo Remote, although the Hero 8 Black does.
Video
Related post:
Conclusion
Ultimately, the GoPro Hero 10 is the best action camera. It has some great features, such as its improved image quality and waterproof design. However, the GoPro Hero 9 is also a great option, and it's worth considering if you're looking for an affordable option. The GoPro Hero 8 is also a good option, but it doesn't have as many features as the other cameras.
Staaker.com hopes this article has helped you decide which action camera is the best for you.