DJI is a leading brand in the drone industry, owning many high-quality drone collections sold at a price that is not cheap but still users highly trusted and appreciated. We have written many articles comparing DJI drones; in this article, we will go beyond DJI, comparing the two brands.
Phantom 4 Vs Typhoon H are two typical drones used by Staaker to compare the two brands.
The Typhoon H comes with six rotors, a camera that turns 360 degrees, retractable landing gear, and a built-in touch screen remote controller.
The Phantom 4 is improved in both flight and functionality. It comes with a fresh, streamlined look, unique intelligent flight modes, a groundbreaking obstacle avoidance system, and an even longer battery life than the Phantoms before it.
Now, let's start the competition between 2 big brands, to decide which should you choose?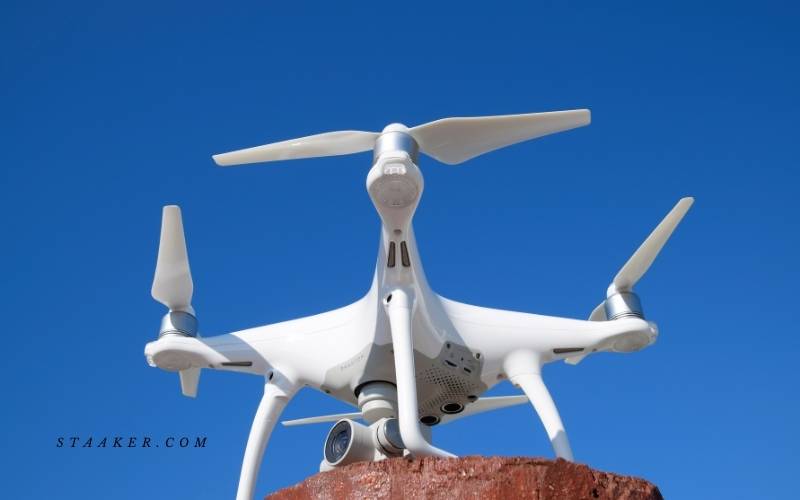 DJI Phantom 4
Specs:
Dimensions: 660 x 508 x 457 mm (26 x 20 x 18 inches)
Weight: 1380 grams (3 pounds)
Wingspan: 350 mm (13.8 inches)
Battery: 15.2V 5350 Li-Po 3S
Flight Time: 28 minutes
Operating Range: 5000 meters (16404 feet)
Controller Frequency: 2.4GHz
Camera: 12MP 4K camera
Maximum Speed: 20 m/s (45 mph)
Maximum Flying Altitude: 6000 meters (19685 feet)
Pros:
Sturdy and high-quality materials
Weight
Nice camera sensors
Flight time
Bigger online community
Long flight range
Smart detection technology incorporated
Cons:
It costs a lot to purchase additional accessories
To use transmitter you need to have a tablet or a Smartphone
Fixed landing gears
The drone is small and white and it's harder to detect when up in the sky
No 360 degrees Anti-Collision-System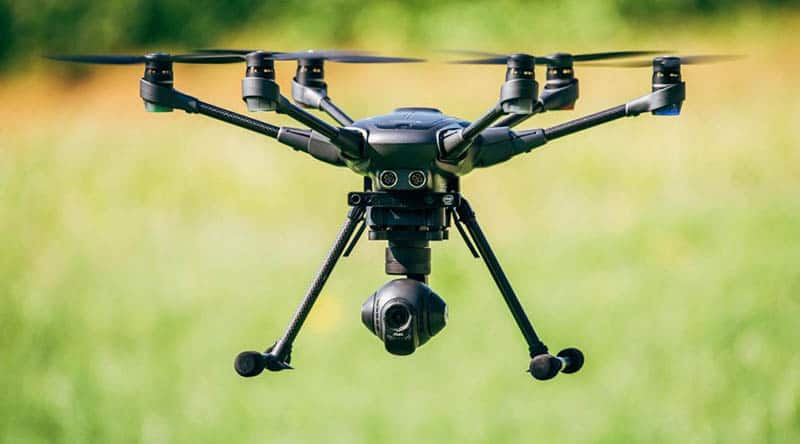 Yuneec Typhoon H
Specs:
Yuneec Typhoon H
Dimensions: 520 x 457 x 310 mm (20.5 x 18 x 12.2 inches)
Weight: 1850 grams (4.1 pounds)
Wingspan: 410 mm (16.1 inches)
Battery: 14.8V 5400mAh Li-Po 4S
Flight Time: 25 minutes
Operating Range: 1600 meters (5249 feet)
Controller Frequency: 2.4GHz
Camera: 12MP 4K camera
Maximum Speed: 10 m/s (22 mph)
Maximum Flying Altitude: 122 meters (400 feet)
Pros:
Foldable arms
Retractable legs
Modular design
It can easily be seen from afar
Integrated 7 inch LCD screen in the remote controller
360° rotation camera
4k camera CGO3+
Intel object avoidance technology
Can carry heavier payloads
Cons:
Smaller flight distance
The filming quality is lower
Weight
Few accessories available
Top speed is lower
Yuneec Vs Phantom 4 Comparison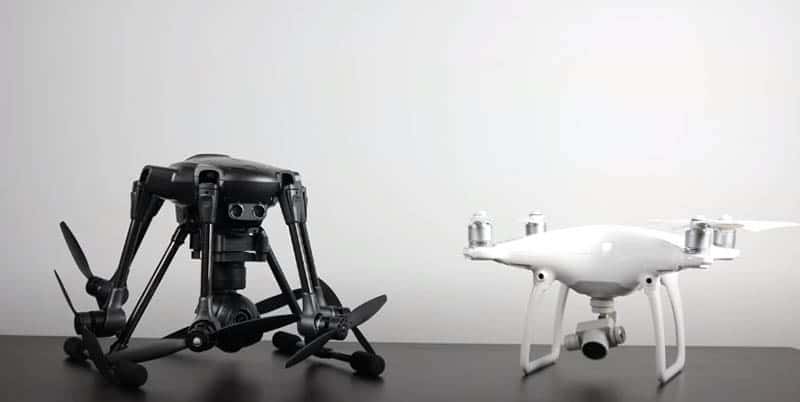 Design and Build Quality
Both companies are experts in building RC machines, and they know what they're doing. Technically both drones can be called top-quality.
Typhoon H's hexacopter design is impressive. It also has an aggressive shape that makes it look professional. In the event of a motor or propeller failure, there are 6 arms to provide redundancy.
This allows you to fly safely back to safety using only 5 propellers. Typhoon H's build is strong, and the carbon fiber arms are sturdy.
Although they are made from plastic, the folding joints of the arms are strong enough. The retractable landing gear is an eye-catcher. The airframe's new, larger design has an intelligent design.
Because each arm folds down, the Typhoon H is large but very compact. You can also flip a switch to lift the legs. You won't be able to see the legs in your shot due to the legs lifting. This allows you to capture a 360-degree angle with your drone.
The Phantom 4's white body and rounded edges keep it true to its original "look". The main differences between the Phantom 4 and its predecessor are only apparent when you look at the glossy shell and internal gimbal. The drone feels solid, thanks to the sturdy shell design. The inside shell is also made of magnesium alloy.
The Phantom 4 is lightweight and stylish. It's also portable and easy to transport. Because of the auto-locking system and removable propellers, it is easy to transport.
The propellers of the DJI Phantom 4 Vs Typhoon H have quick-release propellers. Quick-release propellers don't require any screws to install and can be easily snapped on and off.
Remote Control
The Typhoon H also comes with remote control with a touch screen 7-inch. This means that buyers don't need to buy an additional tablet for their drone.
You can connect multiple controllers to the Typhoon H. The Typhoon H comes with the Wizard, a second controller that can take off, fly and land the drone, and perform smart shots.
One operator can fly the drone while the camera is controlled by the other. This is great for people who only want to capture footage.
The design of the controllers makes a big difference when choosing between the Typhoon H and Phantom 4.
To fly the Phantom 4, the operator must attach an iPad or smart device to the remote controller. This can add cost if the operator doesn't already have a tablet. However, it gives the user the option to choose the screen size they would like for their display.
Obstacle Avoidance
Any operator who wishes to avoid potential damage from a crash will be greatly helped by a drone equipped with an obstacle avoidance system.
The Phantom 4's obstacle-avoiding system is unique and includes five cameras (one main camera and two front and bottom cameras). This allows the drone to examine its surroundings better.
Phantom 4's obstacle avoidance system can detect objects as far away as 50 feet. Additionally, the Visual Positioning System (VPS), a non-GPS device, has been improved to work at heights up to 33 feet.
RealSense, an ultrasonic obstacle avoidance system part of the Typhoon H, can be found on the Typhoon H. The Typhoon H employs sonar sensors that bounce sound waves off objects back to the drone's front sensors.
Transport Case and Carrying Case
Because it has a metal latch, you can use the same box that the Phantom 4 came with as your carry case. It's made of Styrofoam and is ideal for transporting to film shoots or the beach with the family for a picnic.
It may not be safe for you to carry it to the airport. It can be used for several months before you get the DJI backpack.
Typhoon H is a great storage case. The problem is that the lid is flimsy, and there's no handle. This makes it difficult to carry if you have to walk long distances with it. The bottom of the bag has large holes. It is not suitable for carrying small parts such as props or tools.
Read More: 
Best Drone Backpack 2021: Top Brands Reviewed
Best GoPro Drones 2021: Top Brands Reviewed
Safety
Both drone manufacturers collaborate closely with authorities to ensure that both offer safety features. Yuneec focuses more on airspace safety, while DJI focuses on in-air safety.
The main safety feature for both drones is the anti-collision system. These drones both fall under the same category. They were made for different flight conditions and function in completely different ways.
Amazing technology powers the Phantom 4 intelligent detection and avoidance technology. Two cameras are embedded into the legs to detect distance and allow for the detection of objects. They can also be used to identify and follow the object.
The field of view for these cameras is 300 horizontally and 600 vertically. They can also detect obstacles at a maximum distance of 15m (50ft).
It can also break very quickly. However, the cameras can only function during daylight hours and are not usable in darkness. If you don't intend to fly backward, this technology is great.
The Phantom 4 comes with an additional extension, the Vision Positioning System. Both sonar and camera increase indoor and low-level flying stability.
The inside of the Phantom 4 was also modified by the manufacturer, including the addition of a second IMU unit and a second compass.
They will also take control of the drone in case of system failure. This will cause fewer flyaways as well as compass errors. Although these changes may seem small, they are very important. These changes can save you money and increase your pilot's confidence.
Yuneec has a unique system. The technology is so innovative that no other company offers it. The new Typhoon H uses sonar sensors ("Ultrasonic Proximity sensors") rather than normal cameras.
However, one of the best things about those sensors is that they can be used both at night and during the day. However, the sensors can only see small and large objects within a 1.5 meter (around 5 feet) range.
The result is that if you fly your drone at normal speed, there is not much chance of the system hitting the brakes too early. The Anti-Collision system of Yuneec is not designed to be used outdoors. It can only be used indoors.
Important to remember that Typhoon H offers more. You can add 360-degree collision avoidance technology to your Typhoon H. Although it is more expensive than the standard, many people are eager to have it. If you wish to buy the entire package, you will need to fork out $1940.
It is very common for flight connections to be lost. Because Typhoon H has a shorter range, this could become a problem. This shouldn't be a problem as the return-to-home function will control the drone if the connection is lost and bring it back safely.
Another amazing feature of Typhoon H is its ability to deliver a powerful windstorm. Typhoon H has two additional propellers. Five of the props leftover can be used to ground the drone in a propeller failure safely.
The retractable landing gear on the Typhoon H, which allows you to rotate the camera, is essential. This feature, however, makes landing and flying a little more dangerous.
Camera
Professional aerial photographers will find both drones useful and have non-detachable 12MP cameras connected to three-axis gimbals. Both drones can capture crisp, clear aerial footage at a maximum frame rate (30 frames per second).
These drones also have basic camera controls such as ISO, shutter speed, white balance, and white balance. When filming in full HD, you can create slow-mo shots at 120 frames per second.
Both drones have excellent video quality. The Phantom 4 produces a smaller image (20mm) with a 94deg field-of-view.
The Yuneec Typhoon H lens has a wider view than the GoPro (14mm, 115deg). Action junkies prefer the wide-angle, while cinematographers opt for longer focal lengths. It is also important to remember that the DJI Phantom 4 uses a fixed camera, while the Typhoon H rotates 360 degrees.
The DJI Phantom 4 is serious about video controls. You can use the drone's LOG color profile to have more control over color grading.
There is also an overexposure warning setting (zebras), sharpness, saturation adjustments, sharpness, and saturation adjustments. The DJI Phantom 4 has a histogram, visual grids, and guides for better shot framing.
Read More: 
Intelligent Features
Both the DJI Phantom 4 vs Yuneec Typhoon H come with unique intelligent flight modes. Six intelligent flight modes are available on the Typhoon H: Orbit Me; Point of Interest; Journey, Curve Cable Cam Follow Me, and Dynamic Return home.
Orbit Me mode allows users to make their drone circle the pilot. Typhoon H will follow an operator in this mode, even if they move around during the shot.
The operator can use Journey to take an aerial selfie. This will allow the drone to fly 150 feet in front of them, capturing the perfect in-air selfie shot. Curve Cable Cam allows users to create waypoints that direct the drone along an invisible route with pre-set coordinates.
Tap to Fly, Follow Me, and Active Track are some of the innovative flight modes available on the Phantom 4. The Phantom 4's Sports Mode allows it to fly at speeds of 72 km/h while maintaining its Visual Positioning system.
Tap to Fly allows users to tap any location on their screen with the DJI Go app to have their drone fly to that spot automatically. ActiveTrack allows operators to tap on an object on their screen and have the drone follow it autonomously. This will keep the object in the center.
Video:
Performance
In terms of speed and agility, the Phantom 4 is faster than the Typhoon H. The Typhoon H can fly up to 35km, while the Phantom 4 can travel up to 72 km in Sports Mode.
The Typhoon H cannot fly higher than 1.6 km, while the Phantom 4 can fly up to 72 km in Sports Mode. The Phantom 4 is faster than the Typhoon H, but the Typhoon H is more stable and can make smoother turns. This is an advantage for filming.
Conclusion
Indeed, both Dji Phantom 4 Vs. Yuneec Typhoon H is well worth the investment and experience. The Typhoon H. Overall, the six rotors on the Typhoon H make flights much safer and more stable. It is very suitable for those who have a lower budget and use their drone primarily for video production purposes. But if you want to own a more professional drone, you should choose DJI Phantom 4.
Read More: 
How to Travel with a Drone? Travel Drone Tips 2021