The Dji Pocket 2 and Osmo Pocket are two of the most popular pocket-sized cameras. Both offer great features and image quality, but which one is better for you?
In this comparison, Staaker will look at the key differences between the Dji Pocket 2 vs Osmo Pocket to help you decide which one is right for you.
DJI Pocket 2 Key Specs
Announcement Date: 2020-11-01
16MP – 1.7 CMOS Sensor
ISO 100 – 6400
Prime Lens 20mm f1.80
Image Stabilization using Gimbal
1.00 "Screen of Fixed Type
Continuous shooting at fps
4K (UHD) video resolution (3840 x 2160)
High-Speed Video at 240fps
117g. 124.7 x 38.1 x 30 mm
DJI Osmo Pocket Gimbal has been replaced.
DJI Osmo Pocket Key Specs
Date of Announcement: 2018-12-15
1/2.3 CMOS Sensor 12MP
ISO 100 – 3200
Prime Lens 26mm f2.00
Image Stabilization using Gimbal
1.00 "Screen of Fixed Type
Continuous shooting at fps
4K (UHD) video resolution (3840 x 2160)
High-Speed Video at 240fps
116g. 122 x 37 x 29 mm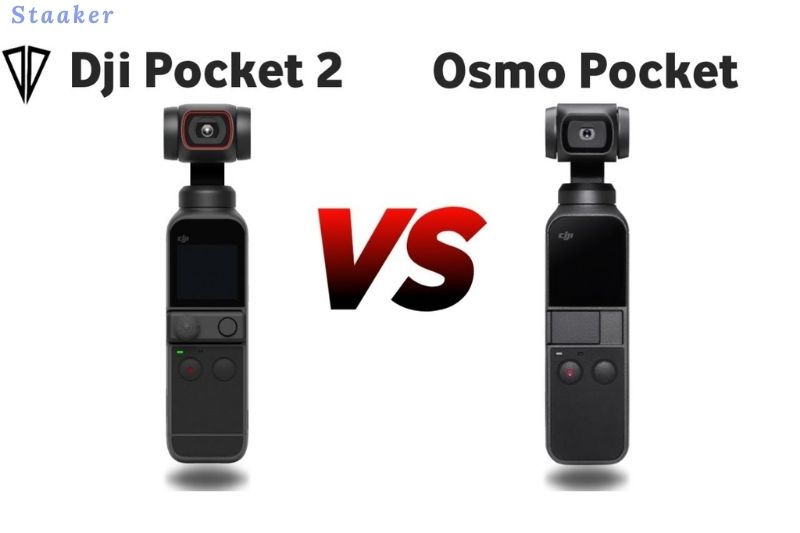 Design
At first glance, the new model looks very similar to its predecessor. Thanks to its simple design comprising a vertical handle with a camera and a three-axis gimbal on top. The Osmo Pocket weighs just 116g, while the Pocket 2 is just 1g heavier at 117g.
Both are lightweight and slip easily into the pocket at 12cm in length. The most significant design change is the lower portion of the handle, which can be removed and replaced with a range of optional accessories sold separately.
Both devices are kitted with a three-axis gimbal for stable video without sacrificing their portable designs. There isn't much difference between the two DJI generations when it comes to design. Both cameras are compact and lightweight, but the Pocket 2 comes out on top thanks to its larger sensor.
DJI Pocket 2 vs Osmo Pocket: Camera
While it appears similar to the DJI Osmo Pocket, few differences exist. Aside from a striking red stripe lining the gimbal, their camera includes many improvements that will take your content creation to the next level.
DJI Pocket 2: Stronger Camera Performance
It has a resolution of 64 megapixels, making it the highest resolution camera of its size on the market. With this pocket-sized gimbal camera, you can take photographs that are larger than life.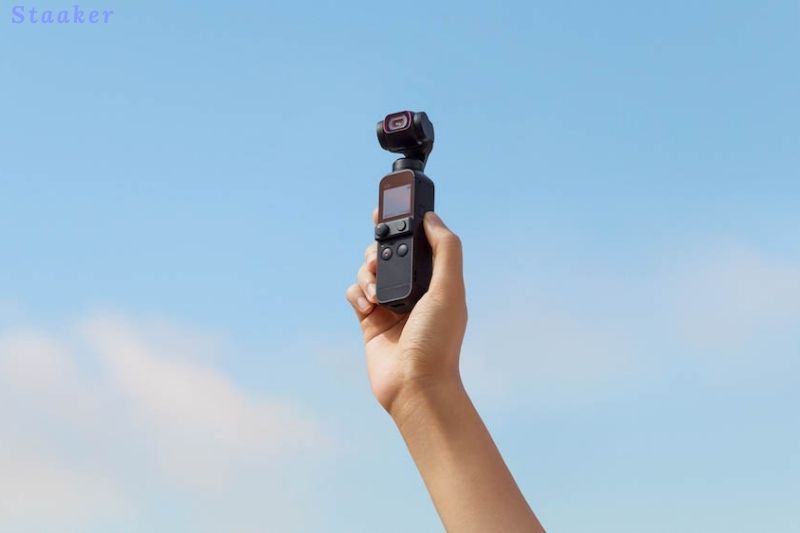 DJI Pocket 2: Larger Sensor for Dynamite Details
The 1/2.3-inch sensor on the Osmo Pocket has been replaced with a 1/1.7-inch sensor on the new DJI Pocket. What does that distinction imply? You can take high-quality film wherever you go and experience improved image quality during the day or night. It is now the best tiny shooting gear for any situation, thanks to this upgrade!
DJI Pocket 2: Better Selfies
It has a 93° field of view versus the Osmo Pocket's 80°. From 26mm and f/2.0 to 20mm and f/1.8, the focal length and aperture increased.
What does this signify for average content makers who want the most incredible shooting device possible? These improvements to the DJI Pocket 2 result in a better, broader image, making it great for cinematic vlogs, films, and selfies.
DJI Pocket 2: Better Autofocus
Who wouldn't want a speedier autofocus function when tracking a fast-moving object? Hybrid AF 2.0 on this camera allows the camera to focus on the target swiftly and precisely. When shooting on the go, use this handy feature to get more precision and a faster response.
DJI Pocket 2 vs Osmo Pocket: New Features
We've all been waiting for this moment. The new features are nothing short of revolutionary. If you thought the DJI Osmo Pocket was excellent, wait till you see what it offers.
Fast Wake
Capturing those rare impromptu moments is part of the joy of photographing when traveling. Nobody wants to be fumbling around with a camera while missing out on all the action. Fast Wake, which allows users to turn on the device and begin filming immediately, eliminates this problem with the DJI Pocket 2. How's that for close-up magic?
Video in HDR
With stunning HDR video for even more details and vibrant color, it can capture your most memorable moments. Your best friend screaming her heart out on a roller coaster has never looked better.
Matrix Stereo DJI
Another area where the Pocket 2 improves is in the audio department. DJI Matrix Stereo is a four-mic system that provides more immersive audio and alters your shot. Relive your fondest moments, such as the time you planned a last-minute vacation across the country to see your favorite band.
8x Zoom
It offers up to 8x zoom for images, 4x zoom for films, and even audio zoom, giving you more creative options. As you zoom in, audio zoom concentrates, lowering the volume of anything not in the frame.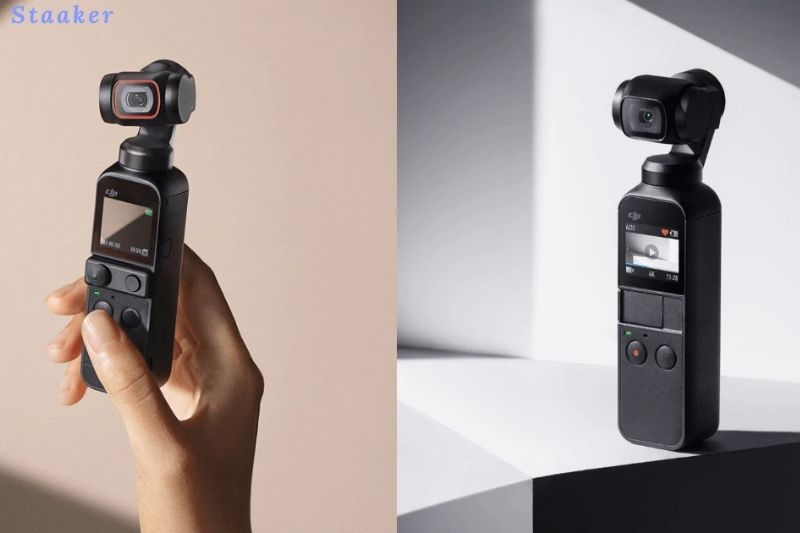 SoundTrack
SoundTrack allows Pocket 2 to alter the direction of audio augmentation based on the camera's direction. Isn't it cool? You no longer have to be concerned about recording the incorrect audio.
Gameplay Mode
Pocket 2 improves on the original Osmo Pocket's Story mode, allowing users to create faster. Without connecting to the DJI Mimo app, you can now use Story mode's preset templates directly in Pocket 2.
Slow Motion Video
At 1080p, the DJI Osmo Pocket slowed things down by 4x, but the Pocket 2 doubles that with 8x Slow Motion. This is perfect for collecting essential details, such as when your brother tried to make dinner and poured maple syrup all over.
Panoramas
The DJI Pocket 2 and the Osmo Pocket can take 180° and 33° panoramas, ideal for capturing expansive views. Pocket 2 is unique in that it includes quick pano stitching, which allows you to view the pano directly on the touchscreen. This extra convenience will enable you to get more immediate use out of your camera.
DJI Pocket 2 vs Osmo Pocket: New Accessories
Control Stick Mini
With this DJI Pocket 2 joystick, you can rotate the gimbal in any direction or zoom in and out, giving you, even more precision and control.
Handle for Everything
The Pocket 2 Do-It-All Handle works flawlessly with various attachments for an excellent filming experience.
Tripod Micro
This little tripod designed exclusively for it provides even more stability for shooting panoramas or time-lapses.
Case for Charging
It has a particular charging case, similar to Osmo Pocket, that charges and stores the small video stabilizer. Two microSD cards, four ND filters, and two smartphone adapters can also be stored.
Remember that the Osmo Pocket Charging Case is not compatible with the Pocket 2 or vice versa due to sizing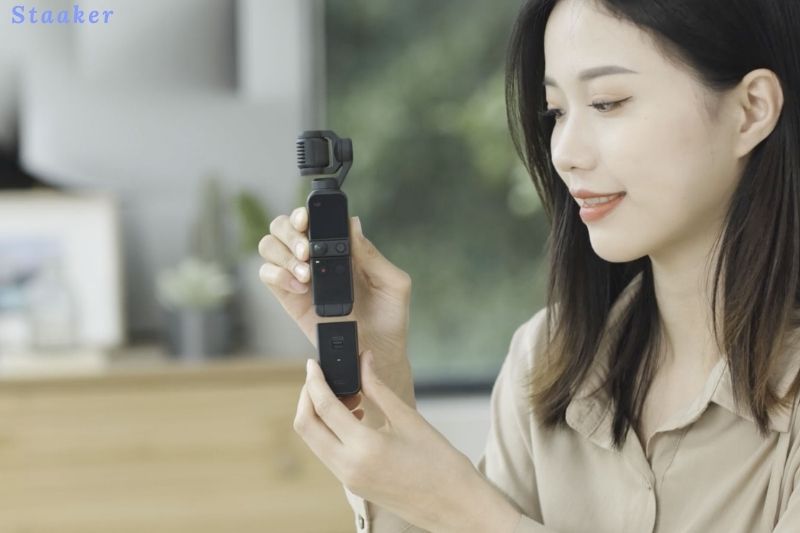 Battery
The battery of the Pocket 2 is the same 875 mAh capacity as the two-year-old Osmo Pocket, promising the same 140 minutes of use time per charge and a 73-minute charge time from empty to full. discrepancies.
Price
You would be forgiven for assuming that its predecessor would be getting a discount with a new DJI Pocket launching. The Osmo Pocket has stuck with its original RRP of £300.
The Pocket 2 is a little pricier at about  £300. It comes with the Mini Control Stick and the tripod mount, but if you're willing to spend £400, you can also pick up a wide-angle lens, wireless microphone and windscreen do-it-all handle and micro tripod.
The Osmo Pocket is the winner here, but the Pocket 2 isn't far behind at just £10 more.
FAQs
Is the Osmo Pocket 2 a good camera?
The Pocket 2 isn't without flaws. The image quality isn't excellent, as evidenced by frequent highlight clipping and noise in low-contrast lighting. The device can grow heated when charging, and with power-hungry modes like 4K video recording, battery life is limited.
Is the DJI Osmo Pocket suitable for video blogging?
The camera is still straightforward, making it an excellent choice for vloggers and content creators who need to shoot stabilized footage but don't want to be burdened by a lot of equipment.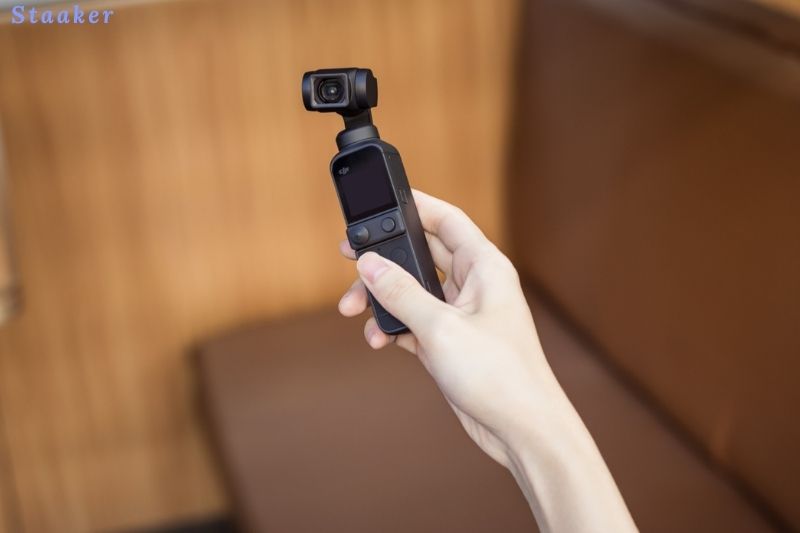 Is the DJI Pocket 2 water-resistant?
Waterproof to a depth of 60 meters. This Waterproof Case is waterproof up to 60 meters, allowing Pocket 2 to record glare-free, high-quality underwater photographs. The gimbal is held in place by an internal clamp.
What is the battery life of the DJI Osmo action camera?
Battery. With RockSteady switched off and screen sleep activated after 1 minute, a fully charged battery can allow video recording at 1080P/30fps for up to 135 minutes and 4K/60fps for up to 63 minutes (with RockSteady turned on and screen sleep enabled after 1 min).
Video
Related Post:
Conclusion
Based on our comparison, the Dji Pocket 2 is the better choice for you if you're looking for a pocket-sized camera with great features and image quality. It has better image quality, faster performance, and more features than the Osmo Pocket.
If you are looking for a more affordable option, the Osmo Pocket is good. If you have any questions, please feel free to ask in the comments below!