DJI launched Spark, a mini drone with lots of exciting features. Then came the DJI Mavic Mini with an ultralight design, Quad HD 2.7K video, and the new DJI Fly app; the DJI Mavic Mini is an amazing drone for an everyday film producer. The Mavic Mini Vs Spark drones represent two different DJI approaches to the consumer. If you are planning to invest in one of them, which one will be most suitable for you? In this guide, Staaker will go into details of each device to firn the best one for you.
DJI's long list of drones starting with Mavic is extensive. DJI now has a consumer machine called the DJI Mavic Mini, which is compact and foldable.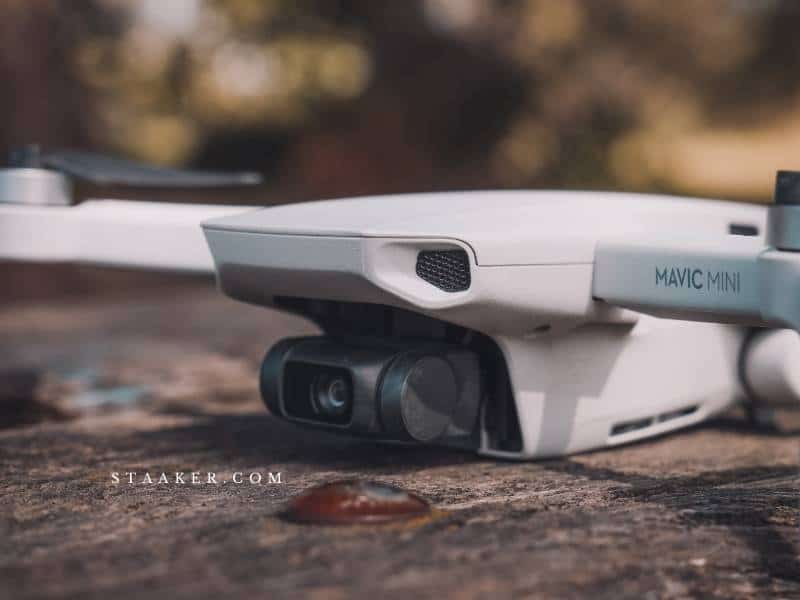 The DJI Mavic Mini, as the name suggests, is a small machine. DJI has made few compromises to make it work. First, the Mavic Mini is less than 0.55 pounds. This means that you don't need to register it with FAA before flying. It is easy to register, but it is not necessary.
This drone is small but powerful. It has a 12MP camera and can shoot 2.7K video using a stabilized Gimbal.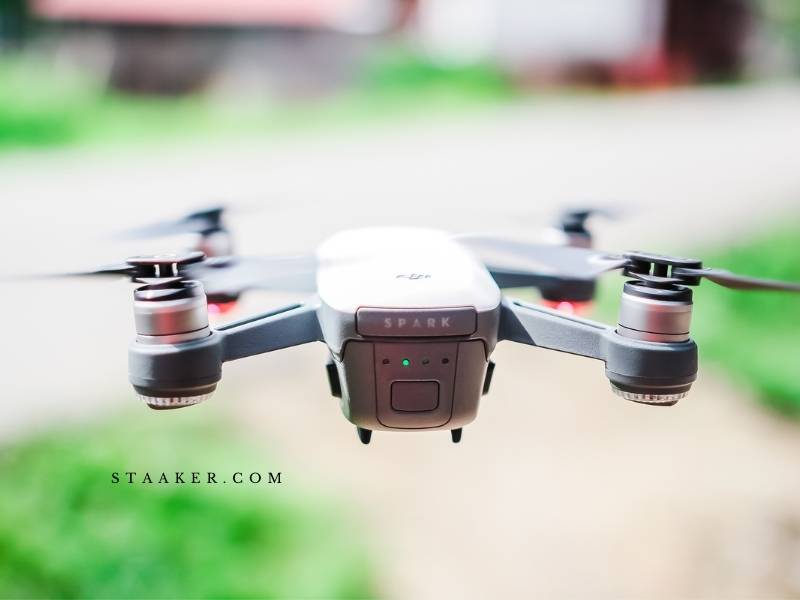 DJI Spark launched a new segment in the drone industry, with a small machine with more fun features than its powerful specs. Everyone talked about the Jedi mind tricks you can do with this drone, which uses object detection and a front camera to recognize hand gestures.
These fun flight features led to the focus shifting to two other features: the ability for the drone not to require remote control and the possibility of flying without one.
The DJI Spark can be easily packed and carried wherever you want. The 12MP camera is powerful enough to take some great photos and can withstand decent winds. Although the camera has a 4K sensor inside, it can only record 1080p video.
You can use the additional pixels to stabilize the image with HD video resolution. The Spark stabilizes movement on two axes using sensor cropping.
This allows for side-to-side image stability. Although this is the worst DJI drone video capture in 5 years, it's still quite good. The Spark's small size and low price make it worth considering.
Read More: 
Dji Inspire 1 Vs 2 2022: Which One To Buy?
Dji Go Vs Dji Go 4 2022: Which One Is Better?
Cx 20 Vs Dji Phantom 2022: Which One Is Better?
Compare DJI Mavic Mini vs DJI Spark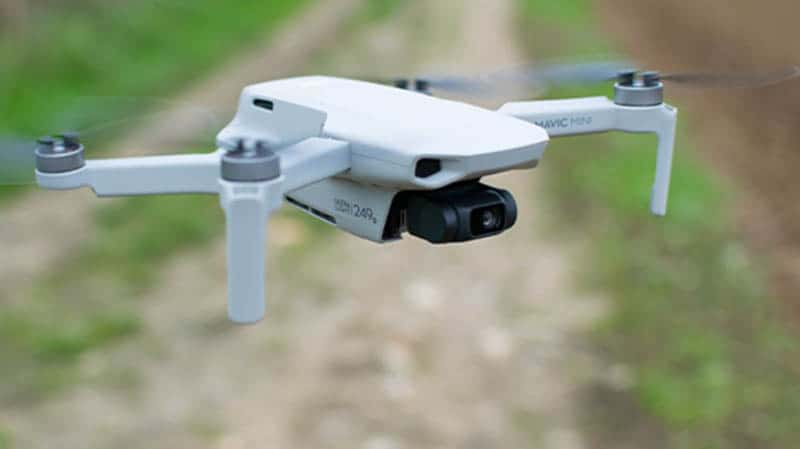 Overview
MODEL
DJI SPARK
DJI MAVIC MINI
Weight
300g
​249 g
Stabilization
2-Axis Gimbal
3-Axis Gimbal
Video
1080 p
​2.7K/30fps at 40 Mbps
Camera
1/2.3" CMOS, 12 MP
1/2.3" CMOS, 12 MP
Max. Transmission
2 km (FCC)
4 km (FCC)
Max. Flight Time
16 minutes
30 minutes
App
DJI GO 4 app
DJI Fly app
Build & Design
The Mavic Mini is a well-named aircraft. It looks and folds almost exactly like the Mavic Air 2. It's not a bad thing. They're beautiful aircraft that folds down to a very good size once you get used to the sequence.
Although the Mini can be carried in a jacket pocket, it is recommended to store propellors in protective storage. You'll also need a remote control to monitor and adjust.
The Spark is a little more chunky than the Mini, despite its smaller diagonal. This is due to its rigid frame. Although the propellors can be folded out of the way but not the arms, that's why they are so stiff.
The Mavic Mini's arms bend slightly when opened. This criticism cannot be directed at Spark. This flex doesn't seem like a problem, and it could be beneficial if you are in a collision.
This is slightly more likely for the Mini because it doesn't have a collision detection system other than downward landing sensors. The Spark can "see" up 5 meters (16ft) ahead. It can also stop flying towards an object and not hit it. The Mavic Mini's hull looks a lot like a binocular system, but they are not.
Read More: 
DJI Tello Vs Spark: Top Full Guide 2022
DJI Spark Vs Parrot Bebop 2: Top Full Guide 2022
Speed & Maneuverability
DJI Mavic mini vs Spark drones can be used near family and friends. However, neither drone is suitable for windy conditions. It's not recommended to fly beyond a Gentle Breeze (Beaufort scale)
Because they are from the same stable, their flight characteristics are similar. DJI drones default to Mode 2 control via two sticks or virtual sticks on your smartphone screen if a radio controller does not control the Spark.
It is simple to understand, especially since both drones have GPS/GLONASS positioning and altitude sensors. The aircraft will hover in place if you release the controls.
The Spark's speed drops to 13mph when its obstacle sensors are activated. However, videography and photography rarely require high-speed flight.
The Mini's 'C Mode' will produce the most stunning footage. This mode allows the drone to fly at a very slow speed to capture beautiful cinematic shots.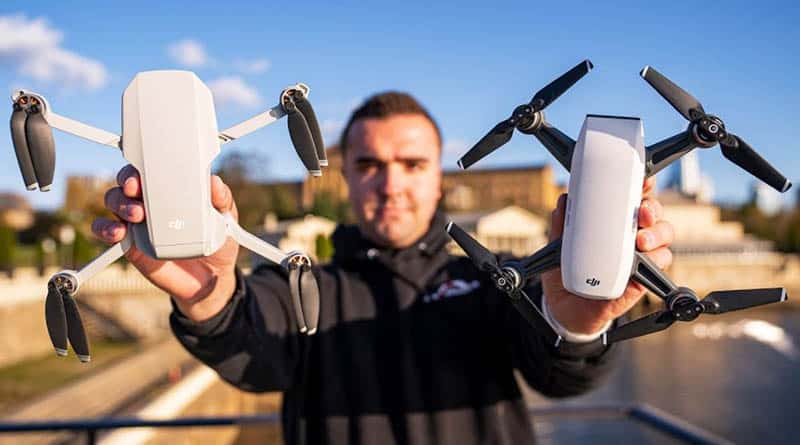 Flight Performance
DJI Mavic Mini is a great choice for flight performance. It can fly up to 30 minutes and has a 4km HD transmission range.
For an FCC compliant model (MT1SS5), the distance is 4 km, and for a CE compliant version (SRRC), 2.5 km. The measurements were made in an open environment free from interference and with the aircraft at a constant speed of 14 kph.
DJI Spark offers a maximum flight duration of 16 minutes and a 2km HD Wi-Fi video transmission.
Safety of Flight
DJI Spark and Mavic Mini can fly with a GPS signal. Downward vision sensors allow for precise hovering.
DJI Spark is also equipped with a 3D sensing technology that can detect obstacles up to 5 meters away.
DJI Mavic Mini owners can attach a 360deg propeller guard to protect their aircraft and protect others while flying.
Battery life
You may be familiar with DJI drones. They are "Intelligent Flight Batteries" with a built-in one-press charge meter (4LEDs). This is the most visible aspect of intelligence. The batteries monitor how long they have been idle and then start discharging to a safer level within a few days.
DJI Spark does all of this as professional models. It is powered by a 3S (3-cell) LiPo that produces 1,480 mAh and weighs 95g. Although the battery check button is easily accessible from the drone's back when the battery is in place, the drone's design feels unnecessarily bulky, especially in comparison to the Mavic Mini.
Mini uses a similar Li-ion technology but with a 2S configuration that produces 2,400mAh. The battery pack contains 100g and is used primarily to store charge. There is also no built-in battery meter.
However, the inconvenience of not being able to self-test batteries is easily compensated by three things. The Mini's battery has nearly twice as much flight time, and there is a tester circuit built into the Mavic Mini aircraft so that you can quickly test the current battery. Additionally, spare batteries are less expensive because they are simpler.
The Mavic Mini can also be used as a charger when connected with a USB-C power source, which is a great way to save money on the accessories you need for travel.
Video: 
Gimbal
Camera drones are not toys; the technology that sets them apart doesn't have a camera. It is how you treat it. The camera is protected against vibrations and sharp tilting of the fuselage by a powered gimbal.
This device can be quick enough to compensate for any unfriendly lurching and allows you to tilt your shot at will from the horizon to an aerial angle.
The Spark and Mavic Mini both have one. However, the Spark uses only the minimum 2-axis method and relies on operator and programming to make sure there aren't any sharp left or right turns.
The Mini's 3-axis Gimbal compensates for yaw. Although the first two are the most important, the Mini's third axis is a huge advantage. It can help make the video look smoother, especially if the drone makes complicated turns.
Also, the Mavic Mini offers slightly more movement options than Spark's 85. It tilts down to a plan view at 90. The Mavic Mini can also tilt up to 20 upwards, although it is limited to zero by default.
Read More: 
Best Drone Gimbal 2022: Top Brands Reviewed
Best Vlogging Drone 2022: Top Brands Reviewed
Intelligent Functions
Even though it is an entry-level camera drone DJI Spark has many intelligent features such as TapFly and QuickShots. QuickShots allows you to create innovative videos by tapping; TapFly allows you to control DJI Spark using your smartphone screen, while ActiveTrack intelligently follows the subject you choose.
DJI Mavic Mini also offers QuickShots such as Rocket, Dronie, and Rocket. These shots look just like they were taken on a Hollywood set.
Through the DJI Fly app, the Everyday FlyCam provides a simplified experience for flying. Mavic Mini offers a simple user interface, pre-made templates, and editing tools that make it a great choice for everyday drone flyers.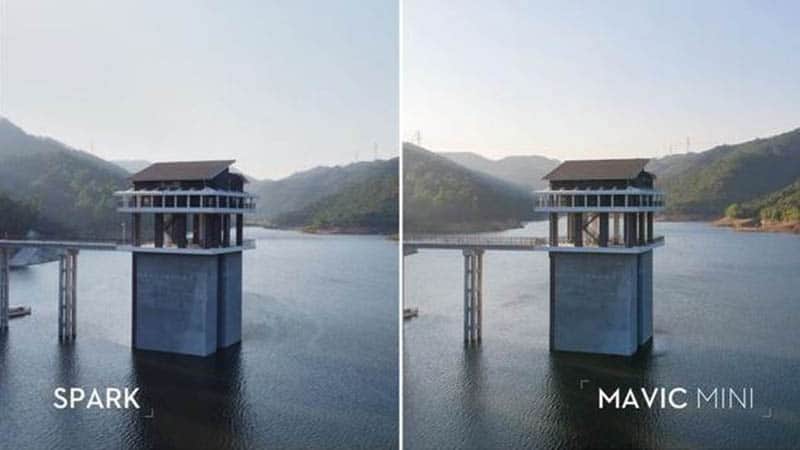 Image Quality
The drones have a 1/2.3-inch 12MP camera, which gives them great imaging capabilities to create social media footage.
DJI Mavic Mini has a 3-axis motorized Gimbal that stabilizes footage along with the pitch, roll, and yaw axes. DJI Spark features a 2-axis motorized gimbal that stabilizes footage along with the pitch and roll directions.
DJI Mavic Mini's video performance is exceptional. It shoots super-smooth, 2.7K Quad HD videos that can be transformed into art. DJI Spark is ideal for beginners, with 1080p video and 12MP stills. These are great for taking selfies.
Limitations
Transmission distance doesn't necessarily indicate how far you can fly. It is a measure of the strength and range of your radio signal, as it would be in a desert without wind or other sources of interference.
Your actual flight limit is typically the distance you can maintain visual contact with your drone or 500m, whichever comes first. Both drones can perform within the allowed flying range.
However, the Mavic Mini is better at this task. Both drones should not be operated from far away from the pilot, as they use a Wi-Fi frequency that is restricted compared to high-end drone radio systems and susceptible to interference.
It would help if you used the Mavic Mini's remote control as a monitor. The separate remote is optional. Your phone's Wi-Fi strength is what will allow you to reach the Spark. This limits your range to 100m (better than the phone at the bottom, but not as good).
Spark only offers 'Gimbal Pitch Tracking'. This is because you can't use the remote control. It allows you to tilt your phone up or down so that the gimbal can adjust the camera's angle.
Read More: 
Best Drone Goggles 2022: Top Brands Reviewed
Best Drone Landing Pad 2022: Top Brands Reviewed
Best Drone Battery Charger 2022: Top Brands Reviewed
Conclusion
The DJI Spark is a perfect choice for beginners with 1080p video and a 2-axis gimbal, making this a fascinating mini drone. The DJI Mavic Mini offers the perfect combination of power, portability, and ease of use; the FlyCam is lighter, smaller, and has a longer flight time than the DJI Spark, making it ideal for professional videographers daily business. Let's wait for our article Mavic Mini vs Mavic Air 2 and Mavic Mini vs Mavic Mini 2 next time.