When it comes to drones, the Mavic Mini and Spark are two of the most popular options on the market. The Mavic Mini is slightly larger and heavier than the Spark and has a longer flight time. The Mavic Mini also has a higher resolution camera and can shoot 4K video. 
Both drones offer great features and performance, but which one is right for you? Here's a look at the key differences between the Mavic Mini and Spark.
Mavic Mini Vs Spark
Design & Construction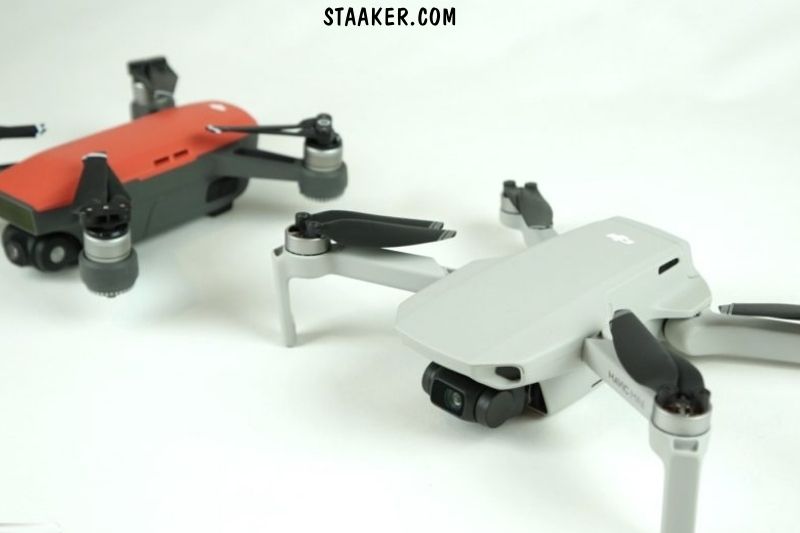 The Mavic Mini is appropriately titled; it resembles and folds like a miniature version of the Mavic Air 2, which resembles a more compact Mavic 2. That's not a negative thing; the planes are all attractive and fold to a pretty practical size (after you get used to the sequence).
The Mini can fit comfortably in a coat pocket, though protective storage is strongly recommended for the propellers, and you'll also be responsible for the remote control. Despite having a lower diagonal spread, the Spark's solid frame may make it appear somewhat bulkier. The propellers fold out of the way, but the arms do not, which is why they are so short.
The arms of the Mavic Mini bend slightly when opened, a critique that cannot be raised against the Spark drone. This flex, however, does not appear to be a concern; in fact, it may be advantageous in the event of a collision.
Additionally, this is slightly more probable with the Mini, as it lacks a collision detection mechanism other than downward landing sensors. The Spark is capable of this and can "see" up to 5 meters (16 feet) ahead.
This allows it to stop flying toward an object to avoid colliding with it and do subject tracking. The Mavic Mini's shell features two vents that resemble a binocular vision system. However, they are not.
Speed & Maneuverability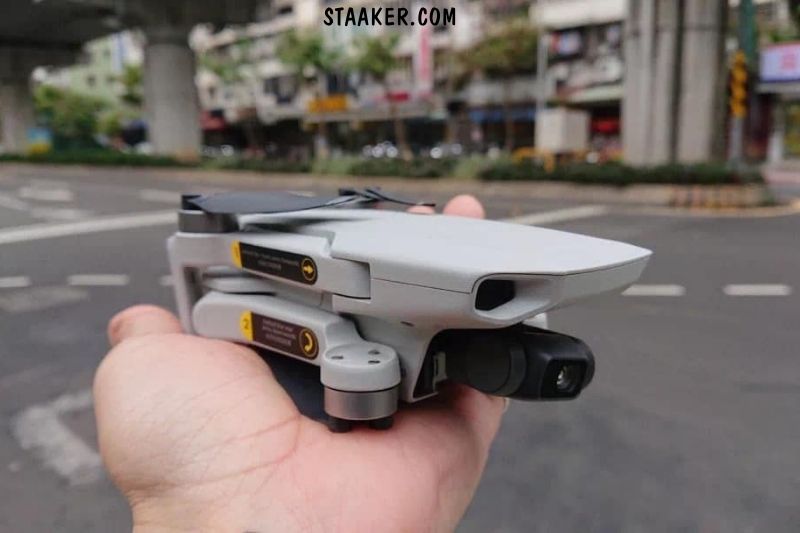 Both drones are intended for usage near friends and family, so they have an almost pleasant appearance, and both feature retractable propeller guards for increased safety. However, neither aircraft is well-suited for windy situations; flying in winds exceeding a Gentle Breeze on the Beaufort scale is not advised.
Since they are from the same stable, their flight qualities are identical. By default, DJI drones are controlled with two sticks in "Mode 2" (or virtual sticks on your phone screen if you operate the Spark without the radio controller). Both aircraft are equipped with GPS/GLONASS positioning sensors and altitude sensors, so if you let go of the controls, the aircraft will hover in place.
The Spark's top speed is approximately 13 mph when its obstacle sensors are activated, but photography and videography rarely need a high-speed flight. Most of the Mini's most excellent footage will be captured in "C Mode," in which the drone purposefully slows down to create cinematic images.
Image Quality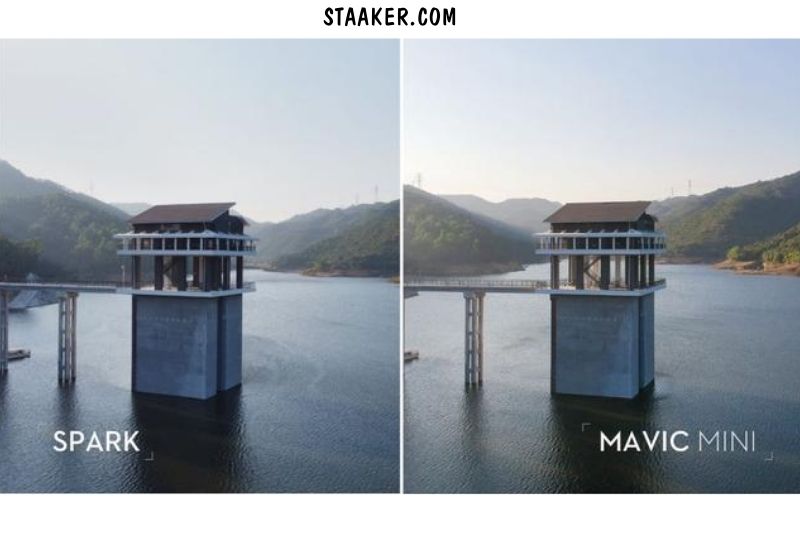 Both drones are equipped with a 1/2.3-inch, 12-megapixel sensor, offering them superior image capabilities for creating social media content.
The 3-axis motorized gimbal on the DJI Mavic Mini stabilizes footage along the yaw, pitch, and roll axes. The 2-axis gimbal on the DJI Spark stabilizes footage along the pitch and roll axes.
In video performance, DJI Mavic Mini captures ultrasmooth 2.7K Quad HD movies, allowing you to turn any moment into an artistic masterpiece. The DJI Spark is ideal for novice users as it provides 1080p video and 12MP stills that are ideal for selfies.
Intelligent Functions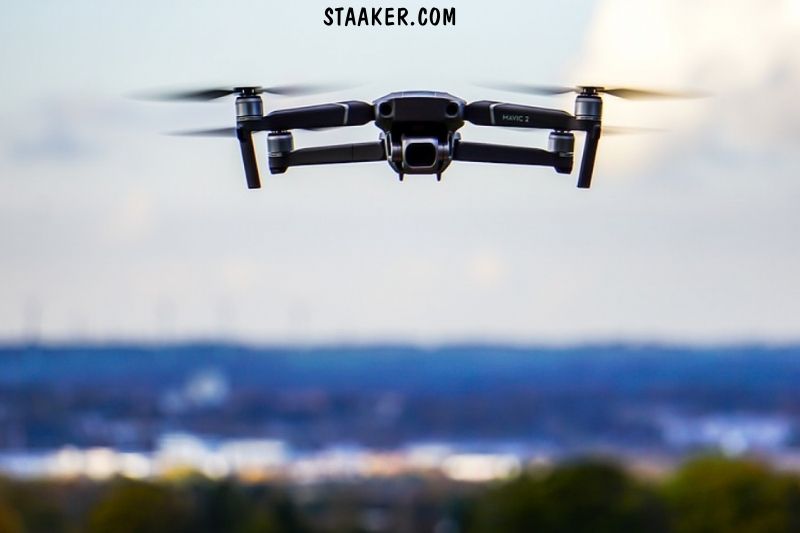 Although an entry-level camera drone, DJI Spark is loaded with sophisticated features such as ActiveTrack, TapFly, QuickShots, and Gesture mode. QuickShots enables you to create unique films with a single tap, TapFly enables you to operate DJI Spark by touching your smartphone's screen, and ActiveTrack intelligently tracks your selected topic.
In addition to QuickShots like Dronie, Rocket, and more, the DJI Mavic Mini provides photos that appear to be taken on a Hollywood set. The Everyday FlyCam simplifies the flight experience through the new DJI Fly app. Mavic Mini is an excellent alternative for everyday drone pilots due to its intuitive user interface, creative pre-made templates, and editing tools.
Flight Performance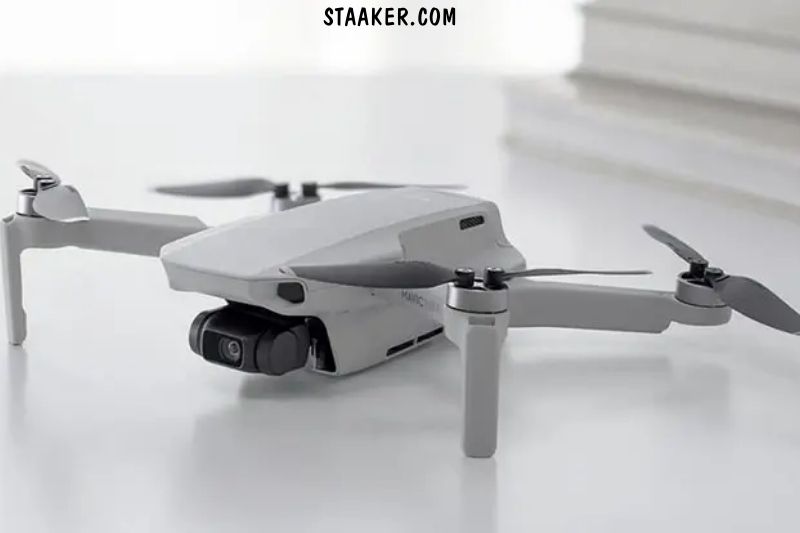 With a flight time of up to 30 minutes and a transmission range of 4 kilometers in HD*, the DJI Mavic Mini possesses impressive flight performance.
* 4 km for a model complying with the FCC (MT1SS5) and 2.5 km for a model compliant with the CE (SRRC). The measurements were conducted in clear, interference-free conditions, with the airplane flying 14 kilometers per hour.
On the other hand, DJI Spark has a maximum flying length of 16 minutes and an HD Wi-Fi video transmission range of 2 kilometers*.
* Estimated flight time is based on flying without wind at a constant speed of 20 kilometers per hour. Actual flight durations may vary based on the circumstances.
Flight Safety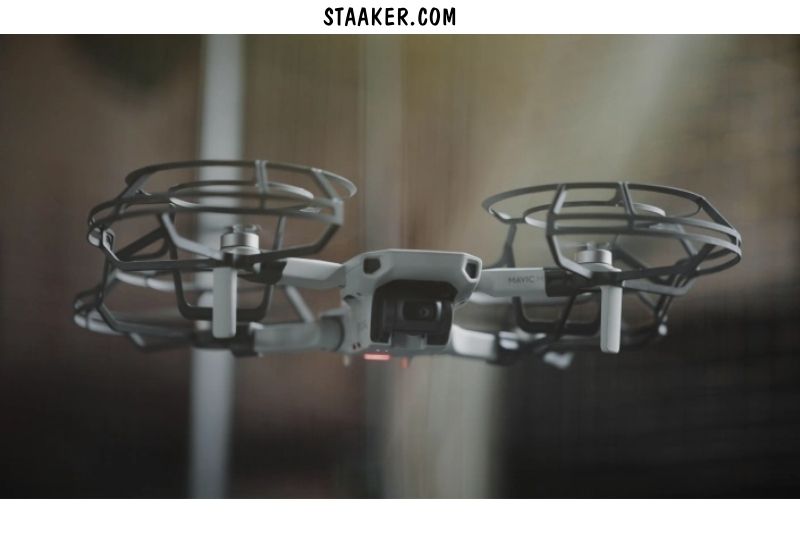 With a GPS signal, the DJI Spark and Mavic Mini provide a solid flight experience, and downward vision sensors ensure their ability to hover correctly.
Additionally, the DJI Spark is equipped with a 3D sensor technology that can identify obstructions up to 5 meters away.
Users of the DJI Mavic Mini can connect a 360° Propeller Guard to safeguard the aircraft and themselves and others during flight.
Battery life
If you're familiar with the best DJI drones, you know that most use "Intelligent Flight batteries" with an integrated charge meter that can be accessed with a single button click (4 LEDs). The batteries also monitor how long they've been inactive and, after a few days, begin to deplete to a safer level.
Based on a 3S (3-cell) LiPo that delivers 1,480 mAh from its 95g, the DJI Spark accomplishes all of these feats similarly to more professional versions. When the battery is installed, the battery check button is easily accessible from the rear of the drone. However, the design feels excessively bulky, especially compared to the Mavic Mini.
The Mini takes a different approach, opting to utilize upgraded Li-ion technology capable of producing 2,400mAh in a 2S configuration. The vast majority of this battery pack's 100 grams are devoted to storing charge, and there is no built-in battery meter.
However, the inconvenience of non-self-testing batteries is readily outweighed by three factors:
The Mini's batteries have nearly double the flight time.
A tester circuit is integrated into the Mavic Mini airframe so the present battery can be easily tested.
The less technically tricky design makes replacement batteries more affordable.
Conveniently, the Mavic Mini can act as a charger when attached to a USB-C power supply, reducing the number of travel accessories required.
DJI Mavic Mini Vs Spark:

Gimbal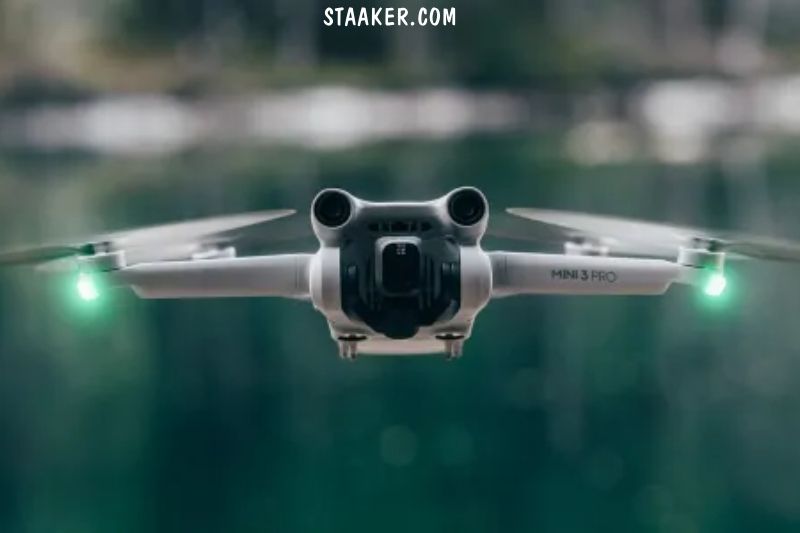 The technology distinguishing camera drones from toys is not the camera itself but how the camera is managed. Specifically, the camera is protected from the vibrations and severe leaning and tilting of the fuselage by a motorized gimbal — a technology quick enough to compensate for all that hostile lurching while also allowing you to tilt your image from the horizon to a more aerial perspective at will.
Both the Spark and the Mavic Mini contain a gimbal, albeit the Spark's relies on programming and the pilot to prevent sharp left or right turns, whereas the Mavic Mini's 3-axis gimbal also compensates for yaw.
The first two axes are the most important, but the third axis is a great plus for the Mini and can make the video appear smoother (especially if the drone is making complicated turns in the shot).
The Mavic Mini boasts a slightly more extensive range of motion than the Spark, tilting down to a plan view at 90 instead of 85. In addition, although it is limited to 0 degrees by default, the Mavic Mini can tilt up to 20 degrees if desired.
DJI Spark Vs Mavic Mini:

Stills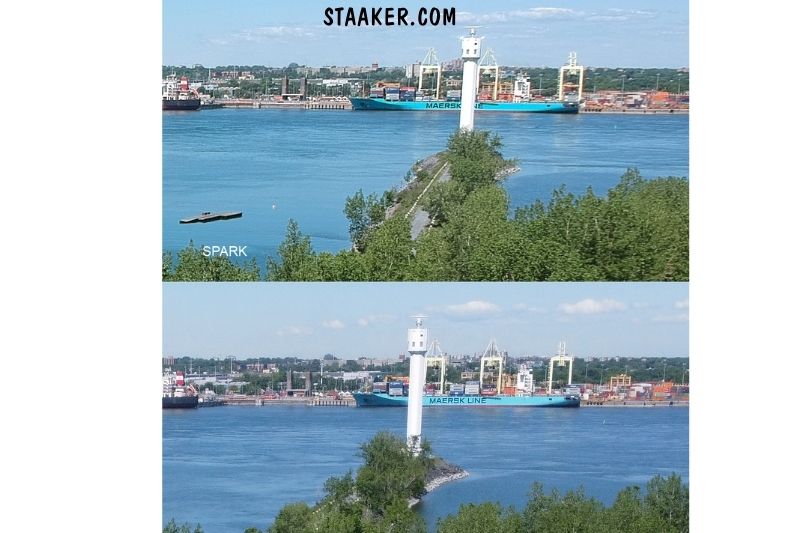 In terms of quality, there is no difference between the two 12-megapixel drones, which both include 1 / 2.3-inch imaging sensors – comparable to those seen in mid-range mobile phones.
In actuality, the Mavic Mini appears to have benefited from a few more years of DJI developing its processing algorithms and appears less sensitive to oversaturation. However, neither aircraft take RAW photographs, so photographers are in a similar position.
To deal with a bright sun, you can (and may need to) apply ND filters, and you should be cautious of the preview you see when creating since any blown highlights will likely remain blown.
The Spark uses its depth sensing to give a still-quite-cool ShallowFocus option (at a social-media-friendly 1440×1080 pixels) and horizontally and vertically stitched panoramas. Burst and Bracketing are also available, albeit just three frames with a 0.7EV bias.
Professionals will desire 4K or 8K video, but for the typical applications of these drones, increased quality can cause more issues than it solves. The Mavic Mini's "2.7K" quality is ideal if most of your films are uploaded on YouTube, Instagram, etc., and you'll be able to seamlessly integrate a 2.7K clip into a 4K edit without anyone noticing.
With a sensor of this size, there is bound to be some noise in low light, but the footage is sharp and of a very high standard.
The Spark falls behind with a maximum resolution of "just" 1080P (Full HD). However, this is sufficient for most purposes. The decreased bit rate is unfortunate, but the video quality is quite appealing because there are fewer pixels.
Given the emphasis on fun selfies and action, it is more frustrating that there is no higher frame rate option – on the Mavic Mini, up to 60fps at 1080P is available, which is ideal for slow-motion editing.
Essentially, both drones will produce high-quality footage. Still, the Mavic Mini's footage can be edited more professionally (with speed changes and the like), while the Spark is more about capturing the moment.
Which Is Better DJI Spark Or The Mavic Mini?
The Mavic Mini and the DJI Spark are beneficial drones, albeit for slightly distinct audiences. If you're searching for higher-quality output and, like most people, you believe a controller should be included, then the Mavic Mini is unbeatable. Serious vloggers with pals available to film their content will not be disappointed by the improved video resolution or longer battery life.
The Spark offers an attractive array of intelligent functions that could make it a better companion on a family vacation, for instance. 1080P video provides sufficient detail for most of us to revisit joyful experiences. Jedi mode is a lot of fun, the automatic functions feel like a beautiful bargain, and the frame is solid.
The Mavic Mini is somewhat hampered by DJI's decision to replace its software with a sparser phone app, eliminating essential features such as the combined battery meter and return distance warning chart. It's a slight loss, but it's still unfortunate.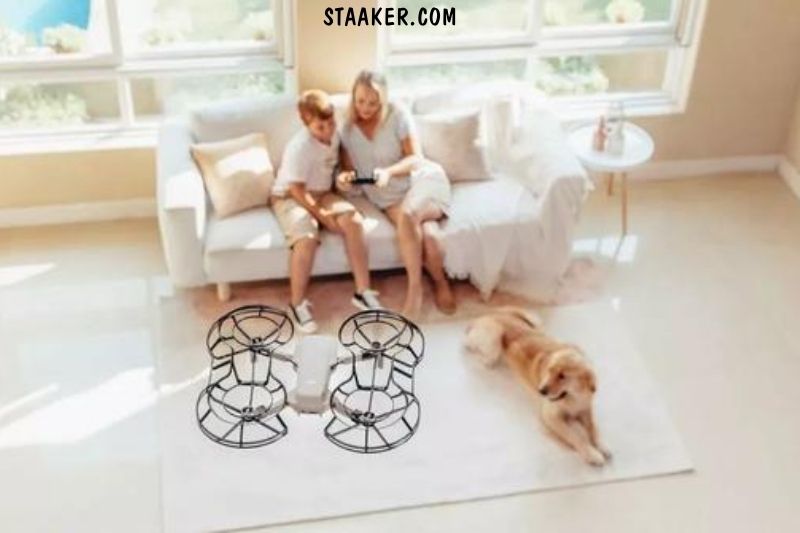 The essence is that the Mini has the advantages of being newer and weighing less than the magic 250g, so it looks to make a good comparison with the Spark for many people. Still, the Mini would have been the lower model if they had been released simultaneously.
The increased capabilities of the Spark may or may not be outweighed by the video resolution for many artists, making this an entirely personal decision; yet, neither option is incorrect.
Ultimately, it comes down to personal preference. Hope this review was helpful!