GoPro is a famous action camera company that offers three main models of their cameras: the Hero 7 Silver, the Hero 7 Black, and the Hero 7 White.
Each camera model has different features and benefits, so deciding which one to buy can be challenging. In this article, Staaker.com will compare the GoPro Hero 7 Silver vs Black vs White to help you decide.
At A Glance: GoPro Hero 7 Black vs Hero 7 Silver vs Hero 7 White
Max speed
60fps at 4K / 240fps at 1080p
30fps at 4K / 60fps at 1080p
Hypersmooth stabilisation
Max speed
60fps at 4K / 240fps at 1080p
Hypersmooth stabilisation
Max speed
30fps at 4K / 60fps at 1080p
Hypersmooth stabilisation
Hypersmooth stabilisation
Design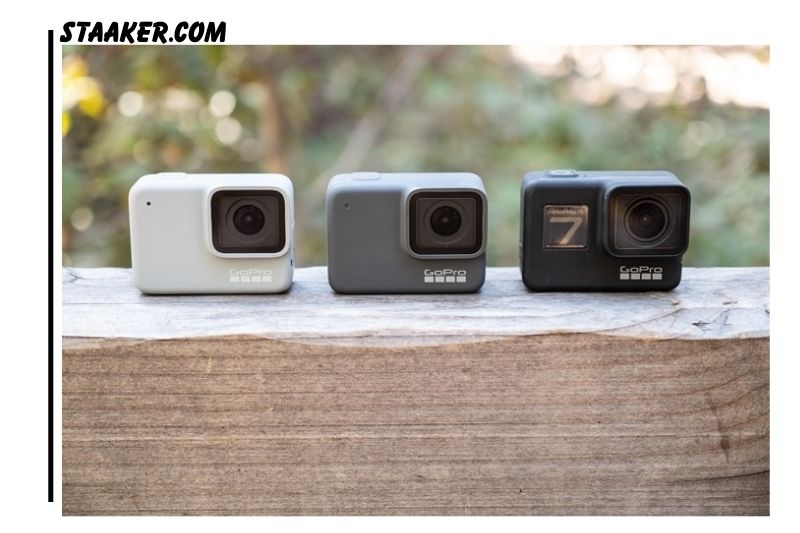 Overall, all Hero 7 models have the same design. They are smaller and lighter at 6.2 x 4.4 x 3.2cm than prior models. This is a tiny action camera, and the lightweight design makes it quite pleasant to carry around in a pocket or on a chest or head strap.
They all have a similar appearance. The shape is consistent across the series, as is the design, including a lens port in the upper right corner. There is some weight variation, with the Go Pro 7 Black being the heaviest, but there isn't much difference between the three.
All three have a 2″ touchscreen on the back and are waterproof to a depth of 10 meters without extra housing.
Sensor And Processor
We're not expecting results from any of the three examples on offer here to be a match for interchangeable lens DSLRs or mirrorless models because miniature cameras have small sensors – here, it's a meager 1/2.3-inch for each – so we're not expecting results from any of the three examples on offer here to be a match for interchangeable lens DSLRs or mirrorless models.
Despite these limitations, the GoPro Hero 7 Black provides a helpful double whammy of 4K video and 12-megapixel stills in both Raw and JPEG and a timelapse option (more on that later). The combination of its 12MP CMOS sensor and GP1 CPU makes everything feasible.
Photographers will also benefit from a new SuperPhoto mode, which claims to give intelligent scenario analysis and thus optimized images. It accomplishes this by employing high dynamic range (HDR) techniques, tone mapping, and noise reduction.
This has a noticeable effect, restoring highlight detail previously lost while somewhat elevating shadows. Selfie enthusiasts will appreciate the Portrait Mode, geared for posting to Instagram Stories or Snapchat.
The Face, Smile, and Scene Detection modes integrate with GoPro's QuikStories software to assemble movies and montages for more direct social media sharing.
Choose Hero 7 Silver instead, and you'll receive a lower headline resolution of a still-useful 10 megapixel and fewer bells and whistles overall than the premium 'Black' model – the same is true with Hero 7 White variant. While the Silver version lacks a SuperPhoto mode, it does include a Wide Dynamic Range capability that can be used to enhance images.
Our tests discovered that this function did an excellent job balancing high contrast photos while preserving details in both the shadows and highlights. However, when looking at photographs at 100%, noise and artifacts can be noticed due to the sensor's size.
The GoPro Hero 7 White, on the other hand, does not include the Wide Dynamic Range feature for still photography. It also lacks some of the additional features included in the mid-range Silver model, such as onboard GPS.
Video
The GoPro Hero 7 Black combines the must-have of 4K footage with the commendable ability to capture up to a cinematic 60 frames per second. If users choose Full HD video mode, they can shoot slow-motion videos at 240 frames per second.
That's eight times slower than typical. Adding its 'HyperSmooth' image stabilization mechanism – a combination of hardware and software correction – is one of the action camera's major selling factors for videographers. This three-axis device is supposed to work underwater and in high-shock, high-wind shooting situations.
We also get a 'TimeWarp' option on the same model, which distills long time-lapse video sequences into easily shareable chunks. There is a special Short Clips mode, limiting capture to short 15 or 30-second bursts and lives streaming capabilities for the first time on this model.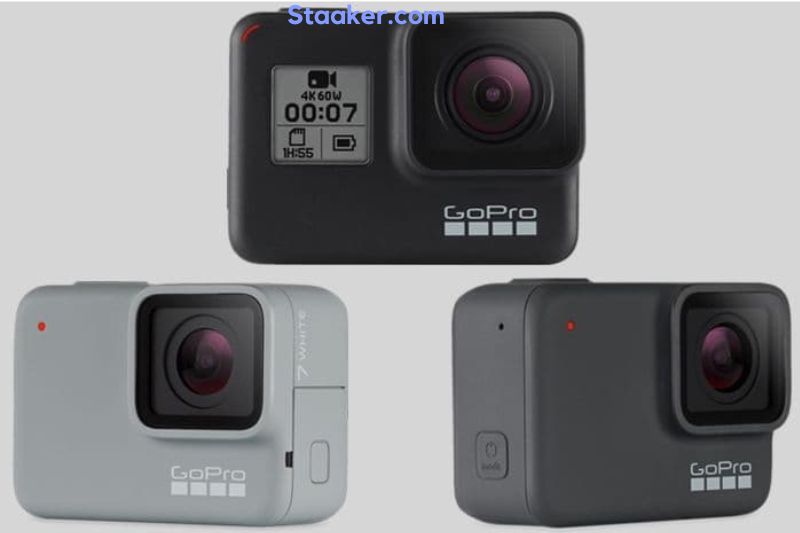 The idea is that these files will be easy to plop into places like a Twitter timeline and post on social networking. The gadget processes the sound from three built-in microphones to offer stereo audio for individuals who want to record sound with their footage. It's also the only one of the three that can record high-quality WAV audio.
Compared to the Black flagship version, the GoPro Hero 7 White has a resolution dip to Full HD clips. While it may not deliver the full glory of 4K video, we've previously termed its 1080P footage as 'beautiful' since we get up to 60P capture, and this level of quality will undoubtedly suit most users.
What more could most everyday users desire than a half-speed slow-motion capability and onboard video stabilization?
Hero 7 Silver is in the middle of the pack, offering 4K video footage at a reasonable 30fps rather than the more theatrical 60fps of the range-topping GoPro Hero 7 Black. It also has a two-microphone setup rather than the three microphones of the premium model.
While it has some image stabilization, we don't get the whole 'fat' 3-axis HyperSmooth anti-shaking capabilities of its Black counterpart. However, slow-motion footage is available only at half the average speed on the Silver option, rather than eight times slower.
We found the video quality to be excellent, and it does a fantastic job of maintaining stability while moving, even if it can't 'iron out' bumps and knocks.
When it comes to video capture on the Hero 7 series, it's very much a case of – you pay your money, and you make your choice. In summary, paying extra for services you may never use is a waste of money.
On the other side, it's sometimes comforting to know they're there and that there's some future-proofing built-in, just in case. While all three cameras have USB-C ports, Hero 7 Black is the only one of the three that also has an HDMI port.
GoPro Hero 7 Black vs Hero 7 Silver vs Hero 7 White: Burst Shooting (fps)
The premium GoPro Hero 7 Black variant can shoot RAW format photographs and take bursts of 12-megapixel stills at up to 30 frames per second. It also features the most user-selectable burst speeds out of the three and the option to shoot time-lapse photographs, something the other two don't have.
The GoPro Hero 7 Silver and White, which have a maximum stills resolution of 10 megapixels, have a maximum shooting speed of 15fps continuous sequential frame rate, which is still quite helpful.
Protune
The Hero 7 Black, like the Hero 6 Black, has Protune capabilities. This enables you to manually alter ISO limits, shutter speed, exposure, and color balance.
This feature is not available in the White or Silver. Everything is decided by the camera on its own, based on ambient factors. Protune is undoubtedly overkilled for an amateur, and you'll only use it once in a while.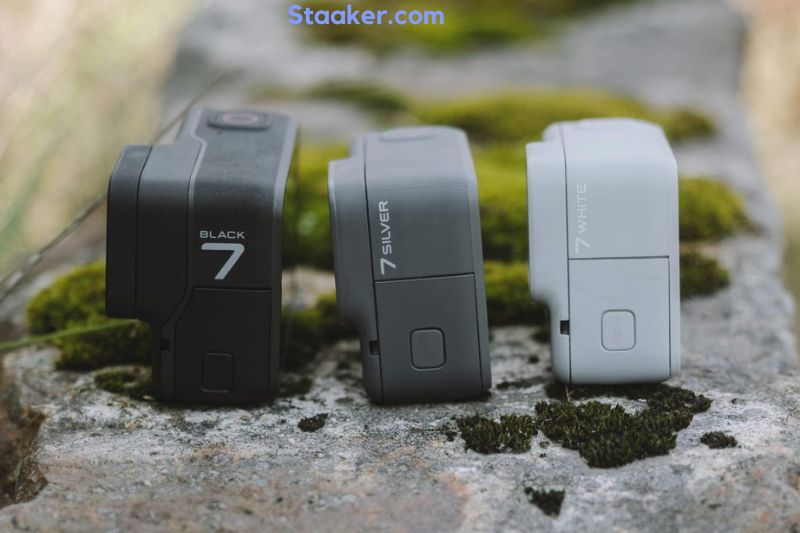 Another distinction worth mentioning is that the Black is the only model featuring a GP1 image processing processor. This was also included in the Hero 6 Black and improved color and performance in low light. The Silver and White models don't have it.
LCD screen
Compared to its Hero 6 forerunner, the GoPro Hero 7 Black features a 2-inch LCD screen with a 16:9 aspect ratio and a redesigned user interface (or UI). Because it is also a touch screen, navigating the offered features is quite simple. It also has a front-mounted display screen with critical settings, differentiating it from the other two alternatives.
Touch Zoom capability is enabled by the 2-inch touchscreen on the backplate of the Black edition, allowing for more exact framing of subjects and shooting conditions. It does, however, operate as a digital zoom, lowering image quality.
The Hero 7 White, the most accessible of the three, has a revolutionary touchscreen with features such as touch zoom. Sliding your finger up or down, the screen zooms into the scene for several framing options, just like it sounds.
The Silver sits in the middle, with a 2-inch screen. We found the LCD to be unresponsive at times, similar to the earlier models, and that it took a more complex touch or swiped here and there to get it to respond. Because of its small size, it isn't the easiest LCD to navigate for folks with more giant fingers.
Build & Waterproofing
All three of our GoPro alternatives here have a hardened design that makes them suitable for their image-taking purpose under challenging environments. While this means the GoPro Hero 7 series isn't the most stylish image capturing equipment on the market, it's boxy and functional – in this case, functionality trumps good looks.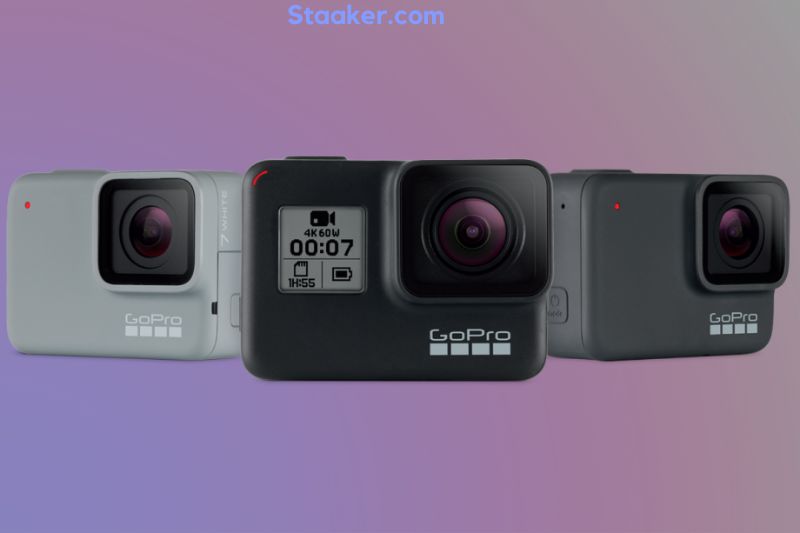 Consider the GoPro Hero 7 Black's design, which allows it to be immersed for up to 10 meters without additional housing (though other housing can indeed be purchased for this model if desired).
The same can be said with the GoPro Hero 7 White, which, although being the most affordable of the three series 7 alternatives at launch, is still waterproofed to a depth of 10 meters, as is the Silver version, which lies in the middle of the two in terms of pricing and overall feature set. The White version is a superb 'everyday' action camera alternative for general use, balancing its capabilities and quality with the price.
If you don't know clearly functions of GoPro, see this guide: How To Use A GoPro
Additional Features
As you might have guessed, Hero 7 Black is the one with all the bells and whistles of the three alternatives. It has the typical Wi-Fi, NFC, and Bluetooth connectivity options and GPS functionality. With 14 languages available, it may also be operated via voice command, allowing for hands-free operation.
Built-in image stabilization seems like a must because you might be mounting the device on a helmet or handlebars, where it will rattle around, and that's exactly what the GoPro 7 Black delivers via a mix of hardware and software fixes collectively dubbed 'HyperSmooth,' as well as image capture functions like face, smile, and scene detection.
The GoPro Hero 7 Black's live streaming capabilities with 720p output — the first GoPro camera to include such live-streaming capabilities – will delight YouTubers and Facebook Live enthusiasts, with footage being stored up to the camera's provided microSD card slot. Its SuperPhoto feature, which claims to minimize image noise in photos, is also worth mentioning.
The GoPro 7 Silver, which sits in the middle of the series 7, also includes GPS tagging and a Wide Dynamic Range feature that improves the overall appearance and feel of the image while keeping a natural look.
Like the Black model, the Silver edition has Voice Control, which was first introduced on the Hero 5 model, but you can only use it to deactivate the camera; you can't use it to activate it in the first place. Only the top-of-the-line GoPro Hero 7 Black has this feature.
The GoPro Hero 7 White, the least priced alternative, is no slouch either, giving full HD resolution movies,' 10-megapixel photos, waterproofing to a depth of 10 meters, as mentioned, and ease of features like a photo timer.
Battery
The main difference between the three models' rechargeable batteries is that the Hero 7 Black's is removable, whereas the other two are built-in.
This implies that the GoPro Hero 7 Silver and White versions of the camera are charged via a USB-C port on the camera's side, near the MicroSD slot. According to the manufacturer, we have to believe they're both powered by the same battery, which is a 1220mAh lithium-ion rechargeable cell.
Video
Black, Silver or White – Which One Is For You?
As lovely as it is to have the best of everything, the Go Pro Black comes with many extra features that, frankly, most of us will never use.
However, it is the most advanced, professional-grade Go Pro camera ever released. The HyperSmooth stabilization is a game-changer since it eliminates the need for costly gimbals to capture your action-packed film.
It was created with the professional in mind, but that doesn't mean you won't enjoy it. Streaming on Facebook Live may be something you've always wanted to try, and the ability to shoot more advanced movies and stills have its own set of benefits.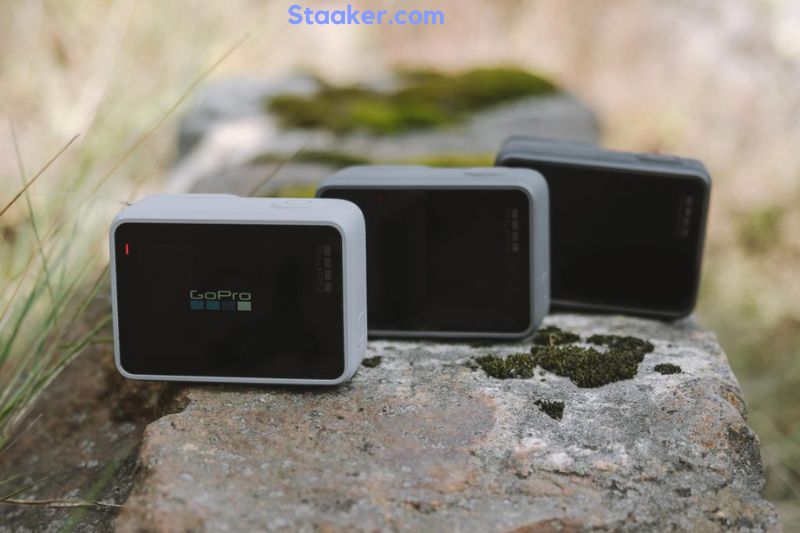 There isn't enough difference between the Silver and White to justify the extra £120 cost. The following are the primary distinctions:
Silver, but not White, Ultra 4K footage is available.
Images with a high dynamic range are only available on silver.
Again, GPS tracking is not available on White.
We don't believe in overpaying for things you don't truly need, as you know. Unless you see a case where 4K is essential, or you can't live without a show-off GPS stamp for your movie, it's a lot of money for not much extra stuff, as far as we can tell.
Related Post:
Conclusion
So, in conclusion, the GoPro Hero 7 Silver vs. Black vs White are all great action cameras that offer different features and benefits. It can be challenging to decide which one to buy, but hopefully, this comparison article has helped you to make a decision.