Drones have become increasingly popular in recent years, offering a unique perspective for photography and videography. They are also becoming more affordable and easier to use, making them an excellent option for those looking to get into aerial photography.
There are a few things to consider when choosing a drone, such as a camera quality, flight time, and range. Here are the best professional drones on the market.
Top Rated Best Professional Drones
1. DJI Mavic3 CINE (Premium Combination)
DJI's latest creation, the Mavic 3CINE, pushes the limits of what a foldable drone can do. The CINE version builds on the success of the Mavic 2 Pro, but it is different from any Mavic drone.
Dual-camera system includes a Hasselblad 4/3″ sensor, a 1/2 Tele camera sensor with 28x hybrid zoom and a Hasselblad 5/3″ sensor.
You won't have to worry about running out of battery life for that perfect shot. Its imagery capabilities are enhanced by the 12.8-stop dynamic range of the Hasselblad sensor.
This allows for more detail in highlights and shadows. Drone pilots will also appreciate the Apple ProRes422 HQ encoder and 1 TB SSD, which provide a professional workflow that is super smooth.
Key Features/Specs
Still Image Resolution: 4/3 CMOS, 20 MP, JPEG/DNG
Video Resolution: 5.1K/50fps, 4K/120fps
Maximum Flight Time: 46 minutes
Maximal Speed: 42 mph (67 km/h) in S mode
Notable Attributes: O3+ has a 9.3-mile transmission distance, an Advanced RTH system and 84deg FOV. Some other notable attributes include an auxiliary bottom light, an omnidirectional binocular sight system, and DJI AirSense.
2. DJI Phantom 4 RTK Drone For Photogrammetry
DJI Phantom 4 RTK, another visionary drone by DJI, features an RTK module for real-time aerial mapping. You may recognize it because it uses the legendary Phantom platform. It has a 20-megapixel CMOS sensor measuring 1-inches and a mechanical shutter. It is the best drone for high-quality video data.
The DJI Phantom 4 RTK has a unique feature: the remote controller comes with a screen built-in and is loaded with the DJI GS RTK application. This allows drone control via intelligent flight planning modes such as Waypoint Flight, Terrain Awareness and Block Segmentation.
Key Features/Specifications
Still Image Resolution: 20 Megapixels
Video Resolution: H.264 at 60 fps and H.265 at 30 fps. Both record at a 100Mbps bitrate
Maximum Flight Time: 30 minutes
Maximum Speed: 31 mph (50 km/h) in P Modee, 36 mph (58 km/h) A-Mode
Notable Attributes: RTK module, obstacle sensing, intelligent flight modes, mechanical shutter
3. DJI Inspire 2 -DJI Drone For Filming
The DJI Inspire 2 drone is the best of the best. It has been a popular choice among aerial cinematographers looking for Hollywood-quality camera quality in a small package.
This drone is a great platform to film with because of its sleek design, intelligent sensors and premium materials. The solid structure includes a magnesium-aluminum alloy composite shell and carbon fiber arms that lift to give you a 360-degree view.
Although the Inspire 2 was designed for filmmakers, its advanced camera sensors and Cinecore2.0 image processing system make it perfect for anyone looking to capture that perfect shot.
Drone pilots can see ahead with the 2-axis FPV camera while simultaneously recording with their main camera. It can run two cameras and also has dual IMUs, barometers, and a self-heating dual battery system. This best drone for cinematography has too many features to list, but it can handle any task thrown at it.
Key Features/Specs
Still Image Resolution: 20-24 Megapixels
Video Resolution: H.264/H.265 100 Mbps bitrate, 4K/60 FPS, 5.2K/30 FPS, 6K/30 FPS**
Maximum Flight Time: 23-27 Minutes
Maximum Speed: 58 mph (94 km/h).
Notable Attributes
Pros
It's easy to fly
Quick
Great camera options
Multi-operator
Hot-swappable parts
Cons
Sensors for obstacle avoidance are limited.
Two operators are the best.
4. Freefly Alta X
The FreeFly Alta X quad-rotor drone was designed for industrial and professional partners. This drone is an engineering marvel that can carry up to 35-pounds of payload. The propeller arms are made of carbon fiber and can be folded.
It doesn't have to be difficult to fly a large drone. Fly with ease using Freefly's free-fly PX4 flight control. The Alta X drone can be used in any way you like. It is designed for quick deployment and easy transport.
You can reduce the drone's size by folding its arms and propellers. With a simple push of your finger, you can also expand it to full size. The linkages stiffen the booms when the drone is expanded to ensure precise, low-vibration flight.
Key Features/Specs
Mounting system for quick release on the top and bottom of the aircraft.
Included is adjustable vibration isolation.
Long-Range Data Link
An extensive accessory ecosystem
ActiveBlade Technology – 33-inch blades
Flying on 2 batteries
Fly for 50 minutes with no payload. 22 minutes with 20lb payload.
One finger folding can reduce the size of the folded item by half.
5. Flyabilty Elios 2: Best 4K Drone For The Money
Flyability has changed how drones can be used. The original Elios was intended for indoor inspections. Flyabilty Elios 2 is the company's most advanced drone. The unique configuration includes a spherical enclosure that protects the entire payload.
Its dimensions are less than 40 cm (15.7 inches) and will fit in almost any space. Its robust transmission system operates beyond the line of sight. Concrete walls, steel structures and other obstacles won't interfere with the inspection.
Collisions are possible during inspections that take place in restricted spaces such as boiler rooms or nuclear reactors. These spaces are dangerous for in-person inspections.
Elios 2 was designed to make these inspections safer by eliminating the need to have a person physically inspect a dangerous, tight space. Dual sensors consisting of a thermal camera and a 4K camera are capable of identifying even the smallest cracks.
The 10K lumen dustproof lighting system is the strongest lighting system ever applied to a commercial drone. Inspectors can identify textures and spot any discrepancies using the oblique lighting technique.
Key Features/Specifications
Camera Resolution: 12 Megapixels
Dual thermal and 4K camera systems
The Elios is collision-tolerant, meaning it can withstand collisions while continuing to fly (this is why it's so famous!)
Live video feedback and wireless communication are cutting-edge features
Oblique lighting with 10k Lumen dustproof light system
GPS-Free Stabilization with Distance Lock for Precision Inspection
Live streaming in HD
Maximum Flight Time: 10 minutes
Maximum speed: 6.5 m/s (or 14.5 mph).
Notable Attributes
6. DJI Agras MG-1
The DJI Agras MG-1 drone, an octocopter configuration, is for precision agriculture spraying pesticides or fertilizers. The Agras' powerful propeller system allows it to fly 40-60 times faster than manual spraying.
It also has a 10kg liquid storage tank (2.6 gallons) and a liquid capacity of 10 kg. The intelligent spraying system adjusts the liquid amount based on aircraft speed to ensure even spraying.
A dedicated remote controller is equipped with a panel display and the Lightbridge 2 transmission network. This allows you to easily access critical information like spraying speed, altitude and flying speed, tank status, and battery level.
Both the remote controller and aircraft are water- and dust-resistant and can tackle any job. It is easy to transport thanks to the carbon-fiber frame and retractable control arms.
Intelligent memory software keeps track of mission data and coordinates throughout the mission. Are you running out of spray or battery life? The Agras will take care of the problem.
Key Features/Specs
10 kg (2.6 gallons) payload
Sprays 7-10 acres every hour
The integrated centrifugal cooling system increases reliability and extends the life expectancy.
Interchangeable spray nozzles
Terrain Follow: The microwave radar scans the ground below to keep plants at a constant height, regardless of elevation changes.
Maximum Flight Time: 24 minutes*
Maximum Speed: 22 m/s (49 km/h)
Notable Attributes
7. senseFly eBeeX
The senseFly eBeeX fixed-wing drone is fully autonomous. It can capture high-resolution aerial photos for 3D modeling and mapping. This drone does not require piloting skills. Simply throw it, and it will follow a predetermined flight plan.
Because of their aerodynamic characteristics, fixed-wing aircraft are great for large mapping jobs. The eBee is a highly efficient choice for aerial mapping, covering 1200 acres in one flight.
It weighs in at 1.7 pounds and comes with seven interchangeable cameras. The drone can be configured with a variety of accessories to suit any type of mapping mission. The eMotion software has advanced flight control features and mapping parameters, but it is easy to use for beginners.
Key Features/Specs
Interchangeable camera sensors
Works with Pix4Dmapper, Pix4Dbim
Multiple file outputs
Maximum Flight Speed: 68 mph (109 km/h).
Maximum Flight Time: 90 minutes
Everything you need to map today
Notable Attributes
8. DJI Mavic2 Enterprise Advanced Drone For Inspections
DJI has transformed its Mavic series into an industrial powerhouse. DJI Mavic 2 Enterprise Advanced offers the best of both dual thermal and 4K camera sensors. Split-screen live functionality allows operators to simultaneously view both thermal and 4K video feeds.
One tap anywhere on-screen will display the temperature. The screen automatically detects hot spots so that firefighters can pinpoint the area to focus on or search and rescue teams can locate missing persons.
Because of its small size, the Mavic is easier to use and more practical for all organizations. With the M2E Spotlight and M2E Speaker available, the platform can be configured to suit various applications.
These add-ons are great for anyone who needs to fly in low light conditions, communicates with ground teams, or just needs to see the aircraft from afar at night. DJI continues to innovate and has integrated AirSense, their latest technology, into their enterprise platforms.
AirSense is a receiver that receives ADS-B Out signals (from manned aircraft) to alert the drone operator of any nearby aircraft.
Key Features/Specs
Still Image Resolution: 48 Megapixels
Video Resolution: 4K Ultra HD 24/25/30 fps
Omnidirectional Obstacle Sensing
Integrated Radiometric FLIR Thermal Sensor
Maximum Flight Time: 31 minutes
Maximum Flight Speed: 44 mph (72 km/h).
Notable Attributes
Pros
Simple platform
Accessory interchangeable
Ideal for rescue and searching
Cons
Good 4K camera, but not cinema quality
Only one accessory at once
9. DJI Mavic 2 Pro: The Best Consumer-class Drone Camera
The DJI Mavic 2 Pro is the best consumer drone on the market. The DJI Mavic 2 Pro can capture 4K video from its 20MP Hasselblad camera. It takes 31 minutes to fly the drone, which is very easy to control. It folds down to be portable, but it is still quite heavy for a hobby drone.
Although it would be absurd to believe that you could use this drone as a replacement for a high-end camera drone with a camera, it is the best hobby-class drone camera. We love flying the Mavic 2 series drones and hope you do too.
Pros
It's easy to fly
Great 4K drone camera
Good flight time
Amazing hobby drone
Cons
10. DJI Matrice 300 RTK
DJI's latest and most versatile enterprise drone, the DJI Matrice 300RTK, can be configured for many applications. The M300 can safely operate even in extreme conditions. It has an anti-collision beacon and object detection up to 99 feet away.
AirSense is an ADSB receiver that detects signals from manned aircraft and notifies the drone pilot about the location. It is compatible with the Zenmuse H20 camera and other sensors. It is a great choice for commercial applications because it has both thermal and optical sensors.
The M300 RTK can hold up to six pounds and three payloads simultaneously. Do you need to replace a payload? Hot-Swappable Battery technology makes it easy to change the battery without affecting the drone's power.
Automate routine inspections to ensure consistent results. There are many advanced features, but these are just a few: AI spot check, Live Mission Recordings, Pinpoint and Dual Control.
Key Features/Specs
Compatible with many Zenmuse sensors as well as third-party sensors
Maximum Flight Speed: 51 mph (82 km/h).
Maximum Flight Time: 55 minutes
IP45 Weather Rating
Anti-Collision Beacon
Hot-Swappable Battery
6 Directional Sensing and Positioning
Notable Features: AirSense ADSB Receiver, self-heating battery, UAV Health Management System, primary flight display.
11. DJI Multispectral P4
The DJI P4 Multispectral incorporates advanced agricultural sensing technology in the legendary Phantom series platform. Because of its small size, it is one of the most durable drones in agriculture.
The P4 makes data collection easier and gives a complete view of crop health. The integrated Spectral Sunlight sensor captures solar irradiance and improves data accuracy. TimeSync allows all six cameras to provide precise measurements down to the centimeter level.
With the ability to simultaneously view crops through the RGB camera feed and the Normalized Difference Vegetation Index(NDVI) feed, crop health and concerns can be quickly identified.
With the DJI D-RTK 2, Mobile Station, RTK modules can be improved in accuracy. This innovative system combines all the best features of the DJI D-RTK 2 Mobile Station to plan flights, collect data, analyze it, and then act on it.
Key Features/Specs
Multispectral Imaging System
RTK Module Integrated
Side-by-Side RGB/NDVI view
Image Resolution: 2.12 megapixels per sensor
Global shutter with 3-axis stabilization
Maximum Flight Time: 27 minutes
Maximum Flight Speed: 36 mph (58 km/h) in A-mode
Notable Features: Spectral sunlight sensor, 1 visible camera with 5 cameras covering the Near-Infrared, Green, Red and Red Edge bands.
12. DJI Phantom 4 Pro V2.0: Best Drone For Aerial Photography
The DJI Phantom series has been producing some of the best and most recognizable drones in the world. The DJI Phantom 1 was the first drone to be introduced to consumers. The Phantom 4 Pro V2.0 builds on the series' success and it is the best drone for inspections, photography, filmmaking and other purposes.
The professional-grade 1-inch CMOS sensor can record at 4K video resolution and 20 megapixels for still photos. This model is highly sought-after for aerial inspections and mapping due to its mechanical shutter.
Advanced Omnidirectional obstacle sensing makes it easier to capture the perfect shot without compromising safety.
Key Features/Specifications
Still Image Resolution: 20 Megapixels
Video Resolution: 4K @ 24-60 fps
Omnidirectional Obstacle Sensing
Maximum Flight Time: 30 minutes
Maximum Flight Speed: 45 mph (72 km/h).
Notable Attributes
13. Skydio 2 +
Do you want Hollywood-style shots that don't require complex equipment or high operating costs? The Skydio 2+ is the drone you need to consider. It features a 45-megapixel obstacle avoidance camera system that takes the burden off of the pilot.
It can fly through the most difficult terrains without losing sight of its subject, thanks to intelligent flight modes. Drone pilots can now use the KeyFrame mode to create unimaginable camera motions that are smooth, precise, repeatable, and consistent.
The Skydio2 + has a 1/2.3″ CMOS sensor and records 4K HDR footage at 60 frames per second. It also captures 12-megapixel stills. It captures cinematic scenes at up to 36 mph and autonomous speeds.
Fly using the app, the Beacon remote or a controller to get even more control. The drone's portability makes it an attractive option for travelers, document compilers, commercial drone pilots and anyone else who uses drones.
Key Features/Specifications
Still Image Resolution: 12 Megapixels
Video Resolution: 4K HDR at 60 frames per second
Omnidirectional Obstacle Sensing
Maximum Flight Time: 23 minutes
Maximum Flight Speed: 36 mph (57 km/h).
Notable Attributes
14. Autel EVO II Series
The Autel Evo II Series, which starts at just $1500, is a strong contender in the growing market for foldable drones. The Autel Evo 2 Drones are equipped with serious hardware hidden in bright orange shells. It has the longest flight time of any consumer drone, at 40 minutes.
The EVO II has the unique ability to modify the gimbal payload. You can choose from an 8K sensor, a 6K Pro Sensor or a Dual sensor which combines an 8K and a thermal sensor. It is rare to find a consumer drone that can use multiple sensors.
The drone's 12 advanced, omnidirectional computer vision sensors allow it to navigate even the most difficult environments and remain focused on its task.
Key Features/Specifications
Still Image Resolution: 48 Megapixels
Video Resolution: Maximum 8K*
Maximum Flight Time: 40 minutes
Maximum Flight Speed: 45 mph (72 km/h).
Notable Attributes
Pros
Multiple payloads
Great flight time
It is simple and safe to use
HDMI receiver
Cons
It's a little pricey.
Older drone
15. Skydio X2
Skydio revolutionized the way a drone can be flown with its autonomous Skydio 2 drone. The company now has the Skydio X2 in the commercial market.
This drone is a great choice for military and government agencies. The drone's folding design is a first by the company. This allows it to be taken with you wherever you want.
Skydio Artificial Intelligence can make anyone a skilled drone pilot using the Skydio X2. The advanced FLIR Boson sensor, 360 Superzoom, and the 360 Superzoom allow you to fly closer and further, even in the darkest hours.
The X2 has sensors as well as precision GPS and visible/infrared illuminators. It also includes inertial navigation for night operations. Skydio X2 delivers with a 6-mile range and 35-minutes flight time.
Key Features/Specifications
Color Camera: 4K 60fps, 16x optical zoom
Thermal Camera: Flir Boson 320×256
360 Superzoom (100x optical zoom)
Unknown Maximum Flight Speed
Maximum Flight Time: 35 minutes
Notable Features: Enterprise controller, foldable design, 6-mile range, visible/IR illuminators.
16. Yuneec Tornado H920 Plus: Large hexacopter
Hobby pilots will find the Yuneec Tornado H920 Plus to be a large drone. This helicopter can transport your DSLR or similar-sized camera up into the air. Yuneec created their own camera for the drone that closely resembles Panasonic GH4 micro thirds camera system.
Although the H920 Plus is intimidating, it is an impressive drone that can carry cameras high into the sky. Be aware that only a handful of shooters can connect directly to the camera.
Pros
Safe and big
It's easy to fly
Big payload
Cons
Heavy and large
Transporting is difficult
Intuitive Aerial Aerigon MK II
It doesn't matter how expensive it is if you have to ask. Intuitive aerial can provide a full-blown rig for as much as $25,000, which includes a number of monster video cameras.
The Aerigon II's concept is to take your camera into the sky. This is not about mounting a point-and-shoot or DSLR camera but monster professional camera rigs.
BrainFarm's media team shot 4K commercials with a rig that cost a quarter of a billion dollars. You can do the same if you have the means.
17. FreeFly Alta 8
The FreeFly Alta 8 drone is large and heavy. The Alta 8 measures almost 4 feet in length and can carry 26 lbs of gear, including batteries. It also holds an approximately 20 lbs camera.
The Alta 8 comes with an optional top mount, which FreeFly calls film enthusiasts. This idea was first introduced with the DJI M200 series, but FreeFly already has it. These options will allow commercial drone pilots to inspect the underbelly bridges.
18. Intel Falcon 8+
The Intel Falcon 8+ and Falcon 8+ drones have been flying around the world for fun inspection projects. These drones are not cheap or easy to fly at home. However, if inspection services are important to you, the Falcon 8+ may be the right drone.
Intel Insight, more than a drone, is a powerful software program that extracts images from the skies and creates magic with them. Although it is not magic, creating a 3D map from stills is quite easy.
Intel Insight, which is designed to aid in inspection, is not limited to 3D mapping. After collecting scans, the software can highlight and identify any modifications to an object. InterDrone 2017 was able to see the drone scan the facade of a building.
After that, the software made changes, such as removing screws and lighting, etc. These changes were identified by the second scan. This is the idea behind automating much of the tedious work and putting that information in front of a person who can then repair or ignore the real-world object.
Best Drones DJI
DJI is a world leader in developing and manufacturing innovative drone technology for both personal and professional use. Their product line includes the Phantom 4 Pro, Mavic Pro, and Spark drones, all of which are highly rated by customers and experts alike. DJI's products are known for their ease of use, high quality, and reliability.
Let's click Best DJI Drone to explore more professional products
Where Your Drone Can Fly?
There are a few things to keep in mind when flying your drone. First, you must stay below 400 feet. Second, you should keep your drone within your visual line of sight. Third, you need to be aware of your surroundings and avoid flying near obstacles. Lastly, you should not fly near people or animals.
To know more information, click Best Places To Fly A Drone And Where Are Drones Banned to learn more. 
Best Professional Drones Buyers' Guide
What is a professional drone? How does it work?
A drone is an unmanned aerial vehicle that can either be controlled remotely by a human pilot or fly independently. Many sensors, such as GPS, are included to aid in flight mode control.
Drones were originally developed for military purposes, but they are quickly being used in many other areas, such as aerial photography drone build, product delivery, agriculture, and more. There are now autonomous drone racing events.
What Are The Different Types of Drones For Professionals?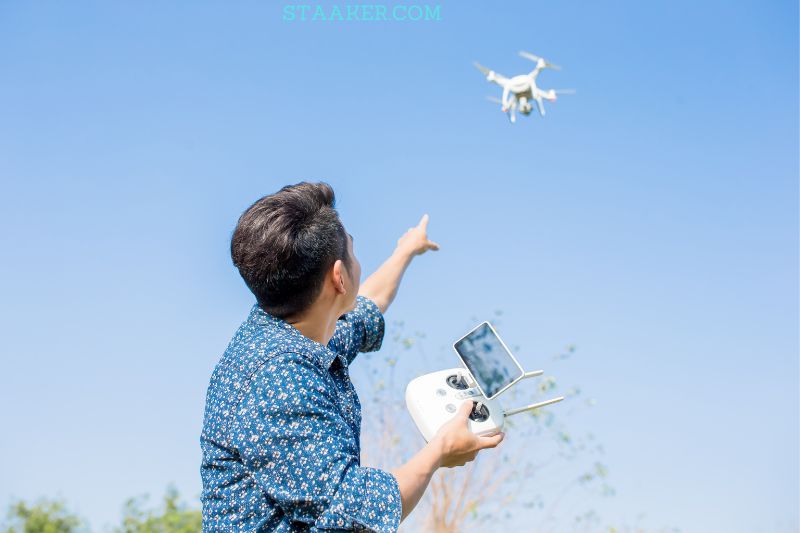 Multi-Rotor Drones
Multi-rotor drones can be rotorcraft that have more than two lift-generating motors. Multi-rotor aircraft have the advantage of simpler rotor mechanics that are easier to control.
Fixed-Wing Drones
Fixed-wing drones, in comparison to rotary-wing helicopters, use a fixed-wing aircraft like an airplane to provide lift instead of vertical lift rotors. They are therefore much more efficient because they use less energy to propel themselves forward than to hold their own in the air.
Fixed-Wing Hybrid VTOOL
A new class of hybrids combines the best of fixed-wing UAVs and the ability to hover. They can also take off or land vertically. Other types are in development. Some are simply existing fixed-wing designs that have vertical lift motors bolted to them. Some are "tail-sitters", which look just like regular planes but rest on their tails.
Shopping Criteria For Professional Drones
Drones are now available for aerial photography. Each drone has its own unique characteristics. To make an informed decision about which drone to buy, you need to consider specific criteria. These aspects will be discussed in the next section.
Size and weight
The drone's size and weight will have an impact on its storage and transportability. If you have to carry your drone around, a lightweight and compact model is better. This will affect the camera you can attach it to. Professional film cameras can be heavy and large, so you'll need a drone.
Camera
Decide whether you want a drone with a camera integrated or one without. If you choose the first, ensure that the features of your camera (such as image quality and zoom) meet your requirements. The latter is best. Make sure to check the support capacity and compatibility of the drone with other cameras.
Gimbal
Gimbals are the stabilizing elements of the camera. It is responsible for reducing the vibrations from the propellers and preventing sudden movements that could affect the image quality. It will also improve the camera's overall maneuverability.
A gimbal that allows it to move freely on its axis will be ideal so you can take many shots.
Time to Fly
A majority of drones come with at least one controller that you can use to pilot them. However, this may vary depending on the model. This aspect may be more important or less depending on how you intend to use your drone. We recommend that you always have a spare battery in case your first one is dead.
Number of pilots
Two pilots are required to operate drones that are complex. One person controls the camera and the drone, while the second one handles the operation. This is especially important if you work alone.
There are models that allow you to use them alone or with another person. You will need to purchase a second controller in this case.
Alternatives To Best Drone For Professional Photograph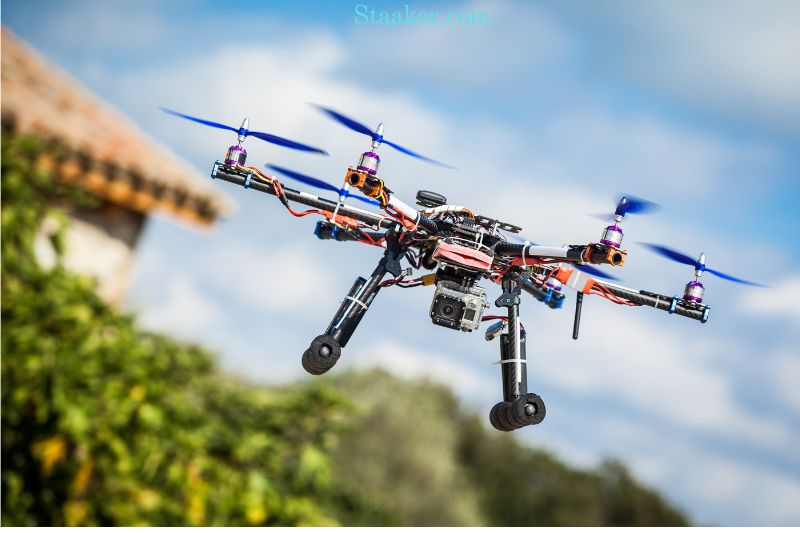 We will be introducing you to alternative drones for professional use in the next section if you aren't sure whether to buy a drone.
Gimbal and Pole
A pole that can reach up to 5-6 meters in length allows for a steady and static aerial shot comparable to one shot with a drone. This is a cheaper option, but it offers fewer possibilities than the traditional drone.
Gimbal and Cable
It connects to a 100-meter cable on one end and the other. It can be attached to the camera for low-level gliding shots. This drone is ideal for shooting in dangerous areas, such as factories with dangerous machinery.
FAQs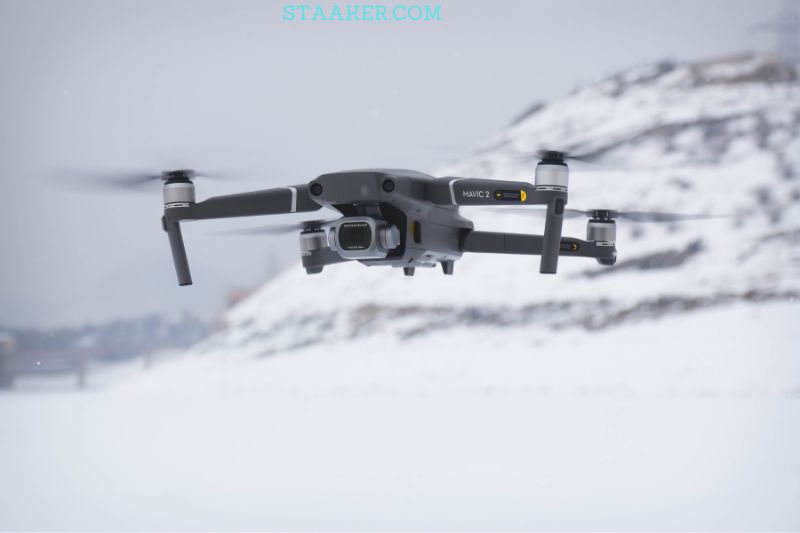 Why don't these professional drones have built-in cameras?
Many pilots want a fun camera on their drones. But the movie industry sees things differently. They have their cameras and just need a way for them to be in the air. Although we love the DJI Inspire 2 very much, it only offers a limited number of options for professional photographers.
Most countries have drone licensing. It is determined by the type of operation and not the type of drone. Your Part 107 certification will be required if you are paid for or compensated for the flight or media you capture during it.
Do you need your Part 107? These drones can be flown at home without a license. However, you cannot make money off of the photos and videos.
What is the difference between a professional and a commercial drone, you ask?
We don't know of any industry standard. Therefore, we follow the manufacturer's trends. A drone designed to shoot professional video from the air is considered a professional drone.
A drone that is designed to perform tasks such as inspections or hauling a thermal camera is considered a commercial drone. We used to have all these drones on one list. Now, there are too many to discuss.
Note: "Commercial operations" is often used by the FAA. This is referred to by your flight and not your drone. You can fly a professional drone or commercial drone from your home as long as you fulfill the hobby pilot requirements. Part 107 certification is required for commercial operations.
How does Remote ID change my drone business?
Although Remote ID is required by the FAA, technology to enable it is still being developed. You may find that the best drone for business already has the hardware required to broadcast the information.
A software update is possible. You can either attach a third-party Remote ID broadcast module or update your fleet of drones. Although we are writing thins in January 20201, there is still much to be done.
Can I fly at night?
You can only fly at night until April 21, 2021, unless you have a waiver from FAA. Part 107-certified pilots can obtain their night-flight operations validation online after April 21. Please do your research to learn more about night flight operations.
Can I fly above people?
No. The FAA will ease restrictions for Part 107-certified pilots on April 21.
Conclusion
In the end, the best professional drones vary quite a bit regarding features and capabilities. While some are perfect for specific purposes, others are more versatile and can be used for various tasks.
It is essential to research what exactly you are looking for in a drone before making a purchase, as there are many great options available.
So, whether you are a beginner looking to get started with drones or an experienced photographer or videographer, these are the tremendous professional drones for you.