How to Make Money with a Drone? In this article, We will look at a few ways you can earn money from a drone.
The drone industry is accelerating rapidly – and demand for commercial aircraft operators is growing. Drones have become so accessible and inexpensive that just about anyone can afford to do aerial photography today. Something that was once limited to professionals is now available for photo amateurs, enthusiasts, and entrepreneurs.
Most modern drone owners buy them mainly for fun. For many people, buying is the first step to a true hobby. However, modern drones not only allow you to enjoy piloting and aerial photography, but they also allow you to turn your hobby into a business. Keep reading to know tips to make money from drones.
Ways to Make Money with a Drone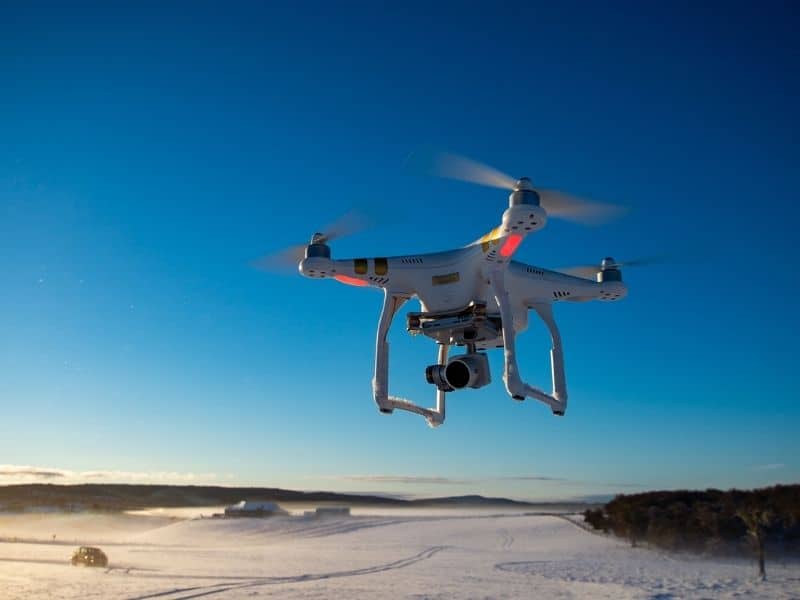 Photography and Videography
This is a great way to start selling your aerial photographs. You can either capture your images and be as creative as you want or be commissioned for a specific contract.
If you already have some images you are proud of, why not sell your aerial photographs as prints. Many websites, like Etsy, will let you create your online virtual shop and sell your photography. You can also get creative and print on objects, like calendars, and sell those. Take a look at what other drone photographers are doing for inspiration.
You can also tap into specific markets where aerial photographs are in high demand. Here's a list of a few niches that regularly require the services of a drone photographer.
Architecture
You can take photos of buildings and landmarks and try to sell them to the owners or go out and promote yourself to builders and architects. Architects often like aerial photographs of their work for their portfolios.
Weddings
This is an increasing trend to hire a drone photographer/videographer for weddings. Create a network with wedding photographers in your area and offer your services.
Real Estate
Get in touch with real estate companies and local realtors to let them know that you can provide aerial photographs of their properties on the market. The more luxurious listings tend to require more visuals.
Sports Events
This can be an exciting market to tap into. Get hired to capture images and videos of sporting events from the air. Contact local sports clubs.
News Reporting
Local newscasters and reporters are constantly looking for content for their news and stories. You can stay attentive to events and go out whenever possible to record them. Or sometimes, being in the right place at the right time may provide you with footage that you can then sell.
Hotels/Resorts
This is another interesting niche to look into. Hotels and resorts hire drone photographers to have aerial photographs or videos to promote their business and services. They also hire drone photographers for special events.
Concerts
Contact event promoters to offer your work during music concerts and cultural events.
Read also: How to Fly a Drone?
Do Aerial Surveying & Mapping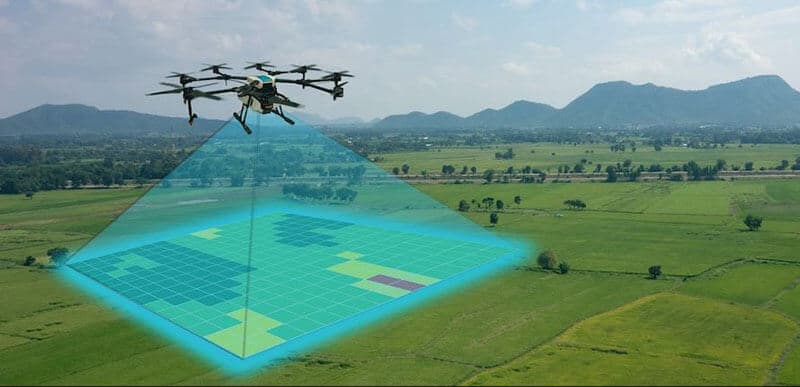 Surveying and mapping with a drone is another area that will not be picked up without a bit of time and money investment at the outset. Surveying with a drone involves flying over a specified land area and collecting photos of the entire area to be stitched together using mapping software such as Pix4D or SimActive.
These aerial images can also be used to create 3D models and reconstructions. Don't think of this as a complicated panorama – it's more like building a miniature model.
While photos taken by almost any average camera drone can be made into maps, drones with higher resolution will provide better detail for more accurate maps. For industries such as construction and mining, your average GPS capabilities will not be specific enough in terms of geo-location and measurement.
A construction company wants to know, down to the centimeter, where to start excavating for a building foundation. To get this level of location accuracy, you will need a drone with more precise geolocation data attached to each image. An entry-level drone for surveying starts at around $1,600.
To learn how to do aerial surveying, your best bet is to find some online training courses to get you started. You will also need to learn how to use mapping software services to do something with the photos you collect with your drone.
Considering the initial investment of a surveying-level drone and the training courses to get you qualified, the payoffs are pretty good, as an experienced aerial surveyor can expect to make a decent income.
Drone Deliveries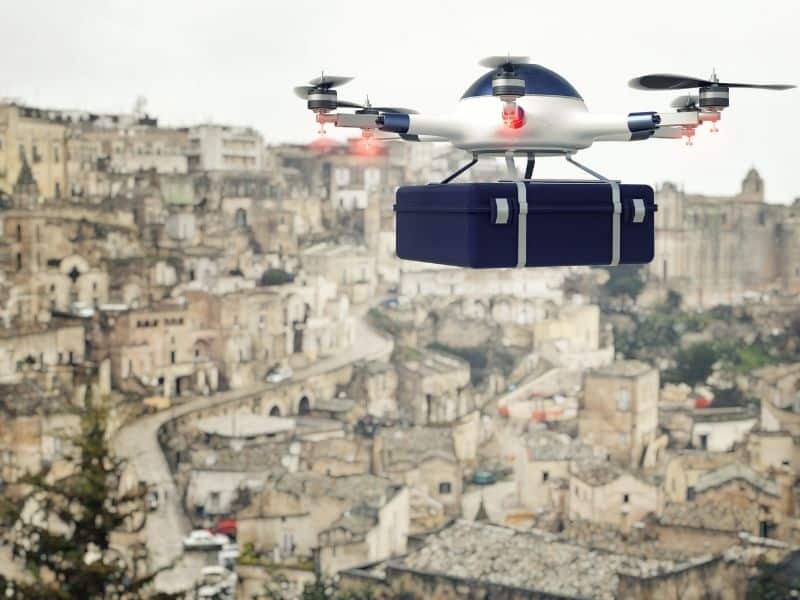 Another way to make money with a drone is to use it for different delivery purposes. Drone delivery is an innovative solution in the world of drones. If you are willing, you can offer drone delivery services to companies and organizations that need them.
Many companies (like Amazon, AliExpress, etc.) already use UAVs for this purpose, incorporating deliveries by drones in their services. Also, medical facilities, national institutions, and charity organizations worldwide use drones when delivering various supplies in hard-to-reach places.
Some locations are unreachable for ground vehicles, and in those areas, done deliveries come into play. Moreover, the trips by ground vehicles could be too expensive sometimes or difficult due to logistics in some areas.
You can deliver a variety of things in this way. Such delivery is fairly quick and very safe as well. Unfortunately, small commercial drones cannot deliver heavy loads while flying because of their low weight. Keep this in mind if you want to offer this service. However, the larger drones can be used by various humanitarian services to deliver food, water, medicine, etc., safely.
Fly a Drone For Public Safety & Emergency Services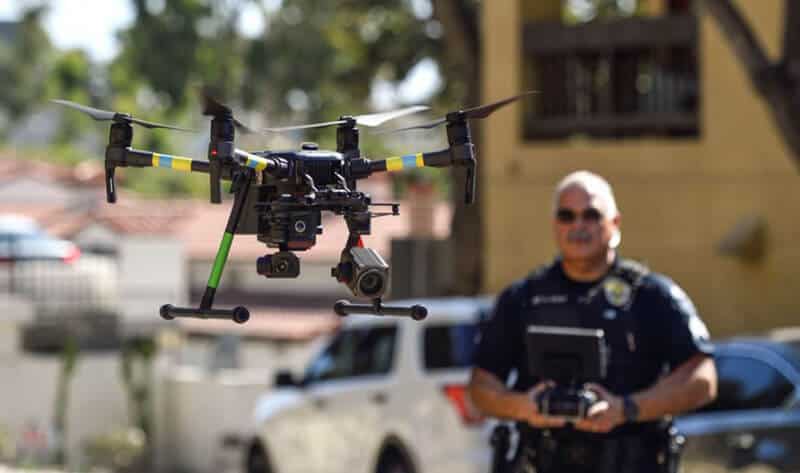 Fire and police departments are increasingly using drones for various uses, including search and rescue operations, fire scene monitoring, crowd surveillance, and more. Depending on your area, your local fire department may have its drone fleet and operators to carry out missions, or they may choose to outsource this work to certified and experienced drone operators.
In many rural areas where fire departments are primarily volunteer-based, it doesn't promise to pay much to fly drone missions in the service of your community. In suburban and urban areas, you can check with your local police and fire departments to see their procedures for including drone operations and whether they outsource.
If you happen to be employed with a public safety agency already, adding drone operations to your skill set could get you a pay raise.
To fly drone missions as a contractor with a public safety agency, you will need to have all the required certifications and quite a bit of experience under your belt. Take some courses, log lots of flight hours, volunteer if necessary to get in with the agency you are interested in flying for.
Fly Your Drone For Roof & Building Inspections
Some industries hire drone operators to perform roof or building inspections. These could be insurance companies, utility or service companies, or construction firms.
To be hired by these types of industries, you're going to have to prove your skill both as a drone pilot and a camera operator, as it requires technical expertise to get the angles and shots needed for specific data. If you want to get into flying a drone for inspections, a good approach is to learn a little bit about the specific industry you are interested in and what their needs are for inspections.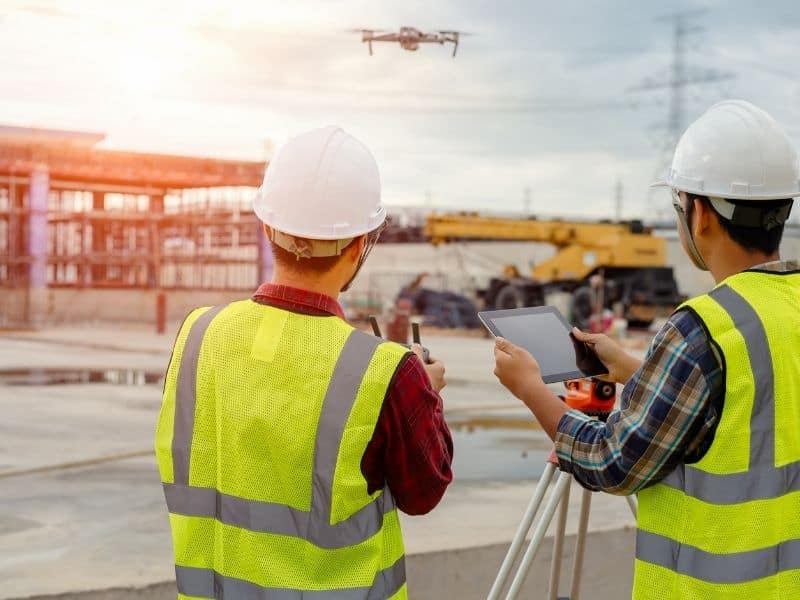 For example, suppose you are interested in building inspections for insurance companies. In that case, you will need to know what types of information they are most interested in, possible water leakage areas, recent improvements, insulation quality, etc. To use your drone effectively to get this kind of information, you most likely will need to use thermal imaging, which requires specialized camera sensors.
An "entry-level" drone with thermal sensors begins at around $3,500, so it may be a bit of an investment to get started. Still, the payoffs are also bigger, as the industries hiring drone operators for inspections expect to pay more for your specialized skills and equipment.
If it seems intimidating to learn how to fly and what you need for doing inspections with a drone, consider taking an online course to get you headed on the right track. These will tend to be industry-specific, so focus on one specific industry, and if you want to expand to others later, it won't be too hard to transfer your skills and experience to another area.
Teach Others How to Fly a Drone
The drone industry continues to expand each year, which means that more and more aspiring drone pilots are looking for ways to develop their skills. If you have a few years of flight experience under your belt, especially if you have learned drone skills related to specific industries, you have something to teach the novice or even more experienced drone pilots.
Many areas have drone clubs as a way to meet other enthusiasts and learn from each other. This is a great venue for offering beginners or possibly a more specialized course for advanced pilots to learn a specific skill.
Another way to use your expertise as a teaching tool is by creating an online course. This could be through creating your website and building your brand, or you could start with a course marketed through another platform such as Udemy.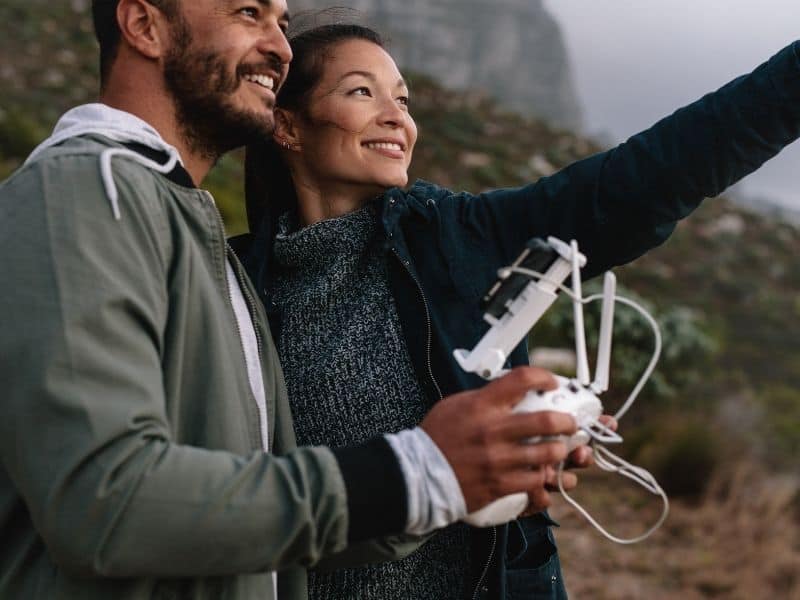 The nice thing about a virtual course is that once you go through creating the lessons and making the videos, the work is done, and you continue to make money from the course any time someone buys it. However, it lacks the satisfaction and inherent reward that comes through interaction with your students and seeing them progress with your instruction.
Like teaching in any field, the most important groundwork is building your curriculum, deciding what should be included in the course, and breaking it into manageable lesson-sized pieces. Then you need to find a way to get across the information or skills to the learners in the most effective way possible.
With a skills-based course that would probably make up most drone instruction, this will probably include drills, assignments, and tasks to help achieve specific skills.
Unless you're teaching in-person courses full time or can build up a big online brand and presence, you may be challenged to make a living by teaching drone flight skills. But if you enjoy the teaching process and are good at flying a drone, teaching others to fly is a great way to earn a nice side income.
Market Yourself and Build Your Drone Photography Business
Start building your portfolio as soon as you have some great shots that you are proud of. Nobody will hire an aerial photographer without seeing some previous work. Build a website, a Facebook page, an Instagram account, or advertise in your local paper.
Tell your friends and family that you are selling drone photography services. Get the word out and have images to back up you're the services you want to offer.
Relates: How to Start a Drone Photography Business?
Precision Agriculture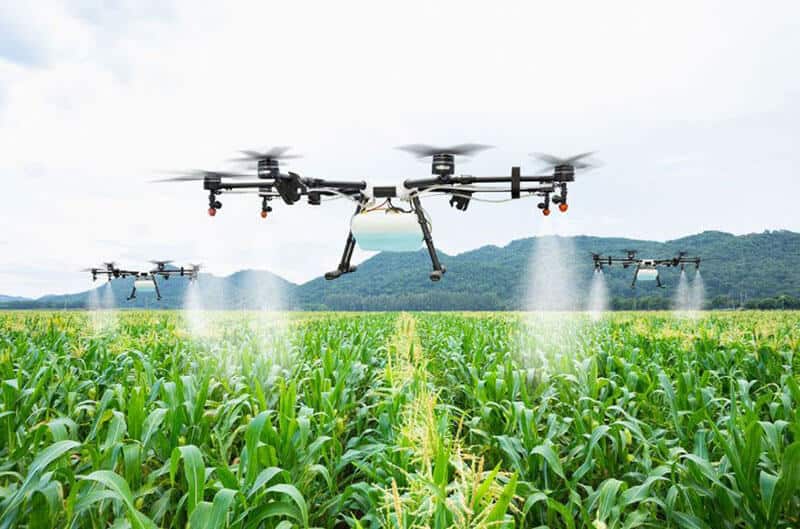 Lastly, you can make a profit using a drone in precision agriculture. Drones are very helpful for crop surveillance in agriculture because they significantly reduce the costs and time required for such a job.
Using a drone in precision agriculture must be equipped with a specialized camera for the infrared video that can capture the specific wavelengths. These cameras produce specific contrasting colors while shooting, and based on these recordings; the operators can see the overall health of crops in a certain area.
Also, drones help farmers with verification and problem diagnosis in their fields. In some cases, they can also be used in delivering spot treatment.
All these operations can help farmers reduce plant damages, cut costs, and have a higher yield with their crops. On the other side, drone pilots can make a lot of money working for them. There is a mutual benefit as both sides get to profit from this deal. Drones are quite a powerful tool in agriculture, although that probably was not what you first thought of when thinking of a drone.
Read also: Top Cool Things You Can Do With a Drone(2022)
Conclusion
Today, there are many ways you can turn this hobby into a real business and make good money. If you have more great ideas to make money with drones, let our readers know in the comments. If you found this guide helpful, sharing it with anyone who needs them. Thanks for choosing to spend your time with Staaker.com. We appreciate your support.
Video: