Mavic mini drone released by DJI in 2019 is the lightest drone at only 249 grams. With the release of one more generation of drones, users now have more options.
Recently there has been much debate between Mavic Mini Vs Mavic Air. If you could choose, which drone would you choose? If you are also wondering which one to choose, then let Staaker help you. Keep reading our article to find the most suitable drone for your job.
Mavic Air
DJI's mid-size Mavic drone, the Mavic Air ($919), can capture 4K video.
Although you can fly the Air using the DJI app on your tablet or smartphone, you will get greater range and speed if the controller is used.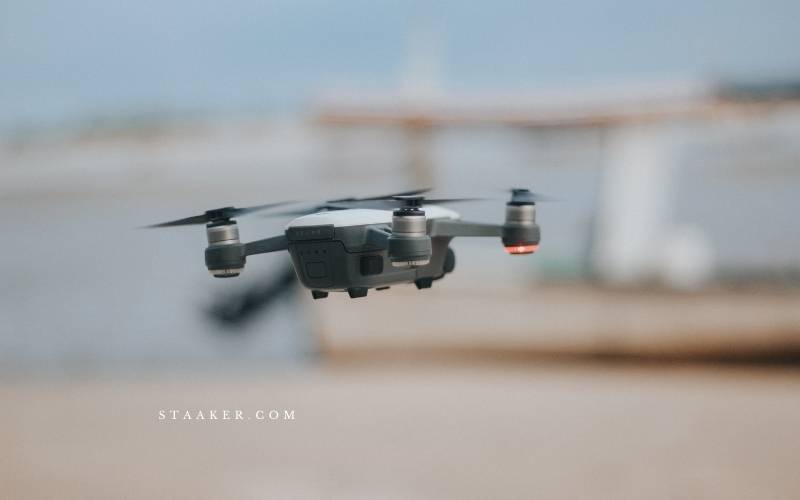 Air uses the smartphone as a controller, and the range with the controller can be up to 2.4 miles.
The controller uses your smartphone to display what the drone's camera sees as you fly.
The Air can travel at a maximum speed of 42.5 miles an hour. It also has forward and reverses obstacle avoidance to keep you from getting into anything.
The Mavic Air can be folded up for easy transport. The drone's dimensions when extended for flight are 6.61×7.24×2.51 inches. When folded, it measures 6.61×3.26×1.92 inches.
It is less than one pound (1.16 ounces) in weight and can fly for 21 minutes.
Mavic Mini
DJI released the Mavic Mini ($399) in October 2019.
The Mavic Mini drone is very light at 8.78 ounces or 249g, which is important.
The FAA must register drones weighing more than 250 grams. If you are flying recreationally, drones less than 250g don't need to be registered. However, you must still follow the drone laws.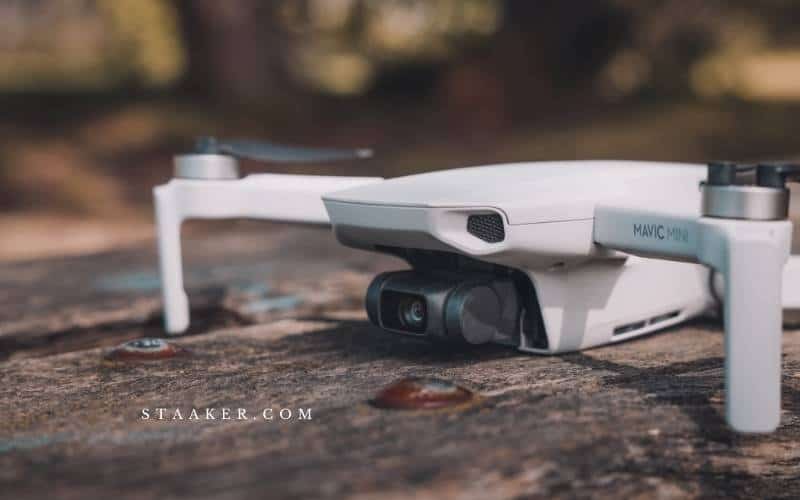 The Mini measures 6.29×7.95×2.16 inches when folded. The Mini folds down to 5.51×3.22×2.24 inches. This is small enough for you to hold in your palm.
The Mini isn't as feature-rich as the Air, as you might imagine.
It is impossible to shave $500 off the price without excluding some items.
Mini's camera can record 2.7K video, whereas the Air can only record 4K. DJI Mavic Mini vs. Mavic Air drones produce amazing videos.
Mini doesn't have forward or backward obstacle avoidance. The Mini does have downward obstacle detection, which will alert you if it senses that its landing area is unsafe. It also stabilizes hovering by using downward sensing.
You cannot control the Mini from your smartphone. The Mini controller must be connected to your smartphone or tablet.
The range of the Mavic Mini is up to 2.4 miles unobstructed. The controller was having trouble connecting to the drone within a city with many buildings and trees. Flying above White Rock Lake gave me a greater range, and I was able to fly further than two miles.
Legally, your drone must be within a visible line of sight at all times. With a small drone like the Mini, this cannot be easy. You will occasionally fly solely through the video screen. These times should be brief.
The Mavic drones are equipped with GPS and a Return to Home feature. This will allow you to bring your drone back home by pressing one button.
If the drones fly too far, lose connection for more than 20 seconds, or the battery gets very low, the Mavic drones will return home.
Mini's camera is mounted on a 3-axis mechanical gimbal. This ensures that the video is stable. Amazing to see the drone being buffeted by wind yet still providing video that looks like it was taken with a tripod.
There are three modes of flying on the Mini: Speed (the fastest mode), Place (the standard model), and Cinematic (a slow, deliberate maneuvering mode that is great for smooth video productions).
Read More: 
Best Places to Fly a Drone in Michigan
Mavic Mini and Mavic Air Comparison
Gimbal & Camera
The Mavic Mini is small, but it has a powerful camera that can capture stunning aerial footage. The Mavic Mini can capture 2.7k video at 30 frames per second and 12-megapixel stills using a 1/2.3 sensor.
The Mavic Mini does not have 4k capabilities, but the camera is excellent for everyday use. It also has a 3-axis gimbal that produces smooth, stable footage. For professionals, the Mavic Mini cannot shoot in MP4 and JPEG files.
Mavic Air has a 3-axis stabilized gimbal system that allows for smooth, shake-free footage. It can also shoot 4k videos at 30 frames per second. A 1/2.3 CMOS sensor can also be used to capture 12-megapixel stills.
Mavic Air has more options for formatting and can be used to shoot in JPEG and DNG RAW formats. Both semi-professional and recreational users can use Mavic Air's powerful camera.
Read More: 
Flight Performance
Although the Mavic Mini drone is small and light, it is powerful and delivers great performance. The Mavic Mini has a flight time of as little as 30 minutes and a maximum range of up to 4km.
To maintain the strongest possible connection with minimal interference, the drone uses an enhanced wifi system. It bounces between 2.4Ghz & 5.8 GHz.
The drone is lightweight and small enough to be carried in your pocket. It can still handle wind speeds of 28.4 km/h under warranty, which is another great achievement for DJI. It is extremely stable and precise in flight, making it easy for novice pilots to fly.
The Mavic Air has the same range as its Mini counterpart, but with a shorter flight time and a range of 4 km and 20 minutes, respectively, the Mavic Air is more efficient.
To maintain strong connections, the Mavic Air uses a wifi transmission system that can bounce between 2.4Ghz & 5.8Ghz. The Mavic Air is slightly larger than the Mavic Mini and can withstand wind speeds between 29 and 38 kph.
Read More: 
Mavic Air Vs Mavic Pro Platinum
DJI Mini 2 Vs Mavic Air 2 2021
Obstacle Avoidance Systems
The Mavic Mini's obstacle avoidance system is one thing it lacks compared to the DJI Mini 2 VS DJI Mavic Air. Only the Mavic Mini has an internal GPS that keeps it in the air and downward-facing vision sensors.
The drone's accuracy and precision in the air make it very easy to fly, even though it does not feature an obstacle avoidance system.
Pilots who fly safely and without incident should be able to enjoy safe flights. You can attach propeller guards (to the Mavic Mini) to increase safety. However, this will make it heavier than 249g. Pilots will need a license to fly with propeller guards.
Mavic Air has an obstacle avoidance system with front, bottom, and rear-facing sensors. Mavic Air's intelligent obstacle avoidance system makes it easier to avoid obstacles and detect them more quickly.
The Mavic Air's Advanced Pilot Assistance System will scan the environment for obstacles. It will detect any obstacles and automatically determine the best path to avoid them. If it can't find one, it will stop and hover in the Place it is.
Modes of Intelligent Flight
The Mavic Mini has the smallest number of intelligent flight modes of any Mavic. The Mavic Mini currently features Return-To–Home, CineSmooth mode, and four QuickShots options, including Dronie (Circle), Helix (and Rocket). QuickShots allows users to capture dynamic and stunning footage quickly.
CineSmooth Mode allows for smoother movement and speed of the Mavic Mini. The drone can return to the exact spot it was launched from by simply pressing a button or when it senses a low battery or weak signal.
ActiveTrack is a popular flight mode on DJI drones that the Mavic Mini does not have. In future updates, this mode and some of DJI's most popular modes, such as TapFly, may be added to the Mavic Mini.
The Mavic Air includes all of DJI's most popular flight modes, including TapFly, Cinematic Mode, Point of Interest, ActiveTrack, and Cinematic Mode.
There are also QuickShot Modes such as Dronie, Circle and Rocket, Helix, and Boomerang. The Mavic Air offers a wide range of intelligent modes that will allow users to create cinematic shots and take them to the next level.
Video: 
DJI Mavic Mini vs. DJI Mavic Air Conclusion
You have just seen our discussion about DJI Mavic Mini versus the DJI Mavic Air; each drone provides users with powerful features and unique advantages to taking their creativity to the next level. Let's choose the drone suitable for your purpose and budget. We hope that our article can help you know which drone you should invest in.
If you have any requests to see other devices, don't hesitate to let us know as below, and don't forget to follow us to receive more info about DJI Mavic Mini vs Mavic Air 2, Mavic Mini vs Mavic Pro to be coming soon. 
Read More: 
Best Drones With Camera 2021: Top Brands Reviewed
Best Drone Goggles 2021: Top Brands Reviewed