How to Start a Drone Photography Business? The drone photography industry is growing thanks to modern technology. This means that there are many opportunities available for entrepreneurs. You don't have to use drones for hobby purposes. Instead, you can make money by using them as a business.
Staaker has created a complete guide that will help you start a drone photography business.
Considerations Before You Start a Drone Photography Business
There will be challenges when running a drone photography business. Prepare yourself and be aware of what you are getting into.
It is crucial to acquire and keep customers. It is important to raise awareness about your business and establish yourself as a reliable service provider. To get repeat business and referrals, you will need to invest time and money in marketing.
It is also important to learn about drone laws so that you can follow them. Violations can result in severe penalties.
Ask for advice from other entrepreneurs on how to start a business. Do your research to find out the costs. To compare drone photography companies, find out what they offer and how much they charge.
How to Start a Drone Photography Business?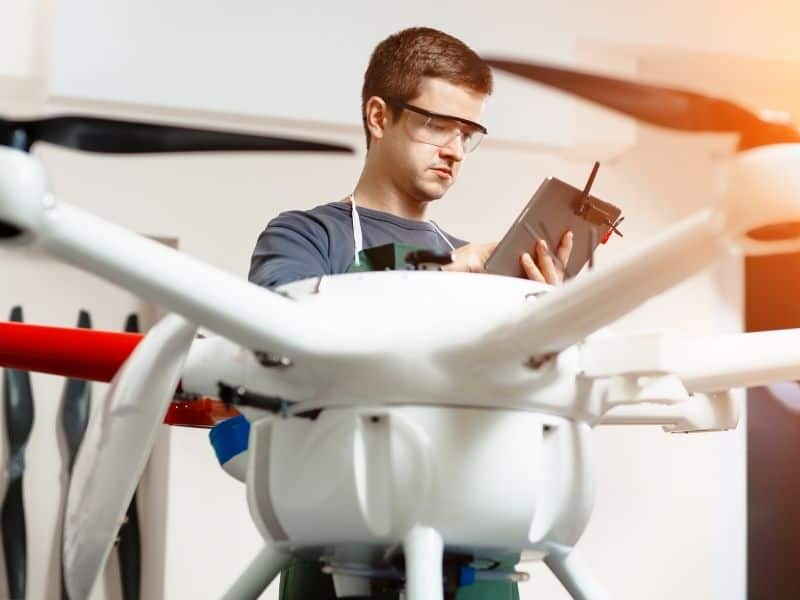 Buy the Right Equipment
A drone is essential if you want to start a drone photography company. While the basics are a good start, there is more to owning a drone camera than this.
You will need to decide whether you want an onboard or a built-in camera. Drones equipped with cameras are usually larger and take better quality images. Drones with built-in cameras are larger and easier to use. They also allow you to attach your camera to the drone.
A lightweight drone is the best choice for beginners in drone photography. These drones are more stable, cheaper, and easier than heavier models. Even though a drone is high-tech, it doesn't necessarily mean that you will be able to take stunning images right away. Photography with drones takes practice. Sometimes, it's better to practice with a less expensive model.
It's also a good idea to familiarize yourself and your drone accessories:
You will need additional drone batteries as drones usually fly between 10-25 min before they die.
Protect your propeller from damage by avoiding too close contact with things like foliage
If they are damaged during flight, extra propellers will be available.
You can always have enough memory on SD cards to take with you when shooting.
Nighttime flights with LED lights
Protect your drone with a landing pad when you are done
Update yourself on the Laws
Many places have strict rules about drones and their flight patterns. They also limit the images that they can capture. This is especially true for those who live near schools, government buildings, private property, or airports.
Avoiding fines by knowing where your drone can be operated will save you money. In the United States, drones that weigh between 0.55 and 5.55 lbs are allowed. Registration is required by the Federal Aviation Administration (FAA).
Also, it is permissible to take photos with a drone for your personal use. Professionals are required to ensure that you don't violate any federal laws by selling images from your drone.
It is important to remember that each country will have its own rules for commercial drone photography. As drones with cameras get more common, new laws are being created to address these new situations.
The FAA website has more information on drone laws in the United States. The Civil Aviation Authority website is available for UK residents. This article provides more information on where your drone can be legally flown.
Additional Considerations:
To help you be more secure, consider the following:
Drone insurance: It not only protects against any accidents that may occur with your drone but also gives you priority over others who don't have it.
It is a good idea to inform potential customers about this so that they don't have to be afraid of the image you captured or the method by which it was taken. You want to protect your investment as drones and accessories can get more expensive as your business grows.
Get a flying license: Although there are no easy answers to whether you need a flying license, it is common for drone pilots who use them for commercial purposes. A license is required if you intend to make money from your drone.
We are not lawyers. We provide useful information. To avoid penalties or fines, it is ultimately up to you to find out the details of local and federal laws. If you have any questions about operating your drone photography business according to the law, it is worth consulting a professional.
Write your business plan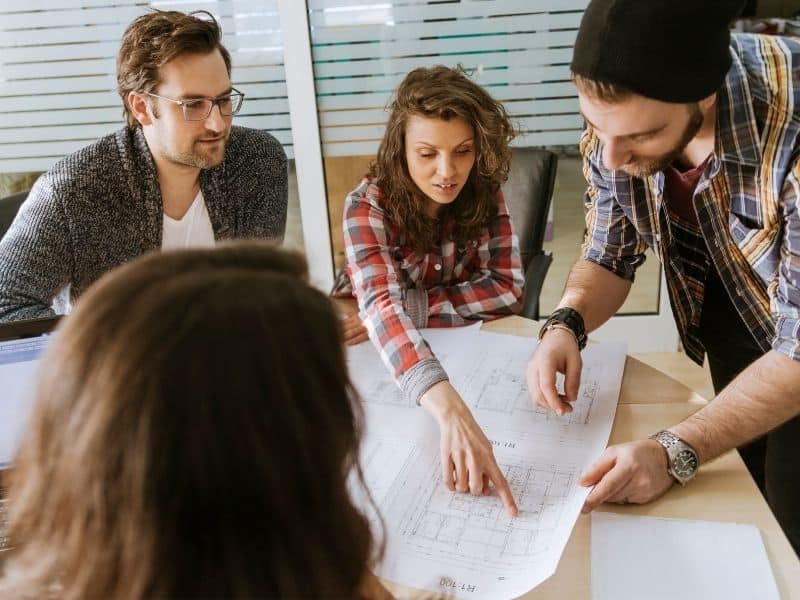 The next step to starting your drone photography business is writing a business plan. Your business plan will help you to focus on key aspects of your business, such as the Name of the Business, your customers, how you plan to reach them, projected sales and expenses, and your value proposition for marketing. To calculate your startup costs and ongoing expenses, you'll need to conduct research.
Banks require a business plan if you are looking for financing. Multiple studies also show that a well-written business plan can increase your chances of success in starting a business. The plan will help you think through every aspect of your business and serve as a guide for you as you start.
Form a Business Entity
The legal structure of a business to be legally operated is called a business entity. There are four main business entities that you can choose from: a sole proprietorship or partnership, a corporation, a limited liability company (LLC), and a corporation. Each entity type has its pros and cons. These include liability exposure, costs, and administrative requirements.
Apply to Business Licenses and Permits
You must follow specific guidelines to operate an unmanned aircraft vehicle (UAV) commercially. First, you need to get a Remote Pilot Certificate (FAA) from the Federal Aviation Administration.
Before you can get a flying license, you will need to obtain an FAA Tracking number, pass the Aeronautical Knowledge Exam, complete (and pass!) a TSA security background screening. You should also be aware of any local regulations that may apply to piloting drones.
You may need to get certain permits and licenses for your business, in addition to drone-specific licensing. The state and location of the business can affect the requirements for these licenses and permits.
A drone license and a sales tax permit are some of the common registrations that a drone photography company may require. If you have employees, an Employer Identification Number is also required.
Open a Business Bank Account & Credit Card
Personal asset protection is possible by using dedicated business banking and credit cards.
If your personal and business accounts mix, your assets, such as your home, car, and other valuables, are at risk. This is known as "piercing your corporate veil" in business law.
Learning how to build credit in business can help you obtain credit cards and other financings under your business name, better interest rates, greater lines of credit, and many more.
Opening a bank account for your business
This allows you to separate your assets and your company's assets. It is essential for personal asset protection.
It makes tax and accounting filings easier.
Apply for a business credit card
You can easily separate your personal and business expenses by consolidating all of your business expenses in one place.
It can also build your company's credit history, which can be helpful to raise money or invest later.
Get Insurance
For full coverage, a drone photography business needs to have multiple types of insurance.
Insurance for drones consists of insurance for any equipment and accident liability insurance.
Workers' compensation insurance pays for medical bills and legal costs if an employee is hurt on the job.
You are protected if you cause damage to the property of your client with property and casualty coverage.
Insurance policies can be expensive. Request quotes from several providers to get a better idea of your insurance budget. Compare the quotes not just for the premiums but also the coverage limits, exclusions, and deductibles.
Define your Brand
Your brand represents what your company stands up for and how the public perceives you. Your business will stand out from its competitors by having a strong brand.
Make your business website
Next, you will need to design a website that represents your business.
Although creating a website can be a crucial step, others may feel that they cannot do it because they lack the necessary experience. This may have been a valid concern in 2015, but web technology has made it much easier for small business owners.
These are the top reasons you should not delay building your website:
Every legitimate business has a website. It doesn't matter how big or small your business is when it comes to getting online.
You can't replace a business website with social media pages like LinkedIn business profiles or Facebook pages.
Website builders such as the GoDaddy Website Builder make it easy to create a basic website. To create a website you are proud to be proud of, you don't have to hire a web designer or developer.
Read also:
FAQs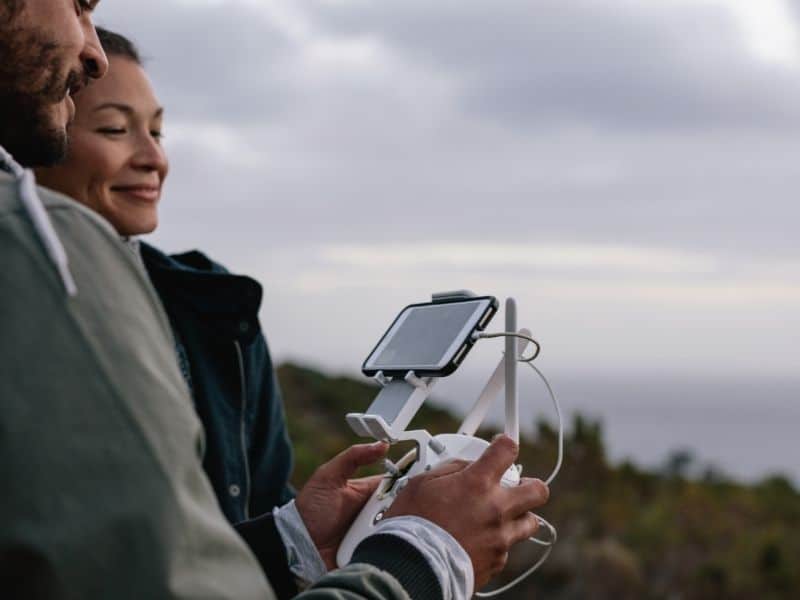 Who is the target market for this product?
Potential clients include real estate agents, boat sellers, advertising agencies, local athletes, and anyone selling property or boats. Anyone who is looking to show off something in an unusual way with aerial photography or videography is your ideal client.
What price can customers pay?
Your fees should reflect the value of your service. Most drone photography companies charge $150-$450 per hour and $100 for editing. The average package deal starts at $500 but can increase depending on what services the client requires.
How can your business be more profitable?
You have many other ways to make money with drones. Two great ways to make more money are aerial mapping and aerial inspections. There are also opportunities in local media, search and rescue, and other areas.
How to market and promote a drone photography business?
While your website is the best marketing tool, you might consider advertising on third-party sites such as Amazon Services or ThumbTack.com. Or even a specialized site like HiFlyPhotography.com. Direct mail may be a good way to reach potential clients in your niche.
How to keep customers coming back?
Your business will thrive if you focus on local marketing and provide better service than expected to clients. You can attract potential clients to your social media pages by sharing fascinating photos that your drones took and editing them.
Conclusion
We hope you find our ultimate guide to setting up a drone photography company helpful. It is smart to get into drone photography. However, before you begin, it is important to understand what you should consider and what steps you should take.
We appreciate you choosing Staaker.com to be your online home. We are grateful for your support.
Video: