Starting a drone photography business can be a great way to make money while doing something you love. But it's not as simple as just buying a drone and taking some pictures. There are a few things you need to do to get started, including getting a license and insurance.
This article will guide you through the process of how to start a drone photography business.
Tips for Drone Photography Businesses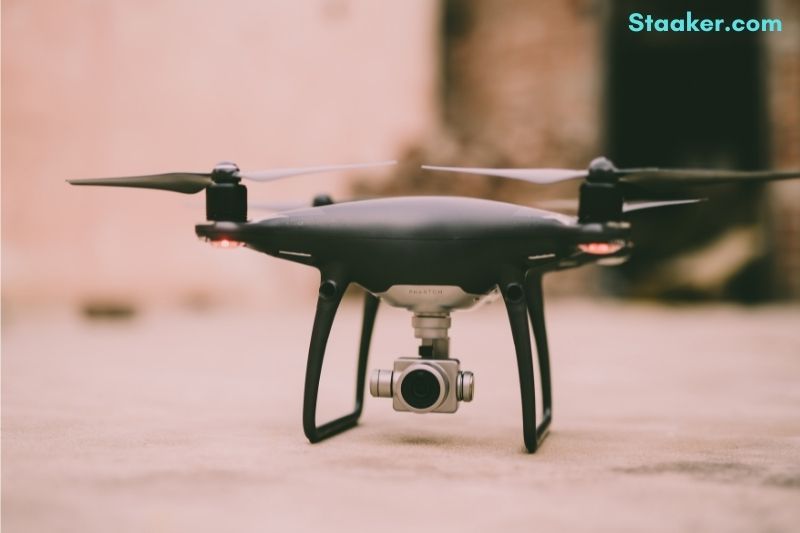 To become an official drone photographer, you will need insurance and a license.
To legally operate drone photography, most photographers require a license. Although insurance is not required, it can help you build trust and rapport with your clients.
A test is usually required to obtain a license. After passing the test, you can become a drone pilot. You will be reimbursed if something happens during your photo shoot, which hopefully won't happen.
Although a license and insurance are expensive and take time, both are worthwhile investments. Professional drone pilots are more trustworthy. Clients trust them more. When discussing drone photography online, make sure you are licensed.
To Avoid Illegal Shooting, Learn the Drone Laws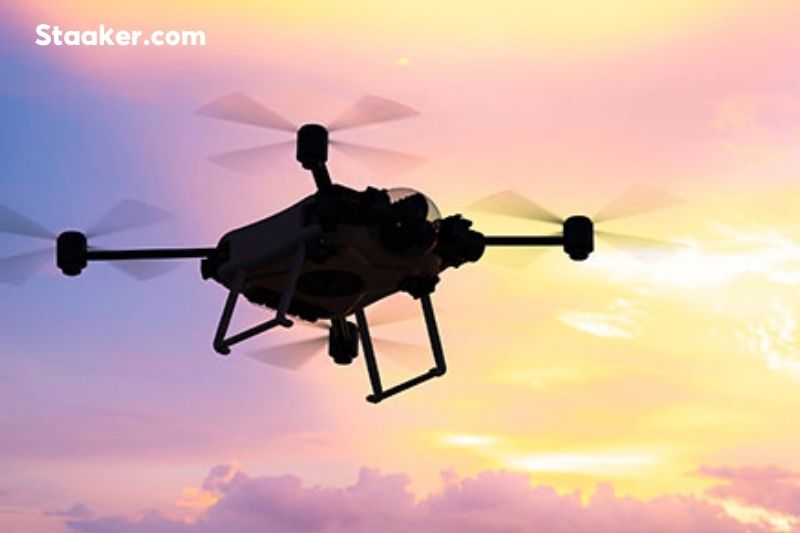 When you are taking photos from a drone, many laws must be complied with. These laws will vary depending on where you are located.
When it comes to the law, we can't help but mention: 
Here are some laws that Americans can follow:
Your drone should weigh less than 55 pounds
You can't fly higher than 400 feet.
You must always be able to see your drone.
By being familiar with basic drone laws, you can have successful and safe photoshoots wherever you are. This will help you build your client's trust and strengthen your image.
Want to begin a favorable business, maybe you need to learn about: Best Places to Fly a Drone
Get a Drone for Affordable Photography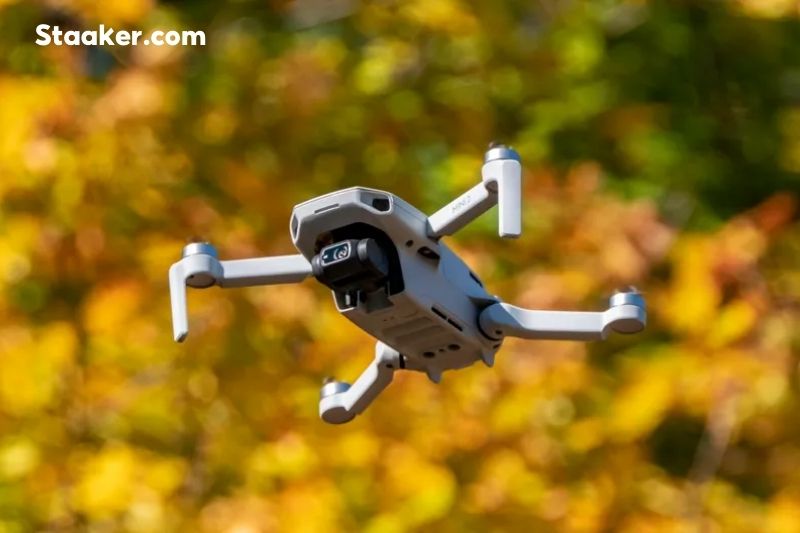 It is tempting to buy a high-end drone immediately. You might be tempted to buy a more expensive drone immediately, even if you have the funds.
This will allow you to experiment with your equipment without worrying about damaging it. Instead of focusing on the details, compositions, angles, or views, you can focus on them.
These are some of the most affordable drones available:
Ryze Tello
Potensic D85
Hasakee K5 Mini Nano Drone
These cameras are light and portable, so you don't have to worry about losing quality.
You can later invest in a high-quality drone to take amazing shots.
Professional drones can be purchased once you have sufficient drone photography experience. The type of work you do will determine the drone you purchase. (Learn more about this later.)
These are some of the most advanced drones available today:
DJI Mavic Pro
Parrot Anafi
DJI Inspire 2
Although these are expensive, they are worth the investment if you want to establish a profitable drone photography business. You will feel more confident when you offer your services to clients if your equipment is top-quality.
Try Out Different Drone Types To Find Your Favorite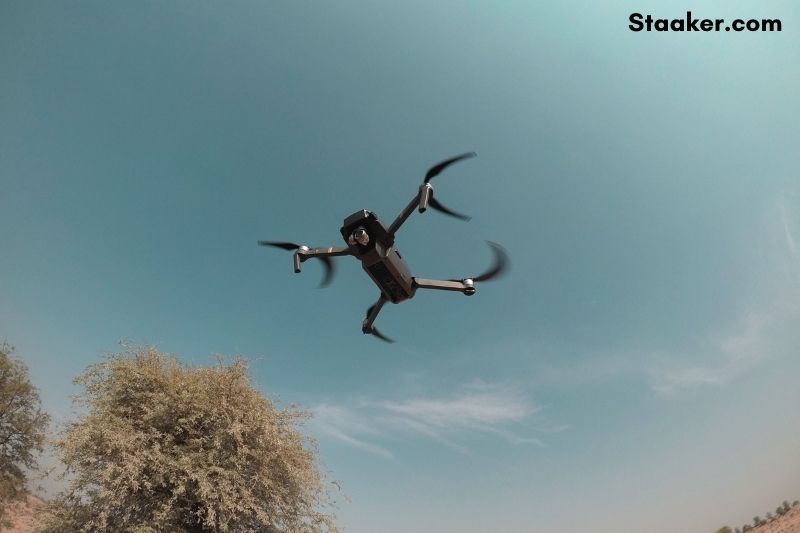 This is a crucial step in your business plan. Drone photography has many sub-genres, as we have already mentioned.
These are just a handful of categories drone photographers can explore:
Real estate
Surveillance
Agriculture
Weddings
It would help if you experimented with as many different genres as possible. You should have at least two favorite photography genres you can work on over the long term. You'll get more clients the more you learn.
Once you have selected a few favorites, you can begin offering your services to many people.
To Ensure Smooth Operation, Create A Checklist.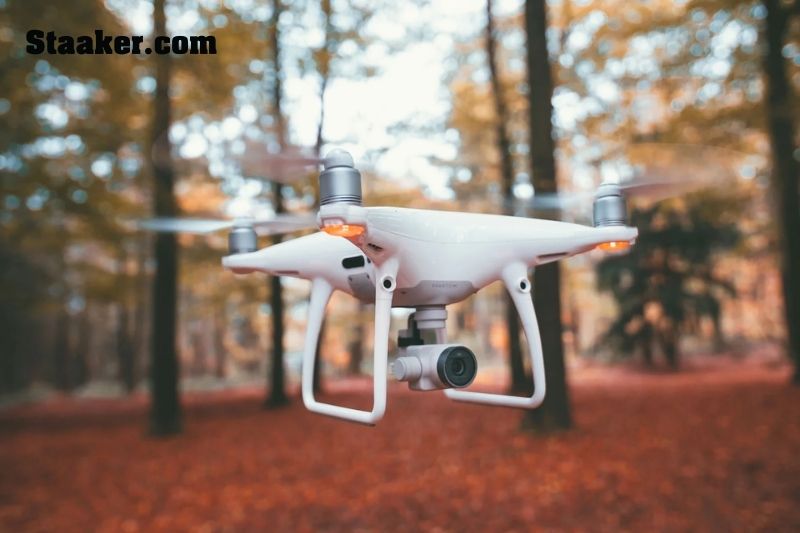 Before you officially launch your business, make a list. You can make a list of things to do or a list of questions.
Here are some questions to keep in mind:
Who is my target audience?
What is the realistic amount I can make in a year?
Are there any friends or acquaintances who may be interested in my venture?
Are you interested in drone videography as well?
Which social media platform is best for advertising my work?
What's my backup plan in case something goes wrong?
You'll be more successful in maintaining your business strength no matter what happens.
Look at Competitors to Improve Your Drone Photography Business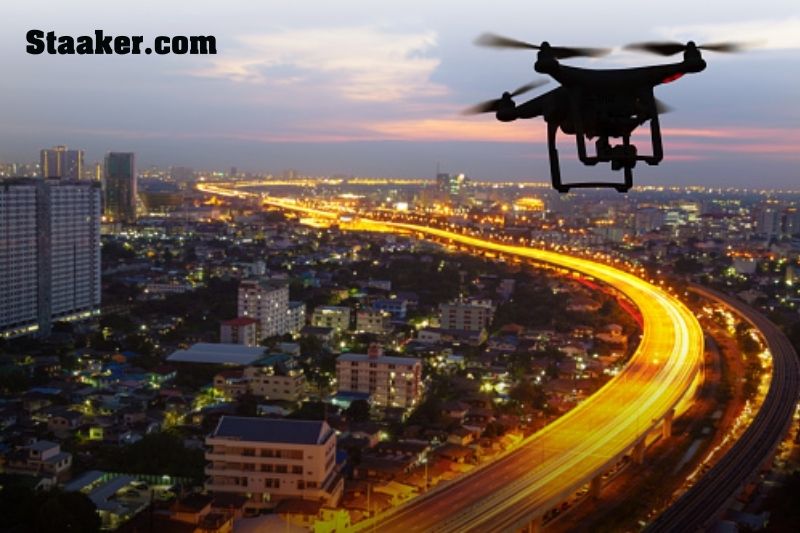 Different types of drone photography are thriving in different places. Please take a look at the local drone photographers to see what they have to offer. Pay attention to similarities in pricing and editing styles.
Are most of them only offering photography services? You might be able to offer additional videography services if that's the case. You want to discover what is missing and then use it to attract new customers.
You can also include professional color correction and 24-hour turnaround in your offer.
You must ensure that the offer is feasible for you. It's essential that you take your work to the next level. However, it is equally important to remember your limitations and capabilities.
If you have a part-time job, you might be able to offer a 48-hour turnaround rather than a 24-hour turnaround. This will allow you to manage both jobs efficiently without compromising one.
To Highlight Your Skills, Build A Strong Portfolio
Drone photos can look identical if they don't have a unique style. You can quickly develop your style by taking many photos.
Try different angles, heights and editing techniques. This will help you discover your individual preferences.
All of your photos should be saved to a hard drive. Keep your photos as long as they are sharp and have a good composition. These outtakes might be helpful for you to look at again and find potential. You'll be able to see what went wrong and how you can learn from it.
Once you have had several photo shoots and are confident in your work, you can begin building your portfolio. Only post your best work. Keep your photos diverse. You should also take photos of different landscapes and events.
To inspire others, show them all your talents. You're more likely to get hired if they are inspired.
To Avoid Confusion, Create A Solid Pricing Plan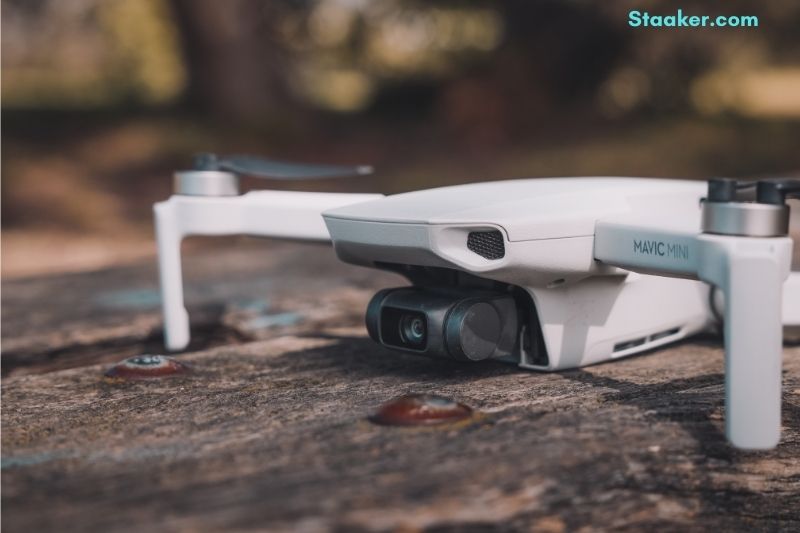 There is no one right way to price photography. Prices for drone photographers range from $50 to $450 per hour. You might prefer to start low if you are a beginner or need some experience.
Find a rate that you feel is fair. Compare it with the pricing plans of your competitors. If you offer additional services, you have the right to charge more.
Remember to factor in turnaround time. You should add an extra charge if you can send the results to your client within 24 hours.
Many drone photographers offer several pricing options. You can offer a complete package at a fixed price instead of charging an hourly rate. It would help if you considered your turnaround time, how much time you will be shooting, and whether the clients require edited photos.
For Extra Income, Sell Your Photos On Stock Photo Websites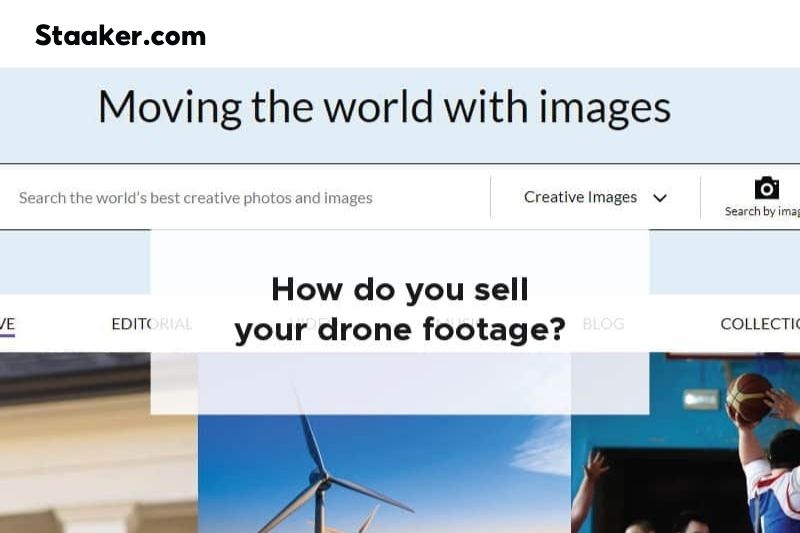 To make some money, you don't necessarily have to shoot for clients. Many drone photographers sell photos to advertising companies and publishers. Finding a stock agency is one of the best ways to do so.
You can submit either exclusive or non-exclusive work. You can submit exclusive work once only or for a short time.
You can buy non-exclusive work over and over again.
Although stock photo agencies are not as lucrative as clients, they can still be a great source of passive income.
To Get More Exposure On Social Media, Be Present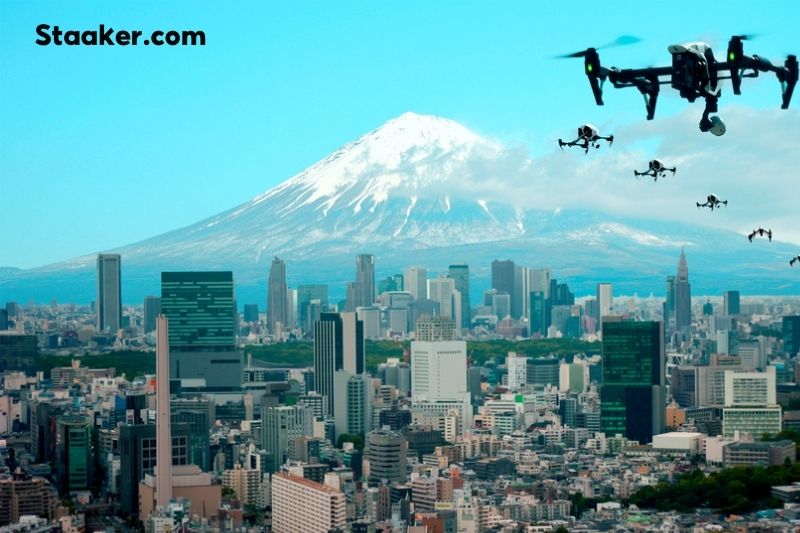 Once you have everything in order, you can begin posting photos to social media. Exposure to social media can result in more clients, a stronger reputation, and paid promotion. You can also build a network of talented artists through social media.
You can start with just a few social media platforms. You'll be able to spend your time on social media wisely if you only focus on a handful.
Post regularly. Involve people in your work to make them feel special. You can use hashtags to promote drone photography.
While this might not always be possible, it will keep your drone photography career alive and motivated.
The Right Drone to Start a Photography Business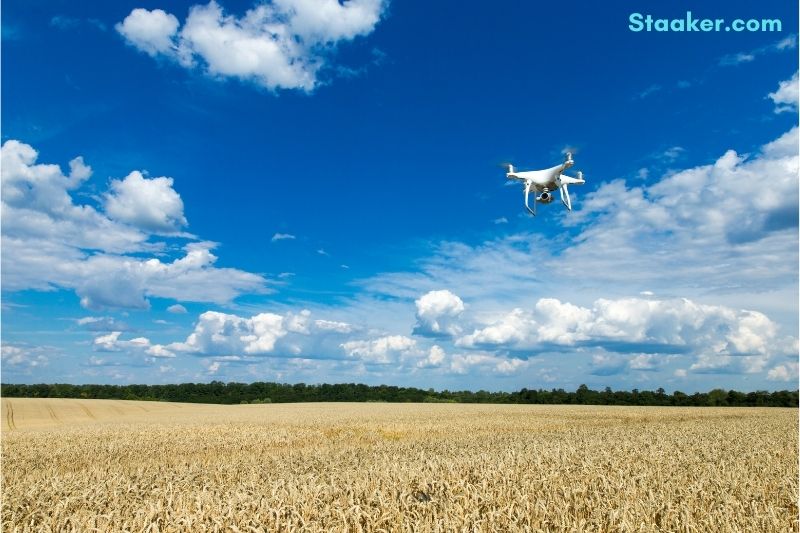 There are some things you should look out for before buying a drone to use for photography. To capture aerial views, you can't just buy any drone. These are some things to keep in mind:
Gimbal: First, your drone needs a gimbal. What is a gimbal? A gimbal is a stabilizer that prevents your camera's movement while in the air. This helps to avoid blurry or distorted photos. It will keep the camera as steady as if it were on a tripod.
First Person View: A drone that has a First Person View (FPV) is a great asset. You can send live footage from your drone to your smartphone or other devices using an FPV. You can snap a photo of something you see while it is flying in the air.
Object/Collision Avoidance Technology: This technology is found in most higher-priced drones, and it works great for all drones regardless of their purpose. When you use automatic flight mode, it detects objects and will fly around them. This prevents the drone from hitting trees or other obstacles, which could cause serious damage.
GPS: Any drone can use GPS. It will determine the location of your drone and send that information to your phone or controller. It's not required to begin a drone photography business. It is worth considering, especially if your first time flying drones.
If you are looking for opportunities to do business with a drone, see our guide to learn more.
How To Be A Drone Photographer – Tips and Tricks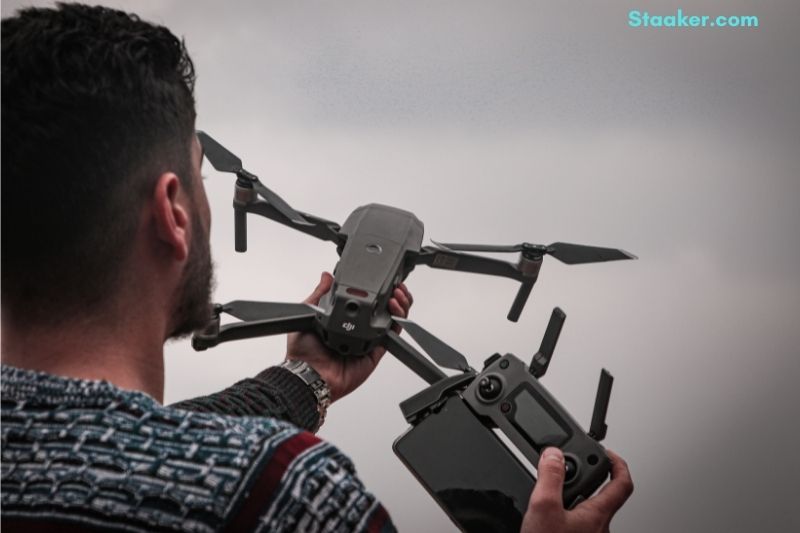 It's important to remember every step. Also, you should be familiar with these tips and tricks for taking the best aerial shots.
To ensure you get the shot you desire, start filming and taking photos as soon as you find the sweet spot.
You must always monitor your battery life to avoid losing a great shot or accidentally damaging your drone.
To avoid unwanted shadows, castoffs, and warped images, be aware of the sun.
For the best quality and perception, aim to take photos directly in front of the drone camera.
Try long exposures to capture movement in your still photos
As patterns and symmetry are appealing to the eye, they create an orderly feeling.
You can use a variety of tips and tricks to help you get your drone photography business off the ground. The more images you take, the more customers and clients you will have. The best tip for starting a drone photography company is to never stop learning.
Drone Photography Portfolio
Before they hire you, most people want to see your work. A standard portfolio is not the same as a portfolio of drone photography.
It doesn't really matter if your goal is to take drone landscape photography or drone real estate photography. Photos are essential to prove that you have the skills and talent potential clients want. Have fun with your portfolio.
CommonDrone Photography Questions
1. Our Drone Photography's Profitable?
Drone photography is a lucrative job. A professional drone photographer can charge as high as $450 an hour. The type of aerial photography that you choose will determine how much you make.
2. What is the cost of drone footage?
The cost depends on the length of your final video. Drone footage typically lasts between 1-3 minutes. A drone can cost between $100 and $200 per hour to film. The final price will depend on the experience of the videographer and the type of work being done.
3. Can drone be used for commercial purposes?
Yes. You need special permission in some countries like the UK to fly a drone commercially. Commercial photographers require drone insurance and certification to ensure their business is legal.
4. Do I need a Commercial Drone Licence?
It all depends on where you are located. If you are working on a commercial project, you will need a commercial drone license. This applies to client photoshoots.
A commercial drone license may not be required if you are using your drone for entertainment purposes.
Conclusion
There is no one-size-fits-all answer to starting a drone photography business, as the best approach depends on your specific goals and circumstances. However, the tips outlined in this article can help you get started on the right foot. Thank you for reading!