Phantom series is the best-selling product line and received high appreciation from users and experts in D JI drones. DJI Phantom 3 Pro Vs 4 Pro two products have been discussed lately, so what is it about these two products that make so many people spend time and money to invest in them. In this article Staaker has synthesized and analyzed the different aspects between them and help you decide to choose the best product for you.
DJI Phantom 4 Pro
DJI Phantom 4 Pro adds obstacle sensors to the Phantom 4 and a much better camera.
With a 1-inch sensor camera, the DJI Phantom 4 Pro improves image and video quality.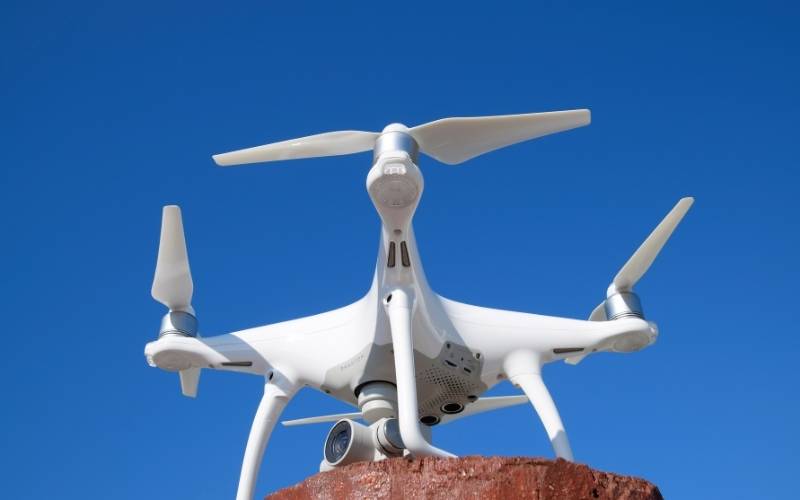 The Pro is built on the same aircraft frame as the Phantom 4. It can fly slightly longer due to the larger capacity battery.
DJI rates the Phantom 4 Pro at 30 minutes flying time. However, we were able to get closer to 25 minutes during our tests.
The Pro communicated well at 4,250 feet in rural environments and at 2,000 feet in suburban areas during our range testing.
The Phantom 4's airframe and basic design remain unchanged.
The infrared sensors to the left and right prevent collisions but only when flying low-speed Tripod or Beginner modes.
Even at speeds up to 31 mph, forward and rear obstacle avoidance sensors can prevent crashes.
The Vision Positioning System increases stability indoors.
Pro cameras feature a 1-inch image sensor, 4K capture at 60fps, 20MP still imagery, a mechanical shutter, and a variable aperture.
The Remote Control for the Phantom 4 Pro comes with a Clip that can hold a tablet or smartphone.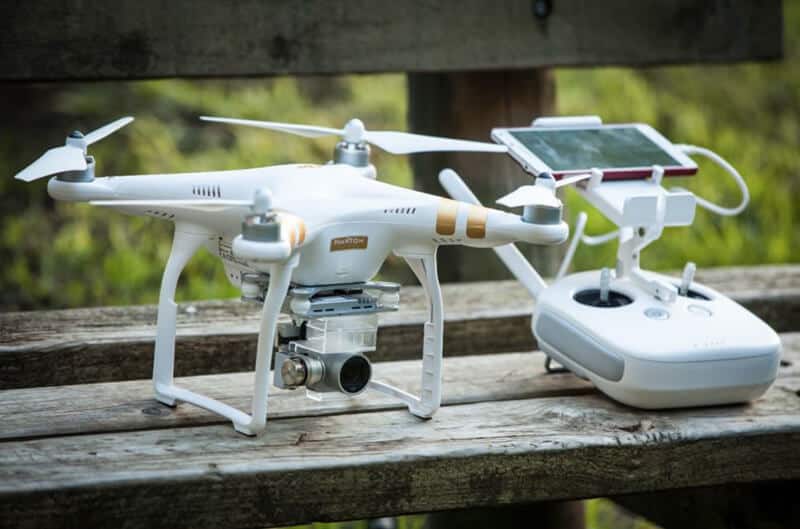 DJI Phantom 3 Pro
The DJI Phantom 3 was an iconic drone. The design of the original DJI Phantom 3 is still being used today. There were several versions of the Phantom 3.
The DJI Phantom 3 Pro was the most advanced, with a 4K camera and extended flight range. It also has better positioning and GPS tools. Although the industry had made great strides since 2015 when the Phantom 3 Pro was introduced, it is still a fun drone to fly.
Read More: 
Mavic Pro Platinum Vs Phantom 4 Pro 2022
DJI Phantom 4 Pro V2.0 VS DJI Phantom 3 Pro comparison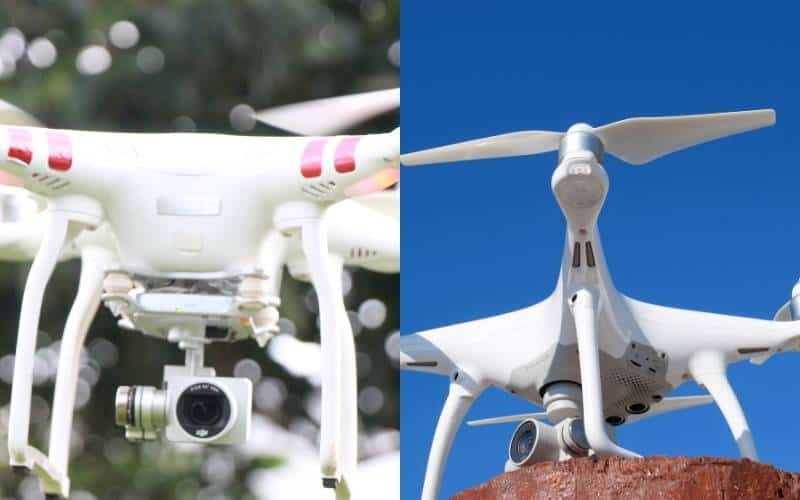 Overview
Model
Phantom 3 Pro
Phantom 4 Pro
Camera
 12.4 MP, 1/2.3-inch sensor; f/2.8 35mm lens
20 MP, 1-inch sensor; f/2.8 – f/11 24mm lens
Video resolution/ Max. bitrate
1280×720 (720p), 1920×1080 (1080p), 4096×2160 (4K); 60Mbps
1280×720 (720p), 1920×1080 (1080p), 4096×2160 (4K); 100Mbps
Photo resolution (pixels)
4000×3000
5472×3648
Supported video formats
MP4, MOV (MPEG-4 AVC/H.264)
MP4, MOV (AVC/H.264; HEVC/H.265)
Supported photo formats
 JPEG, DNG (RAW)
 JPEG, DNG (RAW), JPEG+DNG
Storage
microSD card
microSD card
Camera stabilizer
3-axis mechanical gimbal
3-axis mechanical gimbal
Obstacle sensing
No
Forward, backward, downward, left, right
Max. transmission distance w/controller
FCC: 3.1 mi (5 km)
CE: 2.2 mi (3.5 km)
2.400 – 2.483 GHz
FCC: 4.3 mi (7 km)
CE: 2.2 mi (3.5 km)5.725-5.825 GHz
FCC: 4.3 mi (7 km)
CE: 1.2 mi (2 km)
Speed
35.8 mph (ATTI mode)
45 mph (Sport mode)
Max. flight time
Approx. 23 minutes
Approx. 30 minutes
TapFly and ActiveTrack
No
Yes
Photo Quality Comparison
It makes sense to compare the DJI Phantom 3 professional vs phantom 4. The Phantom 3 Pro's 12-megapixel camera is compared to the Phantom 4 Pro's 20-megapixel camera. It has a slightly larger 1″ sensor.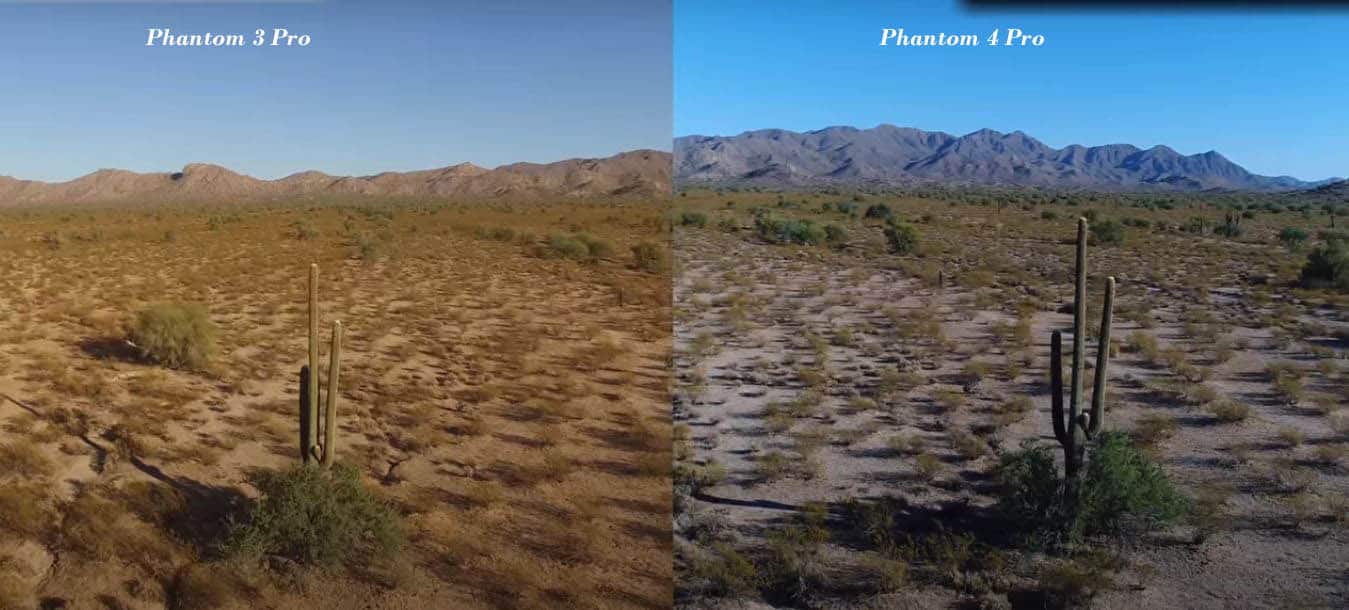 The Phantom 4 Pro produces sharper, brighter images than its predecessor, the Phantom 3 Pro. The Phantom 4 Pro also has a higher ISO rating than the Phantom 3 Pro and produces less noise.
These photos were taken in DNG (Learn more about DNG/RAW here). I made some adjustments to the color and distortion, but they look pretty much like the original images.
The Phantom 4 Pro produces sharper, more vibrant, and cleaner images. The mechanical shutter, which has an adjustable ISO, f-stop, and shutter speed, gives you more control.
The Phantom 3 Pro has a 2.8 aperture, and you can't change ISO or shutter speed. While Phantom 3 Pro vs. Phantom 4 Pro cameras are excellent in quality, the Phantom 3 Pro is superior to the Phantom 4. These photos will show you the difference!
Read More: 
Best Micro Drone With Camera Of 2022
Video Quality Comparison
Although this DJI Phantom 3 (Pro) vs. Phantom 4 (Pro) comparison is very short, it shows how the Phantom 4's larger sensor excels in video shooting. Both drones were tested in 4K at 24 frames per second with a 100% crop and 400% crop.
DJI Phantom 4 vs Phantom 3 Pro were also tested at 1080p at 60 frames per second. I then slowed the speed down to see if there was a difference in frame rates.
The video was exported at 1080p at 24 frames per second, which means that the 60 frames per second are slowed 2.5 times. The Phantom 4 Pro's larger sensor allows for more light to enter, so the image turned out sharper and with less noise.
Video:
Conclusion
You should choose a drone depending on your requirements; if you are a beginner learn to fly and take a photo in the sky, then Phantom 3 Pro can be the right choice for you which is at a lower price and a good feature.
The Phantom 4 Pro is a great option for professional photographers and amateurs. We hope that our Phantom 4 Pro vs Phantom 3 Pro article can help you know exactly which you should choose. Let's wait for our DJI Phantom 4 Pro V2 and Phantom 4 Pro Plus vs Phantom 4 Pro article next time.
Read More: 
Air 2 Vs Pro 2022: Which Is the Best Drone for You?
Best Drone Controller 2022: Top Brands Reviewed