Are you looking for an action camera that can keep up with your extreme lifestyle? Then you may be wondering if the GoPro Hero 10 vs DJI Action 2 is the right choice for you.
These cameras are designed for people who love to document their adventures, but there are some key differences that you should consider before making your final decision.
Design: modular versus traditional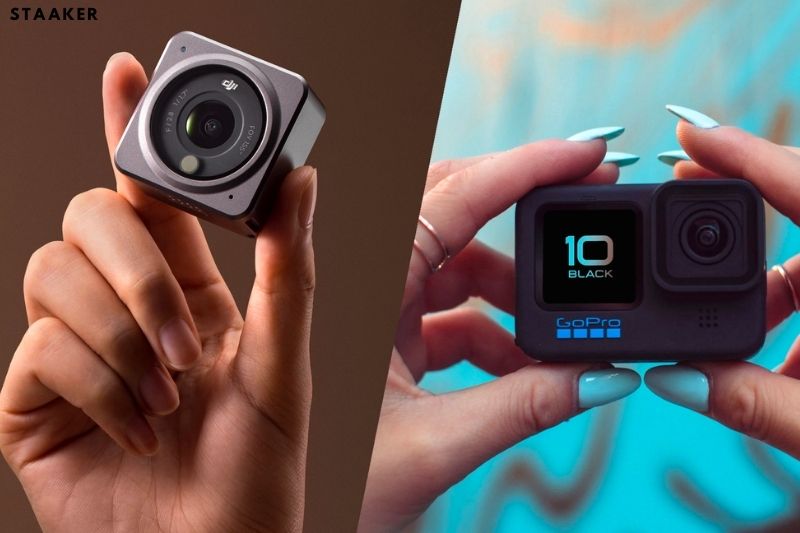 Their appearance is the most significant difference between the DJI Action 2 and the GoPro Hero 10.
With a secondary front display, the GoPro is a classic action camera design that the firm has offered for years. This is a familiar model for those who have used cameras for years.
The DJI Action 2 is an interchangeable camera. You have the primary device and the option to add a battery back or front display module if necessary. Instead of physical plugs, these attach with magnets and a clip.
On the other hand, DJI hasn't gone as far as Insta360 with its One R series cameras in terms of modularity. Because the Action 2's central unit contains a battery, you can operate it on its own.
Some may think of the GoPro Hero 10 Black as a modular camera. The Display Mod adds an extra screen, the Media Mod adds a microphone, and the Light Mod adds an LED array to modern versions. These are, however, add-ons for optional capabilities, whereas the DJI system relies on mods for the majority of its functionality.
Size and weight: the tale of two halves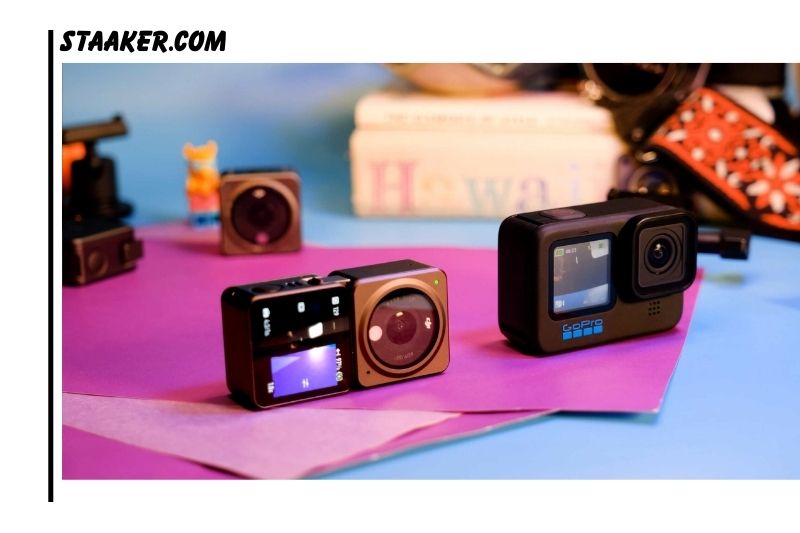 Because of the modular design of the DJI Action 2, the main camera body is substantially smaller than the GoPro Hero 10 Black. It's only 393922.3 mm long and weighs 56g.
The GoPro measures 71.8 x 50.8 x 33.6 mm and weighs 158g. It's over three times the weight, 50 percent thicker, and 85 percent longer.
This appears to be done to make the DJI Action 2 more appealing to content creators. It can be magnetically attached to a necklace worn around your neck, and the camera appears to stick to its surface, allowing it to be worn under a shirt.
The Action 2 isn't a spy camera – you shouldn't be filming people without their knowledge – but it does provide a stylish method to keep the camera when it's not in use.
When the battery or power modules are added to the Action 2, the weight approaches that of the GoPro Hero 10 Black, even if the DJI is still lighter. The power module weighs 112 grams, while the front screen module weighs 120 grams. This is up to 38 grams lighter than the GoPro.
Aside from making the controls more complex, this versatility comes at a cost. The camera is water-resistant to 10 meters, which is excellent, but this is lost when you plug in a module. For proper waterproofing in that instance, you'll need to obtain the waterproof case, which gives 60M resistance for an Action 2 with one of its supplementary modules.
Storage
The Action 2's camera module contains internal storage of around 22GB or about 30 minutes of 4K video. You can then add a microSD card after installing the battery or screen change. A microSD card slot is included inside the GoPro. In the end, you'll end up with the same consequences.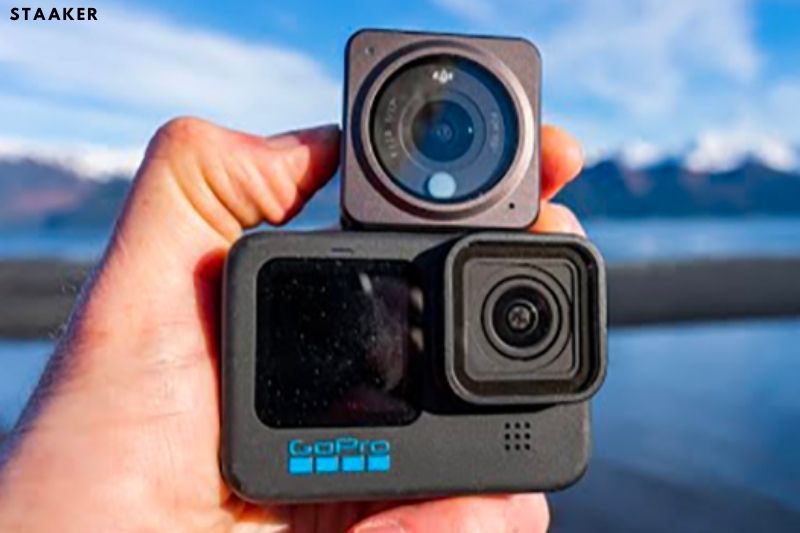 Battery life: GoPro goes for longer
The battery life of DJI's action cam is also expected to suffer. When shooting at Full HD resolution (30fps) with the camera brick alone, DJI claims the Action 2 will last 70 minutes.
The GoPro Hero 10 Black may last up to 112 minutes in the same scenario. When shooting in 4K resolution, this time lowers to 76 minutes (60fps). If the DJI encounters a comparable dip, it will persist for 45-47 minutes in 4K mode.
Are 45 minutes sufficient for informal photo shoots? Sure, it will be a lot of the time. It would help if you also considered the Action 2's penchant for overheating, which means it can only capture brief clips. Without any modules attached, our Action 2 stopped recording at 4K 60fps after 5 minutes and 45 seconds (with the battery at 79 percent ).
You also lose GoPro's simple battery swapping method. It's the price of reducing everything to the degree that DJI has.
However, battery life is significantly improved with the Action 2's Power, Mod installed. At 1080p, the battery life climbs to 180 minutes, around 60% longer than the GoPro Hero 10 Black. You may use these in the same way you would a GoPro battery. However, at $75 each, they are far more expensive than the $20 GoPro option.
Using the Action 2's front screen module instead of the Power Mod, you obtain inferior results, with 160 minutes (1080p) instead of 180. That module also has its battery.
Usability: GoPro has more screen estate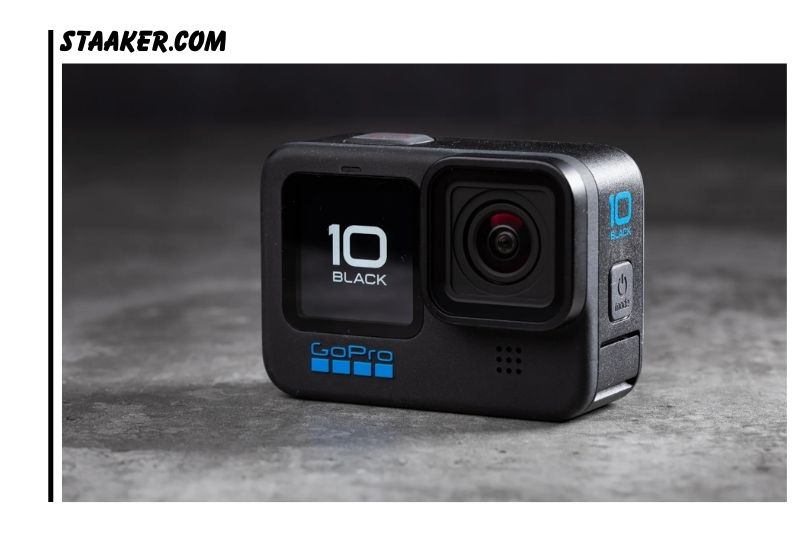 If you buy a DJI Action 2, you'll run into the identical problem we had with the Insta360 One R. The screen is relatively small, and the aspect ratio is inappropriate for the 16:9 video.
With 446 × 424 pixels, this is a 1.76 screen. Although it will appear quite pointed, the shape is practically square. The screen on the Front Touchscreen Module is also identical. Apart from the size and shape difficulties, both appear to be excellent quality.
They're OLED panels with Gorilla Glass protection and a brightness rating of 500 nits. That's comparable to a lower-mid-range phone, and it should be clear enough to use outdoors.
Composing a scenario on the GoPro Hero 10 Black's 2.27-inch widescreen display will be more comfortable. Here, you're exchanging one convenience for another.
App Control
Because of their small size and complex operation, these cameras frequently require a connection to a mobile app. The DJI app appears to be more dependable and provides complete control over all settings. GoPro is more limited and has occasional poor connections.
Sensor: Larger sensor, lower resolution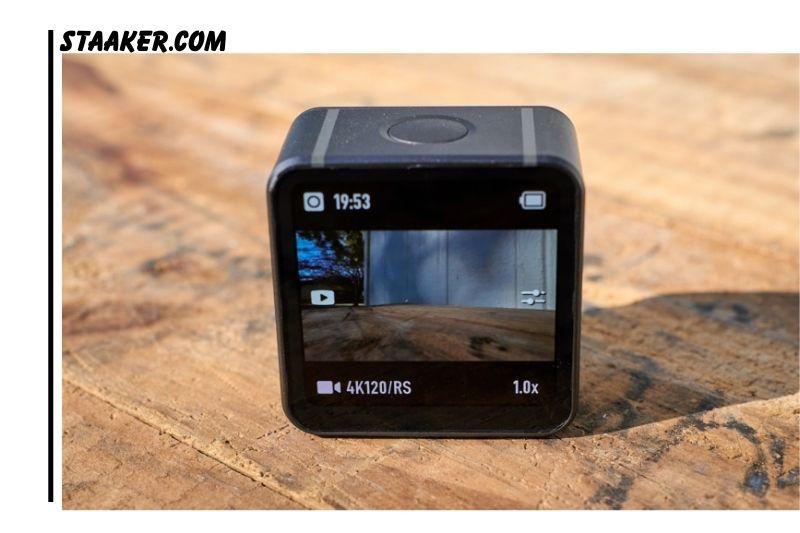 DJI selected an attractive sensor option for Action 2. It has a 1/1.7-inch sensor, about 35% larger than the 1/2.3-inch sensor on the GoPro, and can record stills and video at up to 12MP resolution.
On the other hand, the GoPro features a significantly higher-resolution 23.6MP chip, which allows it to capture in 5K. The DJI Action 2 lacks sufficient pixels to shoot in 5K.
Larger sensor pixels, of course, give the DJI a better chance of capturing decent nighttime footage. To yet, no GoPro has been able to shine in low light.
You may argue that for 4K video capture, 12MP is the best sensor resolution. Sony appears to agree, as the Sony A7S III uses this resolution.
However, the reality of filming with an action camera must be considered. You utilize a severely cropped view a lot of the time. When using digital zoom in the Action 2, the sensor data is upsampled to achieve a 4K resolution.
Despite having a lesser resolution sensor, the DJI Action 2 has a better maximum bit rate than the GoPro. It can deliver up to 130Mbps, compared to the GoPro Hero 10 Black's maximum of 100Mbps.
Image stabilization: GoPro leads the way
The maximum capture resolution of the GoPro Hero 10 Black is higher than that of the DJI Action 2. It has a resolution of up to 5.3k.
The DJI Action 2 supports 4K resolution in both 16:9 and 4:3 aspect ratios. 40963072 is the latter. This could be the sensor's natural resolution, but if it is, you won't be able to employ electronic stabilization in this mode.
Slow-motion capture is also a GoPro advantage. It can shoot 4K at 120 frames per second or 2.7K at 240 frames per second. While the DJI Action 2 can shoot 4K at 120 frames per second, shooting at 240 frames per second requires a lesser resolution of 1080p.
This is most likely due to the GP2 processor's increased power or optimization. Because it features the outdated GP1 CPU, the GoPro Hero 9 Black from last year could only perform 240fps at 1080p, just as the Action 2.
Image stabilization: GoPro leads the way
We don't think the stabilization on these cameras will disappoint you, especially if you're new to higher-end action cameras. The GoPro Hero 10 Black uses the Hypersmooth 4.0 system. Rocksteady 2.0 is included in DJI's Action 2.
Furthermore, both provide horizon leveling. Even if the camera tilts dramatically, up to 45 degrees in the GoPro Hero 10 Black case, your footage will remain 'upright.'
Because it uses the same processes as standard electronic stabilization, this only works with digitally cropped modes. Image data that was not seen by the sensor in the initial preview frame is used to smooth out the final footage.
HorizonSteady from DJI, on the other hand, stops working far sooner than Horizon Levelling from GoPro. Horizon Steady is only available at resolutions less than 4K. You won't get any stabilization if you shoot at 100fps or above. The Action 2 does, however, offer 180 degrees of tilt adjustment, compared to the GoPro's 45 degrees.
The GoPro version supports the Hero 10 Black's highest resolutions, including 5K and 2.7K at 240fps. This is the GoPro GP2 demonstrating its capabilities once more. It's pretty remarkable.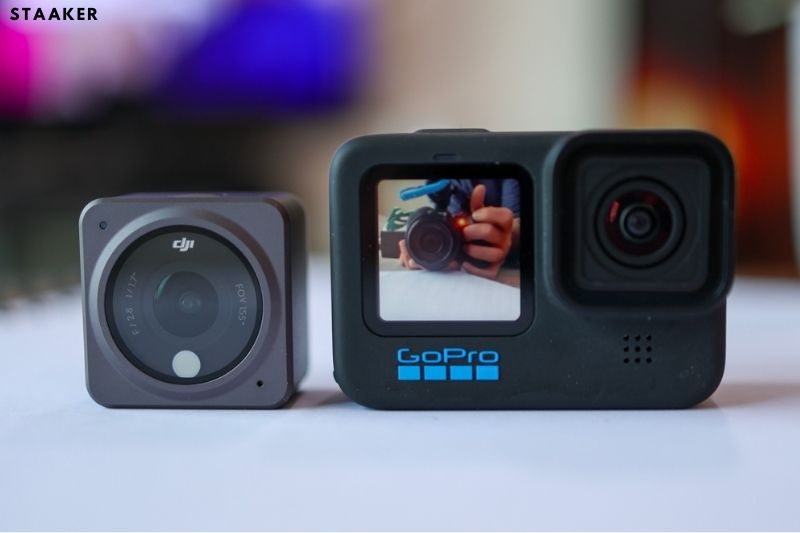 Price
Despite all of the advantages above, a purchasing choice can sometimes come down to nothing more than price, and in this regard, the DJI Action 2 is a touch more wallet-friendly. The Power Combo, which comprises the camera and the power module for around £300, and the Dual-Screen Combo, which swaps out the power module for the touchscreen module for about £400, are available.
The GoPro Hero 10 Black is the more expensive device, costing £479.99, but it can be purchased for £379.98 if you join up for the GoPro Subscription service, which includes automated uploads and cloud backups of your film.
FAQs
Is the DJI Action 2 equipped with GPS?
Conversation. The DJI Action 2 could be fascinating, with increased night vision, built-in GPS, RockSteady 2.0, and horizontal calibration, but I believe they can do better.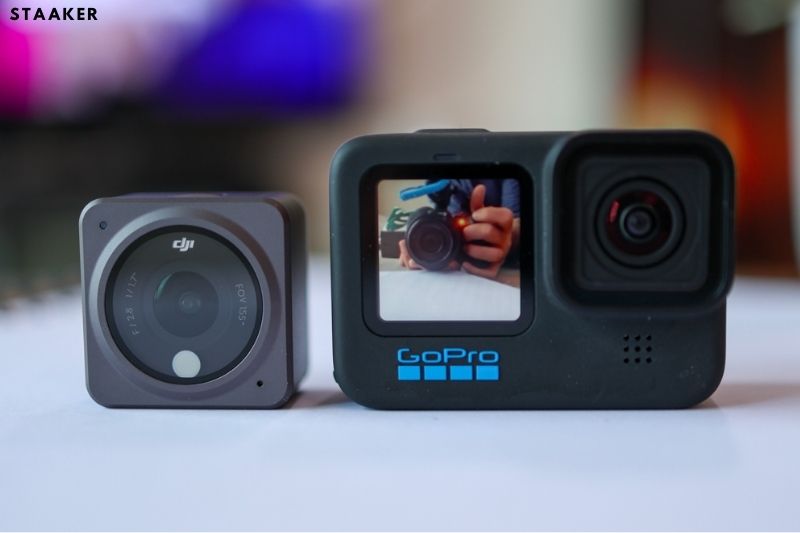 Is there a zoom on the GoPro?
Follow these instructions to use the zoom on your GoPro camera:
Turn your GoPro on. The zoom icon, a magnifying glass with a plus sign on it, is located on the bottom right of the screen by default. Press and hold the [zoom icon]. Slide the [zoom icon] up to the appropriate zoom level by pressing and maintaining it.
What is the maximum focus distance for a GoPro?
The GoPro camera is a wide-angle camera by default, with a minimum focusing distance of around 12 inches, which means that any subject closer than that would be fuzzy. Thanks to the Close-Up Lens, the GoPro can focus on underwater subjects 8–12 inches away.
Video
Related Post:
Conclusion
The GoPro Hero 10 is a more advanced camera that is perfect for those looking for a high-quality camera that can handle extreme activities. The DJI Action 2 is a cheaper option designed for basic use, but it can still take great videos and photos.
It is essential to decide what you are most interested in before making a purchase, as there are no wrong choices for action cameras. Staaker.com hopes this article was helpful!