DJI Mavic Pro
is a drone that has received positive feedback from users and experts in the field. This small drone has since inspired many other drones with its reliable 4K camera and 3-axis gimbal. If you own a Mavic Pro, then that is a great thing, and if you are looking for a new tablet to have a better experience of controlling your drone flying, this is exactly where you need to come. Keep reading our article;
Staaker
will show you the
Best Tablet for Mavic Pro
and the things to consider before purchase.
Other Things To Consider When Choosing A Tablet
DJI has approved the above tablets for use with the DJI Go 4 app and Mavic Pro, but there are other things to consider.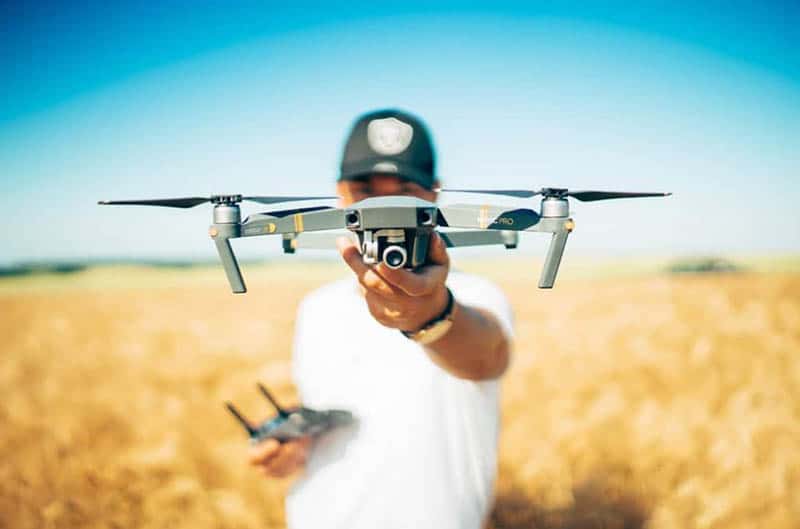 Tablet Dimensions
The Mavic Pro controller's jaws can open only one side. The rubber inserts inside the jaws are very tight. Although I have an iPhone 5S, Apple iPad mini, and iPad mini that fit my case, it is not a guarantee that yours will. These dimensions seem to work according to a lot of people who have been on the forums. Maximum width: 8-inch screen, give or take Maximum thickness without removing rubber: 0.34-inch screen Some Mavic forum members have removed the rubber grips inside the jaws, allowing for more space for a tablet or phone.
Using A Tablet Holder
You can use a tablet holder regardless of the size of your tablet. You have more space for different sizes of tablets and can also position your tablet better for flying. Instead of the tablet being stuck to your stomach, it can be displayed high and clearly.
Wifi Only Or Mobile Tablet
The DJI Go 4 app needs internet access for a few specific purposes. If you save money and purchase a tablet with wi-fi only, you will be unable to access some of the app's functionality.
These are the things you won't be able to use:
The Follow Me mode won't work
It is impossible to reset your home point from your current location. However, it will still use your takeoff point.
Maps won't be updated. Before leaving the wi-fi range, you must cache any information that you require on the app.
DJI GO App and the Best DJI Mavic Pro Tablet Software
Compatibility with the
DJI GO app
is one of the most important things to consider when selecting a tablet for your Mavic Pro drone. This app will be used every time you fly the Mavic Pro. Your tablet must work with the best DJI Go app, which is updated frequently. Both Android and Apple devices work well, but it is important to make sure that your device can run
iOS
8.0 or later.
Mavic Pro Tablet Tip:
The DJI Go 4 generally works better on Apple devices. Apple devices are more reliable, and the DJI app is updated frequently. This is crucial as app crashes can be frustrating when you fly your drone.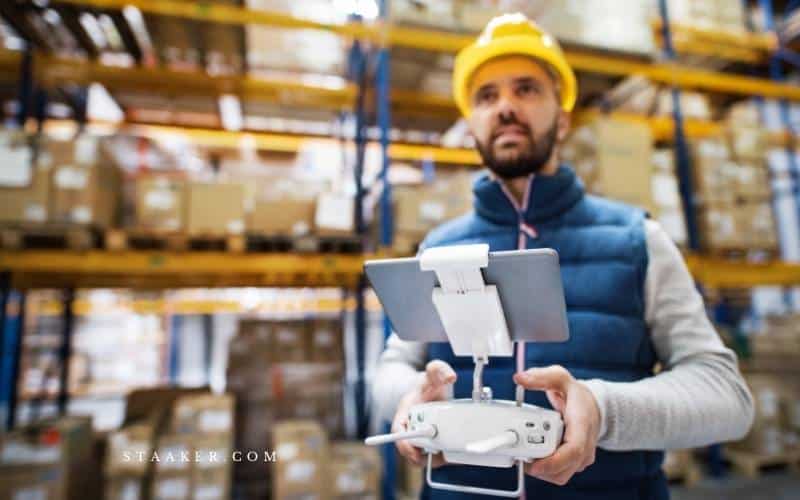 Top 10 Best Tablets for Mavic Pro 2022
1. Samsung Galaxy Tab S2
Galaxy Tab S2 is the
Best Tablet Mavic Pro
has ever produced. It is also one of the most powerful tablets for DJI Mavic Pro. The large, high-quality screen allows for a direct connection to the
FPV
image. There is still some OSD information, such as the battery level and RC controls. You will have crystal clear FPV with a screen resolution of
2048×1536
. This is a great brightness/contrast ratio. This little guy is known for his speed, which means it will not have any performance issues. The processor is a 1.8 GHz Quad-core processor and a 1.4 GHz Octa-core processor. Three gigs of RAM support both processors. This is combined with the 8-inch super AMOLED screen, and it will be easy to see why it's so popular. However, keep in mind that the Galaxy Tab S2 has its fair share of lag compared to your drone's current location. Although it might seem frustrating at first, you will soon get used to it after a few flights.
2. Google Nexus 7
This list features the purest Android tablet on the market. It's no surprise. The 2013 Google Nexus 7 tablet is a beast. The device is affordable, but it offers an excellent Android experience. It's highly customizable and clean. You will be able to use it for many years.
DJI Mavic Pro
support will greet you with a
1920×1200 display
, which weighs in at 0.64 pounds. It's not surprising, considering we're talking about a smaller device (7 inches instead of 8 on the iPad Mini 2). You will enjoy a full-featured Android experience and plenty of battery life, which many Apple haters will appreciate.
Read More:
Best DJI Mavic Pro Accessories You Should Know(2022)
Best Mavic Pro Ipad Mount 2022: Top Reviews For You
Tablet For Drone 2022: Top Brands Reviewed
3. Ipad Mini 2
All departments, including this one, are still engaged in the battle between
Android
and
iOS
. I won't get into that debate here, however. I will instead give you my objective opinions on the iPad Mini 2 and why it may not be the best choice. Let's start with It measures 7.9 inches, which is just a little smaller than the Galaxy Tab S2. It has the same resolution, 2048×1536. The iPad Mini 2's lightweight is another advantage. The iPad Mini 2 is lightweight at 0.73 pounds so that it won't strain your mount adapter. DJI GO is compatible with this mount adapter for support. You need to make sure that your iPad Mini 2 can access the internet via wifi or cellular data. Connect your iPad Mini 2 to the Mavic Pro, and you're good to go. It is seen as the very
best mini tablet for Mavic pro.
4. Nvidia Shield K1
Nvidia Shield K1 is, without doubt, the most used tablet for drone operation. Is that enough to claim Nvidia Shield K1 as the
Top tablet for DJI Mavic Pro pilots
? It's not just because it boasts high-end specs, but because it also has an HDMI port. This is its only advantage over traditional tablets at the moment. The HDMI port allows users to connect the HDMI port to their Mavic Pro controller. You can connect your
Fpv goggles
to the controller by tweaking the software settings. This will allow you to enjoy a seamless Fpv goggles experience unlike any other. It doesn't take much to see that Nvidia Shield K1 (Octa Core 2.2 GHz) makes the
best tablets for drone pilots
. It not only supports DJI GO but also allows you to use Fpv goggles with most modern drones. DJI Mavic Pro will require you to mount the adapter. Once you have that, you can go.
Recent Posts:
Fpv Goggles Vs Monitor
Best FPV Drone Simulator 2022
5. Samsung Galaxy Tab S3
The Galaxy Tab S3 is the
best tablets samsung android pad
for your drone. The S2 was a problem for drone owners. However, the S3 proved to be a great option. The best thing about the S2 is its expandable memory of up to 256GB via micro SD. This tablet is popular because it has a large and bright screen. It's especially helpful if the sun is shining on the screen. Your DJI drones GO application will run smoothly on the fast CPU. There won't be any glitches or interruptions to your video feed. Galaxy Tab S3 can handle the app video in 1080 HD quality. Videos will have amazing contrast and colors. It is said to have one of the most beautiful screens. You can also link to the P4P without any problems if you want to use it with your drone. No issues with updates. You don't have to worry about battery life it lasts 12 hrs while you record, edit, and play videos continuously. You will have no problems using the touchscreen with tap and fly functions. You can get a tablet that is both affordable and good for DJI Mavic Pro.
6. DJI Crystal Sky
DJI
drone created this monitor/tablet specifically for outdoor aerial photography. DJI crystal sky is not a tablet that can be used for multiple purposes, but it does provide a functional display to help you make the best shots. This monitor was designed by DJI specifically for DJI Mavic Pro drone pilots. This device has an extremely bright display that can reach four times the brightness of a smartphone or tablet screen. This means that the display will not be affected by direct sunlight. Images will look sharp and clear thanks to the high resolution of
1920x1080p for the 5.5″ model and 2048x1536p for the 7.85″
on your tablet's faster processing power. The DJI Crystal Sky can decode video in real-time with very little latency. It also uses IPS screen technology which makes the screen realistically colored while keeping it from heating up easily Crystal sky does not have any unnecessary Android apps that could slow down your flight or disrupt it. You are also safe from viruses. The embedded DJI GO app gives you full access, and control over all DJI GO features, including footage management and camera control. You can access maps offline if you are out of the wifi range. Dual Micro SD slots allow you to expand storage and playback recorded videos directly on the screen. The battery can last approximately 3-4 hours. Crystal sky is seen as the very
best tablet in direct sunlight for Mavic Pro.
7. iPad Mini 4
Apple tablets are often among the most popular for DJI drones, including Mavic Pro. The iPad Mini 4 is, according to many users, a truly unique experience. Let's find out why. The iPad Mini 4's perfect 7.90-inch display measures 2048 x 1536 on your tablet with faster processing power. It works well even in bright sunlight. The 5124 mAh battery is powerful enough to last at least 10 hours. The Mini 4 is smaller than the iPad Air 2 but lighter. Despite having 2 GB RAM, the speed of the iOs10 version is sufficient to run the
DJI GO app
. You will be pleased with the tablet's image quality. Both wifi models and Cellular models are available. The Cellular model allows you to access Maps directly from your iPad, rather than preloading Maps with wifi. If you are looking for a responsive and reliable tablet that can work with your Mavic Pro and run the DJI Go app smoothly, I recommend the iPad Mini 4.
8. Samsung Galaxy Tab S6
The Galaxy tab S6 is another Android tablet I must include. It boasts a powerful Snapdragon 855 processor. You won't be disappointed by the sharp, vivid images produced by the
AMOLED display 2560x1600p 10.5."
Although this device is more expensive than others, you won't regret buying it. It has great battery life and can play music for up to 15 hours. The Galaxy Tab A is an alternative to the Galaxy Tab S6. This tablet features a 10.1-inch display and a resolution of 1920x1200p. The Octa-core processor Exynos 7770 makes it more than capable of running DJI Go App. This tablet is the
best android tablet for Mavic pro
, an affordable tablet.
9. iPad Air 2
The DJI Mavic Pro's iPad Air 2 is another popular option, thanks to its 2048×1536 resolution (QXGA). The DJI Go App is the most stable and reliable on iOS, according to our experience. The iPad is slightly heavier (444g) and more expensive. It's well worth the extra weight for iOS 10, and you can also install iOS 11 without any problems. The iPad's standard apps, such as iMovie (free), allow you to create small films right on the tablet. An iPad 2 Air with plenty of storage space is recommended if you intend to make long or multiple videos. The bottom of your remote control has a USB charging table that connects to the tablet. It is recommended to purchase a second cable simultaneously. It is said that the
top
tablet with GPS.
10. Google Nexus 9
The Nexus 9 is a recent update to the popular Nexus 7. It features a bright 8.9-inch screen and an incredibly fast NVIDIA Tegra K1 processor. This tablet is compatible with the DJI Go app, and the GPS functionality included works well with the Mavic.
Bright 8.9 inch IPS screen
NVIDIA Tegra K1 processor 2.0 GHz x64 Processor – Fast processor
The Nexus 9 comes with 16GB Flash Memory and 2GB RAM Memory.
Construction of high-quality materials
Only wi-fi with no cellular options
There is no expandable storage
Top tablet for GPS navigation
Read More:
Inspire 2 vs Mavic Pro 2022
Mavic 2 Pro Vs Zoom
Wi-Fi or Cellular Tablet?
You will have to decide between wi-fi and a cellular tablet when choosing a tablet. Due to the following limitations that we have encountered with wi-fi tablets, we prefer a cell table:
GPS
is not available on wifi devices: Most Wi-Fi-only devices lack GPS which is a major inconvenience when flying your drone.
Pro:
Some Mavic Pro fly modes, such as Follow-me mode, won't work without GPS in the DJI GO app.
Maps:
You will need to save your map area before leaving a wi-fi source. Without access to cell data, your maps won't function. This is an important point for us because we often don't know which maps we need to save when we travel.
Tethering:
Cellular tablets can be used to connect to the internet from anywhere. However, wi-fi devices will require you to tether your phone to your device while you are flying.
Tablet vs Phone for Mavic Pro
A tablet and the Mavic Pro remote control can be used to improve visibility, battery life, and screen size. However, smartphones are more portable and easily available. When flying our Mavic Pro, we use both a tablet and a phone. We prefer the stable for long periods or to capture destination footage.
Larger screen size
Better visibility in the flying area
A dedicated tablet controller relieves the pressures on battery and storage
The final footage is more similar in quality to the quality.
Additional cost for purchasing a stand-alone tablet
Mounts provided with default controllers only fit phones up to 6.3 inches in height. This means that some tables require an adapter to be purchased.
Wi-fi tablets are limited, so that a cellular chip may be necessary.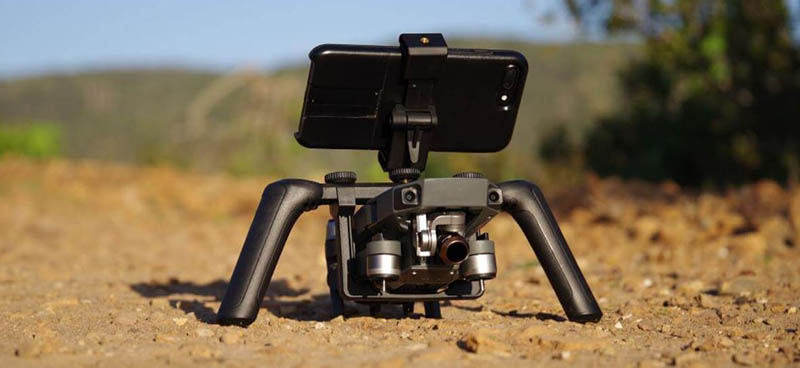 How to Mount a Tablet for DJI Mavic Pro
You will need a mounting bracket, also known as an adapter, to mount your tablet to the DJI Mavic Pro camera drone. It is a lightweight, metal, or carbon-fiber construction that has a spring-loaded top section. This will act as your tablet's mount. There are two main versions. The first supports tablets up to 8 inches, while the second supports tablets up to 10. These adapters will allow you to mount almost any screen on the market with no difficulty.
FAQs
Can you fly Mavic Mini without a phone?
You can fly the drone using the Mavic Mini DJI drone remote controller. Although it will fly fine without a mobile device attached to it, you will not be able to access the intelligent flight modes as they require the DJI app.
Read More:
Can You Fly DJI Mavic Mini Without Phone?
Can you fly the DJI Mavic Pro drone without a phone?
You don't need a cell phone to fly DJI Mini drones or any other Mavic drone, and you don't even need a screen. You have three options to fly most DJI Mavic drones with a smartphone: 1. You can fly with the controller only, but you will lose some functionality.
Do you need cell service for DJI Mavic mini?
When downloading and updating DJI Fly, you will only require mobile cellular data or wi-fi. To minimize interference from phone calls or text messages, it is a good idea to switch your mobile device to airplane mode during the flight of your DJI Mini.
Source
:
https://forum.dji.com/thread-203377-1-1.html
Which Tablets Are Compatible With The Mavic Pro?
You can use the Mavic Pro with a variety of Android and iPad models. To ensure a smooth flight, it is best to use an approved DJI drone model. However, you can still test it in safe areas to make sure it works. Apple iPads Compatible With The Mavic Pro Here are the current Apple tablets compatible for use with the DJI Go 4:
iPad (6th gen)
iPad (7th gen)
iPad (8th gen)
iPad Air (3rd gen)
iPad Air (4th gen)
iPad Mini 5
iPad Pro 10.5″
iPad Pro 11″ (1st gen)
iPad Pro 11″ (2nd gen)
iPad Pro 12.9″ (1st gen)
iPad Pro 12.9″ (2nd gen)
iPad Pro 12.9″ (3rd gen)
iPad Pro 12.9″ (4th gen)
Android devises Compatible With The Mavic Pro These are some of the Android devices listed by DJI drone as being compatible with the DJI drone Go 4 app:
Samsung Galaxy Tab A (Models: P580, P585)
Samsung Galaxy Tab A 8 (Models: SM-T290, SM-T290NZKAXAR)
Samsung Galaxy Tab A 8.4 (Model: SM-T307U)
Samsung Galaxy Tab S2 (Models: T810, T815)
Samsung Galaxy Tab S3
Samsung Galaxy Tab S4
Samsung Galaxy Tab S5e
Samsung Galaxy Tab S6 Lite
Nexus 7
Nexus 9
Lenovo A3500
Lenovo Tab 3 8 Plus
Lenovo Tab 4 10
Lenovo Tab 4 10 Plus
Lenovo Tab 4 8
Lenovo Tab 4 8 Plus
Lenovo Tab M10 Plus
Can you fly DJI Mavic Mini at night?
As a recreational pilot, you can attach a strobe to your drone to fly safely in uncontrolled airspace. Fly in an area that is familiar to you. The MM2 doesn't have sensors.
Source
:
https://forum.dji.com/thread-76372-1-1.html
Video:
Conclusion
You just came across our list of
Best Tablets That Work Best With DJI Mavic Pro
; your drone will work better with all of them. Let's choose the item most suitable with your purpose and budget; we hope that our article can help you know which you should choose.