If you had to choose between Mavic 2 Pro Vs Zoom, which would you choose? These are two products released by DJI with many outstanding features. Many people still consider the Pro to be a more premium device with its 1-inch 20-megapixel image sensor and prime lens. But the Zoom also has a smaller 1/2.3-inch 12-megapixel sensor behind the optical zoom lens.
If you are wondering which device should choose, this is exactly where you need to come from. In this article, Staaker will compare every side of both drones to help you find the most suitable drone for you.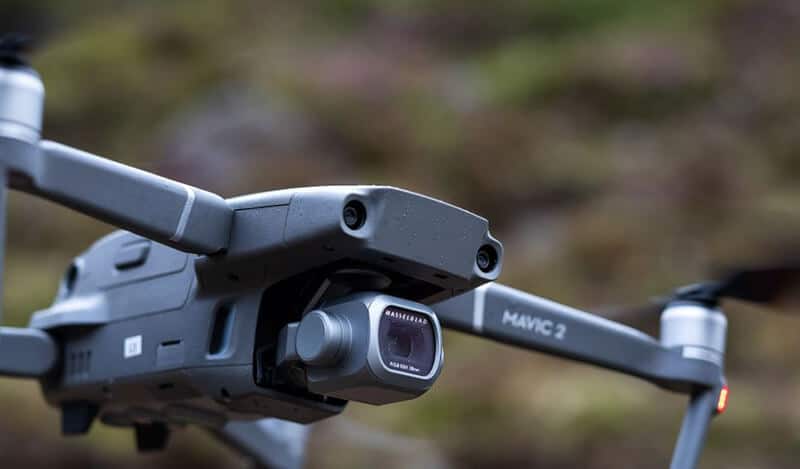 DJI Mavic 2 pro
Specs:
31 mins of flight time
Max speed of 44 mph
10-bit HDR Video
10-bit Dlog-M color profile
1″ CMOS Sensor
Hasselblad L1D-20c Camera
Adjustable Aperture, f/2.8 – f/11
H.265 Compression
20 MP 1" CMOS Sensor
Folds to 84mm x 91mm x 214mm
Pros:
Easy to fly
Intuitive app for camera control
Large one-inch 20MP sensor
Aperture control
Foldable design
Cons:
Battery life is limited
Noise is problematic above ISO 100
Camera locked in landscape orientation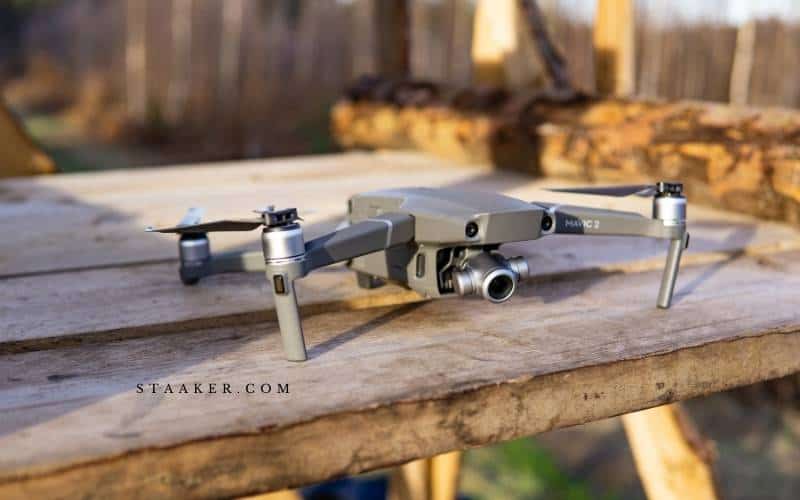 Mavic 2 Zoom
Specs:
2x optical zoom
12-megapixel stills
Shoots 4K video at 30fps
31-minute battery life
Compact, folding design
Pros:
Great image quality with unusual zoom
Long battery life
Fast, stable, quiet flight
Packed with safety features
Folding design
Cons:
Mavic 2 Pro image quality is better
Read More: 
Mavic Pro Platinum Vs Phantom 4 Pro 2021: Comparison
Mavic Vs Phantom 4 Pro 2021: Which Drone Should You Buy?
Inspire 2 vs Mavic Pro 2021: Which Drone is Right for You?
DJI Mavic 2 Pro Vs Mavic 2 Zoom: The Comparison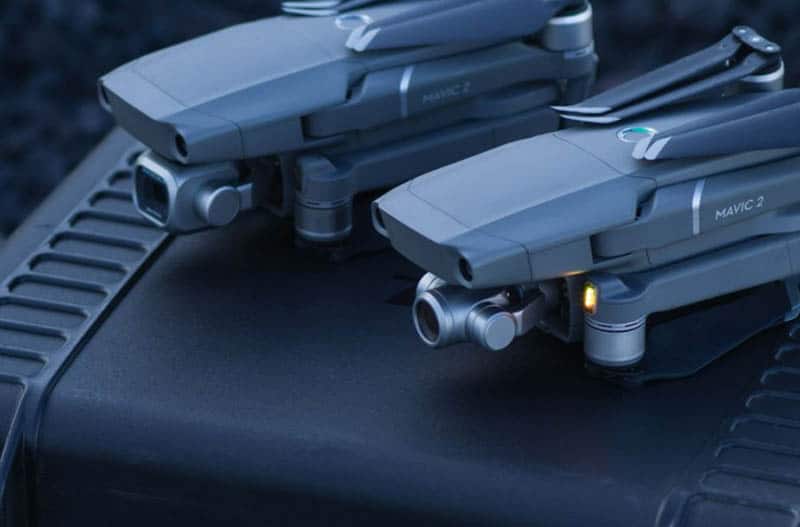 Build & Design
Although there isn't much to compare, as both drones have the same airframe, this is a good opportunity to highlight how great it is. The Mavic 2 is an enhanced version of the Mavic Pro. However, the Mavic Pro was the first to get the supplement "Pro" even though there wasn't another.
The drone folds down to a compact size of 214x91x84mm. It also opens back-legs first with hinges in opposing planes. I can only say that you will get used to it.
Thanks to the folding props, the drone is small (centripetal force expands them when they are in use), and the winglet design decreases propellor noise compared to older drones (although it's not stealthy).
The fuselage is made up of the battery and the rear. To aid in collision detection, the drone has vision sensors with varying abilities. They are located on both the front and back of the drone and are separated like eyes.
This gives the advantage of binocular vision. While the ones on the sides and the sides are more limited and singular, the front and rear vision sensors are placed apart. Two bright white LEDs are also included in the drone to help you see the ground beneath.
Speed & Maneuverability
It shouldn't surprise that these two nearly identical aircraft offer matching performance. The 2 grams difference in weight does not affect the key performance measures. DJI Mavic 2 Pro vs Zoom can fly up to 6,000m at altitude. Mont Blanc, the highest mountain in the Alps, is 4,810m. This limitation won't be a problem.
DJI's Mavic 2 drone can be controlled with greater precision. It is agile in the air and offers maximum performance in Sport mode or Positioning, which gives the operator more control.
The collision sensors are disabled in Sport mode because the drone is too fast for them. The physical switch that allows you to change between modes is a nice touch.
This means you always have the best mode. Sport, in clear skies, will be the most efficient, while Tripod may be the best for smooth shots.
Feature
Features Only on Zoom: 
Unique Zoom lens
While the Zoom version retains the 1/2.3 inch image sensor size, the Zoom lens has a 24-48mm focal length. Although 2x zoom may not sound like much, once you try it, you'll be amazed at the variety of perspectives it offers.
You can create stunning compositions from far away, and you can also adjust the field of vision to give your shot a dramatic edge. The new zoom lens opens up new creative possibilities. Full HD video shooting with 4x lossless zoom
These two shots show the difference between shooting with a focal length of 24mm or 48mm.
Fantastic Quickshot "Dolly Zoom".
Mavic 2 Zoom and Mavic 2 Pro support many new modes. However, there is a unique model that only the Zoom model can use. It's called Dolly Zoom. It is also called the Vertigo effect.
It's a visual effect that changes the size of the background to make the subject appear larger or smaller. To get an idea of what Dolly Zoom can do, check out the video below.
Super-resolution photo using "SuperRes".
The Mavic 2 Zoom supports this new Super Resolution feature. The camera can take a 24 mm equivalent 5 picture and then capture nine photos using its telephoto lens. This will result in a 48-megapixel super resolution photo.
Features Only on Pro:
Hasselblad Camera, 1-inch Image Sensor
Mavic 2 Pro was developed in collaboration with Hasselblad. It captures details in high-quality 20-megapixel resolution. The ISO can reach up to 12800 thanks to the 28mm equivalent prime lens and larger sensor, significantly higher than the Zoom version.
Low light shots with a larger sensor and a new aperture can be taken at new heights. They are extremely easy to capture and produce high-quality images.
HNCS and 10-bit DlogM Color Profile
The Mavic 2 Pro uses HNCS technology (Hasselblad Natural Colour Solution), producing more accurate and natural colors than the Zoom version.
It also supports 10-bit Dlog M color profiles, which allow for a wider dynamic range and deeper colors in still and video. The Mavic 2 Pro can record more than 1 billion colors, while the Zoom version can only record 16 million colors.
HDR Video
The Mavic 2 Pro supports 4K 10-bit HDR and can be connected to a 4K HLG television. It will playback footage in the correct color tones, including brighter highlights, increased contrast, and higher levels of saturation that make HDR so attractive. All without the need for tedious post-editing.
Features on Both Version
Both versions can capture HDR photos with enhanced quality, but their exposure values are still very different. The Mavic 2 Zoom has 13 EV stops. The Mavic 2 Pro's Hasselblad camera offers 14 EV stops. This allows for greater dynamic range and better image clarity.
This means that both cameras can retain a lot of information in underexposed or overexposed areas. These information bits can be recovered during post-processing to create more detailed images with the Mavic 2 Pro. To see the differences between 13 EV & 14 EV, take a look at these pictures.
Battery
DJI Mavic 2 Pro: 31 minutes | 3,850mAh
DJI Mavic 2 Zoom: 31 minutes | 3,850mAh
This is just a short section as we are looking at the same battery that lifts the same airframe and weighs only 2 grams more on the Pro.
These are good batteries with intelligent circuits that monitor remaining power and lower the chance of fires. Depending on whether your Mavic 2 is purchased as an individual or part of the Fly More Kit, you will receive one to three of these batteries and, with the kit, a Charging Hub that allows you to leave the batteries to charge sequentially without having to switch them.
This is a must-have accessory for anyone who travels. You'll want to charge your batteries while you recharge.
Although the claimed flight time of 31 minutes is excessive, it is still within the limits of any drone battery claim. A comfortable landing in good weather takes only 25 minutes.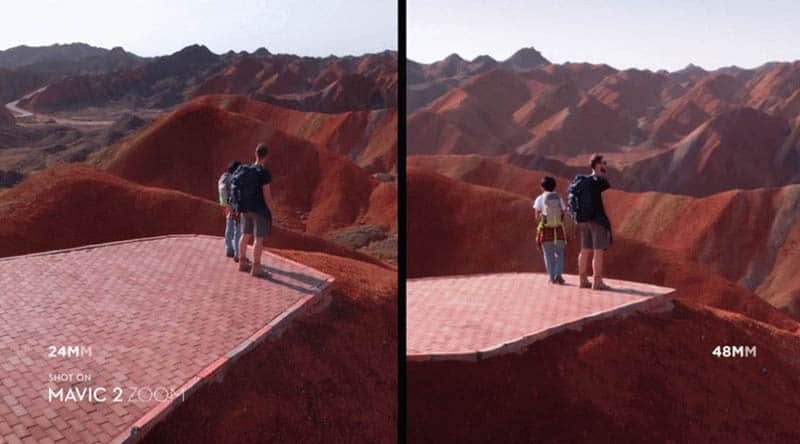 Video Quality
Video Features Of Both Models
Video quality has greatly improved. This is due to improved colors, a higher bitrate, and a new codec. The Mavic 2 Zoom's colors are very similar to the Mavic Air. Everything looks less magenta to me than the Mavic Pro.
Higher Bitrate
Although recording in 4K is fantastic, the resolution is not important if the bitrate doesn't reach the required level. The camera compresses all recorded video before it reaches the SD card. Bitrate is basically how compressed a video is.
The higher your bitrate, the smaller the video will be. The Mavic 2 Pro (40Mbps faster than Zoom) and Zoom both record at 100Mbps. However, the Mavic 2 Pro records at 100Mbps. But the most impressive improvement is the H.265 video codec.
H.265
H.265, also known as HEVC, is a video compression format similar to H.262. It can preserve almost the same quality video while taking up half the space.
This means that H.265, which is H.264, has the same quality and bitrate as H.264 (200Mbps).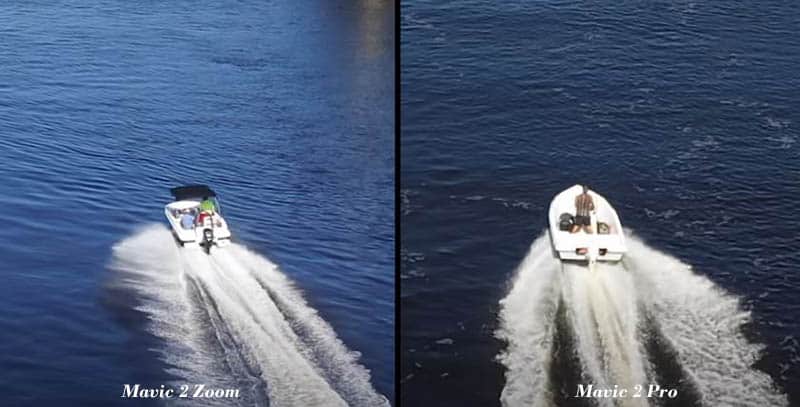 Amazing Image Quality
I knew what I was getting when I bought the Mavic 2 Zoom and Mavic 2 Pro. The Mavic 2 Pro produced stunning images, while the Mavic 2 Zoom produced soft images because of compromises in lens design.
The Mavic 2 Pro is a great product. The Mavic 2 Zoom is equally stellar. However, I was wrong.
These cropped images of barns are best viewed with the Mavic 2 Zoom at 2X Zoom. The Mavic 2 Pro's larger sensor and additional pixels produce sharp images at f/2.8. However, the benefits of f/11 are lost as the image becomes blurry.
The Mavic 2 Zoom has only 12 megapixels, but it makes the most of them. It takes some of the best photos and videos I have ever seen from a DJI drone. Sharp images are produced at 24 mm and 48 mm zooms and all other zoom levels. As far as I know, the lenses are uncompromising in their quality; I am not restricted by the lens design or build.
Autonomous Modes
DJI Mavic Pro: ActiveTrack 2, QuickShots, Rocket, Dronie and Circle, Helix. Asteroid, Boomerang). POI, Waypoint. TapFly
DJI Mavic Zoom: ActiveTrack 2, QuickShots, Rocket, Dronie and Circle, Helix; Asteroid Boomerang, DollyZoom); POI, Waypoint. TapFly
Even though there are very few differences between the drones, they have a wide range of automated features that can help novice pilots capture great shots.
Although it is still in beta, collision sensing is more advanced than any other DJI drone. This means that the Mavic 2s can take on flights its predecessors couldn't safely handle, even without tracking subjects.
ActiveTrack is a highlight of these, as it follows the subject you select in the viewfinder using your finger. It even copes if the drone loses sight of the subject. QuickShots, which are short automated video selfies, are very popular on social media
. If you like horror, the Mavic 2 Zoom offers the Hitchcock-essential Dolly Zoom. All other features are available on both drones.
The Hyperlapse, a well-implemented timelapse function, and the Omnidirectional Sensors are excellent for avoiding collisions.
However, they only work when you fly slowly enough to allow them to do their job (lateral sensors only turn on in ActiveTrack or Tripod modes). Many pilots appreciate APAS Advanced Pilot Assistance System which will try its best to avoid obstacles if you, the operator, miss them.
Controller
Each Mavic 2 controller is identical. The DJI Go 4 app and your smartphone can be used to give live feedback. Video visibility up to 10 km, thanks to OcuSync 2.0 radio technology, makes it possible to use the DJI Go 4 app and your smartphone to provide real-time feedback.
The radio technology can also be found in the Mavic Air 2 and is markedly improved over many other drones. However, the Mavic 2 series implements it even further than the Mavic Air 2. It is compatible with DJI's goggles if you want to give a client on-site a first-person view.
Real-time frequency switching gives visual feedback at 1080P. This is not only sharpening your viewfinder but also allows you to edit and upload full HD right from the cache.
A monochrome display is also included in the controller for basic telemetry (altitude and mode, remaining battery, etc.). You can fly without your phone.
While not as convenient as the Autel EVO full-colour remote, this saves you the effort of looking at the phone screen to verify your range.
The battery can be removed to make it easier for you to carry and is very compact. However, the cable will only last three flights before it must be charged again.
Video: 
Conclusion
You have just seen our discussion about Mavic 2 Pro vs Mavic 2 Zoom. It's time to make a decision; if you want your drone to come with high-quality images and HDR video, then you should choose Mavic 2 pro. But if you prefer a drone with wide zoom and quick focus function or one that can shoot cinematic-looking videos with breathtaking visual effects, Zoom is great for you. We hope that our article can help you know which drone should choose. Let's wait for our DJI Mavic 2 Zoom vs Mavic Air 2 article next time.
Read More: 
DJI Mini 2 Vs Mavic Air 2 2021