When it comes to 360-degree cameras, a few names stand out from the rest. And two of those names are the Insta360 One X2 vs One R. Both of these cameras can capture amazing 360-degree photos and videos.
But which one is the better camera? Let's take a look at the specs of each camera and see which one comes out on top.
Overview
Thank you for stopping by! You could have found this site or Googled it because you're looking for an Insta360 camera but aren't sure which one to acquire. Are you looking for the Insta360 One R or the Insta360 X2?
Both cameras generate magnificent 360-degree films with outstanding stability and a useful post-production tool that allows the user to reframe each video to his preferences.
But, what does it entail for you? Instead of the One X2, why not get the One R?
Let's compare and contrast them to see what you can come up with. If you enjoy what you see, you can tell your friends who are also seeking One about this article.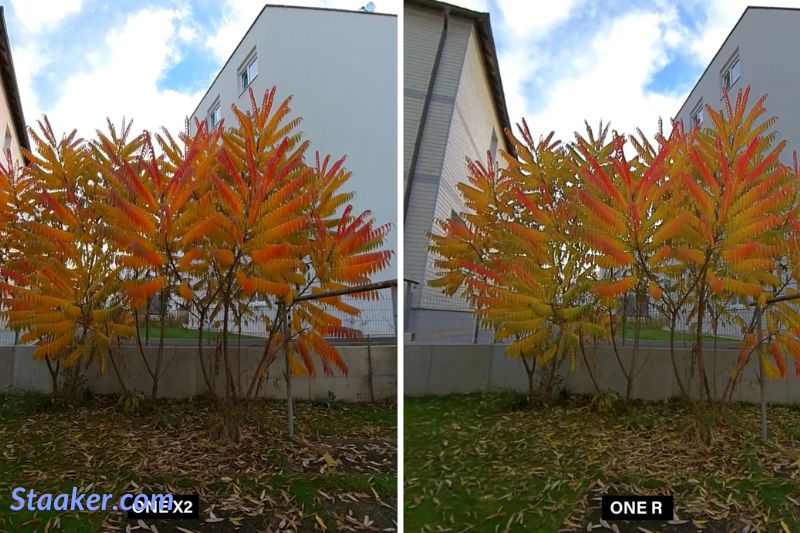 Insta360 One X2 vs Insta360 One R specs
Wide Angle Video Resolution
2560×1440 (Steady Cam Mode)
AI Editing (Shot Lab, Deep Track 2.0, Auto Frame)
Ambisonic and stereo audio
Battery
Standard: 1190mAh. Boosted Battery: 2380mAh
Screen
Reversible color touchscreen
Wide Angle Video Resolution
2560×1440 (Steady Cam Mode)
AI Editing (Shot Lab, Deep Track 2.0, Auto Frame)
Ambisonic and stereo audio
Wide Angle Video Resolution
AI Editing (Shot Lab, Deep Track 2.0, Auto Frame)
Ambisonic and stereo audio
Battery
Standard: 1190mAh. Boosted Battery: 2380mAh
Screen
Reversible color touchscreen
Design
Both cameras have identical characteristics and provide similar results. Then you find out they're both created by the same business, which adds to the confusion.
The most crucial distinction is that the Insta360 One R is a modular camera. As a result, it isn't always required to use a 360-degree camera. This gives it greater versatility, but it also makes it a little more challenging to use, and the Insta360 One X2 might be a better alternative in some situations.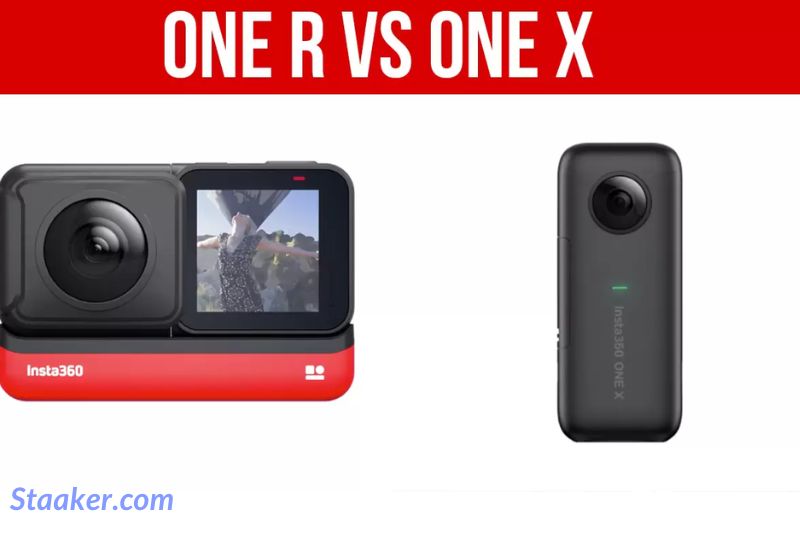 Now let's go a little more specific. The Insta360 One X2's tripod mount means you won't worry about the camera tilting down or up.
The Insta360 One R is the way to go if you're searching for something modular. You order the module or the core if the 360 camera is destroyed. A tripod mount and easy battery access provide a hurdle for the Insta360 One R.
With the Twin Edition, you also get a spare 4K Wide-angle lens, and you may get another module if you need the One-inch Edition with Leica lens. This camera boasts a plethora of features.
Life of the battery
It's a bit of a wash. The X2's claimed record time at 5.7K is 80 minutes, roughly 10 minutes longer than the One R. They don't seem to differ much in use. According to the manufacturer, an extra battery for the R is available, and a larger battery pack doubles the recording time. Additional batteries for the X2 are on the way, but they aren't ready yet.
Ergonomics
The One R is as unusual and stunning, but its modular design makes it a little challenging to use. It takes a few minutes and is a little cumbersome to swap out lens mods. It's not overly so, and I think it's a reasonable sacrifice for the versatility.
After using both frequently over the last few weeks, I love the X2 over the R because it fits easily in a pocket. It's slim and tall enough to fit next to my phone or in my back pocket when shooting with my DSLR. The One R is GoPro-sized and shaped, which means it's just boxy enough to squish into any bag.
In addition, the X2's screen appears to be more responsive.
In Use
After using both of these cameras for several weeks, I'm having trouble deciding between them. They're both useful in their way. These are the main differences between your videos and photos:
The one R's video quality potential is significantly greater. If you use the 1-inch or 4K mods, the movie will look better than the reframed 1080p One X2. That is, however, only a measure of visual quality, not of the video's interest.
The X2 does a better job of removing the selfie stick from videos and photos, which is one of the most incredible tricks a 360 camera can perform. This is, in my opinion, a significant advantage for the X2.
It's slower to operate the one R if it doesn't have the configuration you require. It may seem self-evident, but it's worth stating. The X2 is always prepared to do precisely what it is capable of.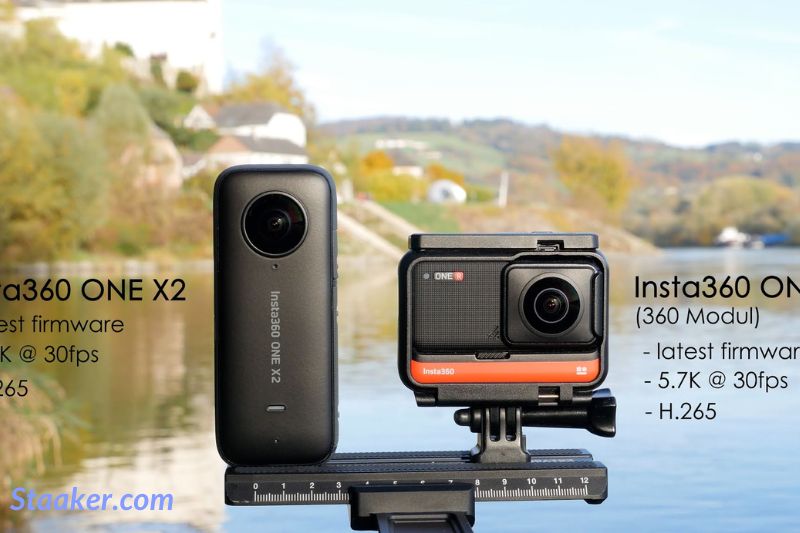 Other Things To Think About
Recording 360-degree footage is an entirely new experience for content providers. Particularly with Insta360 cameras, you can point the camera in any direction without regard for the horizon. The magic happens when you reframe all of the shots to your liking in post-production.
However, the Insta360 camera will not be your only investment.
Additional accessories must be purchased, such as the invisible stick, mounts, lens protectors, and a suitable MicroSD card. Yes, you should avoid buying cheap or generic microSD cards because they will bring you a lot of problems.
After that, there's your post-processing gadget. Yes, you won't be able to use the recorded video straight away. It needs to be post-processed. You'll need a relatively high-spec PC to use the FREE downloaded app (Insta360 Studio for PC & Insta360 for mobile).
It should, for example, contain at least 8GB of RAM. In addition, you should have a midrange smartphone with at least 8GB of RAM for mobile editing.
If you are looking for other cameras for your need, see these our articles to know more information:
FAQs
Is it possible to charge the Insta360 one X2 while it's recording?
Can I charge the ONE X with a power bank while shooting? You can use a power bank while shooting, both with and without a battery. If your ONE X has a battery inside, you'll need a 5V/1A output; if it doesn't, you'll need a 5V/2A output.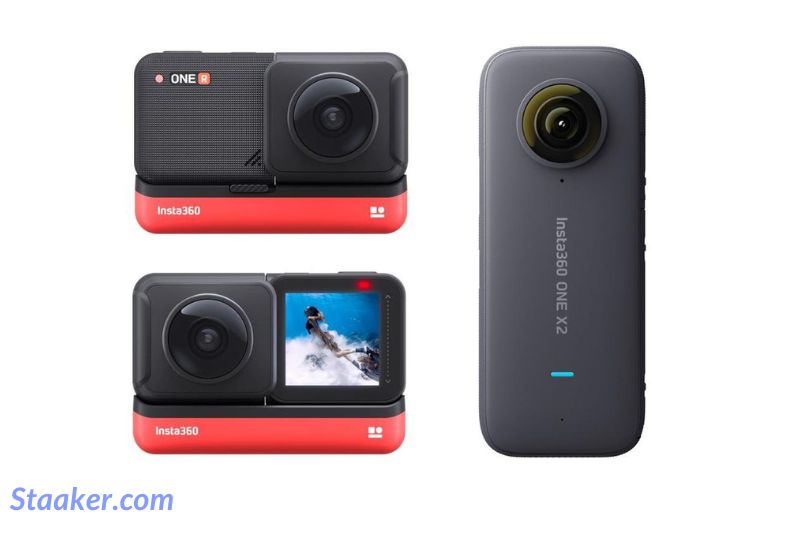 What is the best way to clean my Insta360 One R?
Place the filter in a sprayed towel and wipe until it is clear. If you're using a LensPen MiniPro, blow out any loose debris with your puffer first. Replace the filter as indicated in the video, being careful not to touch the image sensor with the side of the filter.
What is the best way to upgrade my Insta360 One R?
Connect ONE R to your phone and launch the Insta360 App.
The app will notify you when you're due for an update and prompt you to 'Download.'
After downloading, reconnect to ONE R's and upload the firmware using the on-screen instructions.
Video
Conclusion
The Insta360 One X2 is the better choice for most people. It offers excellent performance and features, while the One R has fewer features and is slightly less powerful. If you want the best performance possible, the One X2 is your camera.
In all other respects, the One R is a good camera too and is worth considering if you can't afford the One X2. So Which camera is right for you? It depends on your needs and budget. Staaker.com hopes this guide is useful for you.