The GoPro Session 5 and the GoPro Hero 5 are two of the most popular action cameras on the market. Both cameras are loved by adventure seekers and athletes for their small size, durability, and excellent image quality.
So, which one is the better camera? Let's look at the GoPro Session 5 vs Hero 5.
Battery Life & Charging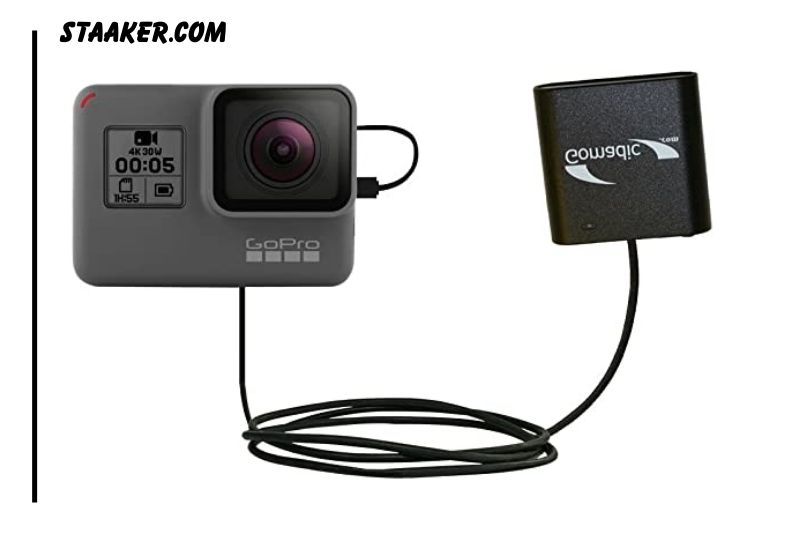 The HERO5 Black has a battery that can be removed. The HERO5 Session's battery is hardwired in and cannot be removed. As a result, you won't be able to swap it out for a freshly charged one or replace it once it's reached the end of its recharging cycle limit.
I put a HERO5 Black and a HERO5 Session side by side to record nonstop 1080p60 footage to see how the battery life compared (with Protune and stabilization turned off). They were in the same circumstances and scene. The Black lasted 1 hour and 47 minutes, while the Session lasted 1 hour and 53 minutes.
So they were essentially the same, though I would have expected the Black to have a slight advantage. Of course, this isn't a scientific study. Several factors could affect your results, including the settings, memory cards, battery health, and even the ambient temperature (lithium batteries don't work well in extreme cold).
A USB-C cable is used to charge both cameras. Neither comes with an AC adaptor. However, external batteries and most regular USB chargers will work.
You can also use an additional power source, such as an external battery pack or AC, to power both while filming, but the camera will not be waterproof. The little cover doors over the ports must remain open to access the ports and plug in the cable.
Maybe this guide will provide some information for you: How Long Does A GoPro Battery Last
Size and Weight
When you look at them, you can see the difference in shape and size.
The HERO5 Session has a lot smaller size overall, making it ideal for mounting in tight spaces, places where discretion is required, and situations where the smaller surface area may be a problem in high-speed wind resistance. And, of course, it's a tad bit simpler to slip into your pocket.
Weight. While neither is particularly hefty, the HERO5 Session is significantly so. Without the Frame mounts, these measurements were taken. Both of them have a memory card. In the case of the Black, it's with the battery installed (the HERO5 Session's battery is hardwired).
HERO5 Black: 118g / 4.2oz
HERO5 SESSION WEIGHT: 2.6 OZ/73 G
Dimensions. I couldn't discover GoPro's official measurements for the new cameras, but using my digital calipers, I came up with the following:
HERO5 Session: 1.49 in (37.9mm) wide, 1.49 in (37.9mm) in height, and 1.42 in (36.1mm) deep.
HERO5 Black is 2.4 inches (61.7 millimeters) wide, 1.7 inches (44.4 millimeters) in height, and 0.9 inches (24 millimeters) deep. The lens port protrudes somewhat from the body, with a depth of 1.3in (32.3mm).
Housings
GoPro began implementing waterproofing into the camera's housing differently with the HERO4 Session than previous models. This innovative strategy is continued in both of these new models.
As a result, both of these cameras are waterproof without using a housing. They're rated to endure pressure for up to 33 feet without leaking (10 meters). You can purchase diving housing separately if you want to go deeper or offer additional safety.
Getting rid of the separate dwelling offers both benefits and drawbacks. The fact that the entire package can be smaller is an advantage.
One disadvantage is that there is no longer the first line of defense against damage, and the new approach does not provide the same amount of waterproofing protection as Standard Housing. If the lens port or trap doors are damaged, they can be replaced. However, if the casing or screen is cracked, the camera may need to be replaced rather than just the housing.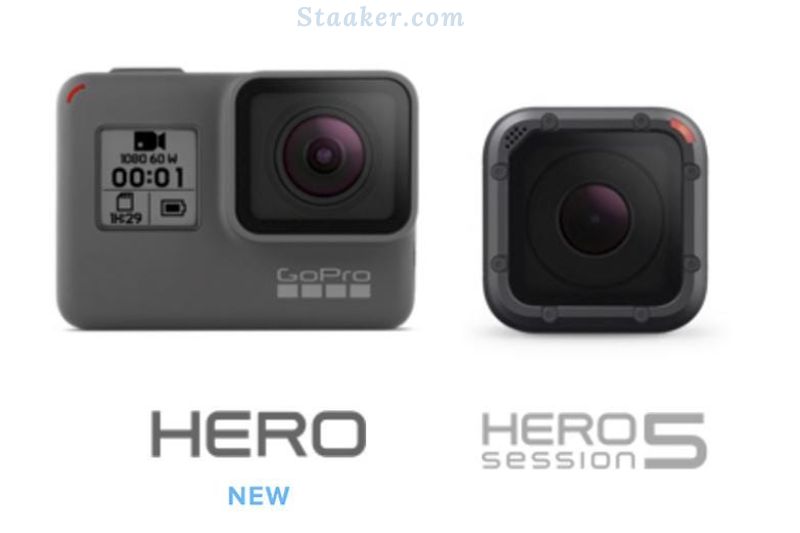 To install a memory card, replace a battery (for the HERO5 Black), or connect connections, you must still be able to access some sections of the camera. This necessitates the use of a removable cover.
Both models have a detachable trap-door with a built-in seal; the Black has two, while the HERO5 Session has one. While the latches differ slightly between the two models, the doors are both reasonably flimsy, and grit can hinder a proper seal in either instance. In other words, the donors represent a possible weak link that both cameras share.
One thing to keep in mind is that neither camera has a mounting point. So, if you want to mount it, at the very least, you'll need a Frame mount with the GoPro connection mechanism. A wrap-around Frame is included with both cameras. It serves as a mounting point but provides little in the way of protection.
Interface and Controls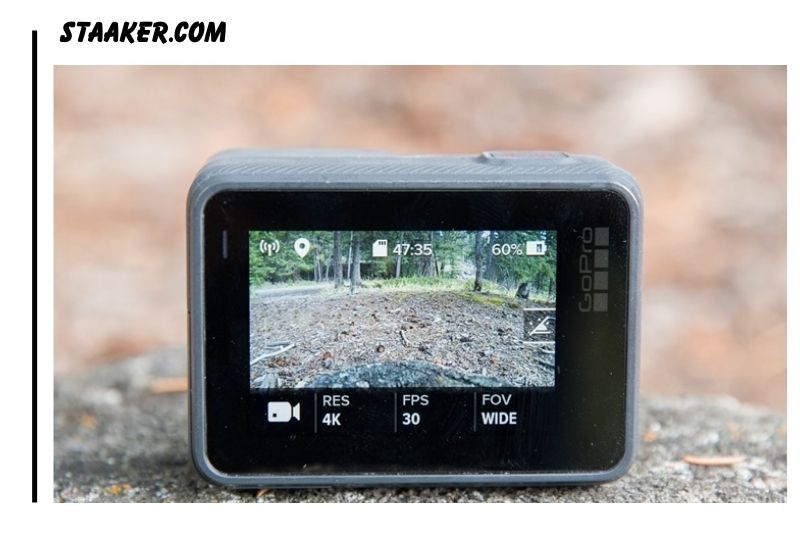 The way you interact with these two cameras is one of the most significant practical distinctions.
There are some parallels. Both include a unique speech activation technology that allows you to utilize simple voice commands such as beginning and stopping recording, capturing images, and changing modes. The GoPro mobile app renamed Capture, can control both. The Smart Remote and the new Remo voice remote will operate with them.
The controls on the cameras, on the other hand, are somewhat different. The Black has three buttons on the front, a tiny monochrome LCD on the back, and a large color LCD on the front.
With the buttons and the tiny LCD on the show, you can control the camera and alter settings. You may also utilize the touch-sensitive back screen to navigate all of the camera's menus and settings.
There are two buttons on the HERO5 Session and a significantly smaller monochrome LCD screen. It's designed for simplicity, and it can work well if you shoot with the same settings most of the time—mainly if you utilize the QuickCapture option. It can rapidly become tedious if you frequently change settings or shooting modes.
It's the same arrangement as the HERO4 Session, and after using that for a while and now using the HERO5 Session as well, it's not my preferred camera control method. It works, but it's slow, and it doesn't give you access to all options.
Touchscreen LCD
The HERO5 Session does not have one, while the Black does. It's a bright, crisp screen that aids in framing the shot, viewing film, and altering settings. Because it's a touchscreen, you can navigate by touching and swiping instead of using the buttons. It's a considerable upgrade over the HERO4 Silver's version.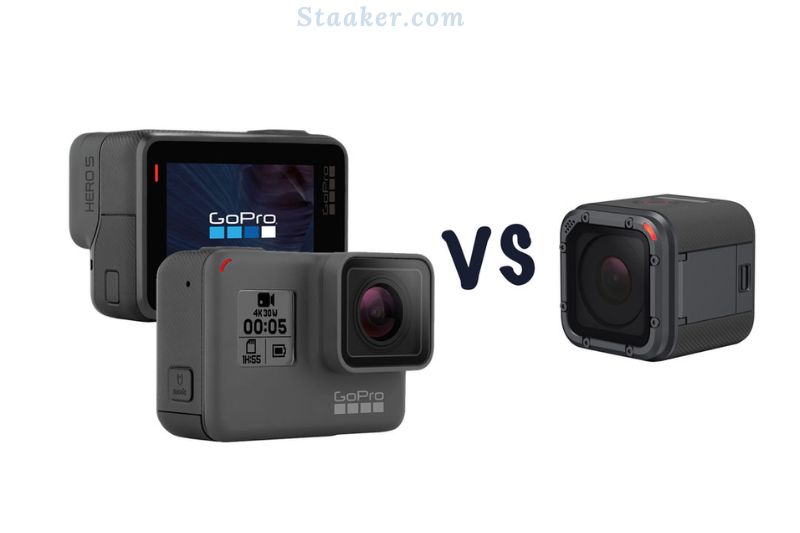 It can do many things, but I enjoy it most for seeing what you're shooting and composing the shot. You can also use the Capture mobile app, which works with both cameras, but the onboard interface is much faster and easier to do on the camera itself. You may point and shoot with the HERO5 Session or attach the Capture app.
The downside is that the screen becomes more vulnerable without a protective casing. If your screen cracks, I'm not aware of any way to repair the screen—you'll need a new camera.
Video Modes
They have similar video capabilities, albeit the Black has more options and versatility than the HERO5 Session.
Stabilization of video. Both have GoPro's latest EIS (in-camera video stabilization) technology. It can be used in various circumstances to provide smoother footage by reducing vibration and jitter. It's not perfect, and because it's a software solution, it's not as good as a decent gyro gimbal, but I think it'll be a popular feature for many people. I've put up some side-by-side samples of it below to see how it works in real-world situations.
Resolution. The top-end mode for both of these cameras is 4K footage at 30 frames per second. Except for the smallest 480p setting, which isn't available on the HERO5 Session, they offer nearly comparable resolutions below that size. For each resolution, not every FPS and FOV setting is shared.
The following are the resolutions they all share: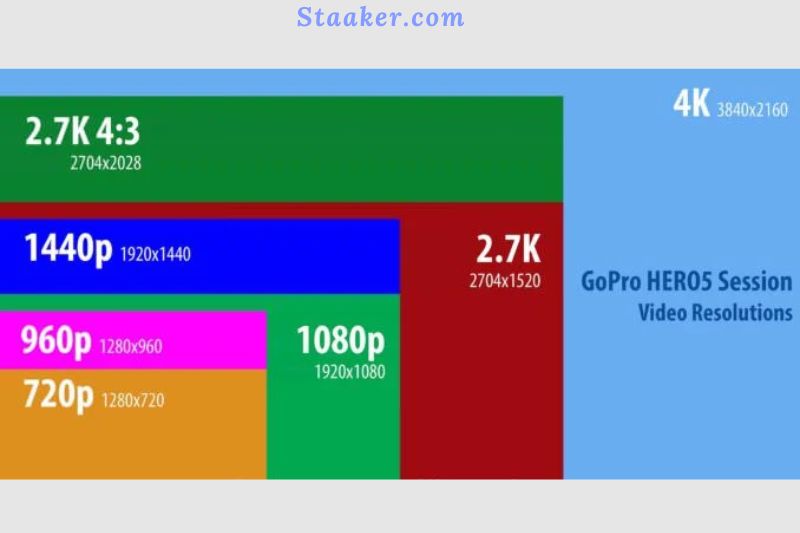 Modes of Video. These two cameras have several video modes that overlap in the combination of resolution, framerate, and field of view. The HERO5 Black, on the other hand, has a lot more options, notably in high-frame-rate modes. The HERO5 Session includes a few settings that the Black doesn't, but they don't add anything to the experience—they're toned-down concessions of what's on the Black.
Protune. Both include Protune settings for video, albeit not all are available. The Black has more excellent options for a few of the settings.
The ability to record a second high-quality audio track is a major Protune feature that the Black lacks compared to the HERO5 Session (more on that below). It also enables higher ISO ratings, albeit image quality degrades as ISO increases.
Photos
The photographs taken with the HERO5 Black are slightly larger than those taken by the HERO5 Session, with 12MP vs. 10MP. The sizes are as follows:
12MP / 4000 x 3000 px HERO5 Black
10MP / 3648 x 2736 px HERO5 Session
In practice, the difference isn't significant. Here's a comparative visualization (click on it to get a larger version):
Burst Mode is a mode that allows you to do a lot of Both cameras are capable of taking bursts of up to 30 images per second. They all use the same burst modes, which are as follows: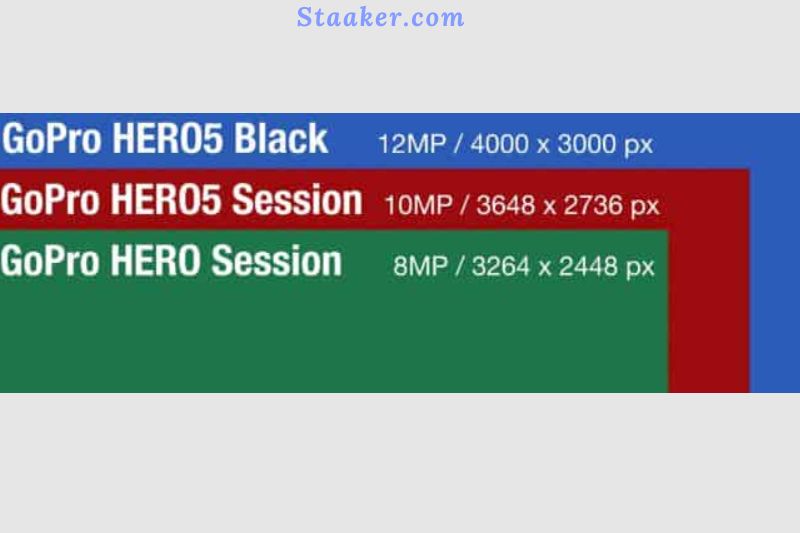 30 images in one, two, three, or six seconds
You can take ten photos in one, two, or three seconds.
5 images in less than a second
3 images in less than a second
Tip: If you hold the shutter pressed in single photo mode, it will continue to take photos at 5 frames per second until you release it.
It's time to switch to Night Mode. Both cameras have a night mode that allows slower shutter speeds and more light to enter. If your camera isn't stationary, you risk getting fuzzy photos.
Protune. Both cameras feature photo Protune options, albeit not all of them are identical. The Black has more alternatives in general. It differs from the HERO5 Session in that it allows you to set both a maximum and minimum ISO, whereas the HERO5 Session only allows you to choose a maximum ISO.
RAW (Raw Image File Format) is a file format that Both cameras that allow you to save photos as JPG files. The ability to save photographs in RAW format is one of the new features of the HERO5 Black. It has the GPR file extension.
The RAW format allows for higher image quality, but it comes at a cost in terms of convenience because it requires you to modify your photos before sharing them. For still photographs, the HERO5 Session does not support RAW image format.
Photos with high dynamic range (HDR). WDR, or wide dynamic range, is a GoPro feature that aims to bring out more detail in the shadows and highlights. The Black has it, while the HERO5 Session does not.
Timelapse
There are two approaches for creating a time-lapse in both models.
The photo was taken over some time. This is the old-school method of shooting a series of still shots, downloading them from the memory card, and stitching them together on your computer with an app like GoPro Studio.
The possible intervals in-camera (without utilizing an external intervalometer) are 0.5, 1, 2, 5, 10, 30, and 60 seconds, much like previous models. This method provides the most flexibility and perhaps higher image quality and requires more stages and post-processing time.
Video of a timelapse. The other option is to have the cameras automatically combine the video to generate a final mp4 time-lapse video. This saves a lot of extra processes and time, limiting your options. The intervals are the same as with the time-lapse photo approach. Both can produce 4K, 2.7K4:3, and 1080p time-lapse footage.
The photo was taken at night. The Night Lapse Photo feature is available on both cameras. This time-lapse mode has more interval and shutter speed options, making it more suited for low-light photography.
Audio
The option to record a high-quality audio track as a separate WAV file with your video recording is one of the new features with the HERO5 Black, and you can pick between multiple quality levels. The audio on the HERO5 Session is normal audio incorporated in the video file and does not have that feature.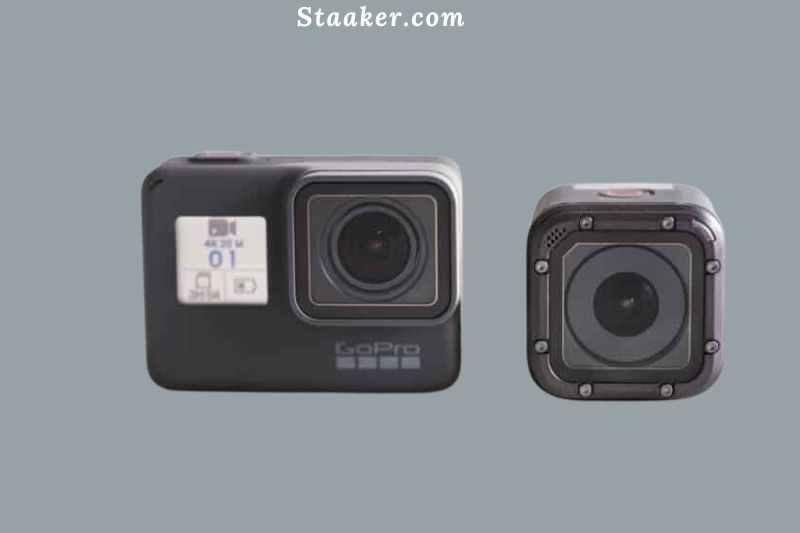 Connections and Ports
Wireless. For wireless communications, both have wifi and Bluetooth. You can use a mobile device or one of GoPro's remotes to control them.
USB. Both take advantage of the new USB-C port. This port is used for charging, connecting external microphones, and data transfer (note that both functions are limited to USB 2 speeds, not USB 3.0).
HDMI. The HERO5 Session does not have a micro-HDMI (Type D) port for connecting the camera to a TV or display.
GPS
The HERO5 Black can add GPS location tags to still photographs and video EXIF metadata. Anyone seeking to arrange the photographs on a map or sort them by location would appreciate the automatic geolocation feature. When turned on, the GPS function reduces battery life marginally. GPS is not available on the HERO5 Session.
Price
GoPro simplified the selection and cut the price compared to prior versions when they released the current line. The HERO5 Black had an MSRP of about over $300, and the HERO5 Session had an MSRP of about over 200. However, these vehicles are now older models, and their street pricing may no longer represent their MSRPs.
Amazon (HERO5 Black | HERO5 Session) and B&H Photo (HERO5 Black | HERO5 Session) are two places where you might still be able to find them.
You may also be able to find excellent used copies. It's worth checking out KEH, where I usually shop for old stuff.
Which One Should You Get? HERO5 Session or HERO5 Black?
There is no correct response to this. Both cameras are excellent. I have both and find myself reaching for the Black more frequently, owing to the screen's convenience and relative ease of altering settings.
However, the HERO5 Session's compact size makes it an excellent choice for putting the camera in confined spaces or moving objects, such as under a bike seat, car, or surfboard. Anywhere more minor is better.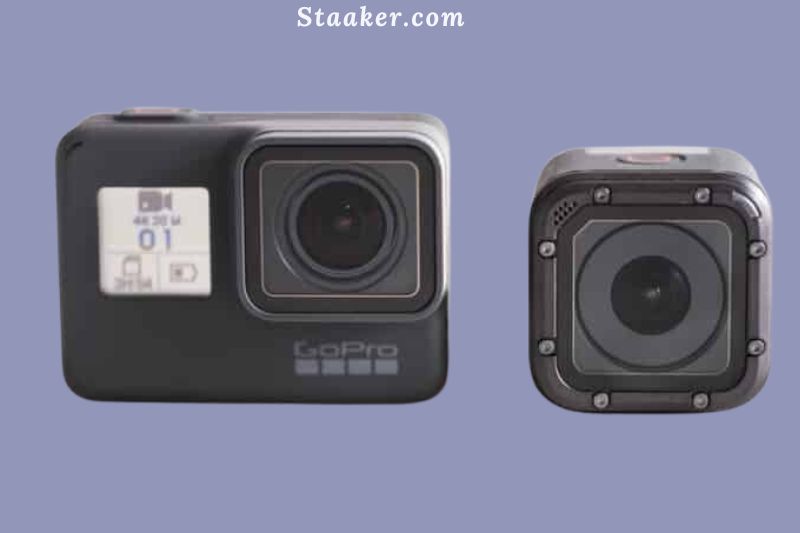 So here are some suggestions which might be appealing for specific applications:
Maximum control over your video output: HERO5 Black. It just provides you with more alternatives, providing you with greater power. It also has much better support for shooting at high frame rates.
Recording musical or theatrical performances: HERO5 Black. You can choose to create high-quality audio files alongside your video, which will result in significantly better audio quality.
Size: HERO5 Session. It is, after all, smaller. It's a simple choice if you're mounting it in a limited space or want to reduce the amount of gear you're hauling about.
Giving as a Gift: I'm frequently asked this question, and there's no one-size-fits-all solution. The HERO5 Black is a better camera if pricing isn't a problem. If budget isn't an issue, the HERO5 Session is ideal for anyone who wants to mount a camera to their skateboard or surfboard or carry it about with them all the time. Because of its built-in LCD screen, the Black is a superior alternative for using a typical camera for travel and everyday shooting. It's also worth noting that the entry-level HERO Session, which looks similar to the HERO Session but is less expensive and has fewer functionality, is available.
Price: Price is, of course, a significant consideration most of the time.
Video
In case you want to consider other cameras, read our article to know more:
Conclusion
The GoPro Session 5 is an excellent camera for adventurers and athletes. It has great image quality, small size, and durability. The GoPro Hero 5 is also a perfect camera for videojournalists and photography enthusiasts.
It has the same excellent image quality as the Session 5, but it has more features and is more versatile. So which camera is the best for you? It depends on your needs and preferences. Staaker.com hopes this guide is useful for you.