The GoPro is a popular action camera known for its durability and high-quality images. However, one of the most frequently asked questions about the GoPro is How long does a GoPro battery last? 
In this article, we will answer that question and give you some tips on how to extend the life of your GoPro battery.
How Long Does A GoPro Battery Last?
According to the manufacturer's information, most GoPro models will have a battery life of 1:30 to 2:00 hours. In ideal circumstances, this is pretty accurate.
The most recent model, the GoPro Hero 10 Black, has a 1,720mAh battery.
Yes, the battery hasn't been improved as its predecessor — the Hero9 Black – had the same capacity.
The producers claim that the GoPro Hero9 Black would provide customers roughly 1h 43m of video time with the default settings. Keep in mind that you might not obtain the same results if you shoot with the current 5.3K resolution at 60fps on the Hero10 Black.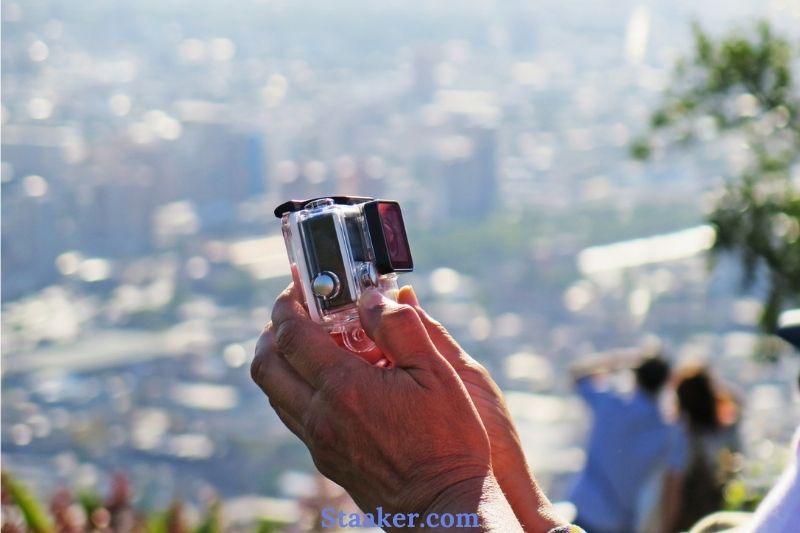 Here are the GoPro Hero7's updated values and the exact ones published by GoPro.
If you want to know what real-life numbers people get, here's all you need to know:
4K at 30fps: 2h 10m
4K at 60fps: 1h 30m
5.3K at 60fps: 1h
GoPro Hero9 Black: 1h 43m
GoPro Hero8 Black: 1h
GoPro Hero7 Black: 2h 30m
GoPro Hero6 Black: 1h 40m
GoPro Hero5 Black: 2h
GoPro Hero5 Session: 1h 35m
GoPro Hero4 Black: 1h 20m
GoPro Hero4 Silver: 1h 40m
GoPro Hero4 Session: 1h 45m
For whatever reason, the Hero8 is a dud.
The Hero9 has respectable battery life.
The GoPro 7's battery isn't much different from the Hero 6's, so the quantity of juice you get is pretty much the same.
If you're interested, we've put together a detailed comparison between Hero 7 and 6.
You can be looking at substantially lower results depending on what settings you're using, how old your battery is, and the weather conditions.
As a result, I would consider the following figures the maximum you can get from your GoPro battery. Certainly, don't expect to exceed such figures. If you follow the suggestions below, you can get extremely close to these values.
3 Factors That Shorten GoPro Battery Life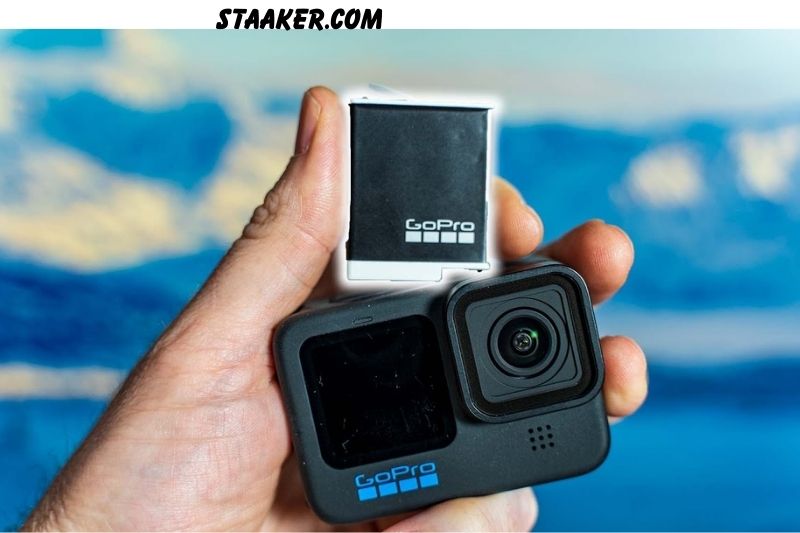 In descending order, here are three factors that will reduce the life of your GoPro battery:
There are far too many features enabled: Your battery will deplete faster the more functions you have turned on (wifi, GPS, voice control, etc.).
If the weather or the water is cold, it will drain more quickly.
Age: As you get older, the battery life gets shorter.
How Long After The Low Battery icon
A low battery icon will appear on the screen when your battery runs out of power, regardless of the model.
Now is the time to replace the battery. How long can you record after the symbol pop-ups to answer the question?
It takes roughly 10-12 minutes to give you a quick answer.
After the low battery notice appears on the screen, you have that much time to continue filming with your GoPro.
How To Make Your GoPro Battery Last Longer
You probably have one or two batteries if you're a regular GoPro user. Making the most of that opportunity is critical. And it's pretty simple. This is what you must do:
1. Only use it when you're firing (Quick Capture)
2. Make use of the Auto OFF function.
3. Keep your GoPro away from the cold.
4. Disable voice control.
5. Disable wifi
6. Disable GPS.
7. Turn the LCD off.
8. Disable Protune
9. Do not use remote control.
10. Film in 1080p at 30 frames per second
11. Use a wall charger to charge your battery fully.
12. Make sure the firmware on your GoPro is up to date.
13. Turn off the red indicator and the beeping lights.
14. Only use Bluetooth if you have to.
15. Instead of using the remote, use a selfie stick.
16. Do not connect your GoPro to your phone.
I'm guessing you won't be able to check off everything on the list but do the ones you can. For example, I occasionally use Protune since it gives me greater freedom in the post-production process.
I'm aware that this will result in shorter battery life, but it's a trade-off I'm ready to make.
In a nutshell, any feature you enable will deplete a small portion of your battery. The least you use, the longer your battery will last. Switch off all of the devices that aren't helping you and keep the ones that are.
One of my favorite features to use is Quick Capture. It can be found on the Hero 5 and Hero 6 cameras, and it allows you to start filming even when the camera is turned off by simply pressing the top button.
It's found on almost all GoPro models and allows you to start filming when the camera is turned on.
The camera automatically turns on and begins recording when you use this feature. It stops recording and turns off the camera if you press it again.
A brief push of the button causes the camera to record a regular video, while a long press causes it to record a timelapse video.
When you don't need to record, you can use this option to turn the camera off.
You won't be missing out on anything; nature has a way of surprising you with its beauty. Use the Quick Capture tool when something is stunning to photograph.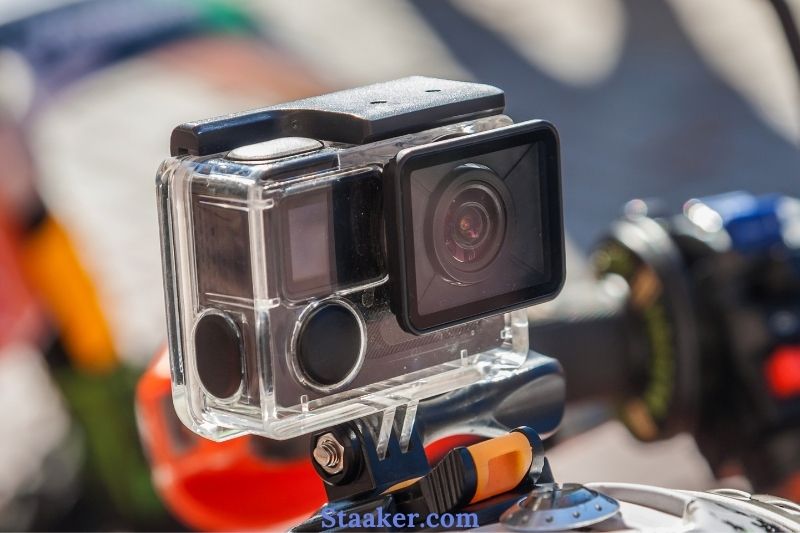 The Auto OFF option is ideal for individuals who forget to switch off the camera once they've finished using it. Because I'm a little OCD about my GoPro battery life and rarely forget to turn it off, I can't claim I use this feature.
However, if you have a habit of leaving your camera turned on when you aren't using it, turn on the Auto OFF feature. You may save additional electricity by switching off your GoPro after 5 minutes of inactivity. This option can be found in the General menu.
Press the button 13 times to bring up a menu of alternatives for you to choose from. The earliest time for Auto-Off is 60 seconds.
By far, the most significant impact on battery life will be wifi. It just consumes a significant amount of energy. So, when you're not using it, make sure it's turned off. That feature alone will be a game-changer. It can be found in the Connections menu.
The Bluetooth feature is also to blame for cutting down your filming time. Simply turning off Bluetooth and wifi might add up to 15 minutes. The wifi button is located on the cam's side. You might easily activate the feature by accident. So, while utilizing the cam, make sure the option is turned off.
More or less, the GoPro Hero 10 and Hero 9 come with 14 accessible voice commands. In Hero 10, the GoPro Turn-On mode is missing. These instructions can improve activities ranging from Capture to Shoot Burst and Photo Mode to Time Lapse Mode.
With the new Hero 6, the Voice Control has improved slightly. The Hero 6 now has a feature dubbed Wake on Voice, which allows you to turn on the camera using your voice. So that right there informs you that even when the camera is turned off, it is listening (for up to 8 hours after you turn it off).
In other words, even when the camera is turned off, the voice control feature will deplete the battery. As a result, even if you didn't turn on the camera, the batter can expire on you.
This feature is only available on Hero 6, once again. Only the voice control capability is available on earlier models, and it is only operational while the camera is turned on.
The GPS overlays position coordinates over your video, so be careful to turn it off if you don't need it. I have never made use of it. It can be found in the Preferences menu.
Everything matters if you want to extend the life of your camera's battery. The constantly blinking red light indicating that the camera is recording video is distracting and draining the battery.
The LCD display will also use a lot of power. You have the option of turning it off totally or lowering the brightness. You can also utilize the Screensaver option to have your display go dark after a set time, such as 2 minutes.
If you don't use the GoPro Remote, you can extend the battery life by 15% -20%. Even a minor item such as the remote can drain the battery.
When you're not using your GoPro but are outside, please put it in your pocket close to your body to avoid damaging the battery. As a result, it will remain warmer, and your battery life will be extended.
Without a doubt, the GoPro App is a fantastic feature. Pairing the camera with the phone, on the other hand, is a waste of effort and battery power. Instead of jumping in, preserve your energy and use it to take more images or videos.
The video mode or video settings you use will also significantly impact battery life. When recording in 1080p At 30 frames per second in Wide view, you will get the most out of the battery.
Accessories For Longer Battery Life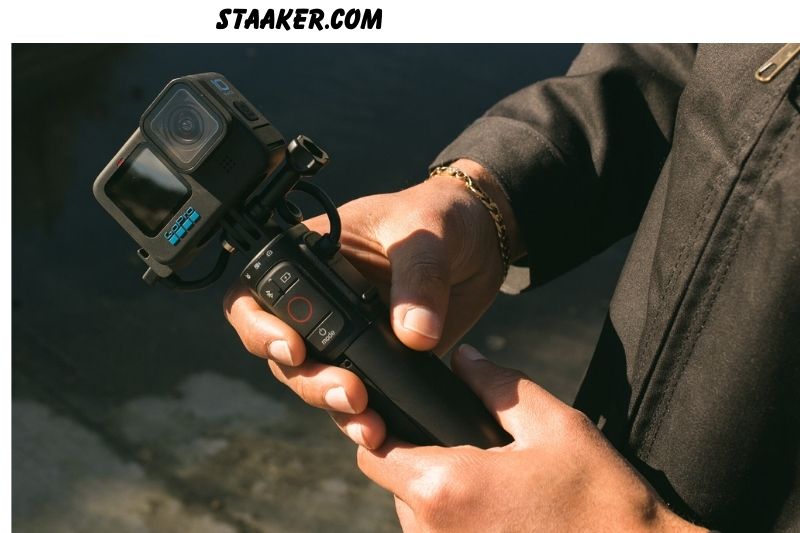 If you're serious about upping your GoPro game and using this camera frequently, you'll want to invest in a few accessories to help you stretch the battery life.
There are many solutions available; here is a list of the top 5 best accessories for increased battery life:
1. Charger and extra batteries
The first thing that springs into everybody's head is to have an extra battery or maybe many. Apart from the GoPro originals, there are many brands to choose from. On the other hand, GoPro has stopped supporting third-party batteries as of the Hero 5 model.
This means that you will have no alternative but to purchase original GoPro batteries. In any case, the cost of an excellent third-party battery isn't that much less. If you're using a Hero 4, you may still get batteries from various vendors.
You already have two batteries that came with the camera, so purchasing one or two additional ones will suffice.
2. Backpac Battery
Only a Hero 4 can use the Battery Backpac. The 30-pin connector on the rear of Hero 5 and Hero 6 has been removed. The Backpack can video for about 4 hours, so it's roughly equivalent to one extra battery. Bacpac attaches to the rear of your GoPro and adds 15 percent longer battery life.
It can keep you charged while at work or doing other tasks when charging or replacing a battery is difficult. The battery level or charging status is displayed on an LCD window. An LED light indicates the recording status of the camera.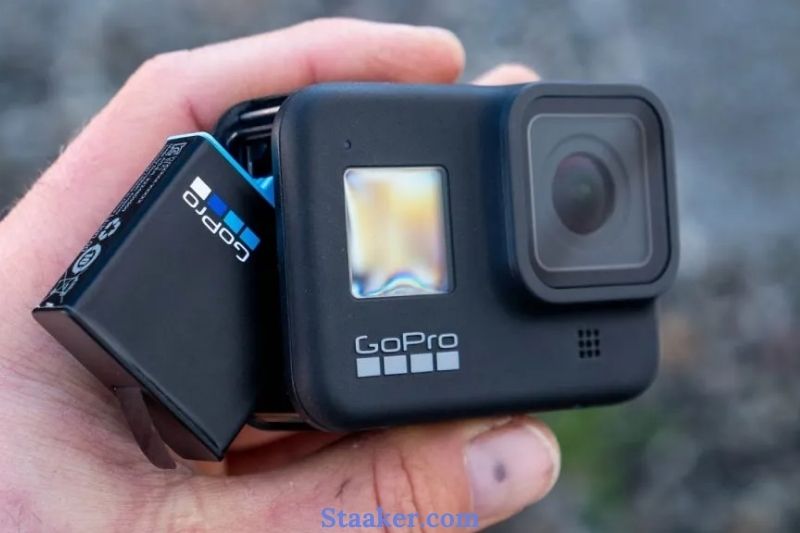 3. Portable Charger
A power bank is helpful for almost any portable device, such as your iPhone or iPad. And GoPro is no different. The thing with power banks is that you can truly hit the slopes or scuba dive with your GoPro when you use them.
So, unless you're shooting a time-lapse or a static scene with your GoPro, you won't be able to use it while filming. When you don't have access to a wall outlet, a Mobile Power Bank is perfect for charging your batteries on the go.
4. Grip/Charger for VidPro
VidPro Grip is a handgrip with a built-in 6000mAh rechargeable battery. It's great for action shots, crowd pictures, and challenging angles. It also comes with a smartphone holder and a GoPro adapter. It has a textured rubber handle that provides a firm grip for steady footage and smoothly performs rapid and unexpected movements.
It functions similarly to a standard power bank, but it is more practical. You can effortlessly move your GoPro camera around and record or take photographs using it as a grip, just like you would with a standard grip.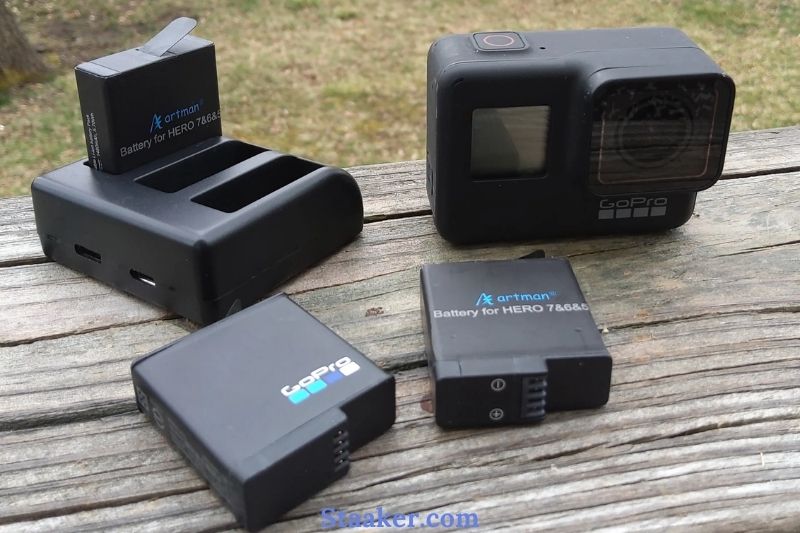 5. SunJack Solar Charger (Portable)
This solar charger is portable and may be used on your longer journeys. It's beautiful since it has a lot of juice on a full charge, which means you can charge your GoPro and smartphone numerous times and still have extra power for friends.
You may charge your phone with this ultra-portable folding solar charger when you don't have access to a wall outlet.
Two USB ports allow you to charge two gadgets at the same time. A high-capacity power bank with a 10,000mAh capacity can charge cell phones and tablets multiple times.
In case you want to connect GoPro to a tv, this guide provides full instruction: How To Watch GoPro On TV
FAQs
What's the deal with my GoPro battery going so quickly?
Even when the power is turned off, the most common cause of battery depletion is leaving the wifi on. Even if the camera is turned off, leaving the wifi on will drain power as the system checks for a signal regularly. Ensure the blue flashing light indicating that the wifi is turned on isn't on.
Is it usual for the GoPro to become warm?
Yes, it's natural for your GoPro to become warm. It may be too hot to touch at times.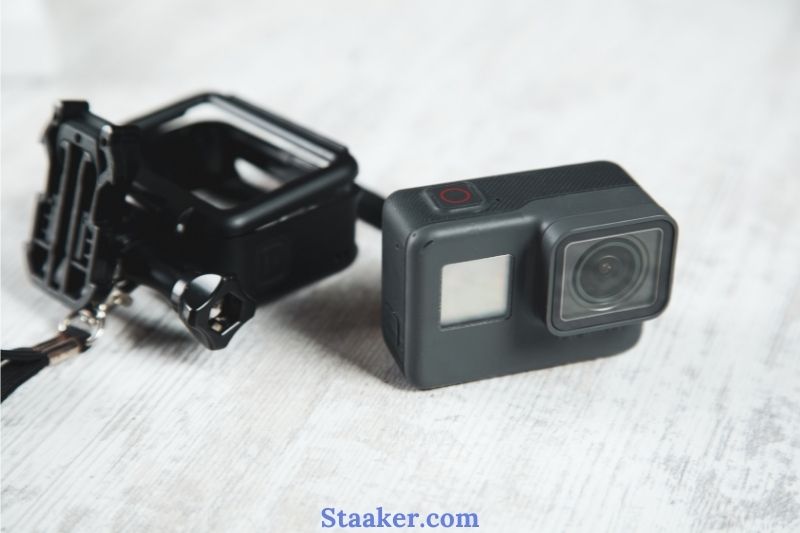 Is it possible to record all day using a GoPro?
You should be able to record indefinitely until the battery dies or you choose to stop. What situations does it relate to? All GoPro cameras can record in full 1080p HD, with specific models supporting 4K+ resolutions and high frame rates (e.g.,>60 FPS).
Is it possible to operate GoPro without a battery?
Suppose you're using the USB-C cable to power the camera from an external source, such as a wall adapter, USB power brick, computer, or car charger. In that case, you can remove the internal battery and use external power instead. The camera will continue to function as usual.
Video
Conclusion
A GoPro battery can last for a few hours or a few days, depending on the involved factors. Be sure to use the device in a suitable environment and adjust the settings to get the best performance from the battery.
Finally, be sure to keep your GoPro battery charged so that you can take pictures and videos when you need them. Staaker.com hopes this guide is useful for you.