There are a lot of different gimbals on the market, but finding the best one for your iPhone can be tricky. We've compiled a list of the best gimbals for iPhone based on our extensive testing. When making our recommendations, we've considered factors like build quality, stabilization, and compatibility.
Best Gimbal For Iphone
1. DJI OM 5- Best Gimbals For Iphone 13 Pro Max
Overall, the top iPhone gimbal.
Pros
Excellent stabilization
Stunning, extensible style
Excellent subject tracking
Cons
Reduced battery size = smaller size
The iPhone gimbal I'd suggest for the majority of users is the DJI OM5. The most popular phone gimbal, now in its fifth version, has been upgraded by DJI by including an extension rod that, when needed, allows it to double as a selfie stick.
The DJI OM5 supports the great majority of iPhone and Android cellphones. Up to 0.63 lbs. payloads can be supported (290g).
All iPhone models starting with the iPhone 8 and later, are officially compatible. All three lenses on the more recent iPhone Pros can be used with the DJI OM5 (Ultra-wide camera, wide camera, telephoto camera).
It was hard to understand how DJI could enhance their flagship portable iPhone gimbal with the magnetic phone clip mechanism launched with the DJI OM4.
Usually, other manufacturers mimic DJI's ideas, but this time, DJI incorporated their extension rod into the DJI OM5, drawing inspiration from other well-known gimbals.
The DJI OM 5 is the lightest DJI gimbal to date, despite the addition of the extensible arm.
These improvements did, however, come at a price. The DJI OM4's formerly excellent battery life has been reduced from 15 to just 6.4 hours. The DJI OM5's tiny and light battery is what made it possible for it to be so lightweight, but it also means that you'll have to charge it more regularly.
It also cannot be used as a battery pack for your phone because the battery is substantially less than before.
Including a selfie stick makes it more versatile, and it is just as comfortable to carry as its predecessor. Although I'm sure many would laugh at the thought of a gimbal selfie stick combo, the extension rod can also be used to get higher angles and more views in addition to recording oneself.
Naturally, it retains all the fantastic features of the DJI OM4, including the magnetic clamp mechanism that makes attaching and removing your phone a breeze.
Of course, the substantially shorter battery life is unfortunate. I used the device for about 4-5 hours on a single charge, which is more than you'll need for stock photography. However, this gimbal doesn't function as a phone charger, so it's wonderful to have an additional battery just in case. You'll always need to have an extra power bank with you.
If that seems unsatisfactory for your use case, you'll be relieved to learn that DJI hasn't stopped making its prior model.
2. DJI OM 4 SE: Best Gimbal For Smartphone
Best gimbal without rod
Cons
Not as good a stabilization as the OM 5.
Magnetic clamping system
Long-lasting battery
It can be used to charge a phone
Cons
The OM 5 is not significantly less expensive.
The DJI OM 4 SE is the finest iPhone gimbal for individuals who like to have more battery life and the option to use it to charge your phone over merely not needing the extension rod that comes with the DJI OM5.
In essence, the DJI OM4 "SE" is a re-release of the OM4 designed to appeal to customers who would prefer more battery life to the extension rod on the OM5.
iPhone and Android phones up to 6.9-10 mm thick and 67-84 mm wide can be used with the DJI OM 4.
DJI has updated the Osmo Mobile 3's motors, and it can now support phones weighing 230–60 g. It can effortlessly sustain phones even when using camera accessories like the Moment lens, which is a 26% boost over its predecessor.
Additionally, the gimbal has a quarter-inch thread needle to accommodate mount accessories like tripods.
The same smartphones as the DJI OM5, including larger ones like the iPhone 13 Pro Max, are compatible. The complete list of compatibility is available here.
The world's largest manufacturer of civilian drones, DJI's handheld gimbals are a testament to their engineering prowess.
Their first phone gimbal, the Osmo Mobile, was a massive hit because of how well it was made and how simple it was to use. The $299 price tag on the Osmo Mobile 2 was maintaining the successful recipe.
DJI had to develop new ideas for the Osmo Mobile 3 to stay competitive. The Osmo 3, the first of its kind, had a folding design that made packing much simpler.
DJI made history with the OM4 by creating a magnetic phone mount. You no longer struggle to put up your gimbal by utilizing the magnetic spring-loaded clasp or attaching a pop-socket style ring holder to your phone.
The DJI Mimo app for iOS and Android has replaced DJI's previous DJI Go app. This makes it simple to capture artistic timelapses, slow motion, panoramas, and dolly zooms. Additionally, compared to rival apps, the new ActiveTrack 3.0 AI is far better at tracking objects.
The remainder of the gimbal is similar to the Osmo Mobile 3, except for some improvements to the gimbal motors. My previous favorite gimbal was the Osmo Mobile 3, and DJI made the necessary changes to make the OM4 their best gimbal to date.
Despite fierce competition from devices like the Zhiyun Smooth 4, I think the DJI OM 4 finally succeeds in hitting all the right notes in terms of usability, portability, ergonomics, stabilization performance, battery life, and affordability.
Using the OM4 to film felt the most natural of all the gimbals I tested. Compared to the Zhiyun Smooth 4, it seems less hefty, and the angled handgrip eliminates the need to snap your wrist back to keep it upright.
Its foldable shape and magnetic phone holder are its prominent features. The former makes it far more portable than conventional gimbals, and the latter enables quick mounting and dismounting of smartphones.
The stabilization performance is excellent, and DJI's expertise in the field is evident. Fast-moving action may be captured without a hitch when you crank up the pan and follow speeds on the motors, which are incredibly responsive.
The motors are also very quiet, so motor noise won't interfere with recordings. The built-in 2450mAh battery within the OM4 has 15-hour battery life. Only one best gimbal for iphone 13 pro maxlasts longer: the Freevision Vilta Mobile.
The OM 4 can't pan or tilt quite as much as some other gimbals due to its folding construction, reducing its mechanical range of motion.
DJI also made a pricing increase from the Osmo Mobile 3. A couple of years ago, the price wouldn't have been pricey, but with so many sub-$100 options available now, the decision isn't as simple as it might be. This time, at least, they include a small tripod with it.
3. Smooth Zhiyun 4
An inexpensive iPhone gimbal with professional-grade features
Pros
Focus wheel and simple controls
Long-lasting battery
Cons
Not tracking faces
Unable to transport iPhone 12 Pro Max
The Zhiyun Smooth 4 is a very well-liked gimbal; Zhiyun is known for producing reliable and reasonably priced iPhone stabilizers. On this list, you'll find a few more items from them.
Its 3-axis stabilization mechanism creates incredibly smooth video, and the intuitive control panel is a standout feature. We particularly appreciate the focus/zoom ring's simple operation and practical comfort.
By connecting your phone to the ZY Play app, take advantage of various entertaining shooting capabilities, such as time-lapse, long exposures, panoramas, and more. It's a particularly wise pick for individuals looking for a gimbal to expand their possibilities for photography and video.
The Zhiyun Smooth 4 has only 210g of payload capacity, which excludes the iPhone 12 Pro Max and may well exclude any future flagship iPhones. This is our only concern with the device. Besides that, this is a fantastic gimbal for various tasks offered at an extremely low cost.
4. Zhiyun Smooth 5:  Best Iphone Video Camera Stabilizer
Pros
Solid construction
Numerous controllers and buttons
Combination of magnetic fill lights and lights
Cons
Hefty and not foldable
Expensive
A more professional-oriented, if somewhat pricier, iPhone gimbal is the Zhiyun Smooth 5, which has a lot of dials and buttons so you can make adjustments without using your phone's screen. While it offers all the capabilities you might want, its iOS and Android apps are clumsy, and its grip is uncomfortable.
Thanks to its improved motors, the Zhiyun Smooth 5 is compatible with practically any phone. Larger and heavier iPhones like the iPhone 12 and 13 Pro Max fall under this category.
Because of the variety of tactile controls and professional capabilities it included, the Zhiyun Smooth 4 was one of my favorite iPhone gimbals. With the Zhiyun Smooth 4, the user was given access to as many options as possible, in contrast to DJI's concentration on a flawless user experience.
Zhiyun delayed updating the Smooth 4 for years before releasing the eagerly awaited Smooth 5 for 2022.
Although this upgrade isn't particularly ground-breaking, it has finally provided us with a reliable alternative to the DJI products. It is substantially smaller than its predecessors.
It also has stronger motors, a more durable design, and a lovely new joystick that allows for smooth panning at a constant pace.
Additionally, the software has been updated, bringing crucial capabilities like gesture control and object tracking.
With the Zhiyun Smooth 5, nothing particularly leaps out, but the abundance of physical controls ensures that whatever modifications you need can be made immediately. Simply put, making adjustments using the control buttons or dials is more practical than swiping and tapping your phone's screen.
The zoom/focus wheel and redesigned thumbstick make it simple to use more complex shooting methods, such as smooth dolly zooms.
A magnetic fill light that fastens to the clamp for 360-degree lighting is included in the more expensive combination package if you choose it.
The Zhiyun Smooth 5's three-axis stabilization performs an amazing job of stabilizing the camera on your phone, but it has a steep learning curve and is slow to get going.
The grip is also less ergonomic than other gimbals, mostly because it is excessively short; to make the grip more comfortable, you must ultimately mount the tripod in its closed position.
Finally, the ZY Cami app is subpar and unreliable compared to the DJI Mimo app. That could change, but it probably won't consider Zhiyun's dismal track record with software.
5. MOZA Mini-S- Best Gimbal For iphone 11 Pro Max
Among the most cost-effective iPhone gimbals
Pros
Great and tiny folding
Great value for the money
Simple control scheme
Cons
One of the top smartphone gimbals for travel is the Moza Mini-S. It folds down to 130mm by 195mm and is lightweight, making it simple to fit into a small travel bag. Although the device's construction may feel a little cheap and plasticky, this has kept the price low, and when used, the Moza Mini-S performs admirably.
The 3-axis stabilization is fluid and reliable under various circumstances, and the gimbal offers many helpful additional modes, such as Object Tracking for tracking moving objects.
The Moza Mini-S stands out as a wonderful travel alternative thanks to the eight hours of battery life, which is substantial and provides you with more than enough ammunition for a day of shooting.
6. FeiyuTech VLOG Pocket: Best Gimbal For Vlogging
The top iPhone gimbal for portability in a small space
Pros
Becomes a miniature tripod
Portable and little
Cons
Holding shallow
The zoom feature is clunky.
The FeiyuTech VLOG Pocket is another extremely portable gimbal that is excellent for slipping into a backpack or, yes, even a pocket, albeit one that is probably quite baggy. It can support phones weighing up to 250g, so all except the largest should fit, but because the holder is shallow, you'll need to take your case off if you usually use one.
Although the FeiyuTech On app is not required for the 3-axis stabilization to function, it is highly recommended because it gives you access to many more capabilities, such as Object Tracking and Gesture Control.
7. Zhiyun Smooth Q3
The top iPhone gimbal for users of TikTok
Pros
Integrated fill light
Fantastic battery life
Cons
Feels thin
Smaller than average handle
The Zhiyun Smooth Q3 is a clear attempt to attract TikTokers and other customers using their phone's selfie camera extensively with its built-in 4300K fill light. Best 3-axis gimbal for phone, giving your phone stability and your face a little fill light is a wonderful option to combine the two if you don't want to buy a gimbal and a ring light.
The Smooth Q3 contains a complex 3-axis stabilization technology, an intuitive control structure, and a well-designed, user-friendly joystick, so it isn't just a simple gimbal.
8. DJI OM4
For a reason, the traditional iPhone gimbal.
Pros
Excellent stabilization
Long-lasting battery
Cons
Reasonably pricey
The app may not be trustworthy.
The DJI OM4 is still one of the most highly acclaimed smartphone gimbals available, despite giving the lighter DJI OM5 the top spot on our list. Its bigger, beefier brother, the DJI OM5, also receives excellent user evaluations.
Although it is more expensive than the competition and does have some well-known problems, such as interfering with phone volume rockers or generally being incompatible with phone cases, the fact remains that it performs its function exceptionally well, offering some of the best stabilization available for a smartphone.
It is larger and heavier than many of the iPhone gimbals on this list, but all that weight serves a reason because it houses a very advanced 3-axis system that gives you smooth, cinematic movement in the palm of your hand.
Additionally, the DJI Mimi app allows you to experiment with various modes and effects (though some users report a bit of unreliability and jank, especially on Android).
9. Zhiyun Smooth X
The most affordable iPhone gimbal, if you're willing to make concessions.
Pros
Incredible affordability
Palm-sized
Cons
Two-axis stabilization alone
A meager payload
The Zhiyun Smooth X is the least expensive gimbal on our list and offers fantastic value if you don't want to spend a lot of money on one.
Even though it only has a 2-axis stabilization system rather than a 3-axis system, it will still do the job, and thanks to its telescoping handle, it can also be used as a selfie stick. It's only rated to carry phones weighing up to 200g, and many of the most advanced iPhones will weigh more than that, so you'll want to check the compatibility.
10. Hohem iSteady X- Gimbal For Iphone 12 Pro/ Max
Pros
Reasonable stabilization
A portable and foldable design
Cons
Neither a rubberized grip nor any ergonomic contours
Shoddy companion application
The iSteady X is an excellent choice for individuals on a tight budget or those who just want to see what all the hype is about because it is the least expensive iPhone gimbal. Hohem was inspired by the popularity of the folding DJI gimbals and the Zhiyun Smooth Q2's portability.
The end result is a $69 3-axis gimbal stabilizer that is foldable and incredibly small. If you can get past the iSteady X's shoddy companion software, it's an excellent gimbal for the money.
There are almost no phones I can think of that the iSteady X doesn't support, with phones up to 280g in weight and 90mm in width.
You must also download the Hohem Pro companion app, which works with iOS 9.0 or later and Android 6.0 or above, to activate the gimbal.
Hohem is the most popular gimbal manufacturer on Amazon, despite perhaps not having the same recognition as DJI or Zhiyun.
The wildly popular iSteady Mobile and iSteady Mobile Plus were well-liked because they provided similar functions to expensive gimbals at a much lower cost.
Hohem released the iSteady X, a gimbal with a foldable design made possible by its offset gimbal arm, to keep up with the trend of smaller gimbals.
The result is a significantly more portable and equally effective gimbal than the iSteady Mobile Plus. The iSteady X has distinguished itself as the "lightest gimbal in the world" thanks to its only 259g weight.
Of course, this gimbal's affordable cost is what I enjoy about it the best. The iSteady X offers excellent value for the money with reliable core stabilization performance, a respectable 8-hour battery life, and a folding design that makes it convenient to carry.
While it won't cut it for power users or mobile filmmakers, it's ideal for family vacations and home vlogging.
It is incredibly affordable, but as a basic apple gimbal stabilizer, it lacks the sophistication and functionality of something like the DJI OM5 or OM4.
Filming might get unpleasant after a while because the handgrip is short and lacks ergonomic curves.
Additionally, it lacks a rear trigger and any sort of "sport mode" to briefly increase the motor responsiveness, making it unsuitable for filming frantic scenarios with rapid camera movement.
The gimbal cannot be used as a backup power bank because there is no USB-A port to be found. This is included in the majority of other gimbals. Thus it's unfortunate that its sizable li-ion battery cannot be used for charging.
11. Freefly Movi Cinema Robot: Best Mobile Phone Gimbal Stabilizer
Pros
Fantastic stabilization
Able to hold with both hands
Fantastic application
Cons
Expensive
Large and hefty
An innovative gimbal created by filmmakers for filmmakers is the Freefly Movi Cinema Robot. Its companion app, Movi App, not only functions as handheld video stabilizer for iphone but also makes it simple to carry out a variety of 'cinematic' stunts. It isn't inexpensive, though.
The Movi Cinema Robot can support a payload of more than 500g. The largest iPhones, including the iPhone 7 Plus, iPhone 8 Plus, and iPhone XS Max, can be supported by it. Also supported are larger Android devices. A complete list of supported phones is available here.
In contrast to most gimbals designed like monopods, the Movi Cinema Robot is almost U-shaped. This enables two-handed holding of the object and adds to its stability.
The stabilization performance is superb and outperforms the DJI Osmo Mobile 2, as you may anticipate for a gimbal of its pricing.
The Movi Cinema Robot's unique companion app, Movi App, plays a significant role in the device. This gimbal companion app is wonderfully designed and has a ton of cinematic presets, in contrast to other gimbal companion apps. This makes creating compelling video content simple.
Two 2600mAh Lithium Ion batteries, which can power the Movi Cinema Robot for about 8 hours, are required. It has strong motors can sustain a much higher payload despite being shorter than the other gimbals on this page.
The Movi Cinema Robot also allows for a ton of additional customization. Its accessory mount allows you to mount shotgun microphones and flashes to the gimbal.
I adored the original U-shaped design of the Movi Cinema Robot. It may be held with two hands, improving stability and lessening fatigue when filming for extended periods.
Because of the gimbal's U-shaped design and strong rubber base, you can rest it and keep it upright on any flat surface. Consequently, I hardly ever need to use a tripod with it.
Excellent stabilization performance and enjoyment may be had when using the Movi App. It makes it exceedingly simple to instantly switch between recording previews or adjust parameters like exposure without touching your phone.
Additionally, it makes it simple to record cinematic effects like orbit, dolly zoom, and barrel roll.
If all you want to do is capture a few images during your upcoming vacation, the gimbal is unnecessarily bigger than other gimbals.
However, the major problem is the price. It is approximately 2-3 times as expensive as the other gimbals on this list at $300. Personally, I don't think the stabilizer is worthwhile unless you're positive that its special capabilities justify the price premium.
Additional Notable iPhone Gimbals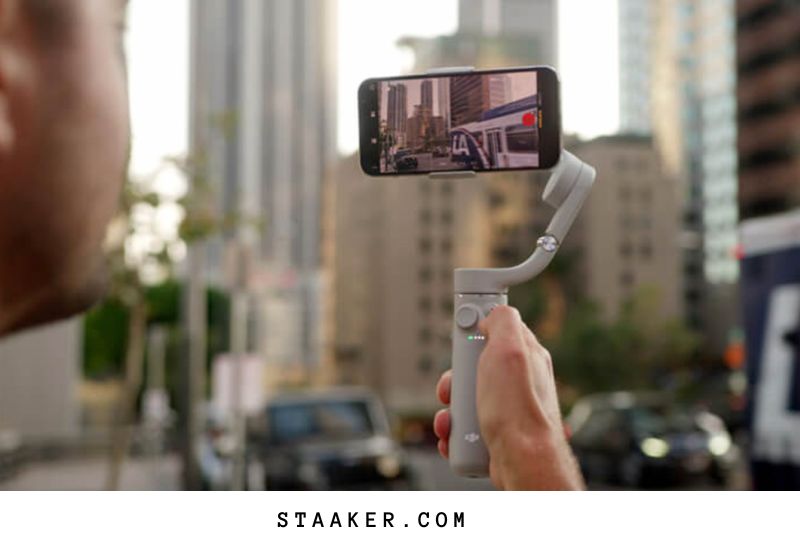 Freevision VILTA Mobile
The Freevision VILTA-M is my #1 choice for ergonomics and construction quality. Its shape is identical to that of the DJI Osmo Mobile 3 and OM 4, but it has a more comfortable grip and is made of "aeronautical materials."
It is a strong alternative to the DJI gimbals, but sadly, its image stabilization was subpar. This was apparent when comparing footage at a zoom of 250 percent, where the VILTA-M had significant jitter.
DJI Pocket 2
This is a dedicated 2-in-1 camera, not an Apple iPhone gimbal, that may take the place of your iPhone for video purposes. If you dislike carrying around two pieces of equipment to make movies, this is for you, and the entire procedure of mounting and unmounting your iPhone on and off a gimbal is tedious.
Although it isn't inexpensive, it has a great camera and is a ton of fun to video with.
Why Should I Get An iPhone Gimbal?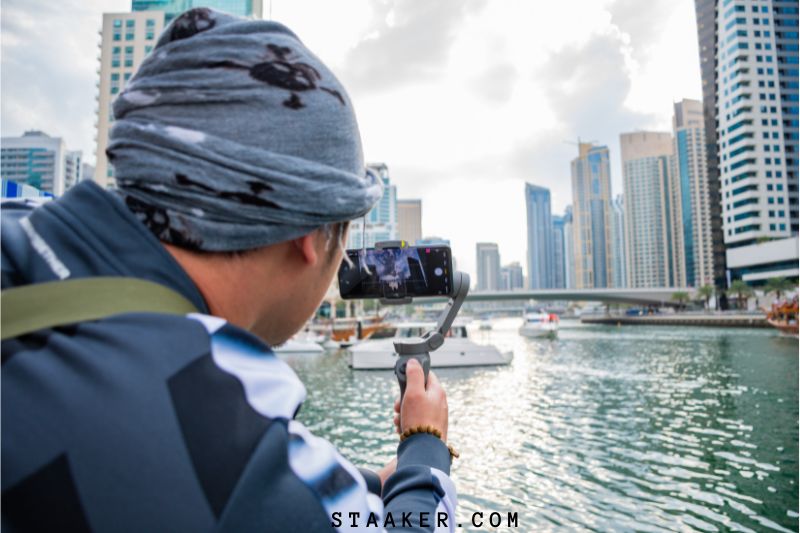 If you had asked me five or ten years ago, I would have told you that using an iPhone gimbal is a waste of time. Why spend money on cameraphone accessories when you could spend money on "real" camera gear? However, as my iPhone has become my go-to piece of video equipment more and more frequently, I now have a different perspective.
Here are several justifications for why this is an excellent moment to get a smartphone gimbal:
Reason 1: Your iPhone can take professional-quality videos.
Back in 2016 or around, hardly one took iPhone video recording seriously.
Sure, folks were used to sharing some casual film on social media. However, vloggers, indie filmmakers, and live streamers used pricey DSLRs or mirrorless cameras.
Newer phones, however, such as the Samsung Galaxy S21, Google Pixel 6 Pro, and iPhone 13, have completely altered the market. These mobile devices have cameras that can generate seamless, 4K video at 60 frames per second. People are using their phones to record videos more frequently now. And that pattern is expected to persist.
Reason 2: The iPhone's included OIS isn't always sufficient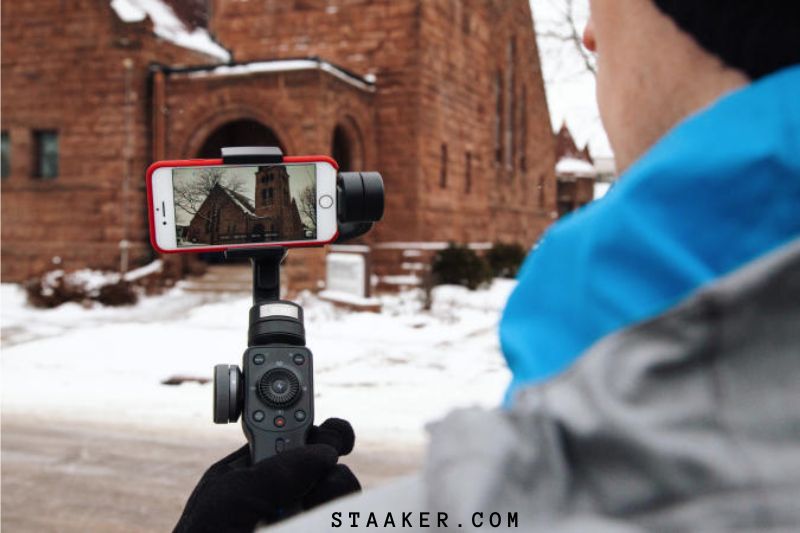 Camera wobble is noticeable as soon as you start recording video while moving. A camera shake will be an issue if you want a film ready for production, even with the latest iPhone and its great built-in sensor-shift optical image stabilization (OIS) technology.
So What Is The Problem's Solution?
An iPhone accessory that can significantly lessen unwelcome camera shake and vibrations is a 3-axis motorized gimbal.
How do they function? They first look for camera shake using gyroscopes and accelerometers. Then, three brushless motors rotate three pivots by precisely the proper amount to counterbalance the shake. Your smartphone is steady if you can hold it level in all three dimensions (pan, tilt, and roll axes).
And most of all, gimbals are exceedingly easy to use, unlike the Steadicam or dolly used by Hollywood film crews. Simply mount your Android or iPhone and press the record button.
Therefore, a lightweight gimbal stabilizer is an easy and affordable method to improve your game significantly, whether you're a YouTube content creator, an amateur filmmaker, or simply trying to capture better videos for your Instagram stories.
Reason 3: An iPhone gimbal has further uses.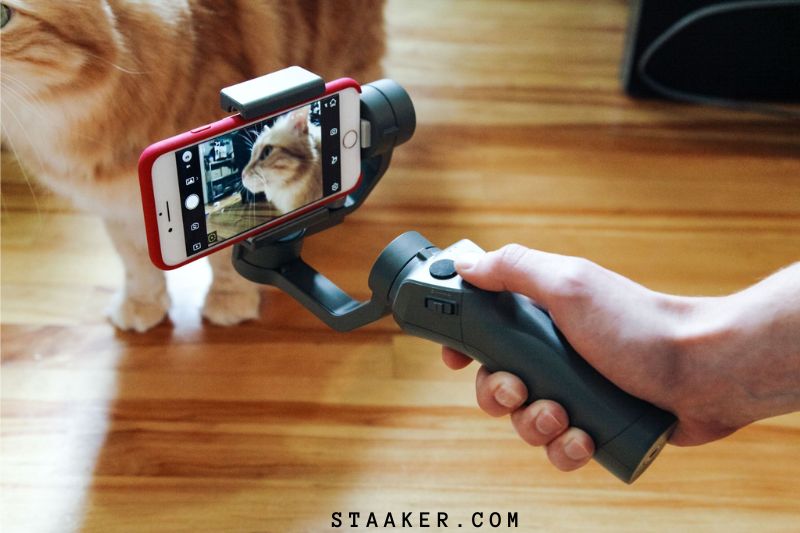 A gimbal's main function is to assist you in stabilizing your iPhone camera. Still, today's models all offer a variety of cutting-edge capabilities that enable them to do much more.
You might see features like face and object tracking, power bank functionality, and assistance in creating time-lapse or motion-lapse videos. Of course, holding up a flat iPhone in your hand is much less pleasant than using the ergonomic grip of a gimbal to record.
Reason 4: Smartphone gimbal prices are at an all-time low.
I can still clearly recall picking out my initial iPhone gimbal in 2016. Since smartphone gimbals at the time cost more than $300, I did a lot of research before making my purchase. The wonderful original DJI Osmo Mobile, which is still a fantastic gimbal today, is what I ultimately chose.
However, modern smartphone gimbals are much more affordable—around $100—and more effective than those from 2016. The time is now to purchase a new gimbal and begin creating some professional-looking video content.
Other Buying Advice Best Gimbal For Ipad And Iphone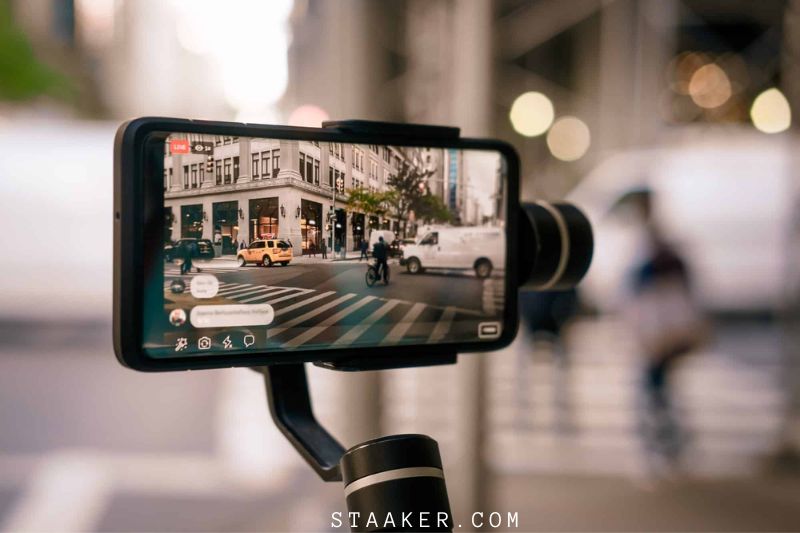 Mechanical vs. Motorized Gimbal Stabilizers (Steadicam, Glidecam etc.)
Handheld stabilizers were the preferred method of image stabilization before gimbals became popular. Although they are less expensive, they don't provide the same level of stabilization and require more skill to use. Gimbals are unquestionably the best option for stabilizing iPhone video.
Maybe you need to see this guide: https://staaker.com/steadicam-vs-gimbal/
Can I use my brand-new gimbal as a power bank?
Yes. Most smartphone gimbals, but not all of them, may also serve as power banks. Despite having lower battery capacities than specialized power banks, they can serve as a backup. Of course, using a gimbal to charge your phone will reduce the amount of time it can record.
Will My New Gimbal Interfere With The OIS On My iPhone?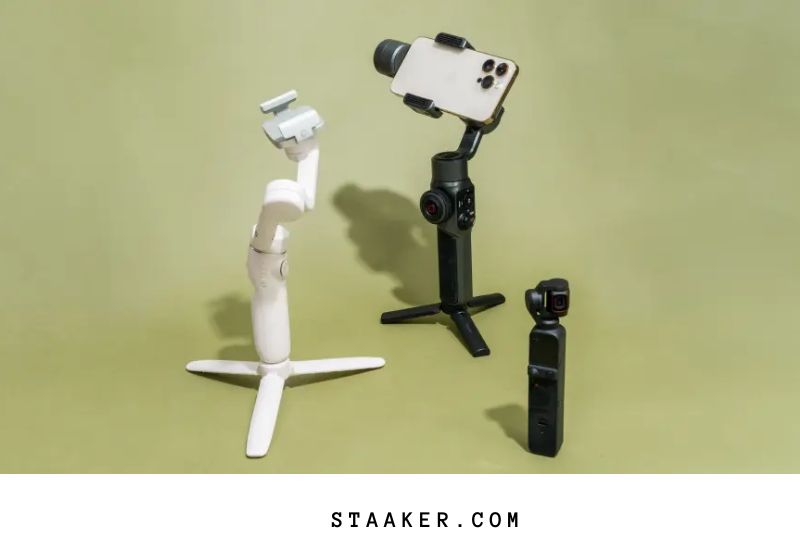 The first iPhone with optical image stabilization (OIS) that did not only rely on electronic image stabilization was the iPhone 6S Plus (EIS). IPhone uses gyroscopes and accelerometers with OIS to detect tremors and move the lens with magnetic motors to lessen their impact. However, it is not nearly as effective as a gimbal as an image stabilization technique.
Some gimbals used to have compatibility concerns with the iPhone's sensor-shift OIS, but they no longer do.
Is My iPhone Gimbal Compatible With A GoPro, Action Camera, Or DSLR?
Gimbals for smartphones are mostly made for iPhone and Android users. However, many of them can also carry an action camera, such as a GoPro or one of comparable size. Buying a GoPro gimbal mount adaptor plate is advised to make sure the GoPro or action camera is held firmly.
You must use a gimbal made for DSLR and mirrorless cameras because these gimbals cannot support the weight of DSLR and mirrorless cameras.
Using iMovie, further video stabilization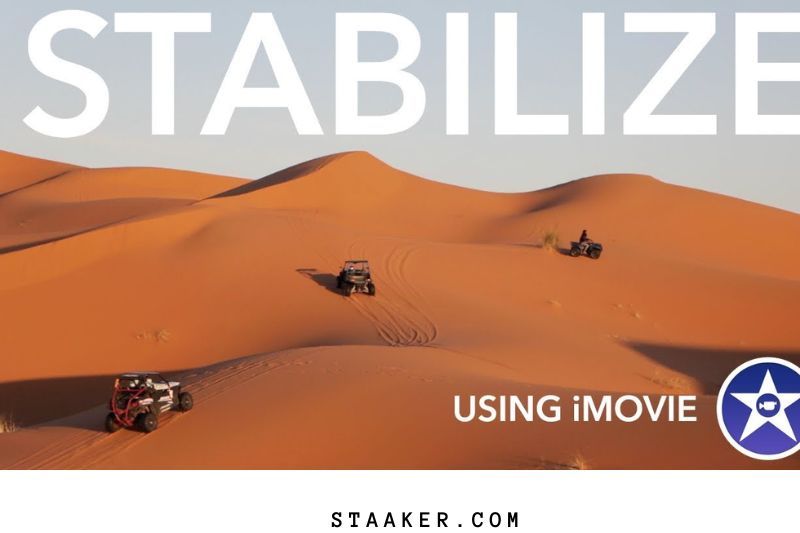 The best method for minimizing camera shake is to use a gimbal stabilizer. However, iMovie (iOS/Mac) allows users to stabilize recorded video footage further. Here you may find comprehensive instructions for the process.
Waterproof Smartphone Gimbals
Smartphone gimbals are typically not waterproof. Contact with water could cause harm to their brushless motors. Therefore, it is not advised to record video when it is raining.
Before using a gimbal, be sure you know what its function is: How Does A Gimbal Work
How to Use a Gimbal
A gimbal is a device that helps to stabilize a camera or other object. They are often used in filmmaking and photography to get smooth shots without the camera shaking. There are a few different types of gimbals, but they all work by using weights and motors to keep the object steady.
To learn more detail on how to use it, please check here:  How To Use A Gimbal
Conclusion
There are a few things to consider when purchasing a gimbal for your iPhone. The weight and size of the device are essential, as is the type of shooting you'll be doing. If you're looking to shoot video, then stability is key, and you'll want to look for a gimbal that offers smooth, fluid movement. For stills, you may not need as much stabilization, so something lighter weight may be more suitable.
However, if you plan on doing more professional video work, you will want to choose a gimbal with more features and better quality.