Gimbals are devices with a rotating arm or platform to support a camera, lens, or another device so that it can move independently of the operator. They are used in photography and videography to stabilize handheld cameras, allow smooth tracking shots, and provide other unique shooting angles.
In this article, Staaker.com will give an overview of how to use a gimbal.
What Is A Gimbal?
It's frequently wobbly when you film something on your phone or with a handheld camera. A gimbal stabilizes and supports your camera with sensors and motors, much like a tripod would if you were remaining in one place or shooting a shot.
It resembles a selfie stick, but it has several buttons on the handle that allow you to pan, tilt, and control your photos from DSLR cameras to GoPros, cinema cameras to smartphones.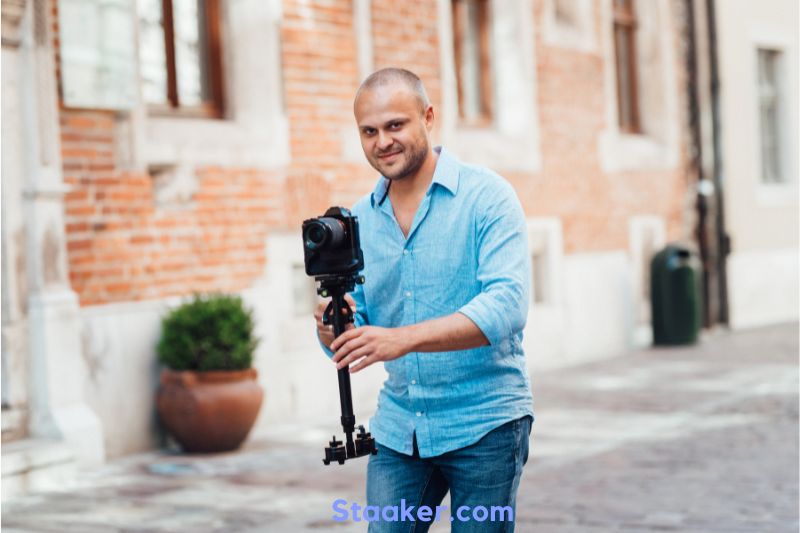 The gimbal detects the difference between your deliberate motions and minor, unwelcome distractions such as shakiness. Silent, brushless motors inside the gimbal ensure this and give you a professional-looking result — the stabilizing motors are similar to those used in drones.
This is why gimbals have become so popular among content creators. They're much less expensive than 'real' Hollywood alternatives like dollies or Steadicams, and they deliver fantastic results.
Is It Worthwhile to Invest in A Gimbal?
Gimbals, like any camera equipment, aren't cheap; unless you want your content to seem straight out of The Blair Witch Project, you'll have to shell out some cash. A beginner gimbal might cost anywhere from $100 to $1,000, depending on your camera. Consider the following scenario:
Zhiyun Smooth 4
A gimbal that is tailored for iPhones. It has a ridiculous number of buttons and preset shooting modes, which can be a little overwhelming for a newbie. However, it comes with a comprehensive tutorial video and app, so once you've gotten your mind around it, it's the ideal first gimbal. Please take a look at it here.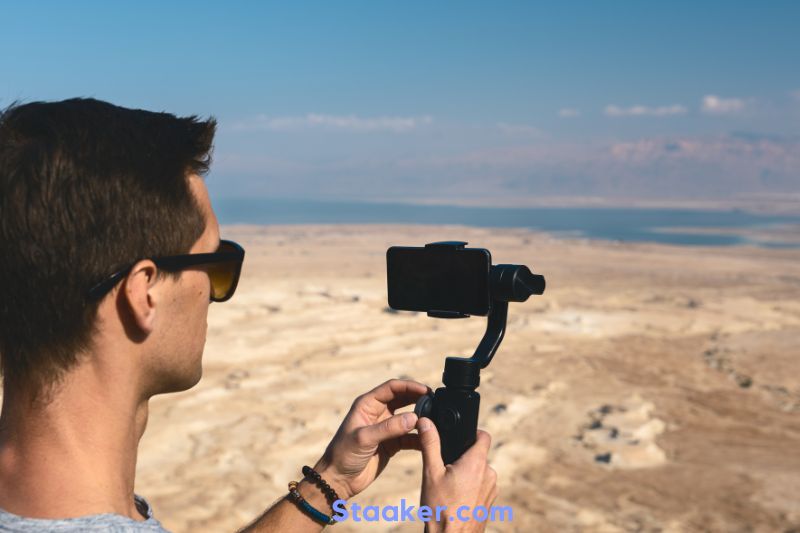 DJI RSC 2
A folding, versatile gimbal is compatible with various DSLR cameras. It has a feature called ActiveTrack 3.0, which automatically tracks the subject using the source signal from your camera (for example, someone playing basketball or a dog running around). More information on the DJI RSC 2 can be found here.
ZhiYun Weebill 2
A ridiculously flashy, all-out gimbal that more than earn. It works with various Canon and Sony cameras, has an inbuilt 2.88′′ flip-out touchscreen, and is a genuinely heavyweight piece of gear with more functions than you can toss a stick (or another gimbal) at. Here's where you can learn more about it.
How To Use A Gimbal?
Gimbals are simple to operate; anyone who has used a selfie stick will be familiar with the basics. To avoid any vibration or shaking once you start filming, make sure your camera is fixed and balanced before turning on your gimbal. Check your gimbal's battery life and ensure it's ultimately charged before the shoot. Nothing is more frustrating than a gimbal going to sleep in the middle of a fantastic photo!
Gimbals can be utilized to create sceneries worthy of major motion picture studios. Here are a few examples!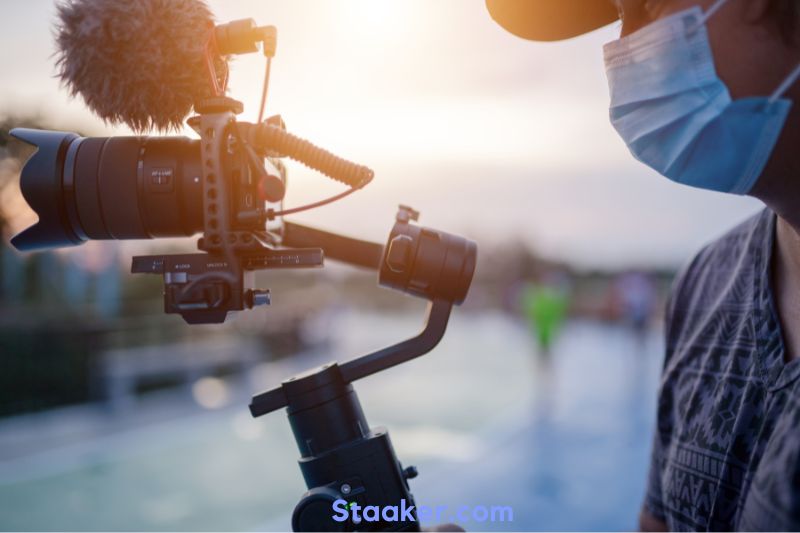 Shot for tracking
The tried and true. To get the best tracking shot, circle your subject or follow them when they're in the center of the frame. The gimbal allows you to follow your subject with ease and without shakiness!
Shot from a crane
This is a quick and easy way to change perspective and move from low to high in seconds. You can get down on your knees, concentrate your gimbal on the topic, and then slowly rise.
Shot from a drone
Go up to a cliff's edge, push forward, then stretch out with the gimbal to show a sufficiently dramatic area beneath you for an alternate drone shot. Exercise caution and ensure that the area is safe before approaching any ledges!
Pull back
Walk backward! Make sure to maintain the road clearly, but once you get the hang of it, it's great for adding drama to scene finales or getting creative with transitions.
Drone shot
To add a lot of depth, select something in the foreground, move your camera to the left or right, and keep your attention on the backdrop!
Fly through
It's both simple and odd! Find a space large enough for your camera and gimbal to fit through, such as a window, bush, or cave (you have caverns, right?) After that, carefully draw your camera back after pushing it through the space. You have two photos here, which you may use separately or combined if you want to make something psychedelic.
Best Ways To Use A Gimbal For Sports Footage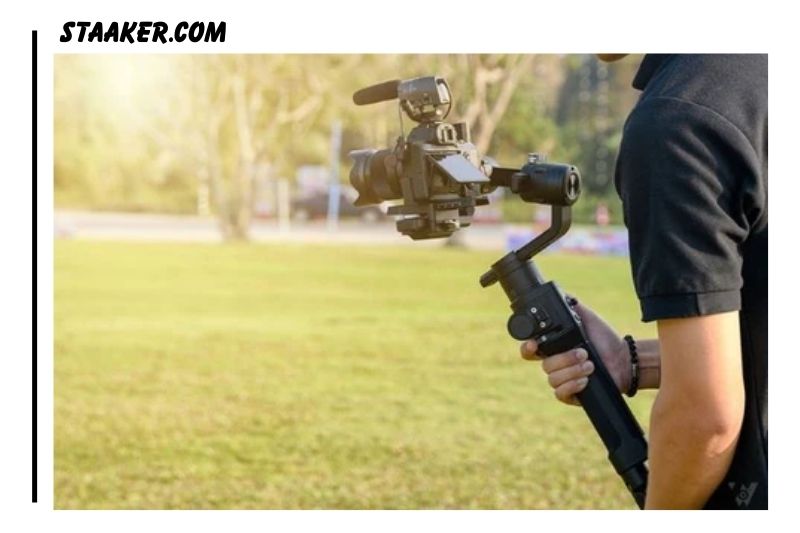 Freestyle
Filming sports might be challenging, but it also gives you a unique opportunity to express yourself. Filmmakers can create an immersive experience for their audience by following the action with close-up shots or filming outdoor or extreme sports.
Why not make use of the adaptability that video stabilizers provide? You have much more freedom to wander around and test new techniques with a lightweight gimbal-like StayblCam.
You can sweep it low for dramatic effects or raise it over your head for an overhead perspective.
A gimbal stabilizer can also create the illusion of a dolly. You may capture classic push-in and pull-out views by steadily moving the gimbal forward or backward.
A camera gimbal can also be held vertically or inclined, pushed in at a low angle, tilted up or down, and panned. The possibilities are nearly limitless. You can catch some great sports footage as long as the camera faces your subject.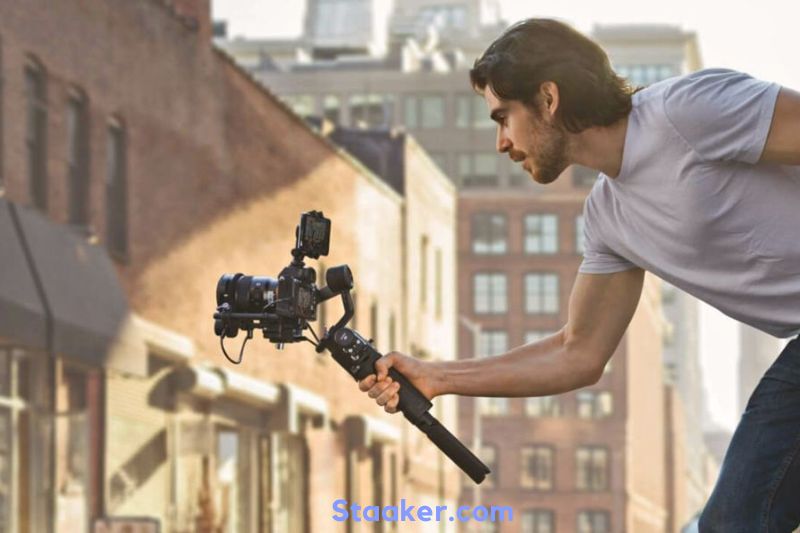 Shots That Are Steady And Dynamic In Motion
To acquire the most incredible sports footage, you must keep your camera focused and steady throughout the game. However, using a tripod and remaining still is not always practical when it comes to sports. You still want to be on the move. A gimbal stabilizer comes in handy in this situation.
You may use your body as a tripod with a phone or a GoPro gimbal. Follow your subject with the camera while standing still by rotating your body and gimbal in the same direction as your subject moves.
Most activities that require the camera to stay focused on a moving subject over a short distance, such as baseball players running between bases or swimmers, can benefit from this shot.
Parallax
The parallax shot is an orbiting motion of 180 or 360 degrees with the subject in the center of the frame. You'll get smooth footage with a gimbal that shows the action from all angles.
This shot can be used in various sports, but it works best in slower, indoor games like snooker, darts, or chess. While your subject can be fixed or moving, it's better if you're within a short distance of it.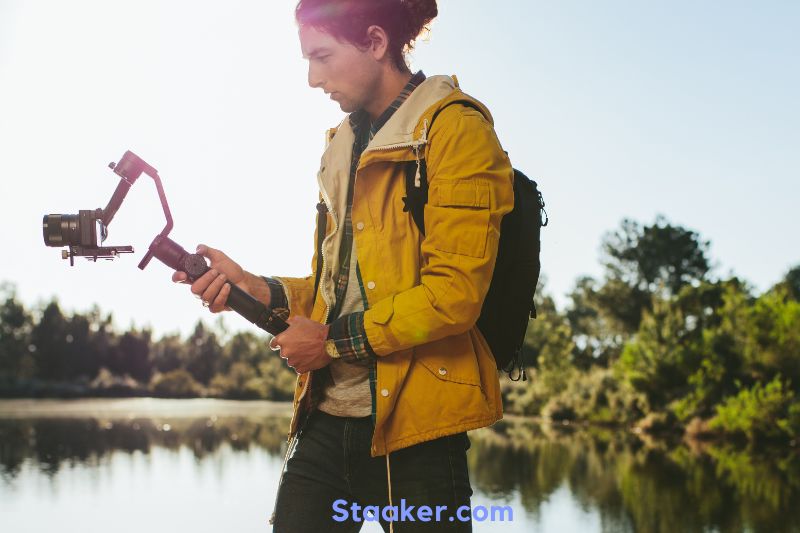 The Transfer Of Power
One of the most appealing features of a video stabilizer is its small size and weight, which allows you to hand over the camera to another operator in the middle of a shoot. It allows for continuous, uninterrupted images that would otherwise be impossible.
One of the sports, where this shot works well is parkour. While the subject jumps, leaps, and rolls over obstacles, operators can stand on different levels and pass the video stabilizer to one another.
Shot Of A Moving Car
Fast-paced long-distance sports, such as cycling or marathons, can be captured using a moving automobile or motorcycle. You can accomplish the same thing with a phone instead of a car mount.
You may point your video stabilizer out the passenger window while holding it in your hands. Alternatively, throw it out the window while filming.
You can also video while walking, running, or biking beside your subject, depending on your gimbal and the sport.
Action Scene Frome Start To Finish
Take your sports footage to the next level by following your subject with a wide shot from start to finish without pausing the recording. It does, however, necessitate some amount of fitness and, in some cases, expertise. However, you'll get some incredible shots that make the work worthwhile.
This sort of sports video is typically associated with extreme or winter sports, and the filmmaker frequently captures the action while participating in the sport, such as skiing, skydiving, or skating.
You can utilize a gimbal to stabilize your shot as you track your subject for a complete action scenario. Make sure you select the most appropriate camera stabilizer for the job. It should be durable enough to take a few knocks along the road. StayblCam is a rugged camera that can withstand difficult terrain. It's also water-resistant. To put it another way, it can go wherever you want.
If you're not ready for extreme sports, film a half-court basketball game while jogging with a wide shot.
Suggestions For Better Sports Coverage
Filming sports requires exceptional timing and reflexes, and getting the hang of it might take some time. Here are a few basic things you can do to improve the quality of your sports film.
Wide pictures are preferable to close-ups – When you're too close to the action, it's challenging to keep up.
Find a vantage point with a good view – When you're too close to the field, spatial interactions become perplexing. The relationships between players are less distorted when filmed from a high vantage point.
Instead of zooming in and out fast, go for moderate, steady movements – You may wind up with a shaky film if you use jerking movements and unstable zooming.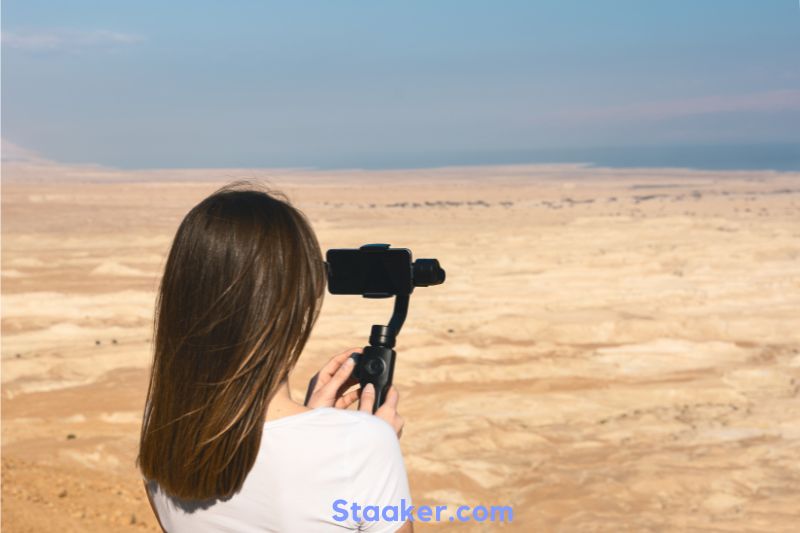 Anticipate what will happen next: Stay mentally ahead of the game to guarantee you don't miss any of the action and get the most excellent angle.
It takes a lot of practice to make genuinely excellent sports films. A GoPro gimbal or a phone stabilizer is a cost-effective and adaptable addition to your production equipment. It can assist you in taking your filming to the next level. Finally, technology is constantly evolving. The rules of filmmaking are the same way. Rather than being cautious, have some fun, explore, experiment, and make your own rules!
Video
FAQs
Are gimbals simple to operate?
Gimbals are simple to operate; anyone who has used a selfie stick will be familiar with the basics. To avoid any vibration or shaking once you start filming, make sure your camera is fixed and balanced before turning on your gimbal.
Is it worthwhile to invest in a gimbal?
If you're a videographer, a gimbal is a must-have. Having it in your hands will give you the confidence to shoot clean, stable, fast-moving, dynamic video. They might, however, be a significant investment. If you can afford it, you should acquire one.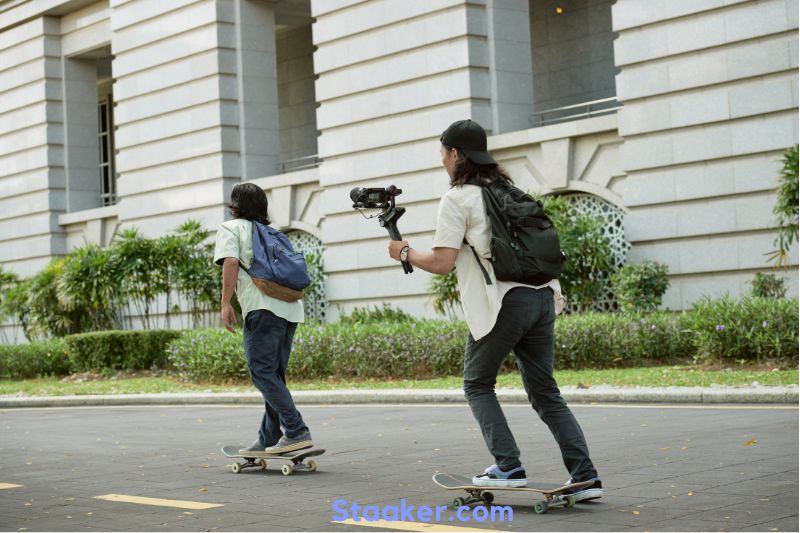 What's the difference between a gimbal and a stabilizer?
Gimbal contains more moving parts and requires a battery, charger, and other components. Although the stabilizer is easier to implement, both must be 'balanced.'
Is a gimbal required for vlogging?
Vlogging does not necessitate the use of a gimbal. However, they're fantastic tools for reducing camera shake and improving image quality. The Ikan Beholder, in my opinion, is the best all-around gimbal. However, the Smooth 4 and G6 are ideal for those on a budget.
Using a gimbal is only one of the best ways to enhance quality camera , see more other tips to become more professional: How To Make Your Camera Quality Better
Conclusion
Overall, using a gimbal can be a fun and challenging experience. With a bit of practice, you'll be able to create some fantastic shots that would have been impossible without one. So don't be afraid to give it a try! Hope you find this how to use a gimbal stabilizer article useful.