If you're looking for the best gimbal for Canon M50 or Canon 5D Mark IV, then you've come to the right place. We've put together a list of the top-rated gimbals on the market, so you can choose the one that's right for you. We've got you covered whether you're looking for a lightweight option for travel or a heavy-duty gimbal for professional use.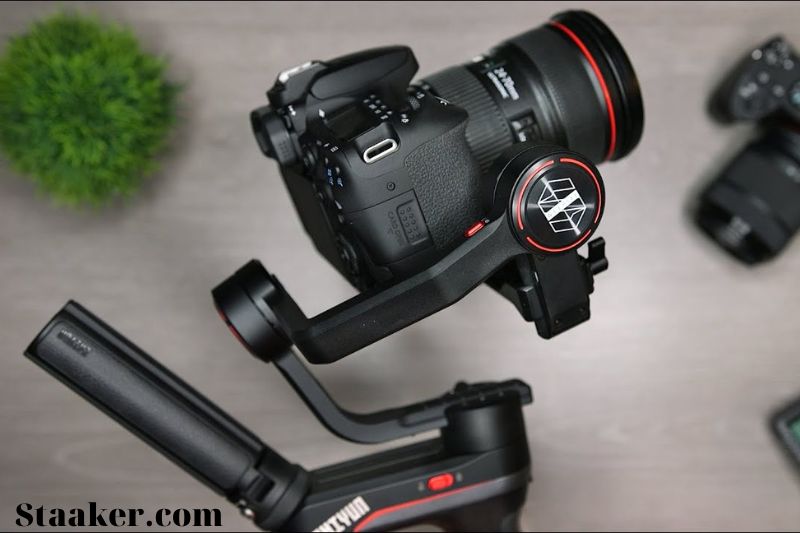 Top Rated Best Gimbal For Canon M50, 5D And Mark IV
Best Gimbal For Canon M50
Zhiyun Crane 2
The Zhiyun Crane 2 is the first in a series of Zhiyun gimbals for Canon m50 cameras that we will cover in detail. The Zhiyun gimbal we're going to feature has the most significant price tag, but it also offers the best features and performance.
Using the gimbal has led to it becoming a trendy item in the photography community and fast establishing itself as a highly regarded product. It's a good idea to look through at least a few of these reviews to gain an unbiased perspective on the gimbal stabilizer.
With a maximum payload capacity of seven pounds, the Zhiyun Crane 2 can comfortably handle the Canon m50's 0.85-pound camera body. It also has a significant payload, allowing you to pack your camera with all the accessories you can imagine.
It is common for individuals to think that a lens is all needed to carry the weight of a camera and its accessories. But this isn't always the case.
The Zhiyun Crane 2 has a battery life of roughly twelve hours. Remember that the closer you get to its maximum payload capacity, the more power the stabilizer will need to keep your camera rig balanced. Manfrotto's tripods use fast-release plates, and the gimbal does as well. You may rapidly transition from the gimbal to the tripod as needed.
In addition, the Zhiyun Crane 2 has the best image stabilization of all the Zhiyun gimbals we'll be reviewing, as demonstrated in the film below shot using a Canon m50 attached to a Zhiyun Crane 2.
Read more: How To Use A Gimbal Tripod Head
Zhiyun Crane V2
We believe the Zhiyun Crane V2 is an excellent gimbal for the Canon m50, even though some people dismiss it because of its outdated technology.
Because of older technology, it is less expensive than the Crane 2, but it still has all of the features you'll need from a gimbal, making it a good option for those on a tight budget.
It has a payload capacity of about four pounds and a battery life of about twelve hours. This is the best option if you plan to use the gimbal to hold your Canon m50 and one of your favorite lenses.
Independent videographers continue to publish reviews for the V2 gimbal even though more advanced models are available. If you'd like to check out any of them, you can do so by clicking here.
Additionally, you can see in the video below that the image stabilization is ideal for the Canon m50 because it was installed on it.
Zhiyun Crane-M
The Zhiyun Crane-M will round off our list of the best gimbals. We think the Zhiyun Crane-M is a superior option for your Canon m50, but some people keep recommending it, so we decided to include it in our comparison of gimbals.
Although it is an excellent tiny gimbal system, the Zhiyun Crane-M is not suitable for the Canon m50, in our opinion. In some cases, it can cost the same or even more than the Zhiyun Crane V2 detailed above, yet it only has a payload capacity of 1.43 pounds! Your Canon m50 weighs roughly 0.85 pounds, leaving just 0.58 pounds for your lens and other gimbal-mounted accessories.
It's possible that the Zhiyun Crane-M gimbal could work for you if you plan to use the 15-45mm kit lens that comes with some Canon m50 bundles, but we think it is a better overall decision for you.
This gimbal is bigger and heavier than the one that came with our Canon m50. We'd rather have the extra space and weight for our collection of accessories, such as larger and heavier lenses.
As we indicated at the beginning of this post, only you know your specific circumstances and what accessories you intend to use with your Canon M50. Please let us know if this post has helped you decide which of these three gimbals is best for your Canon m50.
Zhiyun Crane Plus
The Zhiyun Crane Plus gets the top rank as our recommended gimbal for Canon m50 cameras since we think it is one of the best gimbals on the market right now, as you are probably one of our frequent readers.
With the Crane Plus, Zhiyun has incorporated what they've learned from their past products and applied it to the needs of mirrorless camera owners everywhere. It boasts a tremendous maximum load capacity, a long battery life, and a professional build quality for a relatively modest price tag.
Functionality and Performance
Zhiyun's goal with the Crane Plus was to outperform the already superior Crane v2, which had been the market leader in the mirrorless camera market for a few years.
Over half a pound and a half has been added to the Crane Plus's weight capacity, the battery life has gone from 8-12 hours to 12-18 hours, and the time it takes to charge it from empty to full has been slashed to just 3 hours! With all of these new features, the price of the Crane Plus is around 10% lower than the previous version.
You can see the video above if you've ever wanted to see how nicely the Canon m50 and the Zhiyun Crane Plus 3-axis gimbal work together. The m50's exceptional image clarity and the Crane Plus' super-smooth image stabilization are visible in various shots.
There are 4.5 pounds of payload weight available for any additional camera attachments that you may wish to add to the Crane Plus to enhance the quality of your images further, as we indicated previously. In our opinion, there is more than enough room for most camera rigs to be mounted on a 3 axis gimbal stabilizer.
As of this writing, we cannot think of any appropriate lenses for the m50, external microphone, lighting equipment or a field monitor that would even come close to taking up 4.5 pounds of payload weight.
Zhiyun realized that the Crane Plus needed to improve on the v2's shortcomings and outperform the competition's offerings, even though the v2 was revolutionary at the time. Rewriting the algorithm from scratch was the only way to guarantee the most excellent potential performance.
In addition, they have redesigned the gimbal motor system to handle heavier payloads while consuming less power.
The other gimbals in Zhiyun's line have also had several well-known modes wholly reworked to suit the Crane plus better. All these modes can be used in conjunction with or independently of each other. Using this method, the gimbal will be able to meet all of your Canon m50's needs.
Control and Interface System
Additionally, Zhiyun's gimbal control mechanism has been improved from prior generations of the Zhiyun series. Despite using the same system, it's faster and more intuitive to use now than it was in the past. Considering how simple airline control systems have been in the past is quite an accomplishment.
It makes it easy to acquire the finest possible picture stabilization with your first gimbal stabilizer, even for those with little or no experience with gimbals. At the same time, the gimbal's similar control scheme makes the switch to the Crane Plus a breeze for more experienced users
Apps for smartphones
You can use the Zhiyun smartphone application shown in the image above to increase the performance of the Zhiyun Crane Plus for your Canon m50 gimbal, but we don't want to treat it as an essential part of the gimbal.
We think this is fair because the software is made to operate with all Zhiyun gimbals, not just the Crane Plus, and it also allows us to maintain our claim that the Crane Plus is the ultimate mirrorless camera gimbal. It is available for iOS and Android devices.
If Zhiyun keeps this software up to date, other brands' competing gimbals against the Zhiyun Crane Plus could gain a competitive advantage.
Build Quality And Design
Earlier in this post, we mentioned that Crane Plus's design and performance are faultless in our perspective. Zhiyun did not drop the ball and released an exceptional piece of equipment, in contrast to two significant gimbal releases from a competitive brand with many design flaws.
Zhiyun sought to make the Crane Plus as durable as possible because the previous Crane gimbals were particularly popular among travel vloggers and videographers who needed to travel frequently. While it can handle more than its fair share of abuse, the M50's gimbal comes out on top, allowing you to use its excellent image stabilization.
You may rest easy knowing that your gimbal can withstand the bumpy journeys it will face if you plan on taking it on many trips with it in your luggage, thanks to this feature.
Our Verdict
In our opinion, the Zhiyun Crane Plus is one of the best camera stabilizers on the market. To get a sense of how well-regarded the gimbal is amongst independent videographers.
For the Canon m50, we believe that this is the ideal camera accessory since it will be able to provide you with all of the image stabilization and payload capacity that you could ever desire.
To keep your customers satisfied or to produce the greatest content for your YouTube channel, we have no doubt that the gimbal will help you increase your image quality. If you have the m50 camera, it's a natural choice to add this lens cap to your accessory collection.
Feiyutech AK2000
If you're looking for the best possible gimbal for your Canon m50, we'd recommend either the Feiyutech AK2000 or one of the other two gimbals we've reviewed. The AK series from Feiyutech, which has some good gimbals on the market, has far too many problems for us to suggest it as either a primary or secondary option.
With all due respect, if this gimbal hadn't managed to establish itself as the go-to choice of some Canon M50 owners, we wouldn't have covered the product at all.
If you're interested in learning more about the gimbal's flaws, check out our Feiyutech AK2000 review, which goes into great length about those flaws. Gimbals with AK2000/AK4000 have unpredictable vibrations that affect 20-30 percent of the units.
Additionally, in timelapse mode, it has a tendency to pan slowly to the left, ruining your footage, and finally, the handle grip slips up the handle and eventually touches the control pad of the gimbal, triggering the tilt function at random.
To put it another way, we think the Zhiyun Crane Plus and DJI Ronin SC are far superior choices at this pricing point. If you'd like to learn more about the AK2000, you can read our full evaluation of the gimbal mentioned above, which we'll be skimming through.
Functionality and Performance
Overall, if you're one of the lucky ones and your AK2000 is free of vibration issues, it has the potential to be a great piece of gear. With a battery life of 8 to 12 hours, it can carry a maximum weight of 6.17 pounds.
Gimbals that are capable of supporting the weight of a Canon m50 and all of its attachments have enough battery life to keep them running for a whole shoot.
Control and Interface System
Feiyutech deserves credit for making the AK2000's touchscreen interface so easy to use, and we think you'll be able to find your way around the menu in no time because it's laid out in such a straightforward manner.
In addition to the focus assist and a few other functions, the gimbal uses a magic wheel, which can be seen to the left of the above image.
Feiyutech performed an excellent job designing the AK2000's control system, which we really appreciate. It a bad that the gimbal was let down so much by the other flaws we discussed previously, as it would undoubtedly be a candidate for the top slot without them.
 Feiyutech Smartphone App
Like Zhiyun, the Feiyutech smartphone app has a number of faults. To be honest, it needs a complete makeover to come to anything close to the DJI app in quality and functionality. The Feiyutech is hit-or-miss when connecting to your gimbal at the time of this writing, but it does offer some respectable wireless remote control functionality when it does.
Build Quality And Design
Despite the AK2000's excellent design and excellent build quality, the rubber grip's tendency to slide up the handle when in use severely limits its usefulness. When filming a paid gig, the last thing you want is for your gimbal to tilt at random as a result of the rubber grip rubbing on the tilt button.
Our Verdict
The Feiyutech AK2000 isn't the best gimbal on the market, but it has a sizable user base, so we decided to include it in our list of recommended gimbals. The AK2001, if Feiyutech fixes the problems with the AK2000 release and releases it soon, has the potential to overtake Zhiyun as the market leader in mirrorless camera gimbals, in our opinion.
Best Gimbal For Canon 5D Mark IV
DJI Ronin SC
DJI's Ronin SC is the latest addition to the gimbal stabilizer market for mirrorless cameras, having only been on the market for a few weeks at the time of this writing. DJI wanted to have a strong competitor on the market for mirrorless cameras, so they created the Ronin SC, which is a smaller version of the Ronin S, which has been available for quite some time and is widely regarded as one of the best gimbals on the market for DSLRs.
The Ronin SC is a well-made drone, and it might be a good match for your Canon m50, but it costs more and has less payload and battery life than the Zhiyun Crane Plus, which we've already discussed. We can't see the point in spending more money for less.
Considering this isn't the primary gimbal we recommend for your Canon m50, we'll only go over it briefly to spare our readers some time while still highlighting the most important aspects of the Ronin SC.
Functionality and Performance
For $100 less, the Crane Plus can carry an additional pound of payload over the Ronin SC, which is more than the previous generation of gimbals could handle. When using a light camera like the Canon m50, you'll gain close to 18 hours of battery life every time you use the Crane Plus, which has a maximum battery life of between 12 and 18 hours, respectively.
Although the Ronin SC has a recharge period of about 2 and a half hours and appears to outperform the Crane Plus on paper, this is not the case.
Ronin SC only recharges to two-thirds of the maximum battery life of the Crane Plus, whereas the Crane Plus takes only half an hour longer to recharge from empty to full.
All things considered, the DJI Ronin SC, as shown in the video above, might make a perfect partner for your Canon m50 if you wish to continue with the DJI brand. Using an m50 and a Ronin SC, the video demonstrates the capabilities of the latest DJI handheld gimbal, and it does an excellent job of showing off what the paid can do.
Control and Interface System
The interface for the Ronin SC is vastly different from any of the popular DJI gimbals, such as the Ronin S or the Phantom 3. In order to keep your hand free to hold your camera and gimbal, the SC's control mechanism allows you to fine-tune the SC's performance while letting you do it with just your thumb.
Smartphone App
In comparison to Zhiyun's app and Feiyutech's app, DJI's smartphone app takes the cake. You may prefer the Ronin SC over the other two gimbals we've looked at if you're a DJI purist or use a DJI Mavic Drone or other DJI gear that the smartphone app supports.
Build Quality And Design
Devices made by DJI are highly known for their sleek appearance and excellent design quality. They also have an excellent build quality. Fortunately, the Ronin SC follows suit and is equally durable, with a build quality that we'd compare to that of the Crane Plus.
Gimbals can be used for long amounts of time without the need for a break because they are lightweight and comfortable to handle.
Our Verdict
In our opinion, the Zhiyun Crane Plus is a better choice for your Canon m50 than the DJI Ronin SC, even though the Ronin SC is an excellent piece of equipment. Higher maximum load capacity and longer battery life make it a more cost-effective gimbal.
Moza Air 3
Last but not least, we'll look at the Moza Air 3 as our low-cost gimbal stabilizer for Canon 5d cameras. It's an excellent small gimbal that's well-liked by users and has a strong reputation in the community. Compared to the two gimbals described above, the cheap version has a smaller price tag, but it also performs less effectively.
We believe that anyone who has a Canon 5D will be a professional videographer. Thus we would recommend the DJI Ronin S above the Air 3 any day of the week to ensure that your clients are getting the best performance and image quality from you. But if you're just an amateur videographer or video blogger, the Air 3 might be a good fit for your camera. To spare you time, we won't go into detail on the Air 3, as it isn't a primary recommendation.
Functionality and Performance
With a maximum load capacity of 7.1 pounds, the Air 3 is capable of supporting an optimal performance load capacity of 5.68 pounds. Gimbal performance and image stabilization will suffer if you use a gimbal with more than 5.68 pounds of weight.
No matter how much of the gimbal's load capacity your camera gear takes up, the Air 3's battery life is consistently around twelve hours. Most of our readers will probably be fine with this amount of juice, but if you need a little more, you can always bring along a high-capacity power bank to recharge it.
Control and Interface System
Although Moza's Air 3 control interface does the job and is quite similar to the Ronin S, we wish they had stayed with the system on the Air 2. It's a matter of personal opinion, but despite that, we prefer Air 2's joystick mechanism to Air 3's.
Smartphone App
Moza's smartphone app is arguably the second-best available right now, with DJI's app slightly above it and Zhiyun's app just below it, according to us. It's easy to use, connects to your gimbal, and allows you to change gimbal settings on the go.
Build Quality And Design
The Air 3 has undergone a few design tweaks from the Air 2, with most of them aimed toward improving the gimbal's performance. The design ensures that even with certain larger lenses, you can still get a complete range of motion out of your 5d, even if you're using a lighter Canon 5d rig.
It's hard to blame the gimbal's build quality because, in all fairness to Moza, their gimbal is comparable in quality to the more expensive gimbals above, but at a significantly lesser price.
FAQs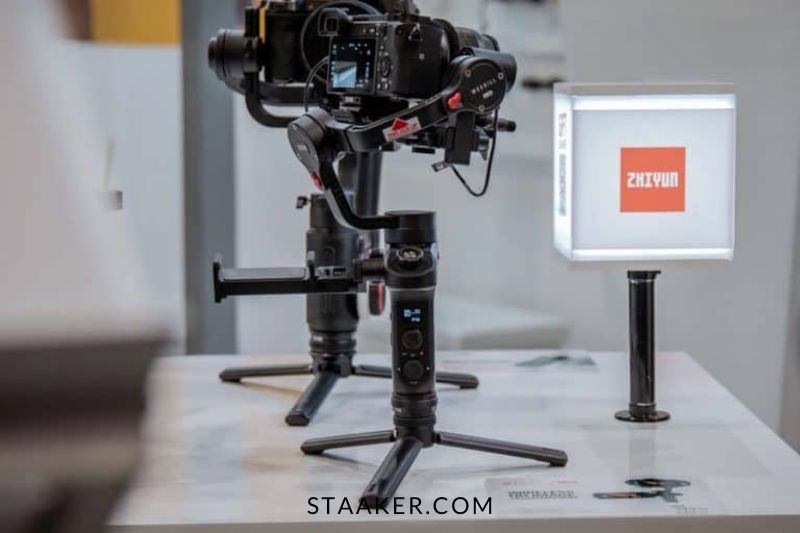 Canon M50 is compatible with Zhiyun Crane M2?
Yes, the Canon M50 and the Zhiyun Crane M2 are compatible.
Is image stabilization available on the Canon M50?
Unfortunately, the Canon M50 lacks image stabilization, so if you plan to capture video, you'll need a gimbal or a stabilized lens.
How much weight can the Zhiyun crane M2 hold?
Cameras as little as the Zhyiyun Crane M2 can hold up to 1.58 pounds of weight (716.6 g).
https://www.canva.com/design/DAFG0-C92mw/Gakr5zbQVLA6xdbMcgg3tA/edit?utm_content=DAFG0-C92mw&utm_campaign=designshare&utm_medium=link2&utm_source=sharebutton
Is the Canon EOS 5D Mark IV a good camera?
Landscape photography can benefit from the Canon 5D Mark IV. It has a wide dynamic range, excellent color fidelity, and minimal loss of detail even at high ISO settings, making it ideal for nighttime photography.
Conclusion
There is no one-size-fits-all answer to this question, as the best gimbal for a Canon M50 or Canon 5D Mark IV depends on your specific needs and shooting style. However, some of the best gimbals on the market that are compatible with these camera models include the DJI Ronin-S and Zhiyun Crane Plus.
These gimbals offer different features and benefits that can help you get the most out of your Canon camera, so be sure to research before making a purchase.