The DJI Osmo Mobile 3 vs DJI Osmo Mobile  2 vs Zhiyun Smooth 4 are three of the most popular gimbal stabilizers on the market. They offer great features and performance, but which one is the best for you? 
In this article, we'll compare these devices and help you decide which one is the best for your needs.
DJI Osmo Mobile 2 vs Zhiyun Smooth 4
Building Quality And Design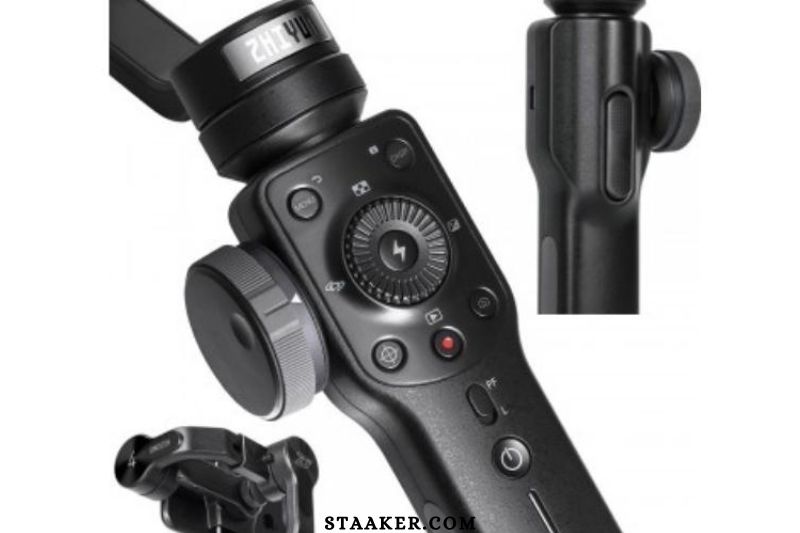 A smartphone gimbal's axis adjustment is one of the most critical and frequently ignored design features that we like to see in order to quickly and easily move between landscape and portrait mode as necessary. As we noted earlier, a gimbal is a popular accessory for people who use YouTube and social media to document their lives.
You may have heard that YouTube prefers landscape videos while Instagram prefers portrait, but this isn't necessarily the case. Quickly and easily rotating your gimbal head 90 degrees to switch between the two is an excellent feature offered by both Osmo Mobile 2 and Smooth 4.
Both gimbals are based on the same basic design. Thus there isn't much of a difference between them. As most portable gimbals are essentially variations of each other in design, we'll be tying both gimbals together in this category because it's widespread these days.
Both gimbals have advantages over each other that are so minor that it's easy to call a tie in this area, even though there are some minor distinctions between the two gimbals. In contrast to some of its competitors, the Osmo Mobile 2 and Smooth 4 are small and light, making them portable.
You won't have any difficulty holding the gimbals with your smartphone attached to them because they're so light. Some smartphone gimbals are still quite hefty, which means that after using them for a short period of time, your hand and arm may start to ache. Fortunately, neither of the gimbals we've chosen has this drawback, and they're also both quite light.
With essentially comparable materials, both the Osmo Mobile 2 and Smooth 4 are equally as durable. Achieving the perfect balance of lightweight and robustness has been more frequent in recent years, thanks to advances in plastic polymers and metal alloys, but DJI and Zhiyun have both managed it.
Finally, we'd like to discuss the gimbals' handles, which is another location where we decided to knot them because it's a matter of personal opinion. There are reports of people preferring one or the other gimbal over the other, but this comes down to personal preference, and in our opinion, both gimbals are comfortable to hold.
If you have never used a gimbal before, please check How to use a gimbal to know the methods
Functionality and Performance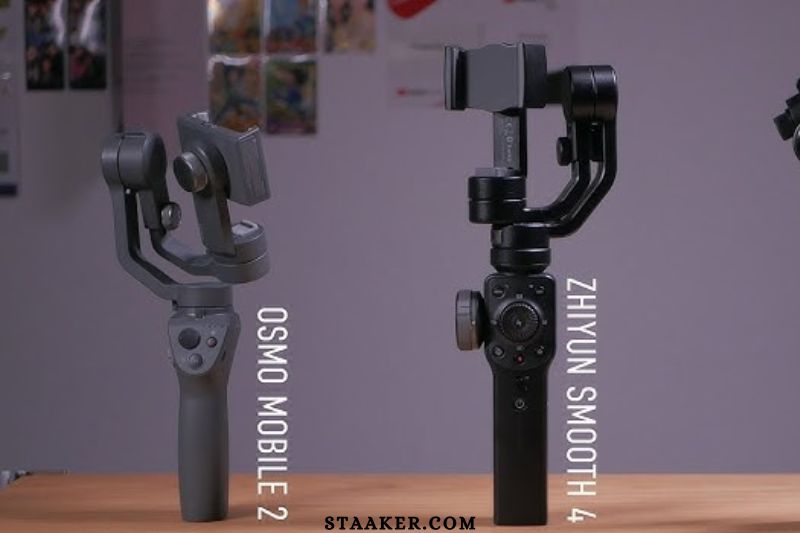 Both of these gimbals can support the majority of popular smartphones today, which typically weigh between 0.35 and 0.4 pounds. There is a 0.53-pound maximum load capacity for the Osmo Mobile 2 and a 0.46-pound maximum load capacity for the Smooth 4.
As previously indicated, the DJI gimbal has a significant edge over the Zhiyun gimbal in load capacity. A thick case and an excellent mountable smartphone lens may cause problems for the Smooth 4 even if both gimbals can support the current spectrum of smartphones from manufacturers like Apple, Samsung and Google.
In addition, the DJI gimbal's increased load capacity means you'll be prepared for future smartphone improvements. There is a potential that the weight of the next generation of smartphones will grow, even though devices tend to get lighter as technology gets smaller.
An additional benefit of the Osmo Mobile 2 is the knowledge that you may upgrade your smartphone without having to change your gimbal due to its increased load capacity.
Next, we have the maximum battery life of the gimbal, another area where DJI has a stranglehold. Compared to the Osmo Mobile 2, which has a battery life of about fifteen hours on a single charge, the Smooth 4 only has a battery life of about twelve hours.
Even though DJI has the advantage of theoretical battery life, most users will be satisfied with twelve hours of flight time in practice.
More and more people who use their smartphones for vlogging are adding a USB power bank to their collection of smartphone camera equipment. When you're on the road, this lets you recharge your smartphone to ensure you don't run out of battery. Your gimbal may also be charged using a high-output power bank, so you can keep both devices running simultaneously.
The Osmo Mobile 2 and Smooth 4 ultimately enable 2-way charging when it comes to charging your smartphone while you're on the road. You may use the gimbal's battery to charge your phone while recording with either of these gimbals.
This is a godsend because capturing 4k video may quickly drain your phone's battery. Even without a USB power bank, it can keep you going for hours longer.
With both gimbals taking three hours to recharge via a wall-based power source from empty to full, it appears that they are tied on paper. Even though it's a minor quibble, the Osmo Mobile 2's three-hour battery life advantage over the Zhiyun gimbal means you're getting a better deal on the DJI gimbal.
In the past, we've always enjoyed sharing your film shot with the gimbals we've reviewed, and today is no exception. Everything you see and hear was captured with the DJI Osmo Mobile 2 in the above video.
Before DJI corrected the Osmo Mobile 2 software, the DJI fell behind the Zhiyun gimbal in this area. In the example video, you can see how well the camera's image stabilization works thanks to the current firmware release at the time of writing.
Videographers that prefer slow-motion cinematic films, such as trip vloggers, can use the DJI gimbal to enhance their footage by watching the samples above. The vlogging and social media influencer industries are both getting increasingly competitive, so boosting your image quality will help ensure that your work is seen by as many people as possible.
As a result, you'll be able to enjoy smooth, fluid picture stabilization that's lag-free as well. Similar to the Smooth 4 gimbal sensors, the Osmo Mobile 2's gimbal sensors can detect any movement in a matter of milliseconds.
After that, the balancing algorithm takes over and instructs the gimbal motors on how to effectively correct for the detected motion, resulting in smooth video footage on your smartphone.
The Zhiyun Smooth 4's picture stabilization is on par with that of the Osmo Mobile 2, as evidenced by the video footage above. Zhiyun has long dominated the gimbal market due to the fact that image quality is more important to users than things like battery life or the gimbal's load capacity.
They were quick to release an update for their Osmo Mobile 2 to match the quality of their Smooth 4 gimbal as DJI kept pushing the boundaries to become the leading gimbal manufacturer. With both gimbals costing the same as of this writing, the increased load capacity and longer battery life of the DJI gimbal put it ahead of the Zhiyun in our estimations of gimbal performance.
As with DJI, the Zhiyun technology is designed to provide the smoothest possible image stabilization as rapidly as feasible. At the time of writing, the DJI and Zhiyun balancing algorithms, as well as the newest Moza gimbals, are far ahead of the competition in terms of performance, and we doubt that this will change in the near future either.
Control and User Interface Systems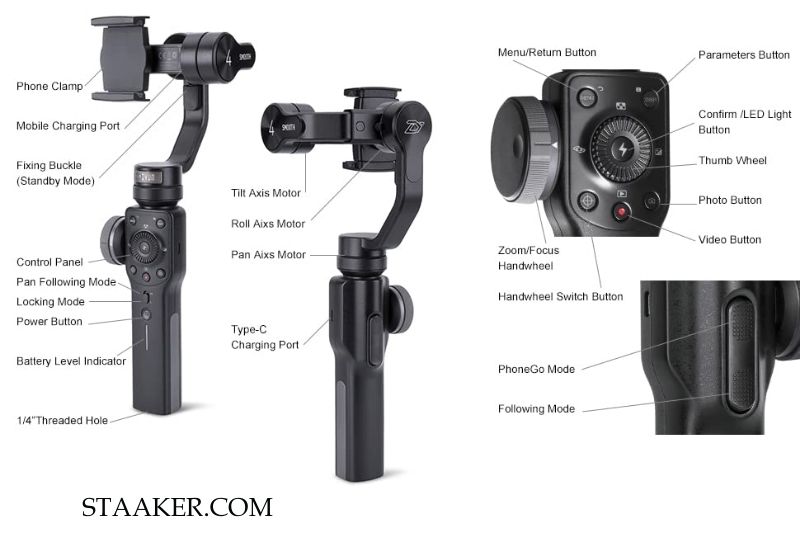 While both gimbals have their pros and disadvantages, they both have a unique way of controlling their gimbals. The gimbal you choose for your smartphone may be influenced by your intended use for it, as well as your level of familiarity with gimbals in general.
The short version is that the DJI Osmo Mobile 2 is an easier system to use if you've never used a gimbal stabilizer before and are an entry-level videographer. The Zhiyun Smooth 4 features a superior control system if you are a more expert videographer and want to be able to customize your gimbal and modify settings as you see appropriate.
The Osmo Mobile 2's control interface is shown in the image above, and as you can see, DJI has made things as simple as possible. When it comes to new gimbal users, the Osmo Mobile 2 is a huge advantage because you can practically take it out of the box and know what you're doing just by looking at the device.
Once you've mastered the basics, you'll be able to capture whatever video footage you need in no time. In contrast, adjusting the gimbal settings or advanced controls straight from the gimbal can be difficult.
The Zhiyun Smooth 4's control interface is seen in the image above, and as you can see, it includes a lot more. If you've never used a gimbal before, you may find this system to be a little frightening, but it's actually quite basic and easy to understand.
Although the Zhiyun system may provide all an entry-level gimbal user requires, they may find that they do not require the bulk of its features. It really shines for more experienced gimbal users. With the technology, you can easily control your gimbal throughout your sessions and make any necessary tweaks.
Zhiyun has done an excellent job of ensuring that the system is just as responsive in damp or cold weather as it is in perfect ones by carefully assembling the various components. Regardless of the format, you'll have complete control over your smartphone gimbal.
In addition to the usual functionality, the magic wheel gives an additional advantage over DJI's system; however, depending on what you are using your gimbal for, this may never be used.
In-Device Software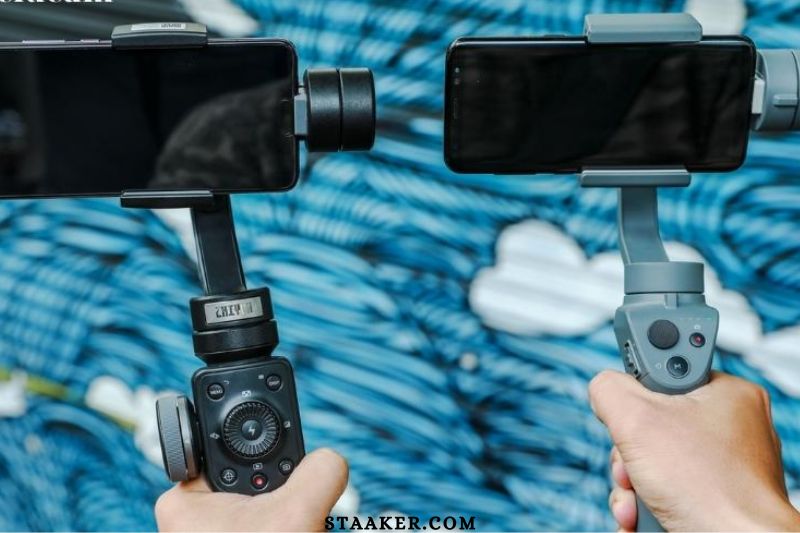 DJI and Zhiyun are currently neck and neck when it comes to smartphone apps. Although the Zhiyun app was a complete waste of time a year ago, it has been completely redesigned to fix the various faults it had, improve its menu, and add new functions.
In addition, smartphone apps that utilize gimbal stabilizers often overlook one of their most useful features: wireless remote control.
Gimbal heads for DSLR and mirrorless cameras can be remotely controlled to suit your specific needs. Since your phone is mounted to the actual gimbal, you can utilize the remote control if you are close enough in order to manually control the gimbal.
The gimbal settings can be accessed quickly and easily in both apps, allowing you to fine-tune their performance if necessary. Because the DJI gimbal's user interface is so limited, we'd give DJI's app a higher overall score.
Additionally, both of the gimbals ship with an excellent default configuration that has been optimized for use with smartphones in mind, so most individuals will never have to change their settings when using these devices.
Balancing
Many newcomers to handheld gimbal stabilizers worry about balancing their gimbals, although there's really no need for this anxiety. Modern gimbals are fantastic pieces of equipment that have simple and straightforward balancing systems. With both the Osmo Mobile 2 and Smooth 4, you only need to balance roughly 0.4 pounds of weight, making the entire procedure even easier.
Both the DJI and Zhiyun systems are quite simple to use, and the instructions in the included user manuals fully explain each step. Even if we doubt it, there are a slew of video instructions on YouTube showing you how to balance both gimbals.
Our Verdict: Zhiyun Q2 vs Smooth 4
We've come to the end of our comparison, and as you can probably see, we think the DJI Osmo Mobile 2 is the clear winner because it has a lot of the same features as the Smooth 4, but it also has a much larger battery and a longer battery life.
We still think either of these smartphone gimbals is an excellent addition to your smartphone camera accessory collection, despite that. You can definitely improve the quality of your images with both, but DJI's gimbal comes out on top in this comparison.
Video
DJI Osmo Mobile 3 Vs Zhiyun Smooth 4
Design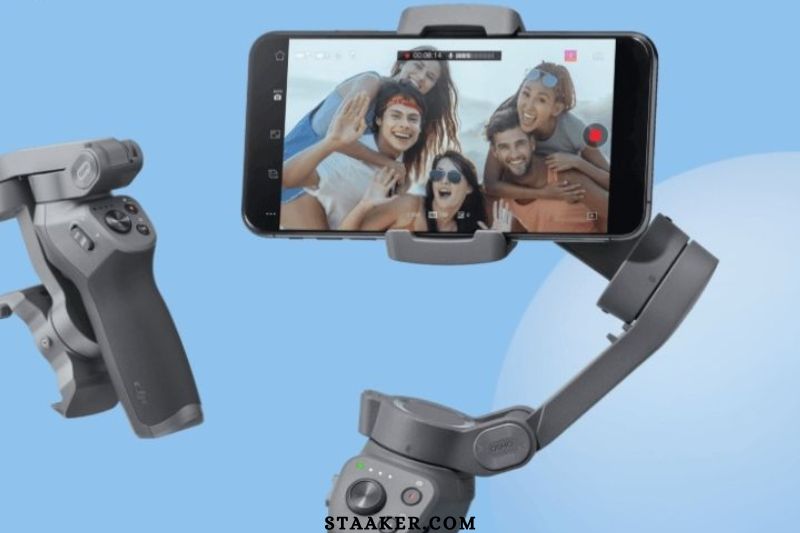 The DJI Osmo Mobil 3 is the world's first foldable smartphone gimbal. Adjusting the roll axis of the Osmo Mobile 3 makes it easier and faster to balance. You can fine-tune the phone's balance using the new, redesigned phone holder.
The bottom of smartphones will not be blocked by the phone holder. In this way, you may charge your phone while shooting. The single-handed operation of the Osmo Mobile 3 allows you to capture and savor every moment.
On the left side of Zhiyun smooth 4 is a big rotating wheel. Zoom and focus may be adjusted with the use of this wheel. This gimbal's design is unique among the several available on the market. It's a breeze to film motion timelapse videos with Zhiyun Smooth 4's retractable base and bottom universal 1/4″-20 mounting.
Mode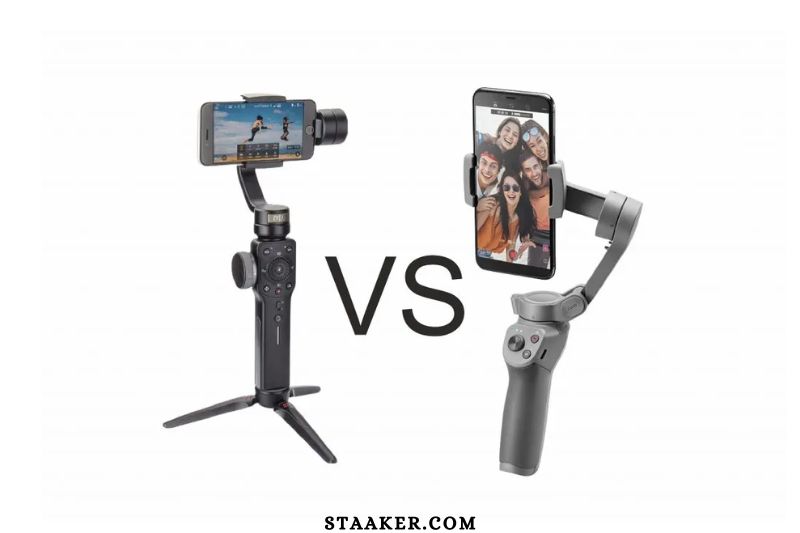 New modes, including gesture control and story mode, have been added to the DJI Osmo Mobile 3 in addition to the usual slow motion and panorama options.
OM3 has gesture control, so you can start tracking your images or recording videos with just a few basic motions.
DJI Mimo App is used to create unique templates for recording video movie theaters that can be easily edited and shared.
Zhiyun Smooth 4 features a variety of modes as well:
PhoneGo mode: By pressing the rocker switch on ZHIUYUN's front, the device's motors can be synchronized at maximum speed to match motions as small as a thumb.
Panning mode: This can be activated by pressing the Panning mode button. Following the user's movements in all directions, the smartphone tracks the user. The gimbal can be reset by pressing the pan key twice in quick succession.
Standby mode: To put the smartphone into standby mode, simply tilt it upright. After that, the gimbal is put into standby mode, allowing the user to make or accept phone calls.
Specifications
Compatible Phones
Weight: 200 +/-30 g; Thickness ≤ 9.5 mm; Width: 62-88 mm
Battery
18650 Li-ion,2450 mAh,17.64 Wh
Mechanical Range
Pan: -162.5° to 170.3° Roll: -85.1° to 252.2° Tilt: -104.5° to 235.7°
Pan: 3003° Roll: 240° Tilt: 240°
Compatible Phones
Weight: 200 +/-30 g; Thickness ≤ 9.5 mm; Width: 62-88 mm
Battery
18650 Li-ion,2450 mAh,17.64 Wh
Mechanical Range
Pan: -162.5° to 170.3° Roll: -85.1° to 252.2° Tilt: -104.5° to 235.7°
Mechanical Range
Pan: 3003° Roll: 240° Tilt: 240°
Price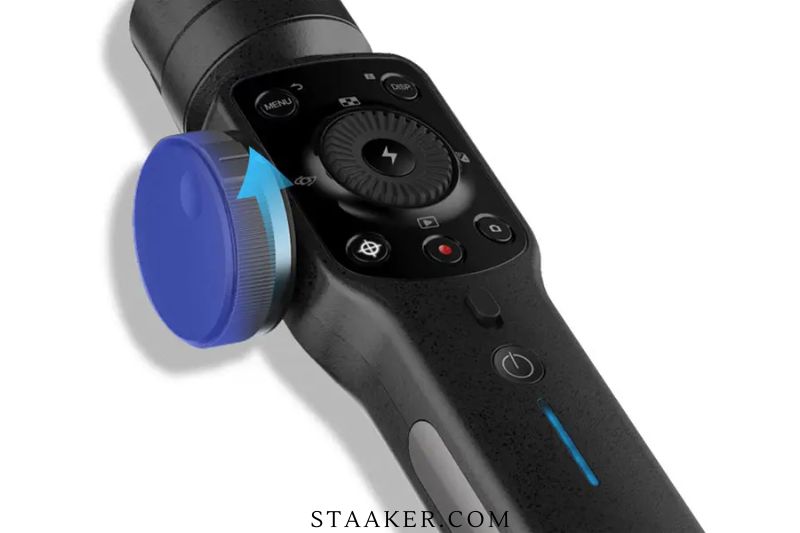 We recommend using DJI Osmo Mobile 3 for the greatest video-stability joint. It's made of high-quality materials, and DJI's drones have industry-leading reliable technology. And the new feature will give you a completely new experience as well.
Video
FAQs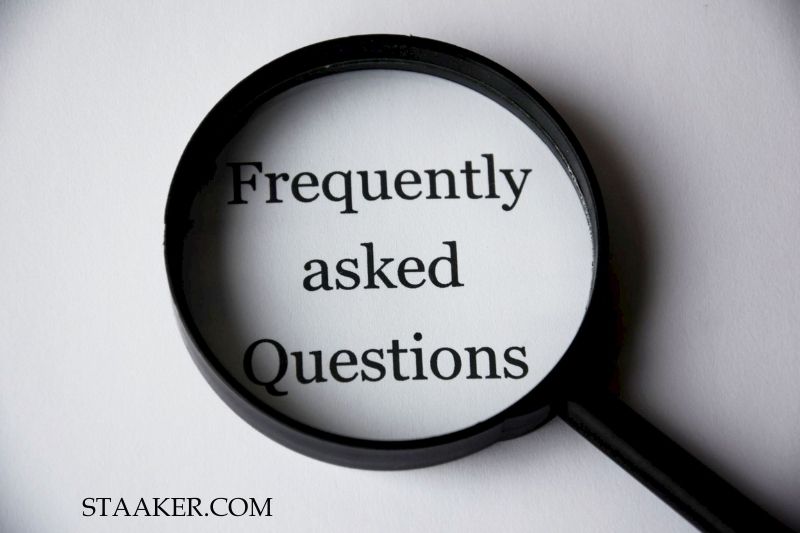 What is the finest DJI Osmo Mobile?
Both the DJI OM 4 and DJI Osmo Mobile 3 are excellent video stabilizers that are ideal for vloggers, vacationers, and anyone who wants to capture the best moments of everyday life. The DJI OM 4 gimbal is the finest option for 2020 if you are seeking the most advanced gimbal technology.
Is the Osmo Mobile 3 equipped with a tripod?
The DJI Osmo Mobile 3 / OM 4 and other compatible products may be placed on tables or other flat surfaces with stability without toppling over, thanks to the Osmo Grip tripod.
Does Osmo Mobile 2 have a built-in app that you can use?
For most functions, you don't need the app—the joystick and Record button—on the grip may be used without it, but the left-side digital zoom rocker requires DJI's app. Using the Osmo, you can shoot video in either landscape or portrait mode, depending on your preference.
Conclusion
The dji osmo mobile 2 and zhiyun smooth 4 are both great options for those looking for a mobile gimbal. However, the dji osmo mobile 3 is the better option if you're looking for the best possible performance. It offers a more powerful motor and longer battery life, making it the better choice for those who need the most from their mobile gimbal. Hope this article was helpful!