There are a lot of different drones on the market, but the Yuneec drone is one of the best. It's easy to set up and use and takes great photos and videos. 
The Yuneec drone is also very durable, so you don't have to worry about breaking it if you accidentally crash it.
If you are looking for a great drone that is easy to use and takes excellent photos and videos, the best Yuneec drone list below is for you.
Top Rated Best Yuneec Drones
Yuneec Mantis G: A compact, collapsible quadcopter
The Mantis G is one of the Yuneec drones we suggest most highly. It is not a large, powerful hexacopter with a monster camera like the majority, but it is a reliable, portable airframe that is ready to go. The 4K camera is mounted on a 3-axis gimbal, which is essentially the sole distinction between the Mantis G and Q models. The Mantis G is a promising alternative for individuals in need of a Mavic rival.
Pros
The voice control capability is compatible with multiple languages.
The user may fly the drone both indoors and outdoors with precision and stability.
It is energy-efficient and quiet.
Cons
There is no obstacle detection sensor on the drone.
Yuneec Mantis Q: Voice-activated amusement
Yuneec's Mantis Q was an early attempt to compete with the Mavic series of drones. They constructed a sturdy airframe, but the lack of a fully-stabilized camera drew criticism. We loved flying the Mantis Q and putting the voice commands to the test, but if you're looking for a drone for aerial photography, we would not recommend the Mantis Q. Again, it is a dependable airplane; if you disregard the camera, you will be OK.
Pros
The drone can independently maintain its height and position.
It is safe to use the drone both indoors and outdoors.
Cons
The battery life of the drone is not as good.
Its video quality trails its competition.
There is no gimbal stabilization.
There are no obstacle detection sensors included.
HD Racer
The new HD Racer announced at CES 2018 is a fun small quad for novice race pilots. This speedy machine will help you get the idea of racing, but it cannot compete with the high-powered vehicles on an actual race circuit.
The best feature of the HD Racer is the crash recovery function; if you crash, as you likely will, simply press the recover button, and the drone will right itself. Yuneec new drone is quite cool and intelligent.
Later in 2018, the HD Racer will be available. It is now 2019, and the HD Racer is not yet for sale… The last time we spoke with Yuneec about this, they assured us that the drone could still arrive in European markets, but the U.S. should not anticipate it any time soon. We will update this if it changes.
Yuneec Breeze
Certainly not their first drone, the Breeze is a little aircraft designed for hobbyist pilots to simply enjoy. The FPV headset and controls make this one of the best drone kits for less than $500. Recently, Yuneec added live streaming to the Breeze, allowing you to broadcast your aerial footage directly to your social network followers.
With a 4K camera and a takeoff weight of less than one pound, you may fly for approximately 12 minutes via a mobile device or remote control.
Yuneec Typhoon 4K
Ascending from the Breeze… No, that would imply that the Yuneec Typhoon 4K differs little from the Breeze. The camera alone on the Typhoon drones weighs nearly as much as the entire Breeze aircraft. The Breeze fits in the palm of your hand, whereas this Typhoon Yuneec drone is about two feet from corner to corner. A larger vessel designed for stability and smooth video.
The Typhoon 4K, as its name suggests, suspends a 4K camera from a multi-axis gimbal. The flight length exceeds 25 minutes, and the remote's display measures 5.5 inches.
Yuneec Typhoon Q500
This Yuneec Typhoon drone 1D won the 2015 popular photography award for excellence.
Even though it is an older drone, it can still supply all you require at a fraction of the cost of a brand-new one.
Q500 drone is ready to fly right out of the box and is equipped with a 4K 120 fps camera.
It contains a three-axis gimbal that enables ultra-smooth photos, and a digital video downlink ensures that you can view and track live images from the camera using the remote control.
It features an incredible variety of modes, such as:
observation
comply with me
to return home
to the 25-minute flying duration
The software gives you entire control over the video resolution and white balance, making this one of the best drones for vintage photography.
If you don't mind a drone that is a bit older than others on the market, you should seriously consider acquiring this drone for photography for a ridiculously low cost!
Hexacopters
Yuneec Typhoon H3: Pro camera drone
The Typhoon H3 is the type of drone we wish to operate more frequently. The hexacopter design is sturdy and dependable, the large Zeiss camera captures excellent images, and the large Android-powered controller is feature-rich and enjoyable to use. If you require a large, powerful camera drone, this is an excellent alternative.
Pros
The camera's user-defined image modes, focus settings, lossless digital zoom, and enhanced image quality make this drone ideal for aerial photography.
The camera on the drone produces the highest quality photographs due to careful analysis and effective stray light suppression.
Users who purchase this drone can rest certain that their data is secure because there is no cloud solution involved. All data created by the drone is your private property and can be saved, erased, and controlled without restriction by the drone's owner.
Although the technology has been adjusted to spend less energy, the drone's performance levels have not been compromised in any way.
The drone is user-friendly. It includes multiple safety features, including a Return Home function, redundant control, multiple failsafe functions, and a virtual changeable fence that prevents the drone from flying beyond a certain radius.
The battery system of the drone is equipped with a safety device that informs the operator anytime the battery is improperly engaged.
The Yuneec drones include a quick-release system that allows users to quickly and simply attach propellers, after which they are ready for usage.
The standard kit of the drone includes two rechargeable and replaceable HV batteries, allowing for a longer flight time.
The drone's rotor arms can be folded away for transportability.
The drone's straightforward and user-friendly remote control allows customers complete control over the drone and camera.
Cons
Its recharge period is substantially longer than that of other drones.
Although the drone is strong, it is somewhat fragile, and users must be cautious when removing it from the packaging.
Yuneec Typhoon H Plus: A high-end camera drone for consumers
The Typhoon H Plus is the industry's premier consumer hexacopter. Despite its age, the airframe remains robust, dependable, and powerful. The 4K camera still captures images that are superior to the majority of high-end smartphones, but it cannot compete with today's camera drones of comparable price.
Pros
It is dependable and effective.
The streamlined cabling of the drone optimizes air circulation and cooling.
Despite having six rotors, this drone is one of the quietest, with a 40 percent reduction in noise compared to earlier models.
The six-rotor arms are collapsible, allowing the drone to be folded into a transportable size.
The drone's quick-locking mechanism makes mounting and dismounting simple.
Team Mode makes the drone incredibly effective at capturing unique photos and provides videographers with a useful tool for collaborating as a group.
Cons
The drone is not suitable for novices.
Yuneec Tornado H920 Plus
The Yuneec Tornado H920 Plus is an improvement over the previous non-plus model for pros. Designed for serious video work, the H920 is compatible with either the CGO4 or your own Panasonic GH4.
The CGO4 is a micro four-thirds camera that, by default, takes Olympus lenses. To record 16 MP stills and 4K videos, you can choose from a variety of lenses with varying focal lengths and zoom settings. If you mount your Panasonic GH4 with a lens of your choosing, the drone can operate it.
With a diagonal wing span of 920 millimeters, the Tornado H920 Plus is the largest drone in the fleet. As a point of reference, the DJI Mavic Pro measures 335 millimeters.
Pros
The drone is extremely stable and can endure the most chaotic conditions.
Using the remote control's intuitive user interface, users can simply configure autonomous flying and capture amazing photographs and videos.
Yuneec H520
The H520 created waves in the market for commercial drones. The bright orange hexacopter was picked up by the Nevada highway police in order to do accident reconstruction work using sophisticated mapping software to acquire thousands of photographs and videos of a highway segment. The drone proved reliable for other aerial inspection activities, including those in the energy sector and beyond.
Pros
It is the ideal answer for lengthy flights.
Users may switch memory cards between devices. Therefore, data storage is consistent, as opposed to employing different storage devices.
The drone's stability, particular flying and focal length lenses enable it to fly at a greater distance than the item.
The orange hue of the drone increases user visibility.
It is quiet and energy-efficient.
Users of the Yuneec H520 are able to save previous missions for repeated flights.
The drone is steady despite the presence of severe gusts.
It offers the quickest operational readiness, especially in challenging GPS environments like cities and forests.
With this drone, consumers can rest assured that their data is secure. There is no involuntary movement of their data to other servers; therefore, their data is protected to the highest degree.
The drone can maintain its position even in situations with strong winds.
Cons
Despite the drone's stability, novice operators may find it frightening to manage it in heavy gusts.
Fixed Wing
Yuneec Firebird FPV
Yuneec's final unveiling at CES 2018 was the new fixed-wing FPV Firebird. On the nose of the craft is a 4K camera, similar to many other drones on the market. Unlike other modern drones, this one has a single propeller and an airplane-like design.
Use a runway or simply take off by hand; landing, however, is a different matter; you'll need a runway. Yuneec wants this drone to be as easy to fly as possible; therefore, unlike many RC aircraft, this drone is equipped with numerous flight assist capabilities.
The Firebird FPV offers RTH capability in particular. Not bad for a craft with a fixed-wing.
As with the HD Racer, Yuneec has informally informed us that the Firebird FPV will not be available in North America. This may change as drone rules evolve, but as it stands, line-of-sight limitations negate the advantages of long-range drones.
Other items
Wizard
In addition to their powerful ground stations (remote controls), Yuneec also provides a simple utility. Wizard is a single-handed remote, similar to a television remote, that provides basic flying controls for the majority of Yuneec's drones.
The Wizard remote allows direct connectivity to your drone in addition to manual controls. This allows the drone to track you with unprecedented precision. While your drone catches your every move, tuck the remote into the waterproof pouch and wear it on an armband so you can enjoy action sports.
E-GO 2 Electric Cruiser
Although we do not have the opportunity to test out electric skateboards on this page, our partner sites do. The Yuneec E-GO 2 is included on our list of the best electric skateboards as a mid-tier market entry.
About Yuneec
This company was founded in Hong Kong in the year 1999. They started out as a manufacturer of remote-controlled aircraft for modelers but have since grown to include drones.
2014 marked the introduction of the company's first drone, the Typhoon Q 500 quadcopter. It had a three-axis gimbal and a 1080p camera capable of recording at 60 frames per second.
At the time, this drone was amazing, proving that this company was a pioneer in drone technology. This company focuses on hexacopters because they are more stable in severe winds and offer a greater lift for heavier cameras and equipment.
In 2016, the company introduced the first ready-to-fly semi-professional hexacopter, the Typhoon H. It was equipped with Intel's real sense technology, which enabled the drone to independently identify and avoid obstacles, which was revolutionary in 2016.
In 2016, they also developed the Breeze, a 4K selfie drone aiming to take market share from
DJI and its users of micro drones. Despite not being a foldable drone, the Breeze is still portable and compact.
This company is forward-thinking, and its drones have been co-engineered with Leica. There are intelligent flight modes like journey mode, orbit mode, follow me mode, curved cable cam, and incredible hardware.
Why Choose Yuneec's Drones?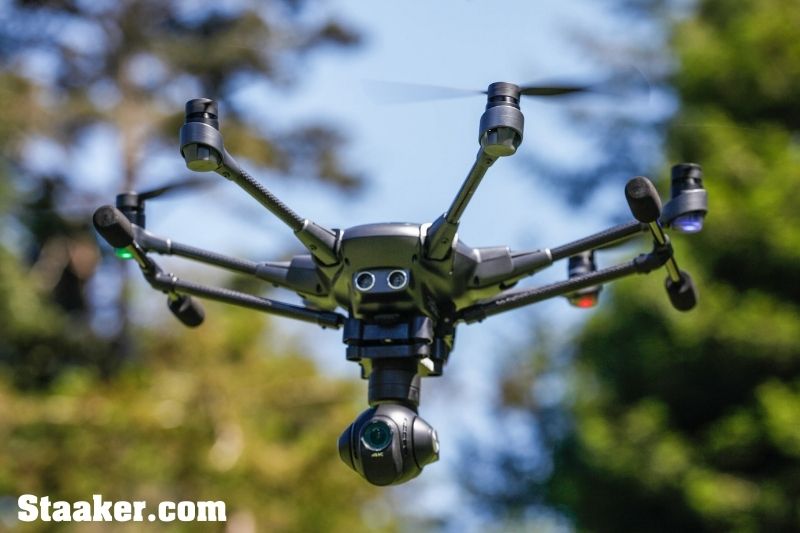 The company offers a variety of camera systems for customers seeking drones for commercial applications. Professional photography, film cameras, thermal imaging, and inspection equipment are all catered to.
The six-rotor drones, in particular, contain a 5-rotor mode, which allows them to land safely even if one rotor fails.
Drones do not require complicated assembly.
The drones are ready to fly and simple to operate, making them a feasible option for novice pilots.
Yuneec drones include a variety of flight modes for unique movements. Users can have their drones follow and video them, orbit a predetermined area of interest, and plan a flying itinerary. Etc.
The majority of their drones are built to withstand a variety of obstacles in the field.
Their drones have more potent motors, allowing them to go faster and operate better in windy circumstances.
Yuneec Drone Buying Guide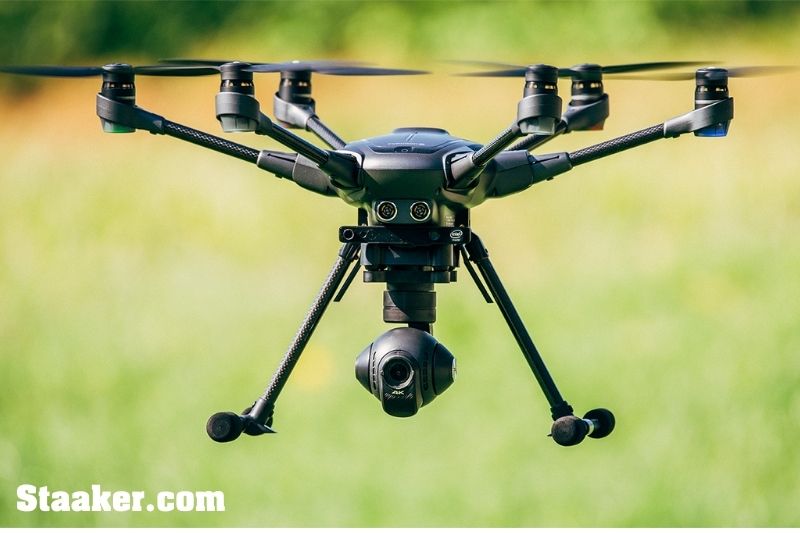 Yuneec is a manufacturer that has been around for a long time and can give you high-quality drones if you are considering purchasing a drone.
They appear to be shifting their focus from the consumer and hobby markets to enterprise models.
The good news is that you can still purchase some of their older drone models at a discount on Amazon and other online marketplaces.
The following is a concise outline of the factors to consider before purchasing a Yuneec drone.
Price Point
Yuneec has a wide range of prices for their drones, and you may buy some of their powerful order drones at significantly lower prices than other newer drones with comparable functionality.
More money spent on Yuneec drones results in better hardware. Typically, this is accompanied by an enhanced camera and stability features.
Professional photographers should stick to the top end of Yuneec's product range, while hobby drone pilots can choose from any of the company's currently available and legacy drones without trouble.
Interchangeable Cameras
The interchangeable cameras on the new Yuneec flagship drones are a feature I appreciate.
It would be beneficial if you examined whether or not this function is essential for your use case.
Assume you are an industrial drone user who needs to capture numerous sorts of photographs for industrial or surveying purposes. In this instance, you may appreciate the additional capability that these hot-swappable cameras offer.
Best Place You Can Fly A Drone.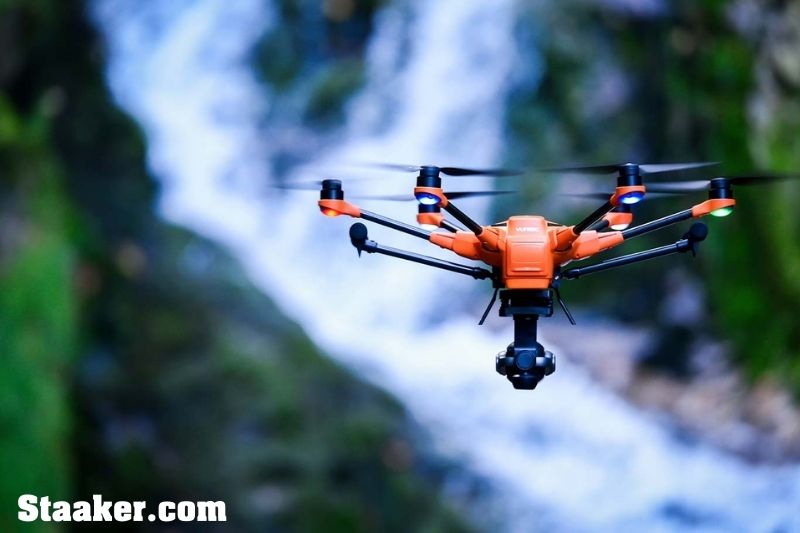 If you're looking for the best place to fly a drone, look no further than your local park. Parks are perfect for flying drones because they offer plenty of space and are usually fairly empty. Just be sure to stay away from people and animals, and you'll be good to go.
FAQs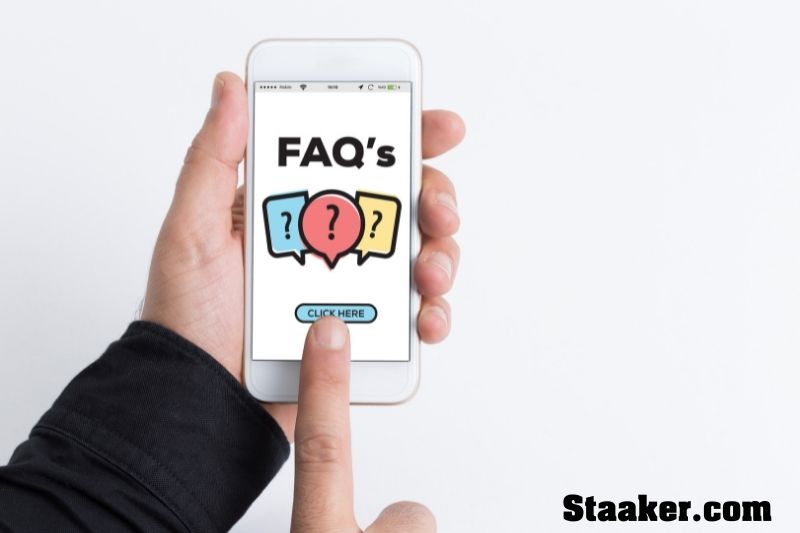 FAQs about Best Yuneec Drones
What do I need to know or consider prior to flying my first Yuneec drone?
Before using any Yuneec drone, or any drone for that matter, be sure to read the instructions and familiarize yourself with the applicable local regulations. Then, assemble your equipment and choose an unobstructed place. If necessary, you can access numerous videos on YouTube to prepare for flying the drone.
How can I link my Yuneec drone's remote control?
Typically, drones and remote controls are already linked. There is no need to make a link between them, but if one is required, you can find additional information in the drone's manual.
Conclusion
There is a lot to love about the best Yuneec drone. It is easy to set up, and you can be flying in no time. The drone is very stable in the air and takes excellent video and pictures. The battery life is also impressive, giving you plenty of time to enjoy your flight. The remote control is very user-friendly, and the flight modes easily change.
You can also share your photos and videos with others on the web or even on social media. The drone is available in different sizes and colors, so you can choose the one that best suits your needs.