Are you the kind of person that looks out into the ocean and wonders what kind of mysteries there are waiting to be uncovered? Do you enjoy diving but wish you could share the experience with others? If either of these questions resonates with you, it may be time to look into underwater drones.
Underwater drones are waterproof cameras that can operate under the water, capturing every magical moment that lies just beneath the surface. Underwater drones can be used for a variety of purposes, and each drone has its own special features that can enhance your diving adventures.
Things to Consider When Purchasing an Underwater Drone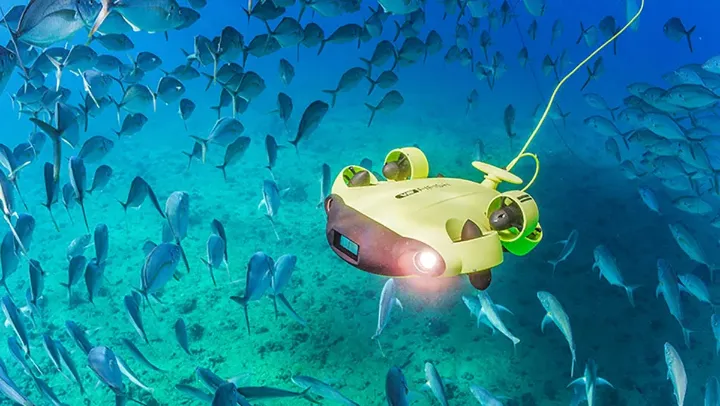 Not sure what underwater drone is right for you?
Below we will take a look at what makes a good underwater drone, and then we'll share our top 7 picks for underwater drones currently on the market.
Price
Price is a factor that should be weighed along with each feature of the underwater drone. While price shouldn't be the main deciding factor, it can help you choose between two products with similar specs and special features.
Camera Quality
The whole point of purchasing an underwater drone is to survey and capture what goes on beneath the surface, so you'll want a drone with a high-quality camera. Keep in mind that the lighting underwater can be incredibly limited, so you'll want a drone camera that lets in ample amounts of light.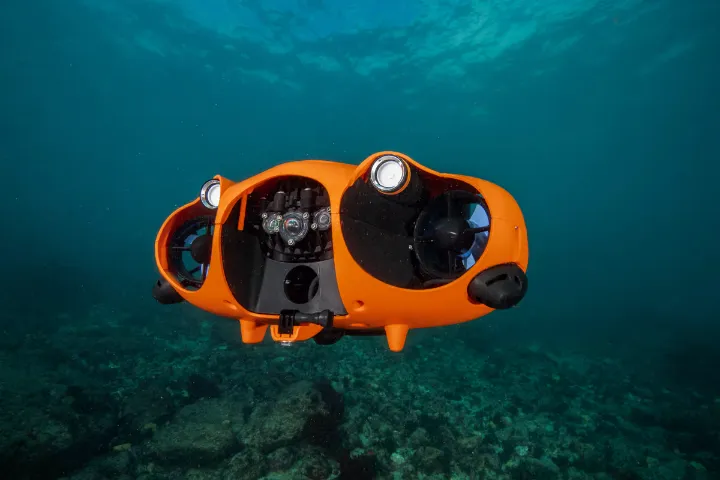 Battery Life
A typical dive can last about 45 to 60 minutes, depending on how deep you go. If your drone dies before the end of your dive, you'll either have to lug around a dead machine or end your dive early.
Maximum Depth
Some drones are built for deep-sea exploration, while others are best suited for shallow diving. Consider what kind of underwater activities you'll want to capture when weighing your underwater drone options.
Controller
Controllers can either be connected wirelessly or attached directly to the underwater drone. Wireless setups are typically simpler and are most often found on drones meant for beginners. Wired controls give you a stronger connection and are typically found on professional models that require more precise drone controls. There are also models with autonomous functions that allow them to follow the diver automatically.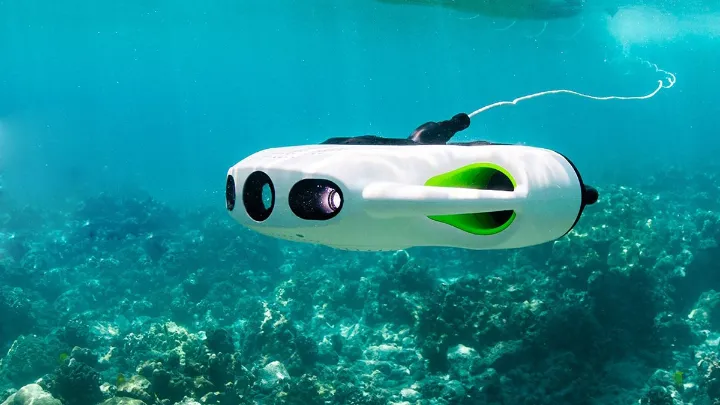 Special Features
Most underwater drone models offer special features that set them apart from the rest of the products on the market. Many underwater drone manufacturers have found ways to add new technologies to their products to enhance your diving experience.
Best 7 Underwater Drones for 2023
So take your pick because we are counting down seven of the best underwater drones for 2023
iBubble
​​​​The iBubble is a compact underwater drone that uses a patented underwater localization technology to follow a diver wherever they go, capturing film along the way. This is possible due to the controller wristwatch, which also allows you to control the iBubble camera and LED lights.
The Buble also has a remote control option with live video feedback for those who aren't comfortable getting into the water.
The iBubble can dive up to 200ft and moves at an average speed of about 2.2 MPH. It has two 1000-lumen light bulbs that will automatically adjust depending on the surrounding lighting conditions. The unit has a variety of safety features, including automatic obstacle avoidance and emergency auto resurfacing.
The battery lasts about 1 hour and takes a total of 2 hours to reach a full charge. During a dive, the iBubble will automatically return to the diver should the battery hit a critical low. Purchasing multiple batteries for the iBubble will allow you to keep filming throughout the day with minimal disruption.
The iBubble is currently available for preorder on the iBubble website for $3299. The estimated date for product delivery is sometime in October 2023.
PowerRay
The PowerRay by PowerVision is an underwater drone that was designed to help track fish but can also be used for a variety of other purposes.
You can control the PowerRay by downloading an app onto your smartphone, which gives you controls as well as a live feed. The controls on the PowerRay have three modes based on your level of drone expertise. There is also a VR option that allows users to mimic the feeling of diving via gesture-controlled movements.
PowerRay can dive at a maximum depth of 98 feet with a top speed of around 3.5 MPH. It has two 3-watt lights on the front of the unit, capable of 450 lumens and a 6500K color temperature to simulate natural daylight. The 4K camera can capture video in Ultra HD at 25 frames per second. It can also take photos at a full 12 megapixels using a wide-angle lens.
The battery life on the PowerRay varies depending on how you use the unit. The lithium battery can last a maximum of 4 hours in still water or a minimum of just 30 minutes when used at high speeds. The batteries for the PowerRay take about two and a half hours for a full charge.
Biki Drone
The Bike Drone is a wireless underwater drone that is designed to mimic the movement of fish. It has been called the "world's first bionic underwater drone" and is said to be the only underwater drone product with automated balance, return to base, and obstacle avoidance. You can control the Biki via a smartphone application with live feed or a water-resistant remote control.
It is one of the smallest underwater drones on the market and can withstand oceanic pressure up to an amazing 195 feet. It has a max speed of only 1.12 MPH due to the fishtail-driven motor, which is meant to mock the natural movement of fish.
Biki is able to capture life under the ocean with a 4K camera with a wide-angle lens and automatic stabilization. Battery life on the Biki drone lasts between 90 and 120 minutes, based on how you use the device. Charging takes a total of about two hours for a full charge.
Trident
The Trident underwater drone by OpenROV is a powerful drone that was created by three engineers who wanted to be able to explore underwater caves.
This drone was created to feature an optimized camera system that automatically corrects lighting and color while under the water. The Trident drone can be controlled using any modern smartphone, though there is the option of purchasing an all-in-one Andriod touchscreen controller for an additional $400.
The Trident drone has top speeds of up to 4.5 MPH, making it one of the speediest underwater drones offered on the market today. It also has an impressive maximum depth of over 325 feet, more than double the depth of many other models. It can last between three to four hours of continued look, and it takes about 3 hours to get a full charge from a completely depleted battery.
The camera can record a full 1080p resolution at 30 frames per second and has superior color rendition and dynamic range. There are three forward-facing LED lights on each side of the Trident, which offers a total of 360 lumens at a 4000k color temperature.
The OpenROV Trident drone is currently available for preorder, with order fulfillment expected in Fall [YEAR]. The basic Trident package comes with the Trident underwater drone and a standard 25-meter tether.
The Fathom One
The Fathom One is an underwater drone that is small enough to fit in a beach bag yet powerful enough to capture full HD video at 1080p resolution. The Fathom One can be controlled using a smartphone or tablet, utilizing the simplistic Fathom app. This app gives you simplistic menu options that allow you to dive, observe, check your log, or adjust drone settings.
The unit creates its own Wifi network via a Wifi link tether, which keeps the drone attached to your smartphone no matter how deep it goes.
The Fathom One drone can go to a maximum depth of 150 feet, though the standard Wifi tether only measures 100 feet. You can get a tether extension to add another 50 feet of depth for an additional $75. The drone can typically last for about one hour of dive time on a full charge, though it has been able to reach 2 hours of use on low power settings.
The Fathom One drone is currently only available for preorder, though the product is expected to be released during the summer of [YEAR]. You can currently reserve your Fathom One for $999 on the Fathom One website. The package includes the Fathom One underwater drone, 3 thrusters, a 100 ft tether, and the wireless link.
The Pioneer Drone
Sale
The Pioneer drone from Blueye Robotics is a professional-level drone developed in Norway that can capture fantastic images from a maximum of nearly 500 feet beneath the water.
It has an advanced navigation system that can be controlled by iOS or Android devices, utilizing powerful thrusters and intuitive hydrodynamics to get to its desired underwater location.
The Blueeye Pioneer drone has a wide-angle lens that captures videos at a full 1080p, with an impressive 30 frames per second. It also features VR capabilities for an enhanced viewing experience that lets you simulate underwater diving without ever having to get in the water. The battery typically lasts for about 2 hours under normal diving conditions.
You can purchase the Blueeye Robotics Pioneer Drone from the Blueeye site for $6000, though they are not expected to be shipped out until late [YEAR]. The package includes the Pioneer drone, a wireless surface unit, a 75-meter tether, a wireless controller, and the MovieMask VR headset.
The FIFISH P3
The FIFISH P3 is a product made by QYSEA, who aimed to make a high-definition underwater camera that can handle anything the ocean has to give it. Its sleek, hydrodynamic design allows it to go in six directions by using the three powerful thrusters. It can capture 4K Ultra-HD video and snap beautiful 20-megapixel photos. It also offers 1080P real-time streaming, which can be shared from a smartphone or tablet device.
With a maximum depth of 100 meters, or about 328 feet, the FIFISH P3 is like your own personal submarine. It has a dynamic lighting system with 8 levels of lighting that reach up to 4000 lumens, so you can see everything even in the darkest of waters. The drone lasts an average of 2 hours with continual use, though battery life may deplete faster when using the high-speed mode.
The FIFISH P3 was originally announced as an IndieGoGo product in [YEAR] and has since been fully funded and is in the development stage. It will retail at around $3000 once released, according to QYSEA.
Our Advice for Underwater Drone Purchases
Underwater drones are a fairly new technology, which is why many of the products we have listed aren't readily available for purchase.
If you're unsure about which underwater drone is best, we recommend that you wait a few more months for the products to be released to the public. That way, you can wait for the products to be tested by a wider audience which gives you peace of mind about the product you're going to buy.