Drone racing is one of the fastest-growing sports, and it's a fun hobby. While you love the DJI Mavic Air or mini drones for capturing superb quality aerial stills, it's a tad heavy for racing.
If you're looking for a drone to practice or follow your passion, this is exactly where you need to come. Here, Staaker will show you the list of Best Racing Drones 2022 and the important things before purchase. Are you ready to start? Come with us to find your companion.
Most Important Drone Racing Characteristics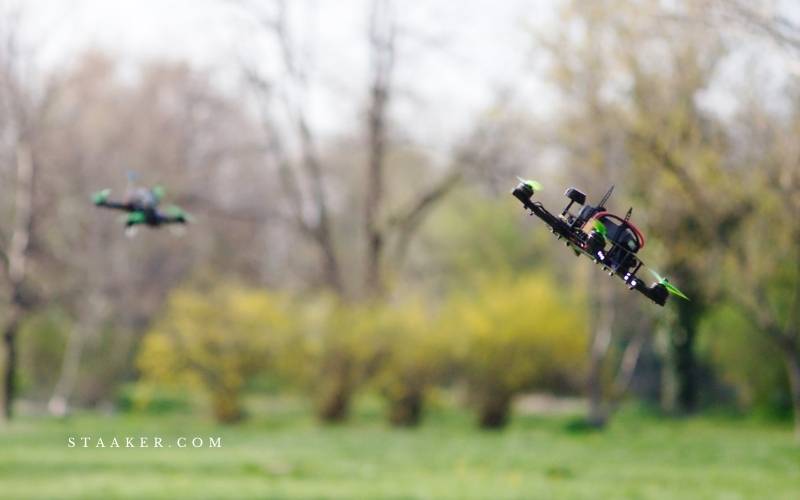 Speed and Power
The speed and energy of drone racing are crucial for your overall performance during a tournament. You won't win any drone races if your drone with a camera is slow and has poor engines.
Maneuverability
FPV drone Racing are known for being very fast and agile. They can do 360 flips, spins, and many other tricks. You can even win special tournaments by performing amazing tricks on the track.
Durability
Drone racing is a fast-paced sport, and there will be crashes. You have two options: either drive carefully, which will leave you last, or invest in durable parts to keep your drone racing going throughout the tournament. You should choose the latter option as it is much more reliable and better than taking it for granted.
FlightTime
Racing drones with a camera aren't very time-consuming. Races are usually completed in less than 10 minutes or even five minutes. This isn't a remarkable number. You should also invest in fast-charging batteries or purchase additional ones to ensure you have enough energy for your next competition.
Camera Quality
Although racing drones with a camera do not require fancy 4K cameras, proper FPV cameras are still required. You will need a camera with a good FOV and dependable video transmission range to cover a racetrack.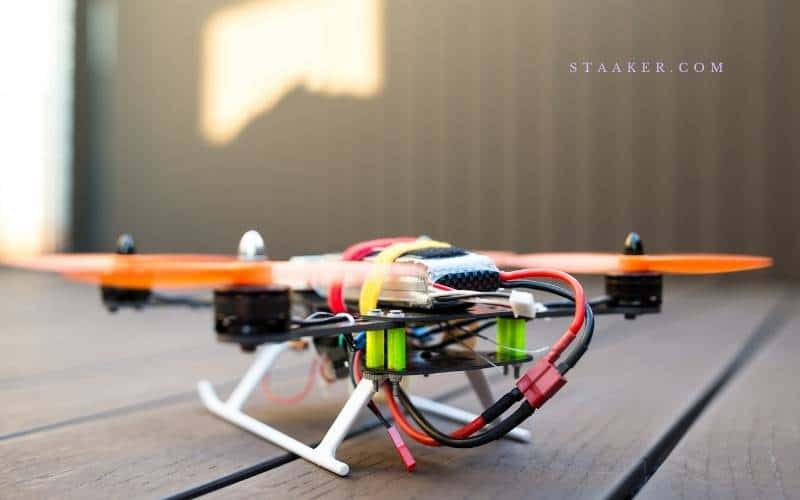 Buying Vs Building Racing Drones
After deciding to start drone racing as a hobby, the first question that will pop up is: Should I buy a kit or a drone with the camera already built? It all depends on how much time you have.
It takes a lot of work to build your drone with camera, especially if it's not something you enjoy doing. There are many all-in-one kits for racing that don't require additional parts.
However, it will still take a lot of effort. It takes a lot of time to put everything together, solder the electronics, and upgrade where possible.
I'm not trying to discourage you from buying a racing kit or building your drone with a camera. It would be foolish. I have built my fair share, and they cost much less than buying an RTF model.
It is true! It's a difference of 20-30% in price. You will also learn a lot on the fly, which will make any additional repairs easier. You will understand the basics of DIY and how your drone works, which will allow you to spot any problems.
You will have to decide in the end. Best Drone Racing with a camera is a lot of fun, no matter what you do. This sport is action-packed and unlike any other. It is addictive and extremely fun.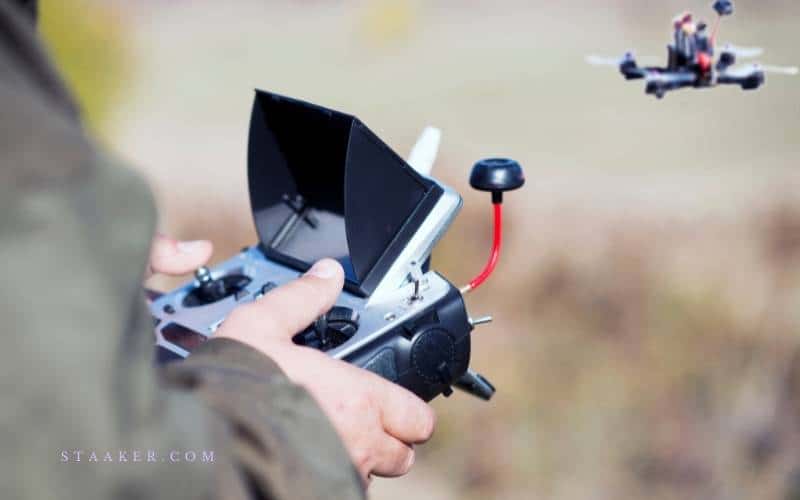 Top 10 Best Racing Drones 2022
1. Walkera F210 3D
Ready-to-fly quadcopters are opening up drone racing to all. To participate in this sport, you don't have to build your plane. Pilots today have the option to buy a drone that is ready to fly right out of the box.
Walkera F210 3D is a great racing drone and our top pick for the year. This pre-assembled quadcopter is a great option if you don't have time or the desire to build your gear.
Walkera has tuned the receiver to achieve maximum speed and minimal response time. The F210 3D is lightweight and strong, with a bow-shaped body design, an antenna that bends both directions, and a carbon fiber body that weighs 13 ounces.
Walkera F210 3D's center of gravity is located in the middle of your aircraft. This makes your flight more stable and your turns easier. Walkera is safer to fly.
The Walkera's motor has been upgraded to protect so that in the event of an accident, your most valuable asset will not be lost. This model's battery is a 4S, so that it can reach higher speeds than many of its predecessors.
The Walkera F210 3D can perform flips, rolls, and other acrobatics in 2D aerobatic mode. It is easy to switch between 2D and 3D modes. The F210 3D doesn't have any issues with performance or moving in and out from dives.
It's possible to fix any problem with the included hex keys or plug-in connections, which don't require soldering. One complaint: the camera resolution is very low.
It may seem like an odd oversight. Although the analog camera does the job, there is room for improvement and clearer pictures. This drone is one of the best racing drone motors on the market today.
2. Ryze Tech Tello
Drone racing does not have to cost a lot of money. This is why the ready-to-fly Ryze Tech Tello was named one of our best racing drone frames. This is our best value pick. It can fly nimbly indoors and out, and it's one of the most affordable racing drones available.
Let's start with the goodies in the box. The drone comes fully assembled with two antennas, which work together to ensure stable video transmission. The battery's high capacity lasts for 13 minutes.
The package includes four propellers and propeller guards, a micro USB cable, and a propeller removal tool. DJI powers this drone's flight controller, so you know that you can do cool tricks and whiz across the sky with it. Our only problem is the camera. The camera can only shoot photos at 5MP and HD720 videos at HD720.
This Ryze Tech racing drone is great for those who are in it to win it. The Tello quadcopter is lightning fast and has excellent wind resistance.
It can perform flips, dives, and other crazy moves. With included propeller guards, indoor practice is possible without worrying about damaging your lampshade.
3. ImmersionRC Vortex 150 Mini
Best racing drones
The Immersion RC Vortex 150 Mini ARF Racing Quad makes the best racing quadcopter frame for those who are new to drone racing. It's easy to set up! It's easy to set up a receiver.
Once it is bind to your radio, you can tune to the right channel. As they maneuver around objects and increase speed, beginners quickly learn to fly in angle and horizon modes.
The Vortex 150 Mini is agile and easy to use. It is just three inches long and can weave in and out branches and dodge objects. The Vortex 150 Mini glides effortlessly through the air with grace.
The Vortex 150 Mini can be lifted back into the air even in crashes, which is what they do. The onboard camera takes stunning photos in both broad daylight and low light conditions.
The manual lacks proper instructions, which I find annoying. Although there is excellent support on the forum, which can be very helpful, I prefer to receive answers directly from the source. This quadcopter is perfect for beginners or those who have a little bit of experience.
4. Blade Mach 25
Best Beginner Racing Drones
As you can see, I started with ready-to-fly drones. They are easier to use and purchase than the assembly kits. Drone racing has seen a rapid increase in popularity.
This FPV drone brings in many beginners who aren't ready to tackle the DIY part of the game. They opt for entry-level RTF/BNF drones. Blade Mach 25 is just that!
Blade Mach 25's design is the first thing you'll notice. It looks completely different from other drones. It sports a stunning polycarbonate shell and beautiful graphic design.
There are many modified parts under the body like an all-in-one EESC+PD system, Spektrum A3174 receiver, and E-filte3S 1350mAh 30C lithium-ion battery.
This battery is capable of supporting a 250mm drone, which is very lightweight. It can last approximately 6 minutes. (Here are ten drones that have the longest battery life).
Let me continue by describing how Blade Mach 25 performs in general. Blade Mach 25 FPV drone boasts a solid CCD-FPV drone camera that will not cause any latency issues. Blade Mach 25 also has bright LED lights.
The downside is that this model is a BNF (bind and fly), which means that you won't receive the transmitter/controller. It is the best Fpv racing drone.
5. Odyssey Starfall X
Best Fpv Racing Drones on the market
Odyssey has created the next beginner racing drone, Starfall X. It is similar to Blade Mach 25, but it has a rigid outer shell that makes it look more like a racing drone.
It has a stunning black/yellow color combination that makes it easily visible from far away. We are curious to see what else it has in store.
The good news is that FPV works up to 300m without any lag. Its maximum operating range is 500 meters, which is also great. This, combined with a flight time of around 8-10 minutes, gives you a decent drone hybrid. The FPV drones run on a 1300mAh battery.
You get an additional one in your package, which is always a plus. Odyssey Starfall X's brushless engines can reach speeds of up to 55 mph. This drone is capable of win races, so it's safe to say that it can!
Lastly, Starfall X by Odyssey also supports FPV goggles through a 5.8Ghz connection. Fat Sharks can be supported, and the 1080p FPV camera with which it comes will work wonders. Odyssey Starfall X is the best Fpv drone for a racer if you're interested in drone racing.
Read More: 
Best Drones For Long Battery Life 2022: Top Brand Reviewed
Best Gas Powered Drone 2022: Top Review For You
6. Walkera Rodeo 110
Walkera is one of the most well-known brands in the industry. It makes a final racing drone for under $200. Their Rodeo 110 miniature drone was a huge hit with customers. Walkera Rodeo has seen a significant increase in sales of 110mm drones. What is so special about these drones?
It is great to see a 600TVL wide-angle camera mounted on such a small drone. Walkera Rodeo 110 is equipped with 200MW/600MW transmission, so latency is not an issue.
It isn't surprising that this tiny drone has an 850mAh LiPo battery. It can fly for up to 6 minutes, despite not having the greatest energy sources.
The ready to fly Walkera Rodeo 110 has an F3 flight control, carbon fiber frame, and other parts. Although the radio supports only PPM and SBUS, you can also install Futaba radios.
It is extremely stable when flying and very beginner-friendly. It also includes flight stabilization, which is a great benefit for novice pilots. Walkera Rodeo 110 is the best for a racer.
7. Eachine Wizard X220
The machine is the right choice for anyone looking for solid performance in the best RTF racing drones. The Wizard X220 model from Eachine has a sturdy frame and a robust design that can withstand many crashes. Nonetheless, you must get spare parts like propellers and ESCs as soon as you purchase them.
The Eachine Wizard X220 is powered by 2205 2300KV engines, paired with 20A ESC. F3 6DOF is the flight control and supports Mode 1 as well as Mode 2 controls system.
The Eachine Wizard X220 also includes a 700TVL CCD camera and a dedicated 5.8Ghz 48CH 200mw transmitter. The default propellers come in King Kong purple, but you can easily replace them.
You can also find the battery. The battery is 3S 11.1V 1500mAh 25CXT60 LiPo. It would also be a good idea to get an additional one.
The package also includes a B3 charger and other drone accessories like an antenna, battery strap, wrenches, and battery strap. This drone is more sophisticated than the Rich Text Format, but it's still very user-friendly.
I'm not facetious. Although it doesn't have stability, one key return or altitude hold for beginners, it is still responsive and reduces the learning curve.
8. Arris X-speed 250b V2
This FPV drone is the mid-level racing drone that is most in demand. It's made by Arris, who is a well-respected drone manufacturer that has accumulated a lot of experience over the past few years.
What can X Speed 250B V2 FPV do? That's what I will be explaining in the paragraphs below.
This ready-to-fly RTF model comes with everything you need for practice. For those who wish to go further, you can always buy FPV racing drone glasses to enhance your immersion.
The 250BV2 is based upon Raptor 390 Tower. It drone features 30A ESCs and an F3 flight controller. Radiolink AT9 transmitter and PD board are also available. It also includes a 4S 1500mAh LiPo Battery that ensures it can fly without power issues.
The 700TVL 2.8mm FPV camera can also be found here. It has a fully adjustable tilt, which allows you to choose the best settings. All components are present: transmitter, receiver (both for RC and FPV), and battery charger.
Technically, this package is 100% complete except for the FPV goggles (and battery charger). The Arris 250B V2 package is the best quadcopter for Fpv.
9. Emax Tinyhawk Freestyle BNF
Best for All Skill Levels
Tinyhawk Freestyle by EMAX is a micro-outdoor racing unmanned aircraft that's both for beginners and more experienced pilots. Pilots have full control over their thrusts, maneuvers, and flight time thanks to a brush motor paired with a 2.5-inch propeller system. A plus is the onboard CMOS camera!
Dual battery connectors are available on the Tinyhawk Freestyle BNF (bind and fly). This allows two batteries to be used simultaneously to increase power output, flight time, and flight time. The EMAX's externals are made of lightweight, durable aerospace-grade carbon fiber materials.
This FPV drone is small and powerful. This FPV drone can take tight corners and rip through the air. It's great fun for all skill levels. The self-leveling features allow beginners to take it out without worrying about crashing.
The video transmitter range is my only problem with this model. It is very short. Before you get an RSSI warning, you'll only have about 50 feet of range. Open fields are not recommended. This Emax Tinyhawk Freestyle FPV drone is the best flight controller for Fpv racing and can be flown on smaller courses.
10. Arris X-speed 280 V2
This best drone is for a racer. If you love racing and don't mind getting up in the air, then this is the right racing unmanned aircraft for your needs. The ARRIS X-Speed 280 V2 quadcopter is ready-to-fly and built for speed.
To keep the model lightweight, it is made of two-millimeter composite fiber sheets. The Foxeer 5.8GHz antenna is pre-assembled. The antenna is small but powerful enough to transmit a strong signal to your receiver. This will give you a greater range.
The X-Speed 280 V2 motors are quick! It is a stunning combination of its sleek body shape and speed. What's the problem? This aircraft is almost impossible to fly at night because it lacks LED lights. This quadcopter is the best drone racing kits for daytime flying and offers a fast, fun, and reliable RTF flight. It will be a professional drone pilot to invest in.
Recent Posts:
Best Drone With Obstacle Avoidance 2022
Differences Between Hexacopter Vs Quadcopter 2022
How to Choose ESC for Quadcopter?
Racing Drones Component Explained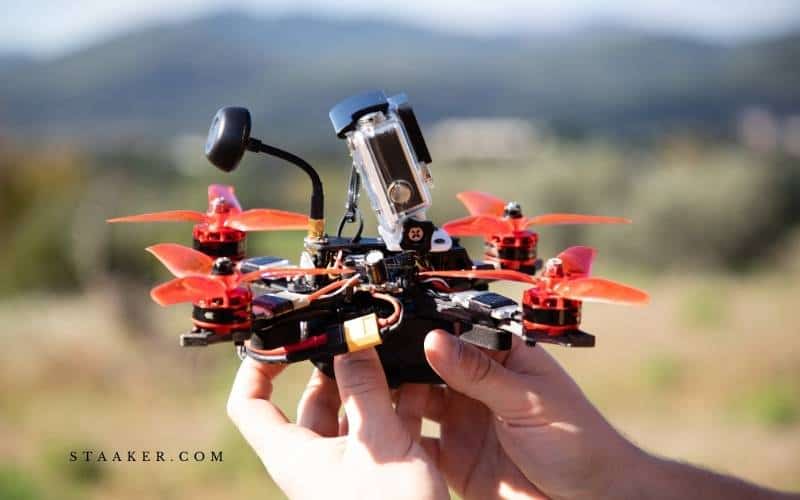 Frame
The frame can be thought of as the motherboard of your computer. It allows other parts to be placed on top and keeps them together. Frames are the foundation of your entire construction. Don't let this happen.
You should aim to find a carbon-fiber frame in the desired size (250mm or 350mm) and package it with damping balls to reduce flight vibration.
Crazepony ZMR250 carbon fiber frame
Readytosky 250 carbon fiber frame
Flight Controller
Flight controllers are primarily responsible for controlling your flight. The type of controller you choose will greatly affect your flight characteristics, such as stability, maneuverability, and flying sensitivity.
It is your drone's nervous system. It keeps an eye on all activities while your drone is in flight. It is important to do extensive research before you buy one. These two are great places to start.
RJXHOBBY SP Racing F3
Crazepony F3 EVO with PD board
ESC
The electronic Speed Control system is shorthand. These small parts control the motor's performance. ESCs are essential if your drone is to perform fast and agile maneuvers. Make sure to pay attention to amperage when choosing ESCs.
A wrong setup can cause serious problems for your drone pilots. You will need 4 ESCs to complete your build (one next to each motor), but you might find that having one or two extra sets is more useful.
MakerFire 2-4S ESC 20A
Hobby-Ace XS30A 3-6S
Motor
Your drone's motors are the source of its firepower. Motors are the heart of your own racing drone speed and should not be underestimated. You don't want to be cheap when choosing motors. Brushless motors are the best.
They are more reliable than regular brushed ones and are well-made so that they will last longer. As the type of motors depends heavily on other components of your build, such as the ESC or battery, I won't go into detail.
DLFOV DX2205 2300KV Brushless Motors
EMAX RS2306 2750kv 3-4S brushless Motors
Rc Transmitter/receiver
In the old days, people used AM and older AM transmitters and receivers. This technology is obsolete now that we have 5.8Ghz and 2.4Ghz connections.
The former is more commonly used for VTX (FPV transmitters), while the 2.4Ghz frequency is used for radio control. The first thing to decide is whether you will use PPM controls or PWM controls. The second is the frequency you want to use. You'll be able to locate the right model for your build.
Radiolink AT9S 2.4Ghz 9CH transmitter and R9DS receiver combo
Radiolink AT10II 2.4Ghz 10CH transmitter and R10DII receiver combo
Propellers
One drone racing event can have more than one crash. Props are always the first to break. Prop guards are not necessary, but they can still break even in the most severe of crashes.
If something does go wrong, you should always have at minimum 2 to 3 additional sets. You can also choose premium props made of the best materials that won't easily break. tri-blade props are best for racers because they have the greatest lifting power.
Arris Bullnose 210-250
Dalprop T5045C Cyclone
LiPo batteries
Battery
You can't have a drone without some power source. High-power lithium-Ion batteries are the preferred choice for 90% of drone pilots today. They have a greater capacity (1300mAh), lighter weight, and higher discharge rates (30C) than NiMH batteries.
You should pay attention to other factors such as battery voltage (for instance, 7.4V) or cell count (3S), which will have a significant impact on your drone's performance. Charging speed is another important aspect. You will fly more often if it charges faster.
Crazepony Infinity Graphene Battery 1500mAh 90C 4S 14.8V
Tattu 1800mAh 75C 4S1P LiPo 14.8V
Hd Action Cam
Drone racing with a camera differs from standard aerial photography cameras. You need a high-quality CCD camera for professional drone racing, not a CMOS, as they use a global shutter to capture the entire image at once.
You should also consider TVL (TV Line) cameras over common HD models. Common HD cameras have 100-300ms input lag, which can be a problem when you are doing high-speed maneuvers.
TVL CCD cameras, on the other hand, have less lag and offer a greater dynamic range. This allows you to see clearly in bright or dark environments.
RunCam OWL PLUS 700TVL
Crazepony Foxeer HS1177 600TVL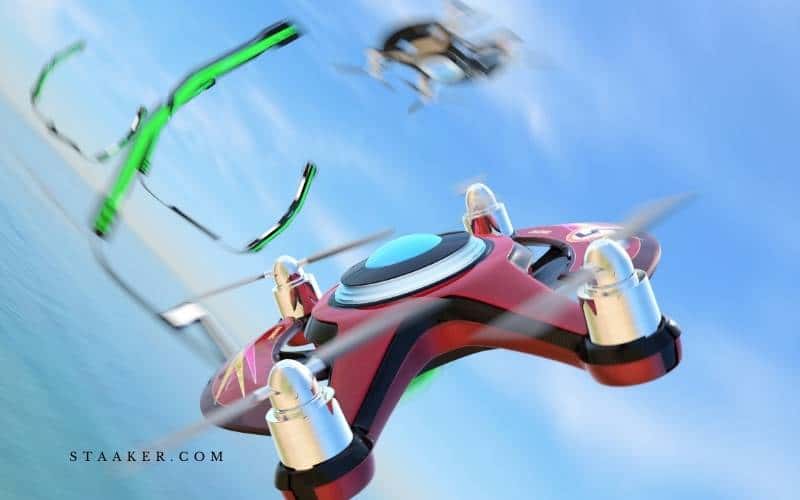 Best Racing Quadcopter FAQs
Is it legal to race drones outside?
After a lengthy (unofficial) conversation with an FAA representative, we finally questioned why anyone would fly a professional drone while not being Part 107 certified and without complying with Part 107 regulations.
I was specifically interested in whether winning money from a race was considered payment and a commercial operation. They didn't want the hobby aspect of things.
You can fly the professional unmanned aircraft for fun if you don't want to be compensated for it. This last point is crucial. You must have an official observer to help you put your head in an FPV drone. If you don't have one, then follow these hobby drone guidelines.
Read More: How to Legally Take Down a Drone? Explained in Detail 2022
How fast is a racing drone?
You must not exceed 100 mph if you're operating under Part 107 regulations of the FAA. This means that drones will need to be slowed down. The fastest machines can reach speeds of up to 170 mph.
Our machines all top out at 100 mph. Your average speed is in the 75 mph area. But these machines can open up if you have enough room.
Read More: How Far Can Drones Fly From the Controller? Full Guide 2022
Do FPV racing drones break when they crash?
It all depends on the drone and crash. Although it is a good idea to bring a cleaning tool and lots of extra propellers with you, the chances of damaging your frame or snapping off a propeller arm are very slim.
Although your race track is made of concrete and steel, it can be dangerous. However, grass, dirt, and bushes are more destructive than water.
If you miss a turn, most crashes in drone racing involve collisions with gates and the wall. Mid-air collisions are also common with other racers.
These crashes are often just a glance that causes the drone to spin uncontrollably. If you can recover, there is no harm. It's the ground or any other objects that are the problem.
You can almost guarantee that your racing drones with a camera will crash. It is important to turn off the drone and inspect the battery first. The flames from lithium batteries are very destructive. To extinguish flames, you should have some sand or dirt available.
We recommend that you cut the power as soon as you collide with anything. It is very dangerous for motors to try and spin if propellers get stuck. Broken propellers can become deadly projectiles if they snap off.
Is the drone Racing League real?
DRONE RACE LEAGUE (DRL) is the professional drone racing property that elite pilots can use. Pilots race across insane courses in virtual and real competitions using custom-built racing drones with a camera that travels 90 MPH.
Conclusion
You have just seen our best racing drone; you can't go wrong with any items on this list. All of them were received high appreciation from the user and experts.
With us, Walkera F210 3D Edition FPV drone is one of the best choices, this quadcopter has a little more oomph than others, works well for everything from obstacle courses to aerobatics to races, and it arrives on your doorstep ready to fly drone. We hope that our article can help you learn about everything you need to find the right drone.
Video:
Last update on 2022-06-24 / Affiliate links / Images from Amazon Product Advertising API