The best GoPro gimbal is the one that meets your specific needs. Whether you're looking for something to capture smooth video or stabilize your shots, a gimbal is perfect for you. With so many options on the market, it can be tough to know where to start. That's why we've put together this list of the best GoPro gimbal stabilizers on the market to help you find the perfect one for your needs.
Wearable Gimbals vs. Gimbals You Hold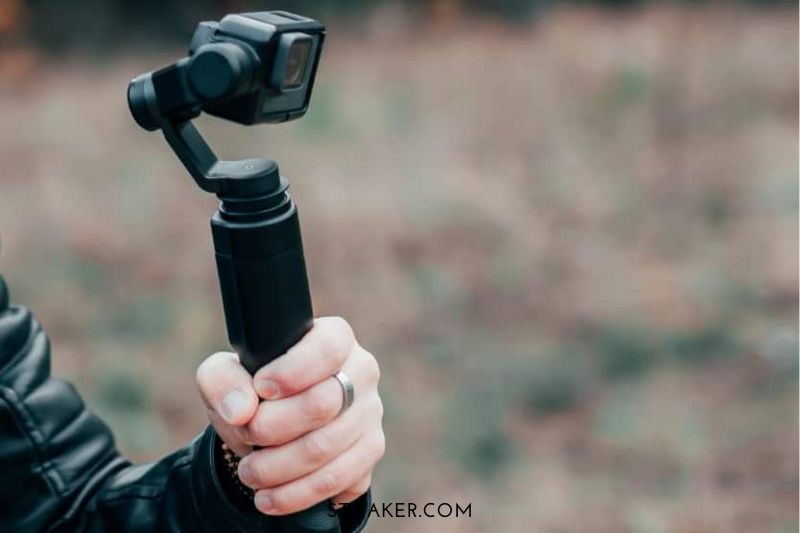 Before we talk more about our top picks, let's talk about how wearable gimbals are different from handheld gimbals.
Handheld gimbals have a grip so you can hold your GoPro in your hand and walk around. It's the best setup if you want to move the camera however you want.
But if you want to film extreme sports, you might not want to use a handheld gimbal. For example, you can't hold up your camera while mountain biking because you won't have a free hand. You can attach a wearable gimbal to your chest, your handlebars, or just about anywhere else you can think of.
There are also a few other small differences between the two types of gimbal. Since wearable gimbals are smaller, their batteries are smaller and don't last as long as the batteries in handheld gimbals, which can fit bigger batteries in the handgrip. When you wear them, they also need to be attached to your body in some way. This might require a chest harness or shoulder strap, among other things.
Top Rate Best GoPro Gimbals 2022
1.iSteady Pro 4
Pros
Affordable
Clip that lets you put it on in one step
Handy trigger button
14 hours on a single charge
Cons
Who Is It For?
The Hohem iSteady Pro 4 is a great choice for videographers who want to stop camera shake without spending a lot of money. The splashproof gimbal is by far the most popular GoPro action camera gimbal mountl right now, and it's the one I'd recommend to the vast majority of buyers.
Compatibility
The iSteady Pro 4 works with the GoPro HERO10/9/8/7/6/5/4/3+/3 and other similar-sized sports cameras, such as the DJI Osmo Action, Yi 4K, Yi 4K+, AEE, SJCAM, and Sony RX0.
Overview 
Even though the iSteady Pro 4 is cheap, it has a lot to offer. It beats most of the competition because it has four shooting modes, 600° of movement in the pan axis, and a 14-hour battery life.
The small handgrip has a good number of controls, including an electronic joystick that lets you change the pan and tilt. In addition to the usual buttons, the Hohem Gimbal App lets you set up hotkeys that you can use to do things quickly.
Many of you will probably want to know what makes it different from the first iSteady Pro. The new version has a gimbal arm that is bent at an angle. This improves torque and keeps the GoPro's screen clear. It also has a button on the back of the handle that makes it easier to do things like lock on to subjects or take a picture while filming.
What I Liked
The iSteady Pro 4 is the only action cam gimbal that works as well as it does for less than $100. Hohem has made motorized gimbal stabilization available to anyone with a GoPro, and they haven't skimped on features either.
I looked at videos with different zoom levels and playback speeds and compared them to videos from the Feiyu G6 and GoPro Karma grip. In all honesty, the difference is so small that the price difference makes it hard to recommend the second and third choices.
What I Didn't Like
The iSteady Pro 4 looks and feels a lot like a GoPro gimbal stabilizer for new users. It's not as durable as the other gimbals, and it feels more like plastic than the more expensive ones. And it's hard to tell, but the motors are just a little bit slower than some other options, which makes them less good at capturing fast-paced action.
2. INKEE FALCON: Gopro Gimbal Backpack Mount
Pros
Small and easy to carry
Foldable design
Easy way to mount and dismount
Cons
Uncomfortable grip
Unknown brand, uncertain support in the future
Who Is It For?
INKEE FALCON is another new product that works with the newest GoPro action camera stabilizer. It has a price that is only a little bit higher than the Hohem iSteady Pro 4. This is a good choice if you would rather something a little smaller and lighter.
Compatibility
It is the best gimbal for goproHero 10, Hero 9, Hero 8, Hero 7, Hero 6, Hero 5, DJI OSMO Action, Insta360 ONE R, and any other action camera with the same size.
Overview
The INKEE FALCON is one of the few handheld gimbals that is made to work with action cameras. It is made by a Chinese company that isn't very well-known.
Nothing stands out, and the whole thing feels very ordinary. But that's not a bad thing, since the newest gimbals all have a lot of different features, like multiple shooting modes, motion time-lapses, and a horizontal panning range of 360 degrees.
INKEE's "vertical shooting mode" is one of its most important selling points. This mode lets you take portrait videos by holding your GoPro on its side. It seems like a bit of a gimmick to me, since recording in portrait mode isn't something I do very often. But it might be good for some people.
What I Liked
The process of mounting and balancing was easy, and it didn't take long to get everything set up. The gimbal is small, light, and a little bit smaller than its competitors, which can be helpful if you carry your GoPro in a small bag or case.
I also like how the buttons are set up and how the joystick and rear trigger feel. The controls are probably better than those on the Hohem iSteady Pro 4, but the difference isn't that big.
What I Didn't Like
The first issue is that the grip is too small. It's not big enough! Even though I don't have big hands for a guy, it was hard to hold. Now you can attach the included tripod and close the legs to make it work as a grip extension, but it just adds another layer of trouble and is still pretty uncomfortable to use.
The FALCON app is also one of the least developed. Over the years, I've seen a lot of unknown gimbal brands come and go, and their apps are often just left to die or taken off the iOS App Store or Google Play Store. Since this gimbal doesn't have as many users as the more popular Hohem gimbal, I can't say for sure that it will be supported for a long time.
3. Zhiyun Crane M3
Pros
Great build quality and performance in terms of stability
Lots of cameras can be used.
Fill light built in
Cons
Who Is It For?
The Zhiyun Crane M3 is a gimbal that works with GoPro and is a cut above the rest in terms of quality and features. It's for people who want a serious piece of gear. But you shouldn't buy one if you don't have other cameras to use it with.
Compatibility
It is not just made for GoPros, but also for smaller cameras. This means it can easily hold mirrorless cameras, point-and-shoots, and smartphones that aren't too big.
It works with GoPros, but there are two things to know. First, you'll need to buy the adapter mount. Second, some of the controls won't work with GoPros.
Overview
Zhiyun is a well-known company that makes gimbals, but most of its products are made for DSLR, mirrorless, and movie cameras.
The Crane M3 is supposed to be a gimbal that is both powerful and very small. It was mostly made to hold a mirrorless camera, so a small GoPro's light weight won't be a problem.
One feature that stands out is the built-in 800 lumen LED light. It's not as good as having a personal lighting assistant with you, but it's still pretty cool.
What I Liked
The Zhiyun Crane M3 is so nice to hold that it makes the cheaper GoPro gimbals feel like toys. The Crane M3 was better to use than cheaper gimbals because it had a color touch screen, a lot of dedicated controls, and a more polished app.
What I Didn't Like
The price should come first. It costs four times as much as other GoPro gimbals, and to use it with your GoPro, you'll need the custom GoPro adapter mount.
It is a best gimbal for iphone and gopro and want to do three things at once. But it's not really worth it just to use with a GoPro, especially since some of the features don't work with a GoPro.
4.FeiyuTech WG2X: Best Gimbal For Gopro Hero 8 vs 10
Pros
easy to wear
Great job of keeping things stable
Can also be used as a handheld gimbal with the tripod that comes with it.
Cons
Low number of charges
Very few of the newest GoPro models work with it.
Who Is It For?
If you want to wear your camera on your chest or on your helmet, it makes sense to get a wearable gimbal like the Feiyu WG2X. Wearable cameras are also easier to mount because they don't have a hand grip. The lack of a hand grip makes the gimbal much more stable when it's attached to handlebars, RC cars, and other things.
Compatibility
The GoPro HERO8, HERO7 (all models), HERO6, HERO5, HERO4, and HERO Session can all be used with the Feiyu WG2X. The HERO Session can also be used with the included Session mount adapter. It can stabilize these newer GoPros with a GoPro HERO10/HERO9 adapter kit, but it can't connect to them remotely.
Action cameras like the Yi 4K/4K+, Sony RXO, and SJCam, which are all about the same size, are also supported.
Overview
The Feiyu WG2X is an updated version of the WG2 wearable gimbal, which was a big hit. Even though they look very similar at first glance, the WG2X has better stabilization, an angled gimbal arm, and the ability to be controlled from a distance.
This Gopro gimbal helmet mount is easy to wear with chest harnesses or shoulder straps because it is small. It's also easy to attach to universal quarter-inch thread needles on desktop tripods, selfie sticks, and handlebars.
It can be worn and has three ways to shoot: pan follow, following, and locked. Unlike popular wearable gimbals like the Zhiyun Rider-M and Hohem XG1, the WG2X's pan and tilt axes can move in any way (as opposed to 320-degrees).
Through the Feiyu ON App, you can use your phone to control the WG2X from afar. This is especially helpful for wearable gimbals that are hard to use when they are on.
What I Liked
Most wearable gimbals are very similar, so the only thing that makes them different is how well they stabilize. In this area, the WG2X shines, beating out other popular models like the EVO SS and Hohem XG1. The stabilization is also a big step up from its predecessor, this best chest camera, thanks to a software update.
Even though the angled gimbal arm is not a must-have, it is a nice touch. When attached to a chest mount gimbal for gopro, it doesn't get in the way of the GoPro screen.
A small tripod is inside the box. When you fold the tripod's legs together, it acts like a grip, so you can use the WG2X as a handheld gimbal.
What I Didn't Like
Since the WG2X is a wearable gimbal, it has a smaller 1500mAh battery that fits inside its small body. This means that a single charge of the battery will only last about 2.5 hours. This is a problem with almost every other wearable gimbal on the market.
The WG2 was rated IP67 waterproof, but it is only splashproof, so it is less resistant to water. It works fine in light rain, but if you try to use the gimbal for water sports, the motor will most likely get damaged.
5. FeiyuTech G6: Best Motorcycle Camera Stabilizer
Pros
Nice aluminum construction
OLED camera status screen
Cons
Outdated design
Not Bluetooth, but an older Wi-Fi connection
Who Is It For?
The Feiyu Tech G6 is a good all-around gimbal for the GoPro that does a good job of stabilizing the camera for the price. It's from the same time period as the old GoPro Karma Grip, so it doesn't make much sense to buy one now.
Compatibility
In terms of GoPro, the G6 works with all GoPro 3/3+/4/5/6/7 models. It also works with action cameras that are about the same size, like the Yi 4K/4K+, AEE, and Xiaomi Mijia. A separate frame for the Sony RX0 action camera is also in the box.
It works with some of the newest GoPro models, which means it will stabilize the camera but not let you control it with buttons (like the shutter/record button or a joystick for panning).
Overview
Feiyu makes one of the most popular gimbals on the market right now, and their best GoPro stabilizer is the G6. It has a small LCD screen, an external mic port, and a slider that lets you control how your camera rolls. Its body is small, sleek, and IP67 splash proof.
Even though the G6 and the Feiyu G5 look almost the same, the G6 is a big improvement over the G5. The G5 had some weird stabilization problems with visible microjitter, but the G6 can compete with the much more expensive GoPro Karma Grip.
It also has a nice new angled arm and an extra thread needle on the side of the grip. These features are not necessary, but they are nice. Because the arm is at an angle, it rarely blocks the LCD screen on the GoPro.
The Feiyu ON app that comes with the G6 lets you connect your phone and gimbal via Bluetooth and control the gimbal from a distance. This means you can remotely move the gimbal's pan and tilt, or even set up motion time lapses, even if the gimbal and GoPro are in a different room.
What I Liked
Handheld gimbals made by third parties can be hit or miss when it comes to how well they stabilize. The G6 is a great performer, and it doesn't let you down. When looking at zoomed-in footage, the G6 footage was just a little bit more shaky than the Karma Grip footage, but not by much.
The G6 has a lot of features that the Karma Grip doesn't have, like an LCD screen that tells you things like how much battery life you have left and what shooting mode you are in. People who record videos that are sensitive to sound will appreciate the external mic port, since motor noise is a common problem with any motorized gimbal.
Feiyu finally chose a 5000mAh battery that can be removed and can last up to 12 hours on a single charge. So, you can change the battery whenever you want, though most people won't need to.
What I Didn't Like
Putting your GoPro on the Feiyu G6 is a bit of a hassle because you have to adjust hand screws. Attaching your camera is much harder than it is with the Karma Grip, where you just slide the camera into its harness.
It's hard to recommend the Feiyu G6 these days because it's an old model from 2018 and the price hasn't even gone down.
6. Removu S1
Pros
Versatile
Removable battery
Removable remote control
Cons
Audible motor noise
Fiddly
Who Is It For?
Want a handheld stabilizer that can be turned into a gimbal that can be worn or mounted? The Removu S1 is the solution. Its modular design means that the grip can be taken off, leaving a gimbal that can be worn and mounted almost anywhere. The GoPro Karma Grip can be used as a wearable gimbal if you work at it, but the Removu S1 was made to be a dual-purpose gimbal from the start.
Compatibility
With different housing frames, the Removu S1 works with the GoPro HERO7/6/5, HERO4/3+/3, and Hero Session cameras (included). It doesn't work with action cameras that aren't made by GoPro.
Overview
Removu is a little-known Korean company that makes GoPro accessories. With the Removu S1, they have made something very special. The S1 has a modular design that is waterproof and gives it a level of versatility that is unmatched.
By removing the handgrip, the gimbal can be mounted anywhere, just like a real wearable gimbal. Also, the handgrip has a bluetooth wireless remote control that can be removed. That means you can control the gimbal from a distance even if it is attached to your helmet or chest.
The S1's battery can be taken out, which is different from most other GoPro gimbal batteries. Removu has been kind enough to give us a charger that can charge up to two batteries at once. On a single charge, the S1 will last between 3 and 5 hours.
The Removu S1 has three ways to shoot: pan follow, following, and locked. It can also be used upside down to get shots from below. The remote control is pretty cool. It has an LED display and a joystick that let you electronically move the gimbal's pan and tilt.
What I Liked
The best thing about the Removu S1 is how versatile it is. There is no other gimbal that can be held in your hand or worn on your body. The GoPro Karma Grip might be an exception, but since the battery is stored in the grip, it's hard to call it a true 2-in-1 gimbal.
The Removu S1 has a very stylish look. It seems well made, but it is the biggest and heaviest gimbal on the list. Small extras, like the fact that the battery and remote control can be taken off, are the cherry on top.
When it comes to performance, it gives you very smooth footage. It's not as smooth as the Karma Grip or the G6, but it's still one of the best stabilizers out there.
What I Didn't Like
The most annoying things about the Removu S1 are how loud its motor is and how slow its follow modes are.
The motor noise is more noticeable than on other gimbals. Some people might not have a problem with this, but people who do jobs that depend on sound, like vlogging, might.
Even when the follow speed is turned all the way up, the S1 is slow to follow when you pan left or right or tilt up and down. It's not good if you need to move the camera around quickly.
7.GoPro Karma Grip: Best Gimbal For Gopro Hero 9
Pros
Ergonomic design
Use-friendly
Official support
Cons
Very little time on a charge
Bulky
Who Is It For?
The GoPro Karma Grip isn't cheap, but if you want a grip that works with your GoPro right out of the box, you shouldn't look any further than GoPro's own Karma Grip. Even though it's a little bit older, it works just as well as almost every other third-party gimbal in every way except for battery life.
Compatibility
The HERO4/5/6/7 Black and the HERO4 Silver can both be used with the GoPro Karma Grip. People who own a GoPro HERO4 will need to buy the HERO4 Karma harness. Action cameras that aren't made by GoPro can't be used with the Karma Grip. GoPro hasn't made any changes to the Karma Grip, so owners of newer cameras are out of luck.
As you might expect from an official product, all you have to do to attach the GoPro to the Karma Grip is open the harness and slide the camera in.
Overview
GoPro's Karma drone inspired the name of the Karma Grip. Even though the Karma drone didn't sell well, they were able to save the gimbal and attach it to a hand grip to make this gimbal.
With the Karma Grip, GoPro chose to keep things as simple as possible. It only has two shooting modes: pan follow and following. It also doesn't have extra features like a pan/tilt joystick or a selfie mode.
People have thought for a long time that the gimbal has the best image stabilization of any GoPro gimbal ever made. While third-party gimbals try to catch up, GoPro has been putting out firmware updates to fix some of the old problems with how well they work.
Since the gimbal can be taken off of the grip, it can also be used as a gimbal that you can wear. But since the battery for the gimbal is in the handgrip, you'll need to buy the Karma Grip extension cable and keep the grip with you.
What I Liked
The best things about the Karma Grip are how easy it is to use and how well it stabilizes. It works perfectly with GoPros and doesn't need any third-party gimbal companion apps, which are used by other companies to update firmware or change settings.
Even though the GoPro Karma Grip is bigger than many of its competitors, it feels great in your hands. When you move the gimbal, it feels more controlled because you can feel the extra weight in your hands.
What I Didn't Like
The GoPro Karma Grip isn't the best value for money because it costs a lot more than products made by other companies. GoPro gimbals from companies like Feiyu and Zhiyun have been closing the performance gap with the Karma Grip, and they usually cost half as much.
The battery life is another sign that it is getting old. If you record in 4K, you'll only get about two hours of recording time. One reason for this is that it always charges your GoPro camera at the same time, which drains the battery from two places.
8. MOZA Mini P
Pros
Aluminium Material Included
Lightweight
Flexible
Stable
Very Long Battery Life
Cons
Not Resistant
Plastic was there
Compatibility
When it comes to choosing a gimbal for any kind of camera, Moza is a unique and important name. Only gimbals are made by this brand, and the Moza Mini P is one of their best products. This gimbal can be used with both mirrorless and DSLR cameras, as well as smartphones.
Overview
The gimbal is made of aluminum and plastic, which puts it in the group of strong gimbals, even if the plastic might bother some people. This gimbal is 12.01 inches long, 6.54 inches wide, and 2.01 inches high. It weighs 1.53 pounds. Some people might be bothered by the fact that the gimbal isn't very strong, so you might want to be careful about where you use it.
This gimbal is easy to move because it has a 3-axis system. This means that it can be easily turned, tilted, or rolled. The way it moves shows that it is a very flexible gimbal. The motors are both quiet and smooth, and they don't shake or blur the videos in any way.
There are also built-in controls, so you can use and control your GoPro Hero right from the gimbal. You can also shoot in any direction you want with the Moza Mini P, since it can be used both horizontally and vertically.
When it comes to how long the battery lasts, this gimbal really shines. It has a 2000mAh battery, and once it's fully charged, it can last for up to 20 hours.
9.EVO GP-PRO: Gopro With Built In Stabilizer
One of the most responsive gimbals on the market right now is the GP-PRO. The speed with which this gimbal stabilizes is crazy fast.
It works quickly and smoothly because it has very precise brushless motors built into it. You can also adjust how the camera moves by moving the axes of the gimbal with the 4-way joystick on the GP-PRO.
The Gimbal also has different modes, such as upside down, follow heading, and lock heading. This makes it easier to use the gimbal to make complicated combinations of shots.
The GP-PRO can also be used with every GoPro accessory you can think of.
You can also use the included battery charger to make the gimbal's battery last longer. Overall, this is a good gimbal for people who want to stabilize quickly, accurately, and smoothly. If you already have other GoPro accessories, it's also an easy choice.
Other Well-Known Gimbals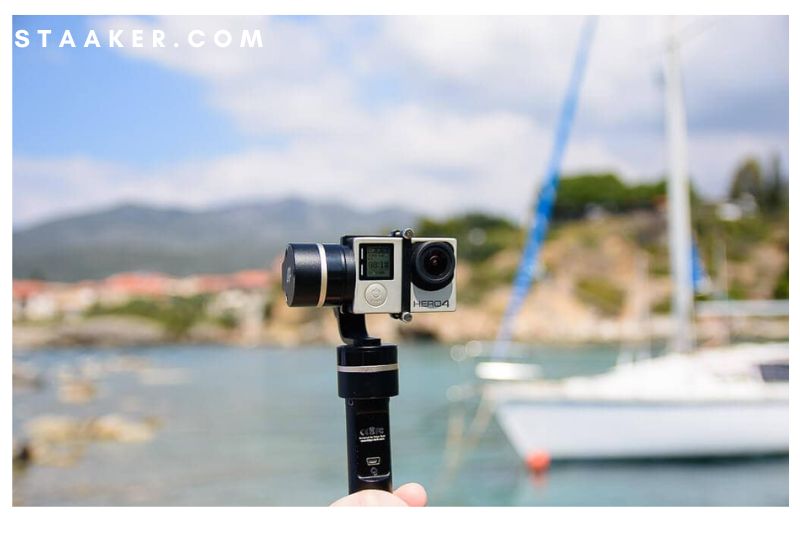 Freevision Vilta-G
The Freevision Vilta-G is a good alternative to the Removu S1 because it is also a 2-in-1 gimbal. Its high price is just about worth it because it has great build quality, a very comfortable grip, good stabilization, and quiet motors.
It doesn't have any of the new features like the removable battery and remote control that the S1 has. It's also not weatherproof, so the Removu S1 is a better choice overall if you don't mind the louder motor noise.
This is an old model, like the Removu S1, and the app that goes with it has been taken off the App Store, so I can't recommend it anymore.
Zhiyun Smooth 4 Smartphone Gimbal
The Zhiyun Smooth 4 is not technically a GoPro gimbal, but it is a highly rated smartphone gimbal that can hold a GoPro in its spring clamp. You can also buy GoPro mount plate adaptors separately if you want to make sure the GoPro is more secure.
The Smooth 4 isn't really made for the kind of action that GoPros are usually used for, since smartphone gimbals aren't usually weatherproof and have slower follow speeds. But it is worth a look for people who film a lot with their phone but only occasionally with their GoPro.
Note that you can't use its buttons to control your GoPro because it isn't made to work with the GoPro. But it will at least keep your GoPro from falling over and keep the video steady.
What Should You Think About Before Buying A GoPro Gimbal? – Buying Guide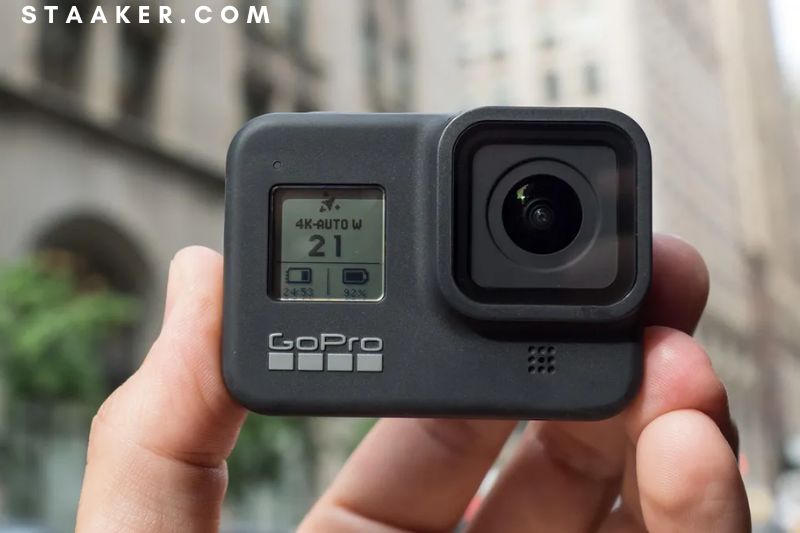 Make Things Good
When choosing a gimbal, it's important to think about how well it's made. It is very important that the gimbal is strong enough that it won't break from small problems.
Size and Weight: gimbal for phone and action camera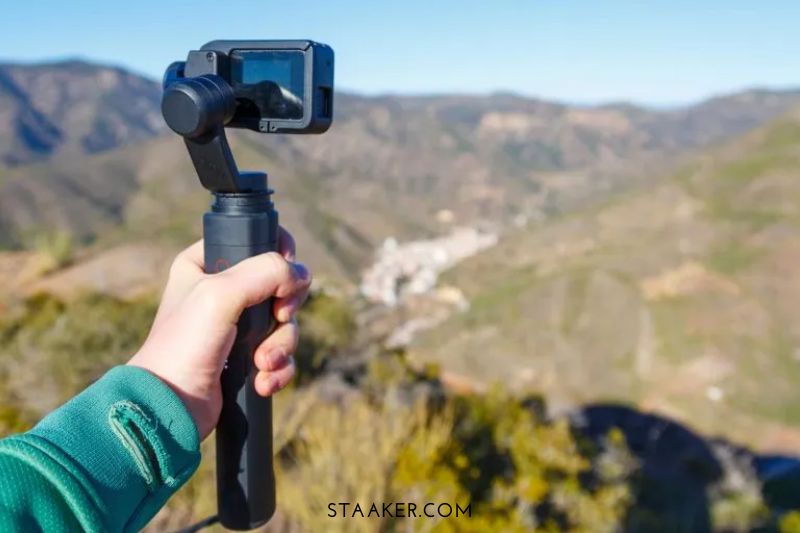 Size and weight are also important. Well, I chose these two things because they have a direct effect on the gimbal's ability to be moved around. Even better is if they are small and light enough to carry around whenever you want.
Durability
Before choosing a gimbal or even using it, it's important to know how long it will last. It kind of depends on where and why you want to use your gimbal. If you like extreme sports, it is better to choose ones that will last longer.
Stabilization Ability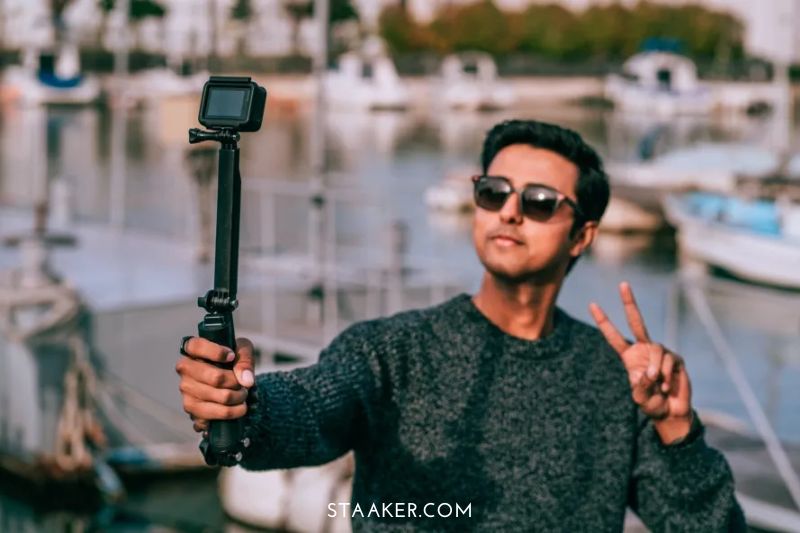 Even though this is the last thing on the list, it is by far the most important. It's pretty much why videographers choose to use a gimbal. The number of axes a gimbal has has a lot to do with how stable it is. Most gimbals have three axes, which should be enough.
GoPro Gimbals FAQ (Frequently Asked Questions)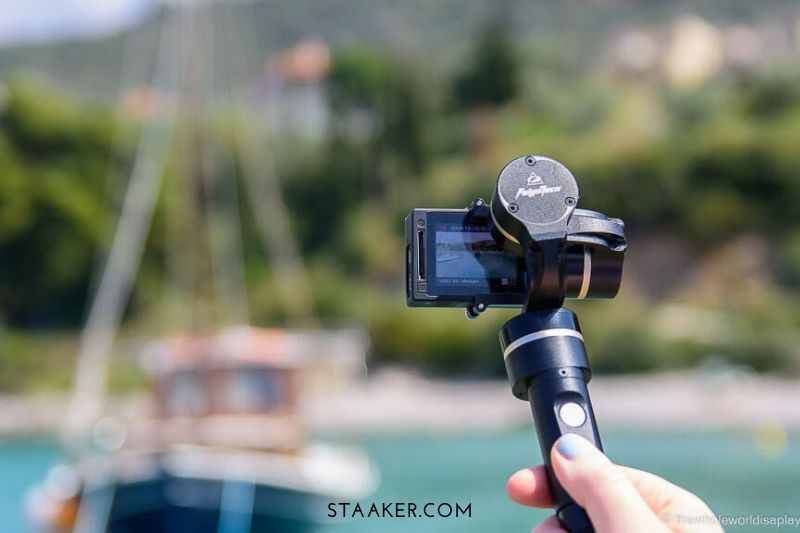 What are gimbals and how do they work?
Gimbals are tools or accessories for a camera. They have a pivoting support that lets the object (in this case, a camera) turn in any direction around an axis. A body's axis is the line around which it turns. GoPro Gimbals are used to fully stabilize the camera you are about to use, just like tripods and monopods.
If you are curious about GoPro, see this article: How Does A Gimbal Work
Do I have to use a gimbal?
Using a gimbal is not a must! It is a tool that most professional photographers and videographers use because they think it is important and because it helps them. But if you don't want to use one, you are more than welcome to not.
If you have a DSLR camera, you probably know that a best DSLR stabilizer is a big help when taking photos. The same is true here.
Get more informations here: How To Use A Gimbal
Does every kind of gimbal work with every kind of camera?
Now, this is a good question! You should always remember that a gimbal won't work with every camera. It's best to find out first if the camera you already have will work with the gimbal you want to buy. Since this article is about GoPro cameras, make sure that the gimbal you want will work with them.
Are gimbals only useful for taking videos?
Since gimbals make stable recordings, if you are a videographer, you should use them more. Still, shaking can also ruin your photos. It can also be used to take pictures, but not as much as when recording.
Are gimbals expensive?
GoPro gimbals are different from each other by how much they cost. In general, they are not very expensive, but you may want to check the price first! Don't forget that every high-end feature has a high-end price.
Should you pay for a gimbal?
As some of the other answers have said, if you are a videographer, a gimbal is even better when you use it to make videos. They are definitely a big investment you can make if you want to get a better job. Overall, and this is related to what was said above, get a gimbal if you can afford it.
Can water get into gimbals?
This is a very troublesome fact! Since GoPro hero cameras are very resistant to water, the fact that GoPro gimbals are not waterproof is a bit strange. But as the reviews of the items show, there are some that may be able to stand up to splashes and especially raindrops.
Conclusion
A few things to consider when purchasing a gimbal for your GoPro. Price is often a factor, but you also want to ensure that the gimbal is compatible with your GoPro model and has the features you need. Plus, which is compatible with all GoPro models and has various features that will help you get the perfect shot every time. Hopefully, you found this guide helpful in choosing the best GoPro gimbal for your needs.