Zhiyun is a Chinese company that manufactures gimbals and camera stabilization systems. The Smooth X and Smooth XS are two of their most popular products. Both gimbals are designed for smartphones, but the XS is also compatible with action cameras.
So, which one is right for you? In this article, we'll compare the two gimbals: Zhiyun Smooth X vs XS and help you decide which one is the best for your needs.
Specs
Dimensions
145 x 65 x 56 mm (Folded), 254 x 56.9 x 55.88 mm (regular)
188 x 61 x 56 mm (Folded), 267 x 69 x 56 mm (regular)
Smartphone support
200g +/- 35g, 50mm - 90mm wide
200g +/- 35g, 50mm - 90mm wide
Battery
Up to 5.5 hours (4 hours is standard)
Up to 5.5 hours (4 hours is standard)
Rotation
Yaw (Pan): 300°, Roll: 285°
Dimensions
145 x 65 x 56 mm (Folded), 254 x 56.9 x 55.88 mm (regular)
Smartphone support
200g +/- 35g, 50mm - 90mm wide
Battery
Up to 5.5 hours (4 hours is standard)
Rotation
Yaw (Pan): 300°, Roll: 285°
Dimensions
188 x 61 x 56 mm (Folded), 267 x 69 x 56 mm (regular)
Smartphone support
200g +/- 35g, 50mm - 90mm wide
Battery
Up to 5.5 hours (4 hours is standard)
Pros And Cons
Pros
Cons
You must be extra careful while framing without tilt stabilization.
One bright blue light never goes off, and it should be turned off.
It takes a long time to unfold, especially if you're in a rush.
What's In The Box
On paper, the Smooth-X and XS appear to be reasonably similar, but their designs are considerably distinct, each with its advantages and disadvantages. The X is the less expensive and more portable of the two. It has been planned to fold down to 5.71″ x 2.56″ x 2.2″, which is about the same size as the original Pixel XL but 5 times thicker. This fits easily into places like a backpack's water bottle net and can be pocketed in anything except tight jeans.
This portability, however, comes at the expense of simplicity. You'll have to go through a few unpleasant unfolding procedures before using the Smooth-X. I can open it, mount a phone, and turn it on in about 15 seconds after some practice. It's still faster than balancing a three-axis gimbal, but it's much more complicated.
The Smooth-XS, on the other hand, excels at speed and simplicity. The handle does not need to be unfolded; it simply slips down a rail and locks in place. It usually takes me around 8 seconds to get it ready, and it feels less effort. Although the XS isn't as small as the X, it's still more compact than other 3-axis gimbals.
I reviewed the Zhiyun Smooth-Q2, the smallest smartphone gimbal on the market at the time, last year. The Smooth-XS isn't much smaller than the Smooth, but its design allows it to fit into large pockets and tiny bags easily. The Smooth-X is smaller than the Smooth-X, making it the most portable stabilizer on the market.
Both models have a telescopic column in the grip, differentiating them from other smartphone gimbals. It's similar to a selfie stick but extends your reach by about 10 inches, allowing you to include a few more people in a photo or comfortably record yourself and your surroundings in a vlog.
This also makes holding a phone at face level more comfortable: instead of keeping your arm wholly extended, you may leave it down with the elbow bent around 90 degrees.
The longer reach opens up a few more possibilities for creative pictures. You can stroll with the camera angled down and your arm raised to obtain a glimpse of the crowd or fast reverse the handle, so it's near the ground to film your feet. The extended reach is also helpful in getting a camera into tight spaces or over the side of a bridge.
The control panels on all versions are nearly identical, featuring a thumbstick for panning and rolling, buttons for selecting follow modes and triggering the shutter, and a digital zoom rocker on the side. The ZY Cami companion app must use the shutter button and digital zoom rocker.
At the bottom of the handle, there's a standard 1/4-20 screw mount for connecting a mini-tripod or other attachments like a microphone or lighting. Four brilliant white LEDs on the side and an always-blinking blue LED immediately north of the thumbstick are also included. These irritate me. They're too bright in low-light situations and should be covered right away.
The Smooth-X comes with a Type-C charging cord and is available in white or dark gray. For an additional price, a Combo bag with a zippered travel case and a tiny tripod is offered. I like Zhiyun's micro tripods and find them to be quite valuable. Therefore, I recommend investing a bit extra in the complete kit.
The Smooth-XS is only available as a complete package, which includes a charging cable, a compact tripod, a wrist strap, and a soft felt drawstring pouch. Only two of the five colors listed on Zhiyun's product page appear to be available in stores at the time of this review. Today, you can buy white (with bright orange controls) and pink, or look for yellow, navy, and black in the future (named dark).
Battery And Stabilization
The Smooth-X and XS are 2-axis gimbals that correct pan and roll orientations, not tilt. In other words, users can easily make the left and right spins and keep the phone level with the horizon, but there is no motor to raise or lower the phone.
Most phones, according to Zhiyun, can already stabilize video well enough to account for any jerkiness, which is accurate in practice. Although you won't obtain the near-perfect look of a 3-axis gimbal, I believe most people will be satisfied with the results.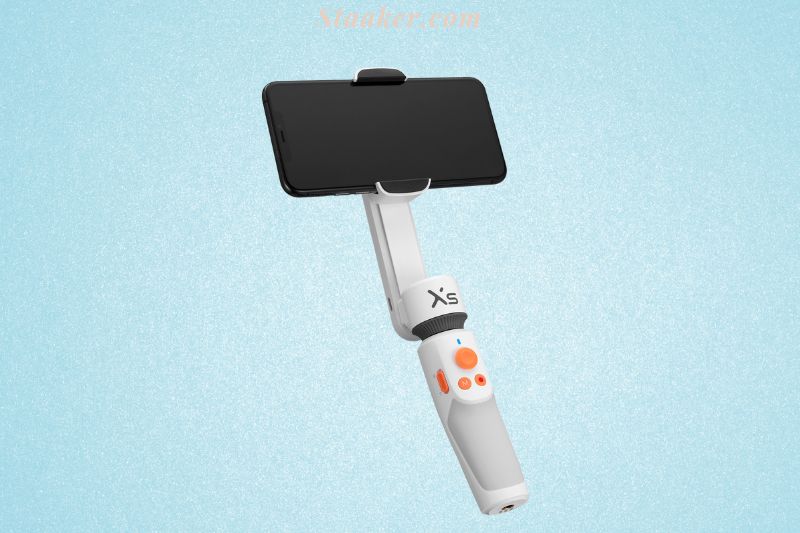 The actual cost of giving up tilt control is that you'll have to pay greater attention to your framing. After a few minutes, my arm would gently slip downward, leaving the camera tilted a little too high or low. It's not a deal-breaker but something to keep in mind.
The telescoping handle also aids in obtaining more stable footage. When extended, you may capture photos at a decent distance without fully extending your arm, reducing the tiredness that a typical gimbal would cause your shoulder after several minutes of holding it up.
Both types are rated for 4 hours of battery life by Zhiyun. However, they can last up to 5.5 hours if correctly balanced. I haven't been particularly scientific in my timekeeping, but this seems correct. Since it will rarely be running continuously, 4 hours should be sufficient to get through a whole day. Both versions take roughly 3 hours to charge.
Maybe you are still misunderstanding 2-axis gimbals and 3-axis gimbals, don't miss our article.
Companion App
Zhiyun is separating its consumer and professional gimbals, and products like the Smooth X and XS will now use new software called ZY Cami, while big rigs like the Crane 2S will continue to utilize ZY Play. The new ZY Cami app is more attractive and refined, and it was created with casual users in mind.
You'll have to install and use it once to activate the Smooth-X and XS, but you may uninstall it. You might want to keep it because the zoom rocker and shutter button are only available in this app, and the advanced photography options are well worth it.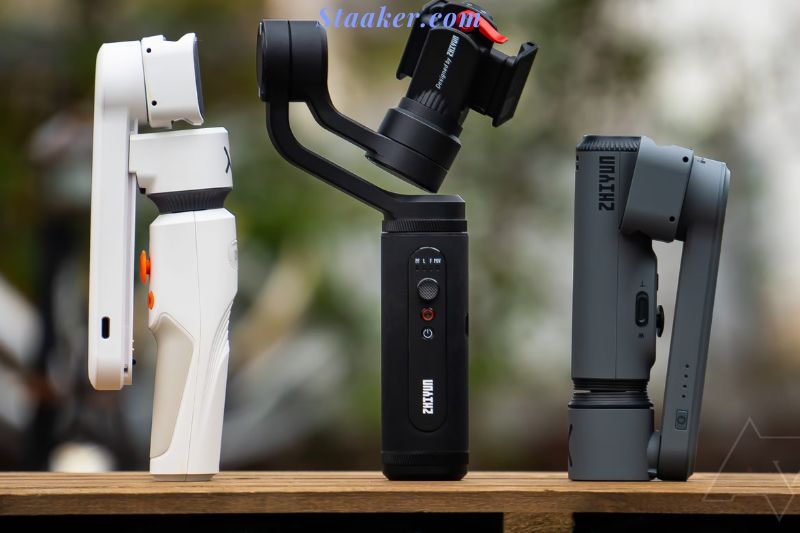 It includes most of the smart features in gimbal apps today, such as subject tracking, gesture controls, and Story Mode (several guided shots that are turned into short videos and set to music). 180-degree panoramics, hyperlapse, timelapse, and motion lapse are the shooting modes available.
Frame rate, shutter speed, exposure, and other parameters can be controlled manually. Glamour Effects are also available for smoothing skin and changing facial features.
Video
Conclusion
The zhiyun smooth x is an excellent choice for anyone looking for a camera stabilization system compatible with smartphones and action cameras. The Smooth XS is better suited for users who want to use the system with only smartphones. Staaker.com hopes this article was helpful!