The GoPro Hero 9 and iPhone 12 are two of the most popular cameras. They both have pros and cons, but which one is the better camera?
This article will compare the GoPro Hero 9 vs iPhone 12 to see which one is the better camera.
Design
GoPro Hero 9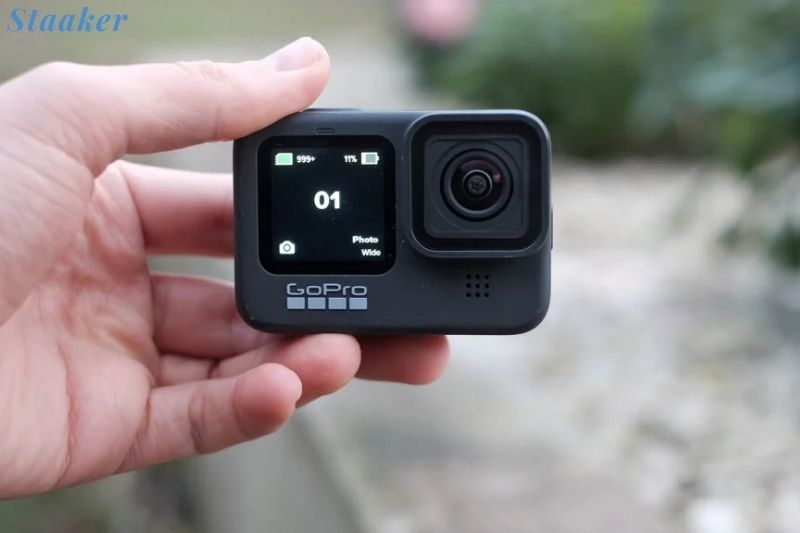 The Hero 9 Black is the biggest redesign of GoPro's flagship action camera since the Hero 5 Black, and the results are mostly positive (with a few caveats).
There are three big physical changes from the Hero 8 Black: a new 1.4-inch color display on the front, a beefier body (to house its bigger battery), and a larger rear 2.27-inch rear touchscreen.
Collectively, these new features feel like a response to the DJI Osmo Action, a fresh-faced rival that in some ways made GoPro action cameras feel a little dated. In some ways, the Hero 9 Black still does, partly because the new features all come with slight downsides.
First, the good news. That 1.4-inch color display on the front is a handy new addition for vlogging. It isn't touch-sensitive; otherwise, your memory card would quickly fill up with many unhappy accidents, but it does provide a live video preview of your scene and some useful shooting info.
Being a square display, it isn't in the same league as the side-hinged screens seen on cameras like the Sony ZV-1 or your smartphone's screen when mounted on gimbals like the DJI OM 4. While the latter gives you a great live preview of your real shot, the Hero 9 Black's is more of a rough guide. It's enough to make sure your face will be in the frame, at least.
Previous GoPros have all had monochrome displays, which show shooting info like the remaining battery life, how much space is left on your memory card, and your current resolution/frame rate. Not quite as exciting, but certainly more practical if you don't shoot many videos on the camera.
iPhone 12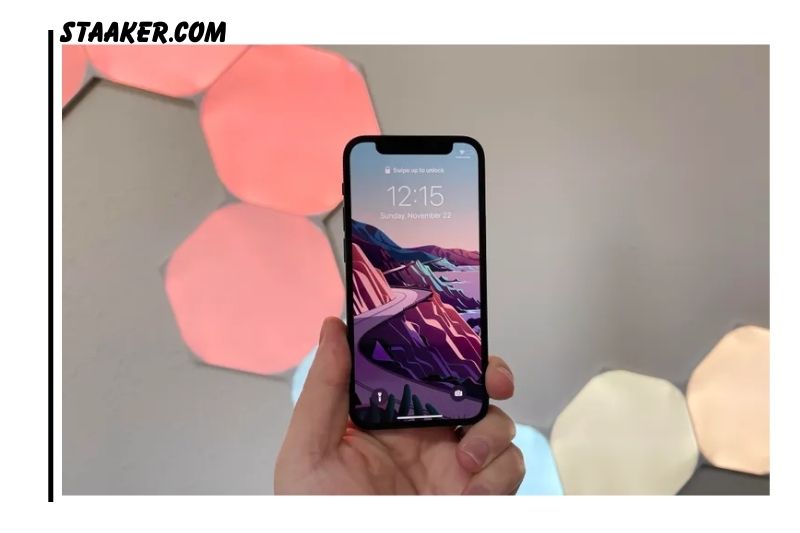 Apple rarely alters the physical design of the iPhone from generation to generation, and thus any change — no matter how small — is typically received with enthusiasm. You can chalk up the iPhone 12's new flat-edge aesthetic as one of those more modest revisions.
Sure, the flat edges look nice enough and offer a much-appreciated change of pace from the last several consecutive years of rounded iPhones. They improve the iPhone 12's durability with Apple's new Ceramic Shield material, as the round frames of previous iPhones made them more fragile.
We will be conducting our drop tests, but the Ceramic Shield display held up well in EverythingApplePro's torture test on YouTube. Both the iPhone 12 and iPhone 12 Pro did not crack at hip or shoulder height when dropped, and the display on the regular iPhone 12 didn't even crack from 10 feet, though the back did.
All that said, I wouldn't know if my hands have taken to the sharper design. These days, few smartphones employ flat sides, and the iPhone 12 reminds me why. The edges dig into your palm and make the entire device harder to grip.
For example, the iPhone 12 measures 0.29 inches thick — which is perceptibly identical to the 0.31-inch-thick Pixel 5. However, the Pixel 5 feels more slender in hand because it naturally fits the curvature of your palm.
Video And Photo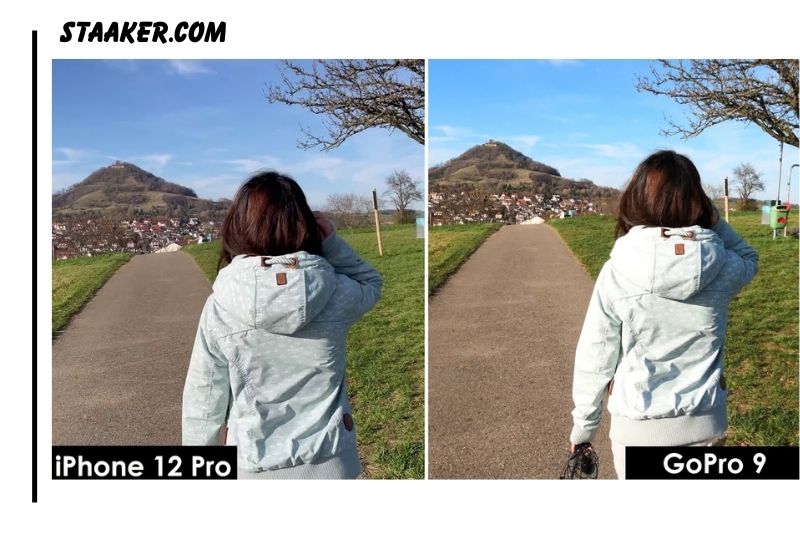 GoPro Hero 9
1080p up to 240fps
4K up to 60fps
5K at 30fps
20MP stills
You'll notice the most significant difference between a GoPro and a smartphone camera in the photo and video quality. A big part of this is that the GoPro has a fixed focus, so it struggles to focus on anything close to the lens – so it's no good for macro shots. Its low-light performance leaves a lot to be desired too.
Indoors with dim light and even outside at night shooting with the enhanced night mode, you won't get photos or videos that look as sharp, stable and bright as those from the modern smartphone's night mode. Things get a bit noisy and blurry when shooting photos in these conditions.
The Hero 9 is not all that hot when it comes to photography. You can get nice pictures with vibrant color and sharp detail in good daylight, shooting wide shots outdoors. But all of that goes away once you're in lower light situations or trying to shoot something close-up. It just falls apart, creating lots of image noise and losing detail.
This is an action camera, and therefore it's best when being used to capture motion where you need stability and where you need to capture as much of a scene as possible. And it's best in good even daylight outdoors.
There's no shortage of resolution and frame-rate options. You can go up to 4K at 60fps or 5K at 30fps if you want, with digital lenses that can switch you between narrow and wide views.
For slow-motion shooting, you can switch to 1080p and have it record up to 240fps, shooting at either 16:9 or 4:3 aspect ratio. The variety of options is virtually endless. So whatever kind of action footage you want to shoot, you can.
Our only criticism of the resulting footage is that there's a sense that the colors are a bit over-saturated and contrast is too high, while bright spots and highlights often look too bright and overexposed. We don't expect GoPro cameras to be perfect in that regard. Still, quality doesn't quite match that of decent smartphones, so the real benefit of having it is its durable build and the epic HyperSmooth capabilities.
iPhone 12
The camera setup on the iPhone 12 doesn't appear to be much of an upgrade when you look at the sensors. The same wide camera (which most would call the regular sensor) and the ultra-wide snapper allow you to zoom out when you want to get more scenery or people in the frame.
The overall capability of these sensors has been improved, though, with the wide 12MP sensor now coupled with an f/1.6 aperture for what Apple says is enhanced low light photography compared with 2019's iPhone 11.
The results bear the claim – low light performance has improved touch for brighter shots with more detail.
The main thing that impressed us with the iPhone 11 back in 2019 was Night Mode, and it's back with the iPhone 12 – Plus. You can now use it with both the wide and the ultrawide sensor.
Night Mode can detect when light levels are dropping. You'll be prompted to hold your phone still for up to 15 seconds, depending on the conditions, to brighten the photo through computational understanding over the exposure of the image.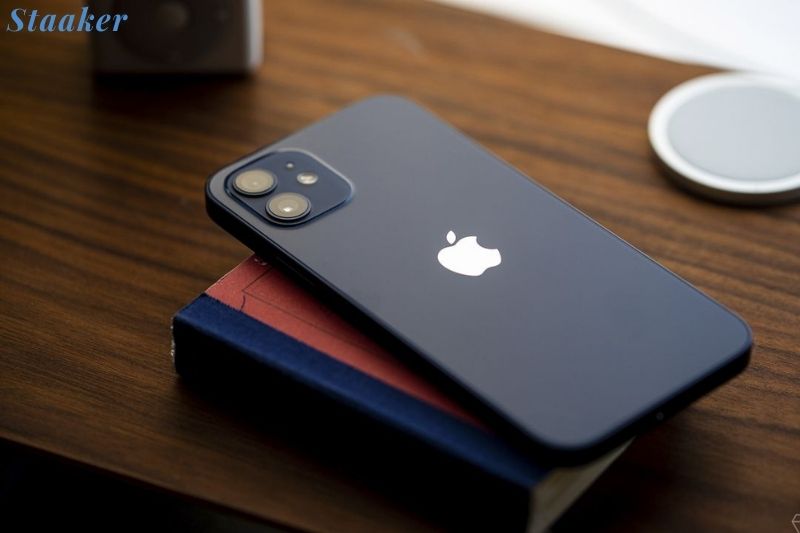 The results are genuinely startling, with shots were taken in complete darkness looking as clear as day – literally. You need to get your framing right and keep the camera very still; you'll find that a degree of blur will creep in if you jiggle the camera too much during the exposure.
However, for the most part, and even with a small amount of motion from time to time, Night Mode brings a level of detail tonight scenes that you would have scarcely thought possible.
It works best with the 'main' wide sensor, though – while in our tests while we found that both could capture some shockingly bright images, Night Mode with the ultra-wide sensor produced more 'muddy' pics, which makes sense given it's not as adept at shooting in low light.
While Night Mode can be startling in its ability to brighten an almost pitch-black scene, we would have liked to see more of an upgrade. Rather than using it on the ultra-wide sensor, making the process speedier and sharpening the results would have been better.
Yes, we're being rather picky here, but given that Night Mode needs a high degree of patience to do work, it would have been nice to see this feature just made easier to use.
The iPhone 12 does pack another upgrade in the form of the new Smart HDR 3 tech, which is more capable of reading particular scenes – such as those with an abundance of the sky – and tweaking the photos to look their best by perhaps highlighting features in the foreground, or lightening certain areas of the scene.
Combined with the primary camera's f/1.6 aperture, it does result in some brilliant snaps, especially in mixed lighting or color conditions.
What's cool is that you can see the iPhone upgrading and enhancing photos as you're taking them, brightening and sharpening your otherwise fairly standard snaps, using the Deep Fusion capabilities in the iPhone to enhance the image, pixel by pixel (according to Apple). It's pretty heavy processing, but it does make your photos sparkle.
We were impressed with the level of detail captured in some pictures without impacting the color and sharpness of the image (even if it does feel a little slow for 'the world's most powerful chip in a smartphone).
The front-facing camera has been upgraded, with the 12MP sensor now essentially functioning similarly to the rear ultra-wide sensor. The f/2.2 aperture could be a touch faster in our eyes, as night shots sometimes proved harder to take, but you can also use Night Mode on the front-facing camera.
Some of the selfies we snapped were pretty good, but some of the lower-light efforts looked grainy or washed out if we didn't use the front-facing Retina flash to brighten things. The portrait mode photos in low light were probably the most impressive of the bunch.
The portrait mode on the front-facing camera seems to be more effective at finding the edges of hair this time – we didn't spot any examples where the iPhone 12's attempts to blur the background yielded a foggy mess around the subject.
If you're a fan of video, that's also been into the shop and given a performance boost. Apple has made a massive deal that its iPhone 12 range can record video in Dolby Vision on the fly and process it before displaying it in HDR (high dynamic range) quality.
We had a good play with the video quality in different scenarios – and our main takeaway is that Dolby Vision isn't going to be a key reason for many 'normal' folk to buy the iPhone 12.
The HDR-improved results are more precise and colorful when viewed side-by-side with their non-HDR counterparts, but the difference isn't that marked.
You're also only able to record at 30fps in 4K, so if you want to make the most of Dolby Vision, you'll be better off plumping for the iPhone 12 Pro or Pro Max, which can handle it at up to 60fps, resulting in the more buttery-smooth video for your home-made (or professionally-made) movies.
With the iPhone 12 camera, you're left with a sense that Apple has done enough – by improving the sensor on the iPhone 12 a little here and there, the photographic results are a little more impressive, with the Night Mode upgrades, in particular, their job well.
But you might not notice a massive difference in the quality levels between the iPhone 11 and 12 (if you're trying to choose between those two models, for instance); you'll get good-looking, colorful snaps, but it's the iPhone 12 Pro (and especially the 12 Pro Max) that have some of Apple's best cameras right now before you look at the iPhone 13 range.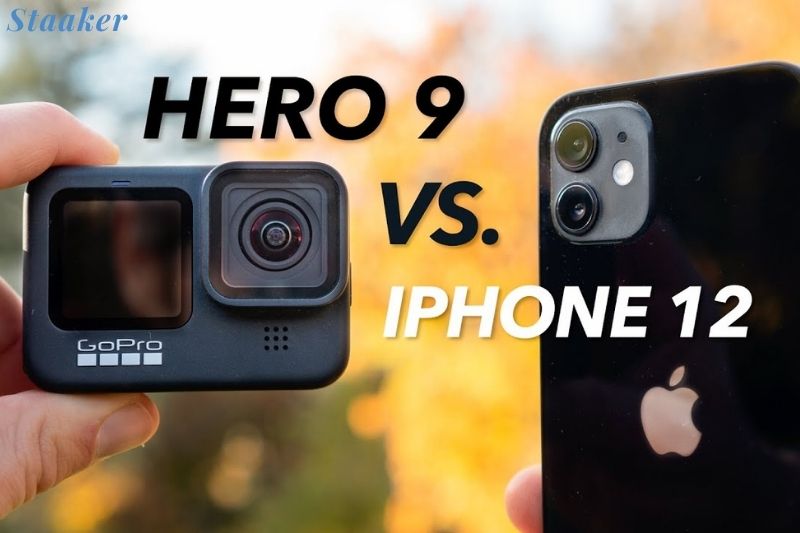 Waterproof
The latest GoPro models are waterproof in the true sense. You don't need additional housing to protect them from water; they're inherently made to be waterproof (up to 33ft or 10 meters). So, you can dive with a GoPro into the sea and capture perfect quality videos and photos.
Theoretically, even the iPhone is waterproof! But, even Apple's latest iPhone models are only splash-proof or waterproof just by a couple of meters of depth (IP68 certification).
So, if you are planning on recoding beach videos or underwater videos, a GoPro 9 will be more indicated. An iPhone is suitable for recording vlogs at the beach or the pool. But not it's not so meant for snorkeling or diving videos.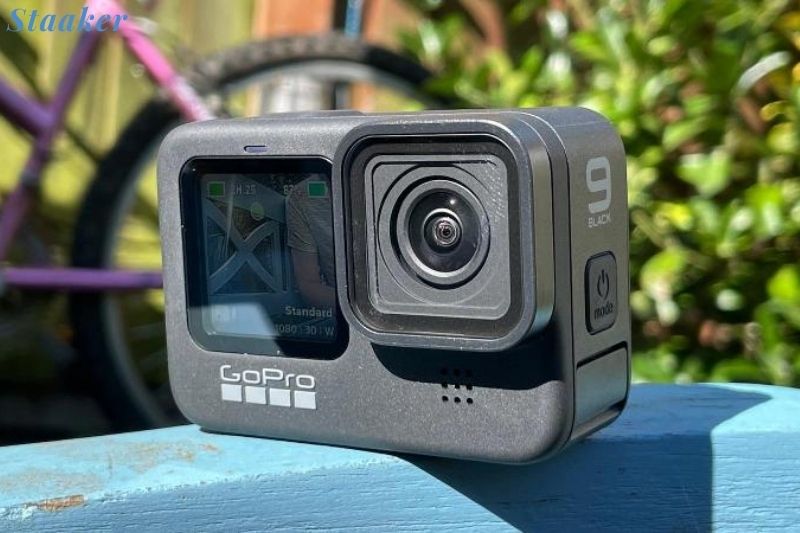 Stabilization
The latest iPhone and GoPro models have an excellent Image Stabilization capability. iPhone 13 Pro uses Optical Image Stabilization (OIS) and Electronic Stabilization. In contrast, GoPro Hero 10 Black uses its advanced Hypersmooth Stabilization that produces super stable footage even in the worst shaky conditions and without gimbals.
However, the image stabilization on iPhone is only good enough to slow down a slight handshake. It isn't even in the same league as the GoPro, especially when you talk about action videos. The shots taken by the iPhone look much more unsettled, especially with fast movements.
In contrast, the GoPro has a set focus even in highly shaky situations, thanks to its outstanding HyperSmooth stabilization. So, if you are planning to shoot action videos, GoPro is better than any iPhone.
Video
Maybe you need:
Conclusion
Based on our comparison, the GoPro Hero 9 is the better camera. It has more features, and it is overall better quality. The iPhone 12 is suitable for beginners, but the GoPro Hero 9 is better for those who are serious about photography. Staaker.com hopes this article was helpful!