If you're looking for the best gimbal for your Canon 90D, 80D or 70D DSLR camera, then you've come to the right place. In this article, we'll introduce you to the top gimbals on the market that are compatible with these popular Canon cameras. We'll also give you a few tips on how to choose the right gimbal for your needs.
Top Rated  Best Gimbal For Canon 90D, 80D & 70D
Best Gimbal For Canon 90D
Weebill Lab
Performance And Functionality
Now, as we noted, the Canon 90d comes in at only 1.32 pounds meaning that the 6.6-pound maximum load capacity of the Weebill Lab can accommodate the great majority of conceivable setups for the 90d. Even if you mount a variety of heavy camera accessories to it, we are confident in declaring that the Weebill Lab will likely be able to handle your setup and provide you with the image stabilization that you are looking for.
The quickest method to know is to find out the overall payload weight of the full Canon 90d configuration, including all camera accessories. We would assume that the majority of installations will be under the 6.6 pounds that the Weebill Lab can support.
The Weebill Lab also supports a good ten-hour maximum battery life that should be adequate for the bulk of our readers to record all the video footage they need between charging chances. Once the gimbal does run out of juice, it can be recharged back to full in roughly three hours via a conventional wall power outlet.
In addition to this, many vloggers and videographers take a high-power USB power bank with them to top up both their gimbal and camera as well as any other electronic devices like smartphones when out and about. A high-power bank allows you to extend the battery life of your gadget to fulfill pretty much any needs you may have.
All of the clips in the cinematic video shown above have been recorded using the Zhiyun Weebill Lab and highlight the exceptional levels of image stabilization that this wonderful gimbal is able to produce for your Canon 90D.
Now, the films were actually recorded using the Canon M50 rather than the Canon 90D, but with the 90D being such a light DSLR, we feel that it is an appropriate picture of what you may anticipate.
Weebill Lab is one of Zhiyun's latest handheld gimbal stabilizers, having the most up-to-date balancing algorithm and motors available. In our opinion, these Zhiyun gimbal motors are the best available on the market now, and DJI's motors are the closest to them.
The Weebill Lab's gimbal motors respond to even the tiniest of movements before the Weebill Lab's balancing algorithm works out the best way to correct the movement and keep your camera stable. Video footage shot with the Canon 90d can benefit from this smooth and speedy image stabilization, resulting in better-quality images.
As far as we're concerned, Zhiyun has done an excellent job with their new gimbal line, and the Weebill Lab has swiftly taken the lead in this space. In the short period since its release, the gimbal has received numerous positive reviews from vloggers and filmmakers who use it as their primary gimbal.
Control and Interface System
As far as we can tell, the Weebill Lab's control interface system is one of the best on any current gimbal stabilizer we've encountered. With the optional smartphone mount shown in the image above, it is built around the standard of an LCD Panel, a joystick, and a few buttons.
Despite the fact that this is a fairly standard interface, the charm lies in its simplicity and the ability to customize it. Weebill Lab is a great choice for many various types of users because it offers the same basic user experience for all of them.
For example, a novice gimbal user can take advantage of the system's simplicity, while an experienced user can take advantage of the system's customizability.
Additionally, the system is extremely responsive and user-friendly. The Weebill Lab's control system is simple enough for a novice gimbal user to get the most out of it for their Canon 90D. Even when your hands are cold or damp, the joystick and buttons remain sensitive.
Smartphone App
The Zhiyun Weebill Lab now supports the Zhiyun smartphone app for the intelligent object image tracking system. The app's initial syncing problems are now resolved, as are the disconnections that occasionally occurred after it was synchronized, and it has undergone a general facelift to make it more user-friendly.
Even if you don't intend to utilize the intelligent item monitoring system, we highly recommend that you download the smartphone app because it is free. Wireless remote control and quick and easy access to your gimbal settings are two of the reasons why this software is so convenient.
Balancing
As the latest Zhiyun technology, the Weebill Lab's camera-balancing system is simple and quick to use. There are also a slew of instructional videos on YouTube to help you out if you run into any issues when using the gimbal, in addition to the clear instructions included in the box.
Because of the bad press that gimbals had a few years ago, when some were a complete nightmare, many newcomers to the technology are concerned about the balancing mechanisms.
Fortunately, companies like Zhiyun and DJI have always made an effort to ensure that their systems are as quick and simple to operate as possible.
Build Quality And Design
The Weebill Lab's build quality is exceptional, making it a perfect choice for anyone who plans to travel with their Canon 90D. It is the smallest and lightest of all rival gimbals. As a result, you won't have to worry about the Weebill Lab taking up too much room or weight in your luggage and causing you to go over your airline's baggage allowance.
An additional benefit of the gimbal is that, despite its small weight, it is constructed using the most advanced polymers, making it both durable and robust. As a result, you can travel with confidence, knowing that your gimbal will be secure and able to withstand a few bumps along the way. There are some advantages to having a pricey stabilizer that won't break at the first bump.
Zhiyun has also been one of the first companies to innovate the typical handheld gimbal design in years. The gimbal's primary handle may now be swiftly detachable and mounted to the top of the gimbal in order to operate the gimbal in underslung mode.
Using this gimbal with your Canon 90D gives you the ability to shoot some fantastic low-angle footage without having to acquire other gimbal components that take up more space and weight.
DJI RS 2 Combo
The DJI RS 2 has the highest weight-to-payload ratio in the industry, with a tested payload of 10 pounds, despite its 2.3-pound weight.
Using monocoque carbon fiber axis arms, the gimbal gains tremendous strength and weight savings.
An integrated LCD screen allows you to easily alter parameters and utilize features of the Ronin app. 1.4″ Full-Color Touchscreen. Your creative freedom is now at your fingertips with ActiveTrack 3.0.
As a professional filmmaking tool, the DJI R2 has a wide range of professional-grade mounting options. Control RS 2 from a distance by integrating it with a car, jib, or slider.
Efficient Payload Balancing – It is compatible with both Manfrotto and Arca-Swiss standards for a dual-layer camera mounting plate. A fine-tooth balancing knob allows you to establish the exact balance in your arrangement.
DJI RS 3 – 3-Axis Gimbal Stabilizer
Max Tested Payload: DJI RS 3 has a maximum tested payload of 3 kilograms (6.6 pounds) thanks to its 1.3 kg weight (which includes the gimbal, battery handle, and double-layer quick-release plates) (6.6 lbs).
A simple touch of the power button unlocks the three axes of DJI RS 3's three-axis gimbal, allowing for substantially faster and more efficient transitions and storage of the drone.
RS 3's anti-shake performance has been increased by 20% with the new-generation RS stabilization algorithm, making low-angle and dynamic photos easier than before.
It is possible to control the shutter wirelessly with the Bluetooth Shutter Button – RS 3. After the initial connection, cameras will automatically pair, saving consumers time and effort when taking photos.
An OLED touchscreen of 1.8″ is included in the DJI RS 3, enabling easy access to the majority of the functionalities of the Ronin app. It also has a new user interface that is simple and easy to understand.
Tilta Advanced Ring Grip
Enables more fluid and adaptable movement while working.
Full RS3 PRO and RS2 Remote Control Handling Support.
Control DJI Wireless Follow Focus Motors, Nucleus M, and Nano.
RS2 and its accessories benefit from longer battery life thanks to many power supply options.
Using the Power Supply Module, you may quickly and easily mount and power multiple monitors (not included).
Best Gimbal For Canon 80D
Zhiyun Crane 2
Zhiyun has been one of the key brands in the gimbal sector for some time now, managing to quickly develop their goods and earn them an excellent reputation. The Zhiyun Crane 2 is no different either. It has an outstanding reputation within the photographic world that only shows signs of getting stronger as time goes on.
It has a max payload of 7 lb / 3.18 kg, placing the Canon 80D's 1.61 lb / 0.73 kg weight well within its limits while still leaving a decent allowance for your lens of choice too.
This is unique for the top-of-the-range gimbals on the market right now, and we feel that this alone helps make the Zhiyun Crane 2 the best Canon 80d stabilizer for most forms of recording.
The gimbal comes with three lithium-ion batteries included that are quick and easy to both fit and remove from the gimbal. The three included batteries are able to power the gimbal for up to eighteen hours of operating time; however, this may depend slightly on your settings.
For the Canon 80D, we would recommend that you select either medium or high motor power, depending on your lens of choice.
The Zhiyun Crane 2's battery life can be extended to roughly 24 hours using third-party extra batteries, according to a number of sources. For a reduced cost, you can buy a huge number of batteries that will power the gimbal for four to six hours each and then swap them out as needed. This technique is more popular.
It has a quick-release plate that allows you to quickly and simply remove and re-attach your camera to the gimbal. It is possible to swiftly switch between the Zhiyun Crane 2 and your tripod thanks to the quick release plate, which is similar to that found on some Manfrotto tripods.
A quick-release clamp adapter is also available from Andoer to make the Zhiyun Crane 2's quick-release plate compatible with the Manfrotto 501 series as well. Several Zhiyun users are already doing this and reporting positive results.
The gimbal comes with a very basic short and compact tripod as standard, although a full-size tripod will almost always be better in most situations.
This product has an OLED display panel, as displayed in the image to your right. The gimbal mode, battery life, and a slew of other parameters can be displayed in this window's configuration options.
A joystick, mode buttons, adjustment dials, and the follow focus wheel (current software only supports Canon cameras, but more are being added) are all shown in the image above. To the left of the panel is a follow focus wheel.
Using your thumb and the joystick, you can quickly and effortlessly fine-tune the direction your Canon 80D is facing to capture the best possible footage. The following modes can be instantly selected by pressing the mode button:-
Panlock Mode – Allows for pan but no tilt.
Lock Mode: This mode prevents the camera from moving in any direction and ensures that it remains level at all times.
Follow Mode – Offers both pan and tilt functionality.
Selfie Mode — rotates the camera so that it points directly at you.
The camera's control panel can also be used to change and adjust some of the camera's settings. The present firmware only works with Canon cameras, but this is expected to be expanded to include more models in future versions.
The gimbal's slow shutdown is one of the features we appreciate most about it. If your camera and lens pair aren't balanced appropriately when you turn it off, you risk damaging your equipment. If you need more time to grasp your 80D, the Zhiyun Crane 2 will gradually release the power from the gimbal motors.
Crane 2 may also be used with Zhiyun's smartphone app, as can be seen in the image below. A recent update added a ton of additional features, elevating it to the position of the finest gimbal smartphone app.
With the app, you can not only use your phone's joystick to operate the gimbal, but you can also make real-time adjustments to various settings while you're out and about filming.
 DJI Ronin-S
The DJI Ronin-S is the next gimbal on our shortlist for your Canon 80D. Currently, this is another highly regarded, single-grip, three-axis gimbal. Similar to the Zhiyun Crane 2, the DJI Ronin-S has a strong following in the photography world and is only expected to grow in popularity as time goes on.
This gimbal's construction is great. With a camera or lens attached, it weighs nearly 4.5 pounds (2 kilograms) without the weight of the camera or lens attached to it. That being said, it has a tested payload of 7.94 lb, or 3.6 kg, which means it can manage the 1.61 lb/0.73 kg weight of the Canon 80D.
Third-party reports from customers who have utilized the DJI Ronin-S over its recommended 7.94lb/3.6kg maximum payload without difficulty were found during our research for this piece. This gimbal is not recommended if you plan to exceed this weight, as it may void your warranty owing to the wear and tear on the motors.
The batteries can power the gimbal for up to twelve hours of continuous use before needing a recharge. A downside of this gimbal is that it requires a USB cable to charge the battery inside of it.
If you have to lay the gimbal down near a power outlet to charge it, you may be unable to use it. If you're going to be using the gimbal in public, you might want to consider bringing a portable USB power bank (you can find product prices and availability by clicking here).
The gimbal handle's power indicator shows that it needs to be recharged. Plug a portable power bank in and keep using your gimbal until it is fully charged. DJI Ronin-S can be charged from empty in less than two hours and fifteen minutes. Thus you may also use the USB power bank to recharge it between users as well.
It is easier to assemble and disassemble than the Canon 80D, although it can be more difficult to rebalance depending on the lens you're using. Due to both saving and then requiring almost the same amount of time, the trade-off between the ease of building and the difficulty of balancing is about the same.
The 45-degree angle rear motor arm of the DJI Ronin-S is, without a doubt, one of the best its characteristic over the Zhiyun Crane 2.
Even though it includes a tripod and a carrying case, the ones included with the DJI Ronin-S are of poorer quality, in our opinion than those that come with the Zhiyun Crane 2. However, if you're in a bind, they can still assist you and complete their tasks.
In the end, the DJI app is entirely compatible with the DJI Ronin-S, allowing you to make quick and easy adjustments to the gimbal's settings while using it outdoors. Using the joystick controls on your Canon 80D, you may point the camera in whatever direction you choose without having to be in close proximity to it.
FeiyuTech a1000
The FeiyuTech a1000 gimbal works with the Canon 80D. We highly suggest it. They may not be as widely recognized as Zhiyun or DJI goods, but FeiyuTech products are beginning to carve out a distinct market position and build an enthusiastic following.
The FeiyuTech a1000 offers a few advantages over the Zhiyun and DJI gimbals that were discussed earlier in the article, but its cheaper price point is its key selling point. For your Canon 80D, this is a superior entry-level or budget gimbal with equivalent features.
The a1000's maximum payload is only 3.75 lb / 1.7 kg, which means that the 80D's 1.61 lb / 0.73 kg for your lens will leave little room for additional weight, although most popular lenses should be fine.
Best Gimbal For Canon 70D
Zhiyun Crane 3 – Best Load Capacity
Crane 3, a superb gimbal with "toughness" that can hold a weight of 4.5 kilos, comes in third place and costs a painfully high price.
It offers to hold any of the most popular DSLR and video lens models, including the Canon 70D. The setup with more than eight pounds of the payload may seem impossible to some of you.
Since many videographers record with extra-heavy lenses and camera cages and grips, as well as other gear like video lights and microphones, they may end up going over the weight restriction.
Its dimensions are 18.5 x 16.4 x 5.3 inches, and its weight is 4.9 ounces. However, its two-handle design rather than the one-handle style is a big aid in supporting the weight of both the camera and the gimbal. In essence, you're distributing the weight evenly between your hands.
Still, keep in mind that this is not a general-purpose gimbal; it was developed for heavy-duty payload use only.
MOZA Air 3 – Best Runner Up
The MOZA Air 3 gimbal is a wonderful choice for vloggers and entry-level photographers, and it comes in second place.
The appearance and functionality of the Air 3 are almost identical to those of our top selection, the Ronin S. The latter, on the other hand, outperforms the former in some respects but at a higher cost. It's sturdy and light enough to support a DSLR like the Canon 70D. Despite its diminutive stature, it weighs a whopping 2.31 pounds.
The Air 3's two handles are what we're most excited about. Dual handheld modes allow it to adjust to a variety of shooting situations, making it more versatile than a single handheld gimbal ever could be. Also, thanks to the motor's slip-ring technology, we're able to capture stunning 360-degree films.
Its Moza APP, in addition to offering several interesting features, has excellent handling and build quality. With the MOZA assistant, you can produce smooth and dynamic time-lapse videos on your smartphone or tablet.
Having a battery that lasts for 12 hours straight without needing to be recharged is also a huge plus in our book.
However, if you place large or heavy objects on it, the battery will be depleted.
Read more: Get The Best Gimbal For Sony A7III, A6400, A7SIII, A6000 & ZV1
The Benefits Of Using A Gimbal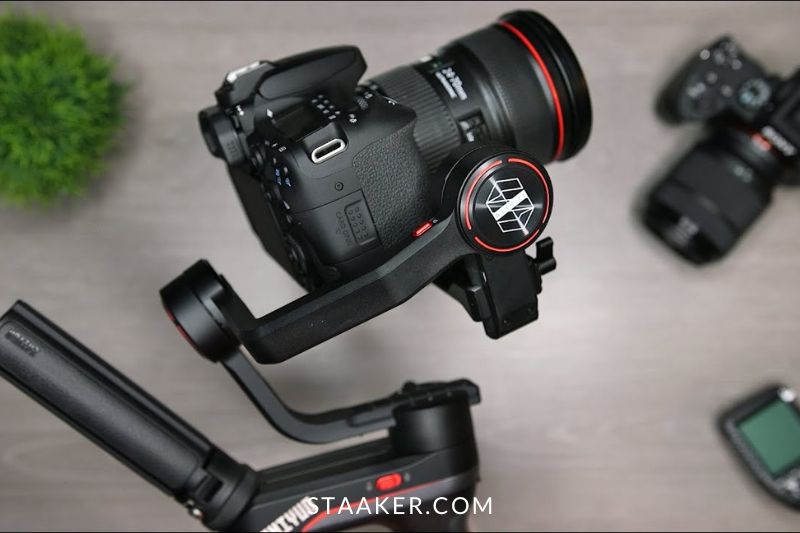 Stability
Your hand will shake when you shoot with your bare hands, which will degrade the quality of your videos.
Great Stability is provided by a Gimbal. That's its major function; if stability isn't provided, it should be discarded.
Reliability
When it comes to your pricey camera or smartphone, you don't want to lose track of them or inadvertently drop them and cry while seeing them break to bits. To keep your camera and other gear from falling, you'll need a gimbal to hold them all in place.
Flexibility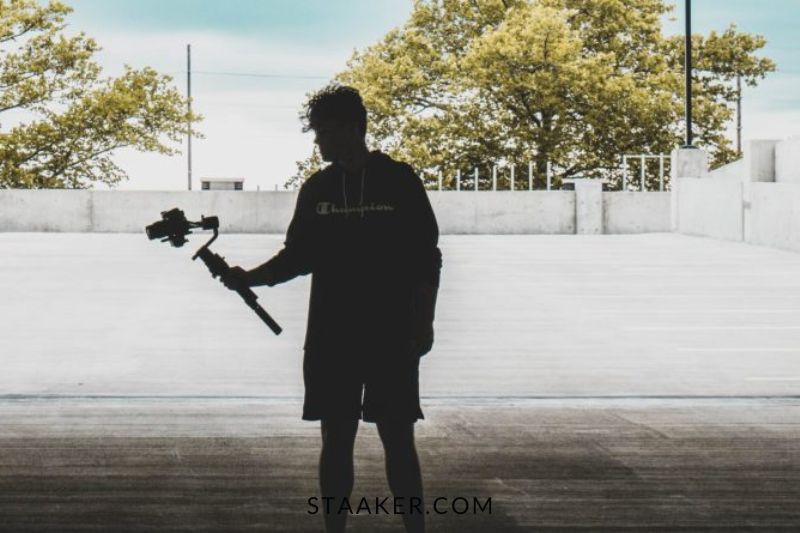 A gimbal is essentially a "hack" for taking videos more quickly and easily. Even if your hands are full, such as while riding a bike or driving, you can still take videos.
FAQs
Is there video stabilization on the Canon 90D?
The EOS 90D lacks a stabilized sensor. In order to obtain a more steady shot, Canon provides two options. Stabilized lenses are an obvious initial step. Alternatively, you might use digital image stabilization software.
Is a gimbal worth the investment?
If you're a videographer, having a gimbal on hand is a good idea. Having it in your hands gives you the confidence to shoot fast-moving, dynamic footage that is clear and solid. They could, however, be a significant financial commitment. If you can afford it, you should definitely acquire one.
Are gimbals helpful for taking photos?
A gimbal is a piece of equipment that helps you keep your camera steady while you're filming. High-quality still photographs can be captured using it as well.
Conclusion
There are a few things to consider when choosing the best gimbal for your Canon 90D, 80D, or 70D. The weight of your camera will be the biggest factor, as some gimbals can only support certain weights. You'll also want to consider the type of shooting you'll be doing most often, as some gimbals are better suited for specific types of photography. Hope this article will help you find the perfect gimbal for your needs.