Drones have become increasingly popular in recent years, as they offer a unique way to view the world from above. While many drones on the market can be quite expensive, there are also a number of options available for those on a budget. In this article, we will take a look at some of the best drones under 1000 to 750. 
We've selected the best drones from various categories, so whether you're looking for a drone with a great camera, a long flight time, or a robust design, you're sure to find the perfect option on our list.
Top Rated Best Drone Under 1000 to 800
Best Drone Under 1000
1. DJI Air 2S: The Best Camera For The Money
The DJI Air 2S is an excellent tool for creating high-quality images and video footage. This upgrade to the Air 2 drone comes with many advanced features. The DJI Air 2S folds down to 600g. It's also compact and easy to transport.
The drone's new 1-inch CMOS sensor, which can record video at a speed of 150 megabytes, is one of the most important upgrades.
It can take 20MP images and record video at 5k at 30fps. HDR photos are supported, and videos can be recorded in 10-bit DLog color profiles. The drone has a 4-way obstacle avoidance system, receives ADSB signals from helicopters and airplanes via its AirSense system, and displays its position on the DJI Fly App.
DJI's OcuSync transmission system has been updated to provide the drone with a long-range, triple GPS receiver, 31-minute flight time, and Mastershots flight mode. This will enable you to take professional-quality videos without any hassle.
Key Features
1-inch CMOS sensor, 22mm lens, fixed f/2.8 aperture & 88deg FOV
  20MP images (RAW and JPEG).
  Burst, AEB.Timed, Panorama, Smart photo mode
  Record video footage at 30fps in 5.4k
   10-bit D-log color profile for HDR videos
   150Mbps
   8x digital zoom
   Mastershots and Quickshots are short films that can be used as mastershots.
  Intelligent flight modes
   The 4-Way Obstacle avoidance system
   Flight time: 31 minutes
   Transmission range 12 km
2. DJI Mini 2: Best 4K Drone Under 1000
This drone is an upgrade to the Mavic Mini. DJI has dropped the Mavic branding, but it still belongs to the Mavic family. The original Mavic Mini was very popular, and it is lighter than 250g. However, you won't need to register it if it is in the USA or UK.
The Mini 2's compact, lightweight and portable design makes it an ideal drone for travel. It also records video at 100 Mbps in 4k and can capture images in RAW or JPEG. This will please photographers. The Mini 2 doesn't have any autonomous flight modes like the Mavic Mini.
However, it has Quickshots, which allows you to quickly record high-quality videos. DJI's OcuSync technology is also included on the drone, which provides a longer range and a shorter flight time.
Key Features
 1/2.3 inch CMOS sensor with 24mm lenses, fixed f/2.8 aperture and 83deg FOV
   12MP still images (RAW & JPEG)
 Interval, AEB & Panorama photography modes
   Record videos in 4k @ 30fps
   100Mbps
 Flight time: 31 minutes
 Five Quickshots
  4* digital zoom
 Transmission range of 10km
3. DJI Mavic Air 2: Best Balance Of Features And Price
The DJI Mavic Air 2 is a top-of-the-line consumer drone and features many of DJI's most innovative features. The drone is much smaller than the Mavic Pro, and it weighs in at just 600g. It is also lighter than the Mavic Pro, so it is easier to transport.
Professional photographers will love the DJI Mavic Air 2. It has an incredible HD camera that records 4k video at 60fps and can record at 100Mbps. The 1/2-inch CMOS image sensor can record images in either 12MP or 48MP HD resolution.
It can also capture in RAW and JPEG formats. The drone can record 8k video hyperlapses and has HDR support. This will allow you to capture the true colors in your photo or video. DJI's new Advanced Pilot Assistant System makes the Mavic Air 2 safer to fly.
Other features include OcuSync 2.0, which allows for smoother live video transmission, a smart track, 34 minutes of flight, and a transmission range of around 10km.
Key Features
 1/2 inch sensor with 24mm lens. Fixed f/2.8 aperture and 84deg FOV
  Images 12MP and 48MP
  Photo modes Burst, Interval and Timed, include Panorama, Timed, Timed, and Interval.
 Smartphoto HDR images
  Record videos in 4k @ 60fps
The d-Cinelike color profile for HDR videos
 8k Time-lapse videos
  Intelligent flight modes
 Obstacle avoidance system
   Flight time: 30 minutes
  Transmission range of 10km
4. PowerVision PowerEggX: Waterproof Camcorder
The PowerVision PowerEgg X drone is versatile. It has detachable propeller arms that can be attached to a tripod or used in hand. The PowerEgg X is a powerful camcorder thanks to its object tracking and active camera gimbal. The optional rain shell makes it practically waterproof when the clouds don't cooperate.
This machine might have its saving grace in the ability to use PowerEgg X for camcorder purposes. While we enjoy the drone's use for ground operations, it is evident that PowerVision is still a new technology in flight.
Pros
   Great camera tracking
 Waterproof shell
 Versatile machine
   Tripod mount
Cons
 Flying is not the best.
 Camera 4K is mediocre.
5. Autel Evo Nano Plus
The new Autel Nano Plus Mini Drone lets you fly away. The drone has everything you need to take stunning aerial photos, including a 50MP camera and 4k video quality. It also comes in a compact design. It has a large image sensor and an RYYB color filter.
This will reduce noise in low light conditions. The camera also features 3-way obstacle avoidance, a long transmission range, intelligent flight mode, and 28 minutes of flight duration.
This Mini drone is extremely lightweight and easy to transport. It also has powerful camera features that make it one of the best drones available for photography.
Key Features
 1/1.28 inch CMOS sensor with 23mm lenses, fixed f/1.9 aperture and 83deg FOV
   50MP images
  Multiple photography modes
   16x digital zoom
   Records 4k videos at 30fps
 HDR video recording
  100Mbps
  Intelligent flight modes
  4 Quickshots
 Obstacle avoidance system
 28 minutes flight time
 Transmission range of 10km
Although the Mavic Pro is a bit older, it remains one of the most popular drones on the market. It was initially priced at well over $1000, and now it retails for just below that price.
The Mavic Pro was the first drone to use the foldable design. It has also inspired many copycats since its release. The Mavic Pro's design was a big departure from DJI Phantom drones, which are larger and heavier.
The Mavic Pro is small and foldable, and it is ideal for travel photographers. It is lightweight and small, but it can still be flown in windy conditions thanks to its aerodynamic design. Its camera is the main feature of this drone.
It can record at stunning 4k resolution and capture photos in 12MP. The advanced gimbal system stabilizes it so that videos and photos are clear and free from distortion. The drone is also compatible with VR headsets and features like Circle Me mode, automatic return home, and ActiveTrack.
Key Features
   1/2.3 inch CMOS sensor with 26mm lenses, fixed f/2.2 aperture and 78.8deg FOV
 12MP still images
   Photography modes Burst, AEB and Interval, include:
   Records 4k videos at 30fps
  60Mbps
 27 minutes flight time
  Obstacle avoidance system
   Smart flight modes
   Transmission range 7km
7. Autel Nano
The Autel Nano mini drone has a small size, smart design, and is powerful. It can capture 48MP images and 4 videos. The Nano Plus is similar, but it has a smaller sensor. It also features an obstacle avoidance system and 28 minutes of flight time.
There are multiple photography modes, as well as an improved dynamic tracking mode. This mini drone is a great choice for anyone who wants a drone suitable for travel photography.
Key Features
  1/2-inch CMOS sensor and 24mm lens. Fixed f/2.8 aperture and 84deg FOV
 48MP still images
  Multiple photography modes
   HDR images
   Records 4k videos at 30fps
   100Mbps
   28 minutes flight time
   Obstacle avoidance system
  Smart flight modes
 Transmission range of 10km
8. Hubsan Zino 2
Hubsan is best known for its affordable, beginner-friendly drones. However, the Zino range of drones from Hubsan has proven to be extremely popular as they are not quite as expensive as the Mavic and Evo.
Although the Zino 2 drone is heavier than many comparable foldable drones, this shouldn't be a problem. It does have advanced features and can be folded easily to make it portable and compact. Dual GPS modules allow for improved hovering and precise drone tracking via the app.
There are several smart flight modes, including an image tracking mode and a GPS auto return to home. This drone's best feature is its 4k camera, which can record at 60fps. It also has a recording speed of up to 100Mbps.
For smooth and crystal clear video footage, this GPS drone is a great choice. Ambarella's dedicated image processor is included with the camera. The advanced gimbal system stabilizes it.
Key Features
  1/2.3-inch Sony sensor
 12MP still images
  Multiple photography modes
   Ambarella H22 Video processor
  Records 4k videos at 60fps
   100Mbps
   Intelligent flight modes
  33 minutes flight time
  Transmission range 8km
Best Drone Under 800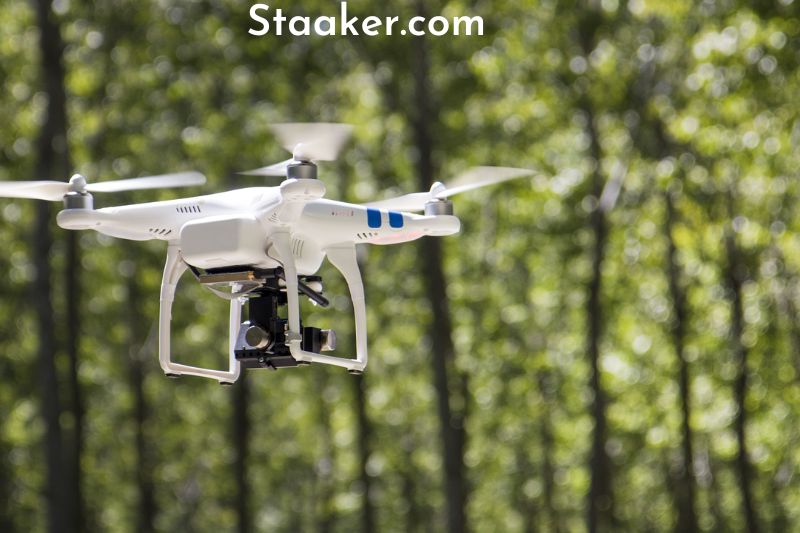 1. Ruko F11
Maximum Speed: 26.8 mph
Time to Fly: 30 minutes
Limitations: 1.2km
Batteries: 2500mAh Intelligent Battery
Camera: 4K UHD Camera 120deg FOV
Drone enthusiasts can enjoy 30 minutes of flight time on the Ruko F11 quadcopter with a full-charge. This is just what you see on paper. However, the drone can fly for 26 minutes in real-world conditions, making it one of the most reliable in the market.
The drone has a maximum range of 1.2 km when used with a transmitter. However, if you use the live video transmission, it drops to under 500m, which is enough to capture far-reaching landscapes. This drone is $100 less than its cheaper sibling, the Ruko U11 which has a 300 m flight distance but costs $100 more. The F11 is clearly worth the extra money compared to the 200-dollar drones.
The drone's return to home function makes sure that it is safe even if it exceeds its maximum range. The quadcopter's powerful brushless motors keep it stable in windy or difficult conditions.
The drone can fly at 26.8 mph. Brushless motors lower overheating and allow for continuous flying enjoyment.
You can capture high-resolution footage with the drone's 4K UHD camera. It can capture 2.7K videos as well as stills at 8.3MP. This allows for extremely detailed images. The camera also features a 120-degree field view that enhances detail in your footage.
Best Drone Under 750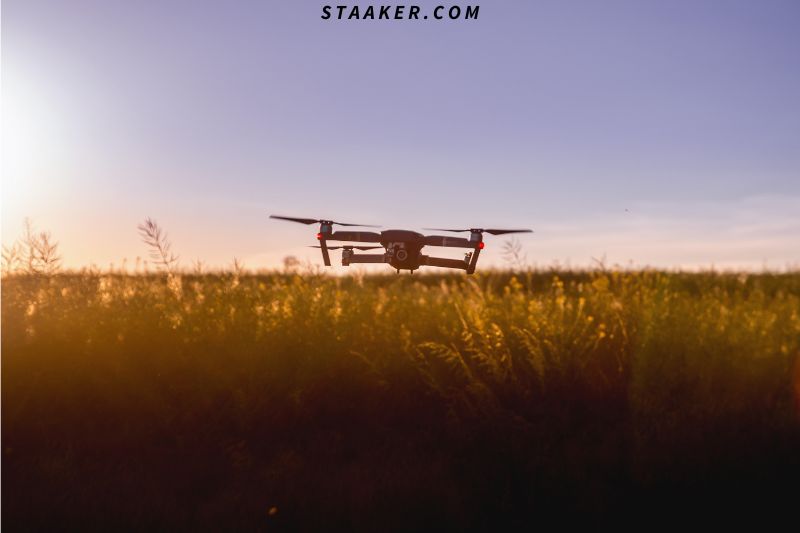 1. Parrot Anafi: Versatile Camera Gimbal
Parrot, which is the main competitor for DJI, has a strong history in drone manufacturing and product quality. This makes it a huge advantage.
This quadcopter is a professional drone that can take 16 to 21 MP photos in RAW format and 4k video.
The camera can rotate 90 degrees to capture unique shots, which is another reason this drone is highly rated.
Although it doesn't have any optical sensors at the front to avoid obstacles, it still has optical stabilization at its bottom, which helps it land more easily and stay stable close to the ground.
Although the 2-axis Gimbal is a great tool for stabilization, the drones in the 1st place are slightly better.
Pros
 It is really quiet
Low price
 Can film 90 degrees up
 lossless zoom
21 photos
There are many flight options
Cons
2 axis gimbal
 Card slot handling must be done with care.
2. DJI Mavic Mini: The Best Bang For Your Buck
This drone is a favorite of mine. It's light and portable, making it the perfect travel drone. This drone is very lightweight and powerful, and it comes with many DJI signature features. It comes with a good 2.7k camera.
The drone is stabilized by a 3-axis Gimbal. This is a remarkable way to attach a gimbal system to such a small device. The camera can capture video footage at 30fps and 40Mbps at 2.7k. You can also capture 12MP images as JPEGs.
The video quality is excellent. It can fly for around 30 minutes and has a transmission range of approximately 4km. DJI created a new app called DJI Fly App for the drone. It has a variety of features that will allow you to have more fun with the drone.
Key Features
 1/2.3 inch CMOS sensor with 24mm lenses, fixed f/2.8 aperture and 83deg FOV
 12MP still images
  Records 2.7k videos at 30fps
 The DJI Fly app allows you to edit videos and images.
 Quickshots – This allows you to create short Hollywood-style videos
 Flight time: 30 minutes
 4km control range
3. Yuneec Mantis G: Fun Flight Mode
The Yuneec Mantis G is a party trick that uses voice activation. It is small, lightweight, portable, easy-to-fly, produces good 4K video, is easy to carry, and overall is pleasant to fly. The controller and the mobile app lock the full flight capabilities, but you can still use some basic functions by talking into the remote.
We love the Yuneec Mantis G. However. It is difficult to find. MSPR is a bit too expensive for the output. The camera also does not perform as well as drones with similar prices. Despite this, the Mantis G was more enjoyable than any other drone.
Pros
Voice controls
 It's easy to fly
Portable
Good flight time
Cons
 Low availability
 Flight range limited
Do you know how to choose a drone before buying, don't worry check below: 
What To Look For In A Camera Drone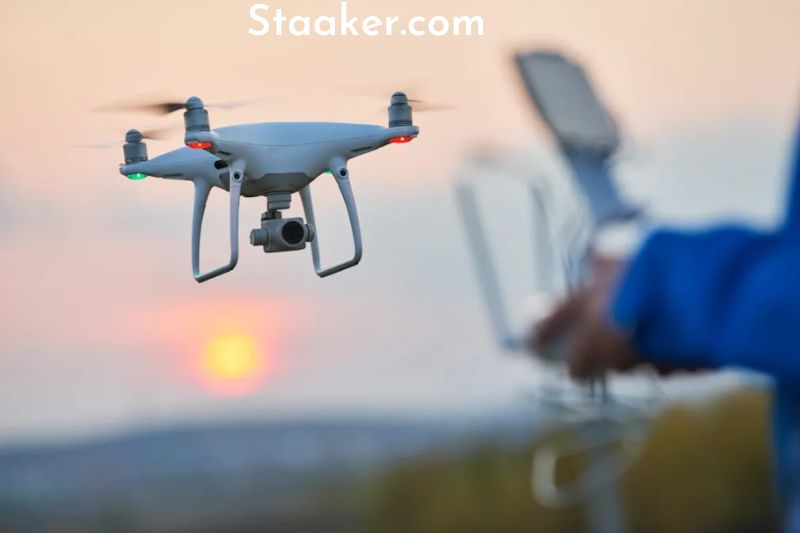 A list of basic criteria is required for all camera drones. You need to know what to look for in a camera drone capable of taking pictures and what price you are willing to pay.
Battery Life
Battery life is an important consideration. It will allow you to not feel pressured into landing the drone quickly and instead focus on the shot. For drones costing $500, the battery life should last at least 15 minutes.
Camera Resolution
Different camera resolutions are needed by different people. Some prefer 1080p, while others prefer 4k. However, I find it easier to shoot in higher resolution and then downscaling later. Bitrate is important. Most capable drones have bit rates between 60 and 100 Mbps.
Flying Range
This one is subjective and depends on the purpose of your use. A strong signal of 500m is enough to get the job done. The drones on this list go way beyond that range.
Image Stability
My opinion is that having a stable drone camera is more important than image quality and resolution. EIS (electronic imaging stabilization) and 2/3 axis Gimbals are the main methods to stabilize video.
GPS and Return Home
This ensures safety and can be used with some flight modes such as follow me and RTH for low battery life or low signal.
Should Beginners Get Expensive Drones?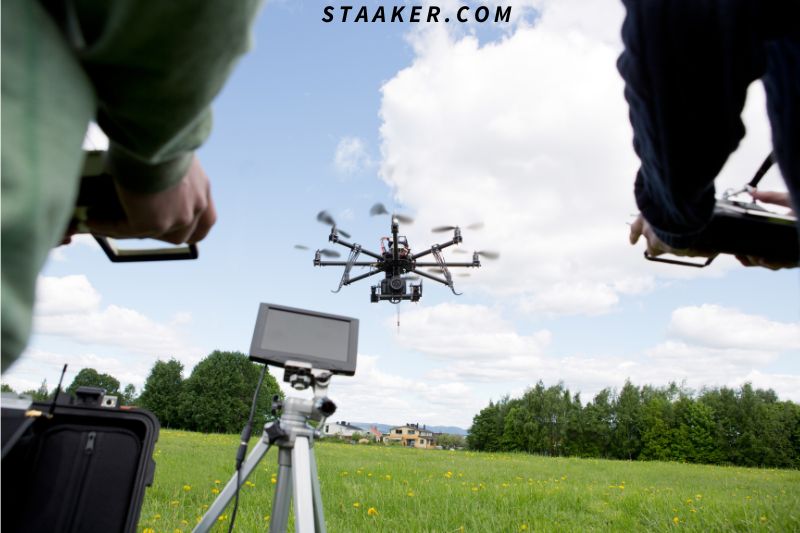 You shouldn't touch any drones if you're a complete beginner.
Funny enough, the most effective choices for beginner drones are the ones that you make at the extremes. I recommend that you purchase a beginner drone for less than $1000 and/or a more expensive model with GPS and positioning sensors.
This will make it safer than spending $200 on an average quadcopter, which is more powerful but carries the risk of it crashing into the first tree because it cannot keep its position stable.
This article will highlight a few of my favorite drones that meet the beginner safety criteria. However, if you'd like to see my complete list with specs, advantages, and disadvantages of drones below $500, you can check out my complete list.
Read more: 
FAQs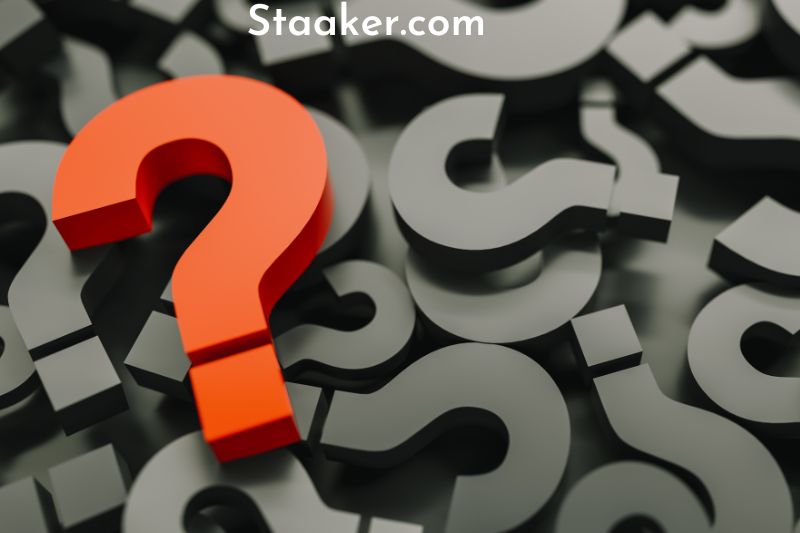 1. Are drones under 1000$ ideal for beginners?
Both yes and no. Why? These drones are the most stable in hovering. They can hover in the air for hours without the pilot touching the remote controller. This is due to the precise sensors, GPS-Assisted hover, and other fine-tuned technology. If we're talking about ease of use, flying one of these drones is a dream come true for beginners.
These are also expensive products, so you should not practice in open areas with others. You might end up damaging expensive parts and crash your drone. Toy drones are recommended for anyone who is first flying a drone. If you have an area where you can practice safely, grab one of these beauties.
2. Can I fly indoors and outdoors?
It depends. Some drones can be used indoors and outdoors, while others are restricted to one type. You don't have to worry about it. We'll mention whether they can be flown indoors, outdoors, or both.
3. Are these drones safe to use with children?
No. We recommend our Top 10 Drones under $200 and Under 300 if you are looking to purchase a drone for your child.
Note: Children under adult supervision can fly the DJI Phantom 4, Mavic Air and Mavic Pro, as well as Walkera Vitus.
You can check out Best drone for kids if you want to buy one for your children as a gift
4. Do I need to register my drone at FAA?
If your unmanned aircraft is more than 0.55 lbs (250g) in weight, you must register with the FAA.
5. Do these drones support GoPro and other action cameras?
This list includes drones that can carry and support a GoPro or other action cameras like SJcam or Xiaomi. Due to their large size, powerful motors, and high payload capacity, drones like the Typhoon H and Yuneec Q500 can carry professional cameras.
Remember that almost every drone on this list comes with a camera. These are not standard cameras. These amazing cameras can compete with GoPro and often even exceed its image quality.
Notice: DJI Spark & DJI Mavic come with their own cameras (exquisite image quality, you'll be amazed).
6. Is there a drone that costs less than $1000 with a complete FPV package included?
Yes! For truly incredible FPV packages, check out the Walkera Vitus 320 and DJI Mavic Pro (goggles not included).
7. Is there a drone that costs less than $1000 that is suitable for professional video production?
Yes. Professional cameras can be carried by drones like the Typhoon Q500 or H thanks to their powerful motors, large sizes and maximum payload capacity. This drone is used by many companies to film commercials, short movies, and sometimes lower-budget cinematography.
Conclusion
There are many great options available when it comes to finding the best drones under $1000 to $750. Whether you're looking for a drone with excellent camera quality, long flight time, or robust design, you will find the perfect option on our list.
So don't wait any longer, and start shopping for the perfect drone today!