Nano drones are fun drones for beginners, kids even for professionals. These compact devices are easy to carry around as they almost fit in your palm. Some drones are even collapsible. You can carry these around for a great flying experience. These come in all price ranges you can imagine. While there are so many good options out there, there are some drones that standout. That is why we have a guide of the Best Nano Drones with Camera.
Nano drones are low cost models of professional drones. They do cover most basic features of drones like auto take off, landing and different flight modes. You can also fly these Nano drones indoor.
Best Nano Drones with Camera Reviews 2023
KiiToys Drone with Camera Quadcopter RC
This Nano drone has the most compact configuration. It is easily controlled, very light in weight and has an amazing camera. The camera on this drone has HD video quality of 720p. It is adjustable and removable.
This model has a build in air pressure sensor system. This sensor is alert to the altitude to give you a safe and stable flight.
It is also designed to stay strong and durable in strong wind. The RTF gyroscope feature promotes flying stability as well as hand launch. You can fly these drones even indoors.
If you are not a professional drone user that is not a problem with this drone. It is very easy to control. You can easy change direction right, left, up or down. Even you can do flips, it has 2.4 GHz spread spectrum technology for super easy 360 turning and rolling.
The launch and the landing of this drone are also very efficient. In fact it has one key return home technology. No matter where your drone is, you just have to push one button for it to return back to the controller.
The power of this drone is durable and long lasting. Its battery is removable and quick to charge. It uses 3.7v Lipo Battery 600 mAh. The kit comes with USB for fast charging of the battery. It also includes a 4GB SD Memory card.
Pros:
Budget efficient
Good camera for high quality pictures and videos
Very easy to control
Air pressure sensor alerts the device of altitude
Cons:
The battery life is not very long
Holy Stone HS440 Foldable FPV Drone
Sale
This drone has the most amazing and the latest features. It will make a great entry level drone for anyone. Let's start off by talking about its camera. The video quality of its camera is 720p and a 120 degree wide angle for excellent coverage.
There is also a FPV technology in this drone, which keeps you connected to the drone via your phone. You can see the visuals of the camera on your phone.
The other cool feature of this camera is the voice control. You don't really need to move the controller. You can make it to go left, right, start, flip or any movement that are on the control by using the voice command. A hands-free drone. How exciting!
Next up it has the Fly by trajectory feature. There is an interface app for you to install in your phone, you can just draw the direction on the app and the drone will follow the line and fly accordingly.
The drone has other features like altitude and gravity hold mode for relentless, steady flight. You can do 360 degree flips and what not. If you use a controller instead of the voice control, that's cool too.
The control of this drone is super easy. There's a one key command for the drone to start, to landing and to return. It supports longer flight time with 2 modular batteries.
Pros:
FPV technology to connect the drone to phone
Voice control for simple and fun navigation
Extended battery life
Cons:
May not be suitable for professional use
Altair AA108 Camera Drone
If you are looking for a drone for a beginner or as a present to your kid, this drone would really meet your expectations. This drone is very easy to fly and control. It has the facility of one button landing and launching. It also has the headless mode and altitude hold features.
Another fun thing about this drone is, it has customized the flight option. Which means you can draw the path for the drone using the interface app in your mobile. It is much easy to control the movement of the drone in this way. You do not have to keep an eye to the drone for long. You can just draw the path and enjoy the visuals via the FPV camera VR.
The camera of this drone has the excellent HD quality of video, 720p. It also covers the wide range of 120 degree. However there are no SD Memory Cards included in the device. You can insert SD Card up to 32 GB.
Pros:
Very easy to control
Excellent quality of video and images
Interface application for easy commanding
Cons:
Not suited for professional use
Does not have a SD Card included
SereneLife FPV Drone
This is a drone with all basic features and a good quality camera. You can use it to take photos and HD quality videos of 720p. You can capture the amazing view from the high altitude of 650 plus feet. No matter if you are a beginner or a professional this drone is a good device for talking pictures from high altitude.
The headless mode is really a good way to improve the flying skill for the beginners. You do not have to worry about the orientation of the drone much you can completely focus and rely on the image transmitted to you.
The durations of the flight in this drone is 15 minutes, which is comparatively longer than most drones. The battery life of the drone is also great. The extra battery life really gives you a upper hand on better surveillance and enough time to take desired photos.
Pros:
More average flight time
Good battery life
High quality videos and pictures
Good device for beginners
Cons:
The control may seem difficult to some
Ryze Tech Tello – Mini Drone
This is super light drone designed for the beginners. You do not have to worry have the complicated features in a drone if you are purchasing the Tello. It is a simple design you can have fun with at your backyard.
The camera of this drone is of great quality. It is a 5 mega pixel camera. The video quality of this is 720p. There are two antennas placed by the drone that gives stability to the video recording transmission, so Tello has got you covered on making good quality videos from a high altitude.
The drone only weighs like 0.18 pounds. It is compact and small. So you can easy carry it around. But it being light weight and not having an air pressure sensor, it is difficult for it to stay up in the sky if there is a high pressure of wind.
The battery life of the drone is good. It comes with micro USB cable for charging. The flight time of this drone is 13 minutes.
Pros:
Lightweight drone
Good for beginners
Easy to control using your phone
Cons:
Cannot stay steady in strong wind
Wi-Fi connection may disrupt in high altitude
Makefire E68 FPV Camera Drone
This is a super easy to control and compact drone. It is mostly designed for kids. It is a super fun device with exciting features. It can also be used for professional purposes as the camera of the drone is of high quality. Besides there are quite a few latest features in this particular drone.
The controller of this drone has easy one button go for take-off, landing and return. This can also be controlled by voice command. You can just simply give the drone direction verbally. It also has the headless mode feature to understand the orientation of the drone easily.
The drone has speed control and altitude hold for save and steady flight. You can also direct the drone's path using trajectory flight mode. You just need to draw the path on your mobile that the drone will follow and navigate accordingly.
Next let's put the spotlight on the camera of the drone, it is a 4K HD camera. You can take high resolution pictures and videos. The camera is complimented by the FPV real transmission feature of the drone. You can have the live broadcast of the camera on your mobile using this feature.
Pros:
All latest feature in one device
4K HD Camera is a picture and video expert
Easy to control and navigate
Cons:
UranHub Mini Drone
Sale
This drone can be fully folded. It has a very concise and compact design. It is also incredibly light in weight. So it is quite easily manageable.
Controlling this drone is very simple, it has short cut one press button for most of its commands. It has multiple flight modes. It can switch flights easily. The advanced barometer feature of this helps the drone to maintain a steady landing and take-off.
The camera of the drone has the FPV technology for live transmission. The battery of the drone is 3.7v, the flight time is 7-10 minutes.
Pros:
Simple control
Compact design
Secure take-off and landing
Cons:
The camera resolution is moderate
Holy Stone F181C RC Quadcopter Drone
This is a compact drone with a good camera. It is easily controllable. It is equipped with one key return as well as headless security system. The Altitude hold function helps the drone to be steady in the sky. The battery is quite powerful. The flight time of this is 7-9 minutes.
Pros:
Good for beginners
Altitude hold helps you take better pictures
Strong build quality
Cons:
HUBSAN X4 Quadcopter Drone
This is a lightweight drone with a durable air frame. It does not have any complicated features. The drone is easy to control. The immersive FPV allows you to have instant preview on transmitter. It also has SD Card included to record the videos.
Pros:
Do not have to get external SD card
Easy to control
Affordable price range
Cons:
Not very steady in strong wind
Syma 5GHz Headless Drone
This drone is designed to be light and portable. The camera transmits amazing quality video using its 5 GHz FPV. It also has a GPS inserted in it, so it can easily find itself home. It is very easy to fly with features like optical flow, headless mood and speed adjust.
Pros:
The camera works great
Easy to fly and navigate
Durable and long-lasting
Cons:
The battery live isn't too strong
Buyer's Guide to Nano Drones with Camera
Here are some features we need to have a look out on: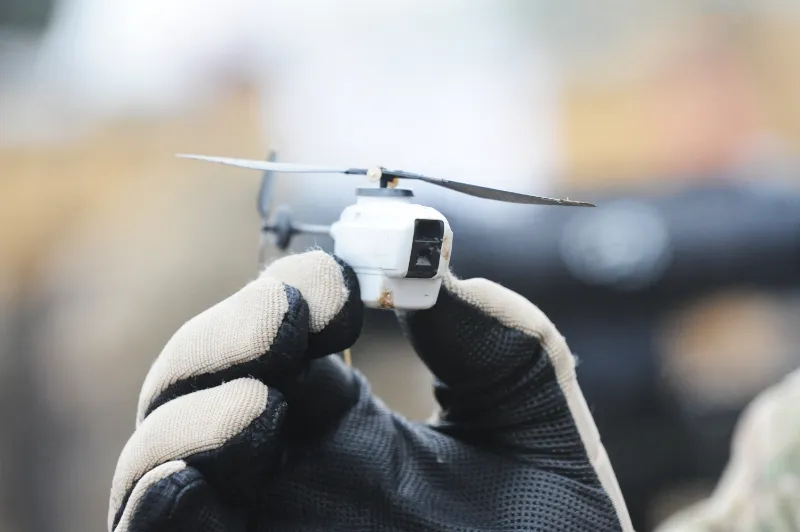 This feature helps the drone stay steady in the sky. It also ensures secure take-off and landing. You can take better pictures when the drone can balance mid-air.
This feature helps the beginner to learn to control the drone better. It helps you understand the orientation of the drone by following the transmission.
Drones can have one key control for most of its major commands. Some drones have voice controls. Nano drones usually do not have complicated control function.
Final Thoughts
Nano drones are super fun and exciting. These are wonderful present for kids or any adult too. You can find Nano drones in all sort of budget. The features are amazing to experience a wonderful view from high altitude while you are on the ground.