Xiaomi Mi Drone 4K is seen as the very best cheap 4k drone available now. It comes with an amazing 4K camera that is stabilized by an advanced 3-axis gimbal that will allow you to record crystal clear videos and images of professional quality. It has a shape pretty like DJI Phantom 4.
If you search for a good drone for photography with a budget under 500 dollars, this drone is perfect for you. Let's Staaker show you more information about this drone; after reading our Xiaomi Mi Drone 4K Review, you will know if it is worth a buy?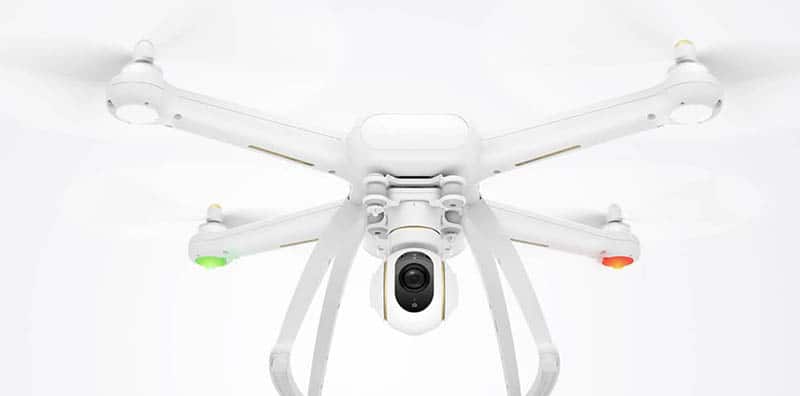 Specs:
4k camera

12mp

Motorized 3-axis gimbal

Smart flight modes

Automatic return home

Transmission range 4k

27 minutes flight time
Accessories and unboxing
1x Xiaomi Mi Drone 4K
1x RC controller
1x Camera
1x Battery
1x USB cable
2x Manuals
8x Propellers
1x Wall charger
Pros:
Low price range

Xiaomi MI features a detachable camera module with rotors.

You can get impressive results with a 4K recording.

It can track the fixed area for flights and limit movement when it is out.

Excellent visual positioning system.
Cons:
Its aesthetics don't appeal to me.
Features
This advanced drone unit is affordable and has many features. Its 4K recording capability with greater stability is the most striking feature. Still, shots can be recorded at 1080p resolution.
The frequency range of the wireless transmitter is 2.4GHz, while the altitude range can reach up to 800m. The Xiaomi MI's control distance is 3000m, and the total flight time of this small drone is 27 minutes. The 5199mAh battery is rechargeable and has a 17.4 Volt rating. It takes approximately 3 and 1/2 hours to charge fully.
High-Quality Build & Design
The Xiaomi Mi drone was unique from the start. It looks like a rectangular drone with four motor arms covered in white paint. The Xiaomi Mi drone is minimalistic and simple, unlike the Phantom 4 Pro, which has a more curved hull and smaller dimensions.
At least three colors are available for the Xiaomi mi drone 4k. The most noticeable feature is the color of each motor. Each motor cap has two pieces of stainless steel and red. The logo features the company's name in the middle with Mi written in it.
The Xiaomi Mi 4K drone also features quick-release propellers. The propellers can be attached and detached quickly by both professional and novice remote pilots.
You don't need a screwdriver for attaching the propellers. This makes it easy to replace damaged pieces if needed. The drone also comes with two landing skids to reduce the impact of landing.
It also protects the 4K camera located under its body from being damaged by the ground. These tiny particles include dust, sands, and other small particles.
The drone also has LED lights that provide a visual aid for positioning purposes. This feature is very helpful during day and night flights. You can see the drone's location by its flashing lights and whereabouts.
The Xiaomi Mi drone 4K's design is professional and sleek. The durable ABS plastic provides additional protection and resilience to accidents.
It uses durable ABS plastic and incorporates alloy and carbon fiber to support the drone's integrity. We give the drone our highest recommendation for design and build quality.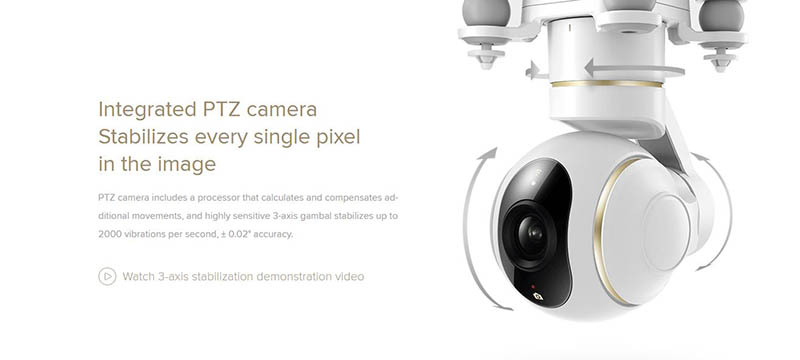 Camera
The main reason I love flying drones (or any drone for that matter) is their cameras.
These allow you to see the world from up high, which can be very exciting if you love nature and take photos and videos of beautiful landscapes and skylines.
With every drone camera, images and videos can be blurred or distorted. But with the Xiaomi Mi drone 4, you can.
This camera will let you take professional-quality photos and videos. It can also record 4k videos at 30fps, which is quite a good frame rate. You can also make slow-motion videos, just like those you see on YouTube.
Still, images will be shot at 12mp. The camera also has a 1/2.3-inch CMOS sensor that will make sure the photos are crystal clear.
It can rotate 360 degrees to capture more detail in your video. The camera is also supported by a 3-axis gimbal that will ensure that your images and videos are free of distortion.
The back of the camera has a micro SD card slot. It accepts class 10 and above memory cards, with a maximum of 32GB. You can stream live video to your smartphone in 720p resolution. The video is transmitted with anti-interference technology so that you won't notice any lag.
The Xiaomi Mi drone 4k is an excellent choice if you're looking for a 4k drone at a reasonable price.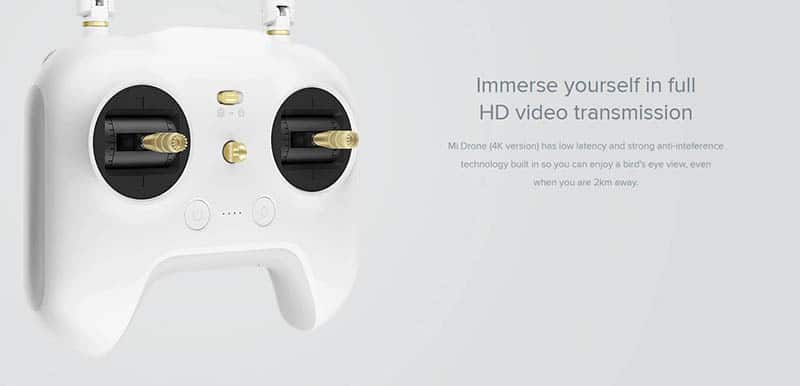 Intelligent Flight Modes
This drone's best feature is its ability to fly autonomously. While many drones come with intelligent flight modes, not all do the job as intended. The smart flight modes included with the Xiaomi Mi Drone 4k are easy to use and work well.
These smart flight modes include:
Orbit: You can place the drone at a point of interest, and it will orbit that location automatically.
Waypoint: You can draw a flight route on the app, and the drone will follow it to return home.
Dronie: This is a very cool flight mode that's great for taking photos and videos. The drone will automatically lock onto your position and fly away while you take photos or video.
Tap fly: This works similarly to Waypoint, except that you tap anywhere on the map instead of drawing a flight route. The drone will fly there.
Automatic return home: This feature is very simple to activate. You can either press the return home button on your controller or in the app to activate it manually. You can also activate it automatically if there is a loss of connection or the battery becomes low.
It comes with dual GPS and has excellent accuracy. Many cheaper drones may have similar features, but they won't land close to where they took off. However, the Mi drone 4k is very accurate in its return home function.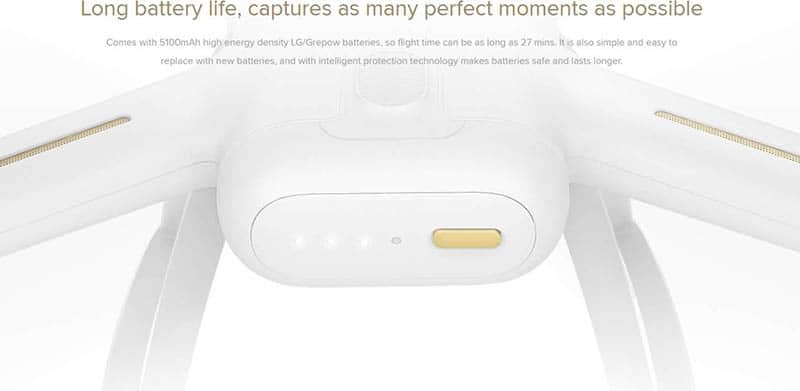 Battery Life
Xiaomi MI can be charged once and used for 27 minutes. If you use the auto return home and departure features, your battery life can be shorter. It takes approximately 3 1/2 hours for the 17.4 Volt battery to fully charge.
However, if you wish to prolong battery life, you can always bring a backup. With one charge, the Xiaomi MI can be charged for 27 minutes.
If you use the auto return home and departure features, your battery life can be shorter. It takes approximately 3 1/2 hours for the 17.4 Volt battery to fully charge. However, if you wish to prolong battery life, you can always carry a backup.
Flight Performance
The autonomous flying mode of Xiaomi Mi is similar to other advanced drones. Tap the TapFly button to start it moving. You can control all movements by tapping your finger, and all movements can be viewed on the map.
One of the most remarkable features of Xiaomi Mi is its ability to communicate via mobile phone. This allows users to control the recording focus and other functions of its camera.
Another feature that is worth mentioning is its ability to surround flight. You can send commands to your smartphone and make the camera circle any object. Its 360-degree motion capability, which allows for incredible clicks, will make it a joy to use to capture videos.
The Preset Rout Following ability is the best feature of this drone unit. Pre-adjustments can be made for each flight, and the drone will take smooth shots every single time.
Easy controls are made possible by the automatic landing and takeoff feature. If the drone moves beyond 3 meters, it will return to its predetermined path.
You can bring the drone back using one button. To improve its performance, access the calibration settings. It will take approximately 30 to 45 minutes to bring your drone back if it gets lost.
Read More: 
Remote Controller
It's impossible to review the Xiaomi mi drone 4k without mentioning how great the remote controller is. The remote controller might be a little bulky for beginners or first-time pilots.
This is not true for professional remote controllers. High-end models, such as the Xiaomi Mi drone or DJI drones, have many features that make them responsive and intelligent.
The remote controller allows you to fly the drone as far as 2,000 meters. This feat is impressive for a high-end drone, as the DJI Spark can only fly up 1,000 meters.
The remote controller also comes with a phone holder. This gives you the freedom to insert your smartphone. Similar to DJI Mavic Pro 2 with the foldable transmitter.
You can also customize your routes. You can take off and land instantly with just a click. Smart return to home functions can be activated by flying around the point.
This drone can be connected to a powerful 2.4GHz transmitter, as previously mentioned. To get the best performance, you only need to change the Mode 2 settings. The aircraft can fly up to 2,000m and reach a maximum height of 800m from the pilot.
Conclusion
You have just seen all the info about this Xiaomi Mi Drone; now we think you have decided. With us, It is a fantastic drone with some amazing features and an exceptional 4k camera that is capable of professional photography. If you can't pay for DJI Phantom 4 or any DJI drone, then it is for you.
Video: