Instant cameras used to be extremely popular a while back. This was before digital cameras were made commercially available. Digital cameras changed how we handle, save and preserve photos. Everyone could just print their photos at home, but that also did not last long. These days, people save their photos and share them using social media websites. Social media is the modern-day photo album, and very few people still convert their digital photos into physical ones.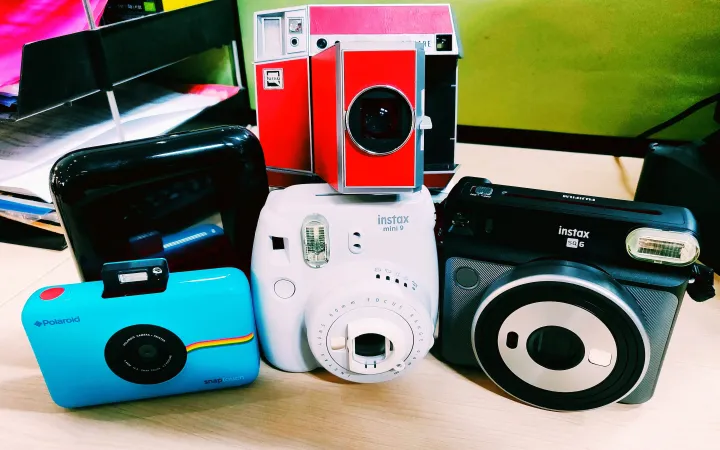 The truth is that physical photos have a certain appeal and value to them. Unfortunately, old cameras that used film are no longer viable since there are so few brick-and-mortar photo shops. The most convenient way to get physical photos without having to get a printer is to get an instant camera. Unfortunately, there are not that many different models to choose from. Only a few brands still make them since the technology is considered obsolete.
Best Instant Cameras in 2023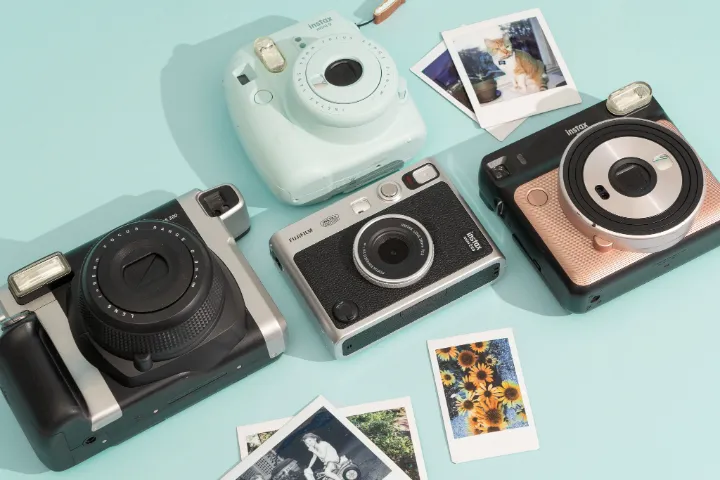 We had to search a lot to find 10 different instant cameras for our list. There are not that many choices, and for the most part, they usually come from just a couple of brands. To keep things short, here are the top 10 best instant cameras in 2023 reviews.
Polaroid Socialmatic Instant Digital Camera
Polaroid Socialmatic instant digital camera is an interesting device that combines digital cameras with instant printing in a compact form factor. It has some rather interesting features, but it is not a traditional instant camera.
The model is actually a digital camera with a rather compact form factor. It has a built-in inkless printer and comes with various social sharing features. It has GPS, Wi-Fi, a browser, Bluetooth, and many different apps. Like all digital cameras, it comes with internal memory storage and an LCD screen.
Fujifilm Instax Wide 300 Instant Film Camera
Sale
Fujifilm Instax Wide instant camera is an excellent option for the ones that need something inexpensive, compact, and easy to use. The product has a modern design yet uses traditional technology to print photos on the fly.
It is a simple camera with an optical viewfinder and a tripod socket. The model works only with the Fujifilm Instax film, which is fairly inexpensive. It has light and dark control and a simple setup that makes it very easy to use, even for a beginner.
Lomography Lomo Instant White Edition Instant Camera
Lomography is a smaller brand that some might not be familiar with. However, their Lomo instant camera is a great product that comes with excellent features and a modern design.
Right off the bat, it is important to notice that the device is quite large as it has a large film capacity. The model offers 3 shooting modes and unlimited multiple exposures. The camera uses Fujifilm Instax Mini film and comes with a tripod mount.
Polaroid One 600 Ultra Instant Film Camera
Polaroid One 600 instant camera is one of their models that uses the classic design. It looks a lot like the classic models that were available decades ago, which might bring some nostalgic feelings for the ones that still remember them.
From a technology standpoint, the camera does have some modern features. It has an auto-flash, a digital LCD picture container, and multiple image settings. It was made to work only with Polaroid 600 instant film.
Fujifilm INSTAX 210 Instant Photo Camera Kit with 5 Twin Pack of INSTAX Film
The INSTAX 210 from Fujifilm is one of their popular compact models that comes in the form of a bundle. It is reasonably priced and offers great value for money as it comes with 5 packs of INSTAX Film.
The model features an LCD panel on the back that shows the focal distance and keeps track of film usage. It has an automatic flash feature and comes in a compact form factor that also makes it travel-friendly.
Fujifilm Instax Mini 90 Neo Classic Instant Film Camera
Sale
Fujifilm Instax Mini 90 Neo Classic instant film camera is an excellent option for the ones that love traditional-looking cameras. The model has a stylish design and a compact form factor which is rather surprising for an instant camera.
From a performance and features perspective, the camera comes with a light sensor that controls the flash and shutter speed and offers a double exposure mode. It also comes with a macro mode and additional features that can optimize the photo quality.
Fujifilm Instax Mini 25 Instant Film Camera Black
The Fujifilm Instax Mini 25 instant camera is by far the most compact model on our list. The camera is also surprisingly affordable, which makes it a great deal for the one that likes to travel a lot as it is light, compact, and cheap.
In terms of features, the model uses an advanced lens with auto-focus and a light sensor that will prove to be useful when attempting to take perfect shots and save the film. The model works only with Fujifilm Instax Mini film.
Fujifilm Instax Mini 8 Instant Film Camera
Fujifilm Instax Mini 8 instant camera is a bit larger than the Mini 25. The photo quality is also a bit better, but it is also larger and heavier. It uses the standard Instax Mini film, which is known to be easy to find and quite cheap.
In terms of performance, the camera features automatic exposure measurement, multiple settings for the LED flash, and a soft lock feature. The camera can be found in multiple colors and part of bundles that include film packs.
Polaroid Snap Instant Digital Camera (White) with ZINK Zero Ink Printing Technology
Sale
Polaroid Snap instant digital camera is an advanced model that comes in a compact form factor and four different colors to choose from. The model has an extremely minimalist design and uses hybrid technology.
According to the specifications, the model is actually a digital 10-megapixel camera with a built-in photo printer. It comes with a micro SD slot for memory expansion and comes with multiple image settings that make it easy to get perfect photos with minimal effort.
Polaroid Z2300 10MP Digital Instant Print Camera
Polaroid Z2300 is by far the most advanced instant camera that money can buy. It is larger than what some might like, but its performance is difficult to beat due to the technology used by the manufacturers to make the camera.
Inside the device, Polaroid used a 10-megapixel CMOS sensor. It also has a built-in photo printer that can print photos of 2 by 3 inches. The model has been provided with an SD memory card slot and a large LCD screen on the back of the camera.
Final Words
Instant cameras are more of a rare thing. It is still possible to get one, but newer models are not introduced as often as some might like. One interesting practice is how major camera manufacturers made instant cameras using new digital technology.
For our list, we selected both digital and analog cameras. In both cases, the models selected have proven to be capable of taking great shots without having to change the settings too much.