Whether you are a beginner with drones or a professional player, DJI is the brand to invest in and experience. DJI Phantom line is the premium line of this brand that has received many appreciative reviews from players and experts in the drone industry.
DJI Phantom 3 Vs 4 are two very popular products on the market now; if you had to choose, which one would you choose? This article will clarify their different characteristics; keep reading Staaker's article, you will know which should you choose.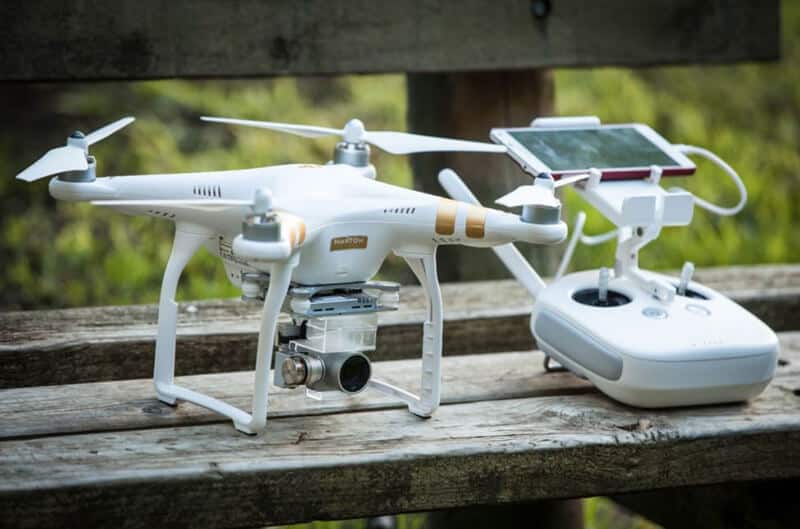 DJI Phantom 3
Pros:
Very stable in the air.
Easy to fly.
Smooth 2.7K video capture.
20mm wide-angle lens.
Raw and JPG still capture.
Relatively affordable.
Built-in GPS.
Return-to-home function.
Automated takeoff and landing.
Cons:
Propellers intrude into the footage.
The battery requires more than an hour to recharge.
Requires Android or iOS device.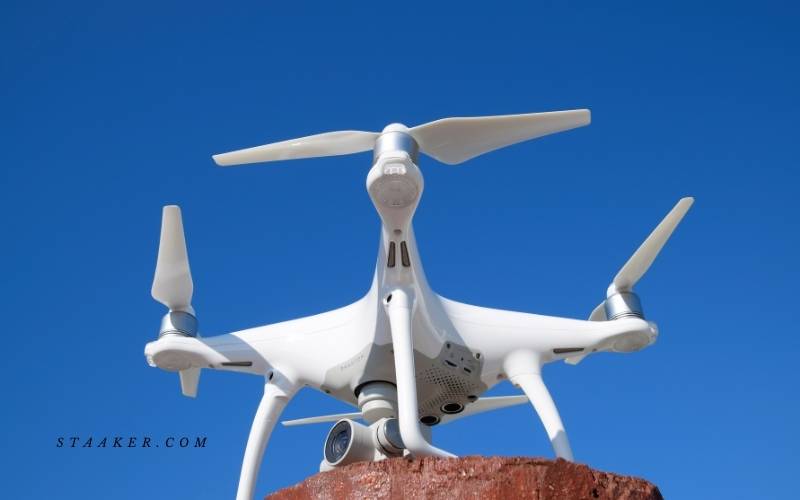 DJI Phantom 4
Pros:
Easy to fly.
Extremely stable.
Obstacle avoidance.
Incredible operating range with 720p Live View.
Return-to-home and other safety features.
Automated flight modes.
High-speed Sport mode.
Smooth 4K video capture.
20mm wide-angle lens.
Subject recognition and tracking.
Raw and JPG still capture.
Cons:
Pricey.
True mission planning requires a third-party app.
Read More: 
Phantom 3 Pro vs Phantom 4 Pro
DJI Phantom 3 Vs DJI Phantom 4: A Comparison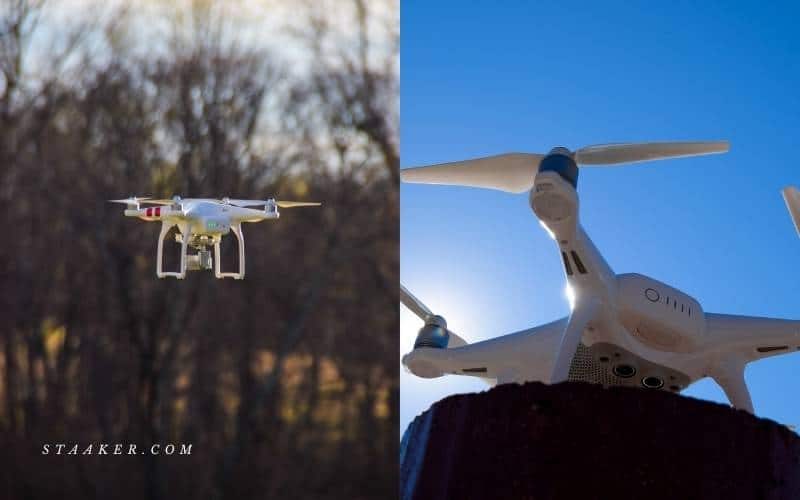 Design
You won't notice any difference if you look at the Phantom 3 standard vs Phantom 4 from a design perspective.
The drones come in white with four propellers at the top. The cameras can capture video and stills from all angles and hover just below the drones.
The drones are identical in size, but the Phantom 4 is slightly larger (3 to 2.6 lbs)
Ease of Use
The Phantom 4 comes equipped with its controller. It doesn't need additional devices such as your smartphone to operate it. It has a large screen that allows you to see all of the activity on the drone. The controller is ergonomically designed to make it easy to use.
The DJI app on your phone allows you to view video from Phantom 3 while it's flying. This might make it difficult to hold and use the drone. If your smartphone has a good screen, it might be easier to use.
The Phantom 4 is still the best drone controller for easy control.
Features
Phantom 3 Vs Phantom 4 can be used with DJI's mobile apps. Regardless of which model you choose, the experience is the same regardless.
Software-wise, you shouldn't expect much of a difference.
Automation Tools
The DJI Phantom 4 uses the most modern technologies. The Phantom 4 can be used to lock onto someone and follow them wherever they go. You can also set the distance and height to follow the person in any way you like.
If you enter a No-Fly Zone, either drone will detect you and bring you down to ensure you do not violate any local laws or regulations. When your battery is low, it will do the same.
The Phantom 4 is the best in flying, tracking, and performing unique features while you fly. The Phantom 4 has all the features that you need to get the most from your drone.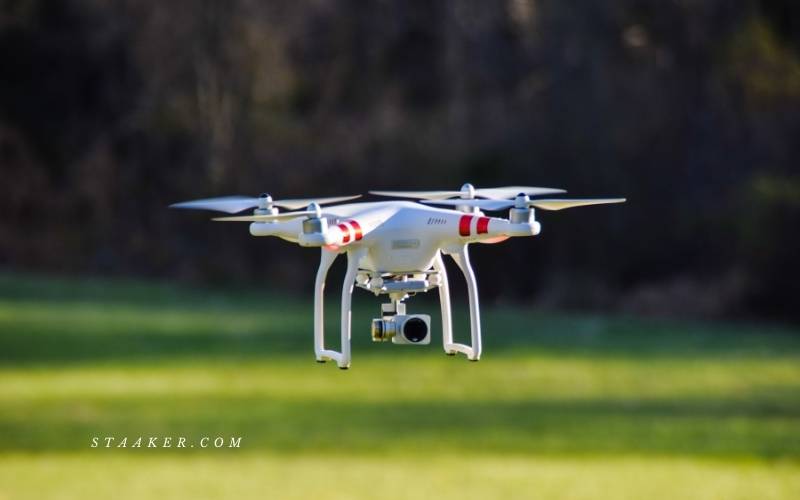 Indoor Vs Outdoor Flying
The Phantom 4 or Phantom 3 are great options if you fly outdoors. The drones are too large and difficult to control to be recommended for indoor flying. You can fly a drone indoors if you feel confident enough.
Battery life
The Phantom 4's battery life has been greatly improved. DJI included a 5350mAH LiPo battery that extends the flight time by at least 5 minutes. Hot-swappable batteries allow for quick charging.
You can get multiple batteries for your Phantom 4 to make it possible to do a whole shoot or enjoy 30-40 minutes of constant flight time.
Obstacle avoidance
The Phantom 4's obstacle avoidance system has been improved over the Phantom 3. This allows object detection from up to 49 feet away.
This is a powerful tool, especially when it comes to preventing accidents or using many automated flying features. These improvements make the drone easier to use, especially for beginners.
Tracking
Phantom 4's improved jet detection means providing a better service for subject tracking and active track. The active track is now available with the DJI GO App.
This involves turning on moving POI, then highlighting a circle surrounding the subject you wish to track. It doesn't need to be a beacon, nor do you have to wear a band. However, it can be very intelligent.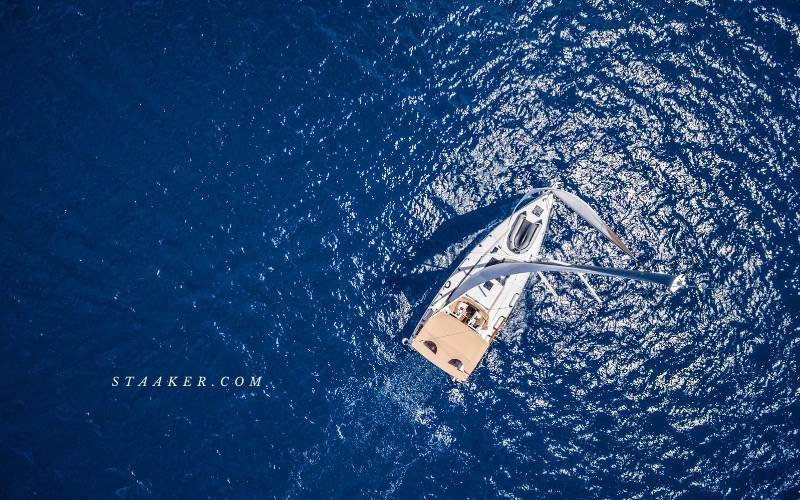 Read More: 
Autel X-star Premium Vs Phantom 4
Camera Quality
Video
The DJI Phantom 4 is a powerful video camera. The Phantom 4 can record up to 4K video at 24 frames per second and has a maximum bitrate of 60Mbps. It has an ISO range of 100 to 3200 and a 94-degree field of view.
The Phantom 3 can record up to 2.5K at 24 frames per second and has a 40Mbps bitrate. The Phantom 3's ISO range can be set to 100 to 3200. If you want a solid field of view, the 94-degree option is an excellent choice.
Photo
The 12-megapixel sensor in the Phantom 4's camera can capture photos at ISO 100 to 1600. You can choose between single-shot and burst mode, as well as auto exposure bracketing and EV bias and time-lapse. HDR support will make your photos look amazing. The Phantom 4 can save photos as JPEG (RAW) or DNG (DNG).
The Phantom 3 also has a 12-megapixel sensor. Its ISO range is 100 to 1600. Although the camera can shoot in single shots, bursts, auto exposure, and time-lapse modes, it does not support HDR like Phantom 4. However, it will save your photos in JPED or DNG (RAW).
Speed and agility
With the DJI Phantom 4's newer frame, the speed was increased. The Phantom 3's speed can be reached at speeds of 4 m/s. The drone feels more refined to fly, and the collision avoidance features make it easier for action shots.
Conclusion
You just came across our analysis and comparison of Phantom 3 vs. Phantom 4. With us, Phantom 3 can still serve you well as a drone for video recording and excellent flight performance.
However, if you have higher requirements in a drone, then Phantom 4 will be a great version for you with better improvements than Phantom 3, and of course, remember that you can pay for this expensive drone. Let's wait for our Dji Phantom 3 Professional Vs Phantom 4 and DJI Phantom 4 vs Phantom 4 Pro article next time.
Read More: 
Best Drone Gimbal 2021: Top Brands Reviewed
Best Drone Accessories 2021: Top Brands Reviewed