Recording footage is now more affordable than ever. Technology is cheap, while quality keeps on improving. These days nearly everyone can afford a high-quality camcorder to record special moments in their lives or just start making videos that can be uploaded online. We are living in a digitized era in which pretty much everyone can get access to a camera and start recording.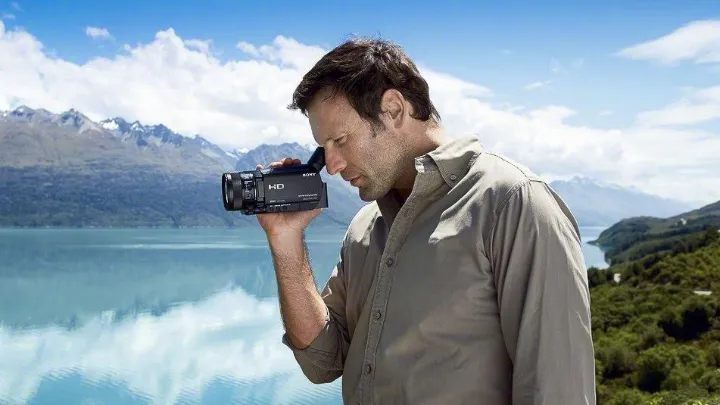 Camcorders should not be confused with action cameras. Action cameras have become increasingly popular due to their form factors. Camcorders are bigger, but they also offer more options, such as optical zoom, a digital display, connectivity options, large internal memory, and many other features.
Best Camcorders in 2023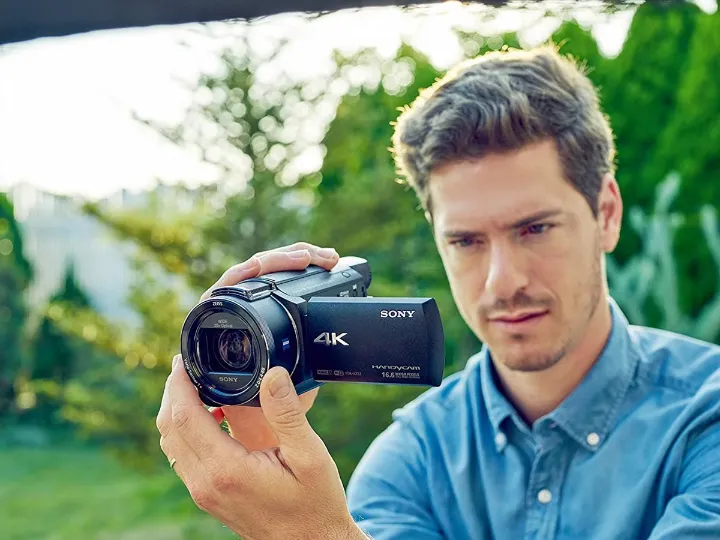 Today we will go through 10 different camcorders. The number of available models has decreased over the past few years, mostly due to the fact that DSLR cameras can now also be used as camcorders. Regardless we were able to select several models that are worth looking at. To keep things short, let's get right to our list of the top 10 best camcorders in 2023 reviews.
Sony DCR-SX85 Handycam Camcorder
Sony DCR-SX85 is a compact camcorder that comes with a decent price tag. The model features 16 GB internal memory that should be enough for 12 hours of recording in LP mode. Image quality is quite decent with the aid of the advanced CMOS sensor and the Carl Zeiss lens.
Like most other camcorders, it has a built-in LCD screen. It has Intelligent Auto with multiple possible combinations. The device also offers a 70x zoom and makes it very easy to transfer the footage to a PC or an external drive.
Samsung SMX-F50SN/XAA F50 SD Camcorder
Samsung SMX-F50SN/XAA is an excellent option for the ones that have a limited budget. This compact and inexpensive camcorder offers a 52x zoom that goes all the way up to 65x using the Intelligent Zoom feature.
The model has a large LCD display and a 1.9-megapixel optical sensor. It does not have internal memory, but it supports SD cards. Also, the video resolution is limited to 720 by 576 pixels which might seem low, but it is quite clear.
Panasonic SDR-H80 SD and HDD Camcorder
The Panasonic SDR-H80 camcorder is a simple device that will prove to be an excellent option for beginners. It is very small and extremely easy to use. The model has an optical zoom of 70x and a 100x digital zoom.
Video quality is fairly decent using an advanced sensor. Its LCD screen makes it easy to control image stabilization and filters. In terms of storage, the model supports SD card expansion or directly on the internal 60 GB HDD.
Panasonic HC-X920 Digital Camcorder
Panasonic HC-X920 is one of the few 3D-ready cameras on our list. The model has an advanced 20-megapixel sensor. It has a large 3.5 LCD screen and offers an optical zoom of 12x that can reach 25x with the intelligent zoom feature.
In terms of storage, the model has an SD card slot. It has a built-in microphone and advanced lens that offer 3D conversion. The recording resolution is full HD, which makes up for crisp, clear videos with excellent image stabilization.
Sony HD Video Recording HDRCX405 Handycam
Sony HDRCX405 is a great and inexpensive camcorder for the ones that need something simple, inexpensive, and capable of recording full HD content. The advanced sensor used is capable of capturing video recordings are resolutions of 1920 by 1080 pixels.
As with other camcorders, the Sony has a large 2.7-inch LCD screen. It does not have internal memory, but it supports SD cards. An interesting fact is the built-in USB cable that can be used to transfer the footage directly to a PC or laptop.
Panasonic HC-VX870K 4K Ultra HD Camcorder
Sale
The Panasonic HC-VX870K might seem expensive for some, but it is a 4K capable camcorder. This means it can record footage at a resolution of 3840 by 2160 pixels. The downside is the fact that the camera needs more storage for recordings.
Another interesting feature is the fact that the camera is capable of recording slow-motion full HD videos. It can record at 1920 by 1080 pixels at 120 FPS. Also, it can be connected to Wi-Fi networks and features a smartphone app that can be used to control the camera.
Canon Vixia HF R300 Full HD Flash Memory Camcorder
Canon Vixia is a great camcorder for beginners and the ones that need something at a reasonable price. It is compact and offers full HD resolutions. The model has built-in memory and supports SD memory cards.
Looking at its features, the camera offers an optical zoom of 51x. The LCD screen measures 3.0 inches and features a touch panel that makes it much easier to work with its menu. It offers multiple filters and image control options that do not require any kind of expertise.
Panasonic HC-VX981K Ultra HD Camcorder
Sale
The Panasonic HC-VX981K is a 4K capable camcorder that comes with a compact form factor and a reasonable price tag. It supports a video resolution of up to 3840 by 2160 pixels at 60 FPS.
The model uses an advanced Leica lens. Its optical zoom has been limited to 20x and features a 5-axis image stabilization. The model can be connected to mobile devices over Wi-Fi and can be controlled using a dedicated smartphone app.
Canon VIXIA Camcorder HF G20 HD
Sale
What made the Canon VIXIA Camcorder HF G20 camcorder become so popular due to how simple it is and the features it offers? The model can record videos at full HD resolutions. Its advanced sensor has a 20% improved low-light performance.
The camcorder comes with 32 GB internal memory that can be expanded with regular SD cards. It has a large LCD screen and offers a 10x zoom. The camera offers 9 built-in filters and comes with a cinema-look option.
Samsung HMX-F90 Compact Camcorder
The Samsung HMX-F90 is a great device that comes in the form of a bundle. It includes a small tripod, a case, an SD card, an adapter for the card that turns in into a USB flash drive, and a cleaning kit.
Having so many bonuses included in the kit makes it a great option for beginners. It is capable of recording videos at HD resolutions. It also comes with a one-touch sharing button and offers a 52x zoom.
Final Words
Camcorders evolved a lot over the past decade. We now have multiple standards, such as HD, full HD, and the new 4K. While 4K might seem a bit too early to invest in since there are not that many TVs or computer monitors that offer this resolution, they are future-proof. However, getting a model that only records in full HD is still a good idea. Our list includes multiple models, including 4K capable ones and even a 3D camcorder. In the end, it is a matter of budget, and as a general rule, the higher the recording the resolution, the higher the price will be.