Nowadays, you can easily buy a drone powered by a Li-Po battery; there are many famous brands and high quality for you to choose from. They are designed with electric motors that are simpler and much more efficient than combustion engines, but you need to use a lot of battery-powered back-ups to get a continuous and smooth journey.
Combustion engines are light in weight, small, robust, and offer good fuel consumption
And if you want to use drones for hours, not minutes, or want to use them for long-distance work, then a gas-powered unmanned aircraft is a viable option for this job. The gas-powered drones are built with small and efficient engines designed to provide the same functions as traditional electric drones.
Unfortunately, gas-powered drones are quite rare on the market, and most of them are DIY projects built for a specific job. If you are looking to buy or learn more about these special drones, this is exactly where you need to come. Staaker will show the Best Gas Powered Drone 2022 and the other important things you need to know before purchase.
Advantages of Gas Powered Drones
Gas-powered drones have more moving parts than traditional batteries, so they will typically weigh more. This extra weight is great for aerial photography because it helps keep the drone stable in windy conditions.
A gas-powered drone offers another advantage: it can fly for a longer time. This allows you to see how your drone works and better understand how to use it to achieve your goals. Some gas-powered drones can fly for up to sixty minutes before they need to be refueled.
It takes only a few seconds to fuel your vehicle instead of the many hours it takes to recharge a battery-powered one.
Disadvantages of Gasoline Drones
These drones are not perfect. Their size can limit their maneuverability and pose a potential problem. A gas-powered drone is more difficult to control than a traditional RC drone due to its size and weight.
Some people might find it more difficult to control a gas-powered drone due to its heavier engine and larger body. This is especially true if they need to maneuver through tight spaces quickly.
A drone that runs on gasoline behaves like a motor vehicle. To start the drone, you must ignite the engine. Because the ignition process is dependent on a high voltage, this could cause interference.
This is not a problem. It can be difficult for drone pilots who are just starting. The interference problem is usually solved by using a PCM radio or 2.4GHz spread band radio.
Gas-powered drones require that you regularly check the fuel level, fuel system, and lubrication of moving parts to ensure they don't get crushed or damaged.
After discussing the benefits and drawbacks of each model, let us now discuss four gas-power options that you can choose from if you are looking for something simple to fly and that can travel very far.
Each drone is unique, and each one has its design and features that make it useful for its intended purpose. Some models include all the parts in a single box ready to assemble, while others come with cameras that can capture images of everything in the sky.
Buying Guide For Gas Powered Drones
There are many reasons why choosing a power drone by gas can be challenging. These drones are not intended for small deliveries or play.
The military, the industries, and many major companies use gas-powered drones. When buying a gas-powered drone, there are many things to consider. This guide will help you identify the key features to look for when buying a drone.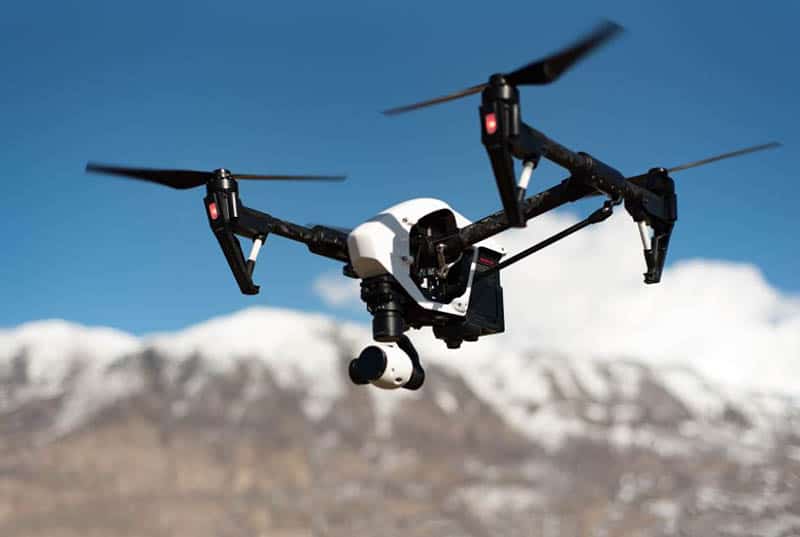 Payload
Drones power by gasoline can easily carry large loads. When searching for a power drone by gasoline, be sure to check the heavy payloads. The payload determines the cost of the drone.
The Incredible HLQ, for example, can be carried around 50 pounds frame. This makes it a great choice for heavy-duty work.
The Freefly Alta UAV is a more affordable option, but it only has a 15-pound. The DJI S1000+ professional is the best choice for beginners who want to learn how to fly gas-powered drones. You get a 4-pound aerial, and it is very affordable.
Professionals should look for drones that can hold 50 lbs or more. This will make it easier to do your job. These drones can also carry large items with ease because they are heavy.
Stability
The stability of your device is another important aspect to remember. Because of their heavier weight, gasoline-powered drones are much more stable than electric ones. Gas-powered drones require stability.
Your drone won't be stable if it can withstand severe weather conditions and gets damaged. Drones with low stability are more likely to crash and fall from the sky. It is best to choose drones with a lot of weight and good stability.
The Nitro Stingray, for example, is well-known for its remarkable stability. This drone can be flown even in heavy rains or strong winds. It can also travel far distances because of its stability.
These drones are heavier than electric drones and can stay in the air for longer periods. This would allow you to use the drone even in bad weather.
Flight Time
The most important thing to look for in a drone is its flight time. A drone that gives you 15 minutes of flight time is not worth the money.
Drones power by gas engine uses fuel and not batteries. This means that you can expect a long flight time. A gas-powered drone should take around 30 minutes range to fly.
Gas-powered drones can run for the same amount of time as fuel, unlike battery-powered drones. You can rely on your drone to provide a longer flight time because it doesn't need to charge the batteries or have extra cells.
If you choose to fly with hybrid engines like the DJI Mavic Pro, you will get a flight time that is 31 minutes. This is very good.
Maintenance
Gas-powered drones are more difficult to maintain than electric-powered ones. It's better to choose a drone that is easy to maintain and produces good results.
You need to ensure that the drone's service and replacement parts are available in your country. Otherwise, it could cause problems. You should look for drones with service centers in your country. This will make it easier to maintain your drone.
Aside from that, it is important to polish drones regularly. Accidents can occur if there is a leakage.
Noise
Drones can make a lot of noise which could cause problems. When buying a drone, be sure to check the noise it is making. You should not allow the drone to produce more than 49 decibels. This could cause serious damage to your ears.
Nitro Stingray, for example, is the most powerful gas-powered drone but is too loud. Incredible HLQ produces very little noise. The DJI Mavic Pro, which is low-noise, can be seen. It is a popular choice among beginners due to its quiet operation.
An unobtrusive drone will be more beneficial for you than a loud one. You should ensure that the device is below the decibel level, as it could cause damage to your ears.
Types Of Wings
There are two main types of wings for drones: fixed wings and rotary wings. Fixed wings can be found in planes, while rotary wings can be found on helicopters.
Because of its design, rotary wings require energy to stay stable in the air and move forward. Fixed wings require energy only to move forward.
Rotor wings are better for heavy items such as medical supplies or parcels. Fixed wings can be used for rescue missions. Fixed wings are best for efficiency.
If you need a drone capable of carrying heavy loads, you can choose a drone with rotary wings. The Goliath Quadcopter, for example, has rotary wings that allow it to transport heavy items easily.
Read More: 
Types Of Engines
Different manufacturers use different types of engines for their gasoline-powered drones. There are many types of engines: two-stroke motors, hybrid, and many others.
Most manufacturing companies prefer two-stroke gasoline engines because they require less fuel to ignite the fuel. Many companies use more efficient four-stroke gasoline engines.
The Nitro Stingray, for example, has a two-stroke Scorpion engine that is very helpful in the ignition. The device can be started with just one round of gas.
The four-stroke motor is the best choice if you are looking for an efficient engine. A two-stroke gasoline engine is a good option if you are looking for a budget-friendly drone.
Before you buy a drone, it is important to understand the engine type. Although some engines can be very useful, others could cause pollution or harm to the environment.
Ignition
Power drone by gas is similar to vehicles. It would help if you started them manually. They run on gas. It is essential to inspect the ignition system for any gas-powered drones you work on. It is well-known that gas-powered drones can experience ignition problems.
Cameras
The majority of gas-powered drones come with a camera. Although the camera is not as sharp as electric drones, it can still provide a clear view of the route. You can add any camera to most drones.
The Goliath-powered Quadcopters are customizable and allow you to add any camera. The DJI Mavic Pro comes with a 12MP camera. It also has features that enable you to capture pictures from various angles.
Assembling
The majority of gas-powered drones don't come assembled. You will need to assemble them to use them. Look for drone manufacturers that ship the drone fully assembled.
If you are not familiar with the process or are just starting in drone assembly, it can be quite difficult. It is best to avoid buying drones that are already assembled.
The Goliath-powered Quadcopter is made up of parts, and the user must assemble it. It will be a waste if you don't know how to assemble it.
Not all drones powered by gas are easy to assemble. The DJI S1000+ Pro can be assembled in less than 5 minutes. You can also operate it.
Other gas-powered drones are also available that can be assembled easily. You should look for drones that have clear instructions or come at least partially assembled. This will help you set up and operate the drone in no time.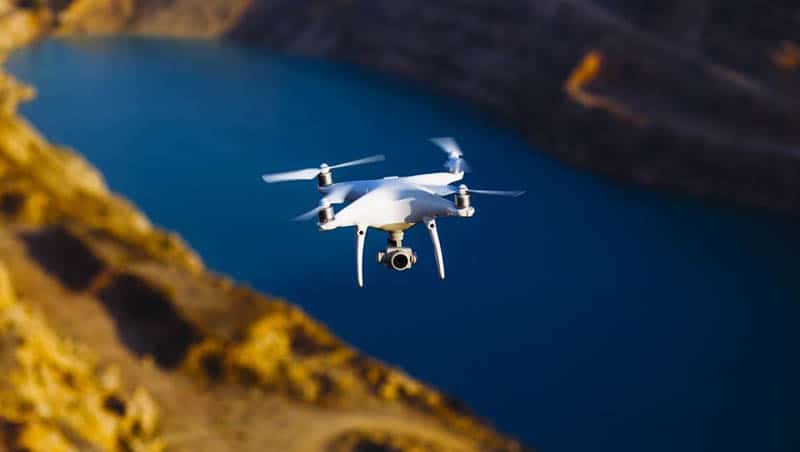 Top 9 Best Gas Powered Drones 2022
1. DJI S1000+ Model
Best Budget Gas Powered Drone
Ironically, this DJI drone is the most affordable. It is specifically the DJI S1000+. This great gas-powered drone is lightweight and portable. It can carry a maximum of 4 lb payload.
This affordable drone is made with carbon fiber, which makes it easy to transport. The S1000+, like all DJI drones, is easy to use, even for novice pilots. The assembly is quick and easy. You save money and can carry light.
Read More: 
Best Dji Spark Accessories 2022
2. X-craft RC1-XP1-001-BK Drone Model
Best Agile Gas Powered Drone
The X-craft RC1XP1-001BK Drone is a casual drone that you can fly. The X-craft drone is a daring aerial adventurer that can do amazing 3D aerobatics. It also comes with a fancy camera that has good stabilization to capture those high-end shots.
Although it's fun and fast, the electric version is more difficult to control. The gas-powered version is more popular because it feels more realistic, in the sense that you're flying a miniature plane and not a remote-controlled novelty.
3. Nitro Stingray Model
The Nitro Stingray, another gas-powered model, features a two-stroke Scorpion motor and 110mm blades at all corners. The TG-Multi flight control system gives the pilot complete control of the unmanned aircraft. The controller makes it easy to adjust speeds and directions.
Variable pitch technology on the quad increases mobility. It allows you to move it up quickly and down. The Nitro Stingray's stability is another advantage. It can hold a stable position for longer than other drones.
This ensures that it will remain active and strong without falling or slipping. The unmanned aircraft is stable even in strong winds and makes it become of the best quadcopters for aerial photographers.
4. DJI Matrice 600 Pro
Best gas powered drones with camera
DJI's Matrice series offers powerful, heavy-lifting gas-powered drones that can be upgraded to the S1000. The 600 Pro model is the latest model.
It can carry a 5.5-pound payload and fly for up to 35 minutes range, depending on its heavy load. You can also add any DJI drone or other accessories to the 600 Pro's stable hover.
The Matrice 600 Pro, like the S1000, is a great drone for aerial photography. In fact, due to the longer flight times and better hover quality, it may even be more useful for this purpose. This drone can also be used for transportation and industrial purposes due to its higher weight.
5. DJI Mavic Pro
Next is the DJI Mavic Pro model, which is one of the very best gas powered toy helicopters. The DJI Mavic Pro is well-known as the best drone with camera and smart features. The Mavic Pro's flight time is 35 minutes range. This gives you plenty of time to perfect your drone flying skills.
It can easily carry 4 pounds and travels at 44mph. It also features smart features such as Active track, Omnidirectional obstacle sense, and many more.
Drones can avoid collisions thanks to their omnidirectional obstacle sensing. The drone produces very little noise and has an adjustable aperture. You can adjust the aperture to suit your needs.
The DJI GO 4 app is easy to use and allows you complete control of the device.
There are some things you should consider when purchasing this device. This particular drone powered by gas is not compatible with Android devices. A specific device is required to use the drone.
The drone's sport mode also disables obstacle sensing, which could lead to an accident.
6. Freefly System Alta UAV
The Freefly Systems Alta model is the best gas-powered RC quadcopter that can lift around 15 pounds. Due to its many features, it is known as a heavy lifting drone.
Although the unmanned aircraft is expensive considering the payload, it has many nice features. We loved the SYNAPSE controller, which is what we found most impressive. The flight controller lets the user add new algorithms to the system and then use them accordingly.
The SYNAPSE controller also gives you an advantage in taking pictures from all angles. The drone's carbon-fiber body makes it extremely lightweight. Carbon-fiber frames not only reduce the drone's weight but also provide strength.
We also liked the fact that this unmanned aircraft is easy to assemble. You can unpack the drone in 5 minutes and then operate it. The drone models have Sky and Ground views, which are useful not only for photography but also during flight.
This device does not have any smart features. Smart features are not available for the price you pay.
7. Goliath Quadcopter
Goliath-powered Quadcopter has the best gas-powered drones on the market. This unmanned aircraft is perfect for DIY enthusiasts.
You will need to assemble the quadcopter. If you are familiar with assembling quadcopters, it would be simple to assemble unmanned aircraft. This allows you to modify the drone's design and make it your own.
The engine of the unmanned aircraft is a 30HP Vtwin lawnmower motor. This motor is very powerful. The drone models can be carried up to 40 pounds and can travel long distances. Goliath Quadcopter was created for the Hackaday Prize competition a few years ago and has been very popular ever since.
The unmanned aircraft uses one gasoline motor and can be used for rescue missions or deliveries. The ADrupilot flight control system can be used to control the drone models. This flight controller is open-source software designed for UAV. This software can be used to modify and guide your drone system.
The quadcopter's frame is made of aluminum and wood. This makes it very lightweight. Although it's great that the quadcopter is lightweight, it also decreases its stability.
For gas-powered drones, the more weight, the better. The Goliath quadcopter is unstable and cannot stay in the air for very long.
This unmanned aircraft is also not readily available as it is still a new product on the market. If you are interested in using this drone for your projects, you will need to search the internet.
The Goliath Quadcopter, a gas-powered unmanned aircraft, is another good choice. This powered quadcopter is among the best gas-powered quads if you're looking for a drone that you can customize.
8. Incredible HLQ
A group of San Jose students came up with an idea, and it was quickly realized through the Kickstarter campaign. The students from San Jose designed the Incredible HLQ, and it has some incredible features. It is seen as among the very best gas powered helicopter drone models. 
The Incredible HLQ (Heavy Lifting quadcopter) can lift to 50 pounds. That's quite impressive. The unmanned aircraft can be controlled using the Ardupilot flight full control software, which is an open-source prototype. This allows you to customize the drone as you wish.
It is extremely lightweight because it is made of aluminum tubes. This can lead to less stability. The drone's engine has two gasoline 2-stroke engines. Each engine can produce up to 12.5 HP of power.
The Incredible HLQ can be used to make e-delivery. The unmanned aircraft comes pre-assembled, making it easy to use. It is very large, so make sure you have plenty of storage space. It comes with four helicopter rotor heads and 435mm blades.
Although you have the advantage of customizing your unmanned aircraft to suit your needs, it also requires a lot of gas to run this device. Although the Incredible HLQ is incredibly useful and very helpful, it needs a lot more gas to work properly.
9. Yeair
Although the quadcopter is still at the concept stage, it has great potential as a gas-powered drone. Yeair is a sturdy unmanned aircraft with a powerful gas engine and a small battery that will power it. It is likely to cost more than 1,000 dollars, making it more expensive than other drone models. It will, however, be worth every penny.
The Yeair is a parcel transporter that can be used to move parcels over long distances. For long-distance transports of up to 12 pounds, it can reach speeds of 60 MPH. It can also remain in the air for approximately 60 minutes before it needs to be refueled.
Although the battery-powered included with the quad cannot be recharged, it will keep the model's emissions from becoming more problematic than they need to. The Yeair has a 2-stroke engine that will withstand the test of time.
Yeair is fast, reliable, and very durable. There's no risk of it falling apart after a few use. The Yeair also has strong borders around its rotors, which protect it from damage in strong winds. It is seen as among the very best gas powered RC drones.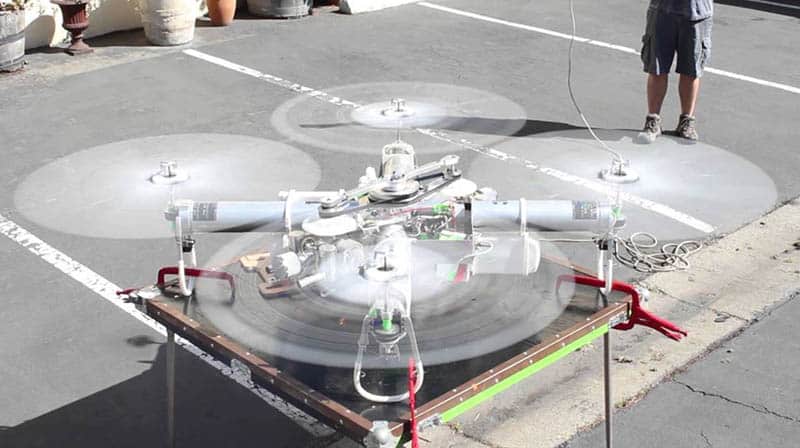 Read More: 
Best Drone Gimbal 2022: Top Brands Reviewed
Best Drone With Obstacle Avoidance 2022: Top Review For You
Best Drone With Screen On Remote 2022: Top Review For You
How Do the Parts Work?
Each part of a gas-powered quad has a variety of features that can affect how it functions. Before you buy a quad, you should carefully consider how each piece works.
The blades rotate to give the necessary upthrust. You should also consider important features like the blade material, how big the blades are about the space available for the unmanned aircraft, and whether they can be easily replaced if damaged.
The same applies to all other parts, such as the fuel system and exhaust. It is crucial to understand how your quad operates, what you can do to replace damaged parts, and how you can improve it.
Video:
Who Should Use These Drones?
Gas-powered quadcopters are best suited for special operations such as surveillance, rescue, delivery, and filming live events.
Surveillance
These drone models can be used to monitor people and property. Their main drawback is the fact that they must be changed every few minutes.
Gas-powered quads can fly longer distances without needing to recharge. Refueling is quicker than charging the battery-powered. Gas-powered drones are better equipped to provide continuous surveillance than ordinary electric-powered quadcopters.
Rescue Services
The gas-powered quads are stronger than the battery-powered ones and can fly in windy conditions better than their battery-powered counterparts.
This makes them ideal for rescue teams and emergency services. Fire departments might use drones equipped with cameras to take images of fire spots. This will allow them to pinpoint trouble spots and determine which entrance points to use when trying to rescue people from the fire.
Delivery Services
These quads powered by gas can travel long distances at a higher speed and lift and deliver loads. These drones are large and powerful enough to be used by online delivery companies and businesses to deliver goods and parcels to homes and businesses.
The delivery of medical supplies to patients and doctors in times of crisis or where it is impossible to get them quickly or at their disposal may be a more attractive option for gas-powered quads.
Filming Live Events
Continuous filming from vantage points will allow for a clearer view of what is happening. Live events that last longer might require continuous filming. Gas-powered quads are more practical than battery-powered quads, which require frequent stops to recharge their batteries. They can fly longer and require less fuelling.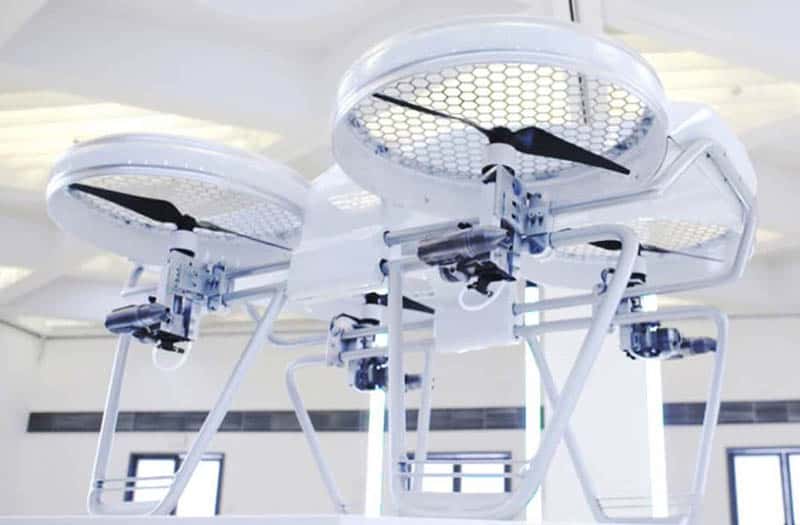 Conclusion
The unmanned aircraft powered by gas is powerful. These drones are versatile and can be used in many different situations. They come in many models, so you have plenty of options.
Before you refuel, ensure you inspect the controls, range, and engines of any gas-powered quadcopter. We hope that our Best Gas Powered Drones article can help you learn more about these unmanned aircraft.
Last update on 2022-10-04 / Affiliate links / Images from Amazon Product Advertising API