Mavic Air Vs Mavic Air 2 are two drones released by DJI to bring powerful capabilities to users in a smaller, more affordable drone than the higher-end Mavic series.
Mavic Air 2 is the successor of the previous great brother Air, Air 2 is a compact design with high portability and offers higher performance, and they are sold at affordable prices. And if you are planning to invest in one of them but are confused about which one to choose, in this article Staaker will go into the details and functions of each device to help you choose the most suitable drones for you.
DJI's Mavic Pro was a huge success, and they then launched Spark, which is much more affordable. The Mavic Air bridges this gap, providing all the great features of the Spark and all the pro-flight features of the Mavic PRO.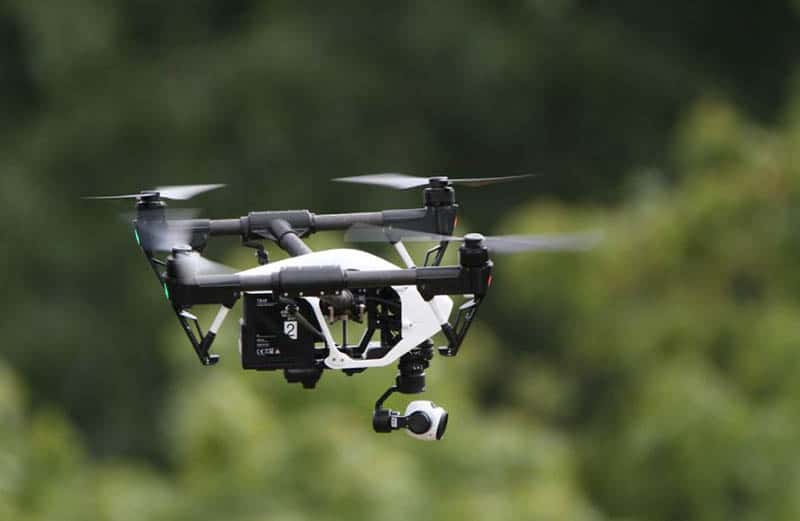 The Mavic Air also introduced a 100Mbps data speed for video capture on DJI drones for under $1500. This sounds like a lot, but it is enough to say that the Mavic Air immediately won the title of best video at the most affordable price for any drone.
The Mavic Air is available in two options. You can either buy the drone as-is or upgrade to Fly More to get additional batteries and a case.
We were forced to recommend the Mavic 2 drone series as the best camera for a compact drone. However, the Mavic Air remains our top choice if you are looking for ultimate portability. The Mavic Air packs down so small that it can be carried around in your pocket.
Read More:
Inspire 2 vs Mavic Pro 2022: Which Drone is Right for You?
Air 2 Vs Pro 2022: Which Is the Best Drone for You?
Pros:
Compact design
Fast and fun
100 Mbps video capture – great camera
Competitive price
Asteroid and other autonomous flight modes
HDR photo capture
Three direction obstacle avoidance sensors
Cons:
WiFi connectivity – No Ocusync
Good, but not great battery life
Infinite focus camera (if you like to control that)
Although the Mavic Air 2 is slightly larger than its predecessor, likely, you won't notice. It measures 3.3×3.8×7.1inches (HWD) and weighs 1.3lbs. This makes it small enough to fit in most photographers' gear bags.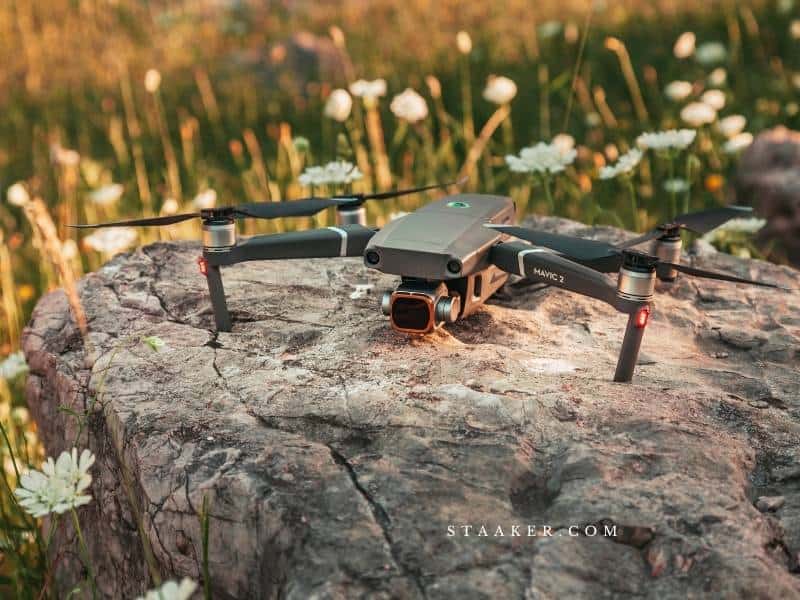 Although the footprint is bigger when the arms are extended, the drone's profile is still very low. If the grass isn't cut fresh, you may not be allowed to fly from the lawn. However, it is possible to find a suitable flat area of asphalt or dirt to launch.
It is heavy enough that registration is required in the US for drone use. The fee is $5. Here's a guide to drone regulations. Before you buy a drone or make any other decisions about it, be sure to review this guide.
A small shoulder bag is a great accessory for your smartphone and protects it from damage. If you purchase the drone with spare batteries, DJI will include one. The Fly More Kit costs $988 and includes a bag, two extra batteries, neutral density filters, and an additional multi-battery charger.
Pros:
Superlative battery life
A strong image and video quality
Obstacle detection and avoidance
Automated shots
HDR video and Raw imaging
AirSense transponder
Cons:
Video profiles limited to standard and flat
App-based editing limited to 1080p output
Remote omits EV control wheel
Not easy to get Raw images to your tablet or smartphone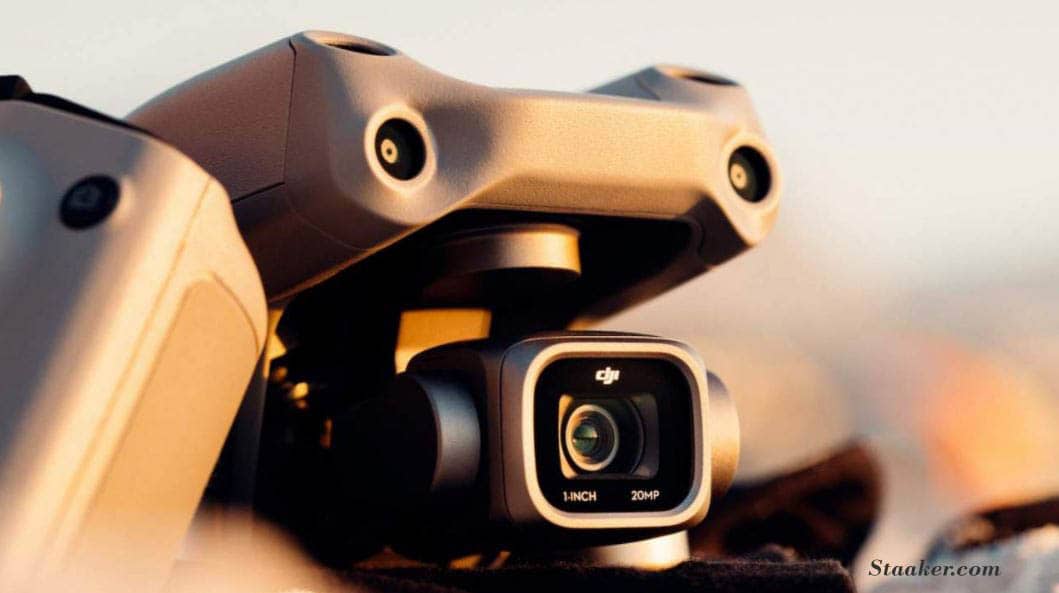 Compare DJI Mavic Air 2 vs. Mavic Air
Design
The DJI Mavic 2 weighs 570g more than the 430g Mavic 2
The drones fold easily into a backpack and can be carried around with you.
OcuSync 2.0 is now supported by the Mavic Air 2's brand new controller
The DJI Mavic Air 2 doesn't just upgrade the original Mavic Air; it's also a completely new drone.
It shared more similarities with the DJI Spark than its predecessor, which meant that it was smaller and could be purchased in various bright colors. However, the Mavic Air 2 looks more like a mini Mavic 2 Pro with a larger and more serious design.
The difference in size and weight between the drones is not significant. The Mavic Air 2 weighs 140g less at 570g. This is a bonus for stability in the air. Although it is more stable in stiff winds, it is not as steady as the Mavic 2 Pro. High wind warnings will still be displayed at altitudes above 120m.
The size differences between the drones are more obvious when you take the arms off. The Mavic Air was 168x184x64mm in size, while the Mavic Air 2 measures 183x253x77mm. Practically, however, this is mainly a bonus for flight safety. The Mavic Air 2 can still be folded down into a compact bundle that you can stash along with your other photographic gear.
There are a few niggles in the Mavic Air 2 that were present on its predecessor. The drones are low to the ground due to their rear arms. This means that you will need to find flat ground for taking off in grassy areas.
Both drones' gimbal guards can be difficult to use and fiddly. These minor issues aside, the Mavic Air 2's design is brilliant, and it fits perfectly in the sweet spot of portability, stability, and battery life.
Read More: 
Inspire 2 vs Mavic Pro 2022: Which Drone is Right for You?
Dji Inspire 1 Vs 2 2022: Which One To Buy?
Camera Performance
Camera Features
Let's start with the most important differences between DJI Air 2S vs. Mavic Air 2. Mavic Air 2 has a larger and more powerful 1-2 inch camera sensor than the 1-2.3-inch sensor on the original Mavic Air.
Quad Bayer technology is used to support the Mavic Air 2 camera. This technology produces stunning 48MP photos and a 12MP output using pixel binning technology.
This technology converts four pixels into one, similar to the modern smartphone. Mavic Air 2 has more image details than Mavic Air 2, especially when you zoom in on the image.
ISO Range
Mavic Air's ISO range is 100-1600 for auto mode and 100-3200 for manual mode. Mavic Air 2's 12MP mode has an ISO range of 100-3200 in auto mode and 100-6400 in manual mode.
Mavic Air 2's higher ISO range allows you to capture more detail in various lighting conditions. Mavic Air 2's 48MP mode allows you to capture images at ISO 100-1600 and 100-3200, respectively. You can see the ISO comparison below to compare how each drone performs at different ISO levels.
Smartphone
smartphone, a completely new Mavic Air 2 feature, combines HDR imaging and scene recognition into one intelligent algorithm. SmartPhoto takes images quickly and efficiently, optimizing camera parameters much like modern smartphones.
Panorama
Mavic Air's 32 MP Sphere Panorama is one of its most unique features. It stitches images together to create a stunning panorama. Mavic Air can create panoramas in Horizontal, Vertical, and 180deg without any processing.
The new Mavic Air 2 HDR Panorama mode makes things even more exciting. HDR Panorama, the most advanced panorama mode of any drone, creates a wide panorama with an extraordinary dynamic range.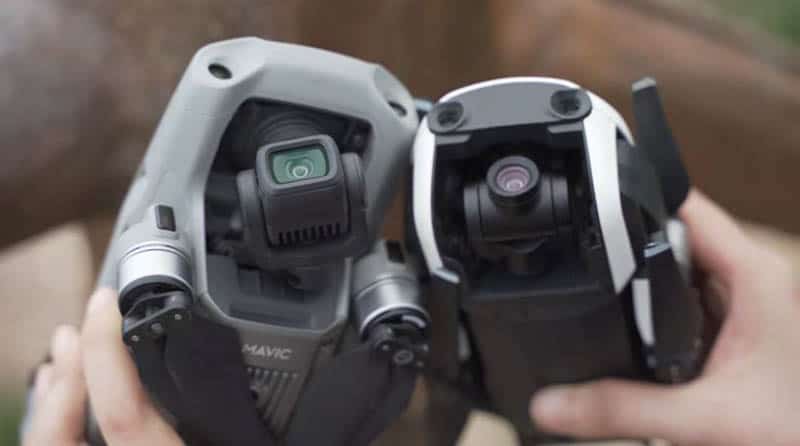 Video Performance
Frame Rate & Bitrate
Mavic Air 2 also has a higher frame rate which produces better-looking videos. Both Mavic Air drones can shoot FHD videos, but Mavic Air 2 has a higher frame rate than Mavic Air's 120. All of this translates into smoother cinematic footage.
HDR Video
Mavic Air 2 supports HDR video at 4K/30fps and 2.5K/30fps. This allows you to capture stunning footage no matter where you are. HDR video is more dynamic than standard video functions and offers a wider range of landscape shots. HDR video is now more reliable than standard video functions, so you don't have to worry about the sun ruining your amazing footage.
ISO Range
Mavic Air 2 offers a 100-6400 video ISO range, whereas Mavic Air 2 has a 100-1600. Mavic Air 2's higher ISO setting allows for more light to be reflected in the video, which results in more vivid colors and greater contrast.
Video Code
What is the difference between H.265 on Mavic Air 2 versus H.264 on Mavic Air 2? H.265 is an improved standard for video compression that can process information faster. This means that you can achieve higher quality video at lower bandwidth and storage, which is great for uploading and displaying your content on social media.
Avoidance of Obstacles
The only area where these drones are not as good as the pros is obstacle avoidance. However, the Air 2 will still be quite capable.
The first and second-generation Mavic Airs have rear and front sensors. This helps ensure that the drone doesn't hit anything behind or in front of it. The underside has sensors as well.
The Air 2's pattern recognition allows it to pinpoint its origin. However, it has more precise depth sensors that can detect the distance it is from the ground. It has advanced obstacle avoidance and flight.
Mavic Air 2 features the APAS 3.0 system. This means that the drone can adjust its trajectory to avoid obstacles as it moves forward. This is especially useful when flying low above rocks or through trees.
Mavic Air vs Mavic Air 2 battery And Performance, speed.
Mavic Air – 2,375mAh Battery
Mavic Air 2 – 3,500mAh Battery
Mavic Air – Up to 21 Minutes Flight Time
Mavic Air 2 – Up to 34 Minutes Flight Time
The maximum speed for both is 68.4kph (42.5mph).
The Mavic Air 2 has a significantly different battery when it comes to performance. The Mavic Air 1 has a 2,375mAh lithium battery, while the Mavic Air 2 has an impressive 3,500mAh. This results in a significantly longer flight time.
The Mavic Air 2 is DJI's most efficient consumer drone in terms of flight time. It can fly for up to 34 minutes on a single charge, which is a significant improvement on the 21 minute flight time offered by the original Mavic Air.
Both can fly up to 42.5mph when in Sport mode. A physical control pad controls them with an antenna, removable joysticks, and a grip for a phone. The control pad's size and shape are vastly different. The controller is no longer small enough to fit in your palm. It is much bigger and has a stronger phone grip built into its top edge.
Video:
Controller
Mavic Air 2 controller is more stylish than the Mavic Air.
It supports Ocusync 2.0, which increases the Mavic Air's range
The DJI Smart Controller doesn't currently work with the Mavic Air 2.
The controller is another major design difference between the drones. The DJI Mavic Air 2 features a completely new pad with two main improvements.
One is the overall design. It is more comfortable than the Mavic Air's pad, thanks to its contoured grips.
Attaching your phone to the controller using a telescopic handle makes more sense. It makes the Mavic Air 2's pad feel like a smaller version of DJI's Smart Controller.
The Smart Controller is not compatible with the Mavic Air 2 at the moment (DJI said it would in the future but didn't have a timeframe), but the new controller is a good substitute, even though it doesn't have its screen.
The sticks of the Mavic Air 2 controller are also removable and can be stored in rubberized sections. This is useful if you need to fit it into a backpack. You'll rely on the DJI Fly app to change between Normal, Tripod, and Sports modes.
Ocusync 2.0 support is perhaps the most important feature of the new Mavic Air 2 controller. This transmission method is far superior to Mavic Air's Enhanced WiFi and offers a greater range (10km vs. 4km) and a stronger signal.
Overall, the Mavic 2's controller is a significant improvement on the folding Mavic pad. It also doesn't add any additional cost to the drone.
Read More: 
Dji Go Vs Dji Go 4 2022: Which One Is Better?
DJI Mavic Mini Drone Review: Top Full Guide 2022
Intelligent Features
FocusTrack
FocusTrack, a new suite of intelligent tracking modes that Mavic Air 2 has introduced, allows you to capture more diverse footage. ActiveTrack 3.0 is our most advanced tracking software.
ActiveTrack 3.0 allows you to have more control over tracking in high-speed scenes and the ability to track subjects automatically after they are lost behind objects.
Point of Interest (POI 3) 3.0 allows for an automated flight path around your subject. It also features better surface recognition algorithms.
Spotlight 2.0 is the last professional drone tracking feature. It locks your subject in the middle of the frame and gives you complete control over your drone's movements. FocusTrack is an important step up for those looking for intelligent drone features.
8K Hyperlapse
Mavic Air 2 now allows you to shoot 8K hyper lapses, which allow you to control time and motion in amazing scenes. 8K Hyperlapse opens up new possibilities for filmmaking, whether you're filming a beautiful sunset or a cityscape that transitions from day tonight. Only the Mavic Air 2 has this new intelligent drone feature.
QuickShots
Many people are looking for a drone capable of shooting amazing footage without spending a lot of time setting it up. QuickShots can be a great way to add amazing flight sequences to your footage with just a few taps.
Mavic Air 2 and Mavic Air 2 offer five QuickShots, including Dronie and Circle, Helix and Rocket, Boomerang, and Asteroid. Mavic Air 2 includes advanced electronic stabilization for QuickShots. This makes them more stable and smoother than ever. For a detailed review of QuickShots, see this Mavic Air 2 Review.
Price
Basic kit: $799 at launch
The new Mavic Air 2 launched at the same price as the original Mavic Air 1 and is significantly cheaper than the Mavic Pro and Zoom versions.
The Air 2S, which DJI claims to be the most popular consumer drone ever, is now available. Before you decide on one of these, make sure to read the other.
Conclusion
DJI Mavic Air 2 vs Mavic Air It's well worth the money invested in it; Mavic Air will bring you an all-around experience with a powerful camera with reliable flight performance. But there is no denying that Mavic Air 2 is much improved with upgraded performance; Mavic Air 2 has powerful imaging capabilities, longer flight time, and stronger transmission. Carefully consider the criteria that are right for you to choose the product that best suits your purposes. Let's waiting for our article Mavic Air 2 vs Mavic Air 2S and Mavic Air 2 vs Mavic Mini 2 next time.