Mavic Mini is seen as the lightest drone with outstanding features and high mobility; Mavic Air 2, a drone highly appreciated by experts and users, is one of the top drones The current.
If you're looking to add a drone to your photo kit for epic aerial landscapes and video, then Mavic air 2 vs Mavic mini is the greatest choice for you.
If you are planning to invest in one of them, then you come right place. In this article, Staaker will compare every specs, performance, video quality, and more to help you decide which drone you should choose?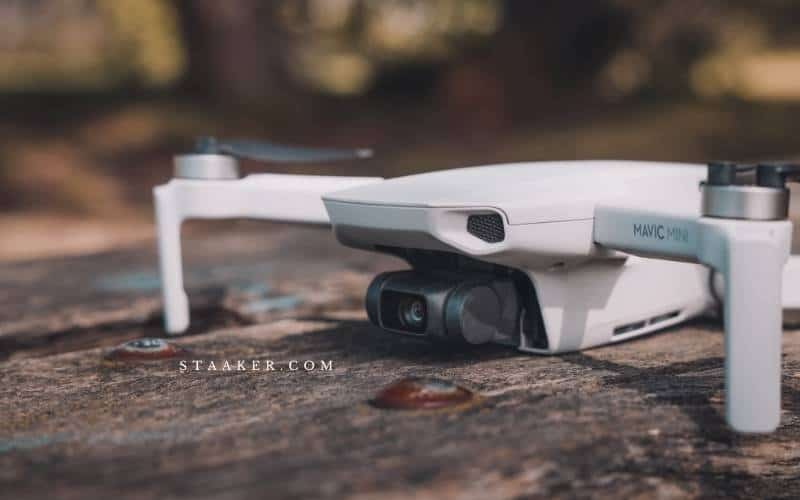 DJI Mavic Mini
Pros:
Low cost of entry
Includes remote control
Excellent battery life
Crisp 2.7K video and 12MP photos
Gimbal stabilization
Automated cinematic camera movements
Find My Drone feature
Doesn't require federal registration
Cons:
Some connectivity issues in testing
Omits obstacle detection sensors
No 24fps video option
Doesn't support Raw or HDR images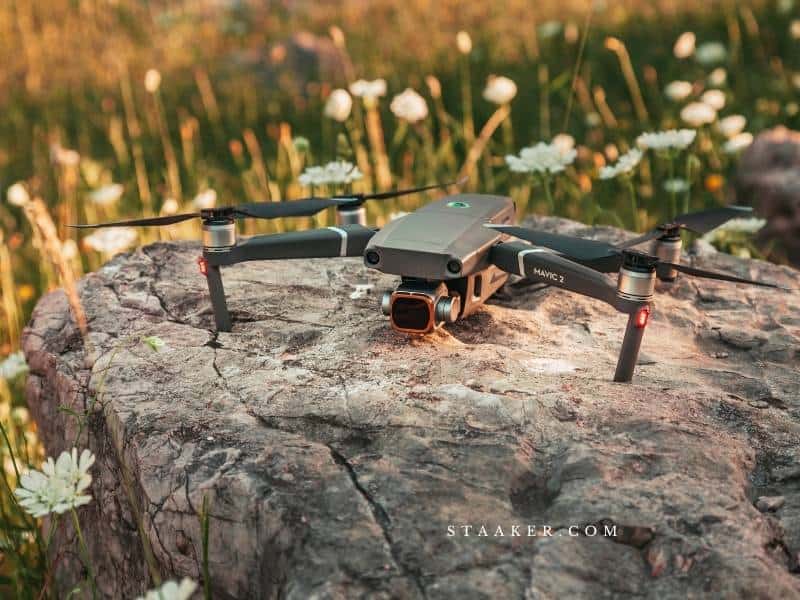 DJI Mavic Air 2
Pros:
Superlative battery life
A strong image and video quality
Obstacle detection and avoidance
Automated shots
HDR video and Raw imaging
AirSense transponder
Cons:
Video profiles limited to standard and flat
App-based editing limited to 1080p output
Remote omits EV control wheel
Not easy to get Raw images to your tablet or smartphone
Mavic Mini vs. Mavic Air 2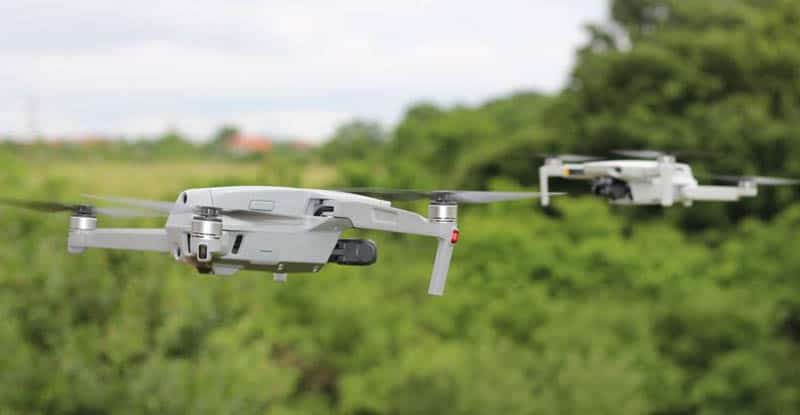 Specifications
At 34 minutes, the Mavic Air 2 has the longest time flying all the Mavic drones. The Mini takes just four minutes and has a flight time of 30 minutes. Air 2 has the longest Mavic range, at 10,000 meters.
This is due to its updated Occusync transmission tech. However, the Mini's maximum range is 4000m. Although it is unlikely that you will fly either one of these drones very far, having strong video signals while you fly important.
You won't likely get half the range. You might experience intermittent problems with the Mini's WiFi if you fly in noisy WiFi areas such as neighborhoods.
The Mavic Mini is smaller in size. It is light at 249 grams and doesn't require registration with the FAA.
Portability
The Mavic Mini is light and portable. It and its remote can be folded down and stored in your pocket. Although the Mavic Air 2 may not be as large as the Mini, it is still very portable. Fly More is a great option for any drone. It will be a pleasure to have multiple batteries and a case to transport it in.
Size and weight
The Mavic Mini drone is the smallest and lightest in the Mavic family. Its takeoff weight of 8.78 ounces (249g) is just below the US registration limit. The propeller struts can be folded into the body to store and transport. It measures 2.2×3.2×5.5 inches (HWD).
DJI can sell a 199g drone in Japan because the drone regulations are stricter than in the US.
The Air 2 weighs in at 1.3 pounds (590g) and is slightly larger (3.3 by 3.8 by 7.1 inches). To use the Air 2, you will need to pay $5 to register with the FAA.
You will need to create a DJI account to activate both models. The app doesn't charge anything and requires you to pass a flight safety quiz before getting started. Our article on FAA regulations provides more information on legal issues surrounding drone flying in the US.
They are smaller than the Phantom 4 series or larger drones with folding propeller arms. Photographers who have other gear can store one in the same place as a lens. Or, if you want to think more broadly, they take up as much space as an insulated canteen.
Remote Control
Although Air 2 and Mini have different remotes, they share some similarities. Each controller is video-game-style and has detachable flight sticks. There are buttons and dials for adjusting camera and flight features.
The Mini's controller feels smaller than a PlayStation controller. It has a similar body and flight stick to a PlayStation controller. Attach your smartphone to the bottom of the controller, and you will see a view through the drone's camera.
Our tests showed that communication with the drone was somewhat sporadic. Even though the drone was close to me, I experienced drops in the video feed and occasionally responsive controls in rural and suburban environments.
The gray remote for the Air 2 is a little squarer and more similar to an Xbox controller. It charges in the top and works just like the Mini's controller.
The connection between drone and remote was solid. There was no drop in video quality or loss of control even while flying in suburban neighborhoods rife with WiFi networks.
DJI Fly is the smartphone app that DJI Mavic Air 2 vs DJI Mavic Mini use. The app is available for both Android and iOS users as a free download. It shows the drone's exact location on a map and allows you to adjust its camera.
Battery Life
DJI rates the Mavic Mini for 30 minutes of flight. It averaged 25 minutes of airtime in real-time during our independent testing.
According to the same standards, the Mavic Air 2 can be flown for 34 minutes. It was close to the average flight time of 30 minutes in our tests.
The drones need to be charged with an external charger. The Fly More bundle includes a charger that can recharge multiple drones simultaneously, while the standard configurations only include one.
Mavic Air 2 Camera vs Mavic Mini Camera
Both drones have excellent cameras. With a bit of practice, either one can be used as an expert tool. The Mavic Air 2 camera has a much higher resolution.
The Mavic Mini can capture 2.7K footage at 30 frames per second, while the Mavic Air 2 can record 4K footage at 60 frames per second.
The Mavic Air 2 is the best choice if you are looking for HDR and the ability to shoot RAW. The Mavic Mini is a great camera if you don't understand HDR and RAW.
I prefer a 1080p video, but the Mini can shoot 1080p at 60 frames per second. If you want to shoot super slow-motion video, the Air 2 can do it at 240 frames per second in 1080p.
The Mini has a 40 Mbps video bitrate, while the Air can shoot 120 Mbps. This will prevent unwanted compression artifacts from appearing in your video. However, we are very happy with the Mini's performance, despite its limited bitrate.
The table above provides a good breakdown of the camera specs. The Air 2 has a larger 1/2-inch sensor, more video and image options, and a wider range of settings.
The Air 2 has the best camera specs. Most people won't know which drone took which photo. Both are excellent cameras.
Although the Mini has some limitations, it is perfect for anyone who needs a drone to capture an outdoor picnic, hike, or family event. The Mini was even used for a photoshoot in real estate. Although it wasn't perfect, it did the job.
Video:
Different Flight Modes
Both drones are compatible with the DJI Fly App. It is intuitive and simple to use. Fly will allow you to edit and share your footage. The Mini includes the four DJI Quickshots Dronie (Rocket), Rocket, Circle, Helix, and Helix.
The maximum distance for all four flight modes on the Mavic Mini is 120ft. You can complete the Quickshot using the Mavic Air 2 with a distance of 380-390 ft. The Mavic Air 2 offers all the same flight modes as the Mini, plus FocusTrack.
The Air 2 has three FocusTrack modes that let you track different subjects. ActiveTrack 3.0 lets you follow subjects and avoid obstacles.
Spotlight 2.0, traditionally considered an ActiveTrack feature, allows you to fly freely, and the camera remains focused on the subject. POI 3.0 allows you to create an automated path that will fly around a fixed point while keeping the camera centered on your target. Although the Mini does not have ActiveTrack, you can trick it into following you in Quickshot modes.
Mavic Air 2 or Mavic Mini Conclusion
Through the last comparison, it is clear that the Mavic air 2 wins convincingly, but at the same time, its price is also much higher than that of the mini Mavic.
But that doesn't mean Mavic mini isn't good; if you're a beginner, then it's exactly what you need. We hope that our article can help you make a decision better.
Don't forget to follow to see our new post Mavic Air 2 vs Mavic Mini 2, Mavic Mini 2 vs Mavic Air 1 to be coming soon.