The use of drones or Unmanned Aircraft Systems in production is growing in popularity across the country. The regulatory framework for drone use is constantly changing. If you want to fly a drone in Indiana, you will need to know the Drone Laws here.
Here is a guide to help you understand Indiana's drone laws. Let's get going!
Drones Laws in Indiana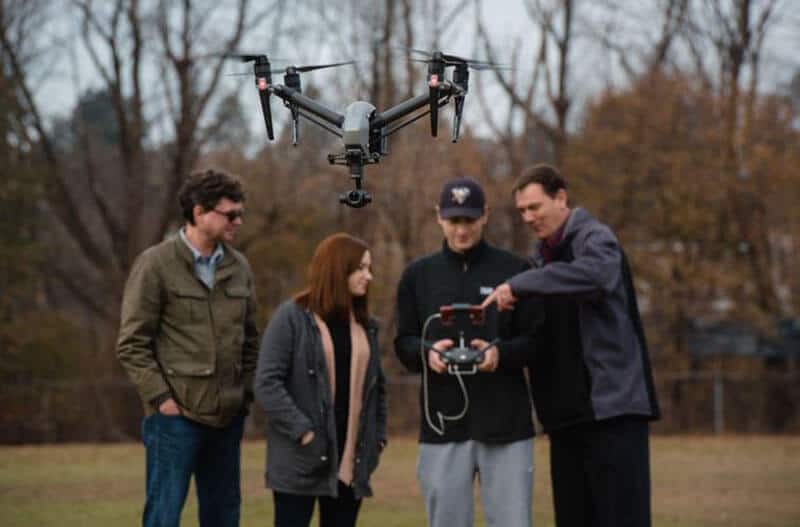 Federal Drones Laws In Indiana
These drone laws, which apply to all states in the U.S., including Indiana, were created by the federal government.
In Indiana, you can fly a drone commercially as a pilot. For work/business purposes, you must follow the FAA's Part 107 Small UAS Rule. Part 107 includes passing the FAA Aeronautical Knowledge Test to receive a Remote Pilot Certificate.
In Indiana, drone flying is permitted as a hobby. The FAA requires you to pass the Recreational UAS Safety Test. The FAA also requires you to adhere to the rules for recreational model aircraft. You will need to pay $5 to register your drone if it weighs in at more than 0.55 lb (250g). Additional rules apply to altitude and airspace, as well as keeping your drone in line of sight while you fly.
You can fly a drone in Indiana as a government employee (i.e., for a fire or police department), or you can operate under the Part 107 rule of the FAA.
Please note: This page is intended to be used as an informational tool and not a substitute for legal advice.
State Drones Laws in Indiana
These drone laws applied to Indiana and were established by the Indiana General Assembly.
According to the Indiana Department of Transportation and the Indiana General Assembly, five laws in Indiana govern drone use.
SB 299 // 2017.
The law also creates new criminal offenses for drone use.
Sex offenders who use a UAV to contact, follow or record images or recordings of another person are called the "sex offense unmanned aerial vehicle crime". The conditions prohibit them from using it.
A UAV operator who intends to interfere or obstruct a public safety official's duties in any way is known as the "public safety remote aerial interference offense".
This law creates class A misdemeanors for all offenses. If the guilty party has been convicted under the same section before, the offense becomes a level 6 crime.
HB 1013 // 2016.
This law permits drones to be used to photograph and record a crash site.
HB 1246 // 2016.
This law prohibits UAS use to scout games in hunting season.
HB 1009 // 2014.
The law establishes warrant requirements and exceptions to police use of drones and real-time geo-location tracking devices. This law also makes the crime of "Unlawful photography and surveillance on private property" a Class A misdemeanor. It is defined as the knowingly and intentional conduct of electronic surveillance of private property without permission.
IAC 312 8-2-8 i // 2018
This law prohibits drones from being used on the Indiana Department of Natural Resources (DNR) property, such as state parks, natural or recreational areas. DNR may grant licenses to launch or film occasionally.
Part 107 regulations apply to all drone pilots who operate commercially in Indiana.
Local Drone Laws in Indiana
These drone laws are specific to Indiana's cities and regions. Different authorities developed them.
Fort Wayne City Ordinance (SS 96.30) Regulation of Unmanned Aircraft Systems // 2019
The ordinance requires UAS operators to notify their city before flying above the Downtown Aerial District, within a radius of five hundred yards, or above any public event. Notification must contain:
(1) Name, address, and telephone number for UAS operator. Any is assisting persons during flight. (2) Affiliated company name, if applicable.
(2) The UAS can be used for noncommercial recreational or commercial purposes.
(3) FAA-issued Registration Number(s), for any UAS to operate;
(4) UAS operator's FAA issued Remote Pilot Certificate Number(s), and date(s), if applicable.
(5) Dates of expiration and document numbers for FAA-issued certificates, waivers, authorizations, or Section 333 exemptions applicable to the operation of the UAS.
(6) Information about the policy, including dates of expiry and issue of any liability insurance certificate(s), if applicable.
(7) Area and time proposed for UAS operation
(8) The location from which the UAS will operate;
(9) Name, address, and telephone number of all owners who have granted permission for UAS operation in private spaces.
Related Posts:
Best Places To Fly Drones in Indiana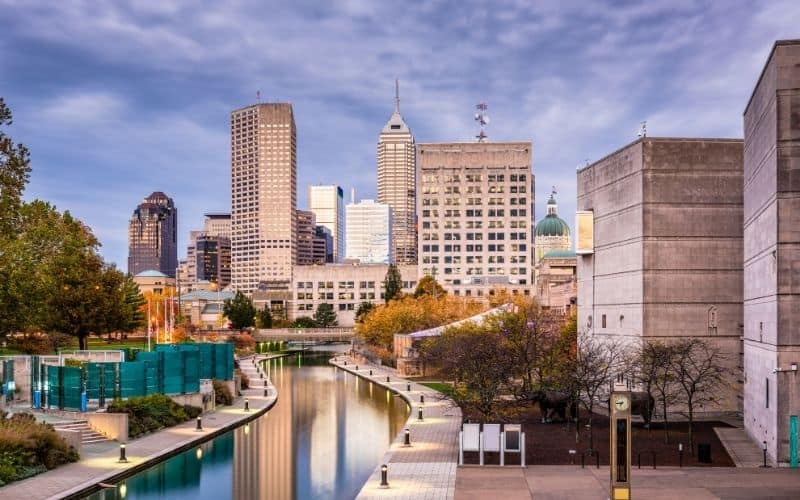 Nest-RC Field Noblesville, IN
Address: 15251 Olio Rd, Noblesville, IN 46060, USA
Coordinates: 40°00'39.7″N 85°55'18.1″W
Airspace: Class G (Uncontrolled)
Nest-RC Field can be found outside Indianapolis, Indiana, in Noblesville City. It is managed by North East Side Taildraggers RC Aviation Club.
This place accommodates all types of R/C aircraft, including drones. There are designated take-off and landing areas for drones. You can apply for a new membership, but only if you have an AMA membership. American Legion Mall
American Legion Mall, Indiana
Address: 700 N Pennsylvania St, Indianapolis, IN 46204, USA
Coordinates: 39°46'38.9″N 86°09'24.5″W
Airspace: Class G (Uncontrolled)
The American Legion Mall spans five city blocks and is a war memorial park. This is a great spot for drone operators who prefer less traditional scenes. The Indiana World War Memorial Plaza is the main attraction. It was built to honor WW1 veterans.
It stands at 210 feet and overlooks the plaza below. You can also film and photograph other notable historical monuments. Here, pilots can film for personal interest or school projects.
Historical Garfield Park, IN
Address: 2345 Pagoda Dr, Indianapolis, IN 46203, USA
Coordinates: 39°44'03.9″N 86°08'54.3″W
Airspace: Class G (Uncontrolled)
Garfield City Park, Indianapolis' oldest park, covers 128 acres. The conservatory building houses a wide range of tropical plants for those who love them. The 1914 European-inspired sunken garden and three stunning water features are other places of interest.
This park boasts a series of impressive fountain displays synchronized with thousands upon thousands of LED lights and water jets. There are many exciting areas for drones to explore in the park.
Military Park, IN
Address: 601 West New York Street, Indianapolis, IN 46202, USA
Coordinates: 39°46'14.6″N 86°10'07.4″W
Airspace: Class G (Uncontrolled)
The 14-acre Military Park in Indianapolis is a busy green space that is open year-round. This is the place to be for the many events and festivals hosted by the park authorities. Visitors also visit this park to take in the beautiful Canal Walk or the Medal of Honor Memorial. There is plenty to see in the park and plenty of space for drone pilots and filmmakers to film.
Taggart Riverside Park, IN
Address: 2420 E Riverside Dr, Indianapolis, IN 46208, USA
Coordinates: 39°48'16.9″N 86°11'39.3″W
Airspace: Class G (Uncontrolled)
The Taggart Riverside Park is a great escape from the hustle and bustle of city life. The park boasts large open spaces and many amenities, including a lake for boating.
The park's scenic beauty is further enhanced by the two-forked White River that flows near the gardens. There is much that drone operators can discover and many more scenes than you might expect.
FAQs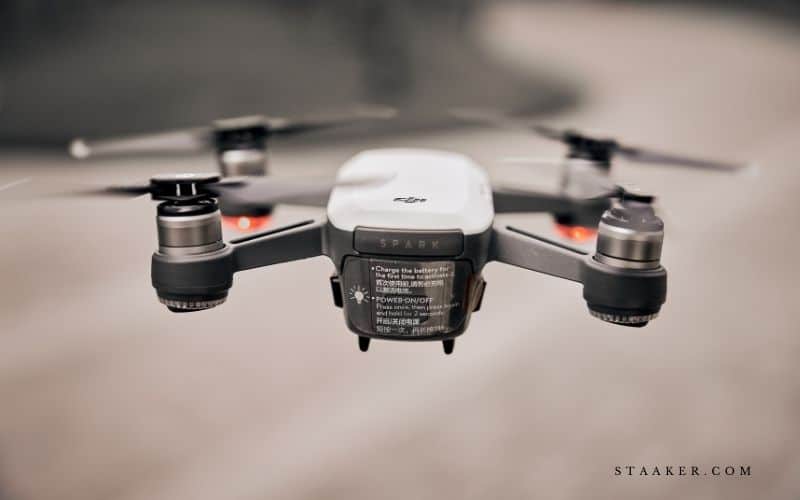 Is it necessary to register a drone in Indiana?
Yes. Yes. Registering online or using legacy paper-based registration methods, you can register and mark your drone with a registration number.
Source: https://federaldroneregistration.com/indiana-drone-registration
Can I shoot down a drones in Indiana?
You cannot take a drone from the sky. The National Transportation Safety Board considers drones aircraft and protects them.
Source: https://www.fox4now.com/news/national/what-are-your-privacy-rights-when-it-comes-to-drones
How do you tell if a drone is following you?
A drone hovering above your property or house at night will appear like a blinking star, but it will also make rapid movements in different directions. It will fly low and be easily spotted by its bright white anti-collision lights or the colorful LED lights on most drones' landing gears.
Source: https://flythatdrone.com/blog/how-tell-if-drone-watching-you-at-night/
Is it difficult to pass the FAA drones testing?
It isn't easy to pass the FAA Part 107 Drone Test. You will fail if you don't study. If you prepare well, you can pass the test.
Source: https://sergeiboutenko.com/faa-part-107-drone-test/
Conclusion
You can fly drones in Indiana if you read the drone laws and refer to this guide. We appreciate you choosing Staaker.com to be your source of information. We are grateful for your support.
Video: