The DJI Phantom 3 is still a reliable drone, but there are better options. The Phantom 3 can be yours for as low as $300 if you can find one. If you're concerned about your payload, upgrade to the DJI Mavic Mini.
Without DJI's Phantom quadcopters, the retail drone market might not be as strong. The Phantom 4 Pro was a later model of the drone that remained the best for a while, but the DJI Phantom 3 was our favorite. The DJI Phantom 3 series is no longer in active production, but the drone can still be purchased at many locations.
Read on Staaker's guide below about DJI Phantom 3 Drone Review to get more information.
Dji Phantom 3 Review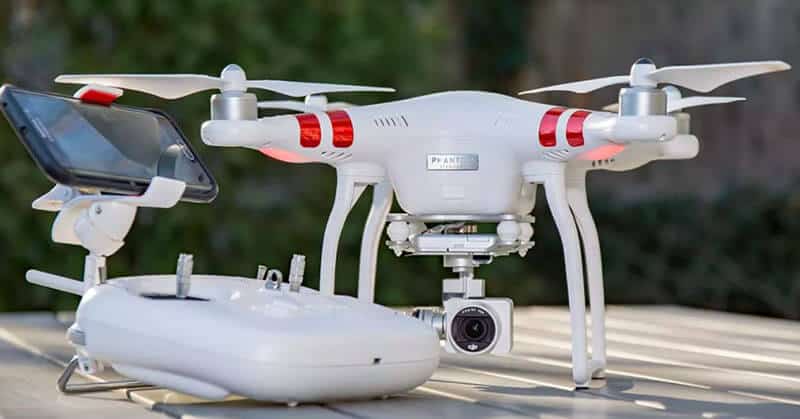 Dji Phantom 3 Pros and Cons
Pros:
The video quality is excellent.
It is simple to use
Its class has good battery life.
App with many useful features.
Cons:
Modes of flying that are not advanced.
The design needs to be updated.
Camera
After several flights, you will notice something. Although DJI is most commonly known as a drone manufacturer, it also plays a significant role in the camera industry (via stabilizers and other equipment, and flying photos). The shooters on the Vision series were OK, but not very useful and forgettable.
DJI's Inspire 1 was the first time they started to up their game. This trend continues with the Phantom 3 with its 4K/12-megapixel sensor (for those interested, it is a 1/2.3 inch Sony Exmor). It became apparent that the drone was almost secondary as I flew more. It's easy to fly and enjoyable, but it's much more satisfying to get a great picture or video.
Hardware
The DJI Phantom 3 was launched in two versions: Professional ($1,259) or Advanced ($999). They differ in that the first shoots 4K, while the latter can only capture 1080p/FullHD. Other than that, the craft is identical. The Phantom 3 is almost identical to the Phantom 1.
This clearly shows DJI's confidence in its design. Although there are some differences, it is essentially the same quadcopter as before. Although it is not offensive, I wish it had Inspire 1's design language or other stickers to make it stand apart.
To make the Phantom 3 fly more smoothly, there have been fewer obvious improvements. The new tilt motor for greater stability, smarter braking, and a completely new flight controller (the brains) are just a few of the improvements. The outside features a wider landing gear, which keeps it out of the camera's view.
There is also an extra compartment that houses a new indoor sensor. It's not so large that it blocks the Phantom 2 case from carrying it. The battery is also different. Although it looks almost identical, you can use spares from your Phantom 1/2 to fly the Phantom 3 on the Phantom 1/2.
This is a big problem as Phantom owners have spares. You can only fly between 15 and 20 minutes per charge. Upgraders will need to re-buy spares at $149 for Phantom 3.
The controller is a complete overhaul. The controller is smaller and has more buttons. It also features an internal battery, which means you don't have to carry spare AAs around as before. There's also an LED power indicator and a USB connection that connects to your phone.
This is an important addition because it connects to a hidden hardware piece inside the controller that enables live HD streaming from your phone's camera to the Phantom 3. Similar to the Phantom 2 Vision+, the Phantom 2 Vision+ relied on WiFi connectivity between your phone, the controller, and the drone to relay images back. The connection was sometimes weak and difficult to set up, although it worked.
The DJI Phantom 3 switches WiFi for DJI Lightbridge technology ($1,399 accessory), which is embedded right into the controller and 'copter. You only need to connect your tablet or phone (iOS or Android) to the USB port, and you're ready to go. The Phantom 3 streams video directly to your device at 720p, up to 1.2 miles away.
Your phone can charge even while the controller is connected. This is a small point, but the Phantom 2 Vision+ required that you have enough power for three things (the controller and the WiFi extender) before you could turn on the quadcopter. It's much easier to do this.
The new controller features a slew more buttons and controls that DJI has added to the camera controls. You can now change the camera angle, stop recording, take photos, and much more without using the app. This is much easier than using the app, especially if you keep your eyes on what you are doing (i.e., the quad). You don't need to connect your phone or tablet to access the more extensive controls. The app is worth the effort.
Read our full comparison between DJI Phantom 3 Vs 4, Click here.
Software
How about this app? Because it is the same quadcopter as DJI's Prosumer Inspire 1, anyone who has flown it will be familiar. DJI Pilot is divided into four sections: the camera, director, and store, as well as the user center. The camera section contains all the information you need to fly the Phantom.
You can instantly see the live feed of the Phantom's camera from your phone when it is connected to the controller. There are some dials, numbers, and other widgets around the edge of this display. It's not difficult once you know what each widget means. However, it might be helpful to spend a while understanding them all if this is your first time flying.
These controls will tell you your altitude, distance from the Phantom, and location on a map (in GPS Mode). The buttons to auto takeoff and landing/return home are located on the left. The right side will have a large red shutter button that allows you to record/take photos. It also provides a shortcut to camera settings.
You'll find information about your connection strength, the number of GPS satellites that the drone sees, and whether or not the drone is safe to be flown. I prefer to control takeoff and landing using the controller. The app is only for showing what the camera sees. It is also useful to check how much flight time/battery life you have left.
The camera's first-person view (FPV) is a significant upgrade to the Phantom 2 Vision+. The feed quality is better, and the connection is solid. The flying experience is much more enjoyable because you can use the feed to pinpoint the location of the quad (depth perception is more difficult than you might think).
Its real benefit is the way it enhances your photography. Many shots have been lost because of poor framing or tilting. The Phantom 3 eliminates all these problems and gives you a reliable, clear view of your shot.
Another feature is the ability to stream your drone's footage directly to YouTube. It works well, although I experienced some issues with the stream. However, there is one requirement: you must be flying somewhere that has good cell coverage. The stream will be at 720p (though viewers may have to select this), and the audio is taken from your smartphone's microphone for commentary.
My test flights were done in the hills, away from the hustle and bustle of the city. It turned out that my mobile operator could reach me. Although live streaming may seem a little unusual to most pilots, it is very useful for a few niche situations.
You could Livestream video from your aircraft, which has obvious applications in journalism, reporting, and other "live event" situations. It's best to keep your Phantom close by and ready for flight. It's an excellent addition to the Phantom feature list.
Check out the Best Phantom 3 Accessories, Click here.
Types of Dji Phantom 3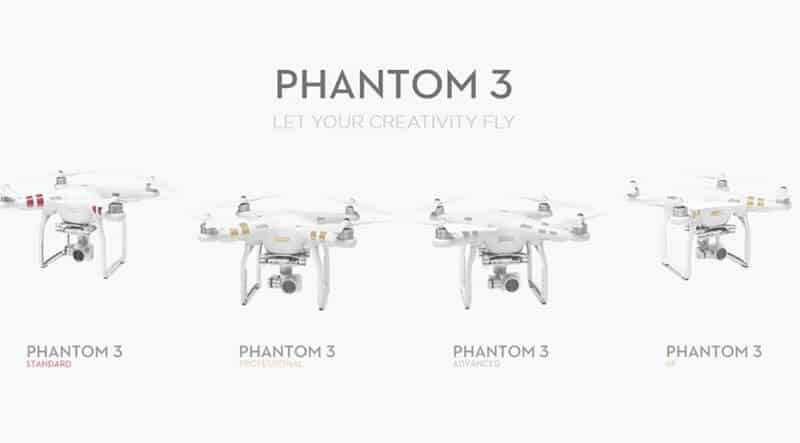 Phantom 3 Standard
In April 2015, the Phantom 3 line began shipping. Standard provides 2.7K video recording and does not include the light bridge downlink that allows for a range of up to 1.25 miles. For those who want to fly, this is the Phantom 3 version we recommend. Although it doesn't have the best camera, this Phantom 3 is a fantastic flying machine.
Phantom 3 Advanced
The Phantom 3 Advanced retains the 2.7K maximum video capture but offers an extended control range. You can fly up to 3 miles from your home and return in 25 minutes.
Phantom 3 Professional
The Phantom 3 Professional includes all the above and more. It also comes with a bigger charger so you can get back on the air faster. This Phantom 3 Professional is our favorite Phantom 3 for camera-based use.
Phantom 3 4K
The Phantom 3 4K has almost the same features and capabilities as the Pro model. It also comes with 4K resolution but is equipped with a Sony camera sensor. The frequencies are slightly different, making it easier to use non-North American airspace. Update: The 4K version is now out of stock, and prices are rising. This drone is still not recommended by us.
FAQs Regarding Dji Phantom 3 Drone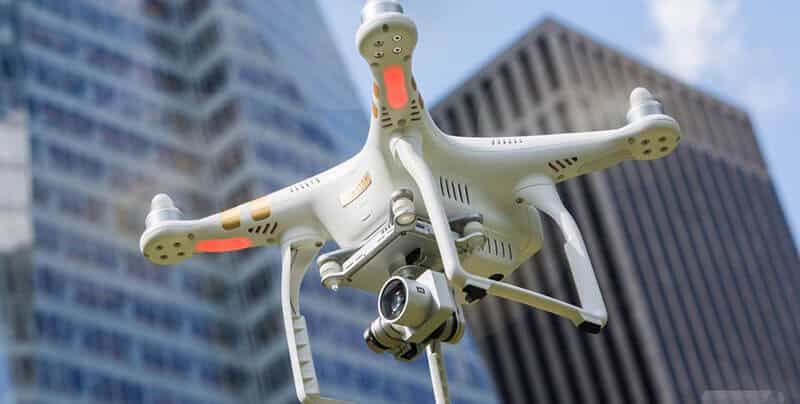 What distance can a Phantom 3 drone fly?
The signal transmission distance of the Phantom 3 Standard will vary according to local regulations. However, it can transmit signals up to 0.5 miles (1 km) from the pilot. 8. Which app should I use to go with my Phantom 3 Standard Standard?
Source: https://www.dji.com/phantom-3-standard/info
Is DJI Phantom 3 standard a good value?
You may want to know the quick answer for those who only need it. The Phantom 3 is a good quadcopter to buy if your needs are very simple. However, if the Phantom 4 is comparable in price, you should choose the newer model. The Phantom 3 is not worth the cost.
Source: https://dronerush.com/dji-phantom-3-still-worth-it-6371/
Is DJI Phantom 3 capable of avoiding obstacles?
Obstacle avoidance is the first and most significant difference between both Phantom models. Two cameras are available on the Phantom 3. The Phantom 4 has three cameras.
Source: https://myfirstdrone.com/blog/differences-phantom-4-phantom-3
Does DJI Phantom 3 have "Follow Me"?
In 2015, DJI introduced the Phantom 3 series of follow-me drones. Many Intelligent Flight Modes are available, including Follow Me, Course Lock and Waypoints, Home Lock, and Points of interest. Like other GPS-based drones, the Phantom 3 needs a remote controller and DJI GO to enable Follow Me mode.
Source: https://store.dji.com/guides/camera-drone-that-follows-you/
Conclusion
The Phantom 3 was a solid drone. DJI respects it. It will serve you well. The Phantom 4 Pro is not a major upgrade. However, if you have the budget, the newer drone may be a better choice. An $1100 increase in entry price might prove too costly for casual pilots.
We would love to hear your thoughts on the Phantom 3. Is it still worth buying?
Video: