The DJI Phantom 3 is still a reliable drone, but there are better options. The Phantom 3 can be yours for as low as $300 if you can find one. If you're concerned about your payload, upgrade to the DJI Mavic Mini.
Without DJI's Phantom quadcopters, the retail drone market might not be as strong. The Phantom 4 Pro was a later model of the drone that remained the best for a while, but the DJI Phantom 3 was our favorite. The DJI Phantom 3 series is no longer in active production, but the drone can still be purchased at many locations.
Read on Staaker's guide below about DJI Phantom 3 Drone Review to get more information.
DJI Phantom 3 Review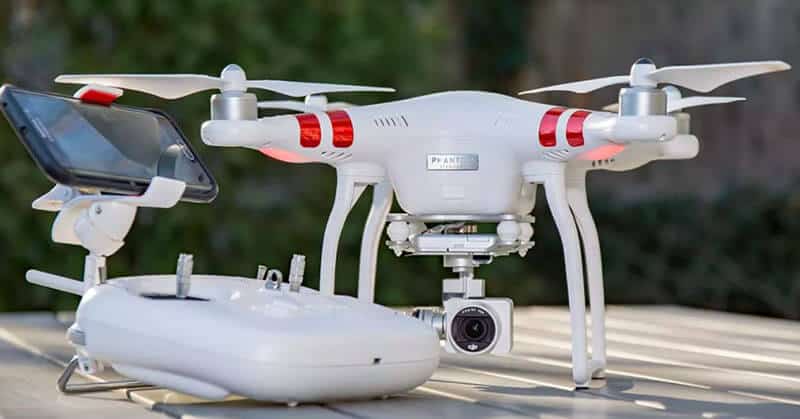 DJI Phantom 3 Pros and Cons
Pros:
The video quality is excellent.
It is simple to use
Its class has good battery life – intelligent flight battery.
App with many useful features.
Cons:
Modes of flying that are not advanced.
The design needs to be updated.
1. Video Quality
In our video quality testing, the Phantom 3 Standard received a score of 6 Which placed it ahead of all non-gimbal models tested. However, it tied for the lowest score among gimbal models (where scores ranged between 6 and 10).
Although this may sound like a bad idea, we found that it was able to distinguish a number of excellent cameras. The 3 Standard still has 2.7K resolution and can capture vibrant colors. These colors aren't as vivid as the footage from the Editors Choice Award-winning Phantom 4.
The footage from the Phantom 3 Standard is crisp and clear, but it's not as crisp as the Phantom 4's. The gimbal on the Phantom 3 Standard is very reliable and can keep the camera steady in flight. The Phantom 4 is able to withstand any camera shake that may occur when flying fast or in less than ideal conditions.
There is a noticeable drop in video quality between the 3 Standard and its larger siblings. However, no one is going to be able to look at footage taken by the 3 Standard and say it is poor.
They'll likely be shocked that the footage was taken by an amateur with a consumer product. Most people can easily tell which footage was taken by the more expensive drone. However, that doesn't mean the Phantom 3 Standard's footage won't be impressive.
The 3 Standard has issues with propellers appearing in the frame of the camera, as it does with all DJI Phantom models. This happens most often when the drone is being flown fast or aggressively. This can also happen when the camera is pointed at the sun. You may see flickering propellor shadows in your footage. This is not an issue that should be a problem. It can be fixed with some practice and camera tilting.
2. It's easy to use
In our ease-of-use testing, the Phantom 3 Standard was in the middle of the pack. It scored 7 in a metric, where the scores of gimbal models ranged between 6 and 9. Non-gimbal models did worse with scores of 3 and 3. The 3 Standard's initial setup was simple and straightforward.
The rotors were installed quickly, the battery charge was quick and easy, and both pairing and downloading DJI Go worked flawlessly. The software update required to set up the 3 Standard was downloaded on a computer, and then transferred to the drone. Although it was a bit annoying, the process only took a few minutes.
The controller for the 3 Standard is the same design as the rest of the Phantom controllers. Although we enjoyed this controller, it felt slightly less intuitive than the Phantom controllers. This is why the 3 Standard scored a slightly lower ease-of-use score than its Phantom brethren.
Although the joysticks feel a little more sticky, they are still well-textured and large. The lockable phone cradle has been replaced by a spring-loaded clip, which is much harder to use. These are again minor drawbacks that can only be seen in side-by-side comparisons. However, we wish DJI had used the same controller as the Phantom 3 Standard.
The Phantom 3 Standard is a great DJI drone. The drone can be lifted from the ground using the on-screen controls. Once it is hovering, you can take full control.
Although the joysticks might feel a bit sticky initially, any fear will melt away once you get used to it. The large button on the screen that records allows you to quickly start or stop the camera. The drone can be brought back by using the automatic landing feature. This gently touches the drone down in a controlled way.
3. Flight Performance
In our flight performance testing, the Phantom 3 Standard earned a 7 rating. It was able to score 7 in our flight performance testing, placing it among a group of tightly packed gimbal model scores that ranged from 6-9. This is well ahead of non-gimbal models which scored 5.
Again, even though the 3 Standard's performance may be a little lower than that of the more expensive models it still performs well. It's very stable in takeoff and landing, which gives you a sense of security when flying. It didn't hover as steady as other models, which cost it some points.
Although it remained stationary when we asked, it occasionally bobbed to the side or up and down. Its autonomous flight capabilities impressed us. Both the cable cam and orbit functions were able to produce smooth flight and excellent footage. These functions were a little less smooth than the Phantom 4, but still impressive.
The automatic return home function was also flawless. However, we wouldn't recommend using it as a routine with any drone. Flying the drone home by yourself is safer and more risk-free. The Phantom 3 Standard's maximum flight time is 25 minutes. This allows you to get every shot that you want.
4. Video Downlink
The Phantom 3 Standard scored 7 which again placed it at the bottom of a tight group of gimbal models. These models saw scores of 7-10.
This score was significantly higher than the 4 scored by the non-gimbal models. The downlink was very easy to use and allowed us to frame our shots accurately. The on-screen video was not as good as some other models. We experienced some pixelation in our downlink while flying the 3 Standard at 3000 feet. Again, the 3 Standard is a fully-functional tool that can be used without the extravagance of more expensive models.
5. Customer Service
DJI's biggest weakness is its customer service. This metric gave it a score of 3 We were frequently left waiting to hear back from them, regardless of whether we requested assistance via email, mobile device, or live chat.
We were often asked for unnecessary information and filling out lengthy forms before we received any help. To protect yourself from being unlucky and getting a defective product, we recommend buying from a reliable dealer that has a good return policy.
6. Value
Recently, the list price of the Phantom 3 Standard was reduced to $500. Although it's not the most powerful camera drone available, the Phantom 3 Standard is still an excellent value for money.
Types of Dji Phantom 3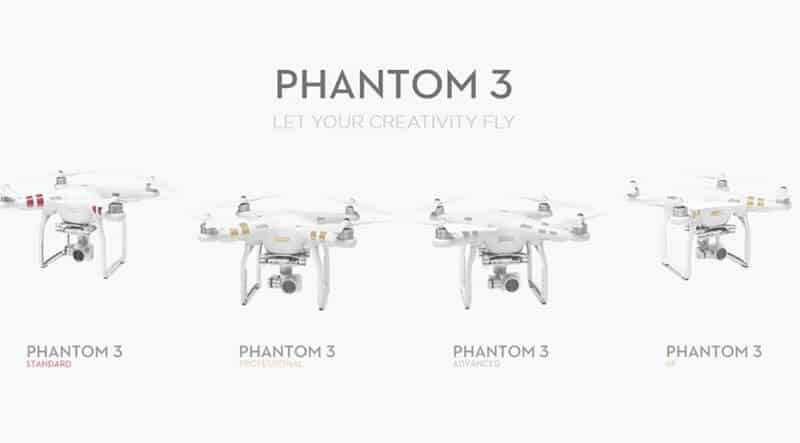 Phantom 3 Standard
In April 2015, the Phantom 3 line began shipping. Standard provides 2.7K video recording and does not include the light bridge downlink that allows for a range of up to 1.25 miles. For those who want to fly, this is the Phantom 3 version we recommend. Although it doesn't have the best camera, this Phantom 3 is a fantastic flying machine.
Phantom 3 Advanced
The Phantom 3 Advanced retains the 2.7K maximum video capture but offers an extended control range. You can fly up to 3 miles from your home and return in 25 minutes.
Phantom 3 Professional
The Phantom 3 Professional includes all the above and more. It also comes with a bigger charger so you can get back on the air faster. This Phantom 3 Professional is our favorite Phantom 3 for camera-based use.
Phantom 3 4K
The Phantom 3 4K has almost the same features and capabilities as the Pro model. It also comes with 4K resolution but is equipped with a Sony camera sensor. The frequencies are slightly different, making it easier to use non-North American airspace. Update: The 4K version is now out of stock, and prices are rising. This drone is still not recommended by us.
FAQs Regarding DJI Phantom 3 Drone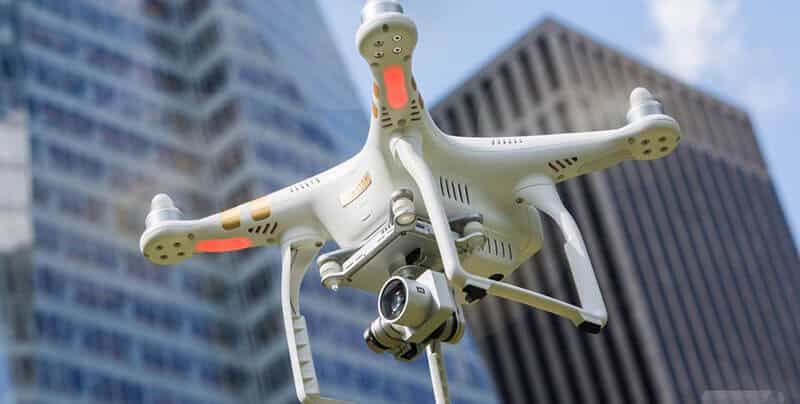 What distance can a Phantom 3 drone fly?
The signal transmission distance of the Phantom 3 Standard will vary according to local regulations. However, it can transmit signals up to 0.5 miles (1 km) from the pilot. 8. Which app should I use to go with my Phantom 3 Standard Standard?
Source: https://www.dji.com/phantom-3-standard/info
Is DJI Phantom 3 standard a good value?
You may want to know the quick answer for those who only need it. The Phantom 3 is a good quadcopter to buy if your needs are very simple. However, if the Phantom 4 is comparable in price, you should choose the newer model. The Phantom 3 is not worth the cost.
Source: https://dronerush.com/dji-phantom-3-still-worth-it-6371/
Is DJI Phantom 3 capable of avoiding obstacles?
Obstacle avoidance is the first and most significant difference between both Phantom models. Two cameras are available on the Phantom 3. The Phantom 4 has three cameras.
Source: https://myfirstdrone.com/blog/differences-phantom-4-phantom-3
Does DJI Phantom 3 have "Follow Me"?
In 2015, DJI introduced the Phantom 3 series of follow-me drones. Many Intelligent Flight Modes are available, including Follow Me, Course Lock and Waypoints, auto exposure bracketing, Home Lock, and Points of interest. Like other GPS-based drones or vision positioning system, the Phantom 3 included remote controller and DJI GO to enable Follow Me mode.
Source: https://store.dji.com/guides/camera-drone-that-follows-you/
Conclusion
The Phantom 3 was a solid drone. DJI respects it. It will serve you well. The Phantom 4 Pro is not a major upgrade. However, if you have the budget, the newer drone may be a better choice. An $1100 increase in entry price might prove too costly for casual pilots.
We would love to hear your thoughts on the Phantom 3. Is it still worth buying?
Video: