Are you looking for the best foldable drones? Since the DJI Mavic Pro's release, foldable drones have been the most in-demand consumer drones.
These portable drones and fun and fold into small packages for easy transport. GoPro was the first company to launch a foldable drone. DJI followed soon after with the Mavic. There are hundreds of the best foldable drones available on the market today.
Let's now take a look at which drones made it to the top of our list from many brands like DJI, Autel Robotics, FIMI, TOZO, Goolsky, Spacekey, JJRC, Parrot, Yuneec,…
What are Foldable Drones exactly?
Foldable drones are similar to drones you already know. The only difference is that they have motor arms that can fold down when the drone is not being used.
They are lightweight and easy to transport due to their foldable design. Many drones can be folded and stored in your pocket.
The foldable drones' design is very practical when you consider that the arms can be folded. Due to their small size, many people believe that a foldable drone lacks the same features as a larger non-foldable drone.
What are the benefits of a foldable drone?
Their compact size is their obvious advantage. They are extremely mobile and easily transportable. Take DJI Mavic Pro for an example. Its exact dimensions in the folded form are 83 x 83 x 198mm. This is combined with the fact that it only weighs 1.64 pounds (0.74kg), making it easy to see why they are becoming increasingly popular.
Let's now talk about the main disadvantage. The main problem with such miniature drones is their inability to hover steadily in midair. Their low weight is a dual-edged sword. It makes them easy to transport, making it more difficult to maintain a steady hover in midair.
DJI Mavic Pro has overcome this problem with powerful motors that can achieve extraordinary hovering abilities despite their low weight. However, other models are not able to perform well in stronger winds.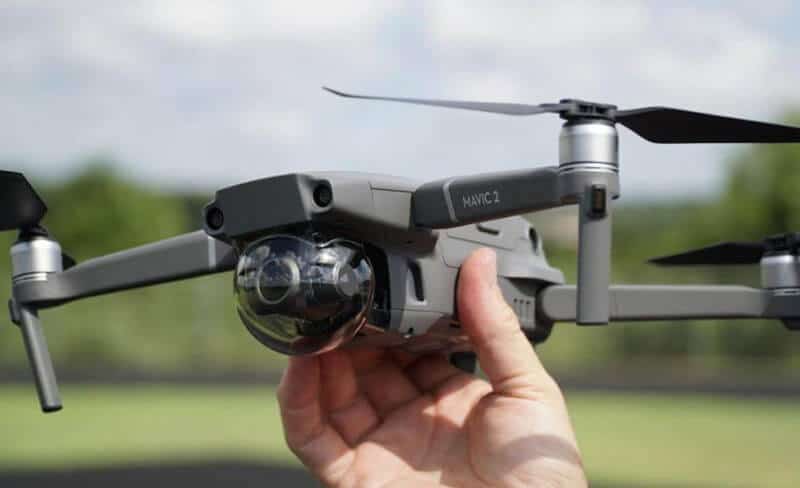 Top Rated 18 Best Folding Drones
DJI Mavic 2 Pro – Best Overall Foldable Drone
Features:
1-inch CMOS sensor
20MP still images (JPEG & RAW)
Adjustable aperture (f/2.8-f/11)
100Mbps
10-bit D-log color profile
AEB
3-axis mechanical gimbal
44 mph top speed
31 minutes of flight time
Obstacle avoidance technology
DJI Mavic Pro 2 is the best foldable drone. It features a 1 inch CMOS sensor, which can record 4k videos and capture 20MP images. Hasselblad has designed the drone's camera, and it comes with their HNCS color technology. With the 1-inch sensor and adjustable aperture, photographers can capture more detail even in low-light environments.
The HDR support allows the camera to capture vivid images and videos that bring out the natural colors. Other features include Omnidirectional obstacle avoidance technology, 31 minute flight time, OcuSync video transmission technology, and a 10km control distance.
Read our full review of DJI Mavic Pro Drone, Click Here.
DJI Mavic 2 Zoom
Features:
1/2.3-inch CMOS sensor
12MP still images
48MP Panorama photos
D-Cinelike color profile
AEB
100Mbps
44mph top speed
Optical Zoom technology
31 minutes of flight time
Intelligent flight modes
10km control range
Although the DJI Mavic 2 Zoom has a lower quality camera than the Mavic 2 Pro, they have similar features. The camera can capture 12MP still images, and it has a 48MP panorama feature that allows you to stitch together nine photos at once. This camera features optical zoom technology, which allows you to zoom in on your subject matter without losing quality.
Other features include a flight time of 31 minutes, HD live video transmission, omnidirectional obstacle avoidance, and a range of 10 km.
Check out our comparison between Mavic 2 Pro Vs Zoom, Click Here
Autel Evo
Features:
4k camera
12mp still images
Compatible with ND filters
3-axis gimbal
Intelligent flight modes
The OLED screen on the remote controller
30 minutes of flight time
This is the original Evo. It is one of the most popular foldable drones, and it doesn't have the DJI name before it. Although the Evo was intended to compete directly with the Mavic Pro, it has not been as popular as the Mavic Pro. However, it is still a viable drone on the market today.
The drone is orange in color and weighs just under 900g. The drone is fast, reaching speeds of 44 mph. It has a 30 minute flight time thanks to a powerful LiPO battery. This drone's best feature is the HD camera. It can record video in [email protected], and still images in 12mp.
The camera is supported with a 3-axis gimbal and compatible with a certain ND filter. An OLED screen displays information about the drone, and the remote controller can also display live video from the camera at 720p resolution.
Xiaomi Fimi X8 SE
Features:
4k camera
3-axis mechanical gimbal
HDR support
Image tracking system
8km transmission range
Advanced automatic return home features
30 minutes of flight time
Many people don't know that Xiaomi has a few high-end drones within their vast range of electronic products. The Fimi X8 SE, arguably the most popular foldable drone of all, is a truly amazing drone with many incredible features. The drone is well-constructed and folds up to the size of a small smartphone.
It is lightweight and easy to transport. It has many features. The main feature is the 4k camera, which can record 4k footage at 30fps and a maximum bitrate limit of 100 Mbps. An advanced 3-axis mechanical stabilizer supports the camera and ensures that your images and videos are free from distortions. The camera has several intelligent flight modes, including active track and route point.
Hubsan Zino 2
4k camera
12mp still images
Advanced imaging processor from Ambarella
GPS+GLONASS
3-axis gimbal
8k transmission range
33 minutes of flight time
Hubsan is well-known for making low-cost, high-quality drones. However, the company recently launched the Zino drone. The Hubsan Zino 2 is the most advanced and cost-effective 4k folding drone currently on the market.
It boasts amazing features such as dual GPS, smart flight mode, and an Ambarella dedicated image processor that allows you to capture smooth 4k videos and professional-quality still images. The drone also features a mechanical gimbal and smart flight modes. It can transmit 8km at a range of 30 km.
TOZO Q1012 X8tw RC Drone
Features:
Altitude control
Headless mode
6-Axis gyro
Specs:
Size 122 x 94 x 57 mm
Weight (Battery & Propellers Included) 150g
Max Flight Time 5 – 7 mins
Charge time 80 mins
Range 80 – 100 m
It is a great value drone and has received lots of positive feedback. It can be controlled via an app on your smartphone, Android, or iOS. One-key takeoff, landing, and hold at altitude are some of the features. This aircraft is fun and easy to fly, making it a great choice for beginners.
New users will enjoy the drone's headless security mode without worrying about it. They will have no problems even if they lose their bearings on the direction. Fly time is between 5 and 7 minutes, and the range is 80 to 100 meters. Smooth flying is possible thanks to the 6-axis gyro.
Pros:
Cons:
OKPOW
Features:
Tiltable 2.0 MP HD Camera
Altitude control
Fpv
3D Flip
Specs:
Size 25 x 23 x 12 cm
Weight (Battery & Propellers Included) 700g
Max Flight Time 10 mins
Range 80 – 100 m
The budget folding drone can be controlled via a smartphone app. It can fly in several modes, including headless mode, fpv, and low- or high-speed. The drone features a 3D flip function that is fun and produces some amazing footage. You can tilt the 2.0MP 120-degree FOV wide-angle HD camera to achieve the ideal angle. Video can be captured at 720p.
The barometer is another useful feature that helps maintain altitude while flying and enhances landing and takeoff. The drone is lightweight and can fly for more than 10 minutes. The 6-axis flight control system makes flying smooth and stable.
Pros:
Great looks
Fun & easy to fly features
Cons:
LHI H37
Features:
Compact, stylish, and lightweight
Includes 3 different speed modes and 360-degree rotation
Has LED lights on the body of the drone for low visibility flying
Includes Automatic Height Hold and Headless Mode
6-axis gyro stabilization system
0.3MP HD camera for both videos and photos
Real-Time transmission and WiFi control
Specs:
Size 13.80 x 7.90 x 2.68 cm
Weight (Battery & Propellers Included) 230g
Max Flight Time 10 mins
Range 120m
If you are looking for an affordable pocket drone, this drone is a perfect choice. You get a 0.3 megapixel HD camera, a better altitude hold mode, and many other great features for USD 50 (at the time of writing).
This drone is a great choice for beginners who don't need the extra features or are concerned about breaking in an accident.
Pros:
Beginner mode
Easy to fly
Good video
Cons:
Battery life
A bit expensive for features
Zerotech Dobby
Features:
13-megapixel camera
30 fps/1080p video recording
Electronic Image Stabilization
16GB storage
Facial recognition and target tracking
970mAh removable rechargeable battery
Qualcomm Snapdragon processor
iOS and Android compatible
Auto takeoff and land
Specs:
Folded size L135mm×W67mm×H36.8mm
Weight (Battery & Propellers Included) 199g
Max Service Ceiling Above Sea Level 3000m
Max Flight Time 9mins at sea level
Temperature Range 0-40 degrees
Dual satellite positioning systems Outdoor: GPS/GLONASS Dual-band
Indoor: Optical flow & Ultrasonic wave
Hover Accuracy Range Vertical/Horizontal: +/- 0.3 metres
Approximately1.0 meters(Outdoors)
The Dobby, like the DJI Spark (which doesn't fold), is pitched as a selfie-drone. Although this quadcopter is advertised as a foldable selfie drone, it offers much more. The Dobby can produce 1080p video at 30 frames per second and still images of 13 megapixels. The smartphone app for iOS or Android allows you to control everything.
The drone's brain is the Qualcomm Snapdragon processor. Electronic Image Stabilization improves video quality. It uses both sonic sensors and optical sensors to navigate indoors as well as outdoors.
Although flying can be difficult at first, it's incredibly easy once you get used to it. It has a user-friendly app with live feed support. You can also choose from a variety of automated flight options, which are very useful. Although the flight time is a bit short, it is sufficient for most applications. A quick recharge takes approximately 45 minutes.
It is a great little performer for the price.
Pros:
Good value for money
Video and Image quality good
Useful automatic flight modes and tracking
Cons:
Not the greatest flight time
Click here to get our list of the best pocket drones.
GoPro Karma with HERO5 Black
Features:
Handy backpack with the drone, Hero 4 Black, controller, and grip stabilizer
Super robust
20 minute flight time
Ultra-compact when folded
12 MP images and 4K video
Backward compatible with older Hero models
Specs:
Folded size H90mm x W224m x L365mm
Weight (Battery & Propellers Included) 35.5oz (1006g)
Max Speed 35 mph (15 m/s)
Max Flight Time 20 minutes
Device Compatibility iOS® 9 and later
Android™ 4.1 and later
Although GoPro may be losing some market share, they are still the pioneers of action cameras and the best in the industry. The GoPro Karma is a powerful combination of their top camera and a high-quality drone.
Although your primary goal is to capture aerial footage with a drone, you will also need a GoPro.
The footage is extremely smooth and of high quality. It is lightweight and compact, which is exactly what you want from a folding drone.
Pros:
Clear, quality, and stable footage
User-friendly
Robust design
Cons:
Transmission range not exceptional
Flight time on the short side
Lack of indoor mode and obstacle detection
Lock of follow me mode
Click here for the best GoPro Drones.
Goolsky VISUO XS809S WiFi FPV Drone 720P
The striking shark design gives this foldable drone an aggressive look. The Visuo XS809S has many great features that make it both exciting and enjoyable to fly. This drone weighs in at 160g and is portable, as you would expect. The drone folds up with a 2MP 720P cam, which is sufficient for amateur photography.
This camera is certainly better than the VGA cameras that come with "toy" drones. This drone is great for selfies. It also has FPV Wi-Fi capabilities, which allow you to view the drone in real-time, giving you an amazing view while flying it.
We are also excited about the increased flight time. The maximum flight time of the Visuo is 20 minutes. This gives you enough time to take amazing selfies and fly your drone. The altitude hold function, an essential feature for any solid drone, allows you to take still photos while in flight or for stable flights.
Pros:
Average 2MP 720p camera quality capable of shooting at 30 frames per second.
This aggressive shark design is both exciting and entertaining.
It is extremely lightweight and portable.
For stable flight and photos, use the altitude hold function.
A reasonable flight time of no more than 20 minutes is acceptable.
Great battery life.
Cons:
Sometimes, the drone bumps into something, and the battery can pop out.
It takes approximately 2 hours to recharge the battery fully.
Holy Stone HS160 Shadow
Although the Holy Stone Shadow is impressive, it's not extraordinary. This is a good thing, especially considering the cost of this folding drone. Although the Shadow lacks the fancy features of more expensive drones, it offers some basic features you would expect to find in drones within its price range.
This drone's flight performance is good enough for beginners and those who want to fly a drone on their lawn. It is stable and easy to control, compared to other foldable drones market of its class. It isn't perfect, however. The drone does not have achieve exceptional hovering ability, which might make it difficult for selfie-taking enthusiasts.
It comes with an 8 minute flight time from the battery, but it also has an additional 8-minute battery. It is a good camera for the price. The video is clear enough but not as clear and crisp as the Eachine E58's 720P HD camera.
Pros:
For increased flight time, it comes with a spare lithium-ion battery.
It is stable and easy to control.
The one-key start and landing function is ideal for beginners.
It can be used with VR headsets.
This drone is great value for the price.
Cons:
Video downlink has a lot of latency.
It doesn't have a headless function.
Spacekey FPV Wi-Fi Drone
The DC-014 is, without a doubt, one of the most affordable folding drones on the market. It is a compact drone, lightweight drone that can be used indoors and outdoors. The flexible PA plastic material used on the fuselage and the airfoil make it very sturdy, so there are no worries about it being damaged.
The DC-014 drone is stunningly designed. It manages to include a few essential features. The DC-014 features an FPV view and a 120deg wide-angle lens, capturing as much detail in close-ups as possible. For those new to drone flying, it offers decent image quality.
The DC-014 quad can be controlled by beginners using any smartphone that has the Spacekeys drone application installed. 360deg flips, rolls, and rolls can all be done at your leisure.
This is not as fast as the Atoyscasa Drone in terms of flight time. It is hard to imagine anyone not wanting to fly a drone for more than 15 minutes per battery. It will be a great experience.
Pros:
List ElementThe 720p camera captures decent quality images at 30fps.
It has LED lights that allow for night flying.
Amazing build quality that can withstand quite a few drops.
Low battery alarm.
Cons:
The drone does not feature a hover function.
JJRC H37 Elfie
The Best Budget Foldable Drone
Although the JJRC H37 could not be more different from the Mavic Pro 2, it doesn't pretend to. Although the H37 Elfie is more focused on selfies than high-end photography, casual users will still be impressed by what this budget foldable drone can offer.
If budget is a concern, the H37 quadcopters are a great choice. They can be bought cheaply. The price is exceptional, and you get great value with a carry bag, spare propellers, and the best controller we've ever seen.
The H37 provides a 6-minute flight time and a 720p HD camera. When the drone is synchronized with your smartphone, it will track your position and stream footage directly to your phone. It has all the usual features, such as flips and headless mode. It folds down to 11.3cm by 5.9cm, making it easy to transport.
Hover Passport Camera
Best Self Flying Foldable Drone
You have read the subheading correctly. This drone is self-flying and requires very little user input. It is important to mention that it folds up to be included in this foldable drone buying guide. However, thanks to an exceptional design, even the folding method of the Hover Passport makes it extremely portable.
As you can see, the drone has a grill that covers the propellers and the whole body. The Hover Passport is extremely safe and durable during flight. It also makes it easy to transport and fold when it's not in use. You don't need a case because it has its shell. You will receive a carry case with your drone once you buy it.
Although the design is quite striking, it's not a cheap gimmick. The Hover Passport features a 13MP still camera that can capture 4K video. It is lighter than 250g, which is great news for anyone trying to avoid the regulations in force in 2019.
The mobile app still allows you some control, but there isn't a controller. The drone can take photos and videos you direct it to and store them in the 32GB flash storage. This means you get super high-quality video processed and stored while the drone is still recording.
The drone can be tracked using facial recognition and follow-me tracking. You can also choose from a variety of shot types to create stunning imagery and video.
Hotbird Foldable Mini Drone
The Best 1080p HD on a Budget
There are many options for foldable drones capable of recording video at 720p HD. However, if you are looking for a budget quadcopter drone that can record at 1080pHD, there are fewer options. The Hotbird Foldable drone is what we present. There are three options available, each with a different feature so that you can get exactly what your heart desires.
We will be focusing on the most costly of the three cameras. It still has a modest price and offers 1080p HD, auto-follow drone mode, and wide angles tilting.
This drone is priced at a very affordable price. It can fly for up to 18 minutes and is easy to fold. To make it easier to transport, the Hotbird comes with a carrying case. You can mount your phone inside the controller to stream video or view your photos live.
Hotbird is a favorite of ours, and the video quality was excellent. We love that you can set waypoints and GPS on the Hotbird. The follow-me function works flawlessly.
Parrot Anafi
Great Cheap(ish) 4K Folding Drone
You have two choices if you're looking for a top-end drone capable of competing with the DJI big boys like the Mavic Pro and Mavic Air models but don't want the premium price. Either you can purchase a second-hand Mavic Pro or a Parrot Anafi.
The latest Parrot offering was launched midway through 2018. It certainly got people talking, and with a mid-range price tag, those tongues are still wagging.
First, the Parrot Anafi is stunning. This quadcopter's carbon frame design is slimmer than its DJI counterparts, but it has similar foldable arms. It is also easier to transport than other market leaders. The stylish case fits perfectly in the included case, making it easy to take with you on the go.
However, the case can't accommodate the SkyController. You can still control the Anafi from your smartphone if necessary. The drone weighs in at 320g and can be easily packed into your bag.
The tech specs are what make the Parrot Anafi stand out from the beautiful portable chassis. The 180-degree tilting camera, mounted on a gimbal, delivers 4K video and 21MP stills. Parrot is very proud of the camera's digital zoom, which allows for 2.8x digital zoom with no degradation in image quality.
The Anafi is a great competitor in battery life. Although you can get 25 minutes of flight, there are no options to buy extra batteries because the Anafi is an internal power source. You can charge your device via USB type C charging if you have to.
Yuneec Mantis Q
Yuneec, unlike DJI, which has been dedicated to drones since its inception, is a cross-company company. Yuneec started its customer base as ready to fly (RTF), remote control aircraft circles, and then successfully moved on to unmanned aircraft system (UAS) circles.
Their latest consumer drone, the Mantis Q, is their first venture into the foldable drone market. Unlike the DJI Mavic series designed to be used by both consumers and professionals, the Mantis Q is more geared towards adventurers, travelers, vloggers, or action-sports enthusiasts. It is possible to use it in commercial niches, such as real estate photography or video tours, where the standard 4K camera is sufficient.
The Mantis Q's features and utility are more comparable to the DJI Spark than the larger Mavic series. The Mantis Q is also targeted at a similar market segment. It offers visual tracking, face detection, and a 2-axis gimbal. Speed is one area that neither DJI product can match. The Mantis Q can fly up 44 mph in Sport Mode, which is 13 mph faster than what the Mavic can do. It also maintains a solid flight time of 33 minutes.
DJI Mavic Mini
Let's be real here: the DJI Mavic Mini foldable drone is one of the most affordable. It's also the best foldable drone for both beginners and professionals. The provided platform is capable of performing certain commercial drone usage tasks. The platform is compact foldable drone, quick, flexible, and affordable. Let's have a closer look.
It is a great choice when it comes to features. This thing offers everything except obstacle avoidance. It's not a problem at this price since no other competitor offers the same feature set as DJI Mavic Mini and even less obstacle avoidance.
DJI Mavic Mini is also a great camera. The DJI Mavic Mini foldable drone packs a punch with its 2.7K camera. This is a small drone that needs stabilization. DJI has created a fully-fledged motorized stabilizer that can be used in all weather conditions.
The specifications of the DJI Mavic Mini have been described as being simply amazing. This drone can fly for up to 30 minutes on a single battery. Amazingly, only a few mainstream drones are capable of such impressive numbers.
The Mavic Mini is less than 0.55 pounds, so you don't need to register it with FAA before flying. It is easy to register, but it is not necessary.
DJI Mavic Air
After the huge success of DJI Mavic Pro, Mavic Air was their second foldable drone. The Mavic Air was available at a lower price and even came with an optional controller. The Mavic Air's budget-friendly features were a huge plus. It quickly became one of the most popular middle-of-the-pack foldable drones.
Customers are attracted to the attractive price tag. The Mavic Air boasts many amazing features. It features including a 4K camera, HDR capabilities, backward or forward obstacle sensors, and a pinpoint accurate GPS module.
Additional features including altitude hold, follow-me, failsafe layers, and several other flight modes that focus on camera-based gimmicks. QuickShots is the leader in aerial photography, offering a variety of outstanding methods to capture footage. Some of these will improve your social media stats.
Mavic Air is an old model when we look at its specs. There are cheaper drones that can fly for long distances and have around 20 minutes. They can't fly as far as Mavic Air, however. Finally, the beauty's range is limited to approximately 4 km, which is the industry standard.
DJI Air 2S: 5.4K video for under $1,000
The DJI Air 2S, a follow-up to the DJI Mavic Air 2, is the ultimate upgrade for camera drone enthusiasts. A large 1-inch camera sensor is the main enhancement. The Air 2S is 20MP and is almost three years younger than the DJI Mavic 2 Pro. However, the DJI Air 2S is smaller and cheaper.
The Air 2S also has better capabilities for high-speed operations. DJI demonstrated with the DJI FPV that top-mounted obstacle avoidance sensors could benefit when the drone moves forward at full tilt.
The DJI Air 2S is priced at $999 and comes with a $1299 Fly More combination.
DJI Mavic Air 2: Great value 4K camera
The DJI Mavic Air 2 drone, a successor to its predecessor, is more than just another drone. It's a transition from its current form factor to a true Mavic drone. The DJI Mavic Air 2 remains a mid-tier drone. The Mavic Air 2 is almost equal in size, price, capability, and capabilities to the Mavic Mini and Mavic 2 series drones.
The Mavic Air 2 brings exciting updates to the camera department, just as the Mavic Air raised the camera game for small drones. The new 1/2-inch sensor shoots 12MP stills from a 48MP sensor.
Although you can still capture 48MP stills, the 12MP shots are special thanks to Quad Bayer technology's pixel binning. While photos are wonderful, 4K video at 60fps and a data bitrate of 120Mbps is more interesting to many users.
The DJI Mavic Air 2 started at $799 for the base package and $988 for Fly More when it launched in May 2020.
DJI Mini 2
The DJI Mini 2 is the next-generation super-compact camera drones. It's an improvement on the Mini in flight and camera capabilities. The drone weighs in at less than 250 grams, but the 4K camera is much more powerful, has better connectivity, is more durable, and offers more power.
The 1/2.3-inch sensor can have 12MP stills and 4K video at 30 frames per second and 100Mbps data rates. Lossless zoom is the most exciting new feature. You can fly safely at a distance with up to 4X zoom. This is great for pet photos and shots of distant waterfalls.
DJI continues to offer accessories packages. You can purchase the DJI Mini 2 at $449 or the DJI Mini 2 Fly More Combo at $599.
Foldable Drones With Camera Are Ideal If You Have One Of These Types
Here's a brief overview of who will be most satisfied with folding drones.
Jocks
Jockeys are tech-savvy and detail-oriented. It's no surprise that jocks invest more in foldable quadcopters. They can record amazing moments during their training sessions entirely autonomously.
Foldable drones are great for jocks because they can be used to warm up before the game, during half-time preparations and even after the game. Professional jocks are not the only ones who could benefit from collapsible drones.
AirDog ADII is a great example. It folds up and can be used as a travel buddy. The camera is great for aerial photography. And the waterproof controller allows users to use it to command the boat from underwater.
Travelers
This paragraph is pretty obvious. Travelers are the primary audience for most foldable drones. Collapsible drones, as I have already said, are great travel companions. They can be combined with extra batteries to capture incredible moments at all your favorite places.
Think about it: Having your own personal aerial photography platform that you can bring along on your travels It's also foldable, making it the perfect travel companion.
You will also get hardware stabilization if you choose one of the higher-end models. This will allow you to capture professional-grade footage from all your adventures. It's a wonderful little gadget.
Students
We have students…the poorest suns among us all. Students aren't known for spending too much on technology gadgets. Let's face it, students are not known for spending too much on tech gadgets due to student loans, college costs, and ridiculously high booze prices at this time of year.
Let's just say that I don't think college students would be able to afford the top-flight folding drones. Do you want to capture amazing aerial footage of the outdoor party you are attending on Friday? It's possible! You can get a peek at the ladies' dorm after a night out with a lot of alcohol. It's possible! No matter what occasion it might be, folding drones can help you!
Are Foldable Drones The New Future Of Commercial Drones?
This is an interesting question and one that's a great deal of fun. It's no surprise that foldable drones may be the future for commercial drone use. Many of you know that there are plans to develop completely autonomous drone delivery systems. Storage is a major issue.
We're talking about an autonomous delivery system that can cover the entire USA. This means we need miles upon miles of storage facilities. The simple solution to this problem is collapsible drones. They could use drones that can fold down to at least 30% of their size and stackable with one another, which is a sure way they will be the future of commercial drones.
What should you look for when buying a drone?
This article will help you determine the best drone to buy and also recommend the best drones for your specific needs.
This classification will make it easier to pick one than having several drones that are identical.
1. Camera
A majority of people want a camera attached on their drone. A few people may also want to attach a gopro camera, but that's another story. The camera resolution (usually 4k or 1080p) is very important. However, a drone camera's sensor size, bitrate, and optics also play a role. A video comparison is the best way to see how the drone records.
2. Gimbal
A foldable drone equipped with a gimbal is a better choice if you want a serious result. This stabilization system has 3 motors and stabilizes the camera on all 3 axes. EIS (Electronic Image Stabilization) is an alternative, but it is often inferior.
3. Follow me
This is a nice option, but it's not worth the extra cost for quadcopters with more advanced systems that allow for active track and other flight modes such as a circle around. These can result in stunning drone shots.
4. Obstacle avoidance
Modern drones now have obstacle avoidance sensors. This feature was pioneered by DJI, Intel and others. You can now follow your drone through the woods, and it will also avoid any branches and find a path between them (I know this because I tried).
5. Battery life and range
This is a simple one, but it's important to understand what you can expect from a drone. It is usually directly proportional to the drone's price and its size. Toy drones with smaller batteries tend to last less (with the exception of one that we'll discuss below). You can expect to have a foldable drone for around 10 minutes. Professional folding quadcopters can last up to 30-40 minutes. This pattern is also followed by the higher end, which can reach up to 10km.
FAQs About Best Foldable Drones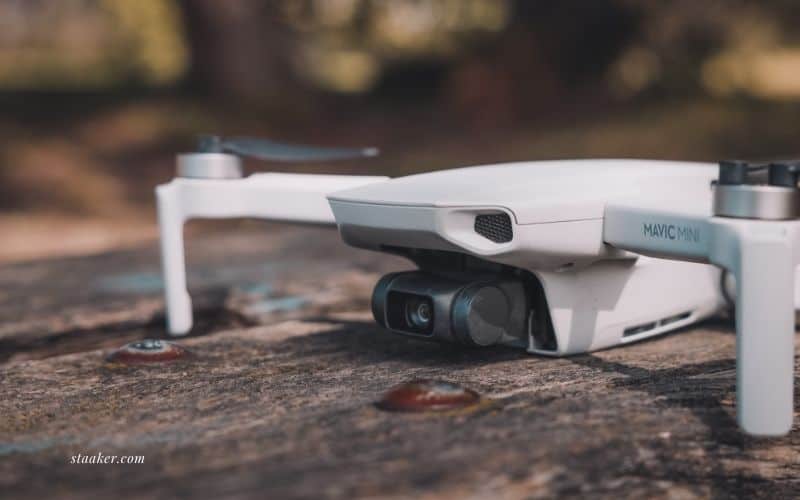 Are pocket drones and foldable devices the same thing?
But not necessarily. Not all pocket drones can be folded. Some pocket drones don't fold.
How good is the camera in foldable drones?
It all depends on the model and, generally speaking, the price. Cameras come in a variety of prices, from the most basic models to the most expensive.
Before you buy a drone, make sure you check the specifications.
What is the flight time on a portable drone?
This depends on the model and the price. You will spend less than ten minutes in the air with the entry-level models, while the more expensive ones take you up to an hour.
Do foldable drones still have features?
Yes. Many exciting features will enhance your experience, from the entry-level foldable drones to the highest-end models. You should verify that the drone you're considering has this feature.
How to unfold a foldable drone?
This is a question that we get a lot lately. It's pretty easy to answer. It doesn't take any nuclear science to make a foldable drone.
In most cases, the prop arms will be accessible from under the drone's body. The most difficult part of unfolding the drone is the correct order. Some drones require that the front arms be unfolded first, while others require that they unfold in reverse. It's an easy procedure, so you don't need to worry about it.
Conclusion
That's our top foldable drones list. Hope you can find the best foldable drone through this guide.
Our favorite pick is DJI Mavic 2 Pro which is the best consumer-class foldable drone that DJI had to offer. The Mavic 2 Pro is a marked improvement over the Mavic Pro. It features including a 1-inch camera sensor that captures 4K video at 100Mbps, multidirectional obstacle avoidance sensors and a 1-inch camera sensor to make sure you fly your drone safely and much more.
Staaker wants to thank everyone for reading it. It was an honor to bring you these amazing foldable drones. We hope you'll return soon to our website if you have any drone-related questions. Happy flying!
Last update on 2022-10-04 / Affiliate links / Images from Amazon Product Advertising API