These days drones have become familiar in the world, most drone users or those who are new to drone models have heard of the term "FPV Drone" but not everyone can understand it well. So, what is it?
Let's find out what is FPV Drone and its operation as well as the purpose of use in the article below. Let's dive in!
What is an FPV drone?
An FPV drone usually comes with a high-tech headset. It looks similar to a VR device you would use with a console or gaming PC. You can also use a headset adapter to make your smartphone more affordable.
The FPV camera displays the live video feed of a camera and allows you to use that view for steering the drone. Using the FPV camera, you can fly as close to the ground as possible.
How does FPV drone work?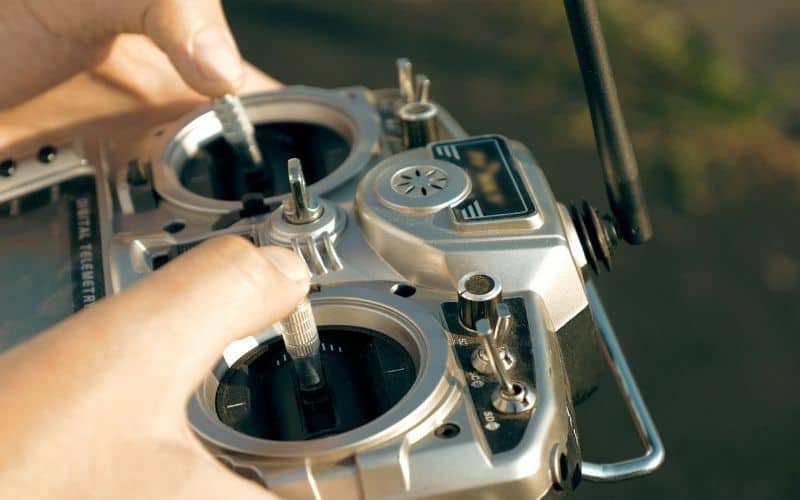 There are several components to an FPV system. The FPV drone is usually a multi-rotor, small-sized, maneuverable model that can hover, take-off, and control vertically. A camera and a video transmitter are located on the drone's body.
There are various cameras available, from the basic model to the more expensive 1080p or 4K models. High-quality transmitters ensure a reliable, high-quality live-video signal with low latency. This means that there is little time between what the camera sees (and what you see) and what you see.
These systems are ground-level and rely on FPV headsets and remote control. The headset includes a screen with which the goggles capture the view from the first person. It is often used to fly FPV drones.
Read Next: https://www.digitalcameraworld.com/buying-guides/best-fpv-drone
Benefits of FPV Flying
FPV systems combine radio frequency antennas, transmitters, receiver-signaling technology, and state-of-the-art cameras to provide a fantastic experience. You can see exactly what the drone's camera sees. The pilot can also control the drone to take video shots that would be difficult to achieve under normal flight operations.
Another benefit to FPV flying is the feeling you get when you see every turn and twist through the camera's lens. This feeling is great fun and allows the pilot more control over the drone.
FPV technology gives you a new perspective on the world for aerial photography and videography. This technology allows you to improve the composition of your shots and gives you more opportunities to create dynamic content.
Read also: Best FPV Drone Simulator
What are FPV drones used for?
Conventional drones and FPV drones have so many similarities; it shouldn't surprise that they are used in many of the same applications. This includes aerial photography, cinematography, remote inspections, and security.
Although most drones are capable of being outfitted for FPV, not all can. Not all drones are suitable for drone racing, which is the most popular FPV application. Drone racing is different from other FPV applications. The aircraft and ground station receiver (i.e., your FPV monitor or goggles) must meet certain criteria. This is something that most conventional flyers and non-racers cannot do. 
While we won't get into the details of these criteria, one of the most important is transmission latency. RC flyers must transmit video fast enough to the ground station so the pilot can react immediately. How fast? You might be surprised at how fast some FPV drones can go.
Do you need to build or buy an FPV-ready drone?
Many FPV drones are available from large companies such as DJI and 4DRC. You can purchase one, charge your drone, then put the headset on, and you will be flying your drone in no matter what.
Many enthusiasts prefer to build their FPV drones, even though the kits are easy to use. You can pick the components you want or stick to a budget. Once you have mastered the building of your kit, it's easier to repair your hardware.
When learning to fly drones, new pilots are more likely to crash their devices. You can keep your drone in the air by choosing an easier fix and more affordable drone.
FAQs about FPV Drone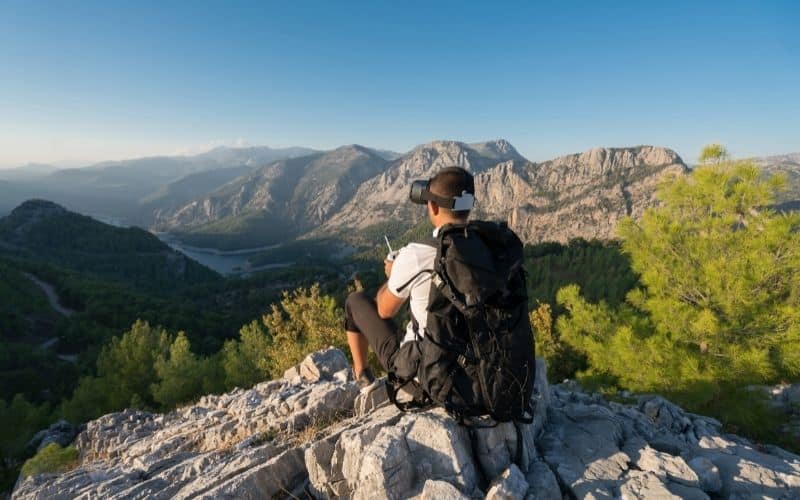 Is FPV drone legal?
Both the United Kingdom as well as the United States allow the use of FPV drones or goggles. However, to fly an FPV aircraft, you will need an observer that can keep a visual line of sight and communicate this information with the pilot.
Source: https://www.techradar.com/news/dji-fpv-drone-laws-where-and-how-can-you-actually-fly-djis-new-drone
Is long-range FPV illegal?
The short answer is yes. It is legal to fly unmanned recreational aircraft (model aircraft) using First-Person View. … The sightings are usually beyond the visual range of most model aircraft's models, so FPV or any other automated flight technology may be used.
Source: https://amablog.modelaircraft.org/amagov/2014/04/11/is-fpv-legal/
What is needed for an FPV drone?
It's typical that FPV quadcopters built to carry an action camera have the following parts:
5" Frame.
4 Motors.
4 Propellors.
4 in 1 ESC (Electronic Speed Controller) RC Flight Controller.
Lithium-Polymer (LiPo) Battery.
FPV Video Transmitter (vTx) and Receiver (vRx) Board Camera for the FPV Feed.
More items…
Source: https://frameworkfilms.net/facts/fpv-drone-build
What is a good beginner FPV drone?
The Walkera Runner 250 is the best option. It includes everything you need for flying. There are many RTF drones available, but we prefer the Walkera Runner 250.
Source: https://www.buzzdrones.com.au/blog/buying-your-first-racing-drone
How much does it cost to build an FPV drone?
It should total around $100. The total cost to start is approximately $900. This is a bit more expensive than you might think, but it's worth considering that nearly $400 of the $900 (radio, FPV glasses, and some tools) is a one-time investment.
Source: https://fpvfrenzy.com/build-quadcopter-cost/
Conclusion
The above article has answered the question of what does FPV stands for? Hopefully, through this article, you have been able to add more knowledge for yourself and thereby be able to choose a product that is satisfactory and right for your needs.
If you found this guide useful, please share it with anyone who might need it. We appreciate you taking the time with staaker.com.
Check out our website frequently for the most recent reviews and information about drones!
Video: