If you are looking for a drone for beginners with a budget under 300 dollars, then here we have great items for you. Potensic T25 Gps Drone is the drone we mentioned above; it comes with many cool features and looks amazing.
Keep reading our Potensic T25 Gps Drone Review to see how far drones can fly? And advanced technological features and why this drone is one of the best drones on the market now.
Potensic T25 Gps Drone Review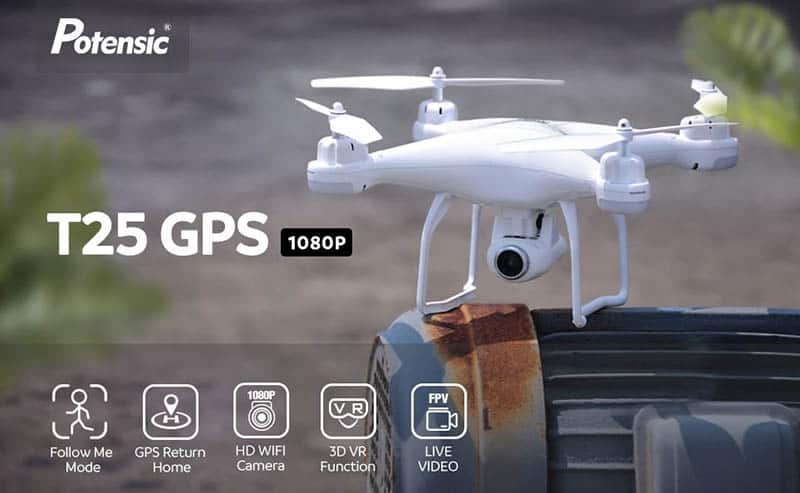 Key Features
Model: T25
Our Rating: 4 Star
Manufacturer: Potensic
Manufacturer Recommended Age: 14 – 17 Years
Type: Ready-to-Fly
Style: GPS Drone
Skill Level: Adults Beginners
Color: White
Dimensions: 10.3 x 5.4 x 16.3 in
Weight: 2.25 lbs
Propeller: 4 x Spare Propeller Blades Included
Built-in Functions: Follow Me, LED, GPS Return Home, HD WiFi Camera, 3D VR Function
Port: SD Card Port
Stabilization: 9-Axis Gyroscope
Pros:
Battery life is excellent at 15 minutes.

It is simple to use

Titling camera

GPS Follow Me also included
Cons: 
The design of the Potensic T25 is very similar to the DJI Phantom 4 Pro. This isn't an accident; while the Phantom 4 Pro is a popular drone, it is also very expensive and targeted at professional photographers.
The Potensic T25 is very similar, with an HD camera on the belly and landing legs to protect it when you land the drone. The Potensic T25, however, is smaller than the Phantom 4 Pro. It is also made from high-quality plastic.
It doesn't have the same advanced features as the Phantom 4 Pro, but that doesn't mean it shouldn't. The target audience is drone enthusiasts who want to have some fun and are not professionals aerial photographers.
The drone is available in black or white. I prefer the black version because it looks futuristic.
Each rotor has LED lights that illuminate underneath, making it ideal for night-time flying.
It is small at 10.6×10.6×4.7 inches and less than 4lbs in weight. You can fly the drone indoors if you have a big house. Also, the propeller guards will help minimize any damage to the drone if it crashes.
You will receive a set of additional propellers and guards, two batteries, an extra charger, extra landing gear, and the remote control in the package.
It looks similar to a modern video gamepad. The remote control is easy to use and comfortable to hold. You can also attach your smartphone to the remote control to allow you to fly with the FPV feature.
Camera
The Potensic t25 GPS FPV 1080p RC Drone, but the 2K camera has been added to make it capable of recording quality video footage for a drone less than $200.
The 120deg field-of-view lens gives you a wide view of the area where you are flying. Additionally, the camera can tilt 75deg to give you better angles for better video and images.
Electronic stabilization of the images and footage is available. There is no 3-axis gimbal attached, but professional-grade photos can be taken without it.
Live streaming video can be done to your smartphone. You can edit and share the footage on social media using the drone app.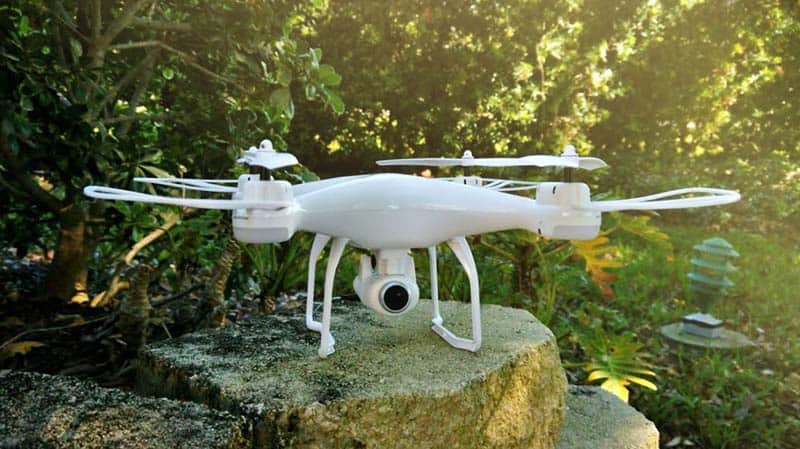 Intelligent Flight Modes
The Potensic T25, like many drones today, has two flight modes.
Follow me: The drone can be linked to your smartphone via the app and follow you around. This feature allows you to easily take photos or record yourself while out on a bike ride or walking.
Custom Flight Plan: This flight mode allows users to create a path for the drone to follow and return to its original destination.
Both of these flight modes are very easy to use, and anyone can fly them.
Intelligent flight modes are typically only available on higher-end drones. The fact that this drone includes two tells you how feature-rich PotensicT25 is.
You can also use the automatic return home button to reduce the chance of your drone being lost. This will provide additional safety measures in case you feel that you have lost control.
Dual GPS modules on the drone allow for all these flying modes. This ensures that you have precise information about the location of your drone.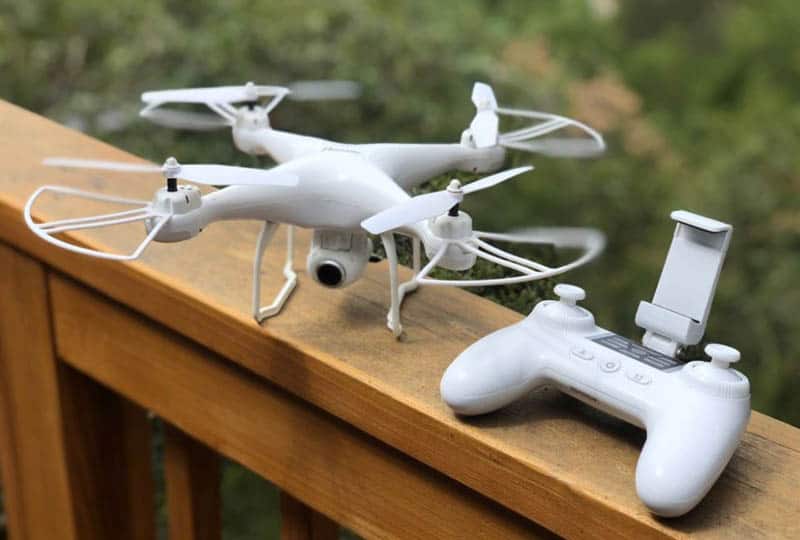 Battery Life & Flight Time
The battery has a flight time of approximately 8 minutes. We ordered an extra battery to double the flight time between charging sessions.
The more time you spend hovering and the better your photos and videos will turn out, the more efficient you'll be.
Your flying machine will automatically return home if it runs out of power. If it does, you can track it down without any difficulty.
Battery life is the main complaint from pilots. If you are flying for 30 minutes, we recommend at least one additional battery.
You can also remove the battery from the controller. It takes 60 minutes for the battery to charge, even if you have a power bank.
Controller
It is easy to use. The controller is similar to a computer gaming controller, so it will feel right at home if you are familiar with the Xbox.
These buttons are the takeoff/landing, power, and [return home] buttons. Many indicators help you to communicate which options were active. These buttons are well lit during operation, making it difficult to miss.
Although there are many controls on the transmitter, it cannot be very clear.
Although the controller does not display, the universal bracket allows you to snap in an Android smartphone or iPhone.
Flight and GPS Performance
Potensic offers a few features to help beginners pilot the drone.
First, you'll find a button-free takeoff that works exactly as advertised. Auto-land is another option that takes the frustration out of landing by landing for you.
The T25 drone was responsive to the controller and had minimal lag. This includes footage delay.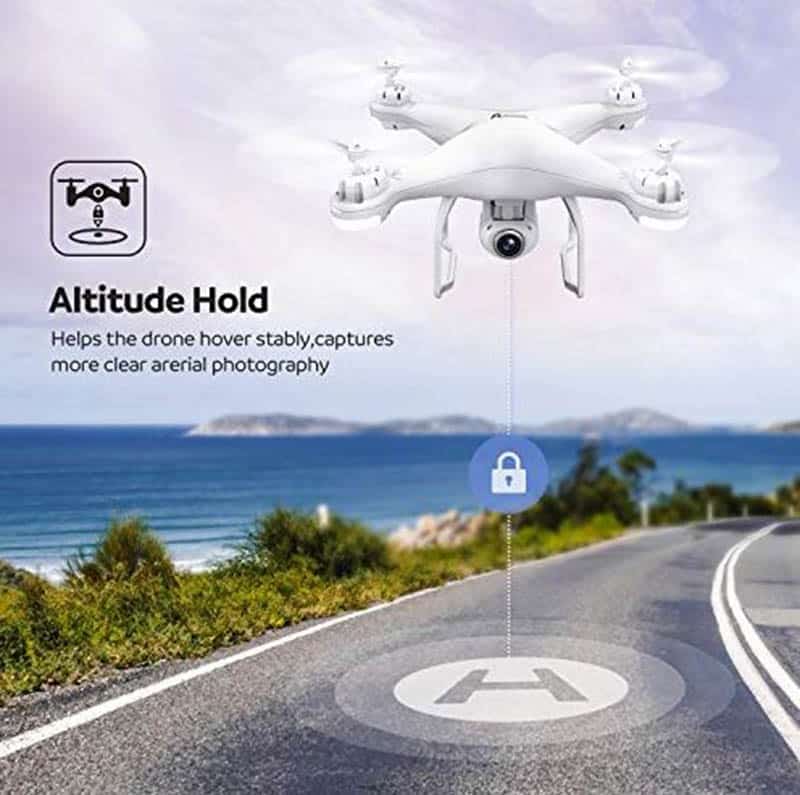 Other Features
9 Axis: Gyroscope – While most beginner-friendly drones have a 6-axis-gyroscope to provide flight stability, the Potensic T25 has a 9 axis gyroscope that provides greater stability. This makes the drone more resistant to wind and provides better quality images and videos.
3 Speed Modes: Depending on your skill, you can choose between three-speed modes that will affect how fast the drone moves and how much control it has.
Headless Mode: This mode allows you to fly your drone without knowing its orientation or the direction its tail and head are pointed. Because the controls are simple to grasp, this mode is ideal for beginners. You should only turn off the headless mode if you are comfortable with the drone's head and tail and better understand the controls.
Intelligent Battery: The drone uses one Li-Po 1000mAh battery. It also has LED lights to indicate power level and can be easily inserted into the drone's back.
The drone will automatically return home if the battery indicator shows a low charge. It is also known as an intelligent battery. This makes it less likely that your drone will be stolen.
Flight Time: The only problem with this drone is its flight time, which can take anywhere from 8-10 minutes. This will not be enough time for you to fly it. This is comparable to other drones in the same class, and it comes with an additional battery.
You can charge them both and then switch to the other one when it runs out. It would help if you also consider buying extra batteries. Even with two, the drone will still work for you. These batteries can be bought from Amazon or eBay.
Conclusion
You have just seen all details of the Potensic T25 Gps Drone, this is one of the best drones for beginners, it is received much good feedback from users. It's nicely designed, comes with some awesome features, and is easy to operate. Staaker hopes that our review can help you learn more about this drone.
Video: