DJI has released many technology products to integrate advanced technology, engineering, and innovation into more efficient drones. And recently, the company has re-released Phantom 4 Pro V2.0 and Mavic 2 Pro with excellent aerial photography capabilities. Both drones are packed with incredible features and durable designs, ensuring pilots always meet their photography and videography needs.
Both are appreciated; which device should you invest in? In this article, Staaker will compare the main features and highlights of the Mavic Vs Phantom 4 Pro and help you make the right buying decision.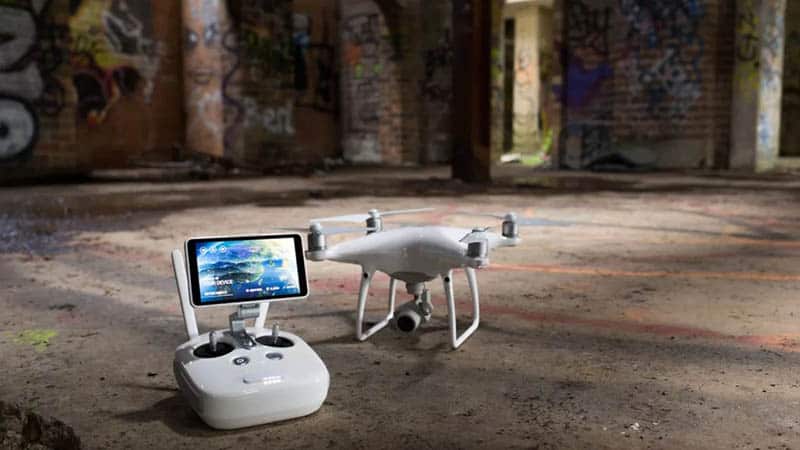 Phantom 4 Pro V2.0
What's in the Box:
Aircraft x 1
Remote Controller x 1
Propeller Pairs x 4
Intelligent Flight Battery x 1
Battery charger x 1
Power cable x 1
Gimbal clamp x 1
MicroSD card x 1
MicroUSB cable x 1
Carrying case x 1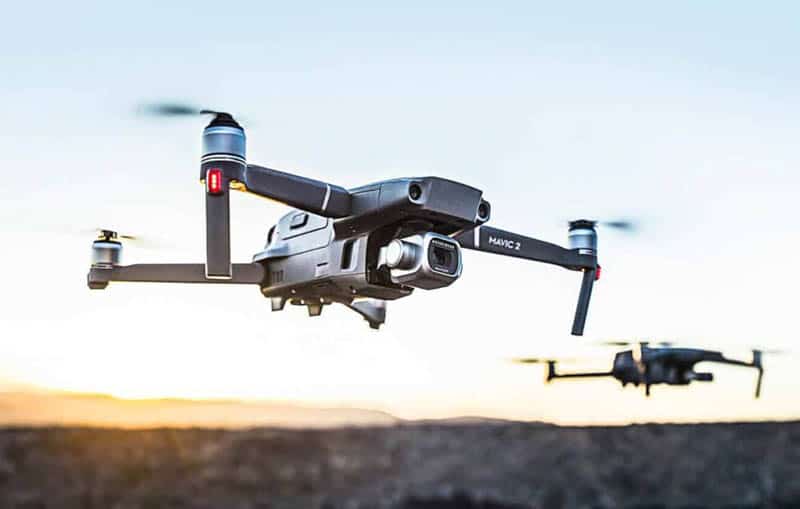 Mavic 2 Pro
What's in the Box:
Aircraft (Intelligent Flight Battery & Gimbal protector included) x 1
Remote controller x 1
Propeller (pair) x 3
Battery charger x 1
Power cable x 1
Communication cable – USB 3.0 Type-C x 1
USB adapter x 1
Spare control stick (pair) x 1
RC Cable (slider included) – lightning connector, micro USB connector, USB-C connector x 1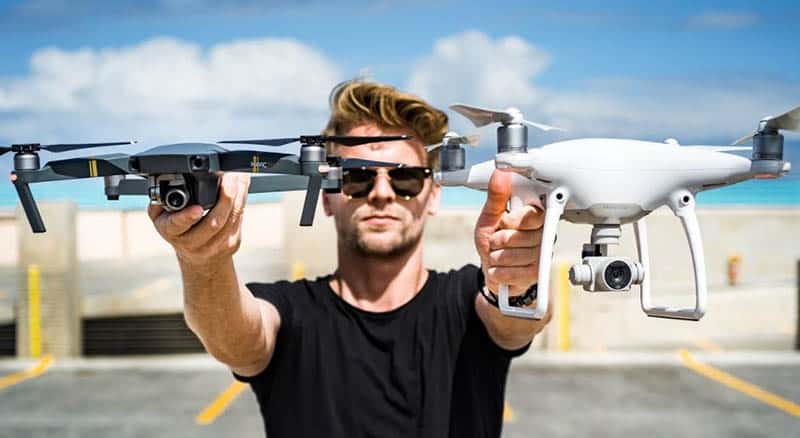 DJI Mavic 2 Pro vs Phantom 4 Pro V2.0
Overview
1-Inch CMOS, 20 MP, Mechanical Shutter

Omnidirectional

(6 Directions)
Design
There are many differences in the design of both drones.
The DJI Phantom Series was named one of the ten most popular gadgets at the end of 2011. Its iconic white frame became synonymous with drones and Phantoms.
The Phantom 4 Pro V2.0 is the same as before, but it is the classic Phantom design, a sturdy, fixed structure with two legs and a camera beneath its star-shaped body.
Mavic 2 Pro, on the other side, has a foldable design that makes it extremely portable. The lightweight Mavic 2 Pro can be folded and weighed in at 907g. It can also be carried in a bag to be quickly taken out and put back into its original place. The Phantom, on the other hand, weighs 1,375g.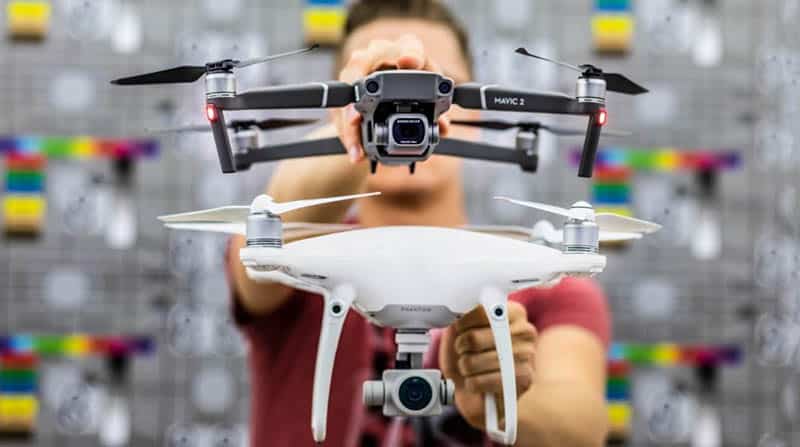 Specifications and Features
It's amazing to see that the functionality and features of the Phantom 4 Pro V2.0 drone and the Mavic 2 Pro drone are very similar.
You could argue that they are almost identical drones but with different bodies. Important differences are revealed when we examine the cameras.
The drones have a range of flight modes to make the drone behave differently and intelligent flight modes that allow you to create advanced video effects with the touch of one button.
It's impossible to list all the features of both drones, but it is safe to say that Mavic 2 Pro has more options and offers more automation for creating videos and stills.
Although professional videographers and photographers can manually perform most of the same tasks, the Mavic 2 Pro can capture aerial time-lapse/hyper-lapse video.
These videos can be combined with skills to produce amazing results from an elevated position. Unfortunately, the Phantom doesn't have this option, even though the DJI Go 4 app is available for smartphones and tablets.
Price
The Phantom 4 Pro V2 costs more than the Mavic 2 Pro.
The Phantom costs PS1,589, while the Mavic costs PS1,349. Although price is a relative matter, the Mavic 2 Pro's biggest selling point is its low price. It is a powerful drone at a reasonable price.
The prices will go up if you select the controller with a built-in screen to control the Phantom or the Smart Controller to control your Mavic. For more information on these prices, see the Remote Controller section of this blog.
Camera Performance
The most important comparison between the drones is their cameras and their impact on aerial photography and videography.
The Phantom 4 Pro V2.0 boasts some amazing camera specs.
The Phantom 4 Pro V2.0 is a great choice for stunning imagery. It has a one-inch CMOS sensor that can capture 20MP images and 14fps burst mode. Cinema 4k/60fps is also available. Creatives have the option to adjust the aperture from f/2.8-f.
The Phantom 4 Pro V2.0 has a mechanical shutter, which is one of the greatest advantages.
This helps to reduce the troublesome rolling shutter effect and allows pilots to freeze fast-moving objects in frames, allowing them to capture high-speed action with amazing clarity.
These images illustrate the differences between an electronic shutter and a mechanical shutter.
The Mavic 2 Pro, on the other hand, does not come with a mechanical shutter. However, it has special tools to help you create amazing images.
The Mavic 2 Pro's 10-bit DlogM color profile gives photographers more control over dynamic ranges. It also allows for greater flexibility in color grading post-production. The Mavic 2 Pro can also record 4K 10bit HDR video.
The Mavic 2 Pro's sensor, which is 1-inch, can also capture 20MP images. It has identical aperture settings (f/2.8-f/11).
The Mavic 2 Pro's 4K/30fps 100 Mbps is slightly lower than the Phantom's 4-K/60fps 100Mbps. The Mavic 2 Pro also features a Burst Mode that can be used up to 5fps instead of the Phantom's 14.
Both drones can hold a 128GB microSD Card, while the Mavic 2 Pro has 8GB internal storage.
The Mavic 2 Pro captures JPEG (Raw), while the Phantom 4 Pro V2.0 captures JPEG (Raw), DNG (Raw), JPEG + DNG.
Read More: 
Best 4k Drone With Camera 2021: Top Brands Reviewed
Best Drone Apps 2021: Top Brands Reviewed
Mavic Pro 2 vs Phantom 4 Pro Image Quality
Both drones produce very similar quality stills and videos. Both drones are excellent performers due to their 20MP 1-inch sensors.

The Mavic 2 Pro's camera uses a Hasselblad lens with a focal length equivalent to a full-frame of 28mm. The Phantom is slightly larger at 24mm.
The Mavic 2 Pro appears to produce slightly sharper images than the Phantom 4 Pro V2.0. This makes it a great choice for still photographers who are looking for an aerial drone.
The drones have an adjustable aperture from f/2.8 to f/11. They can also capture raw stills in DNG format and 4K video in flat profiles for a color grade.
This is crucial when you need to color-match aerial footage to professional workflows. Both drones can also record video with profiles attached so that footage is ready to use right out of the camera. This makes them great for amateur use.
The Phantom is the best video camera and could prove to be the decisive factor for videographers. The Phantom's larger size means a larger camera. It also features a mechanical shutter which makes it easier to capture natural scenes than digital shutters.
A digital shutter scans the scene and creates an image. A mechanical shutter captures the scene one by one. Mechanical shutters are not affected by rolling shutters, which can cause objects to appear bent or fragmented in the video.
The Phantom can also shoot video at 4K/60p at 100Mbps using the D-Log color profile. While the Mavic can capture video at a slightly lower 4K/30p at 100Mbps using the Blog-M profile, the Mavic can do it at a modest 4K/30p at 100Mbps.
Although the color profiles may be different, they all provide the same results. The Phantom's faster frame rate is the most important here, especially in a professional setting. The Mavic can capture HDR video, which is a video area where it does well.
DJI Mavic Pro VS Phantom 4 Pro V2.0: Intelligent Features
The drones are equipped with intelligent features that maximize your flight time and enhance your creativity.
The Phantom 4 Pro V2.0 offers three ActiveTrack options that allow users to shoot subjects in Spotlight, Profile, or Circle modes.
TapFly Mode allows pilots to fly their Phantom drones in reverse. This is great for taking dynamic aerial selfies. Gesture Mode lets them control certain aspects of their photography with their bodies.
For instance, raise one arm, and the aircraft frames your face perfectly in the middle of the photo. Or reach out with both arms simultaneously to start a selfie countdown.
Draw Mode, which is available while you wait, is an excellent feature. You can draw a route on your remote-controller screen, and your Phantom 4 Pro V2.0 will follow that route while maintaining its altitude.
The Mavic 2 Pro features a wide range of intelligent features, including four ActiveTrack 2.0 options (Precise Recognize, Trajectory Prediction, and Obstacle Sensing).
Hyperlapse mode allows you to take amazing motion shots with four different options (Free Circle, CourseLock, and WayPoint) and automatically stabilize clips during post-processing.
HyperLight is a feature on the Mavic 2 Pro that enhances images and reduces noise.
Remote Controller
The OcuSync 2.0 transmission system is included with the Phantom 4 Pro V2.0 remote control.
The Phantom 4 Pro V2.0 can be used with either the standard or built-in version of remote controllers.
Built-in screen version features a 5.5-inch 1080p LCD with 1000 cd/m2 brightness. It also includes the DJI GO 4 app. The remote controller also has an HDMI port, MicroSD slot, and microphone. It also offers Wi-Fi connectivity.
The price of the remote controller with a built-in screen (also known as the Phantom 4 Pro+V2 package) goes up to PS1,589 from PS1,819.
Mavic 2 Pro pilots have many options.
First, the standard remote control which can also be integrated with your phone – provides up to 135 minutes of charge. The Mavic 2 Pro controller is lightweight and portable thanks to its foldable design and detachable sticks.
Mavic 2 Pro operators may also opt for the DJI Smart Controller. It features a 5.5-inch 1080p LCD that is bright and visible even in direct sunlight.
Third-party apps can be installed. An optimized DJI GO 4 application is included, as well as the SkyTalk feature to Livestream flights. The DJI GO 4 app has a new Go Share function that allows you to easily transfer aerial photos and videos from your DJI Smart Controller directly to your mobile device.
The Smart Controller increases the price. The price of a Mavic 2 Pro + Smart Controller bundle is PS1,779. The Smart Controller can be purchased on its own for PS579.
OcuSync 2.0 allows the Phantom 4 Pro V2.0 and Mavic 2 Pro to connect wirelessly with the DJI Goggles to create an immersive experience.
Read More: 
Best Drone Goggles 2021: Top Brands Reviewed
Best Drone Gimbal 2021: Top Brands Reviewed
Best Drones For Hiking 2021: Top Brands Reviewed
Phantom 4 Pro V2.0 Vs. Mavic 2 Pro: Safety Features
Safety is paramount, and the Phantom 4 Pro V2 and the Mavic 2 Pro have a variety of safety features that will give you confidence during flight.
The Phantom 4 Pro V2.0 offers reliable obstacle detection in five directions with its rear visual sensors, forward and downward sensors, as well as infrared and infrared sensors.
The Mavic 2 Pro features omnidirectional obstacle sensing (forward and downward, left, right, right, backward and upward) for greater safety.
APAS is a feature that allows the drone to fly forward and backward, avoiding obstacles behind and in front of subjects. APAS will automatically plan a flight path to avoid obstacles in flight.
Video: 
Conclusion
The Mavic 2 Pro offers an excellent and well-balanced combination of portability, flight performance, and power. If you want a drone with a mechanical shutter to capture fast-moving objects, 4K/60fps video, then the Phantom 4 Pro V2.0 is an ideal choice. Phantom 4 Pro V2.0 and Mavic 2 Pro is equipped with 1-inch CMOS sensors and amazing features that make both great choices for aerial photography applications.