Drones have the potential to revolutionize businesses and organizations in many industries. They can make a significant contribution to an organization's bottom line. Pilots looking to join these rewarding professions should have a solid understanding of the rules and regulations for operating aircraft safely.
This article will help you learn how to become a professional drone pilot. So let's get into it!
How to become a professional drone pilot?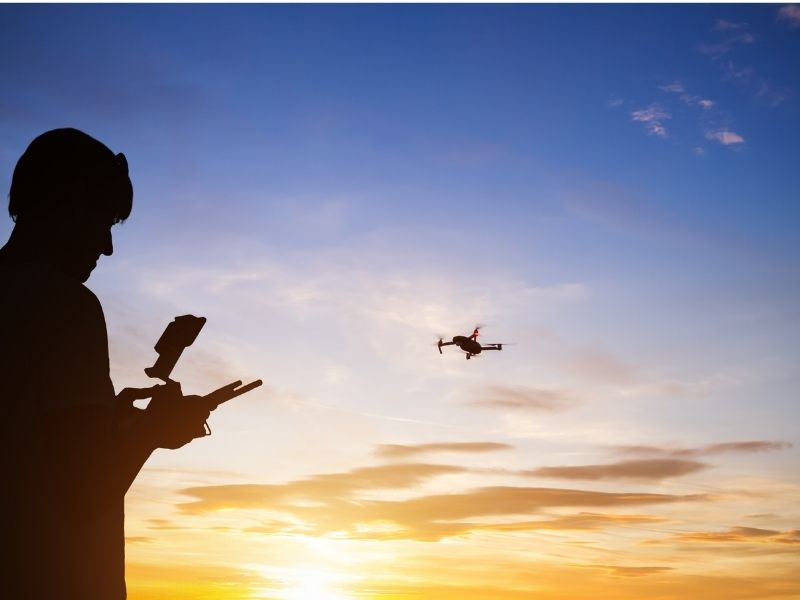 Learn how to fly with quadcopters
First, you must accept that you will crash at least once while learning to fly. However, you don't need to crash a $1000 or more machine when you can fly a toy drone for less than $50. This quadcopter is a great option to get the feeling of flying down before you invest in a professional-level drone.
Get your FAA part 107 license
You need your FAA Part 107 license to look for a professional job as a drone pilot. You and your employer are at risk of being fined or worse if you fly without a license. Part 107 permits you to fly small UAS less than 55 pounds for commercial purposes. You will need to pass the two-hour multiple-choice exam at an approved testing facility in order to get your license. It costs $150.
Strong knowledge of airspace safety information, such as basic flight operations and regulations, weather conditions, and classification, is essential. Drone Pilot Ground School is a great resource for drone pilots looking to take the FAA Aeronautical Knowledge Test to obtain a Part 107 Remote Pilot Certificate.
Train to be a safe, responsible pilot
One of the first things we ask of our pilots is to become familiar with the official light Operations Manual. It covers topics like safety, privacy, and general operations. If you are planning on flying alone or creating an in-house drone operation department, I recommend that you create your manual. It would help if you also dedicated a lot of time to training until flying and safety become second nature.
The license is just one part of becoming a professional pilot. You must now put in the effort to fly safely and responsibly. When it comes to practicing and getting professional instruction and training, there is no shortcut.
Learn how to be efficient in obtaining deliverables 
If you are interested in becoming a drone pilot, it is advisable to specialize in one industry. For example, you could be the pilot who provides aerial cinematography services to media like television and movies. You could also specialize in thermal camera roof scans for water leak detection.
It doesn't matter what field you specialize in; it is important to know how to get the data you need to meet your clients' needs. It takes practice and sometimes professional training to capture the data and imagery that is useful to your clients.
Get Good Insurance
Nobody likes to dwell on the bad stuff that happens, but it is important to have the right type of insurance to cover you for those times when they don't go according to plan. There are two main types of things that could go wrong:
Damage to your drone may require it to be repaired or replaced.
As Pilot in Command, your actions can cause property and individuals to be damaged that are not yours.
Hull insurance protects your business from the destruction and damage of your drone. Liability insurance covers damage to property and people in the area where your drone is operated. By providing professional training and having a detailed Flight Operations Manual, you can lower insurance costs.
Today's commercial drone jobs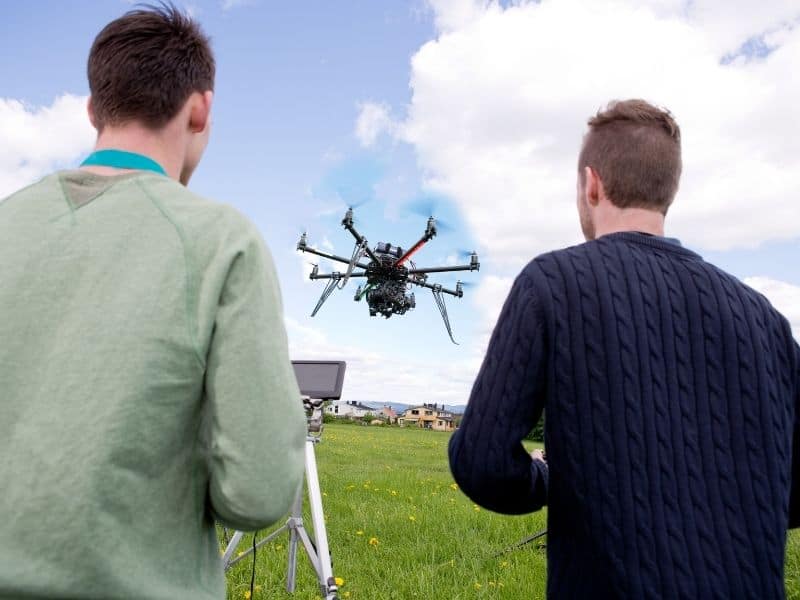 Drone adoption is increasing rapidly, and it's expected to continue to grow. So now is the right time to get into the field. Business Insider predicts that the drone services market will reach $63.6 billion in 2025. Without drone pilots, none of this is possible.
The drone pilots are responsible for everything, from taking thermal, visual, and LiDAR data to taking stunning photographs and films. Workers are also safer when they can explore potentially dangerous work sites, such as underground mines, from their drones.
Many industries depend on drones for their work. These sectors are relevant:
Site mapping and surveying: Drones and other UAVs revolutionized the industry of surveying by making it possible to cover large areas and create detailed photogrammetric models quickly.
Construction: Companies are using drones to collect data and create 3D models of their projects.
Real estate: Drones make virtual homes and apartment tours possible. They can take everything from room-by-room videos to interactive 3D models.
UAVs are used to inspect buildings without having to enter them.
Mining: Quarries and mines simplify tedious tasks such as stockpile volume measurement and surveying, allowing workers more time to concentrate on extracting.
Insurance: UAVs are being used by some of the most reputable insurance companies to collect information pre-loss and post-loss. Deloitte cites common examples such as natural disaster monitoring and aerial site assessments, which can help identify property risks. They also inspect claim sites for fraud.
Drones can be used for archeology, similar to construction, mining, or surveying. They can also be used to see the entire site from above and identify artifacts that are not visible from ground level.
Entertainment: Did you realize that one in five commercial drone licenses issued in the United States is for entertainment purposes? According to AOPA, the most common use for drones in this industry is to film sporting events.
Public safety: Fire and police departments use drones to map out areas before they send personnel in. Thermal sensors can be fitted to UAVs to track the strength of fire. Drones can also be used to aid in rescue and search operations.
Read also: Top Cool Things You Can Do With a Drone(2022)
Conclusion
That is our guide to becoming a professional drone pilot. Leave a comment to let us know that you found this guide helpful. We appreciate you choosing Staaker.com to be your source of information. We are grateful for your support. Finally – sign up for the necessary training to help you become a qualified drone pilot.
Video: