Are you curious about how far can drones fly? What happens if the drone is out of range? You can read the article below to find out more. Let's get started!
Drones can fly between 1 and 18 kilometers from their controller. The Mavic Air 2 and other high-end drones can fly up to 18km. Legally, drones must always be within the operator's visual line of sight. This could reduce the flying distance by up to 500m.
Factors that Influence How Far a Drone Can Fly
What is it based on? This is dependent on many factors, including the drone's size. A larger drone will drain its battery faster than a smaller one. Because the drone must fight gravity using its propellers to stay in flight. The drone will drain its battery faster if it is heavier.
When determining the distance, a drone can fly from a controller; battery life is another factor. Battery life of approximately 10 minutes is the norm. It is important to remember that although it takes approximately 5 minutes to fly away, it will take 5 minutes to fly it back.
This is important if you don't want it to go missing! You could test it and see the drone's range. But is it worth risking not being able to find it again? It isn't fun to find lost drones, but it is possible.
Toy drones might only fly 20 meters. Long-range drones can travel many miles. There is a correlation between the distance drones can fly and their cost.
For example, the Holy Stone HS300 RC range can be reached at 150m, while the DJI Mavic mini can fly up 2.5 miles. Autel EVO, on the other side, has a remarkable operating range of 7 kilometers (4.3 miles).
You can see that some are more capable than others. If you are looking for one with a greater flight range, make sure to read the specifications.
How far can a drone fly?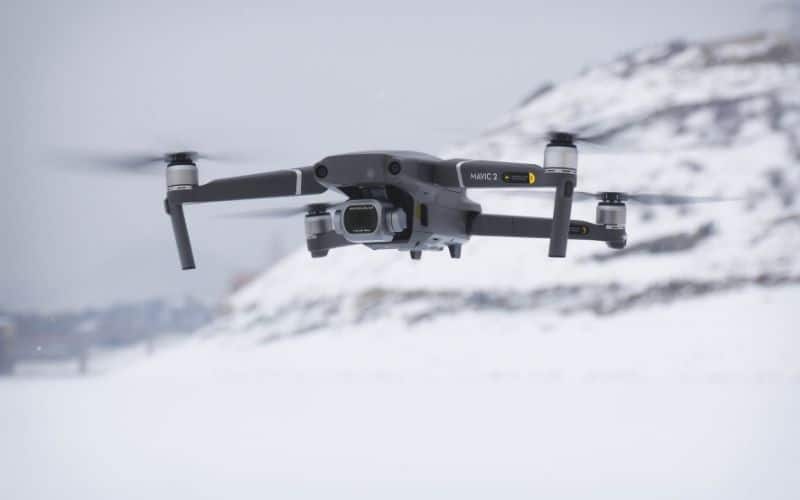 When buying a drone, one of the most important features that drone owners look for is its ability to fly far from the operator. It's something that drones can be flown for long distances. But not many people are brave enough to fly these long distances.
The majority of drones from the mid-to-high-end range can fly for at least 5km. As technology improves, some drones can fly up to 10 kilometers. DJI's Mavic Air 2 can fly up to 18km from its controller and has a 10-kilometer video transmission range.
There are two types of distances to be aware of when researching drone flight distances:
Video Transmission Distance
Drone Flight Distance
The distance that a drone's live video transmission will reach from your mobile device to the drone is called a drone's video transmission distance. The Mavic Air 2 transmits a live video feed of up to 10 km.
A drone's flight distance is the total distance it will fly without any video transmission.
Remember that a drone cannot fly more than 18 kilometers but can transmit video for 10 km. If this happens, your live video feed will stop working at 9 km. However, the drone could continue flying.
Here is a table that shows which drones can fly furthest. (all figures are approximate)
| Drone | Transmission System | Video Transmission Distance | Flight Distance | Flight Time |
| --- | --- | --- | --- | --- |
| Mavic Air 2 | OcuSync 2.0 | 10 Km (6.2 Miles) | 18 Km (11 Miles) | 34 Mins |
| Mavic Mini 2 | OcuSync 2.0 | 10 Km (6.2 Miles) | 10 Km (6.2 Miles) | 31 Mins |
| Mavic 2 | OcuSync 2.0 | 8 Km (4.9 Miles) | 18 Km (11 Miles) | 31 Mins |
| Mavic Pro | OcuSync | 7 Km (4.3 Miles) | 13 Km (8 Miles) | 27 Mins |
| Mavic Air | Enhanced Wifi | 4 Km (2.8 Miles) | 10 Km (6.2 Miles) | 21 Mins |
| Phantom 4 v2.0 | OcuSync 2.0 | 8 Km (4.9 Miles) | 8 Km (4.9 Miles) | 30 Mins |
| Inspire 2 | Lightbridge 2 | 7 Km (4.3 Miles) | 7 Km (4.3 Miles) | 27 Mins |
| Phantom 4 Pro | Lightbridge | 5 Km (3.1 Miles) | 5 Km (3.1 Miles) | 30 Mins |
| Phantom 3 Pro | Lightbridge | 5 Km (3.1 Miles) | 5 Km (3.1 Miles) | 23 Mins |
| Mavic Mini | Enhanced Wifi | 4 Km (2.8 Miles) | 4 Km (2.8 Miles) | 30 Mins |
Read Next: Best Long Range Drones
Long Range Drones: Uses
Drones with a long-range that can fly 3-4 miles between the operator and the controller have many practical applications in many industries. Commercial demand for drones capable of flying farther than the pilot can see can lead to licensed drone pilots applying for a waiver from FAA to fly BVLOS (beyond the visual line of sight)
Agriculture
A drone that can fly the entire field from the controller to farmers who are scouting fields is essential. It is easy to set up pre-planned flight paths so that the drone can cover all of the space without the operator having to be present. The drone can also cover the entire field with its long battery life. It will return to the start point after the course is complete.
Mapping
Similar to mapping, drones must cover large areas. They can only do this when they can travel beyond what the operator can see. Drones with long-range can capture large areas of data to make detailed and even 3D maps.
Safety & Security
A drone capable of covering the entire perimeter of large construction sites, prisons, or commercial warehouses is required. Public safety agencies that track suspects or perform search and rescue missions require a drone capable of flying far beyond their starting point.
Shipping Packages
Drones must be able to travel several miles to make drone delivery feasible. It doesn't matter if it is being delivered from a warehouse or a truck. The drone must be able to move a few miles to reach the destination. The drone can be flown automatically, so no operator is required to watch it.
Recreational Benefits of a Long-Range Drone
Even if you don't plan to map vast land areas with a drone soon, a drone that has a longer range is useful for professionals. A drone with a stronger signal transmission will likely maintain a stronger signal at closer ranges.
The stronger signal and stronger transmission can compensate for any other factors that could interfere with the controller connection or video transfer signal. While you may not use a drone to fly long-distance missions, this could help with video stutter and latency problems at closer range.
Read also:
How to Make Money with a Drone?
How To Connect Drone To Controller?
What happens if the drone goes out of range?
It is important to note that consumer drones have two ranges. The controller range and the video feed signal range. The controller operates in the 2.4GHz range and can carry more than the live video feed signal (which operates in the 5.8GHz frequency range). This means you may lose your video feed before your drone loses connection to the controller.
It will become quite obvious that your video feed is lost. The image will stutter and then stop working altogether. Your drone should still respond to your commands.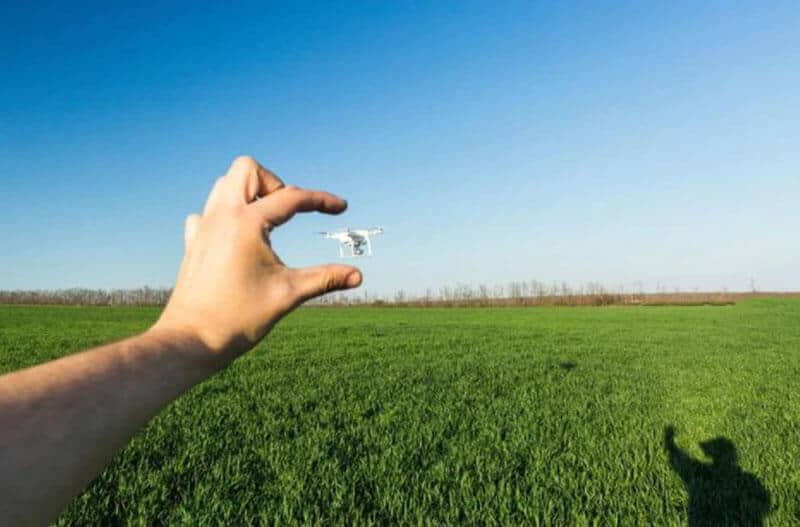 It won't be possible to see what's around your drone through the screen, so make sure that you don't go beyond the visual line. To pick up the video feed, you can either hit the return button or manually bring the drone closer to your face.
There are two possible outcomes if your drone crosses the outer limit of its controller range.
The drone will automatically return home. This is the best-case scenario, and it's what most GPS drones have.
The drone will hover in mid-air and stop. This will allow you to get closer to the drone and pick up the signal once again.
The drone will take off wherever it's needed. This is acceptable if you fly over water or in difficult terrain.
Flyaway drone situations are when the drone keeps flying away. This is the least likely scenario, except if you disable failsafe settings.
The drone could crash into something. If the return to home function has been activated and obstacles are in the way, this could occur. It could also happen due to a flyaway.
It's better to be proactive than trying to find out what happens when you go beyond your drone's operating range.
How to Increase Your Drone's Range?
You can do several things to increase the range of your drone, make it fly further away, or avoid interference from other locations.
To get the best operating range, ensure that your drone's firmware settings conform to the FCC limits and not the CE limits (Europe).
An antenna extender or a stronger antenna can be added to your controller. You can also add a stronger receiver to your drone.
Invest in a range extender. This will not break the bank but can give you a significant increase in your operating range.
Conclusion
Now you are aware of the range that drones can fly. When flying drones, it is important to consider their safety. It's not ideal for losing or crashing a drone. Be aware of your surroundings and monitor the battery. We hope you find this article helpful. Please share it with others who may need it.
Thank you for visiting staaker.com. For the latest reviews and information on drones, make sure to visit our website often!
Video: