DJI has long been one of the most popular drone makers globally; they own many high-quality products, which users appreciate.
GoPro brand is well known for many products with action cameras that allow you to take photos and videos off the beaten track.
The introduction of Gopro Karma Vs Mavic Pro has created a wave of comparisons between these two drones. Both have outstanding features and are marketed at a reasonable price point. So which brand's product will you choose?
In this article, Staaker will compare every aspect of each drone and help you know which you should choose.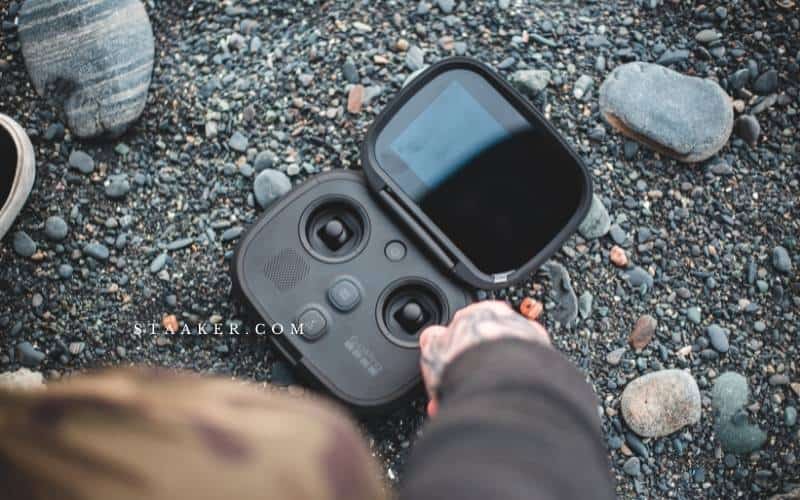 GoPro Karma
Pros:
Portable, fold-up design
Total stabilization package
Tight controls
Cons:
Lacks collision detection
Not-so-autonomous auto flight modes
Short battery life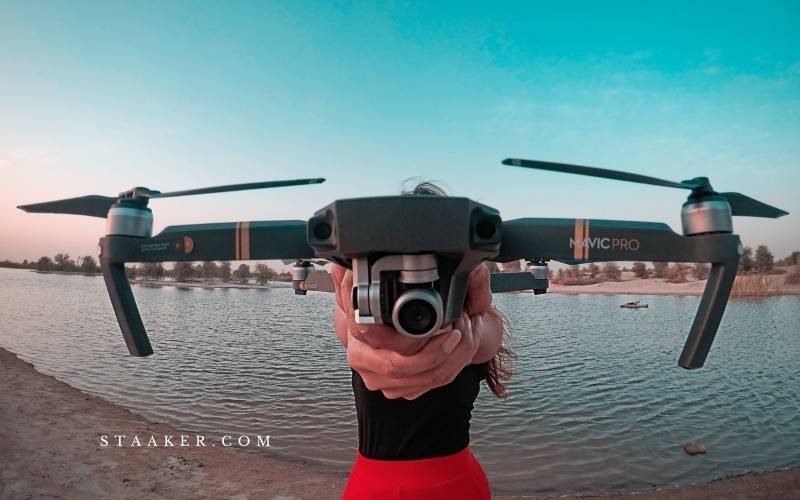 DJI Mavic Pro
Pros:
Follow mode
Gesture controls
App-only accessibility
Cons:
Unremovable camera and gimbal
Read More: 
GoPro Karma vs DJI Mavic Pro Compared Head to Head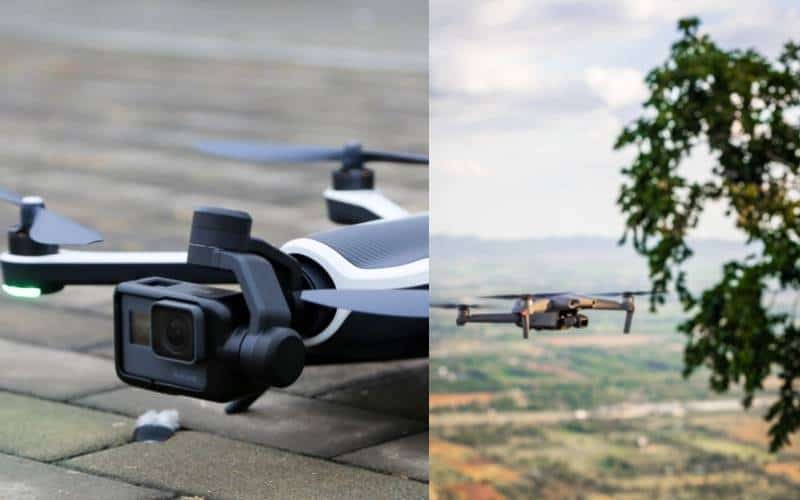 Specifications & Features
GoPro claims that the Karma drone should be "an end-to-end live capture solution". This sounds quite superb, but it means that you get a versatile device with various features.
What are these features? The Stabiliser, which will produce stunning footage, has a 90-degree range of motion and can move on three axes. DJI also offers a 3-axis stabilization system with its drone offerings.
The Karma can fly at 35 mph with a maximum range of up to 1 km. The Karma can also fly at 4,500m. Karma has the advantage in this regard, but the Mavic Pro can fly at 40 mph and travel 7 km before losing transmission. This is 6km more than the GoPro.
The Mavic can also climb to a height of 5,000m. This beats the Karma by 500m. DJI claims this is at 5,000m above sea level. GoPro, however, states that it can fly to a maximum altitude of 4,500m.
The Karma can stay in flight for 20 minutes. This isn't a huge amount of time. The Mavic wins again, but only slightly. It can fly for 21 minutes. According to DJI, it can last for up to 27 minutes. You can also bring extra batteries for each drone, which is a good idea considering the short flying time.
The Karma also features safety features like built-in no-fly zones and a return to the home button. DJI included obstacle detection on the Mavic Pro, but it is not a feature that Karma does not have.
The Mavic's obstacle avoidance sensors make it less likely that your drone will crash into something. When traveling at less than 36 km/h (22mph), the machine has a front-facing collision avoidance system that can spot obstacles up to 5m (49ft).
DJI's drone can follow you around and hover above you as you move, capturing your exploits. GoPro's product, however, does not have such a feature.
Design
The DJI Mavic Pro Vs GoPro Karma looks very different.
The Mavic Pro is an ultra-compact drone in silver. The drone is small enough for indoor and outdoor flying and has four propellers. You can fold it up tightly so that you can transport it around in your bag.
The overall weight of the Mavic Pro is 1.62 pounds. It measures over 13 inches in diameter.
The Karma from GoPro is similar in size, with four propellers arranged around the white and black design. The Karma is small and can be flown indoors or outdoors. It also has an area where you can safely store a GoPro camera.
Karma measures 12 inches in length. It is 2.2 pounds in weight.
It isn't easy to choose a winner. GoPro Karma and Mavic Pro drones are small, lightweight, and feature attractive designs. The Karma weighs in at 2.2 pounds, so that we will go with the Mavic Pro.
Read More: 
Best Drones With Camera 2022: Top Brands Reviewed
Best 4k Drone With Camera 2022: Top Brands Reviewed
Cameras and Karma Grips
The camera is what's going to capture all those stunning aerial shots. What are these drones doing in this area?
Let's start with the Mavic Pro. The DJI Mavic Pro comes with a built-in camera that can capture footage at 4K resolution at 30fps and 1080p resolution at 96fps. You can also capture 12-megapixel stills. The sensor is 1/2.3 inches in size and has a minimum focus distance of 0.5m. These specs are comparable to DJI's Phantom 4 drone.
What's the deal about Karma? GoPro chose to make the drone compatible with its Hero 5 Black action cam. The Karma's Stabiliser, which holds and controls the camera, can also be used with the Hero 5 Session and the Hero 4 Black and Silver.
You can expect similar specs to the Mavic Pro if you are using the Hero 5 Black. You can expect 4K footage at 30fps and 1080p footage to run at 120fps.
This is a faster frame rate than the Mavic Pro's 96, as well as 12-megapixel stills. You can also use the built-in touchscreen, voice command, and GPS. However, the GPS is the only one you will likely use when the camera is attached to the drone.
This makes the camera easily detachable. The Karma Grip attachment mechanism is the most important.
The drone comes with a grip that is professional-grade and has a stabilizer to ensure fluid footage. The best part about the grip is that it can be taken out of the drone to be used as a grip for freehand shooting, and has an added stabilization feature. The drone's built-in controls can operate the attached camera.
Although the Mavic camera cannot do any of these things, GoPro has an edge in camera functionality and customization. DJI's drone is more appealing if you are a fan of taking selfies with gestures.
Fly mode
The DJI has many features, including GLONASS positioning modes and collision detection. This drone has GPS and follows modes, making it ideal for taking action shots and other creative purposes.
This drone is easy to use and has a very intuitive control system. Unfortunately, Karma doesn't have as many smart flight features. It can also take longer to learn how to fly the drone safely. DJI again wins for their DJI Mavic Pro model's flight performance.
Transmitter/controller
There is an option for a controller on the Mavic and the ability to use a tablet or smartphone. The device can be paired with any phone or computer easily.
The GoPro Karma includes its controller, which works well and is much more affordable than the Mavic's optional controller.
The DJI Mavic Pro's smart flight controls make it easier to use a precision controller. This category is somewhat of a deadlock between them with similar performance and controller feedback.
Ease of Use
You should be cautious with the Mavic Pro and Karma if you are an amateur drone pilot. These drones are highly sophisticated and will provide outstanding performance if you're able to use them properly.
You can control the Mavic Pro from an Android-based or iPhone device. To control your drone, you will need to install an app on your Android or iPhone. To view the contents of your smartphone's screen, such as access controls and what your camera is seeing, you will need to fly.
GoPro's Karma includes a controller that allows for complete control of the drone without any additional software or use of your smartphone.
The 5-inch screen has a resolution of 720p, but it might not be as good as a higher-end smartphone. The battery will last for four hours, but it can survive multiple trips without running out.
Battery Life
DJI claims that the Mavic Pro can fly for up to 27 minutes on one charge.
GoPro Karma can, however, provide up to 20 minutes of flight time.
Video:
Camera Quality
Video
The Mavic Pro can record video up to 4K resolution at 30 frames per minute. DJI claims that the Mavic Pro will have a 60Mbps bitrate and an ISO range between 100 and 3200.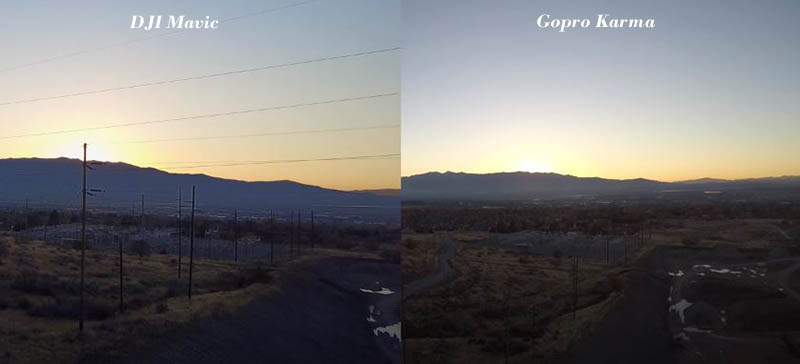 Field-of-vision for the Mavic Pro is 78.8 degrees.
Karma by GoPro is a completely different story. The Karma, unlike the DJI Mavic Pro, which has a built-in camera, is compatible with any of the three GoPro cameras: Hero4 Black & Silver (or Hero5 Black & Silver) and Hero6 Black (or both).
The Hero6 Black is the most powerful of all the drones and can record 4K videos. It will cost you $400 and add high costs to your drone's overall price.
Given all that and the extra step required to get your drone up in the air, I would opt for the Mavic Pro.
Photo
Mavic Pro's 12-megapixel sensor has ISO ranges of 100 to 1600. Your photos can be saved in JPEG or DNG. You can also take photos in burst, single-shot, interval, auto exposure bracketing, and EV bias.
The GoPro Karma does not come with a camera. You will need to use the GoPro camera technology in the GoPro mentioned above cameras.
Although it's not ideal for all situations, the Hero6 Black from GoPro would be a great choice with its 12-megapixel sensor and RAW support.
Read More:
DJI Osmo Pocket Vs Gopro Hero 7 2022
Price
DJI Mavic Pro drones start at $749 (controlled via your smartphone) and $999 for the drone with a remote controller. For $1,299., you can also purchase a complete set that includes spare parts, extra batteries, and a small leather bag.
The GoPro Karma drone and controller costs $799 but require an additional camera. The GoPro HERO5 Black is $400. However, you can bundle it with The Karma to save $100. This price includes a handheld stabilizer grip, which is quite cool.
The Karma includes a complete set of useful and cool gadgets. You can expect to be able to buy third-party cases and gadgets for your DJI in the next few weeks.
Conclusion
Through our GoPro Karma vs DJI Mavic Pro article, we think that you had had your decision. Both of them offer nice features in their own right.
You will be experienced a drone with everything you need out of the box, high-end automation features, and outstanding performance that put Mavic Pro over the top.
The Karma, which can come in a bundle with the Hero6 Black camera, gives you a bit more control over your camera choice. Let's wait for our GoPro Karma with Hero 7 article to be coming soon.