Eachine E58 is one of the best drones under $100. As you can see, it looks pretty much like the DJI Mavic. It comes with a 2MP 720p camera that is FPV capable and has a 7-9 minutes flight time. Other features include one-button takeoff and landing, 3D flip, and altitude hold. A good drone for beginners and frequent flyers.
If you are looking to invest in a low-budget drone, this is exactly what you are looking for. Staaker will show you more information about this drone in this Eachine E58 Drone Review.
Eachine E58 Drone Review 2022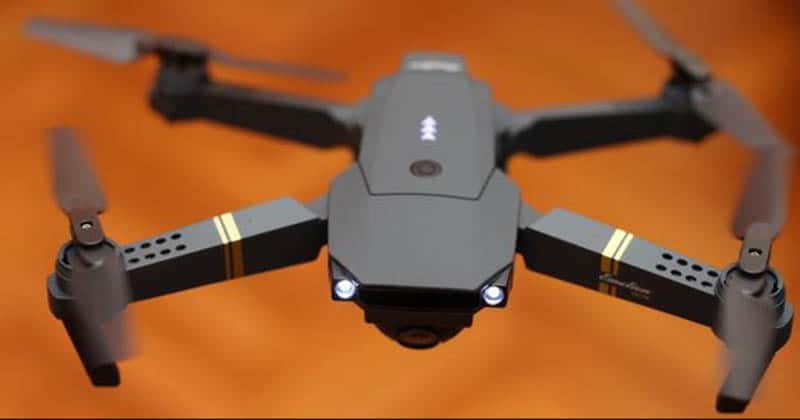 Key Features
Take-off weight: about 120g.
Size with arms extended but without guards: 27 x 19.5 x 5 cm.
Size fully folded: 12.5 x 7.5 x 5 cm.
Remote control distance: 80–100 m.
First-person video (Wi-Fi) range: about 30 m.
Radio control: 4 channels.
Gyro: 6 Axis.
Motor: 0720 Coreless Motor.
What's in the Package?
1 x Eachine E58 RC Quadcopter drone
1 x Transmitter
1 x 3.7V 500mAh Lipo Battery
1 x Micro USB Charging Cable
4 x Prop Guards
4 x Spare Blades (2 sets of 2)
1 x Small Screwdriver
1 x User Manual
Pros:
720p Camera
GPS Connection
Good for beginners and experienced users
Good features and modes
Foldable drone
WiFi connection and FPV support
Cons:
Camera quality could be better
Difficult to fly in the wind
Can't adjust angle midflight
Camera
The popularity of drones stems from the fact that almost all come with cameras, and the Eachine E58 is no exception.
It's the best feature of the drone's camera. Although it costs less than $100, the quality is still high enough to capture images and videos that impress friends and family.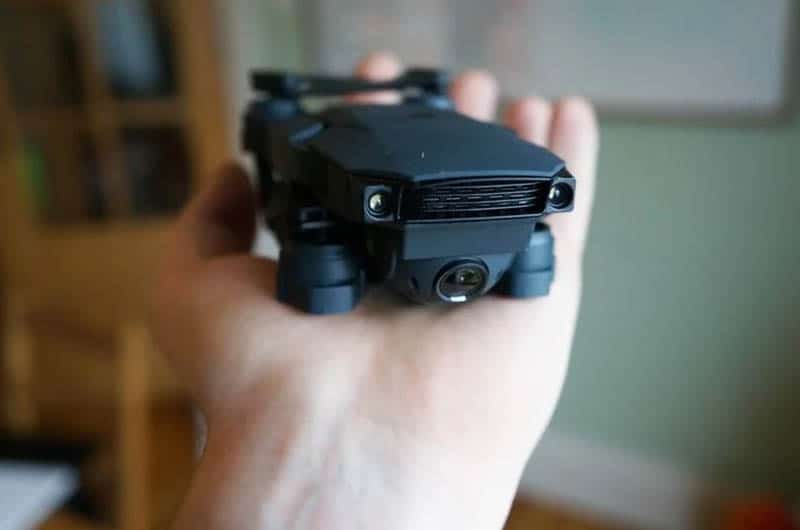 The Camera is 720p and has a 120deg FOV. You can adjust the angle of the Camera between 0-90deg to achieve the desired aerial view.
The Eachine E58 is not like other advanced drones that can adjust the angle using a remote controller. You will need to adjust the angle before you can fly manually.
It also has a 2MP sensor, which will enable you to capture decent images. Although it doesn't have a 3 axis stabilization gimbal for image and video recording, it does have a 6 axis tilt gyroscope that should reduce distortion.
The Camera has FPV capabilities, which allow you to stream live video footage directly to your smartphone. This is my favorite feature of this drone.
A drone with FPV can be so much fun! You can see the world from the sky, take photos at special events and weddings, or show it off to your friends.
Remote Controller
It is modern and well designed. The DJI Mavic controller looks almost identical to it. It is lightweight and very comfortable in the hands. There are two antennas, but these aren't necessary.
You will need to buy 3 AA batteries separately for the controller. Many buttons allow you to control specific features of your drone.
The bottom has a smartphone attachment. This will allow you to access the drone's FPV features. It is small so that you can't attach a large phone.
Although the transmitter has a range of approximately 80 meters, FPV features require that the drone be kept within 30 meters of the target.
Performance and Flight Time
Although the drone's flight time is only 9 minutes, it's comparable to similar drones within its price range. The length of the flight time with one battery charged is something I would like drone companies to improve. Nine minutes is too long to fly a drone.
It comes with a 500 mAh lipo battery that takes less than an hour to charge fully. For drones with short flight times, I recommend that you purchase additional batteries.
The Eachine E58 drone has the option of purchasing a package with three additional batteries. I highly recommend it.
The drone's small size and weight mean it is not able to withstand windy conditions. It also has a range of only 80-100 meters when the FPV feature is disabled.
Its 6-axis gyroscope, altitude hold feature, and altitude sensing feature allow it to fly well in good weather conditions. These features also allow for clearer videos and photos with less distortion.
Two LED lights are located at the front and back of the drone, making it ideal for flying at night.
Features
This drone's most striking feature is its affordable price. It's unlikely that you will find a more impressively designed drone camera than this one, but it is worth keeping your expectations in mind.
It's safe to say that the DJI Mavic Air heavily inspired the E58. This drone is one of the most popular consumer drones available in 2018.
The comparison between the E58 & Mavic should not stop there. The E58 comes with all the usual trappings of a budget drone, for better or worse.
The E58 is extremely light at less than 100g. It also comes with a good controller, which includes one-touch buttons to take-offs or landings.
However, it also has a very poorly designed smartphone holder, which I lost trust in after pulling my phone out during my first test. To help you keep your drone steady while flying, the drone has an onboard gyroscope. It also includes cool features like altitude hold and in-air flipping tricks to make it fun for beginners.
Read More: 
Mavic Air Vs Mavic Pro Platinum
Batteries
The EACHINE E58 is equipped with a 500mAh rechargeable battery that you can charge using the USB Battery Charger. It can record at 720p for approximately 9 minutes.
The battery can be found at the bottom of the E58. There is a cover that allows you to access the battery. You can replace the battery on the E58 whenever it runs out. If the first one is out, you can immediately charge the second one.
Modes
There are many modes available on the Eachine e58 wifi Fpv quadcopter. You can use these modes to save your drone from being lost or to charge it when the battery is low. The EACHINE app allows you to enjoy the flight by selecting the Follow Me or Tap Fly modes.
The app allows you to create a circle around any object and to plan the route. This will allow you to concentrate on taking photos and video outdoors. It also offers an advanced return home option.
E58's Return Home option is a smart feature that allows your drone to land safely. The E58 supports three smart return-to-home modes.
Failsafe, Low Battery, and One Key. There is no need to be concerned about your drone getting lost. Tap-fly mode allows you to fly the drone along the route that you have drawn on the app. This will allow you to concentrate on taking photos and videos.
The E58 can be set to fly at a distance that you choose to plan your safe flight route. The drone can identify geographic locations using GPS systems. It can fly, autoland, or return to areas with electronic fencing.
Circle Fly mode, also known as Point of Interest, allows the drone to orbit an object at a preset distance while still automatically orbiting it.
The EACHINE E58 also has multiple flight modes. The headless mode allows you to fly in any direction, regardless of which direction it is facing. The forward stick is for forward, and the back stick is for backward.
You can also switch between high and low flying speeds with the E58, making it easier for beginners to fly.
Tips on how to use the Eachine E58
Make sure that the prop guards, SD card, and battery are securely attached.
Tape some cardboard or foam pieces to the phone to stop the on/off button from slipping against the mount.
Pay attention to the WiFi signal strength. When it drops to 1 bar, you can bring the drone closer.
FAQs
How Do You Control the Eachine E58?
Two joysticks are used to control the flight controller, along with several buttons. It is comfortable to hold and provides all the controls you need.
The left-hand stick controls elevation, forward or backward speed, and basic forward and reverse movement. The sticks can also be used to turn the quadcopter left or right and fly it sideways.
You can set the speed lever at any of three speeds, from slow to fast. It can be set at a low speed to make it easy to use, and then you can increase speed to 60 percent or 100 percent to follow or reach fast-moving objects or counter stronger winds.
A button on the side allows you to take photos and video.
Three AA batteries are required for the controller. You will need to purchase them separately.
The controller has a range of approximately 80 meters. You can use the app to control your drone. However, the WiFi range is limited to 30 meters or less.
Video:
So How Long Will It Fly For?
The million-pound question. It all depends on how you fly it, but 7-9 minutes seems reasonable. You will lose a few minutes of flying time if the app is connected to WiFi.
How Does the Camera Work?
The camera angle can be manually adjusted from the bottom up to the top.
The 2MP 720p camera resolution is acceptable but not exceptional. A 1024p version would have been better.
Images and videos are saved to the Micro SD card on board, eliminating transmission delays that could affect the recording quality.
What About the Lights?
The drone's orientation is indicated by the two front LED lights, one of which is white and the other red. When the battery is low, the lights will flash.
How Does the Drone Connect to My Phone?
The drone connects to the phone via WiFi direct, completely independent of the internet and any Wi-Fi router. The 2.4 GHz protocol minimizes interference.
Read More: How to Connect Drone to Phone? A Complete Guide 2022
Conclusion
You have just seen all info about the E58 drone; it is a great option for most people looking for a great budget-quality drone at a great price. It comes with basic features and good flight, battery, and video support. It is perfect for beginners to practice fly with a drone. We hope that our article can help you learn more about this drone and don't forget to see our new article E58 Pro Edition 1080p drone review to be coming soon.
Video: