Both the DJI Osmo Pocket Vs Gopro Hero 7 offer stabilization; the image and video quality and colors they deliver are truly admirable; it's truly amazing. The GoPro Hero7 Black does it all digitally, and the Osmo Pocket offers 3-axis mechanical stabilization. If you are wondering about either of these devices, then this is exactly where you need to go. In this guide, Staaker will go into detail and test some functions. Let's explore which are we bring for you?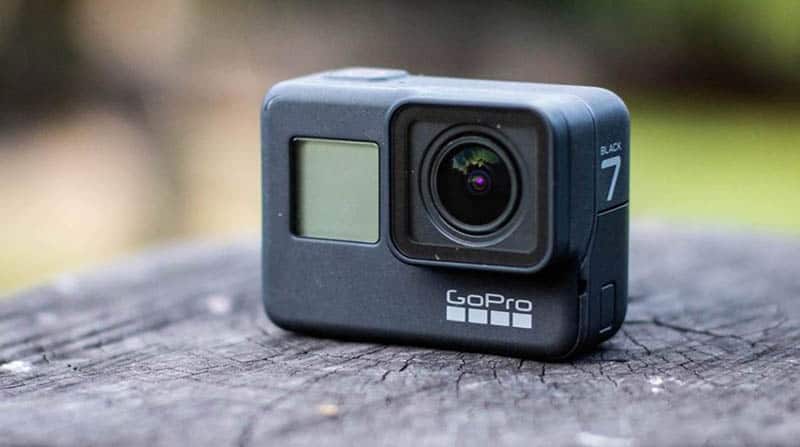 GoPro Hero 7 Black
62mm W x 44.9mm H x 33mm D
Shoots 4K video at 60fps and 12-megapixel stills (with SuperPhoto)
Electronic stabilisation
Modes include Voice Control, Time-Lapse and Slo-Mo
Sensor: 1-CHIP CMOS
Image size: 12MP
ISO Range: Photo – 100-3200 (Auto). Video – 100-6400 (Auto).
Video resolution: 4k 60 (wide)
Max video bitrate: 78Mbps
Pros:
Wide accessory support
Supports live streaming to Facebook and YouTube
Variety of slow-mo frame rate options
Cons:
Less dynamic range
A wider lens can lead to distortion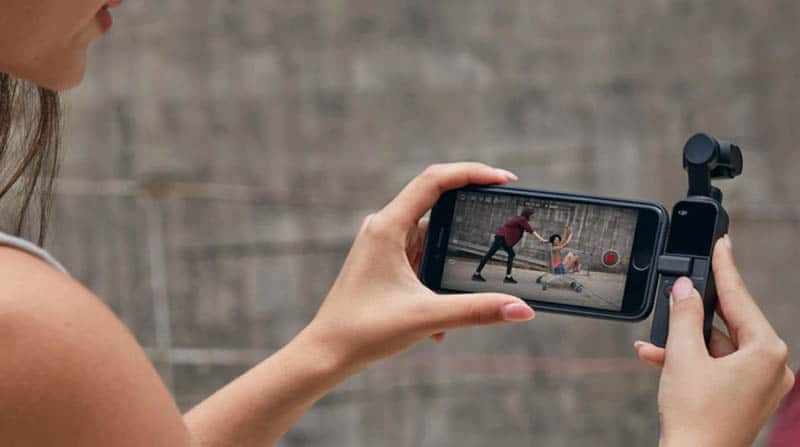 28.6mm W x 36.9mm D x 121.9mm H
Shoots 4K video at 60fps and 12-megapixel stills
Mechanical gimbal stabilization
Modes include ActiveTrack, 3×3 panorama, NightShot, and Motionlapse
Sensor: 1/2.3 CMOS
Image size: 12MP
ISO Range: Photo – 100-3200. Video – 100-3200.
Video resolution: 4K 60FPS
Max video bitrate: 100Mbps.
Pros:
Handle for comfortable filming
Hardware stabilization beats out GoPro's EIS, especially in low light
Rechargeable, even while filming
Cons:
Not as durable as the HERO7
Smaller accessory ecosystem
Read More: 
Best GoPro Drones 2021: Top Brands Reviewed
GoPro vs Contour 2021: Which One Is Better?
Osmo Pocket VS GoPro Hero7 Black Side By Side Compare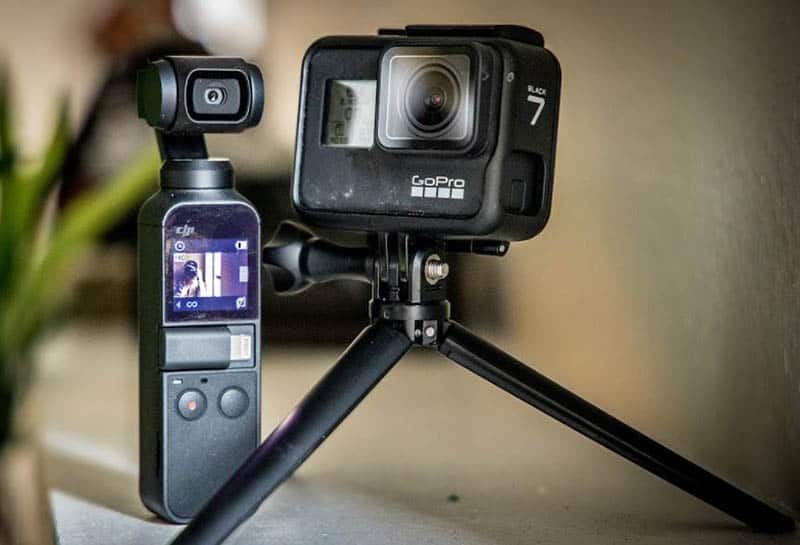 Design: Rectangles vs Squares
It's very familiar, starting with the GoPro. The Hero 7 is a familiar design. You'll notice the biggest difference is that it is all black and not grey like older models.
The only buttons are located on the top, one for recording video/pictures, and the power button at the side. You can also change any other settings via the touch screen and the mobile app.
This camera is durable, although it's not bulletproof. However, it can withstand a few drops, thanks to the rubber sides and front. The large touch screen of the Hero 7 would break if it were dropped out of a car's window.
However, if the Hero 7 is kept in its protective housing, it will protect the screen most of the time. The Hero 7 can also be waterproof for up to 30 feet without additional housing.
The Osmo may seem fragile with its super-breakable gimbal, but it is very well built. The main body is made of some plastic. The screen is made from glass, just like the Hero 7.
However, it's much smaller. Although it is tiny, the gimbal is made of all metal. There are no fragile ribbon cables that could snap! While I don't think the Osmo Pocket will withstand more than a few drops, it is built to last for a product that has a 3-axis motion gimbal.
Although the Osmo Pocket's durability isn't as good as the Hero 7, it does have an accessory port. The accessory port on the Osmo Pocket is for connecting your phone with it via one of the adapters.
However, this port can be used for many other purposes. DJI will release various accessories for smartphones that can connect to this port, including buttons and controls for selfie sticks.
You won't be able to take your Osmo Pocket underwater from day one. DJI will make a waterproof housing for the Osmo Pocket, but it is not waterproof. This housing will allow you down to 196 feet, which is the same depth that the Hero 7 waterproof housing.
Read More: 
Best 4k Drone With Camera 2021: Top Brands Reviewed
Best Micro Drone With Camera Of 2021: Top Brands Reviewed
Resolution and Framerate
The main factor in deciding between the cameras is what purpose you intend to use them for. We could also look at framerates and resolutions, but that's not the case.
GoPro might have the edge at 1080p at 220fps, but 120fps is fine. Both cameras can produce 4K at 60fps.
Both cameras have good video quality. However, the Osmo Pocket has a fine mode that allows you to capture 1080p footage at 100MB/s. This is a high-quality video, but the Osmo warns that the tiny device will heat up if this mode has been selected.
Both are excellent in video quality and have their advantages. It's an advantage when it comes down to quality.
Read More:
Best Drone Goggles 2021: Top Brands Reviewed
Best Autonomous Drone 2021: Top Brands Reviewed
User Interface
I have never seen a better user interface on a camera than the Hero 7. It's simple to use. There aren't many menus to navigate to change something like framerate. And you can do all of it from the back screen.
The only thing I dislike is the lack of full manual controls. You can adjust white balance and color profiles using the Protune option. However, you cannot manually control shutter speed or ISO.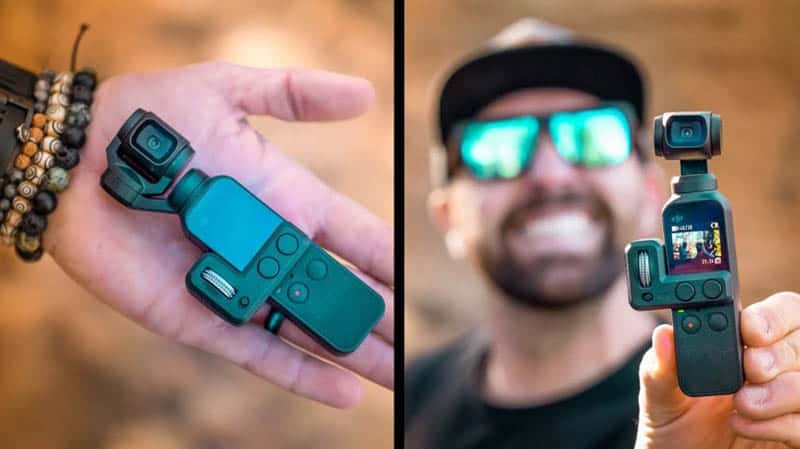 It should be easy to connect the Hero 7 and your smartphone using the built-in WiFi. However, I was unable to get my iPhone to connect for some reason. Other GoPro cameras have been connected to my iPhone without any problems.
You can use the touch screen on your back to control many of the settings on Osmo Pocket, just like the Hero 7. If you don't connect your phone, you can still change the video resolution and framerate, adjust the gimbal settings, and view photos and videos you've taken. However, you won't be able to access any of these pro features.
Although the Osmo Pocket does not come with WiFi, you can still connect to your phone using the included adapters. I prefer this over the slower wireless connection.
You can still control your Osmo Pocket wirelessly using a WiFi module. This plugs into the USB C port at the bottom. Once your phone is connected, you can access all the pro features of the GoPro and more.
You can adjust the ISO and shutter speed. The manual settings of the Osmo Pocket will remain on even if you disconnect the phone from it.
Audio
The app also allows for a lot of adjustment to turn off the noise reduction in windy conditions to increase audio quality.
It's also very effective in picking up ambient and direct vocals.
The audio quality is slightly less with the GoPro. GoPro has made great strides in audio quality. The microphones automatically switch to ensure the camera picks up audio in the correct way for each situation.
Both were very close to each other, and there was very little difference. I would consider this a draw.
Wait, there's more! The GoPro Hero7 Black also has a cheat it can use in this fight. Once plugged into the GoPro, the USB-C Mic adapter can connect external mics like the Rode Video Micro.
Although the Osmo Pocket has a USB-C port, I discovered that the Pocket wouldn't take an external mic.
Social integration
Who are you if you don't use social media? These two products have a lot of social media features.
Both cameras allow you to save and upload images and videos to your preferred network. However, this feature is a little outdated.
Live streaming is the next stage in social media. Why keep your followers waiting? You can now show them how to stuff a doughnut down their faces live.
The Osmo Pocket should win this one. I was instantly impressed by the Pocket's social media-savvy streaming capabilities and thought it would be a great way to get started. It doesn't yet.
This is all looking a bit one-sided at the moment. The GoPro is a well-built piece of kit, but the Osmo Pocket's main feature and the GoPro is image stabilization.
Stabilization
It took some time to test, but here it is.
When the device is handheld, the Osmo wins easily.
When the GoPro is attached to something, it wins.
During my testing, it became clear through design that Osmo was the better handheld camera device.
The GoPro Hero7 Black could manage it, and, as we've seen, the stabilization is amazing. However, the Osmo Pocket's pure usability is miles ahead of it, mainly because it has face tracking. It just works extraordinarily well.
It is equipped with features specifically designed for this purpose. Side-by-side, the stabilization of both cameras works exceptionally well, and it has little to no downside.
But, once you capture that footage, you quickly realize that the Osmo camera is the right one for the job.
It's a powerful rig that can connect to your mobile phone. You can add the jog wheels to your mobile phone, which allows you to rotate and move the head. This is impossible with the GoPro, even with the Karma grip attached.
Sharpness
These cameras have completely different field-of-views, making it difficult to assess things like Sharpness objectively. Here's an image cropped of a color chart starting at 1.5 Feet away. Since people suggested it, I set the Sharpness setting to Medium on the GoPro. There is no sharpness setting on the Osmo.
This test shows that the Osmo Pocket appears sharper. Remember that the GoPro can focus to infinity, so it may be sharper when viewing faraway objects.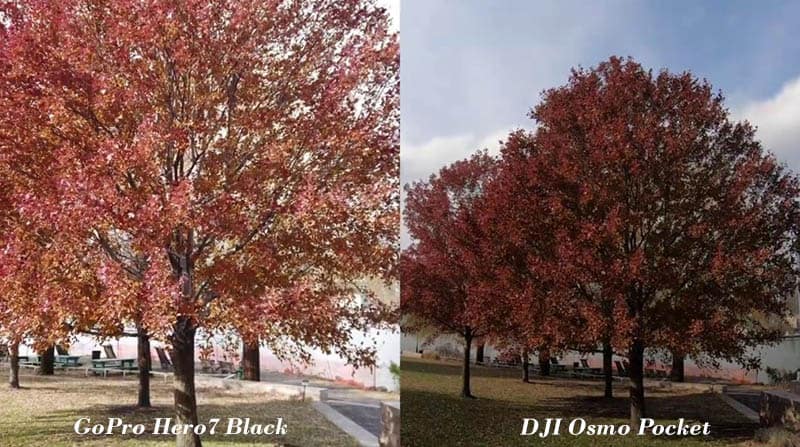 Low Light
Low light capabilities are another area that sets these cameras apart. The Hero 7 Black Edition's maximum ISO is 3200. The maximum ISO on the Osmo Pocket is only 1600 Be careful. Once you view the footage, these specs are meaningless.
Below is a low-light comparison video. The Osmo Pocket, Hero 7 Black were used to shoot the video. You can also see information about each shot in the lower-left corner. This includes whether it was color-graded.
I had planned to perform a traditional test, where I manually adjusted the exposure and set up everything on a tripod. But then a friend called asking if I would be going out riding that night. The call made the video look much better in the end.
To get the best quality, I shot in 4K at 24FPS. I used Pro mode on the Osmo to change the color to "Cinelike" and turn off noise reduction. Protune was used to set the Hero 7 Black's color to Flat.
The Hero 7 Black can't reach ISO 3200. I tried to find a way to reduce noise reduction on the GoPro but couldn't find it in the settings. I also couldn't find anyone online mentioning this feature, so I am assuming that it isn't possible.
This comparison was made to show how I used both cameras. To achieve this, I did not use the manual controls on the Osmo Pocket or Hero 7.
Both cameras used automatic white balance and exposure. Since consumer cameras don't include metadata to video files, it is impossible to determine the ISO of each shot.
I don't believe you need to think about ISO 400 or 800 settings when you're shooting. The settings I used for the types of videos I use these cameras are ideal. Auto exposure allows you to shoot video from the Osmo Pocket while not having to attach your smartphone. This is my favorite feature of the Osmo Pocket.
The winner is quite clear after zooming in on this test shot. Low light photography is a breeze with the Osmo Pocket's image quality. This is partially due to the Osmo's larger aperture.
The Hero 7 Black was also in the hyper smooth mode, so the auto-exposure may have increased the shutter speed to reduce motion blur (although this is unlikely as there are still blurring artifacts).
Video Quality in Full Auto 60FPS
Here's a quick video that I made to test the cameras. Although I don't enjoy blogging, I decided that this was what the camera was made for. Both cameras were set at 4K 60FPS, and all settings were auto.
Here's my opinion on the video quality, based on the footage shown above and other footage that I have shot with these cameras in full-automatic mode.
The Hero 7 Black tends to expose based upon the entire scene, while the Osmo Pocket exposes the scene based only on what is in the middle. This isn't a bad or good thing. It's just something I noticed. The Osmo brightened my face and blew out the sky. On the other hand, the GoPro kept the sky details, but my face was too dark.
The Osmo Pocket's large aperture lens makes background blur (background blur) look great.
Autofocus is the only thing that I don't love about Osmo Pocket footage. It is slower than other cameras. The GoPro does not have to focus, so everything is always in focus. However, you won't get the nice bokeh.
Battery Life
Although I have not yet done an official test, the Osmo Pocket's battery life seems to be slightly better than Hero 7. I had 20% left on my GoPro and 36% on my Osmo after shooting test shots in which both cameras were simultaneously recording in 4K at the same settings.
The Osmo Pocket's USB C port is located on the bottom. This makes it easy to use the Osmo Pocket while charging. The Hero 7 has a side door that can be opened to charge the battery. Or you can replace it with a new one.
Additional Features
Before we end the comparison, here are some features you need to know. Two cool features are available on the Hero 7 Black that the Osmo Pocket does not have. Voice control is the first. Voice control allows you to access over 30 functions, such as start and stop recording, by simply speaking commands.
GPS data is another feature. The Hero 7's GPS allows you to overlay other information over your videos, such as speed, distance, and location.
The Osmo Pocket offers a big advantage over the Hero 7. Active Track is the name of this feature. The Osmo Pocket can track your phone just like DJI's drones. You can draw a box on top of something, and the Osmo Pocket will begin tracking it.
The Osmo Pocket also has a face-tracking feature that works in the same way. This feature is so simple that you don't even have to use your smartphone. Tap the screen to activate tracking. Or turn the camera around to track your face automatically.
Video: 
Conclusion
If possible, I would buy both of these cameras; DJI Pocket 2 vs GoPro Hero 7 has some unique features that set them apart and make for great movies. Hero 7 Black gives you a super-wide field of view, good video quality in color and sound. Osmo gives you better stabilization during the performance, easy manual control, super-sharp video quality, affordable price suitable for everyday videos, vlogs, travel, cinema short films. Let's wait for our article DJI Osmo Pocket vs GoPro Hero 8, DJI Pocket 2 vs GoPro Hero 8 and DJI Pocket 2 vs GoPro Hero 9 will coming soon.